Free Crochet Baby Blanket Patterns (All Free!) for Beginners
Are you looking for some beginner-friendly and easy crochet blanket patterns to make for a baby girl or baby boy? Or maybe you need the perfect gift for an upcoming baby shower.
Either way, this list of seven simple and beginner-friendly baby blankets will help you quickly decide on your next blanket project and teach you how to crochet a baby blanket in no time at all.
If you are very new to crochet, I suggest you read my post about crochet abbreviations and five basic crochet stitches for the best start on these easy baby blankets.
I hope you enjoy this list of seven free beginner baby blanket patterns! Have a great time picking a new blanket to crochet!
Common Crochet Stitches in Baby Blankets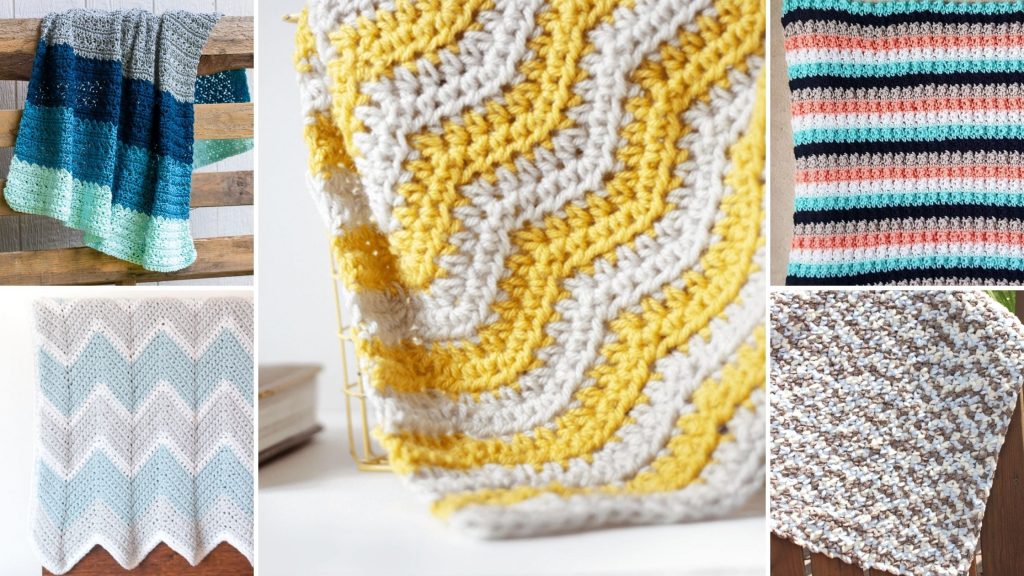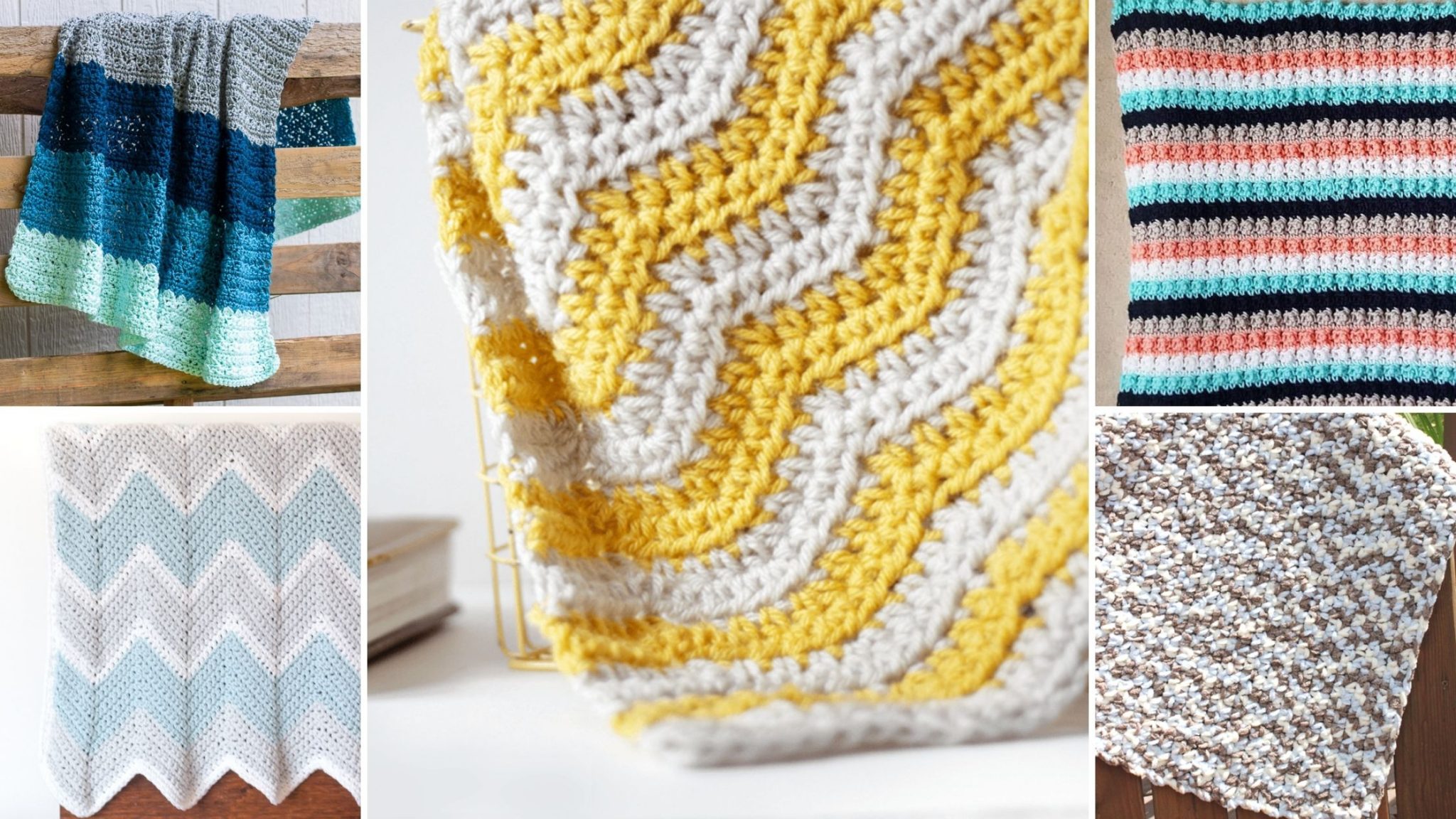 Crochet Baby Blanket Sizes
When looking at crochet patterns, you will more than likely see a variety of baby blanket sizes that you can make. The most common sizes are Lovey, Stroller (or Crib Blanket), Receiving and Baby blanket size. The blanket patterns below come in all different sizes, so be sure to check the sizing to see if it will work for you.
These are the common blanket sizes baby blanket sizes below. You will see some patterns deviate from these sizes slightly, usually so that a particular repeatable pattern does not get interrupted, like a chevron or ripple stitch.
| Blanket Size | Dimensions (inches) | Dimensions (cm) |
| --- | --- | --- |
| Lovey | 12 x 12 | 30 x 30 |
| Cradle (Small) | 15 x 30 | 38 x 76 |
| Cradle (Large) | 18 x 33 | 46 x 84 |
| Stroller | 30 x 35 | 76 x 89 |
| Crib | 30 x 36 | 76 x 91 |
| Receiving | 40 x 40 | 102 x 102 |
| Baby | 42 x 52 | 107 x 132 |
Learn more about blanket sizes, so you can get an idea about what the perfect blanket size is for your baby blanket.
Yarns for Baby Blankets
You can use any weight yarn to crochet a baby blanket. Most commonly, a beginner will use medium weight four yarns or a worsted weight yarn to make a blanket because it is easy to crochet with.
This being said, if you prefer to use a chunky yarn like a five or six weight, that would work just as well too in these blanket patterns.
Four Weight Yarns
Chunky + Super Bulky Yarns
When choosing a yarn to make a crocheted baby blanket, you will want to pick one that is machine washable and dryable as well as easy to take care of.
Another factor is picking yarn for a baby blanket is how soft it is against the skin. Soft yarn is usually one of the top reasons someone will pick a yarn over another.
You can go wrong with the few of my favorite yarn choices below to produce a soft blanket.
Top Soft Yarns for Baby Blankets

I Hope You Enjoyed These Free Beginner Crochet Baby Blankets
This free crochet baby blanket patterns for beginners list is a great resource to keep on hand anytime you need an easy crochet blanket to make! Enjoy! If you do make one of these designs, please share in the Easy Crochet Facebook Group.
More Free Crochet Baby Blanket & Baby Item Patterns
If you'd like to take a look at even more free crochet baby patterns, patterns, take a second to explore the Easy Crochet pattern archives, where you can find over 300 free patterns.