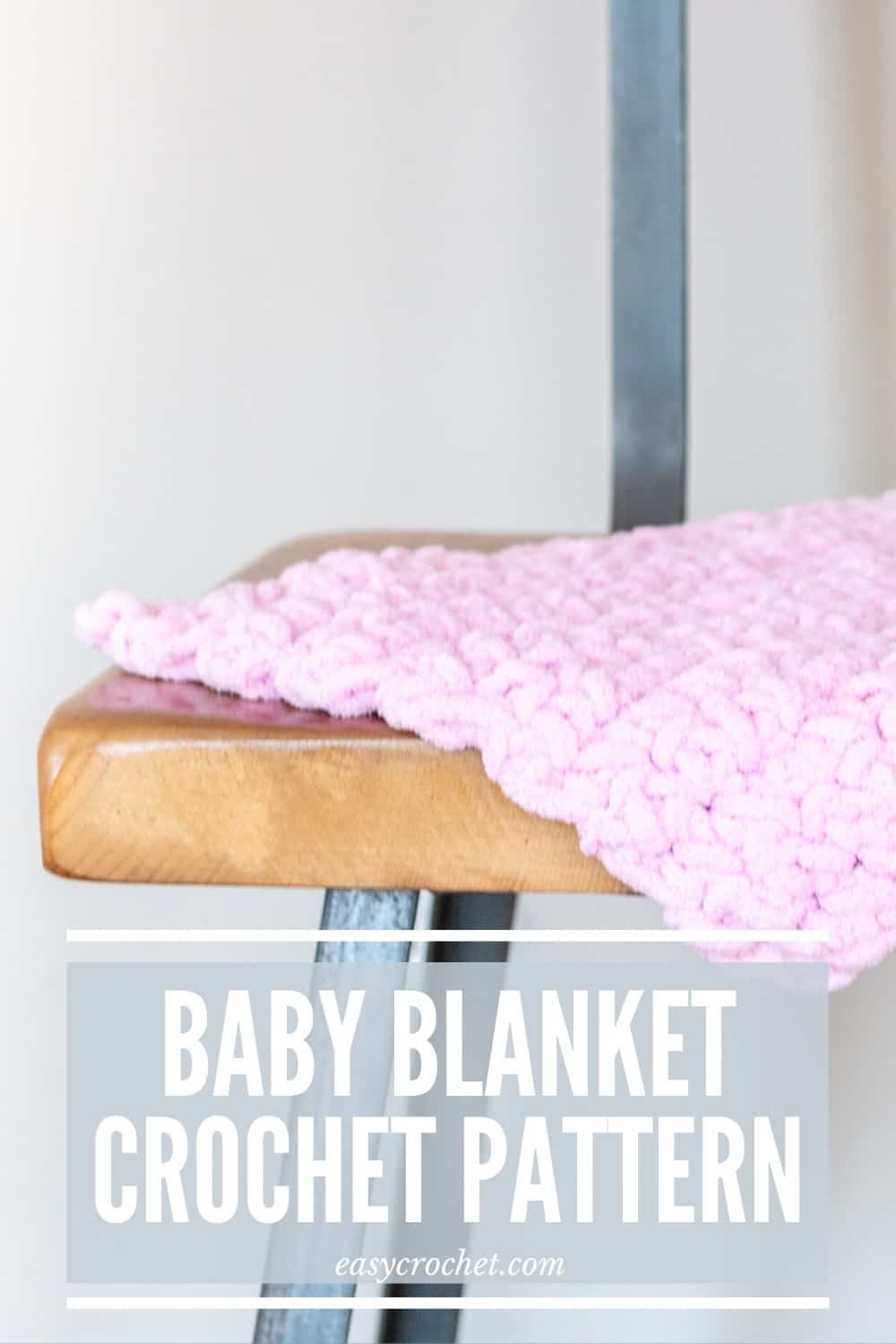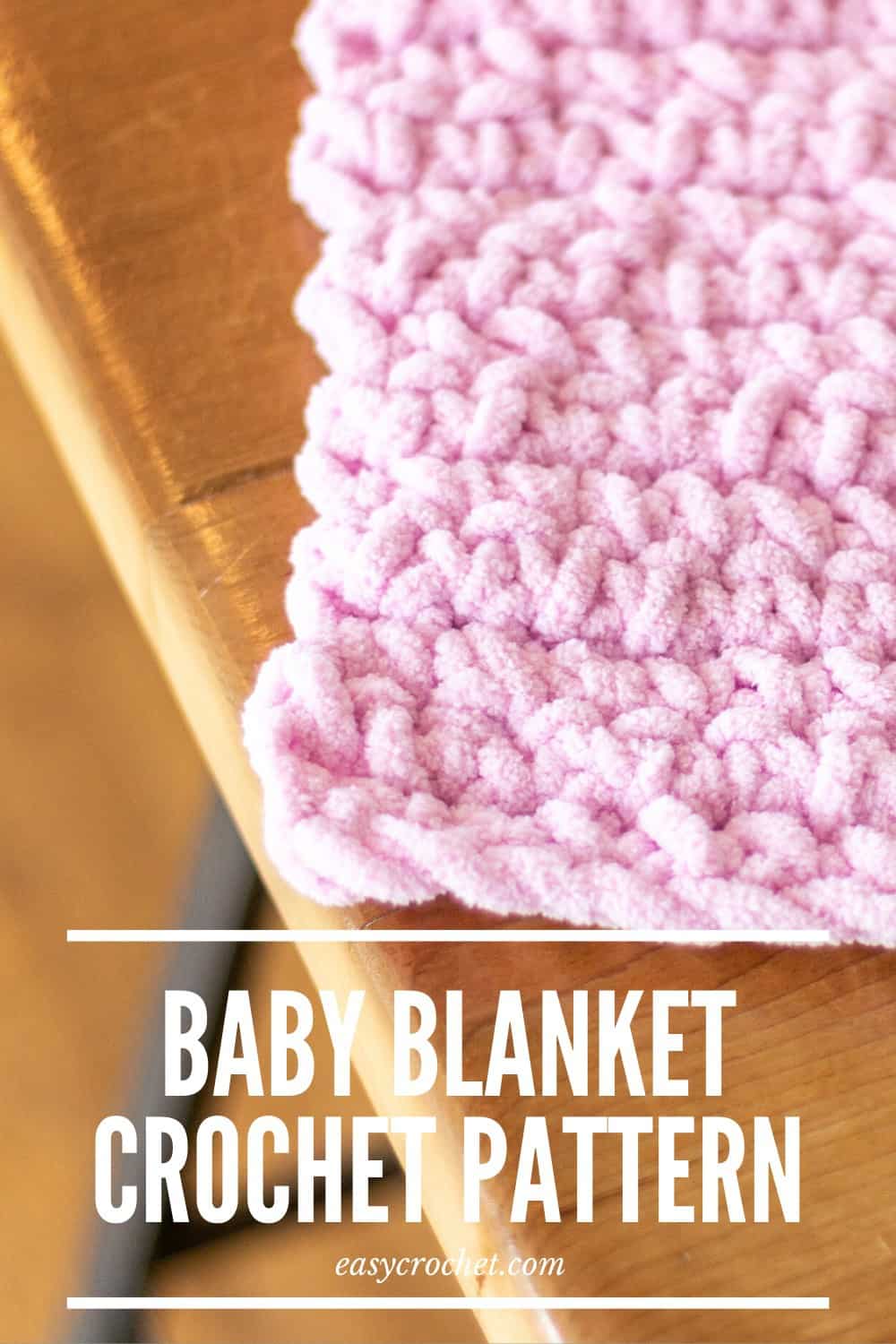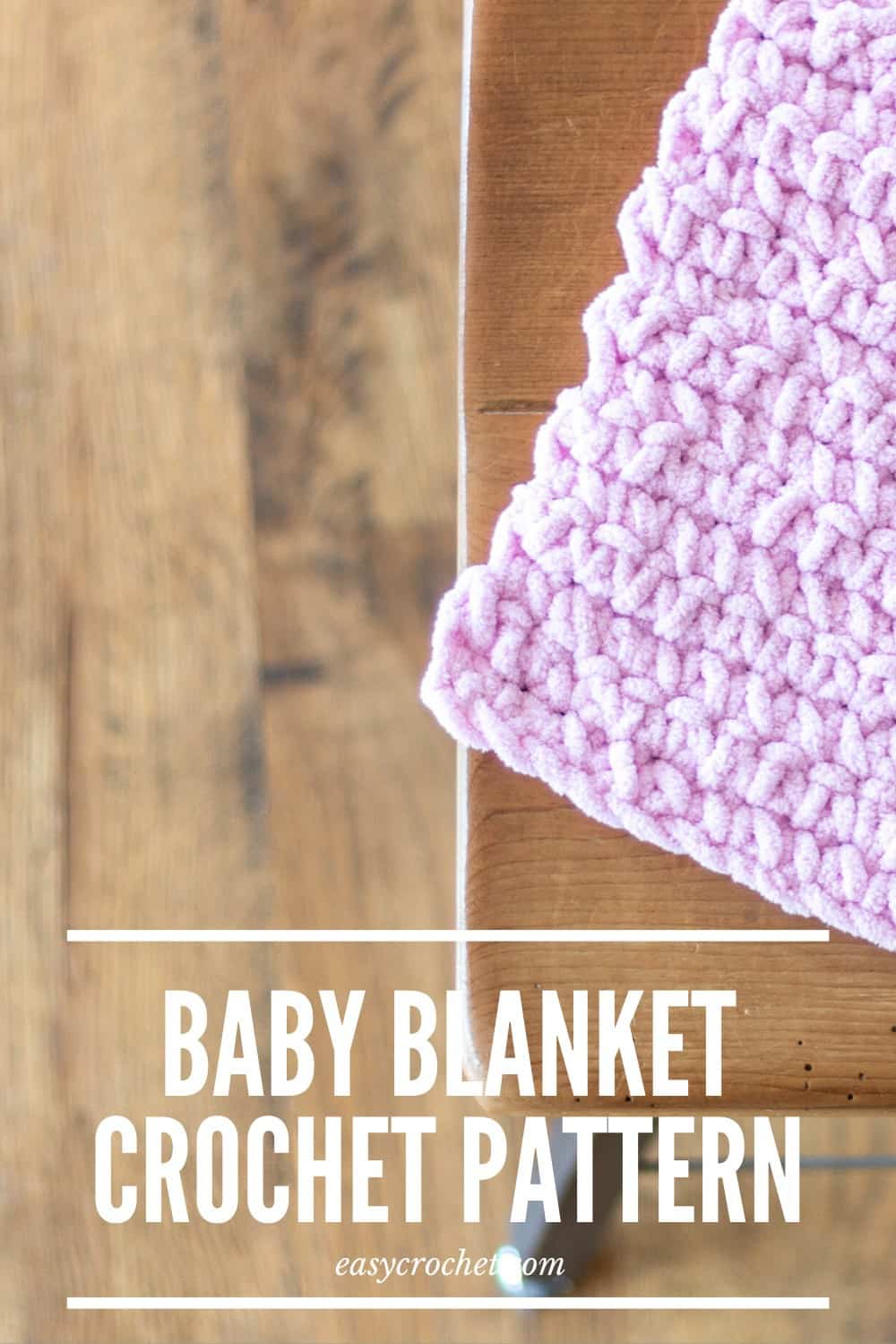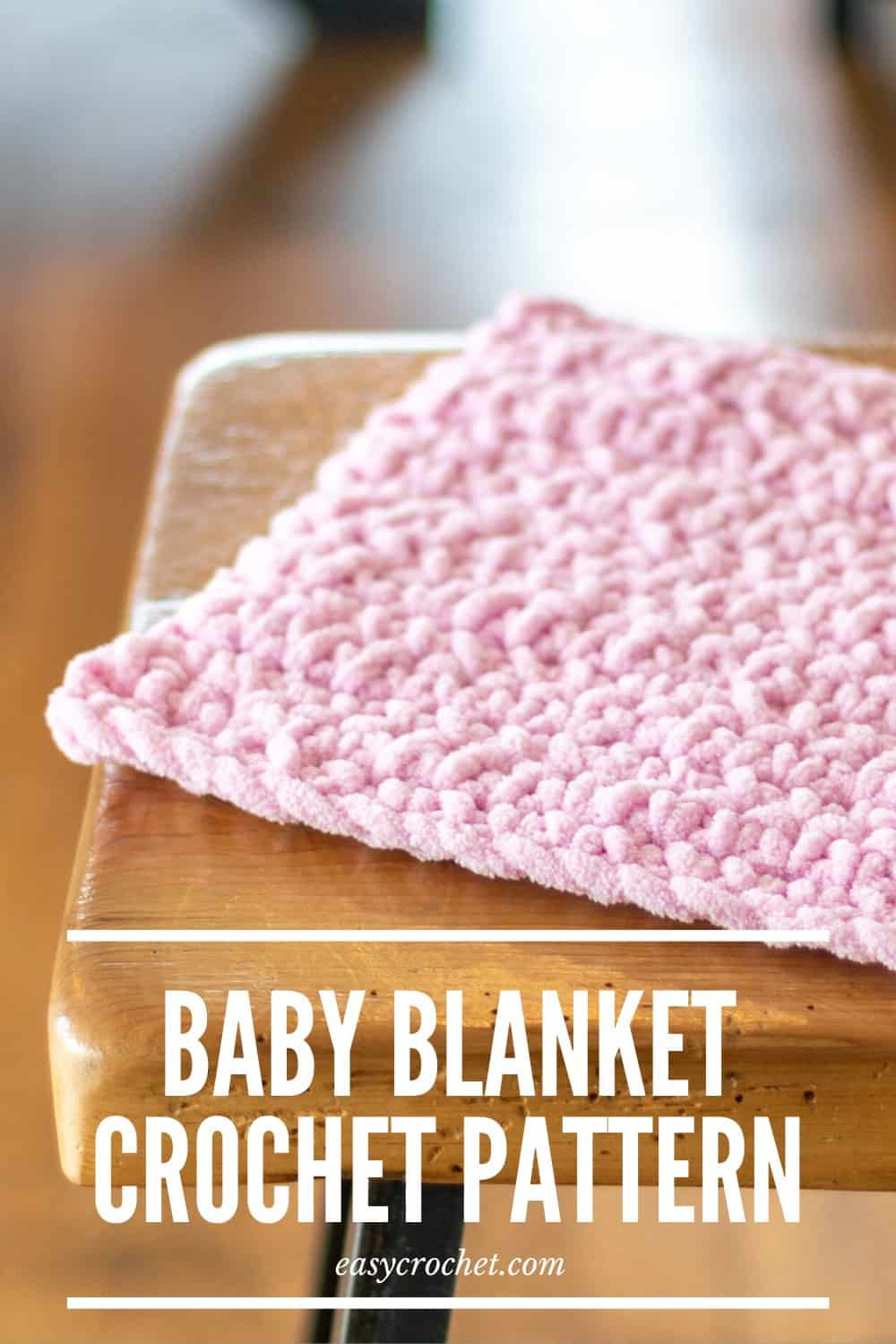 Are you new to crochet and looking for an easy to crochet baby blanket? This one is it!
But that's not all…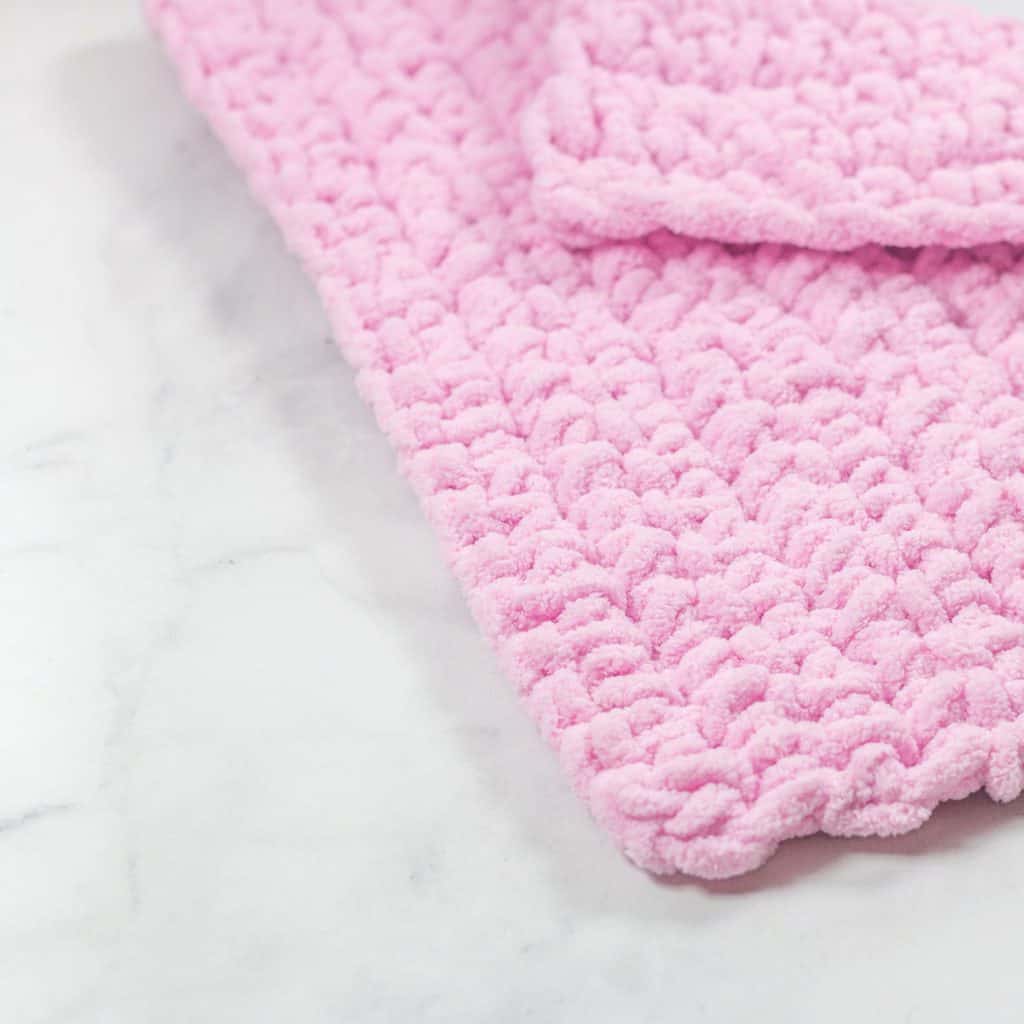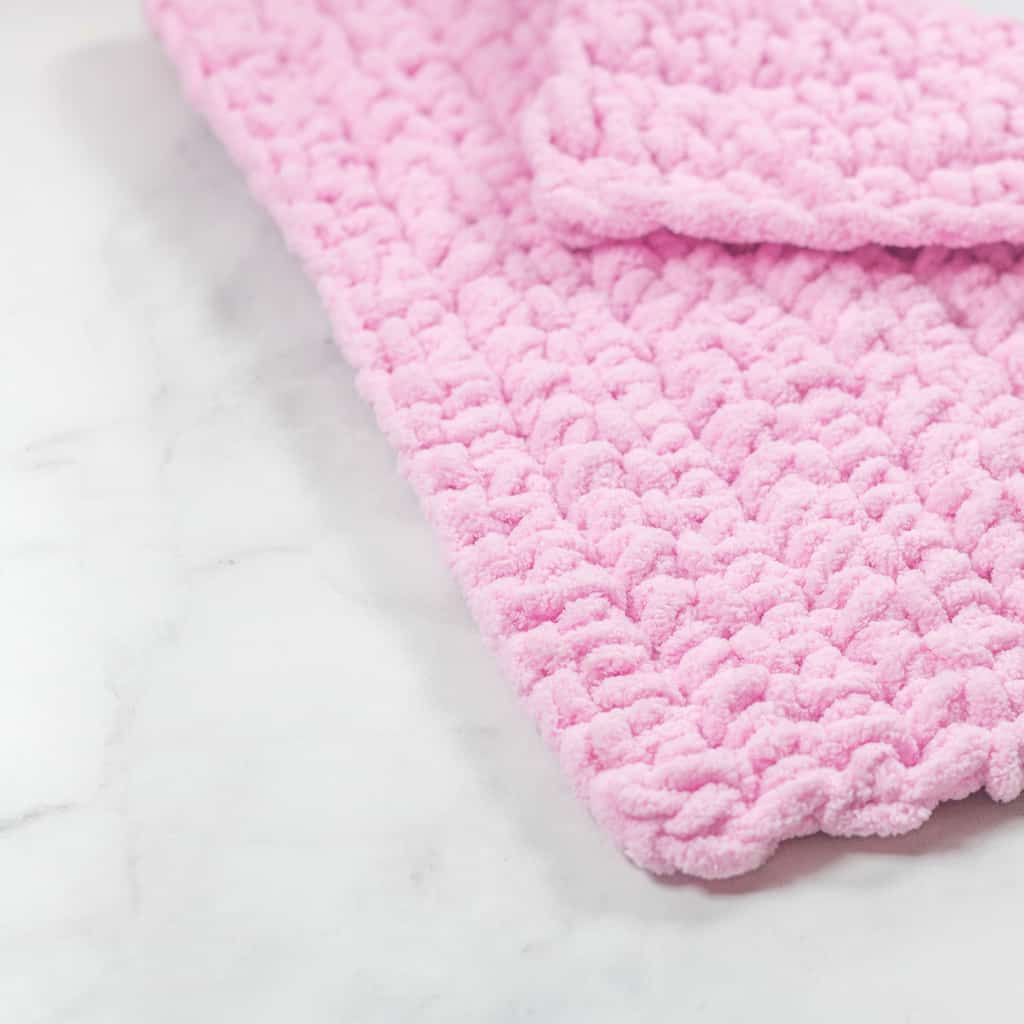 It's free!
Scroll down to learn how to crochet a baby blanket (lovey & stroller size!) that is great for beginner crocheters.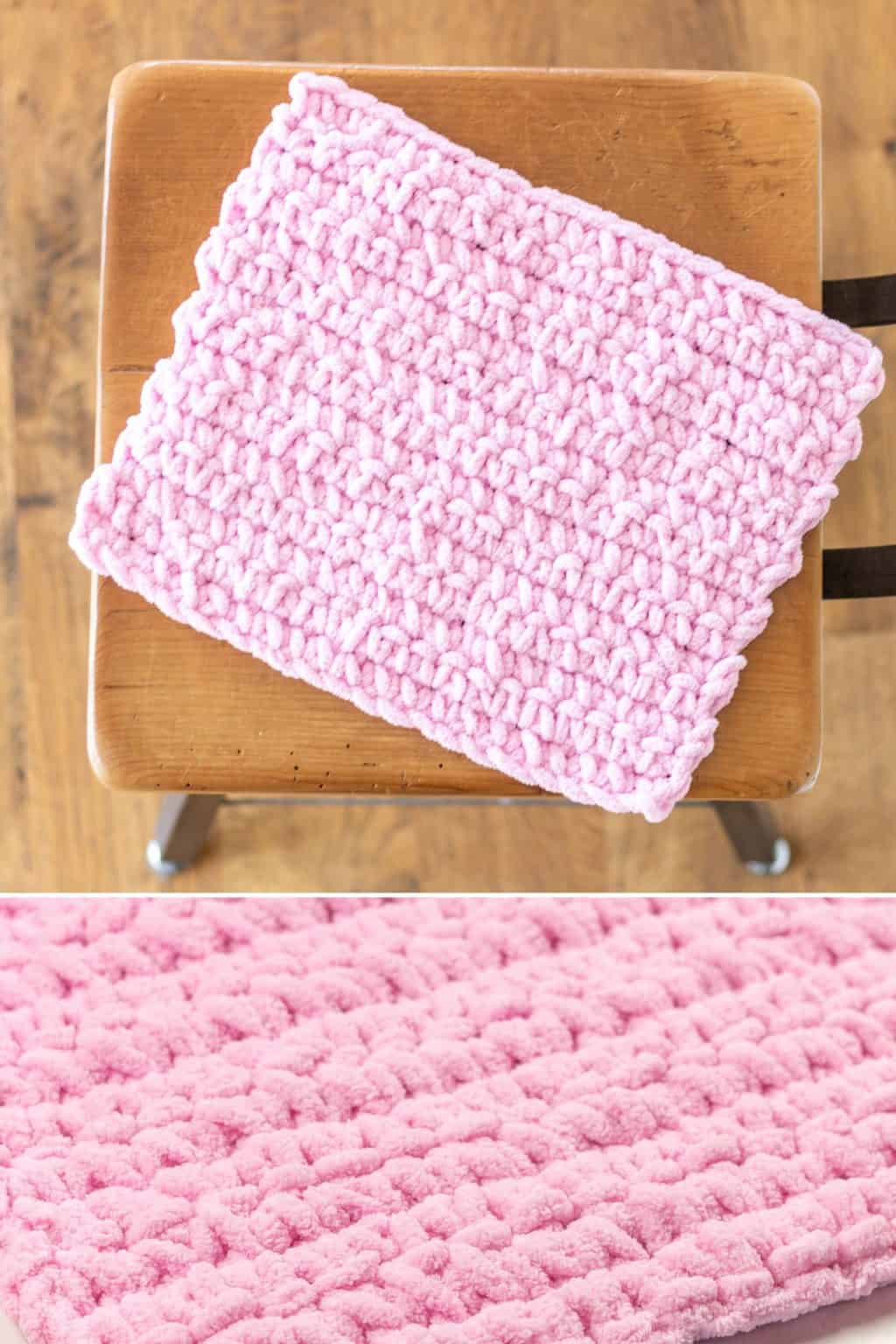 But wait there's more..
You can purchase a ready to print AD-FREE PDF with four sizes in the pattern shop! Exciting right?
The PDF includes Lovey, Stroller, Receiving & Baby sizes.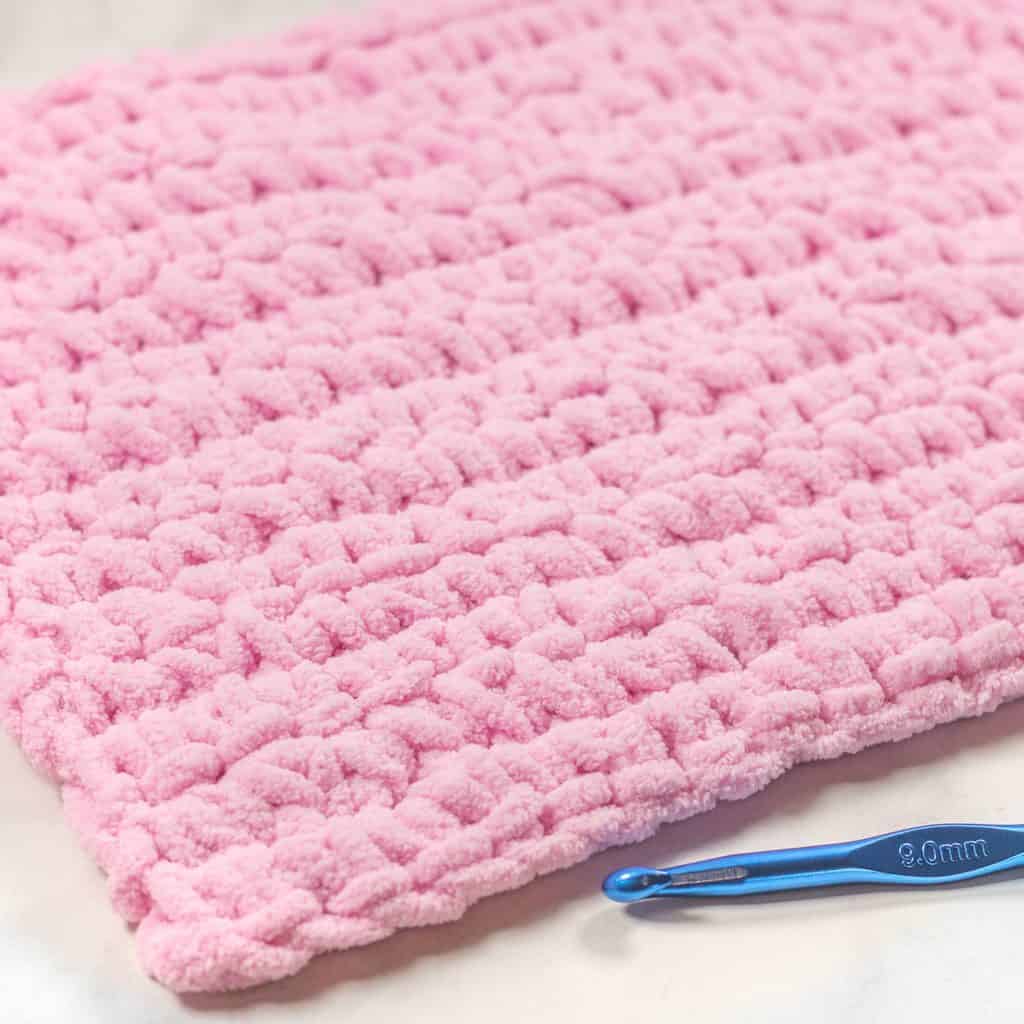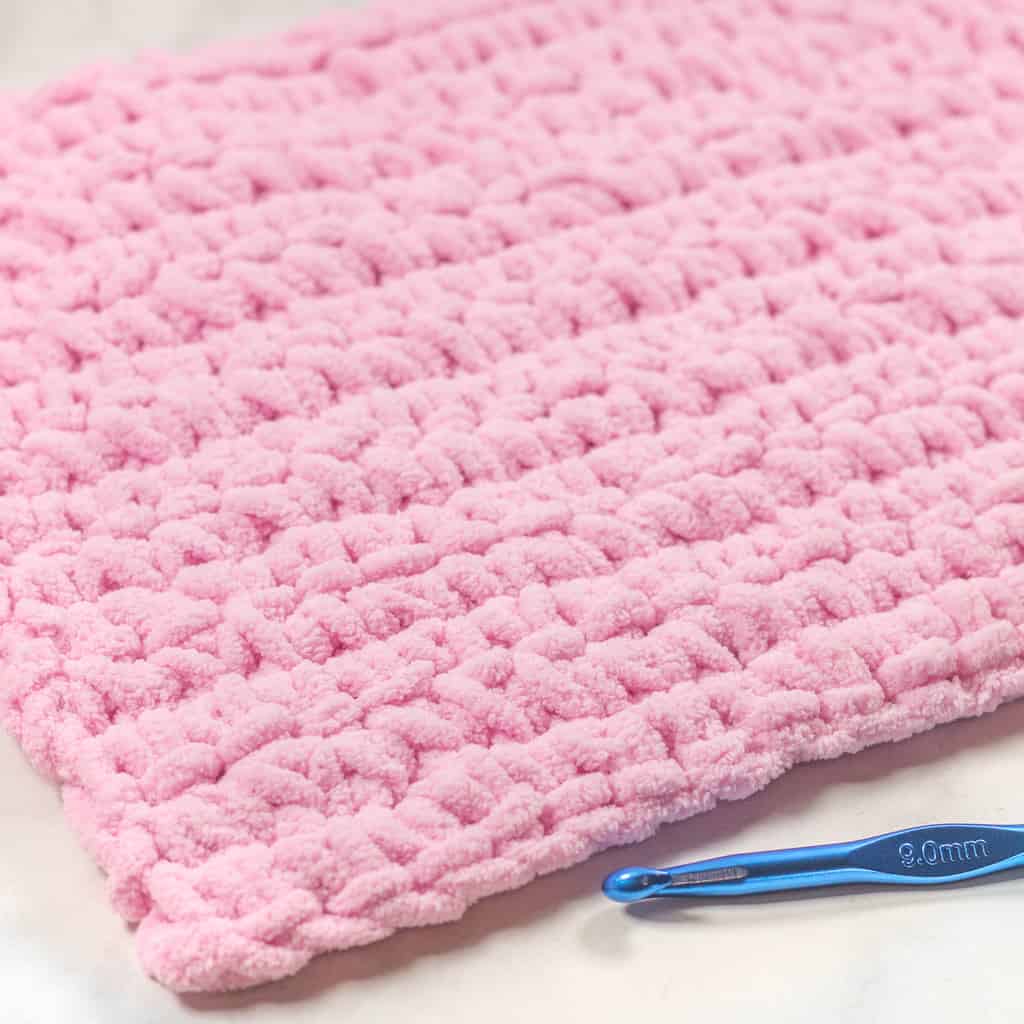 Crochet Stitches to Know to Crochet a Baby Blanket
I know what your thinking. I am new to crochet.
Don't worry! There are only a few crochet stitches you'll need to know to make this baby blanket.
Learn more about the single crochet stitch & chain stitch below.
Single Crochet (SC):
Insert hook from front to back in the second chain from the hook.
Bring the yarn over (YO) the hook and pull the yarn back through the chain from back to front (2 loops on hook).
YO and pull through both loops on the hook.
Chain Stitch (CH):
Make a slip knot.
Insert hook into slip knot point first, bring yarn over the shaft of the hook from back to front and grab it with the throat of the hook.
Draw hooked yarn through slip knot and onto the hook. This movement will make one chain stitch
Repeat Steps two and three until you have the desired number of stitches for a pattern. One loop will remain on hook.
Extra Help: Watch the single crochet photo lesson too if you are more of a visual learner.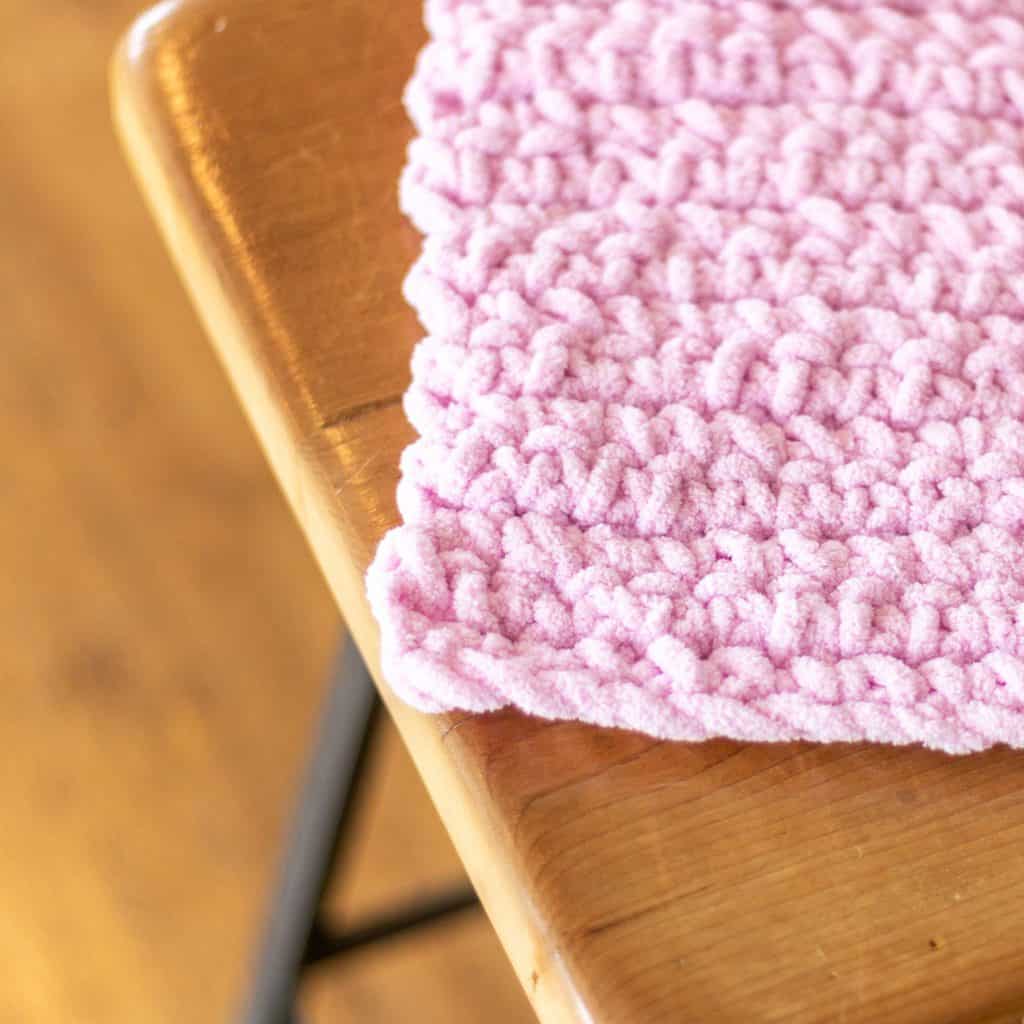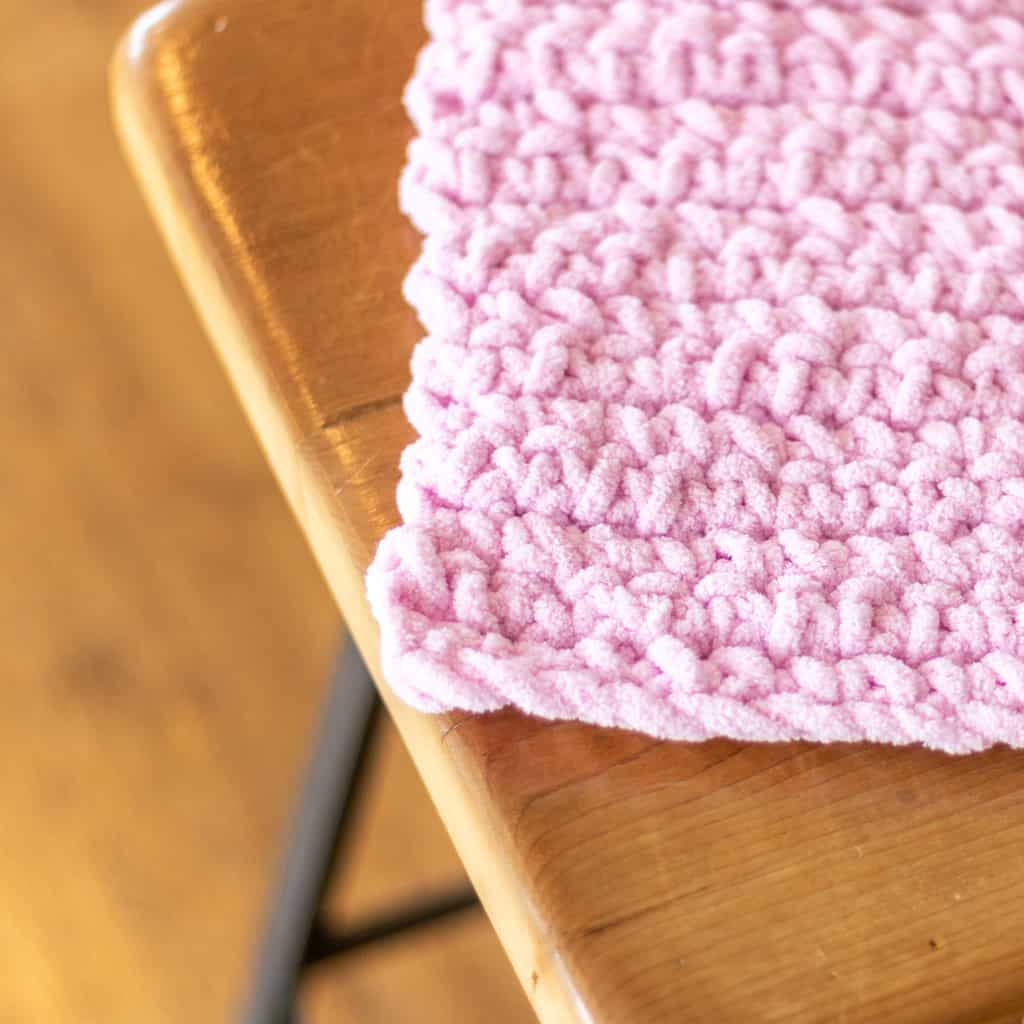 The Yarn To make a Cozy Baby Blanket
I just want to start with the fact that this blanket yarn is amazingly soft and chunky.
Bernat Blanket Yarn is considered a super bulky 6 yarn which means it will work up in not time at all. How awesome is that?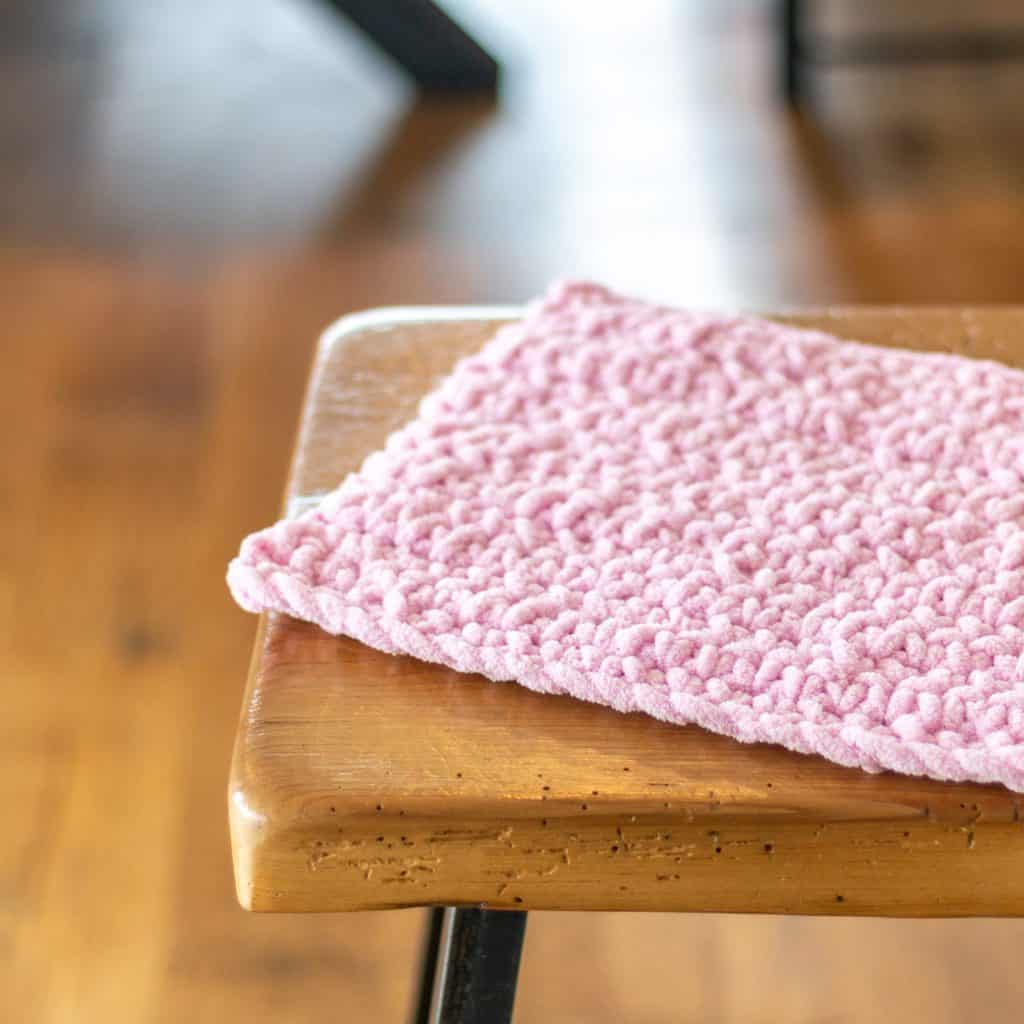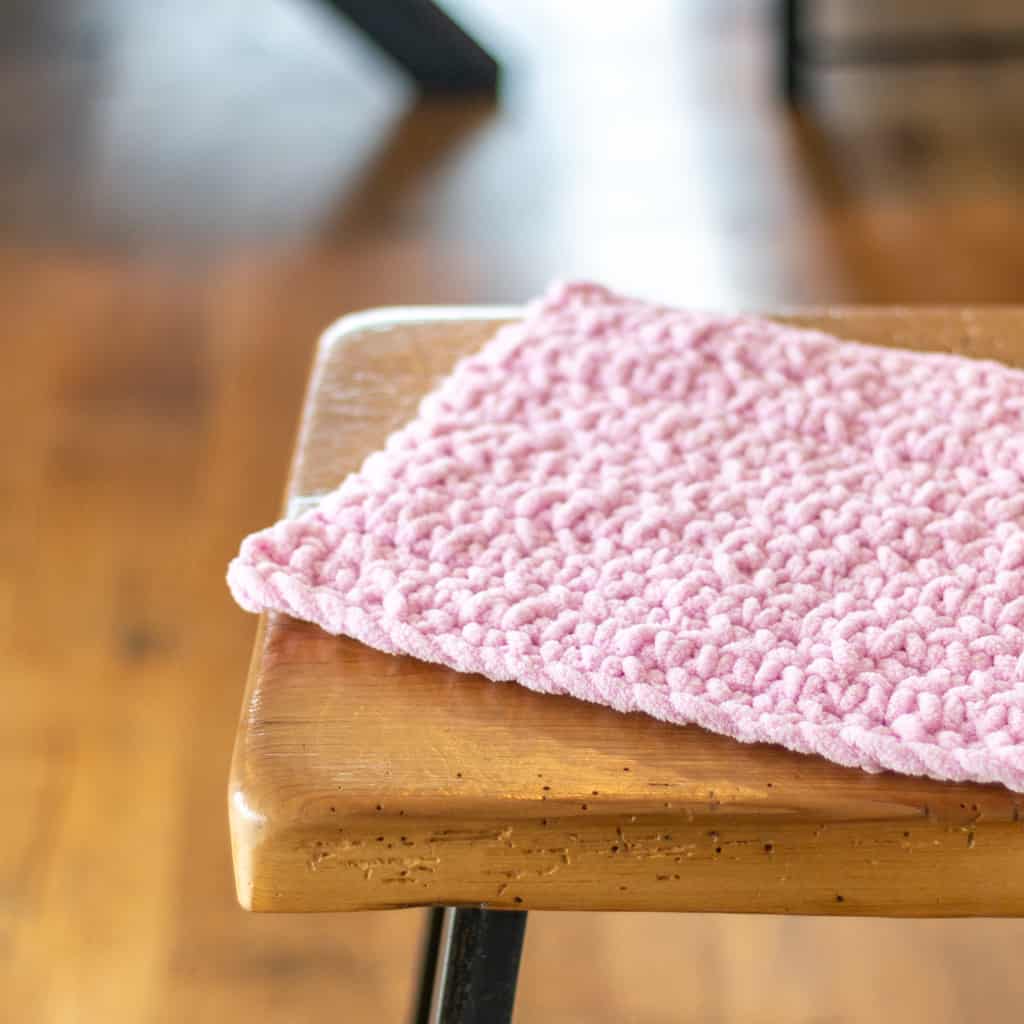 For this blanket I used the colorway baby pink but you can use any color you'd prefer. Believe me, there's a big variety to pick from.
Don't you wish you could start crocheting with this right now?
Check it out on Amazon or in your local craft store. You'll love it! Promise!
The Simple Stitch Baby Blanket Pattern
Skill Level: Basic
Materials
Size 9 mm crochet hook
Bernat Baby Blanket yarn or any super bulky 6 yarn. See chart.
Finished Size
Want more sizes? An AD-FREE PDF of this pattern is available in the shop that includes lovey, stroller, receiving and baby sizes.
| | Height | Width | Starting Stitches | Rows | Yardage Needed |
| --- | --- | --- | --- | --- | --- |
| Lovey | 12 | 12 | 21 | 15 | 59 |
| Stroller | 35 | 30 | 53 | 44 | 432 |
The Patterns
Lovey & Stroller stitch counts are shown in parentheses ()
Foundation Row: Ch 22 (54)
Row 1: Starting in the second ch from the hook sc, sc in every ch across, turn. 21 (53)
Row 2: Ch 1, starting in first stitch sc, sc across the entire row in each st, turn. 21 (53)
Lovey Size:
Row 3 – 15: repeat row 2 (21)
Stroller Size
Row 3 – 44: repeat row 2 (53)
Finishing
Fasten off yarn with scissors and weave in loose ends throughout the blanket with a yarn needle.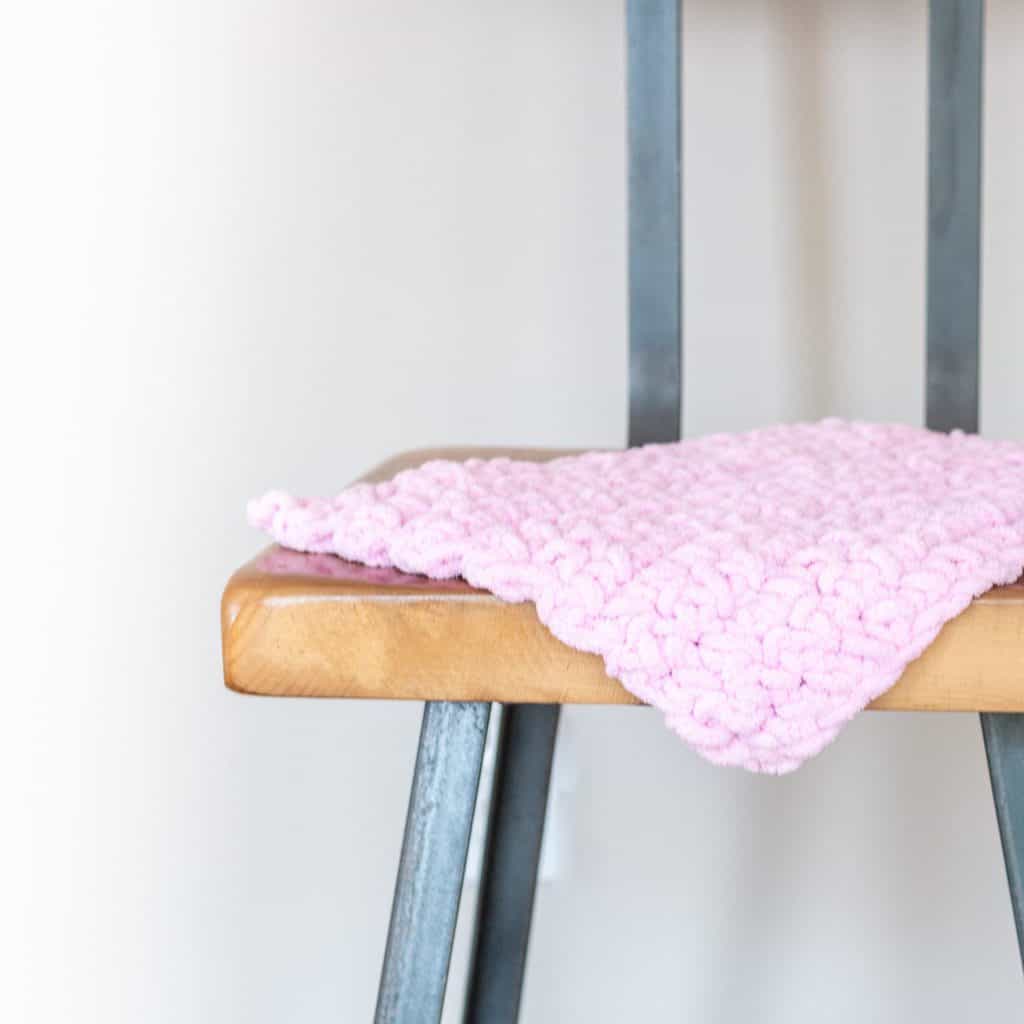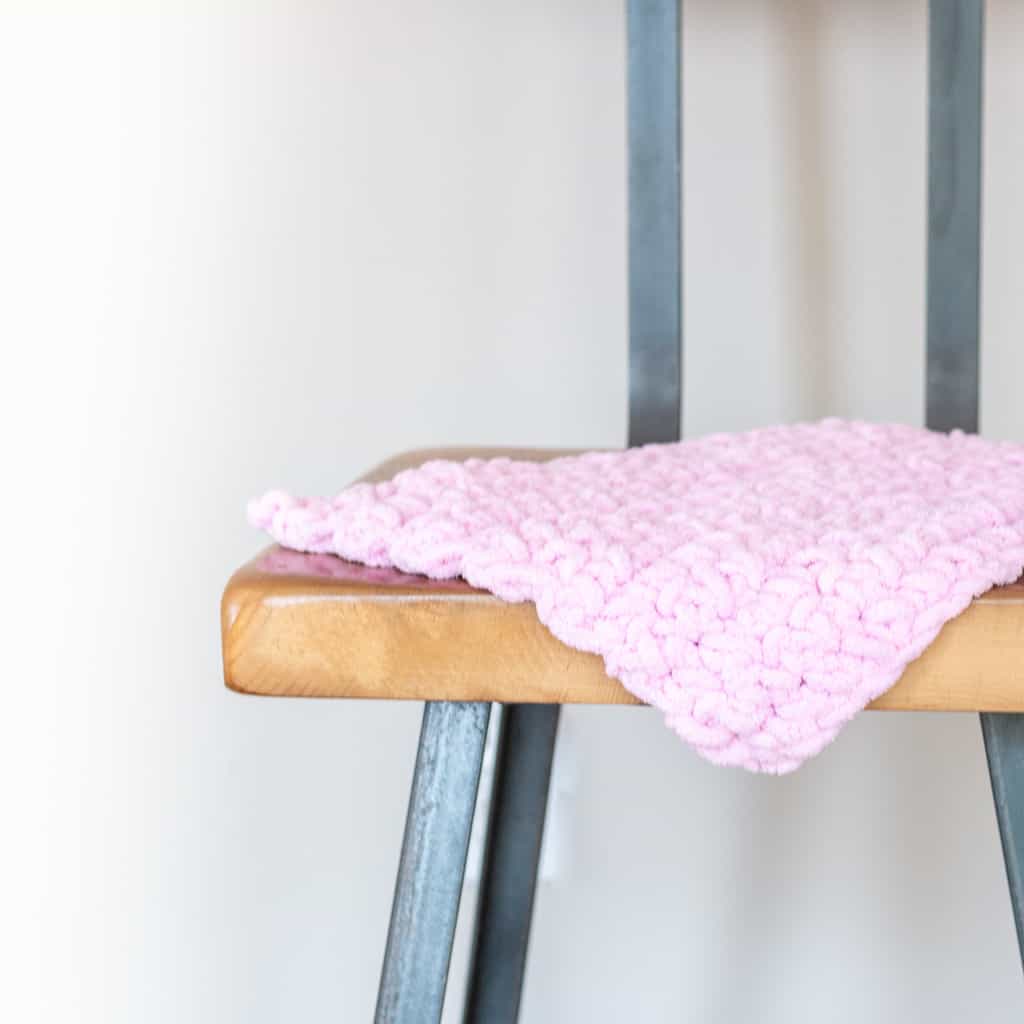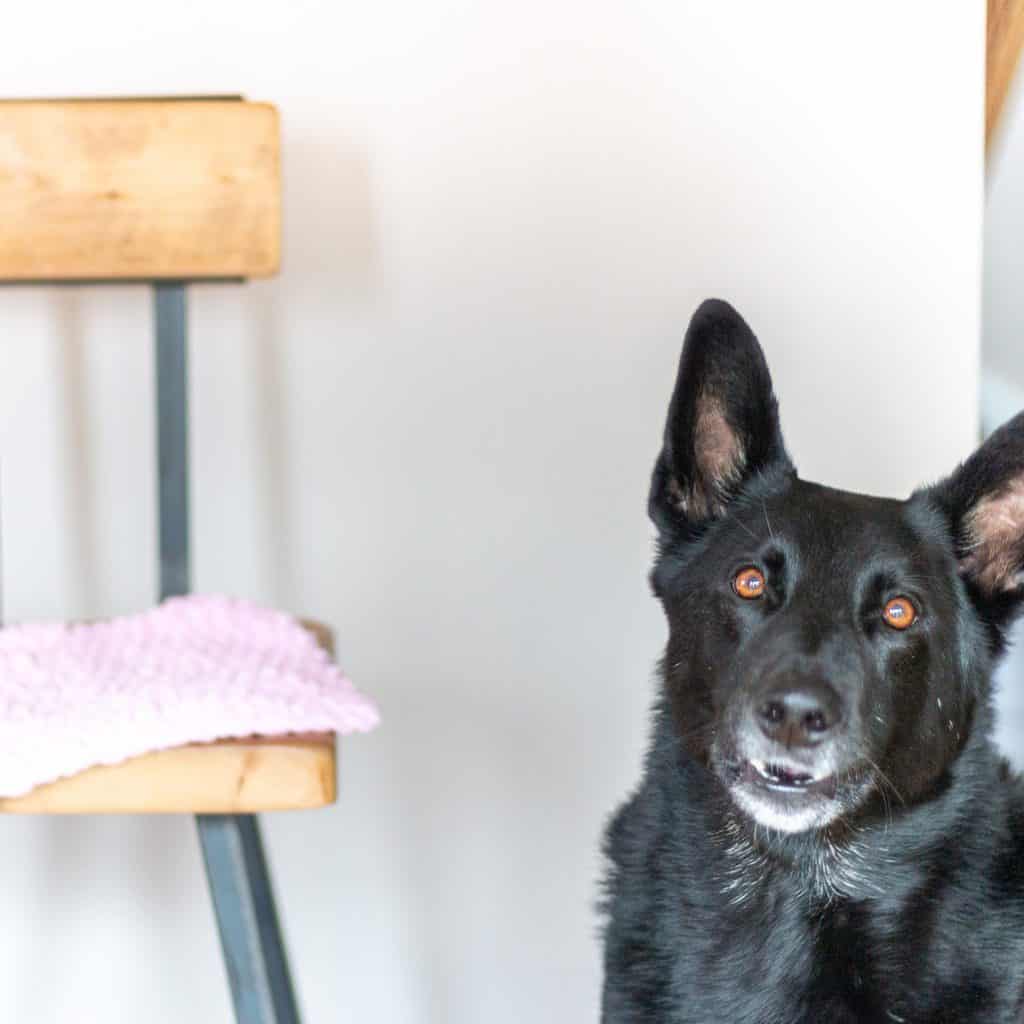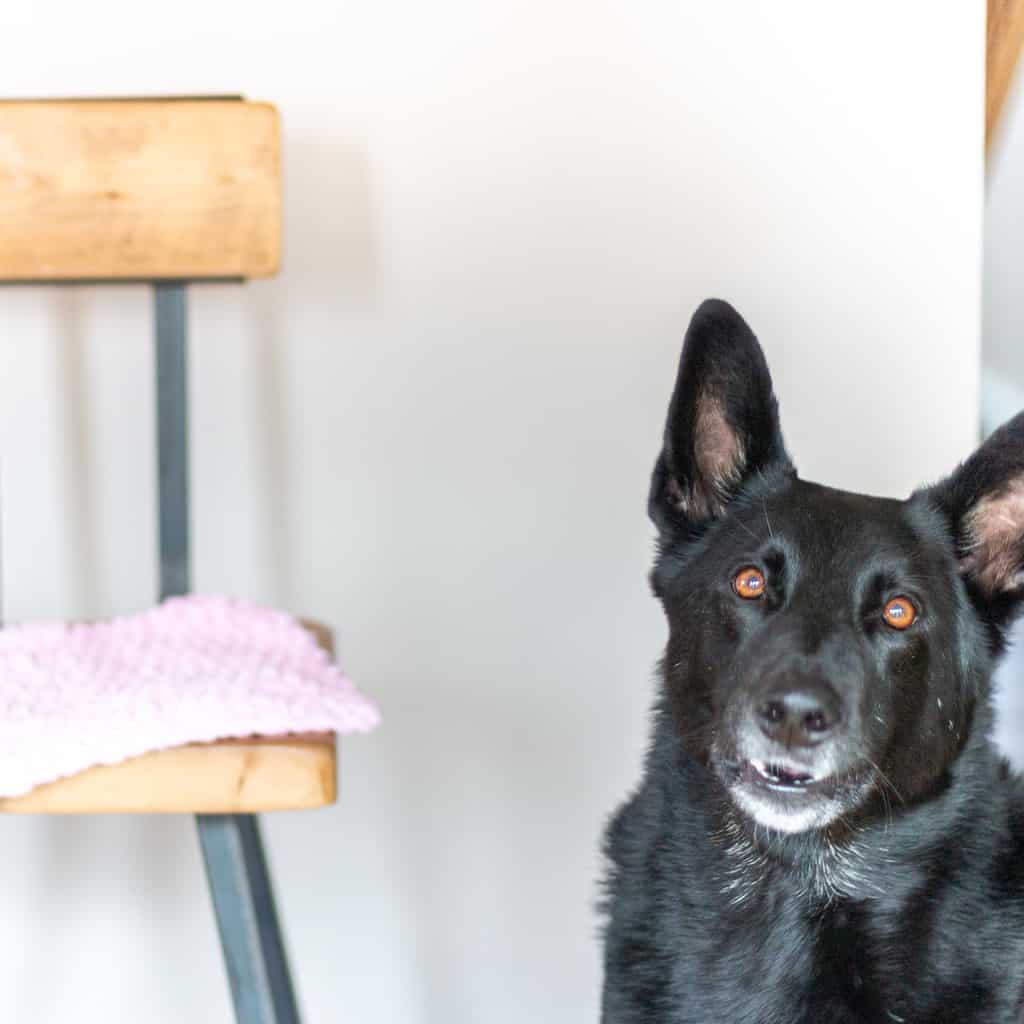 You May Also Like These Free Crochet Patterns