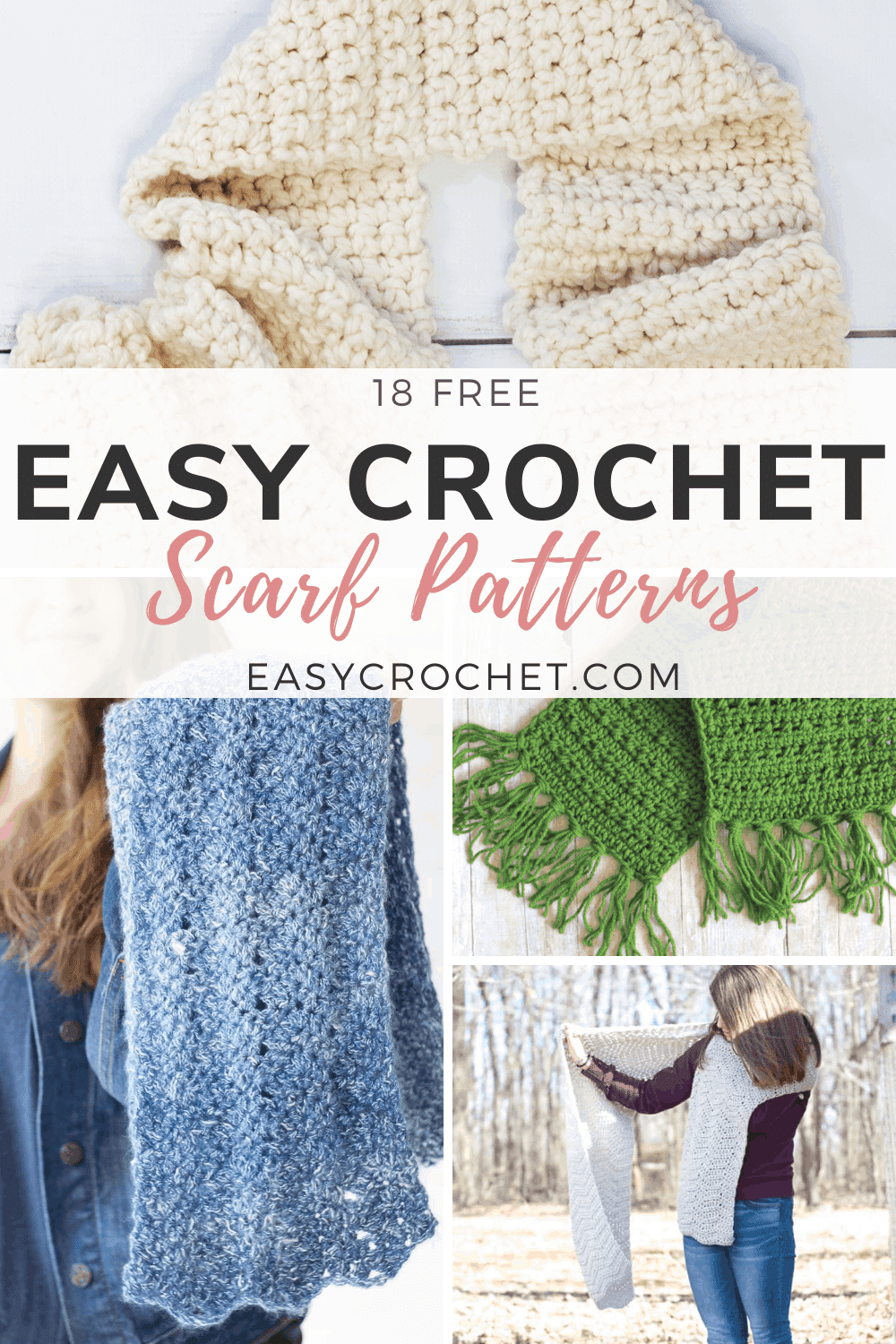 If you want to crochet a scarf but aren't sure which one to pick from the many free scarf patterns online, this post can help! Below I highlighted some of the best scarf patterns you can crochet, from easy to crochet ones to ones that are a bit more advanced!
This list of all free crochet patterns will be a mixture of beginner patterns, intermediate and then finally advanced scarf pattern designs. When I mention advanced scarves, I just mean ones that use more than one crochet stitch in combination, and not necessarily that they are difficult to crochet.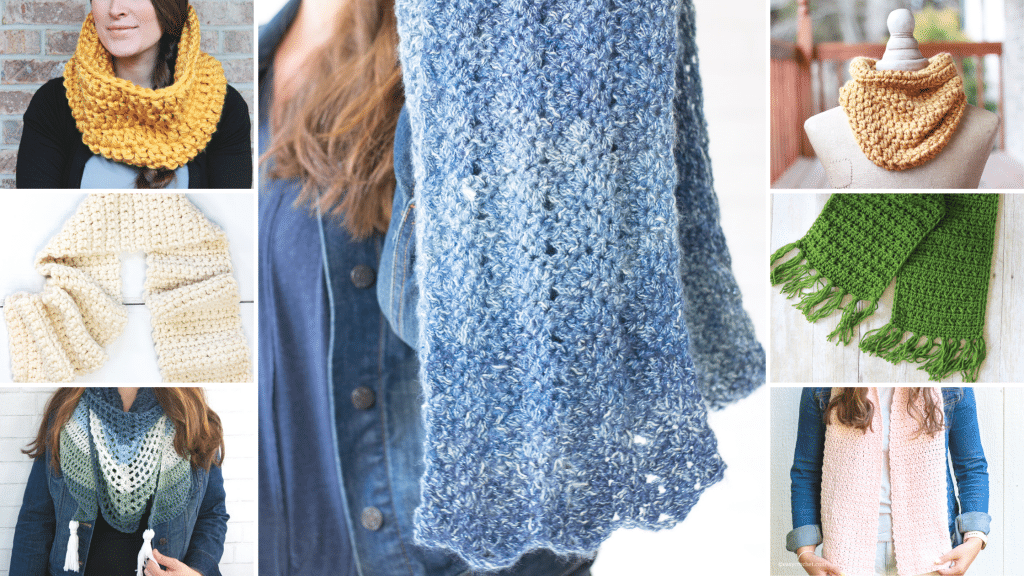 Sizing a Crochet Scarf
To crochet a scarf, you'll need to decided on the appropriate size to make. Below you'll find the regular scarf sizes that will work for a child, preteen and adult. You can also have a look at our expanded scarf size chart for more sizes to make a scarf in if you'd like to make your scarf longer or smaller than what is shown below.
Take a look at the scarf sizes shown below in the chart to figure how wide you want your scarf to be and how long you would like it as well.
Free Modern & Easy to Crochet Scarf Patterns
While I have designed quite a few scarf crochet patterns over the years, I wanted to include some other designs as well in this list! Below, you'll find some of my scarf designs that will include wraps as well, since you can wear them as a scarf. Plus you'll be able to find some beautiful scarf patterns from other designers too.
The crochet skill levels of these patterns will vary, but shouldn't be anything too hard to tackle when crocheting. I am confident there is a crochet scarf in this collection that is perfect for you to try. I hope you enjoy this list of the best crochet scarf patterns!
My Crochet Scarf Patterns
---
---
---
---
---
---
---
---
---
Other Crochet Scarf Patterns
---
---
---
---
---
---
---
---
---
---
I hope you enjoyed all these free scarf patterns and found one that you are wanting to make! If you do make one of these scarves, please share it with the Easy Crochet community!

Common Questions about Crochet Scarves
What Do I Need to Crochet a Scarf?
To crochet a basic scarf design, you'll only need a few items to get started. A scarf pattern, yarn, yarn needle and crochet hook plus, basic knowledge of crochet stitches.
Scarf Pattern: As a newer crocheter, you'll want to start with a simple scarf pattern that is aimed towards beginners. Browse through this collection of free scarf patterns to find one you'll like, making sure to filter by skill level.
Yarn: Once you find the pattern you want to crochet, the next step is to purchase yarn. All the EasyCrochet.com patterns have the yarn listed or the yarn weight that you'll need to use listed in the pattern.
Crochet Hook: The scarf you pick to crochet will also have the crochet hook size listed with it in the pattern instructions.
Yarn Needle or Tapestry Needle: These help to weave in the yarn ends that are cut in the middle or end of projects.
Crochet Stitch Knowledge: Learn all about basic crochet stitches and crochet stitch abbreviations with our free beginner stitch guide.
How Wide Should a Crochet Scarf Be?
While there are no set guidelines on how wide a scarf should be, the most basic scarf designs will make them between 6 and 12 inches wide. You can use our scarf size chart to help with your scarf sizing needs.
If you prefer a slimmer scarf crochet less foundation chain stitches and if you prefer a wider scarf crochet more chain stitches to achieve the width wanted. Scarf width is usually determined by the starting stitches or foundation chain in most designs.
How Many Chains Do You Need to Crochet a Scarf?
The chain length in scarves will depend on how wide you want your scarf to be and the type of yarn you want to use. Use our scarf calculator to figure out the average sizes of scarves to give you a better understanding of how many chains you'll need to crochet a scarf.
For example, a chunky five yarn will require less chain stitches compared to a scarf that uses three weight yarn. The general rule of thumb is to make most crochet scarf between 6 and 12 inches wide.
How Do I Crochet an Infinity Scarf?
An infinity scarf is a scarf design that is connected or crocheted in one piece to create a loop. These types of scarves are made long, so they can be wrapped around the neck easily. Shorter looped scarf designs are called cowls. Browse through some infinity scarf patterns here on Easy Crochet to add more to your crochet pattern collection.
More Free Scarf Patterns To Crochet
Explore the list below of even more free crochet scarves that you can create. All of these easy crochet patterns were free at the time of this post!
Print the Scarf Patterns
If you have enjoyed these free crochet scarf patterns, then you may like our PDF patterns as well. Some of my designs are available to print for a low cost. If you decide to purchase, you will receive the PDF in your email, and you then can make it on the go or wherever you'd like. Thank you for supporting Easy Crochet.