Williams Puff Cowl Crochet Pattern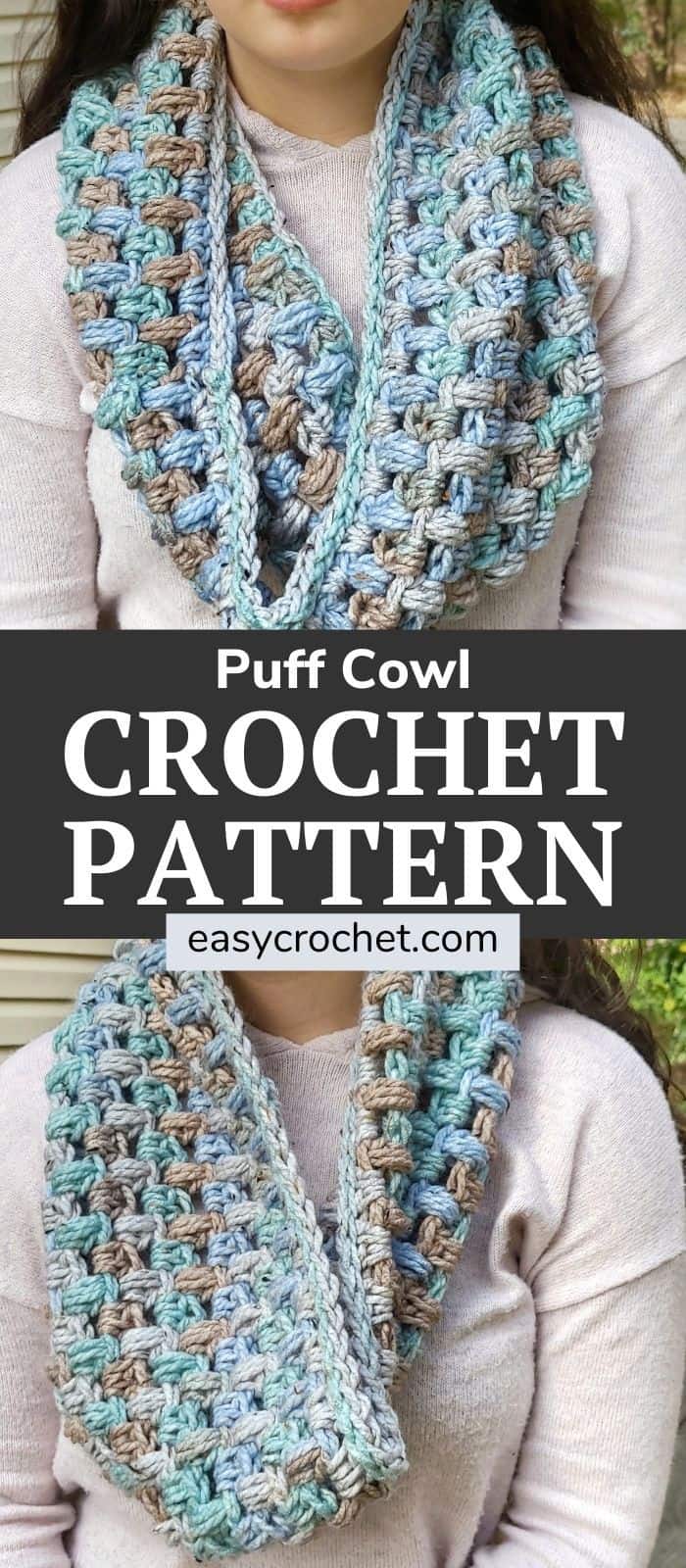 Are you looking for an easy to crochet cowl pattern? If so, you'll love this puff scarf because it uses simple crochet stitches and works up fast.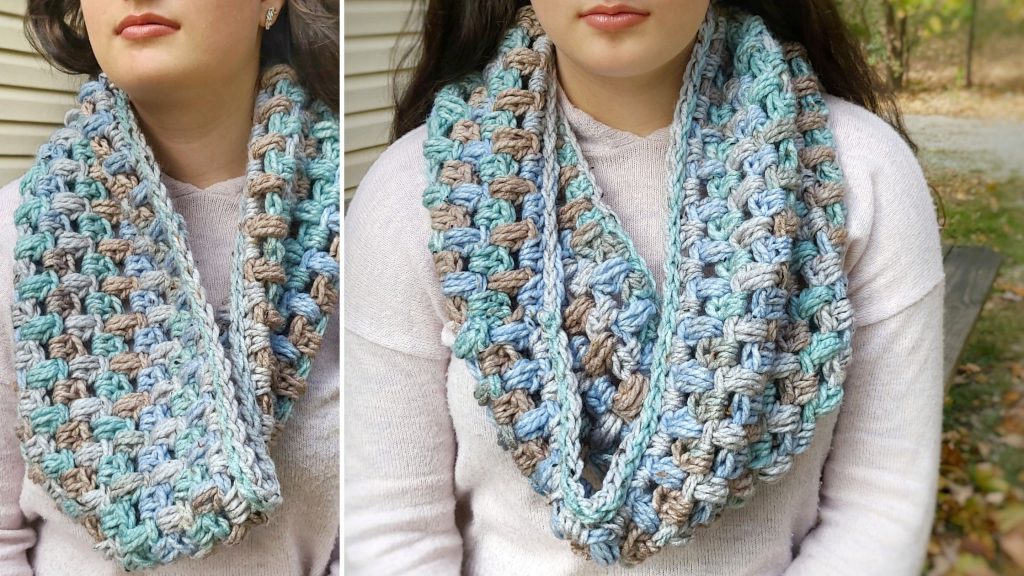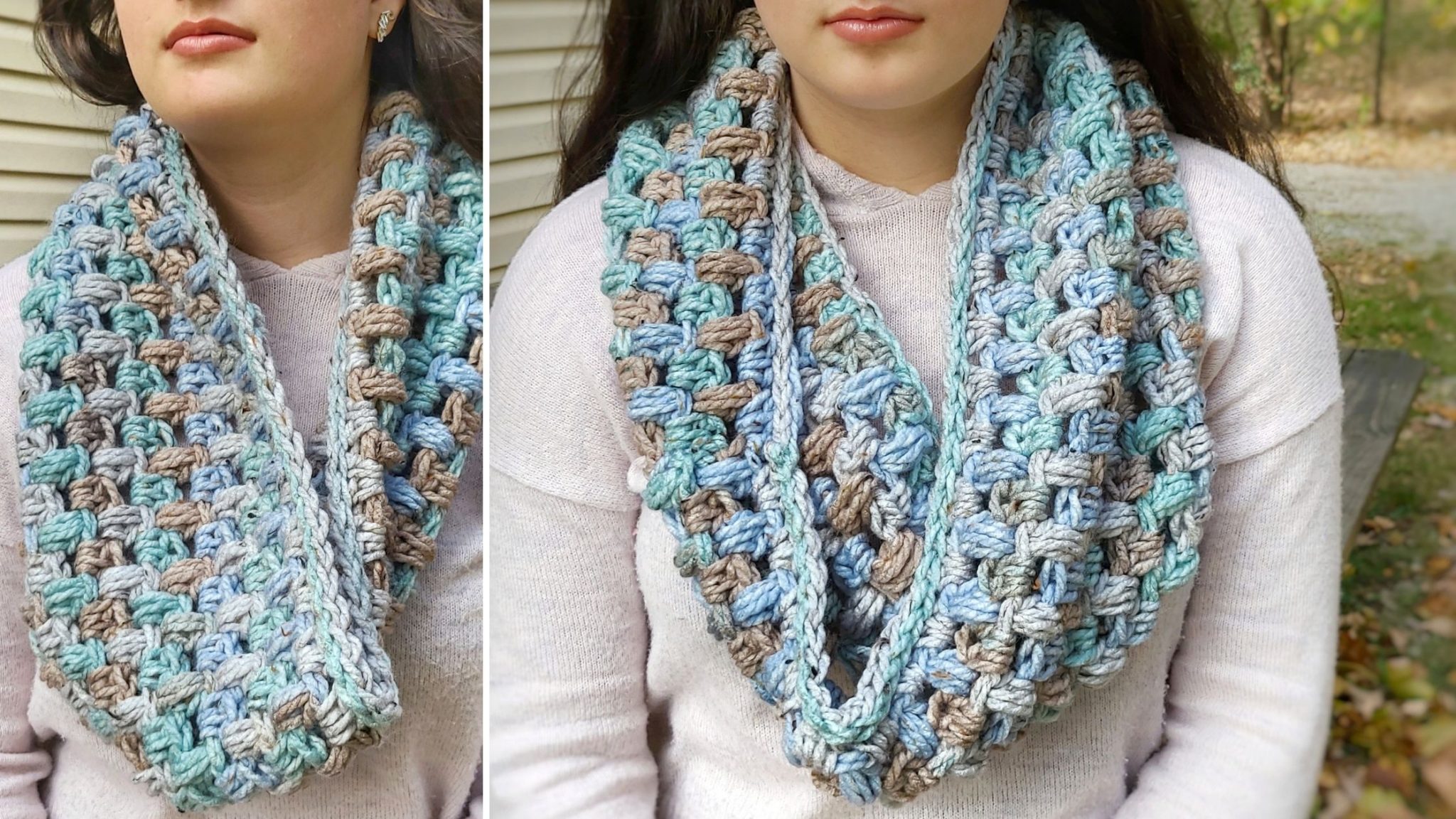 This is a perfect cowl project for crocheters who'd like to try their crochet skills at something a little more advanced, but still simple enough that you won't be overwhelmed.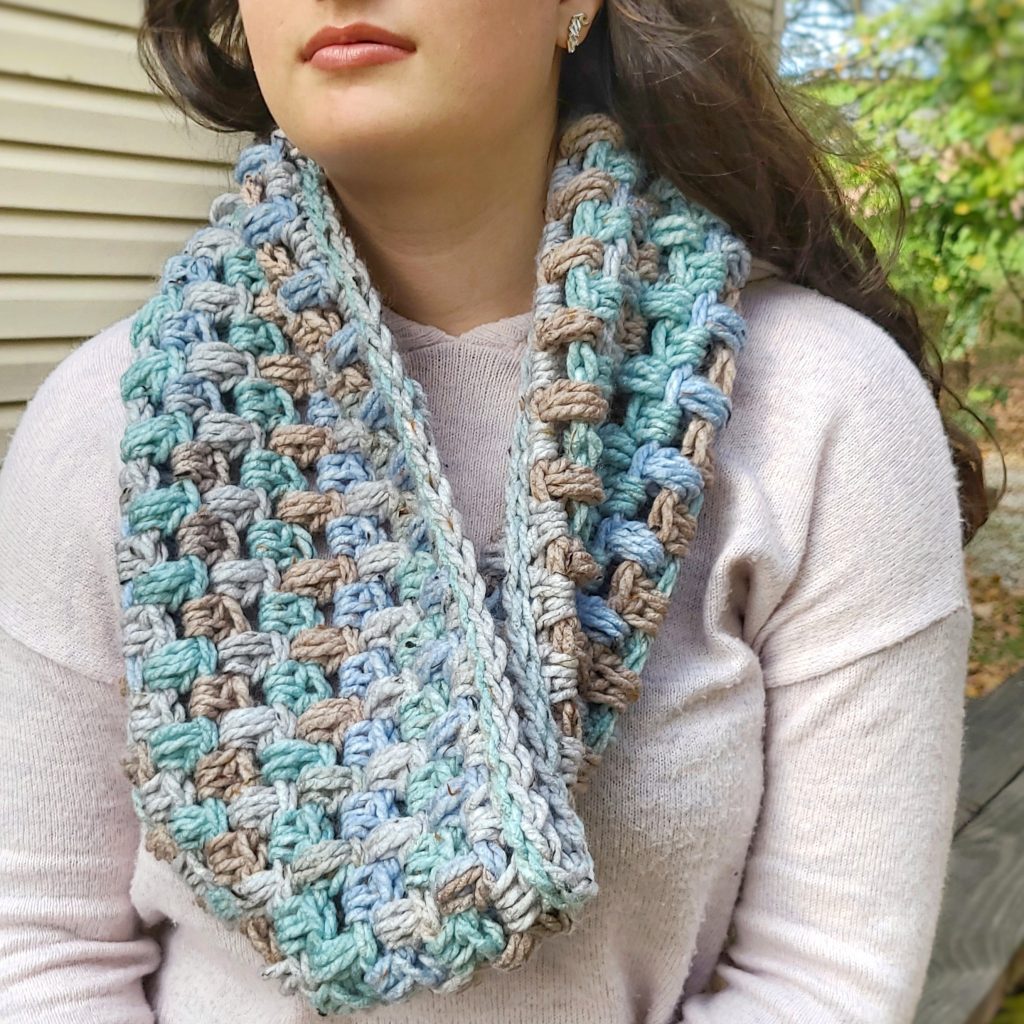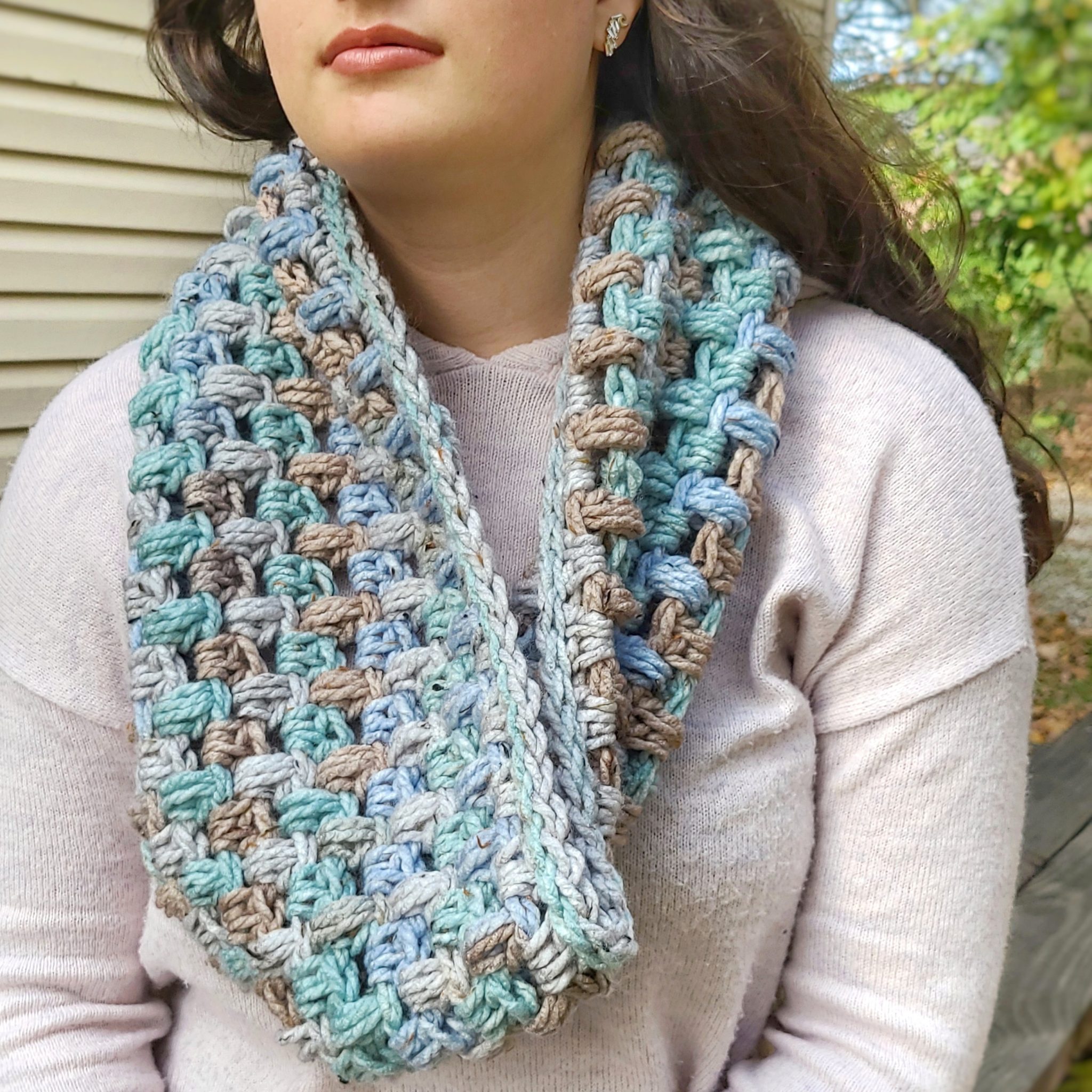 The Yarn for a Bulky Cowl
The Williams Puff cowl crochet pattern was designed with a bulky five weight yarn, which is perfect for the chilly temps that fall & winter bring. Come November, it starts to become freezing here in PA, so I am excited to try this cowl out soon.
I used two skeins of bulky five weight yarn called Charisma Tweed Stripes from Loops & Threads in the colorway Sweet Dreams. It is a beautiful tweed yarn from Micheal's that is available in a wide array of solid colors, patterns and more.
Charisma
This yarn is made by Loops and Threads, and is a Weight 5 – Bulky yarn.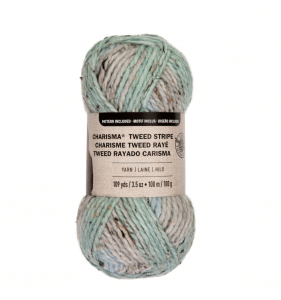 Buy Now
Patterns Using This Yarn →
You will more than likely find one color that you love, just like I did for your crocheted cowl. You can click the image above of the yarn to take a look at all the colors you can shop.
Truth be told, I designed this cowl over 3 years ago with a different brand of yarn that is no longer available, so I was excited when I found this yarn that fit perfectly with this cowl's design and stitches.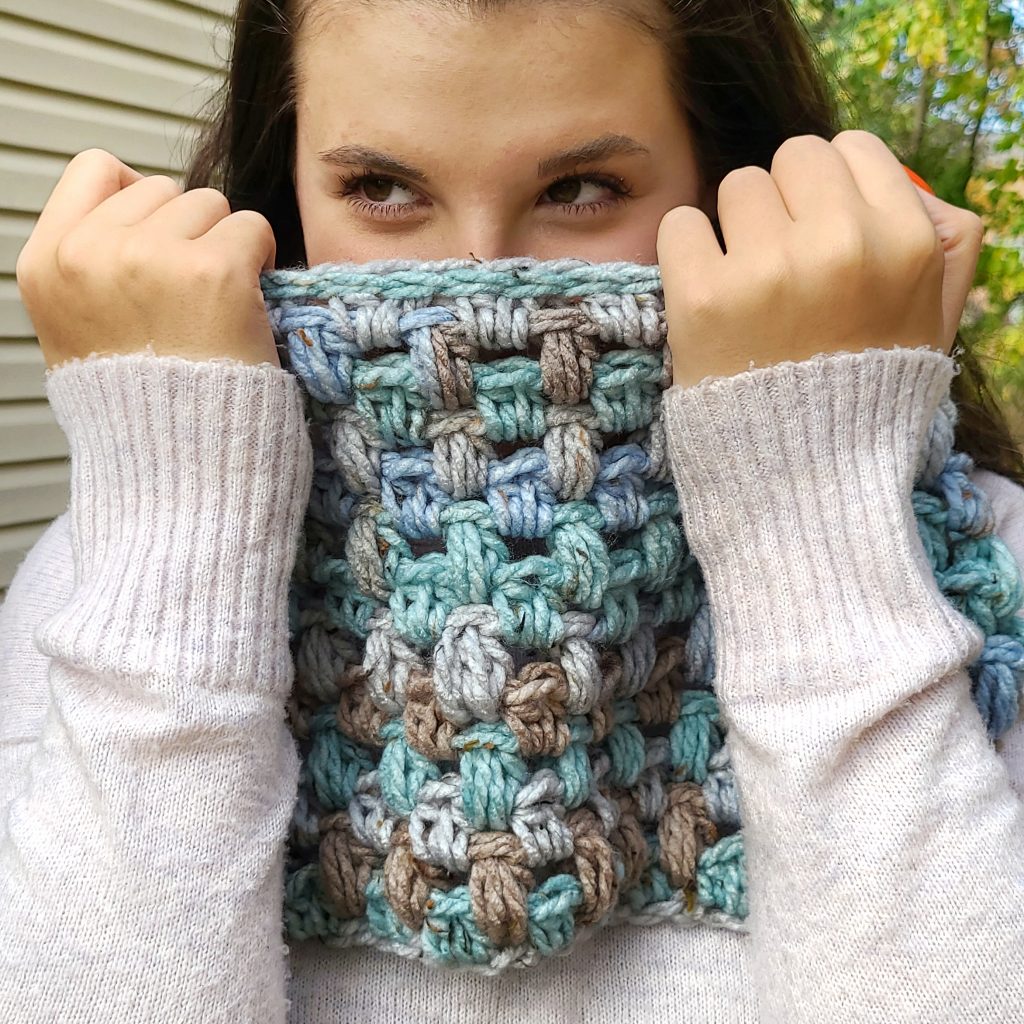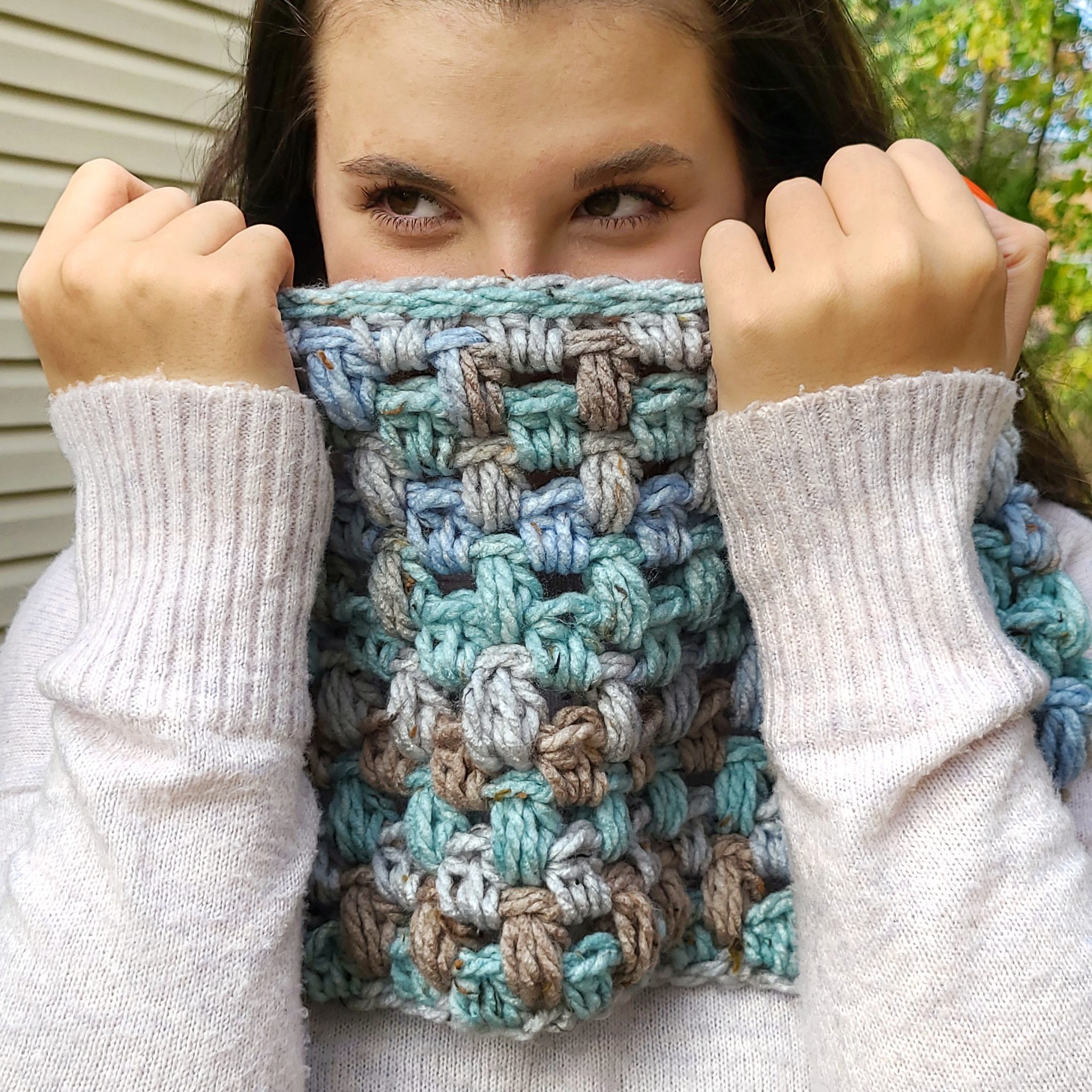 What Stitches Do I Need to Know for the Williams Cowl?
Speaking of stitches you will need to know some basic crochet stitches to make this cowl. The stitches are all fairly easy to learn all of which I will link up below.
Crochet Stitches for the Williams Cowl
Puff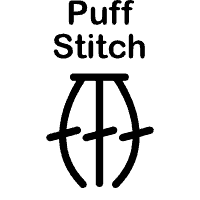 Patterns Using This Stitch →
Half Double Crochet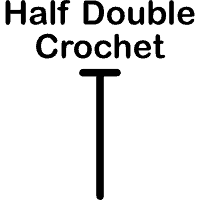 Patterns Using This Stitch →
I also wanted to mention that after I finished the main part of this easy crochet cowl pattern, I ended with a row of slip stitches. I wanted to make a nice clean edge, which you can see in the photo above at the top of the cowl.
If you still have more questions, a search here on Easy Crochet, Google or YouTube will help.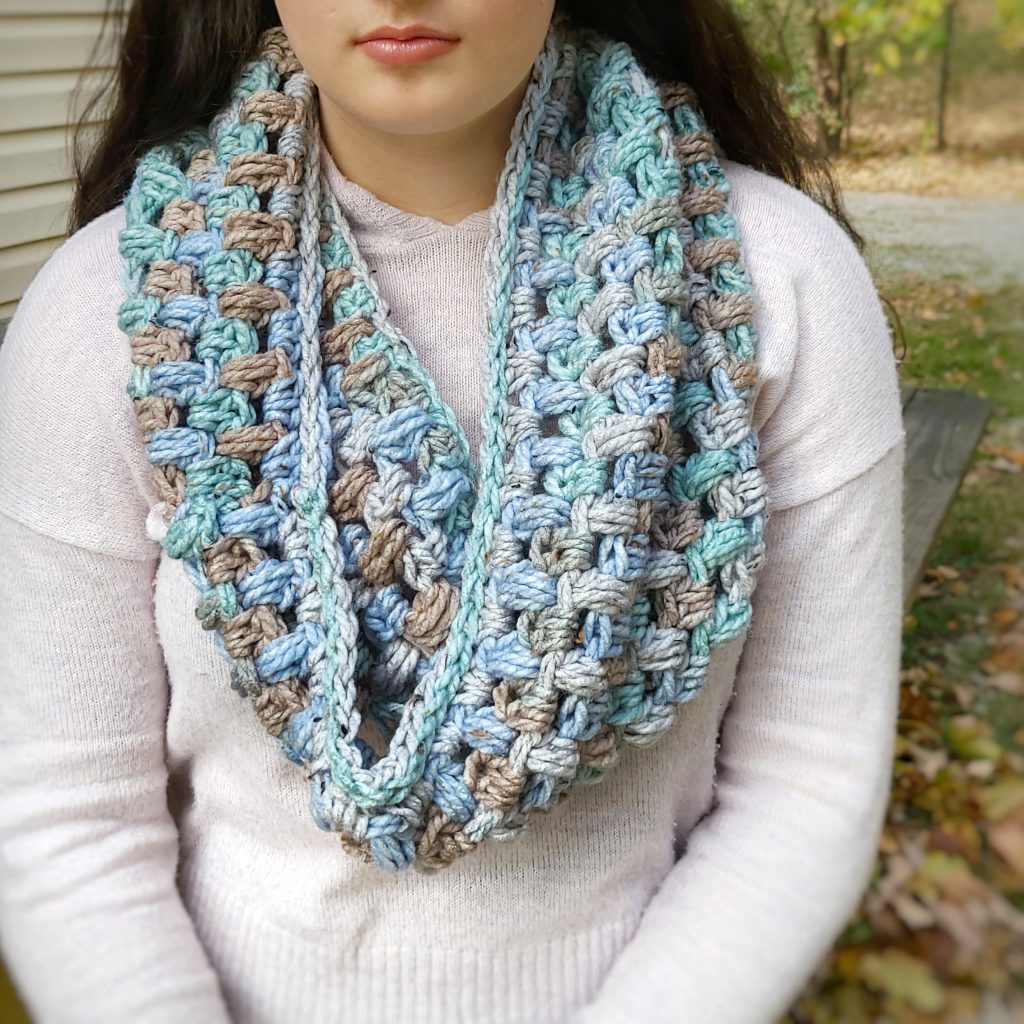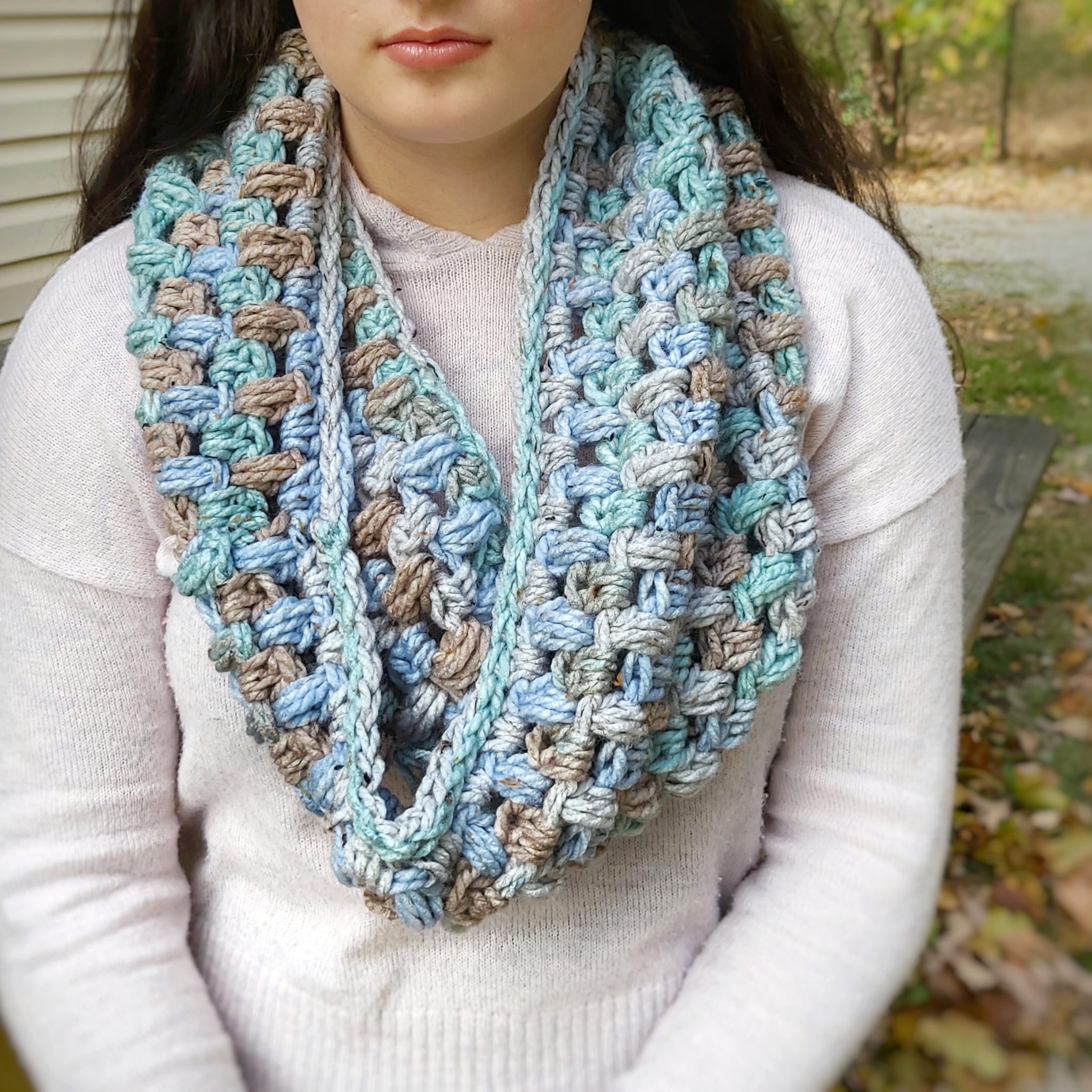 Are you ready to get started on this quick cowl design? Scroll on down to find the full free puff stitch cowl pattern.
Happy Crocheting!
Williams Crochet Cowl Pattern
Skill Level: Intermediate
Materials
Large Eye Blunt Yarn Needle for weaving in yarn ends.
210 yards of Bulky #5 weight yarn – Charisma Tweed Stripes
Measuring tape
Craft scissors
Finished Size
Finished size is a 40″ circumference and 10″ height
Crochet Abbreviations
ch = chain
sl st = slip stitch
hdc = half double crochet
sk = skip
yo = yarn over
st = stitch
puff = puff stitch: yo, insert hook in indicated st, yo, pull up a loop, yo, insert the hook into same st, yo, and draw up a loop (three times), yo and draw through all loops on hook, ch 1 to close.
Notes
Written in US terms
Make sure your starting chain is 40″ in length to get the same size cowl as shown or just under 2 ch's for every inch of the cowl.
Williams Puff Cowl Crochet Pattern
Round 1: I started by ch 72 then joining with a sl st to the first ch to form a circle making sure not to twist. (72)
Round 2: Ch 1, sk the first ch, in the next ch hdc 2 times, sk 1 ch *hdc 2 times in next ch, sk 1 ch, repeat around from * 2 hdcs into the last ch, sl st to top of first hdc.
Round 3: Ch 1, in first sk st space (from previous round) do a puff, ch 1, *in next sk st space do a puff stitch, ch 1, repeat from * around ending with sk st, sl st to top of the first puff stitch.
Round 4: Ch 1, starting in first ch 1 hdc 2 times, sk 1 st *hdc 2 times in next sk st, sk 1 st, repeat around from * ending with 1 sk st, sl st to top of first hdc.
Rounds 5- 15: Repeat rounds 3 & 4.
Round 16: Repeat round 3.
Row 17: Ch 1, sl st into each st around, end with a sl st into the first sl st of the beginning of the round.
Finishing: Fasten off & weave in loose ends with yarn needle.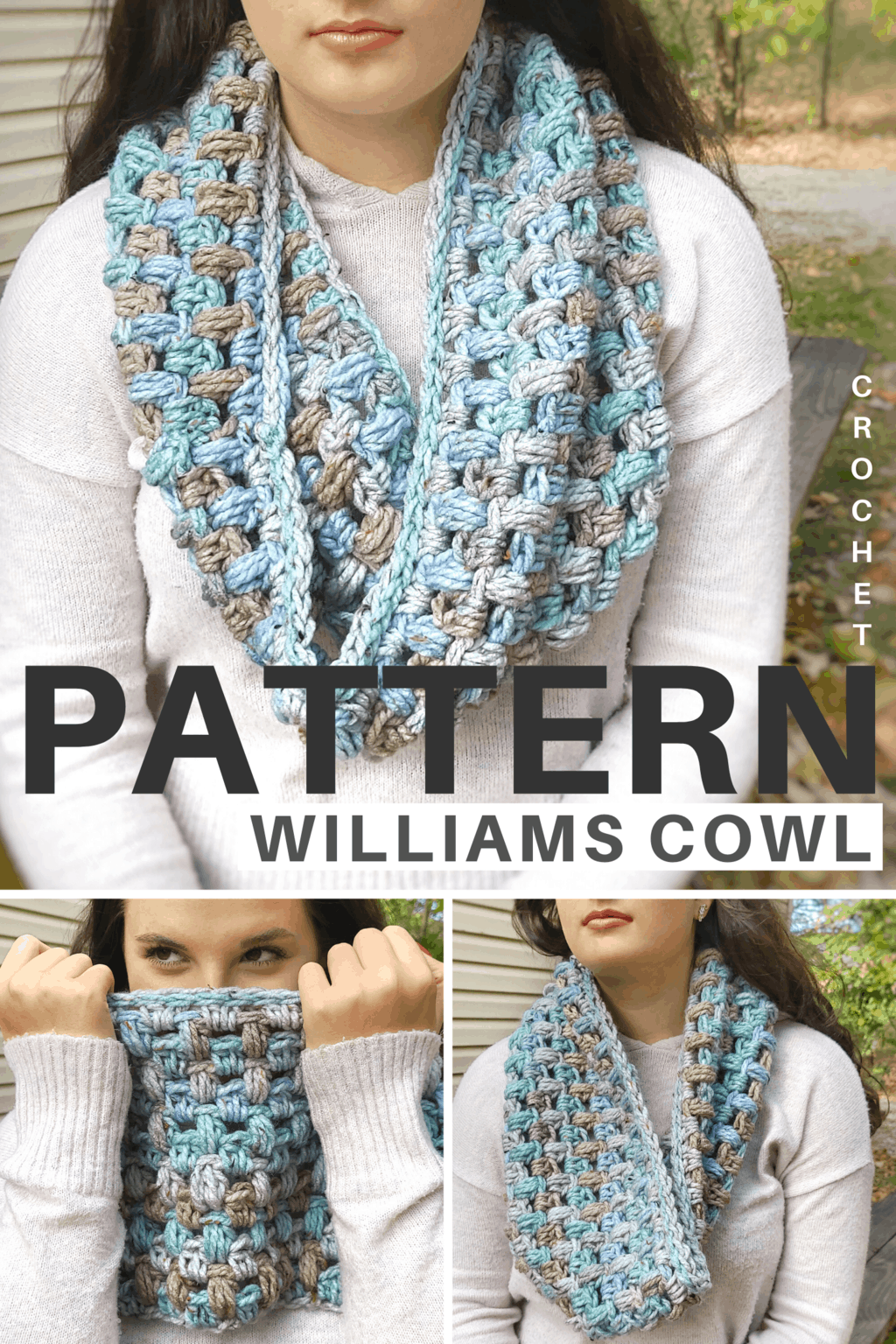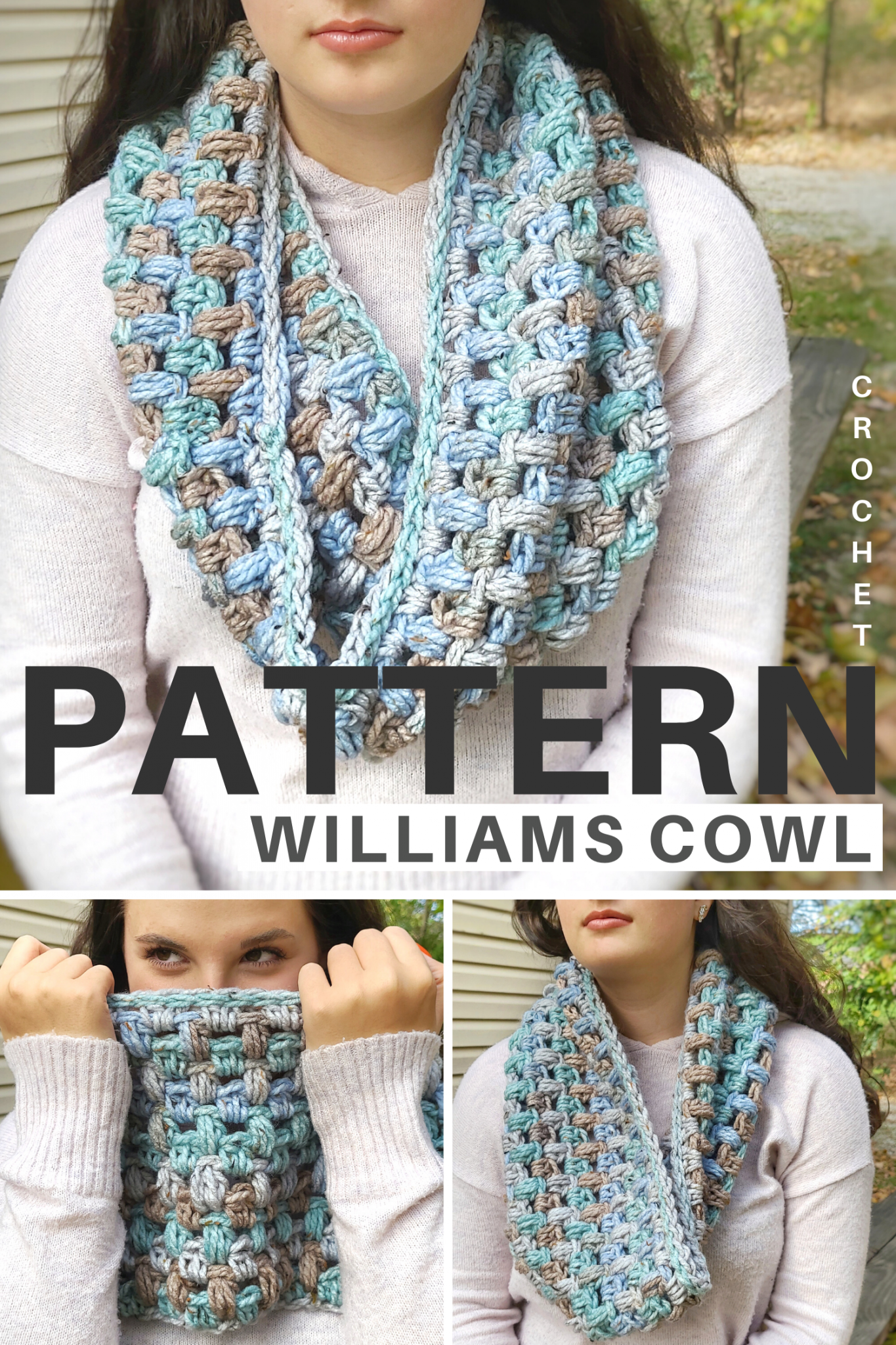 I hope you enjoyed this fun pattern. If you require any further assistance, please feel free to ask over in the Easy Crochet Group on Facebook.
And if you'd like even more free crochet cowl and scarf patterns, check out some of my favorite scarf designs below.
More Free Crochet Scarf Patterns