Josie Chunky Crochet Scarf Pattern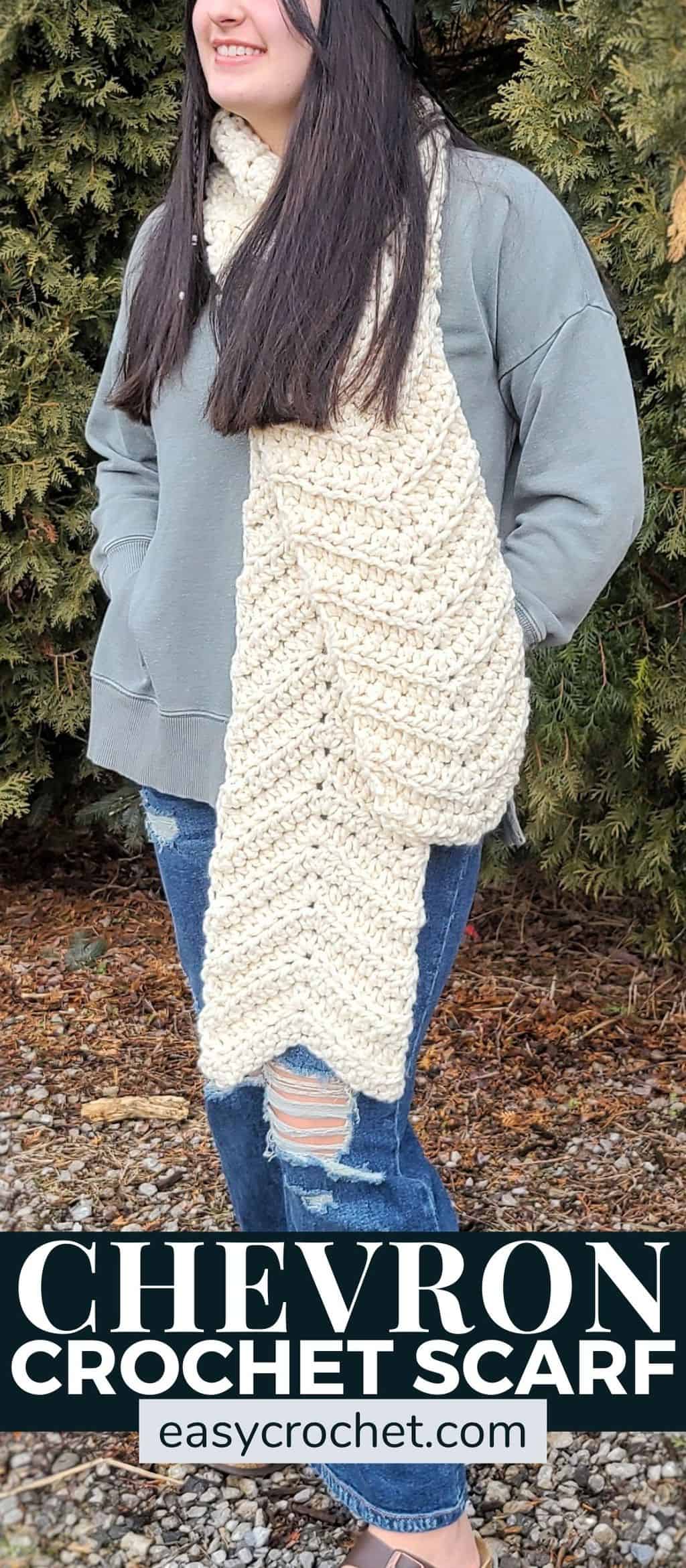 Are you looking for a chunky scarf crochet pattern? If so, I got one for you! This easy to make scarf using chunky yarn, simple to make and is extra cozy too!
Crochet scarves are fun to make and quick project to make! Grab your yarn, hook, and notions to get ready to create a cozy and simple one stitch crochet scarf featuring a chevron design!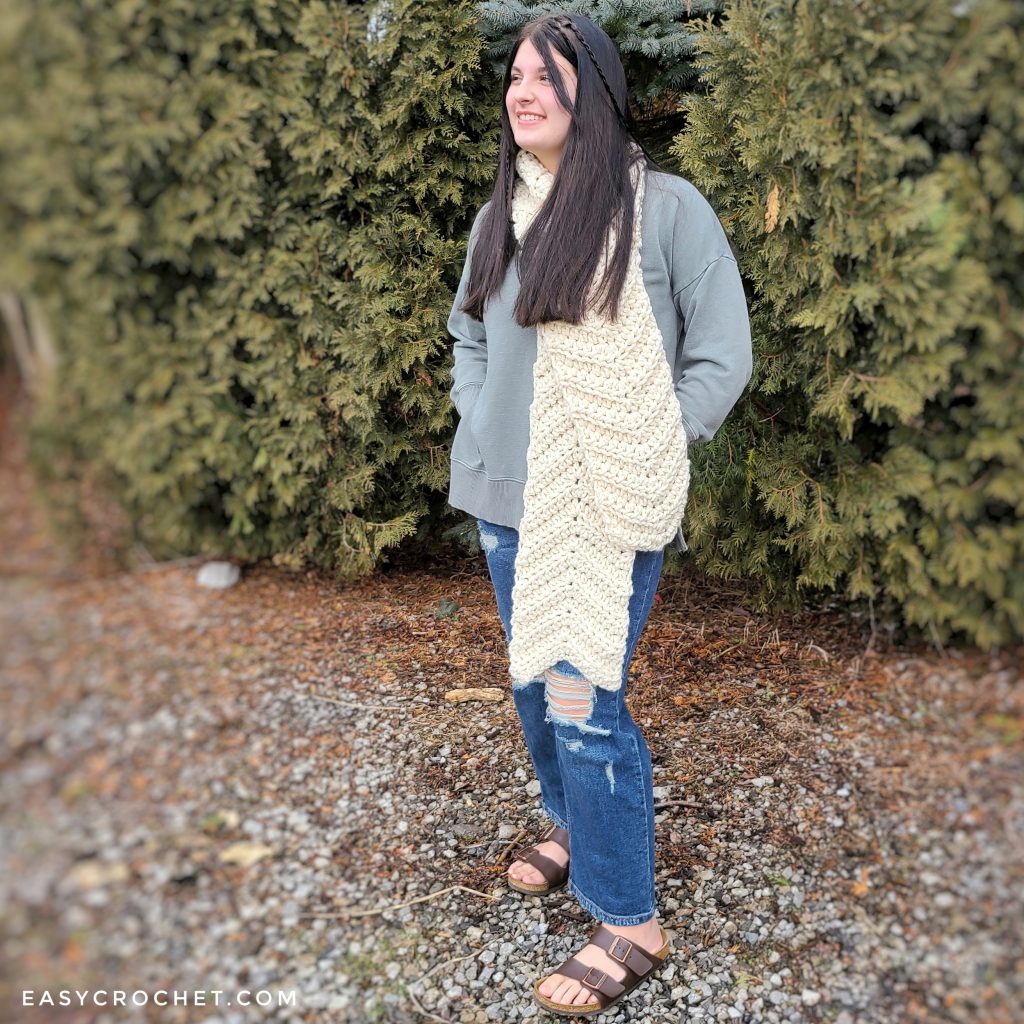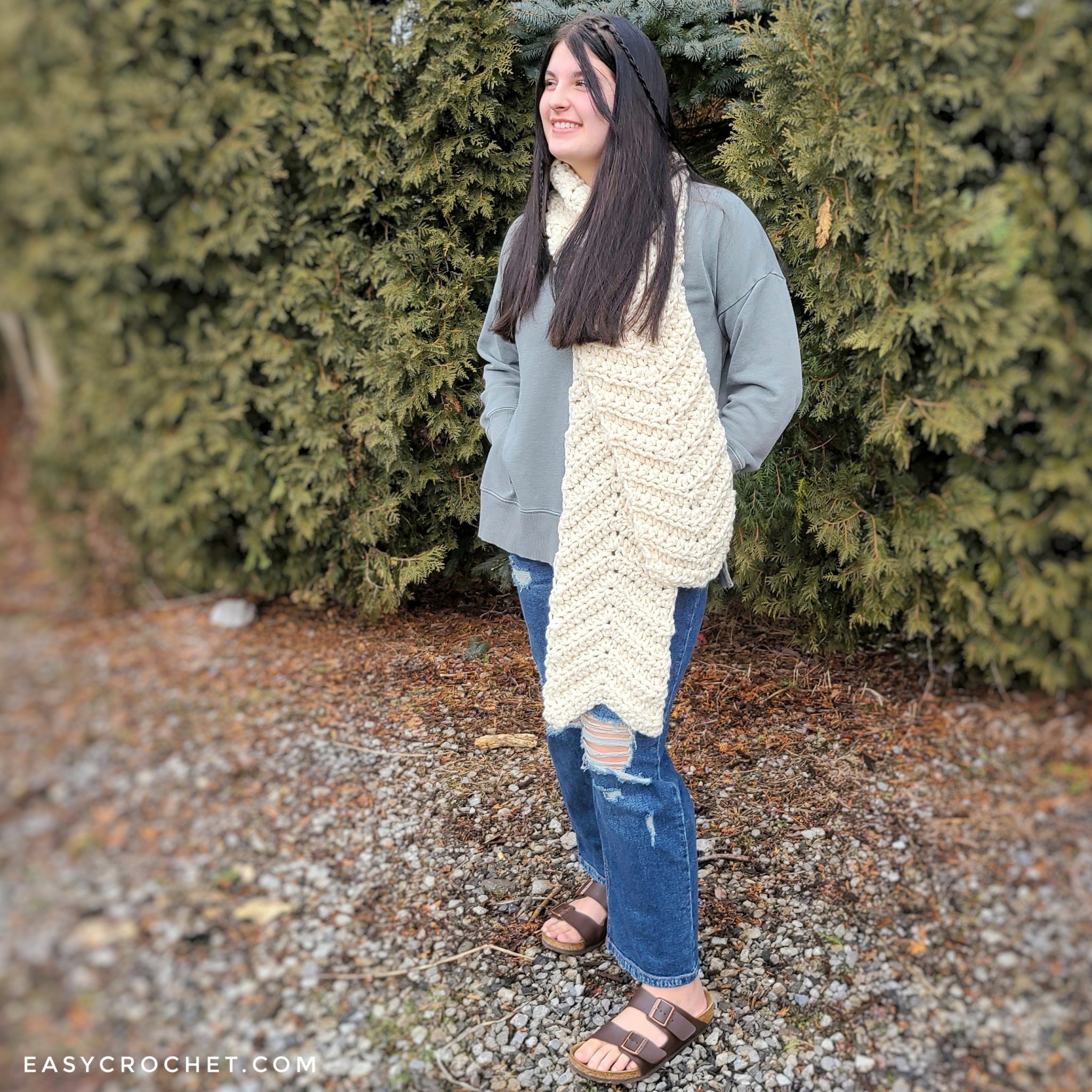 The Josie crochet scarf is the perfect crocheting project to keep you cozy warm on those chilly, crisp winter days because of the tight stitches and bulky wool yarn. You'll love it!
Scroll on down to find the free chevron scarf pattern plus learn about the yarn, stitches and more!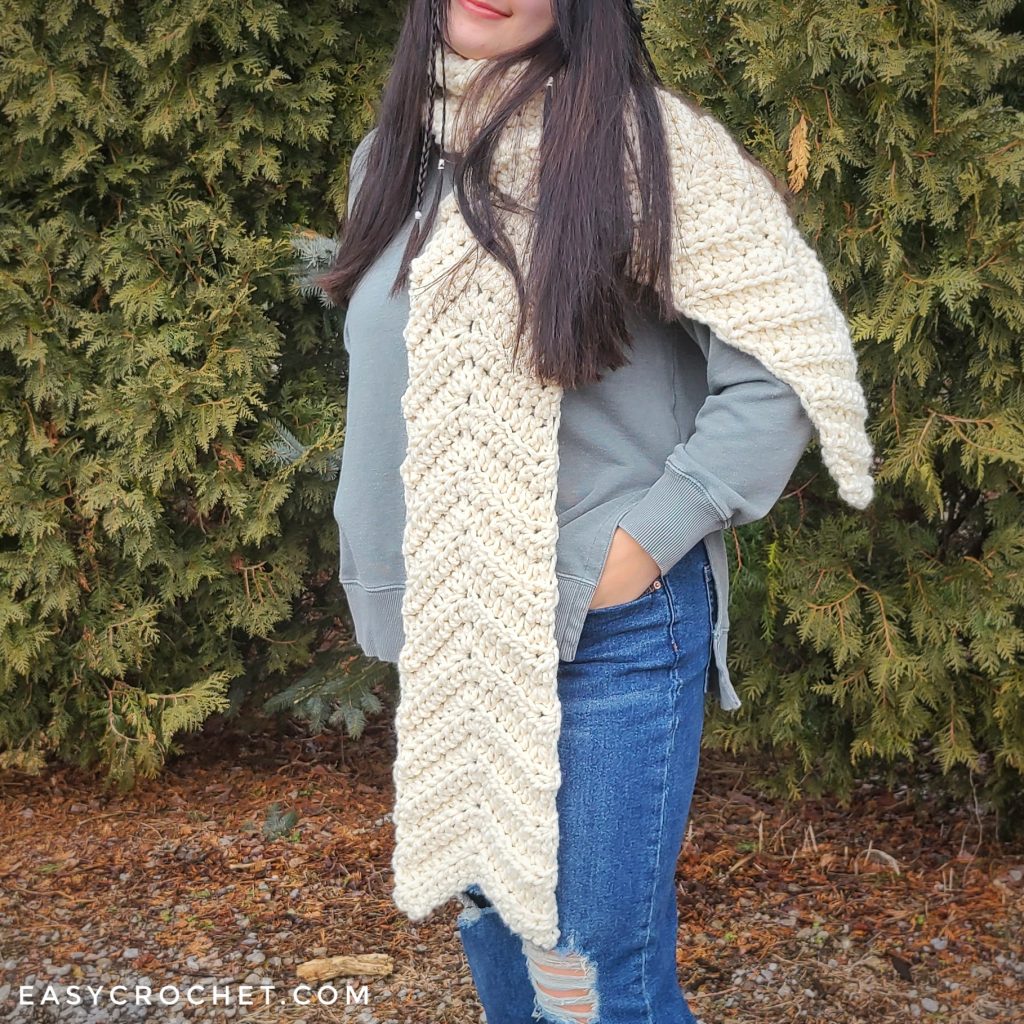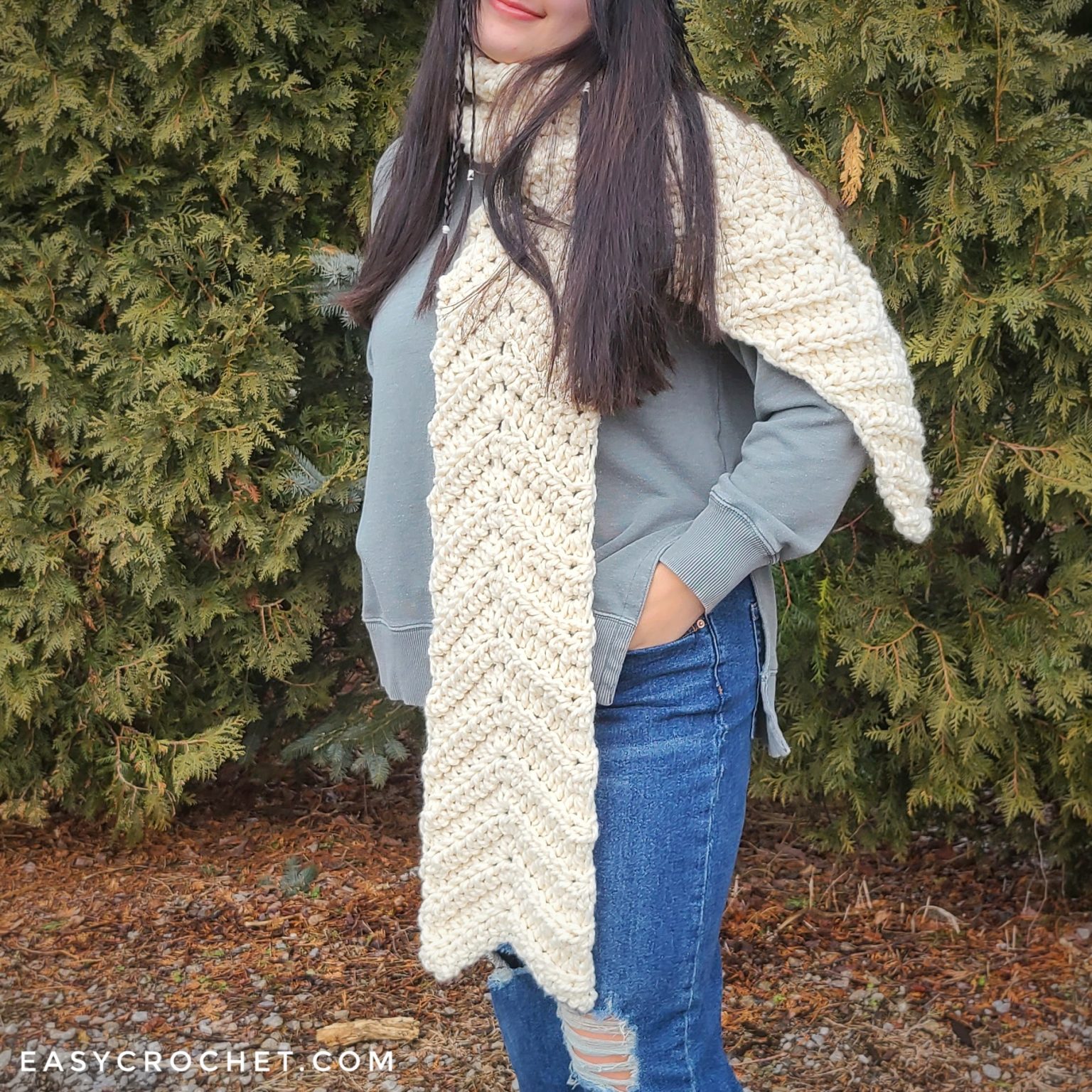 The Stitches
To be able to crochet this scarf you will need to know how to do one basic stitch which is the half double crochet (hdc)! You will also need to know how to half double crochet in the back loop (hdc bl) which is an easy technique to learn as well as how to half double crochet two stitches together. (hdc2tog)! Take a look at the stitch explanations below for some extra help if needed.
Crochet Stitches For a Chunky Scarf
Half Double Crochet (hdc):
Yo (yarn over) insert hook from front to back of the designated stitch, yo the hook and pick up a loop.
Yo the hook and pull back through all three loops on the hook.
Half Double Crochet 2 Together (hdc2tog):
Yarn over (yo) the crochet hook, insert the crochet hook into the designated stitch.
Yo the crochet hook and pull the yarn back through the stitch on your crochet hook. You should now have three stitches on your hook.
Insert the crochet hook into the next stitch on your row & yo the crochet hook again.
Pull the yarn through the stitch on your crochet hook. You should now have four stitches on your hook.
Yo the crochet hook and pull the yarn through all four stitches on your crochet hook.
Working in the Back Loop (bl):
Insert the hook through the bl only of each stitch rather than under both loops of the stitch.
Complete the stitch as usual.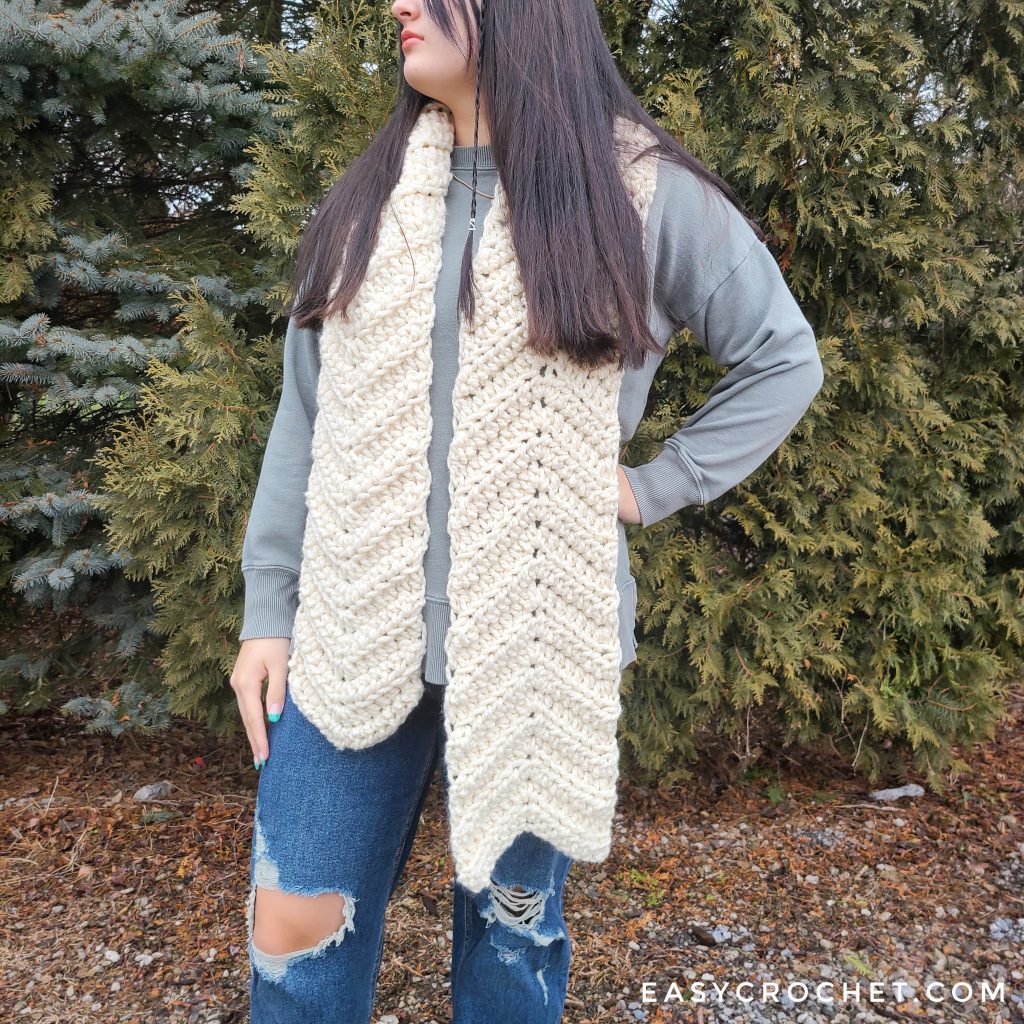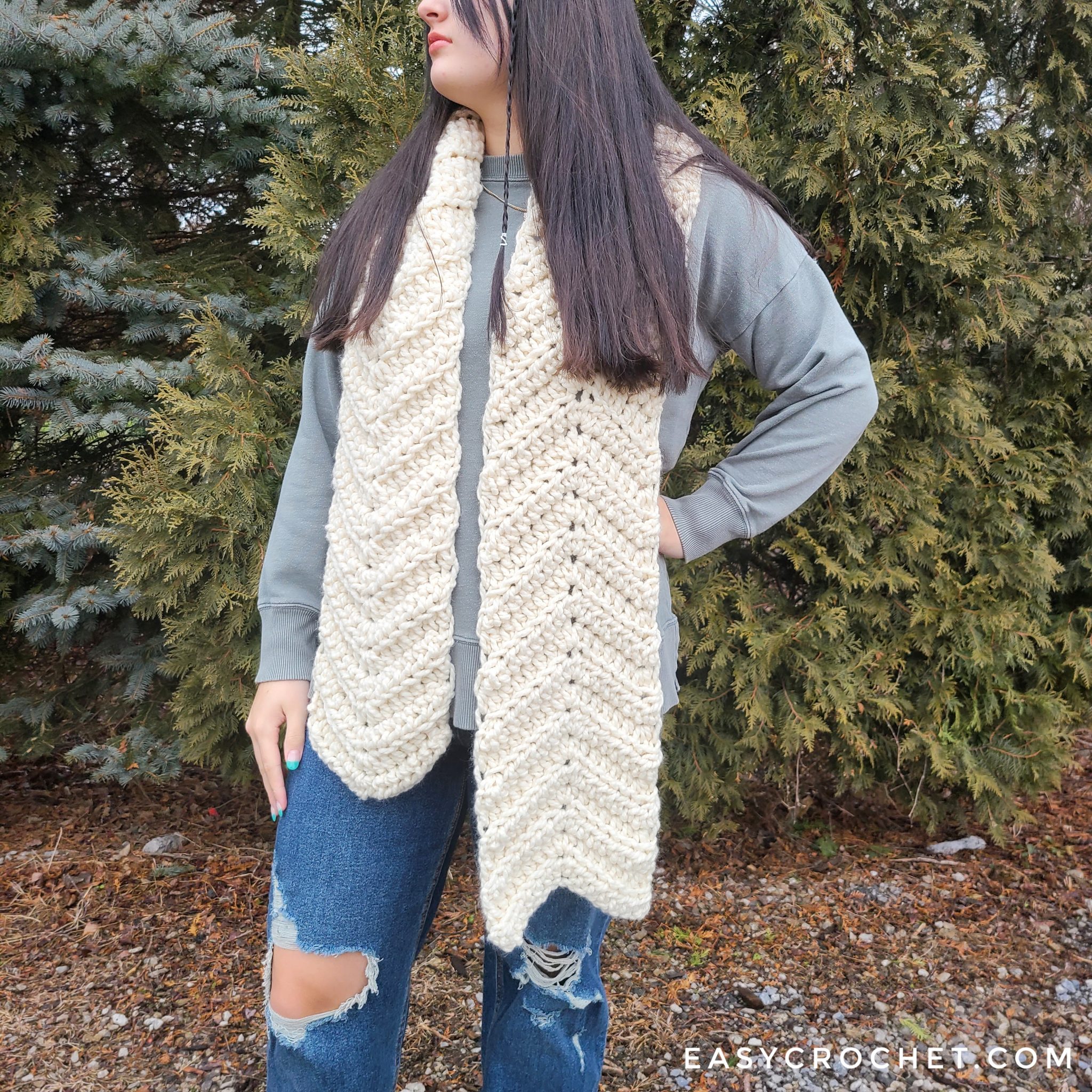 The Yarn
To crochet a chunky yarn scarf just like mine you will want to get a hold of Wool-Ease Thick & Quick from Lion Brand Yarn. It is a super bulky 6 weight yarn that is 20% wool & 80% acrylic.
This yarn is great for projects that you want to get done quickly because of how bulky the yarn is. If you are looking for a scarf that will only take a few days to complete this scarf pattern may be the one!
I used the colorway Fisherman for this scarf because it is a neutral color and so it would look good with any outfit it was put with.
If you'd like to make this scarf in a different yarn color, there are over 40 different colors you can pick from, which means your scarf will truly be unique to you.
How Many Yards of Yarn Do I Need to Crochet a Scarf?
To make the scarf as written you'll need about 3 skeins and less than 250 yards (229 meters) of super bulky #6 weight yarn. If you change yarn brands, the number of skeins will vary because each yarn has a different amount of yarn in each skein.
Substitute Yarn: If you'd like to use a yarn that doesn't contain wool I recommend using Hometown Yarn which is also from Lion Brand. It is 100% acrylic, a super bulky #6 weight and works up similar to WET&Q.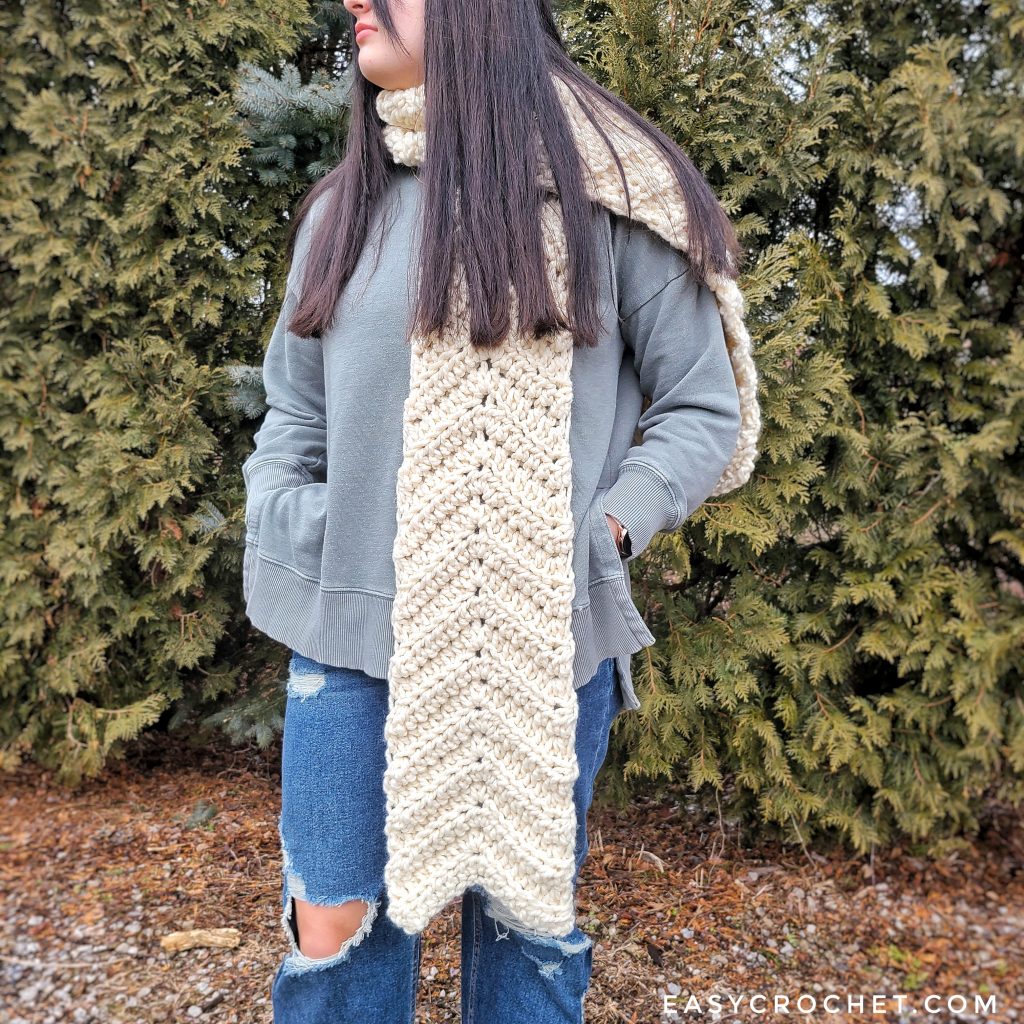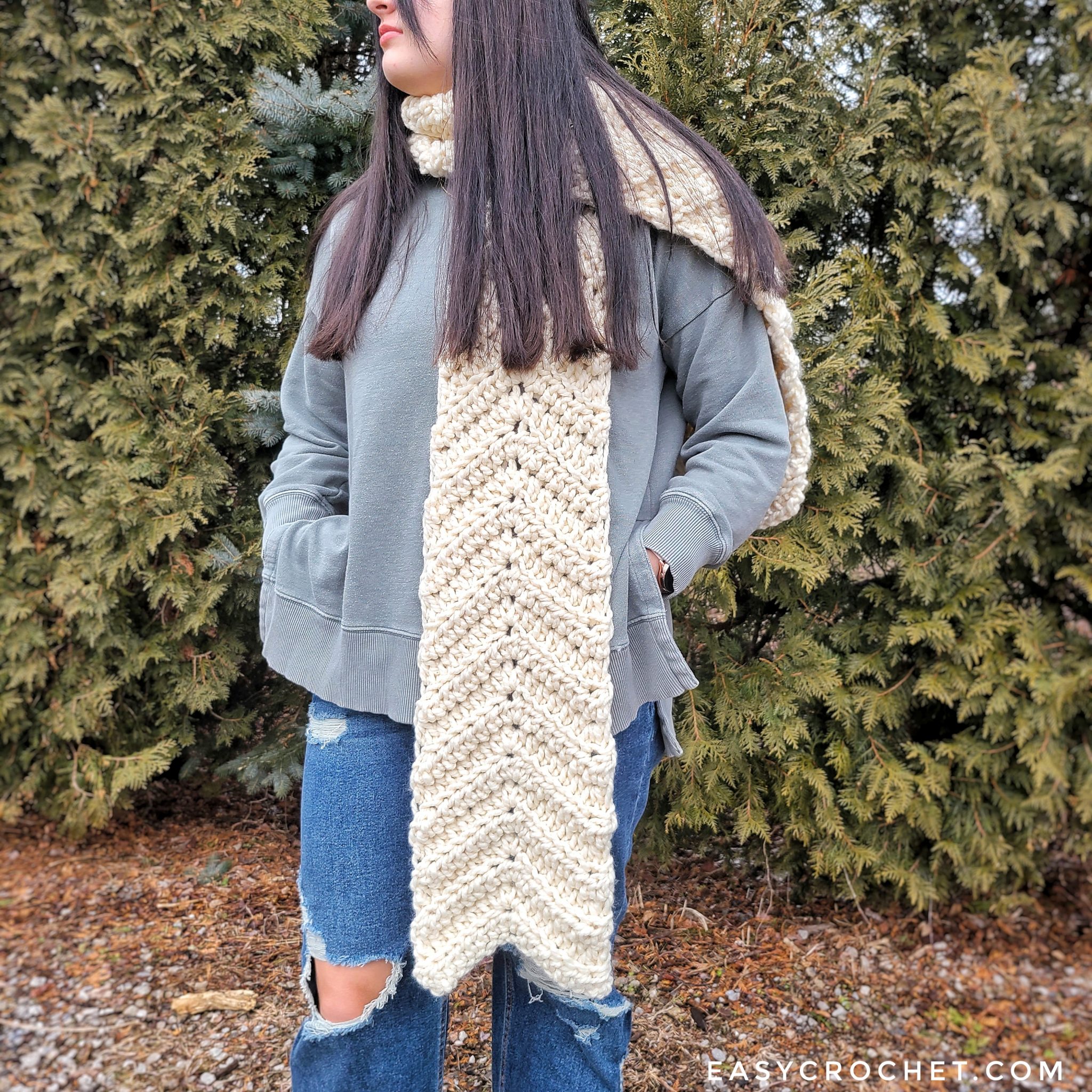 Ready to Get Started?
If you are ready to make this chunky chevron crochet scarf, then read on down to get the full, FREE crochet pattern below.
Happy Scarf Making!
Chunky Chevron Crochet Scarf Pattern
Skill Level: Intermediate
Materials
Finished Size
64″ x 8″ inches
Crochet scarf sizes can vary, so take a look at our crochet scarf size chart to pick the size you'll need.
Gauge
8 rows x 15 sts = 8″ x 8″
Follow pattern for 8 rows for gauge pattern
Stitch Abbreviations
ch = chain
st = stitch
hdc = half double crochet
hdc2tog = half double crochet two together
Notes
Adjust length by repeating row 2 to whatever length you desire.
This pattern is written in standard US terms
Josie Chevron Scarf Pattern Steps
To Start: Chain 16
Row 1: Working in the second ch from hook hdc the first two stitches together (hdc2tog), 1 hdc in each of next 5 ch's, hdc 3 times in next ch, 1 hdc next 5 ch, hd2tog, turn. (15)
**Every row after this is worked in the back loop of the stitch except the hdc 3 times in one stitch which is worked through both loops.
Row 2: Ch 1, starting in first st hdc2tog, 1 hdc in each of next 5 st's, hdc 3 times in next st, 1 hdc in next 5 st's, hdc2tog, turn.
Row 3-64: Repeat row 2
Finishing Option 1:
Example is shown using finishing option 1
Fasten off and weave in loose ends throughout with a yarn needle.
Finishing Option 2:
If you use this option you will use the leftover yarn from skein #3
Do not fasten off.
Ch 1 and sc down the long side of your crochet scarf until you get to the first point.
Continue to sc up the long side of the scarf to point and down.
Sl st to top of first sc, and now you can fasten off.
Weave in ends with the yarn needle.

More Free Crochet Scarf Patterns
More Super Bulky Yarn Patterns