Crochet Unicorn Scarf Mandala Pattern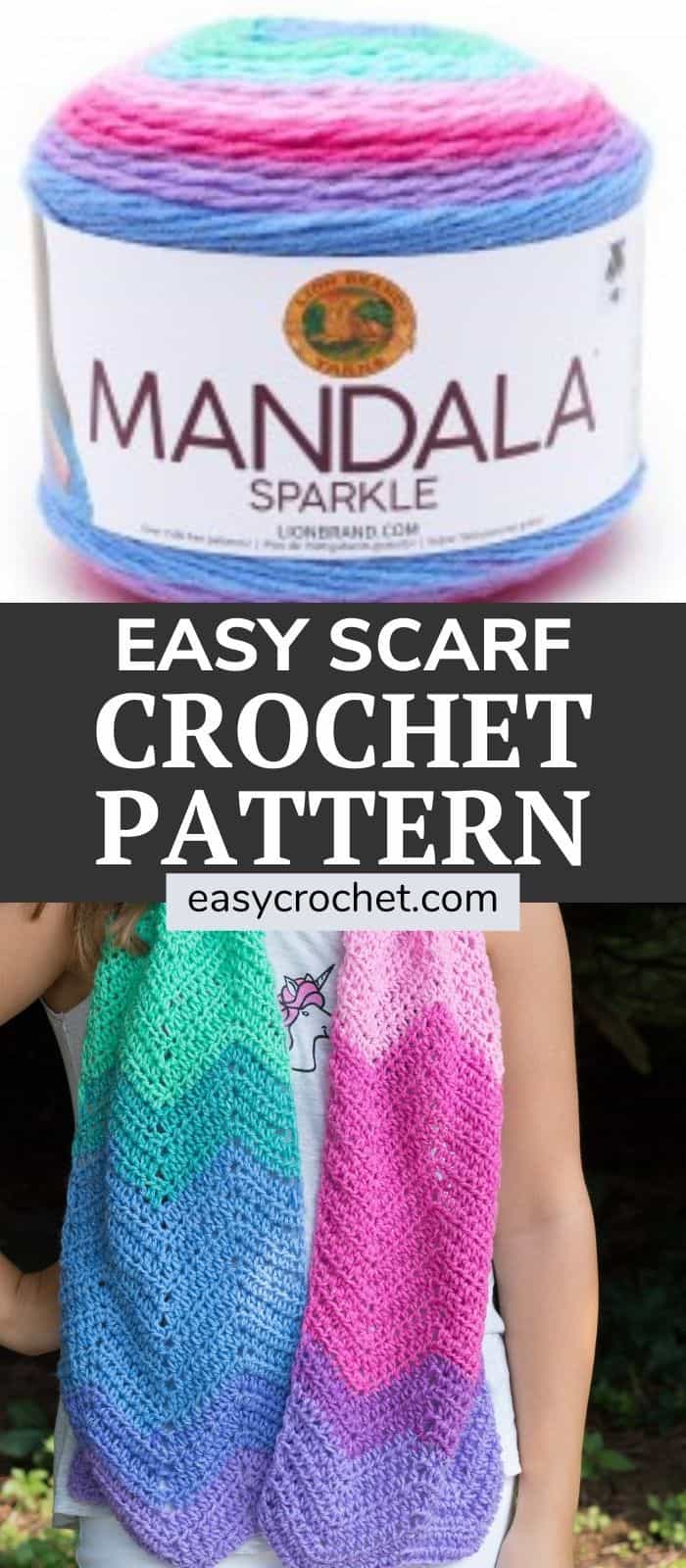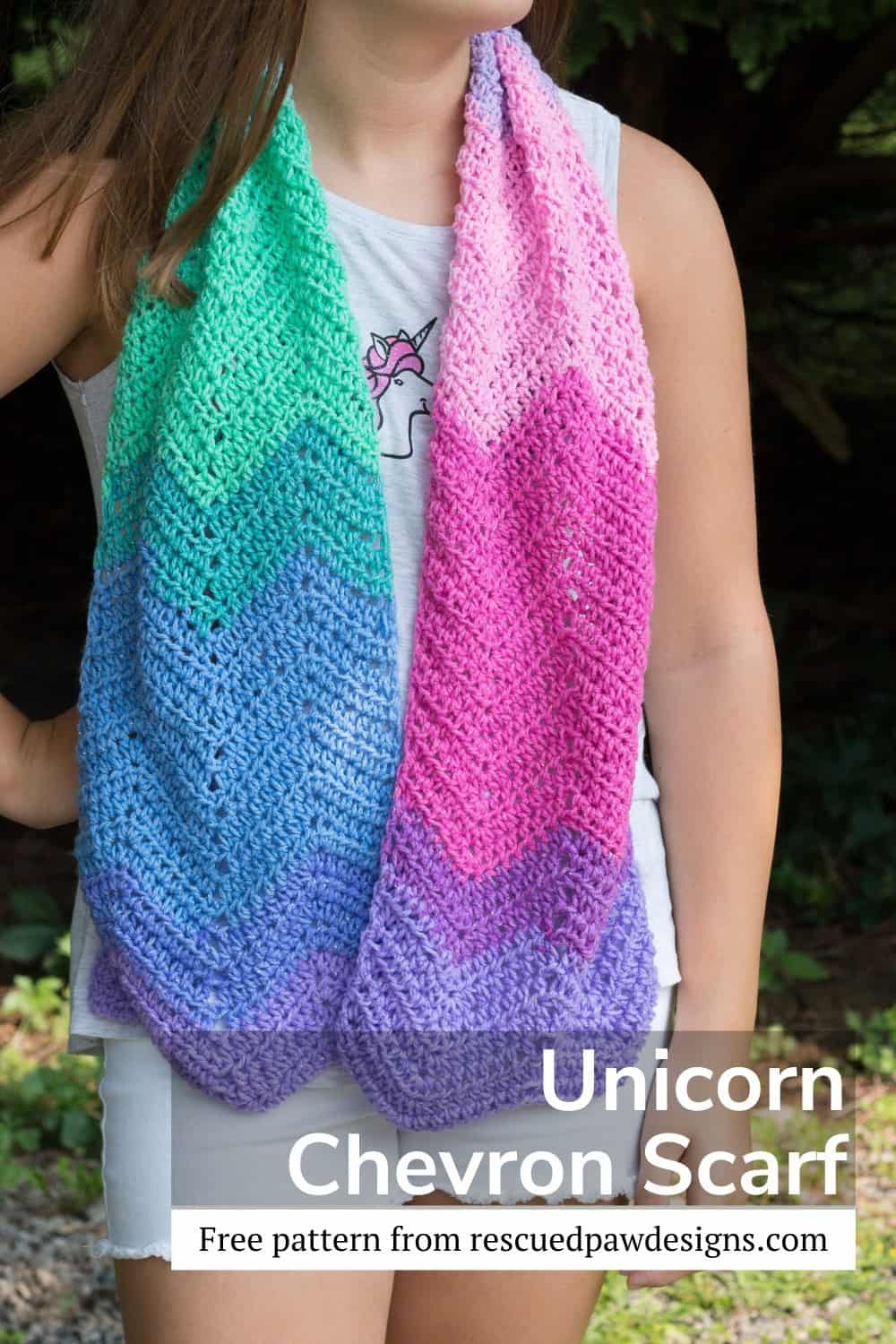 Are you looking for a fun scarf to crochet, then why not crochet this bright chevron scarf design? Crocheting a scarf with mandala yarn is a fun and easy project for anyone looking to crochet an easy scarf. Especially this one, since it is sparkly and has the colors that are perfect for a unicorn scarf design.
In this blog post, we'll show you how to make a colorful scarf step-by-step, regardless of your experience level.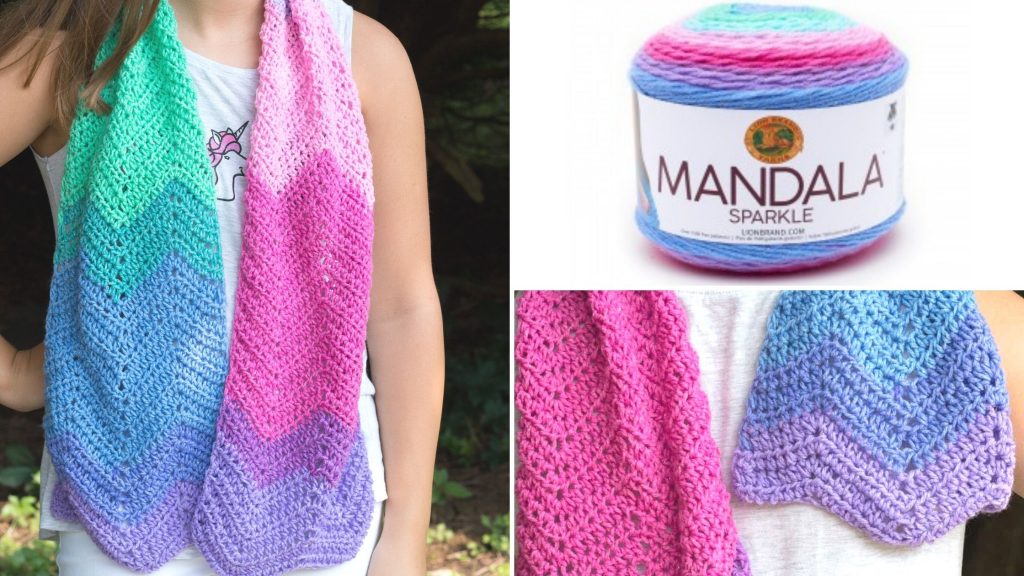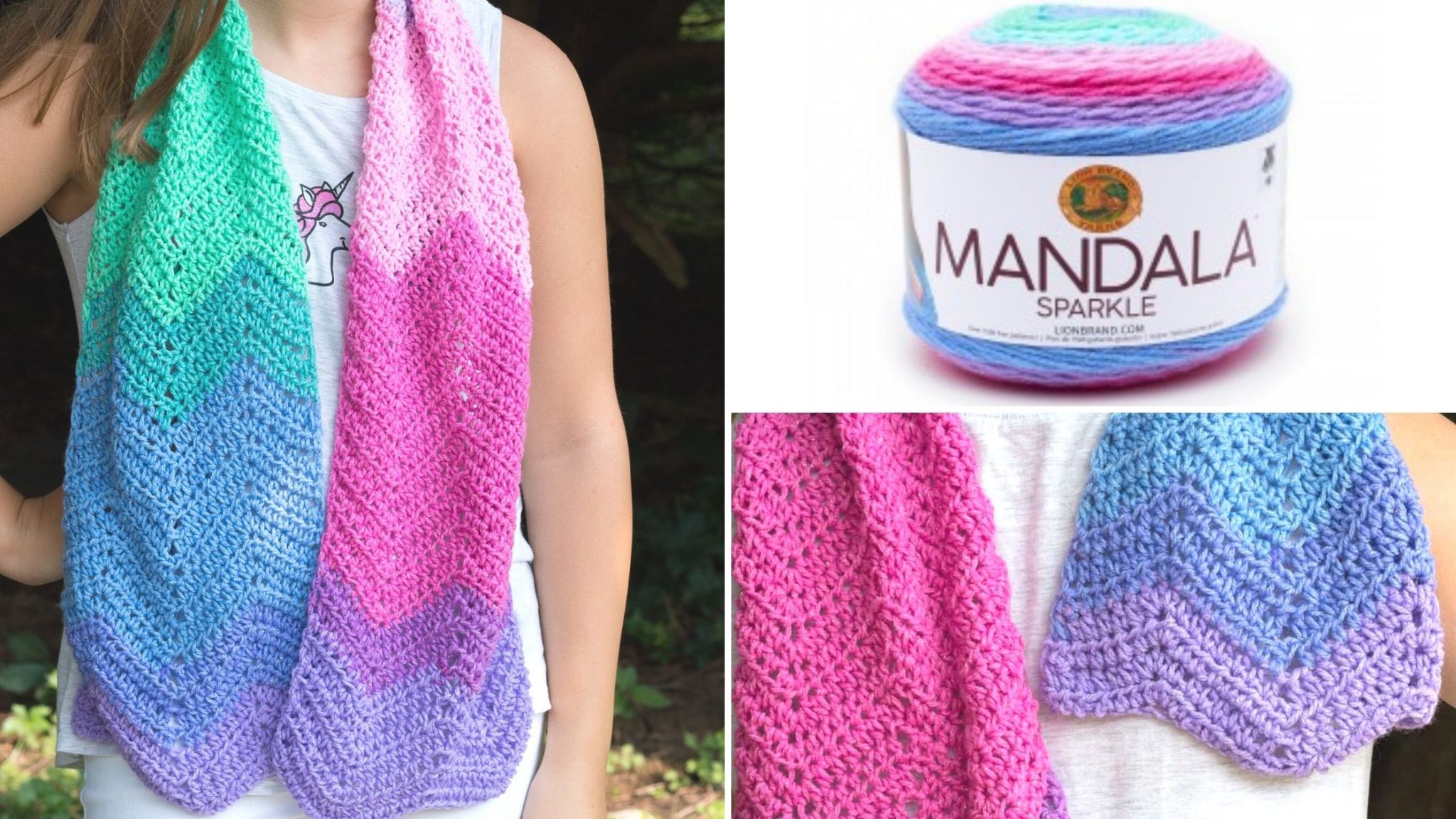 Why You'll Love Crocheting This Scarf
This fun colorful crochet unicorn scarf is fun to make, super easy to crochet.
The best part is the simple repeat which makes it a quick couple of days project.
First. You got me. This scarf is not really a unicorn but the yarn reminds me so much of one! You have got to agree with that! 🙂
As you can see I had my daughter wear her Unicorn tank, so I could show you guys how much the colors really do look like a Unicorn! 🦄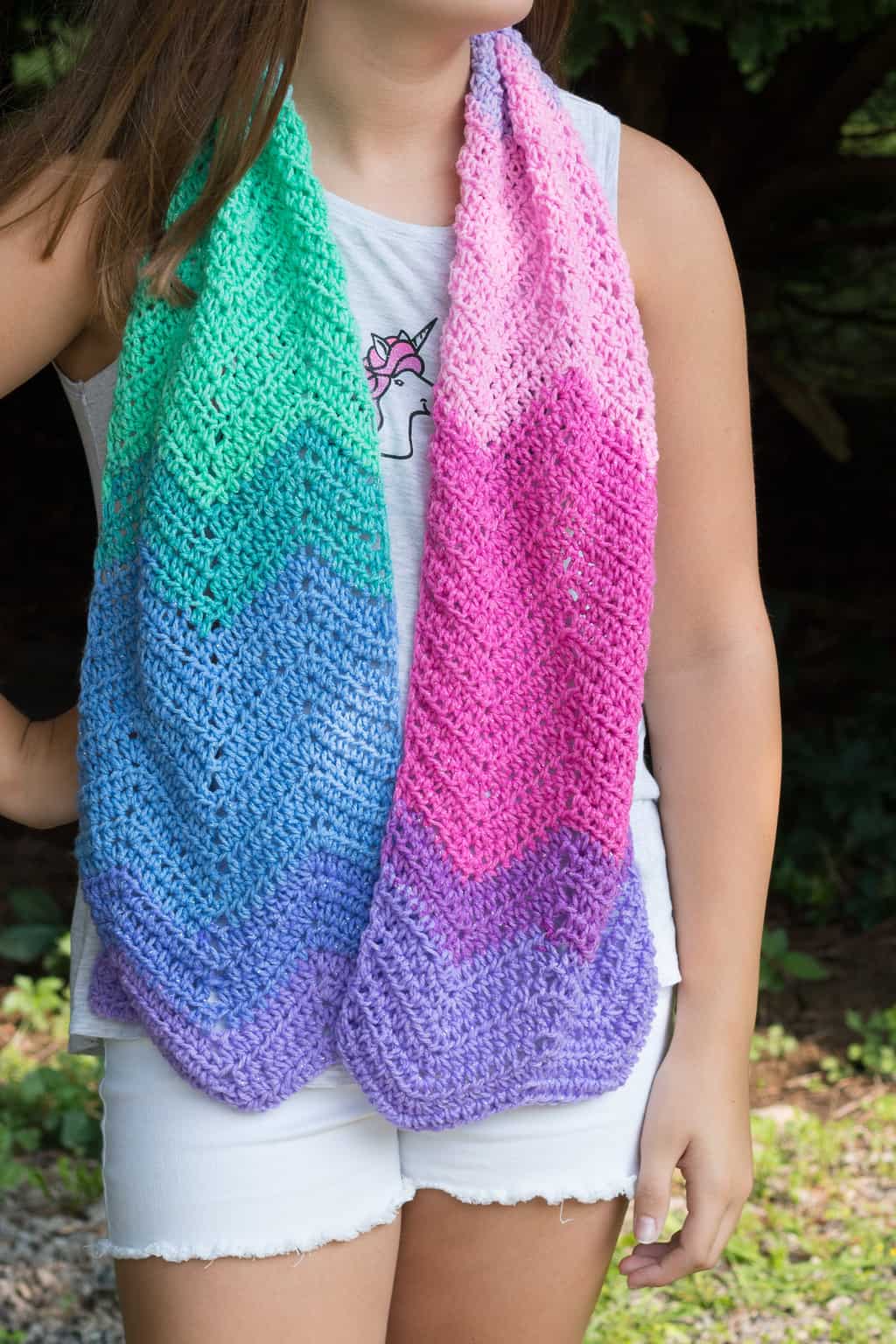 Simple Wavy Design Pattern
If you have been around Easy Crochet long you know that I love chevron, ripple or any kind of wavy pattern. I'm kinda obsessed! This design was no exception!
It is worked in a simple stitch repeat to create a fun ripple like design and is perfect for anyone who loves bright fun colors and of course Unicorns!!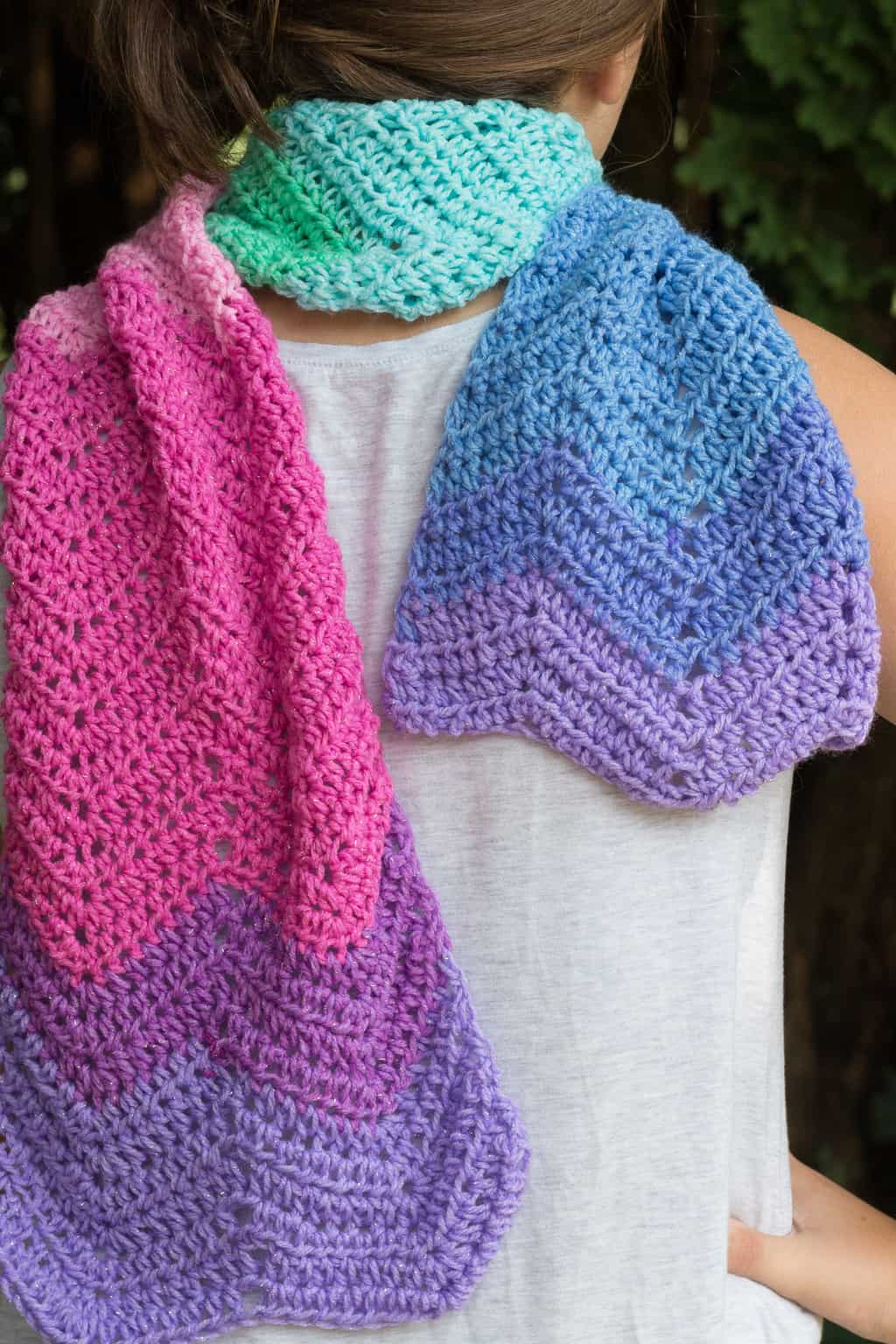 Don't forget to try some of my favorite designs below too!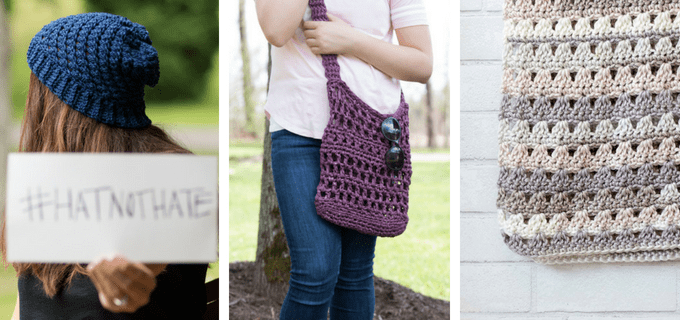 Mandala Sparkle Yarn From Lion Brand
I used Mandala Sparkle yarn which is so colorful and does truly sparkle when you see it in person. I tried to capture it with the camera the best I could because sparkles are fun and I wanted you to see how awesome they look.
Can you see it?
When I opened the box that this came in (Thanks Lion Brand Yarn!) my daughter instantly loved the sparkles, the "Unicorn" colors and wanted me to make something with it just for her. Surprise, Surprise!
You can get the Mandala Sparkle online from LionBrand.com in some pretty colors.
If you'd prefer to try a different color-way than "Unicorn" aka as Draco on Lion Brand's website then you'll have some pretty good choices to pick from!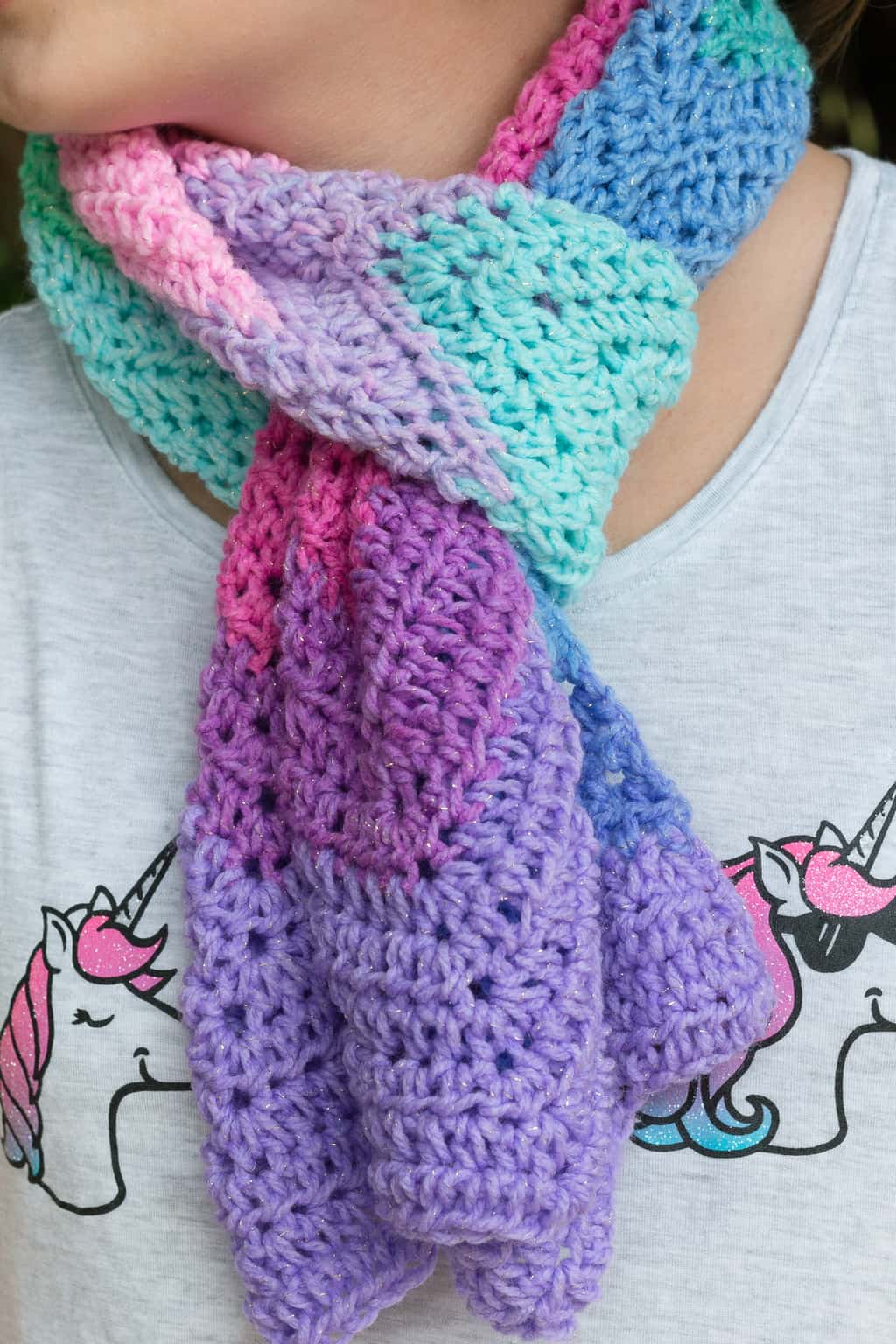 Ready to Get Started?
Read on down to find all the info you will need to start this easy (and fun!) pattern! You will learn how to crochet a Unicorn scarf in no time at all because fast crochet patterns are always a good thing!
If you don't have time to make it now you can always add to Ravelry to make for later!
I designed this to be super easy to make so read on down to find the free crochet pattern! Go ahead and get started ASAP! 🙂
Happy Scarf Crocheting!
Unicorn Scarf Pattern
Skill Level: Intermediate
Abbreviations
ch(s) = chain(s)
hdc(s) = half double crochet(s)
st(s) = stitch(es)
hdc2tog = half double crochet 2 together aka decreasing.
I suggest counting and recounting your st's as you go to make so you will be sure you have the correct amount of stitches throughout the scarf. Every row should end with 5 hdc's then a hdc2tog.
Materials
Gauge
Each row is approx 9 inches wide, Each row is approx .5 inches high, Gauge is 5 hdc's for every 2″ (important for proper sizing)
Sizing
Approx: 56″inches long x 9 inches wide (measured from the lowest point of the chevron to the highest point)
Notes
Written in Standard US terms
Stitch Chart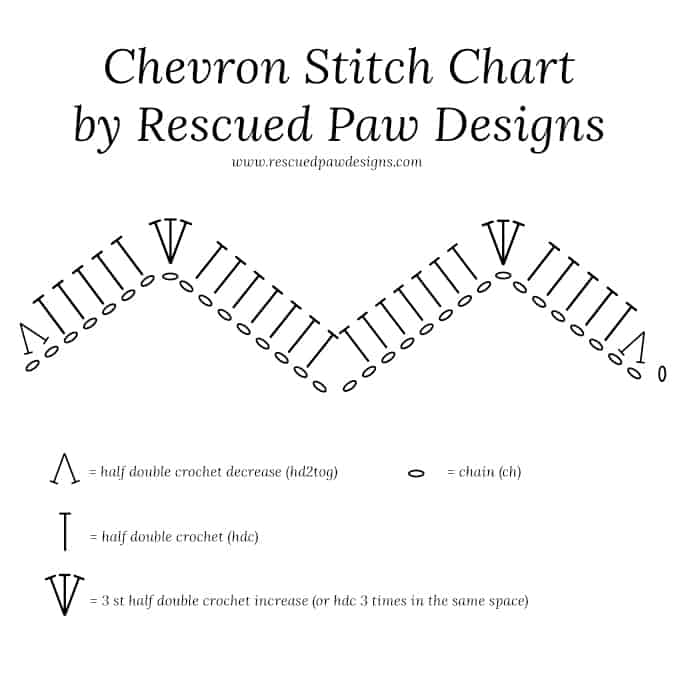 ---
Pattern Steps
Follow the directions below so that you can use the fun mandala sparkle yarn to create this Unicorn scarf inspired pattern! 🦄
Foundation Row: ch 33
Row 1: For row 1 start in 2nd ch from hook (for row 2 -135 start in first st)
hdc2tog, 1 hdc in each of next 5 st, hdc 3 times in next st, *1 hdc in
next 7 st, skip next 2 st, 1 hdc in next 7 st, hdc3 times in next st.
Repeat from * across until you are left with 2 st then hdc those
last two remaining stitches together (aka hdc2tog), turn. (32)
Row 2- 135: ch 1, repeat row 1. (32)
You can make your scarf shorter or longer if you prefer by adding or subtracting rows.
Finishing: Fasten off yarn and weave in loose ends throughout the crochet scarf with a yarn needle.

You Are Done!
That's it you are done! If you have any questions feel free to connect with me on Instagram or send me an email so I can help you out as soon as possible.
Find Me Around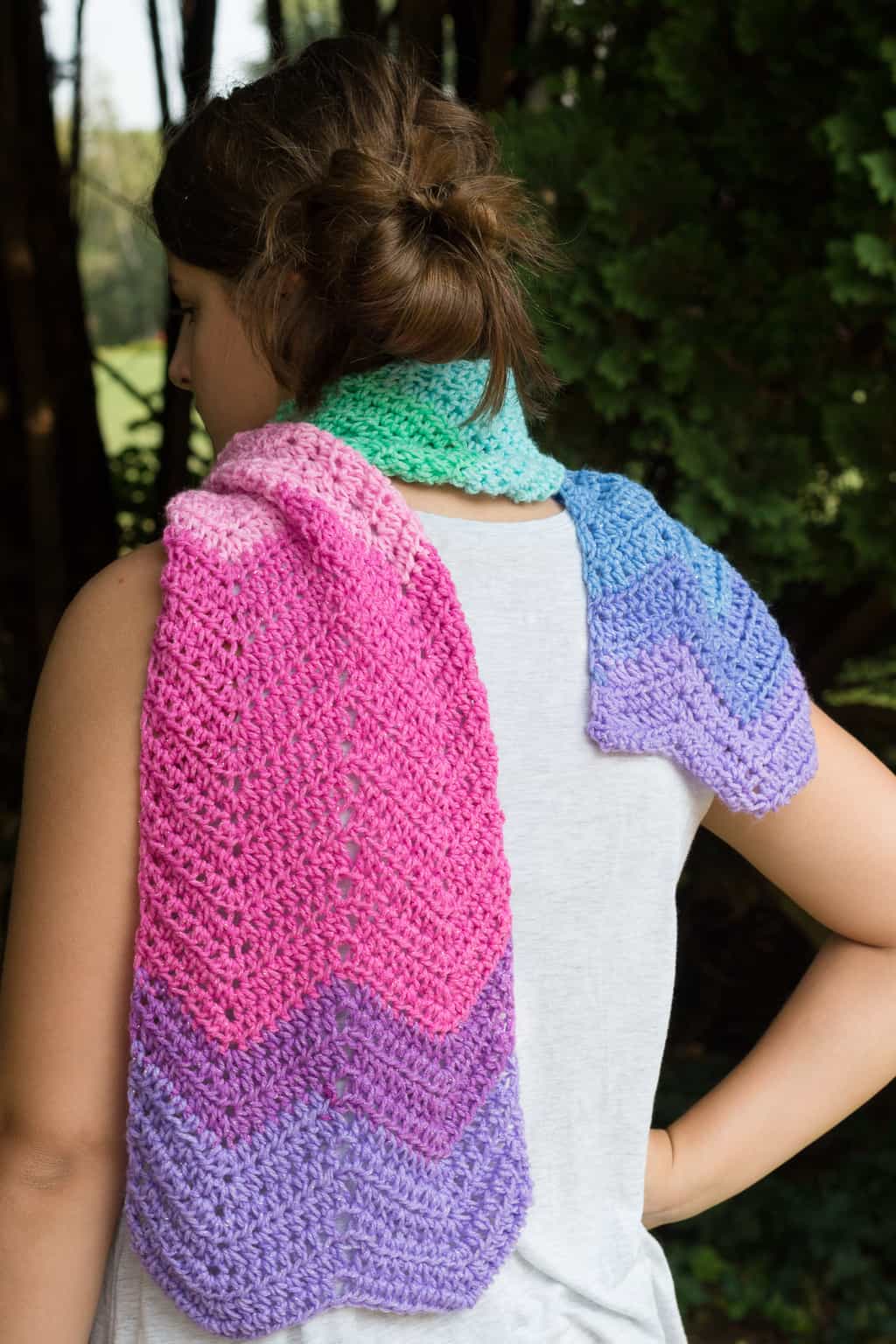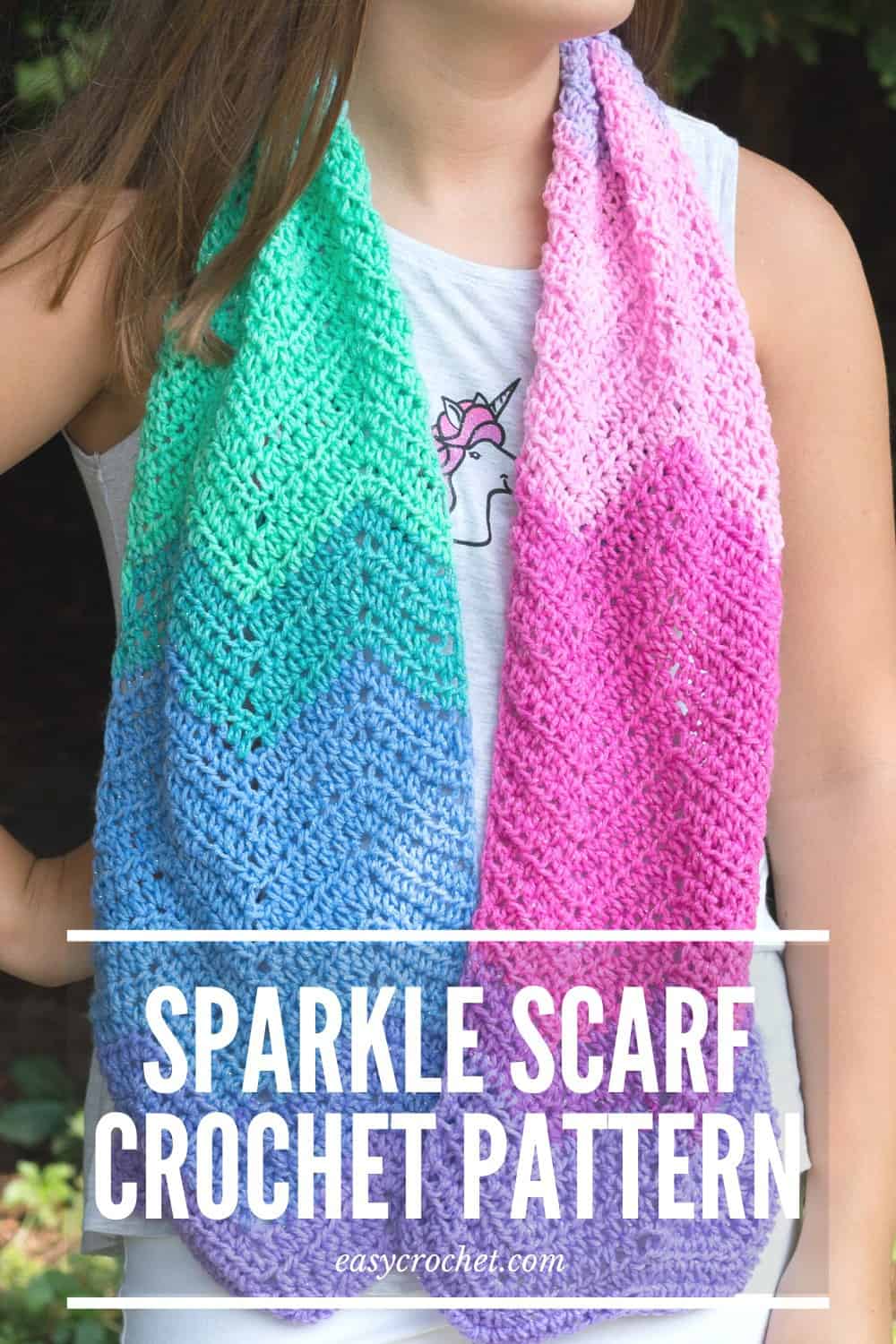 You can also find me on Pinterest, Facebook or in the Private FB group Easy Crochet Crochet Club!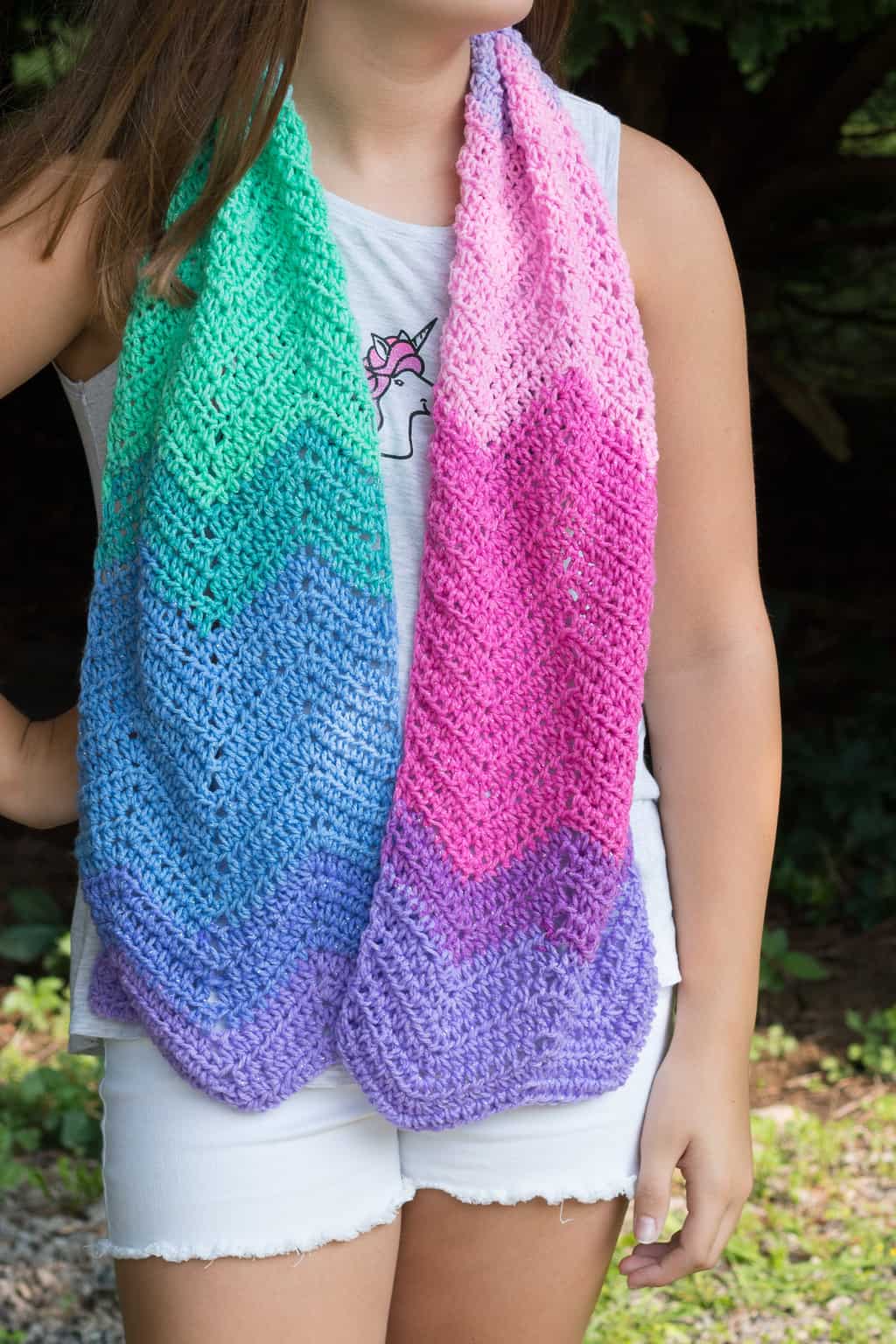 More Free Scarf Crochet Patterns