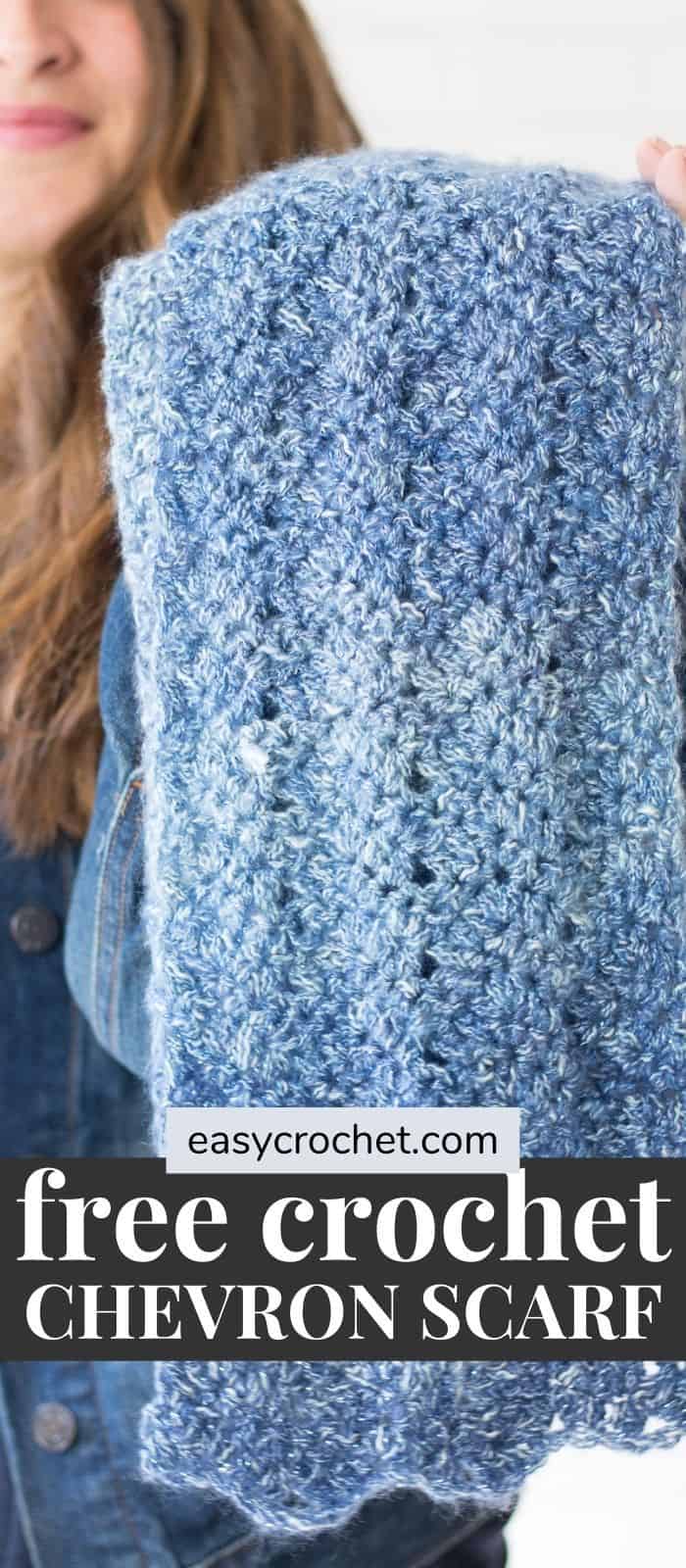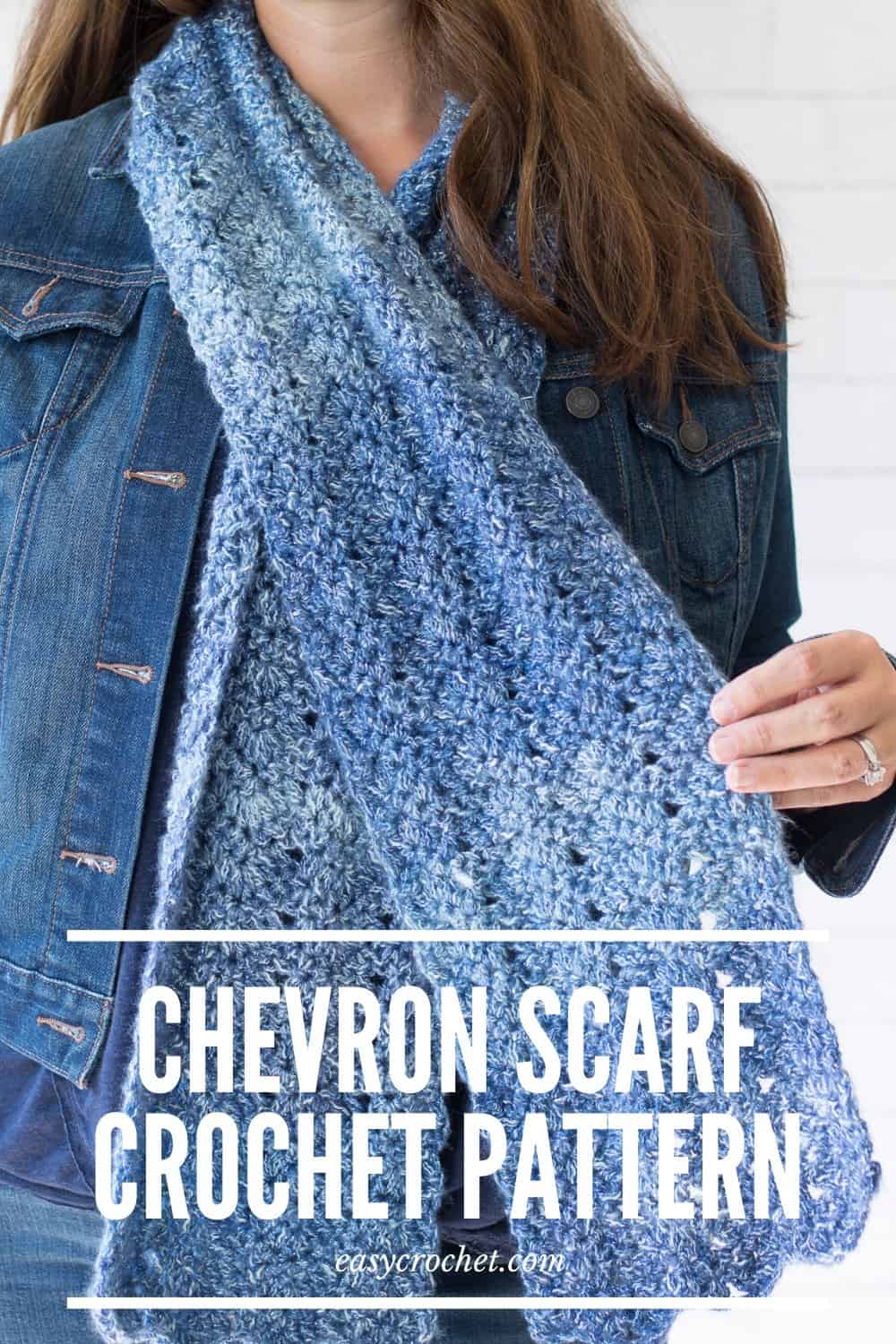 The Luna Chevron Scarf Crochet pattern is quick to work up using a simple stitch repeat!
Keep on reading if you love simple patterns!
If this is what you are looking for in a crochet pattern, then get free scarf pattern below!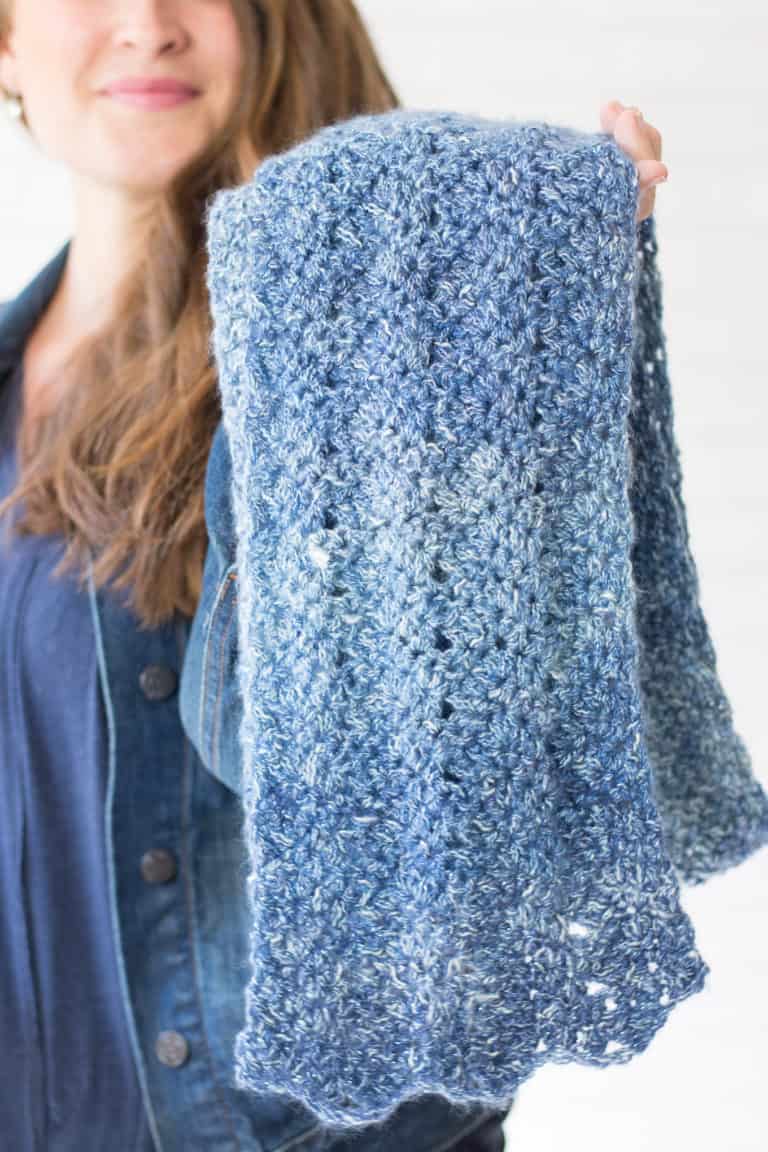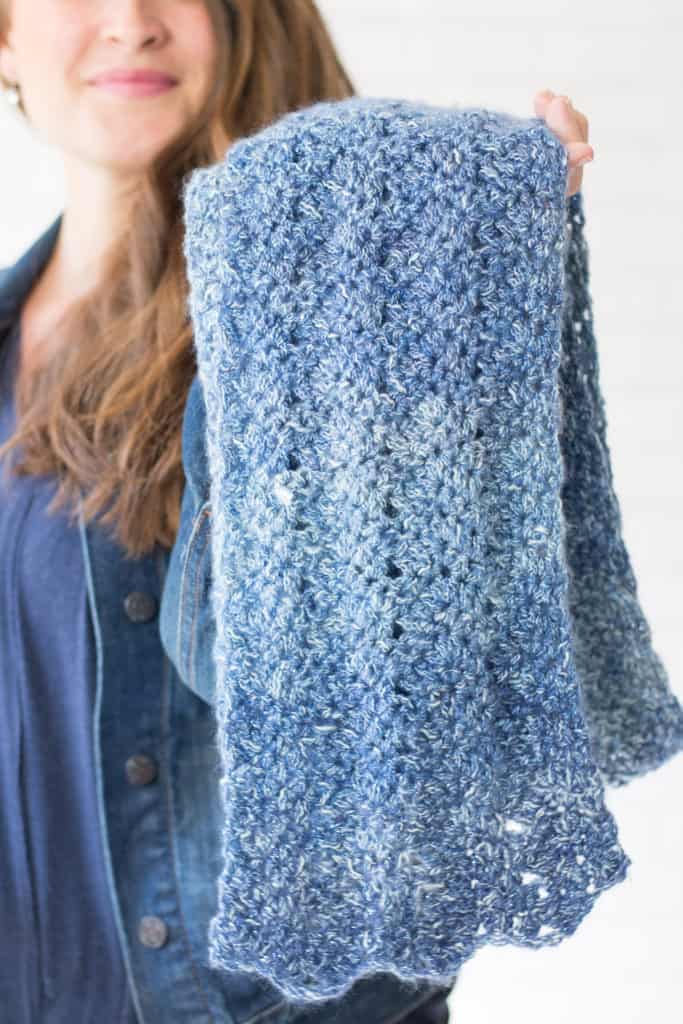 If you'd like to make more scarves to look at I can help! Explore the Easy Crochet crochet archives for access to over 300 free designs.
Don't have time to make it now? Pin it on Pinterest to make it later!
This free chevron crochet scarf is part of a collaboration with Lionbrand.com. This post may contain affiliate links.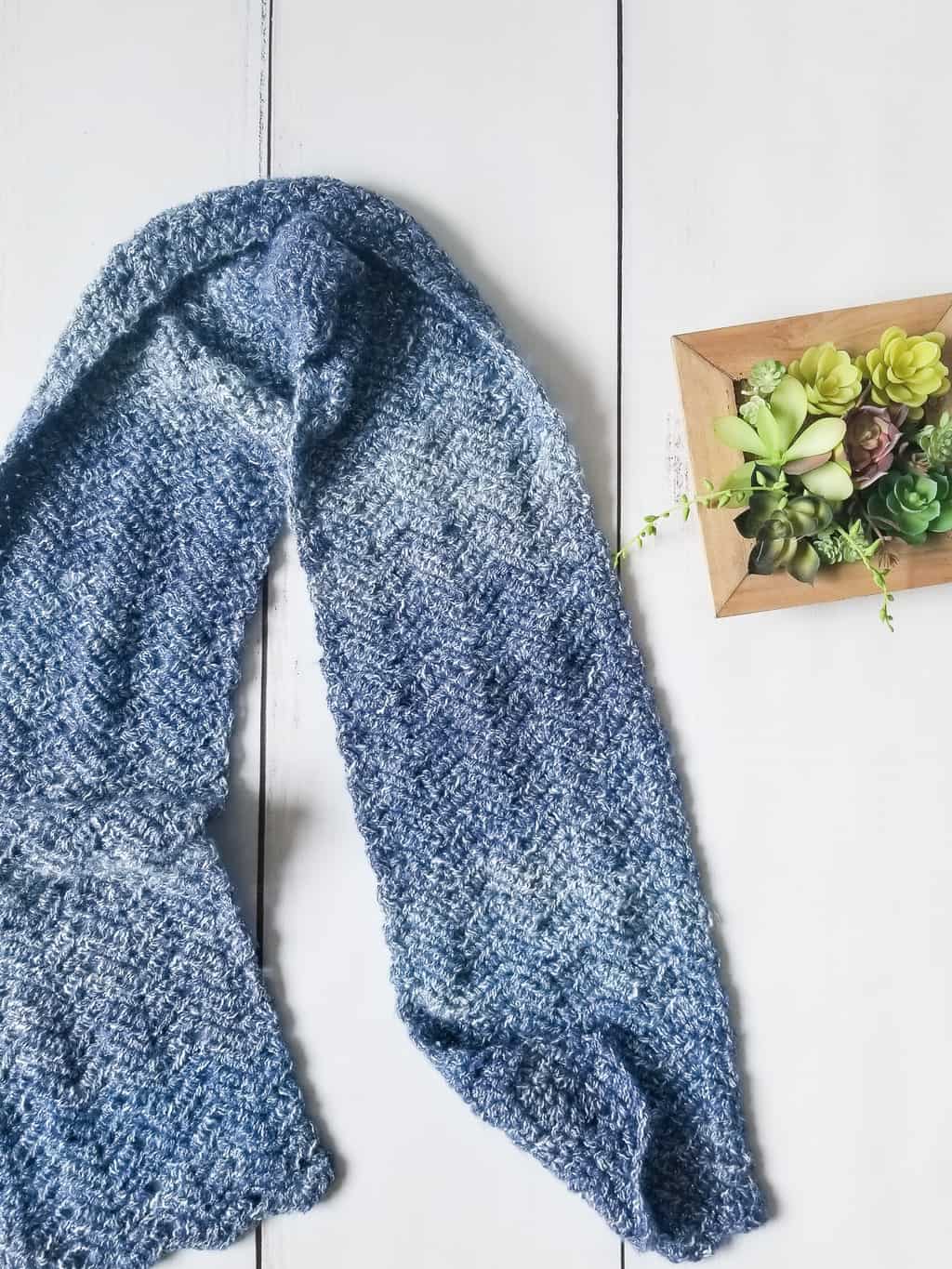 I can't wait for you to try this pattern!
Happy Crocheting!
The Yarn
For this scarf, I decided to use Lion Brand Shawl in a Cake (which is seriously so gorgeous) in the colorway Wind Chimes. The glitter and delicate nature of the yarn creates a beautiful scarf!
Click the yarn image below to check it out!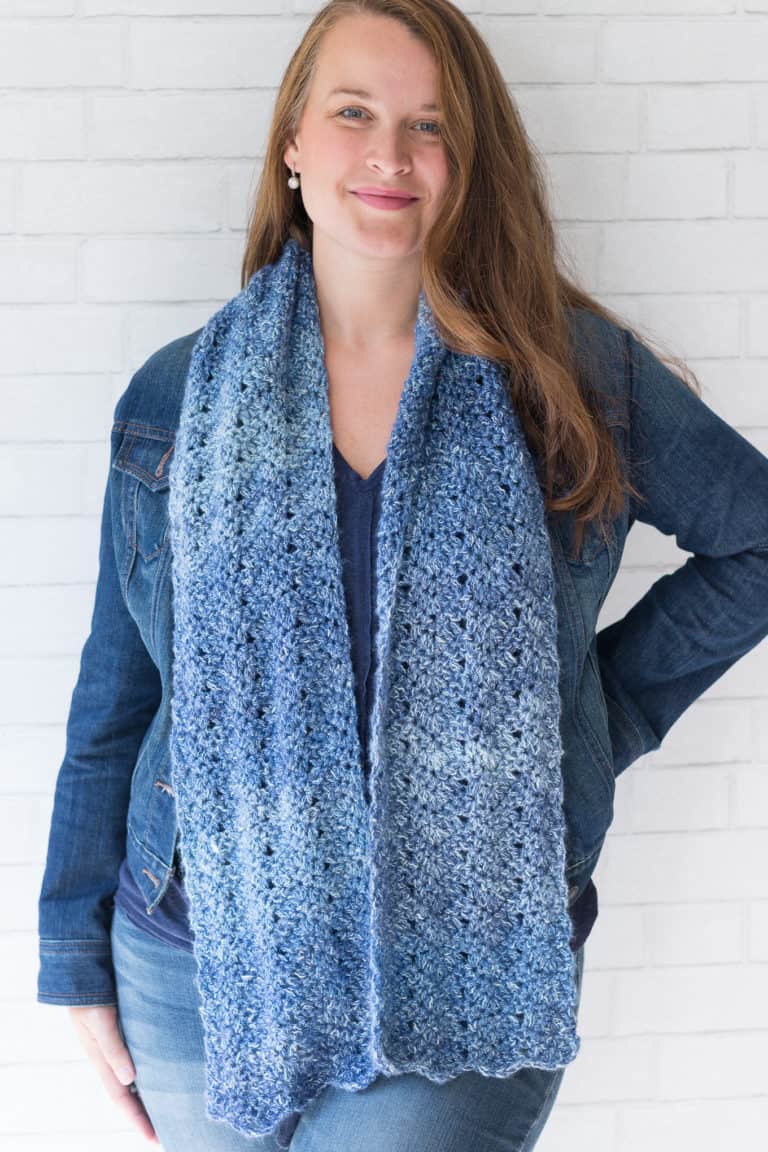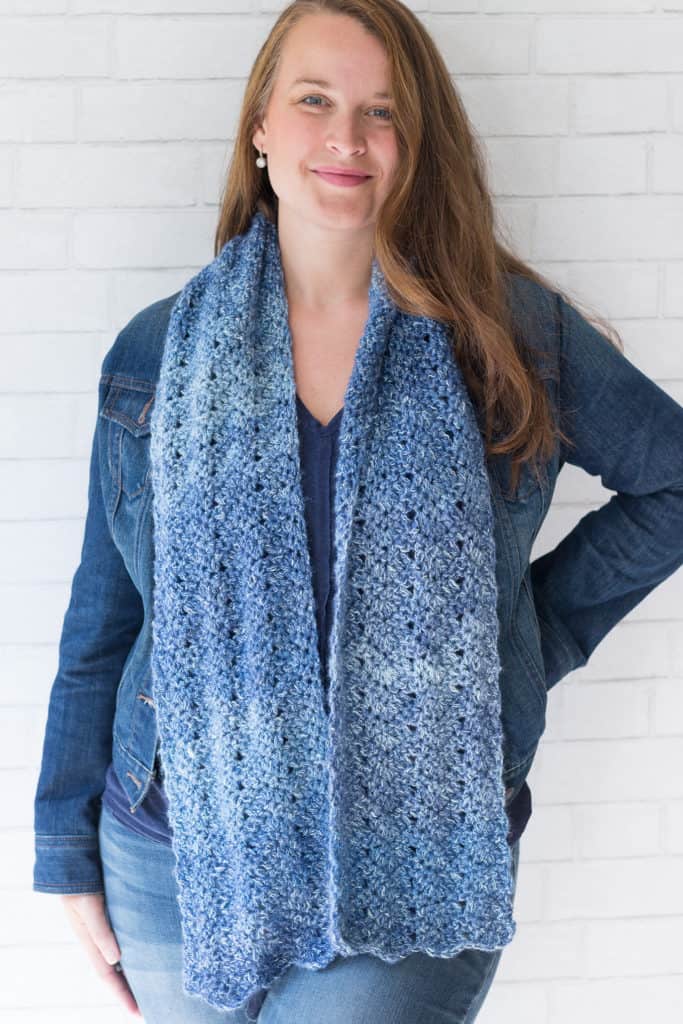 Hold Two Cakes Together at The Same Time!
To make this scarf a little easier to work up, I held two strands together at the same time. When you do this is makes it a little bulkier, which in turn makes it work up just a little bit faster.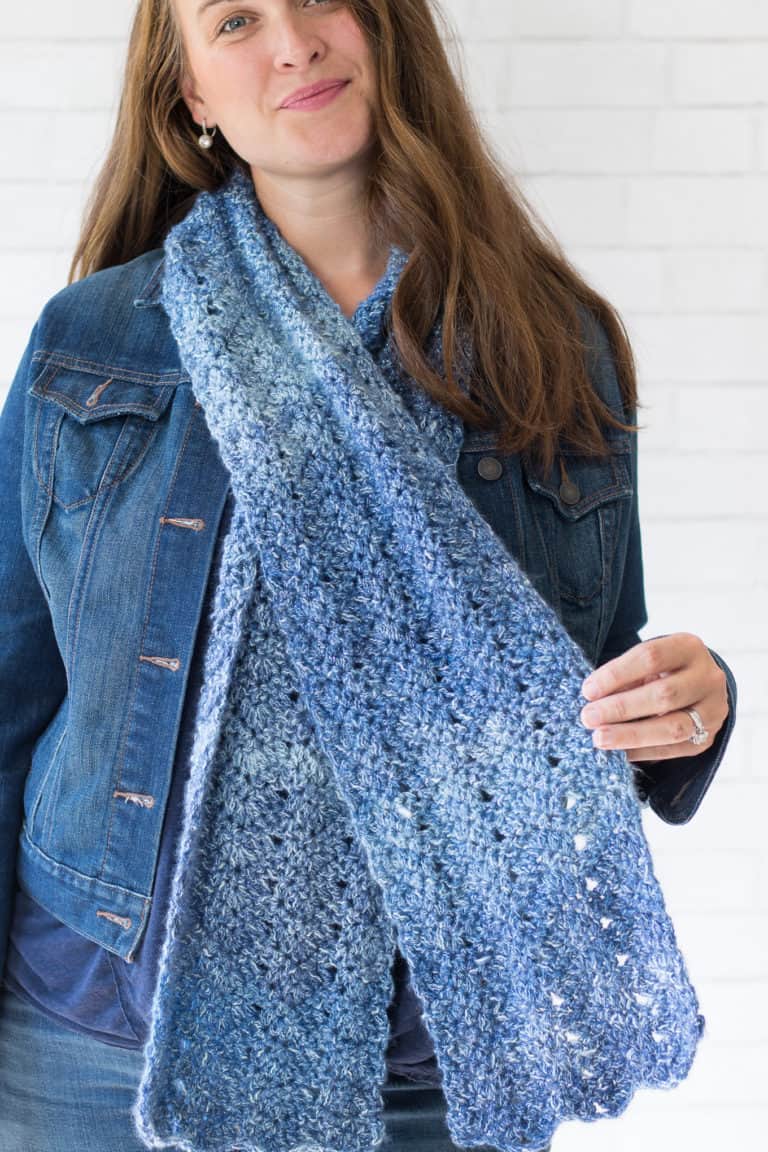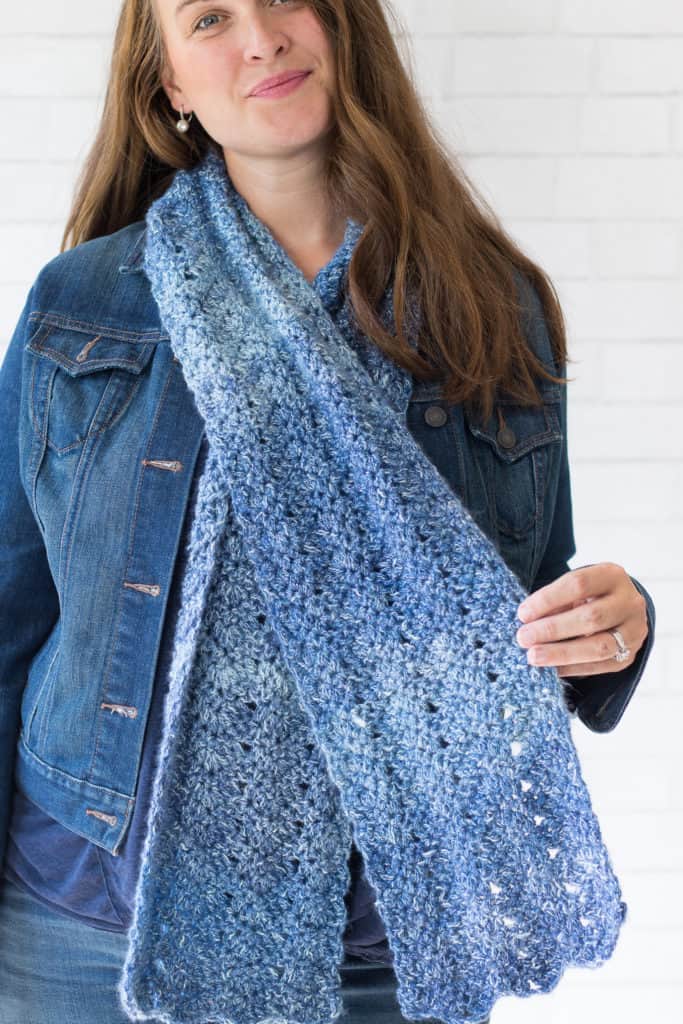 Why You Should Make This Scarf
There are many reasons why the Luna scarf should be your next crochet pattern besides the fact that it is fun. You will love the easy stitch repeat and that it works ups so fast. If you enjoy these types of projects, then this one is a quick weekend project you'll want to try.
Shawl in a Cake From Lion Brand!
When the Shawl in a Cake is crocheted (or knitted) with it has a beautiful drape to it, sparkle (it does!) and lays so nicely. If you have every used Shawl in a Ball, this is the same but in a convenient cake form!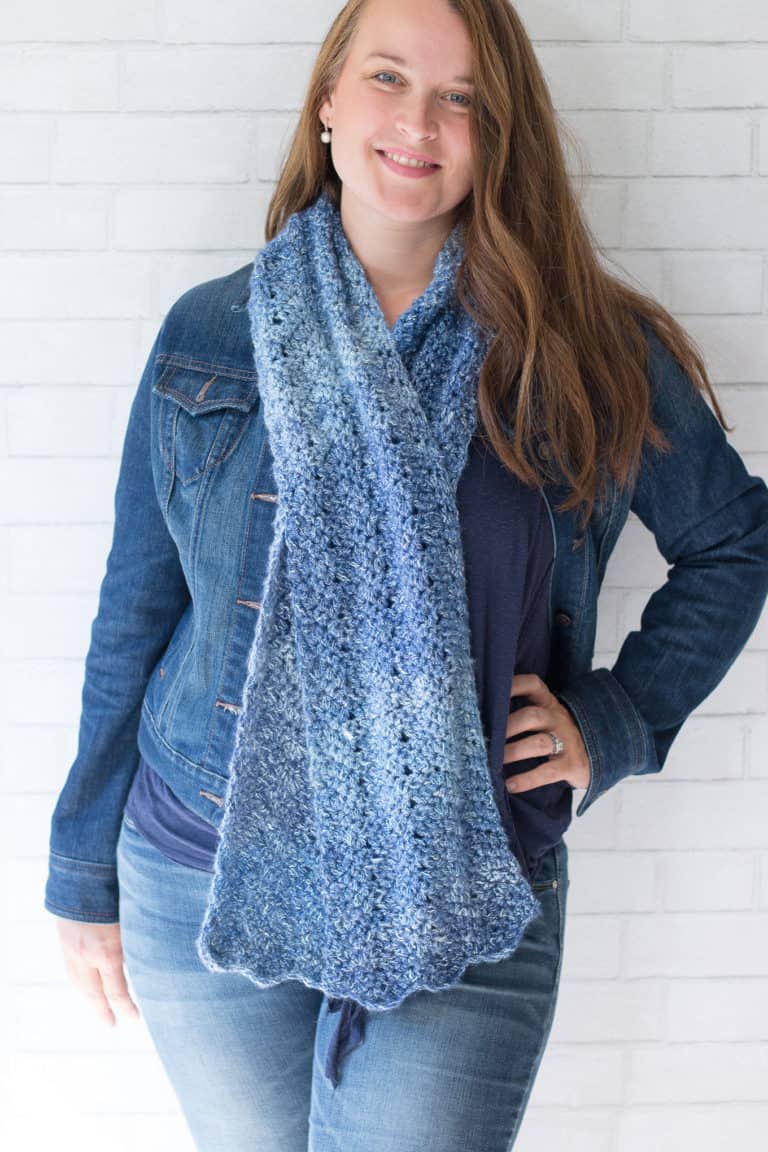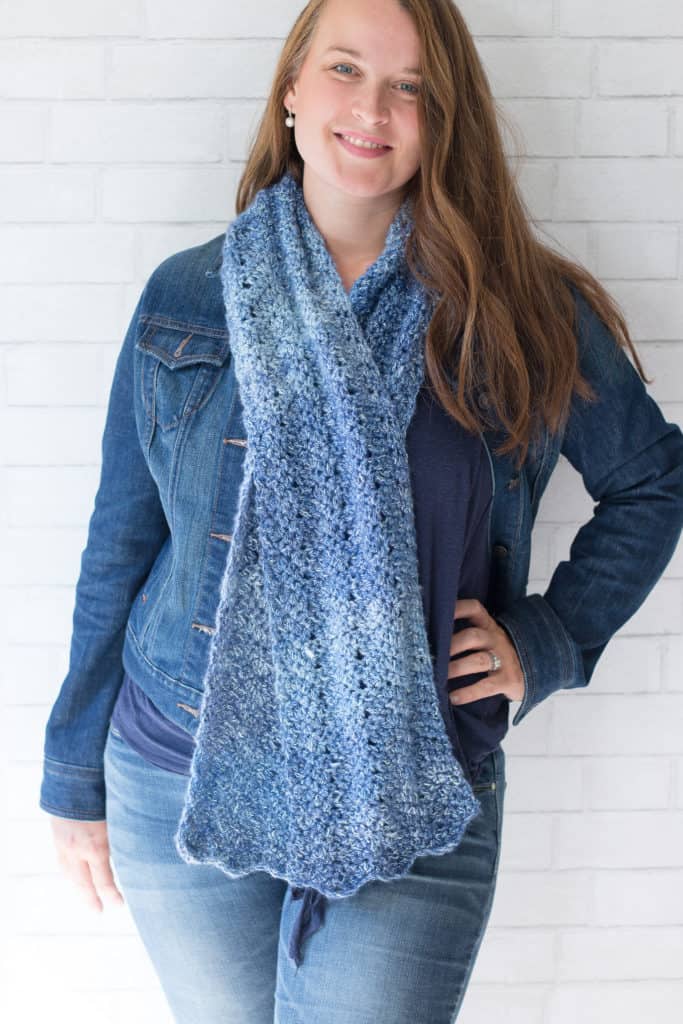 Want a Kit From Lion Brand With This Design?
Lion Brand Yarn has generously made this scarf into a crochet kit as part of their 12 Weeks of Christmas promotion alongside other fantastic crochet & knit designers!
Sounds perfect, right?
Grab the Luna Scarf Crochet Kit which includes the printable pattern and the yarn needed! Who doesn't want yarn and pattern delivered to their front door?
Luna Chevron Scarf Crochet Pattern
Skill Level: Intermediate
Description: The Luna chevron scarf is designed using a simple stitch repeat and makes a warm and stylish scarf.
Notes
Written in Standard US Terms, the pattern is worked in a multiple of 7 +6, The entire pattern is worked holding two strands of Shawl in a Cake together at the same time.
Ch(s) = Chain (s)
Sc = Single Crochet
Hdc = Half Double Crochet
St(s) = Stitch (es)
Hdc dec = half double crochet decrease
Sc dec = single crochet decrease
Materials
Gauge
Approx: 7 st's = 2 inches & hdc & sc row = 1 inch in height
Sizing
Approximately 8 inches wide X 66 inches long
Stitch Chart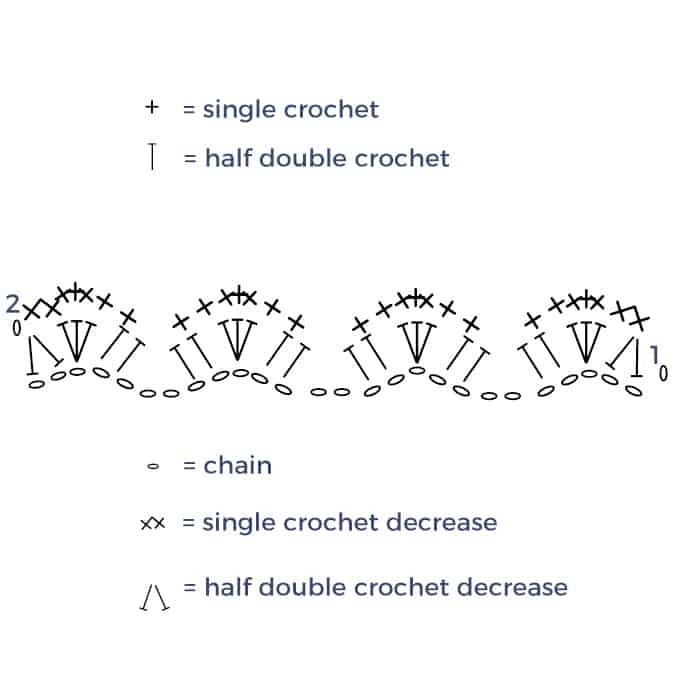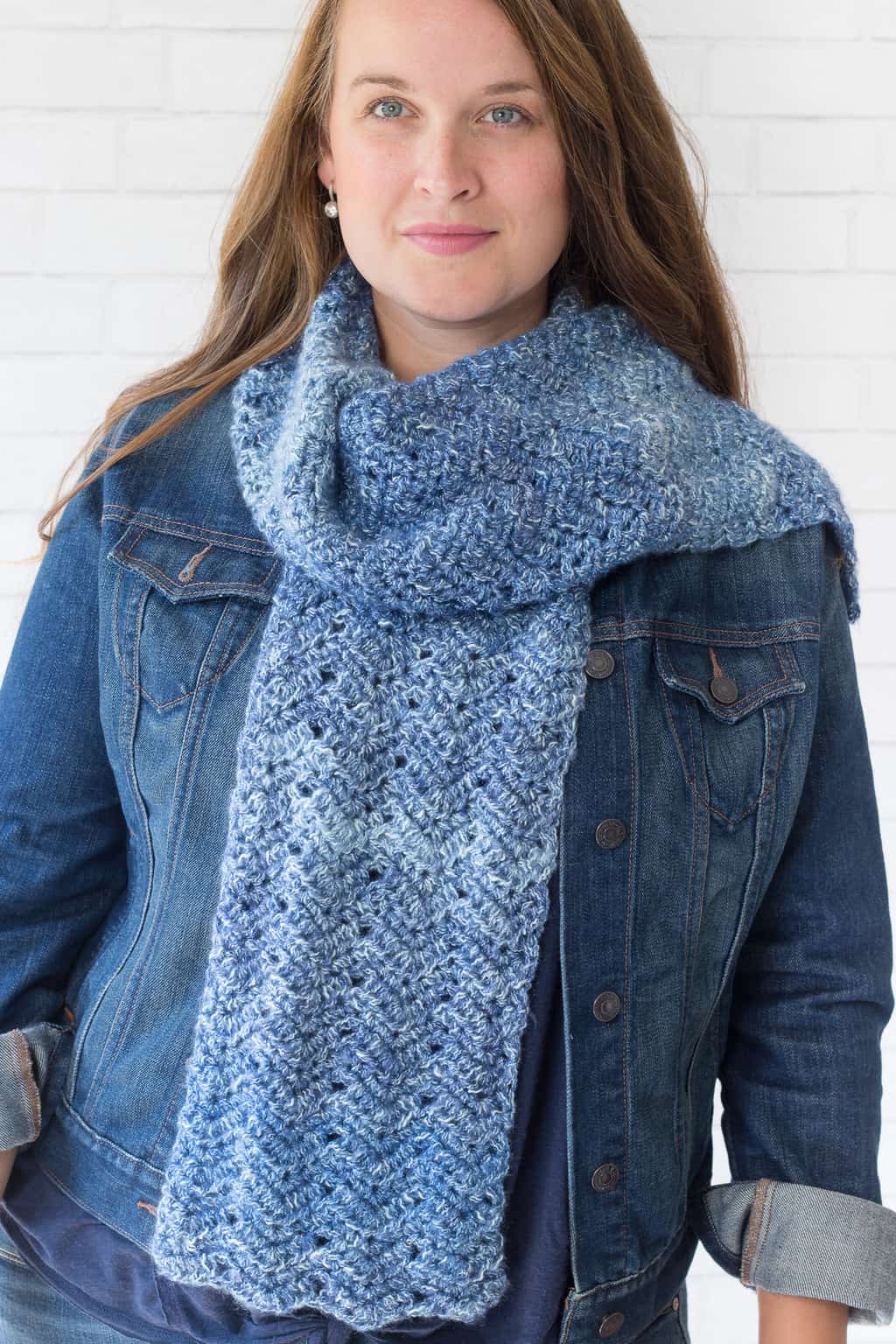 Pattern Steps
See stitch chart above for extra help.
Foundation Row: Ch 27
Row 1: Starting with the second & third ch from hook hdc dec, hdc 3x in the next ch, * hdc, hdc, skip 2 ch(s), hdc, hdc, hdc 3 x in the next ch, repeat from * across ending with a hdc dec the last two ch(s), turn. (26)
Row 2: Ch 1, sc dec, *sc 3x in the next st, sc, sc, skip 2 st(s), sc, sc, repeat from * across, ending with a sc dec in the last 2 st's, turn. (26)
Row 3: Working with the first two st(s), hdc dec, *hdc 3x in the next ch, hdc, hdc, skip 2 ch(s), hdc, hdc, repeat from * ending with a hdc dec in the last two st's, turn. (26)
Row 4 to Row 131: Repeat Row 2 & 3 for the rest of the pattern. (26)
Finishing: Fasten off. Weave in loose ends throughout the scarf with a yarn needle.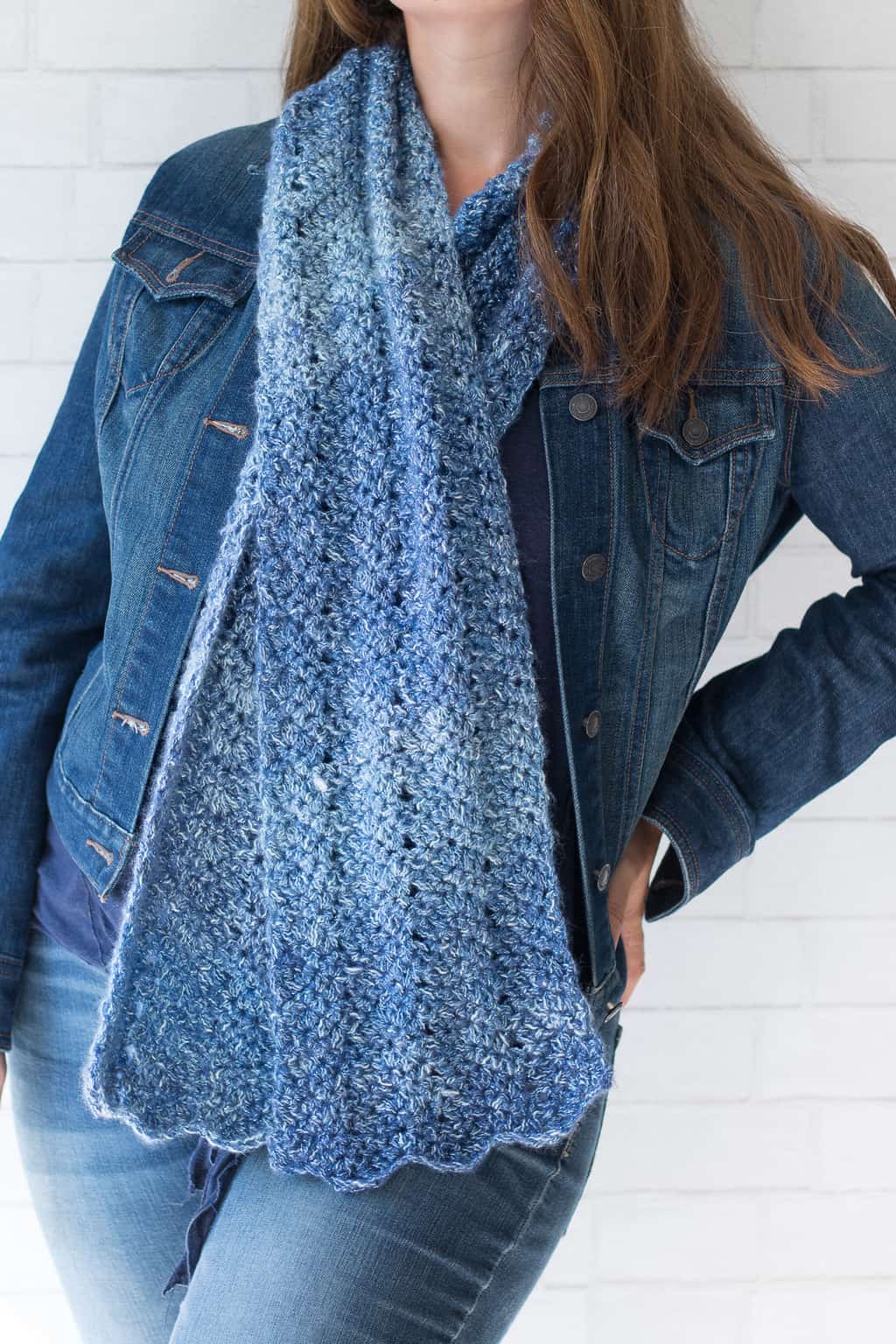 You Are Done!
That's it! You finished your very own Luna Scarf! If you'd like to follow along with me on Social media because it's fun to hang out even if it's over the internet then follow along with me on Instagram or Pinterest!
I'd also love for you to join the private Easy Crochet Crochet Club FB Group hosted by me! It is super fun and full of encouraging fiber artists!