Free Face Scrubby Crochet Pattern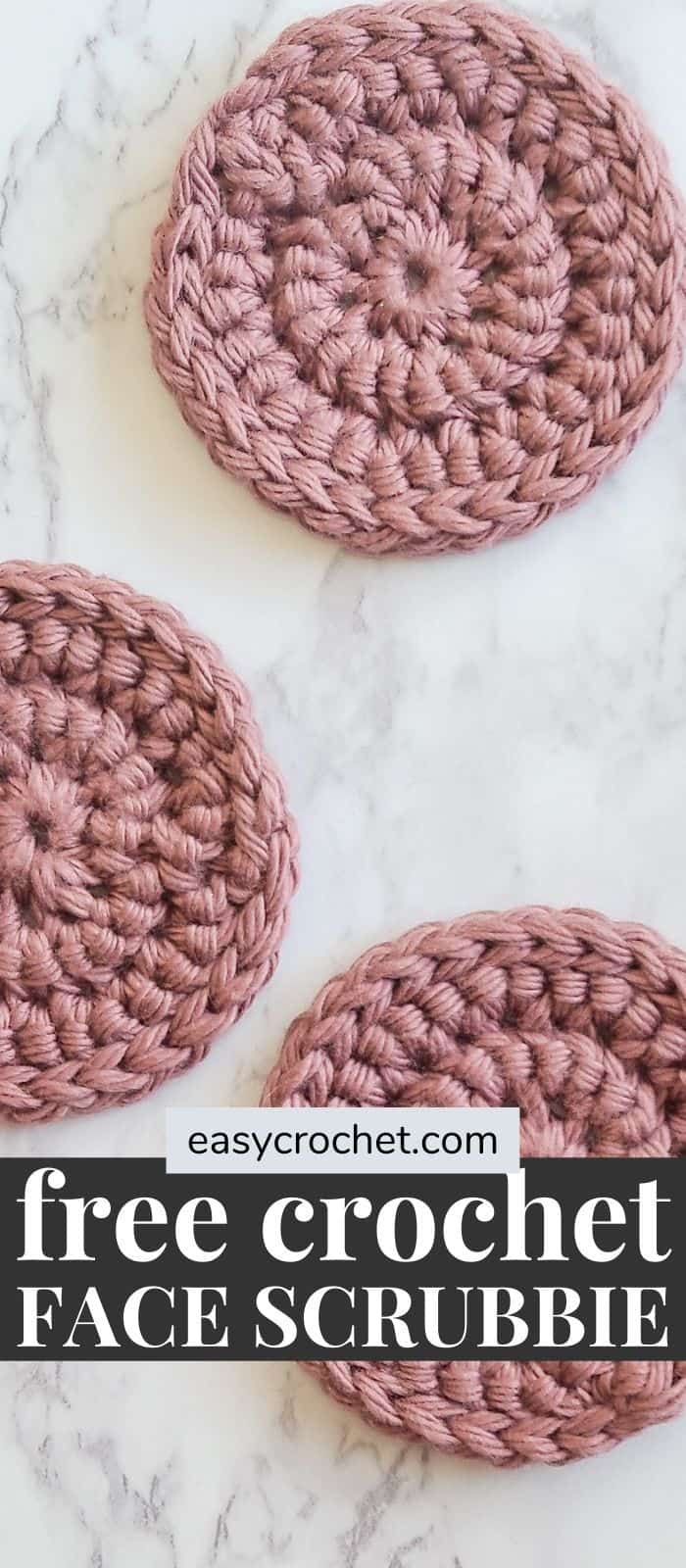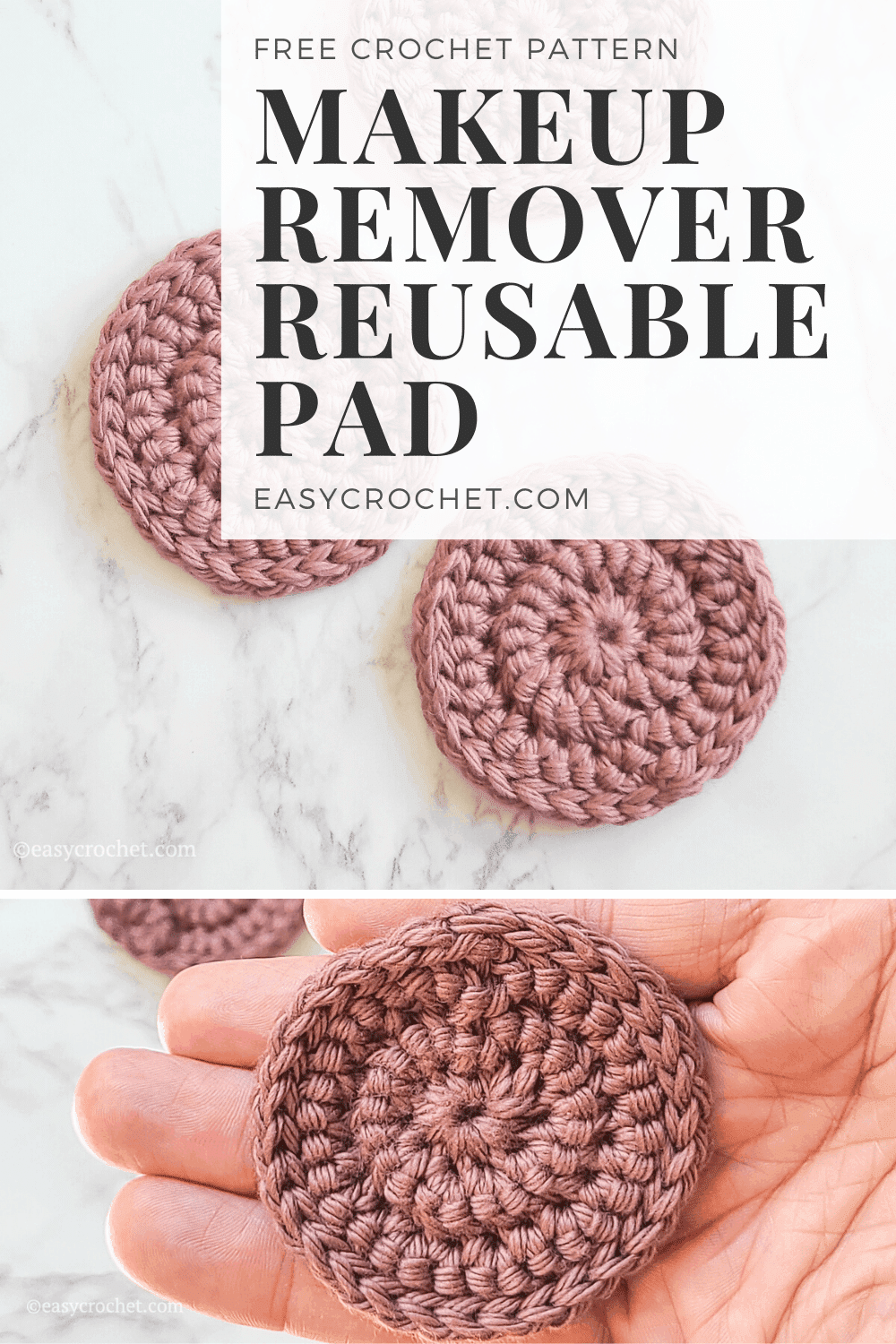 If you love quick crochet patterns, then you'll love these easy to crochet makeup remover patterns (or face scrubby). They work up fast and are a great beginner crochet project. These quick crochet scrubbies are also a great pattern to use up your scrap yarn with, or if you find yourself in the need for a gift.
If you are ready to get started, then keep on reading down to learn how to make these reusable crochet face scrub pads, as well as the yarn and the simple crochet stitches!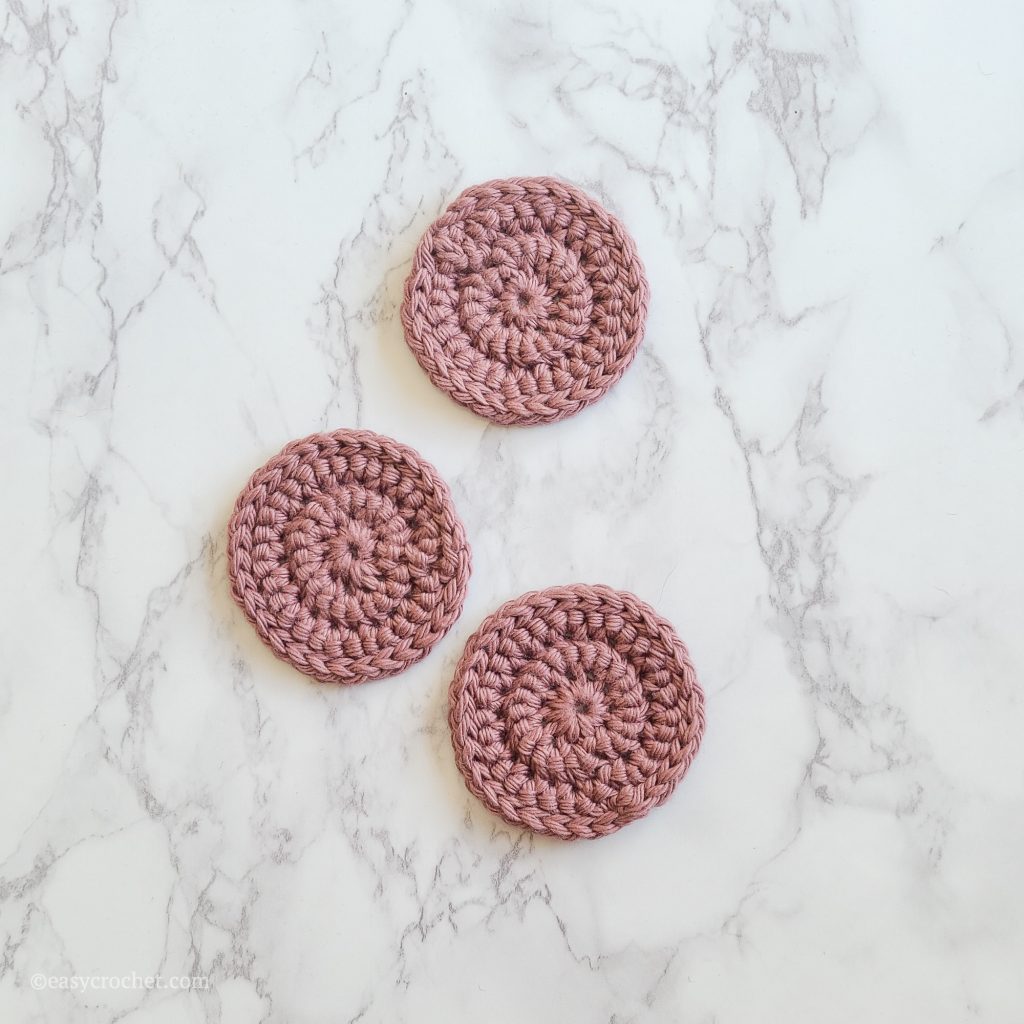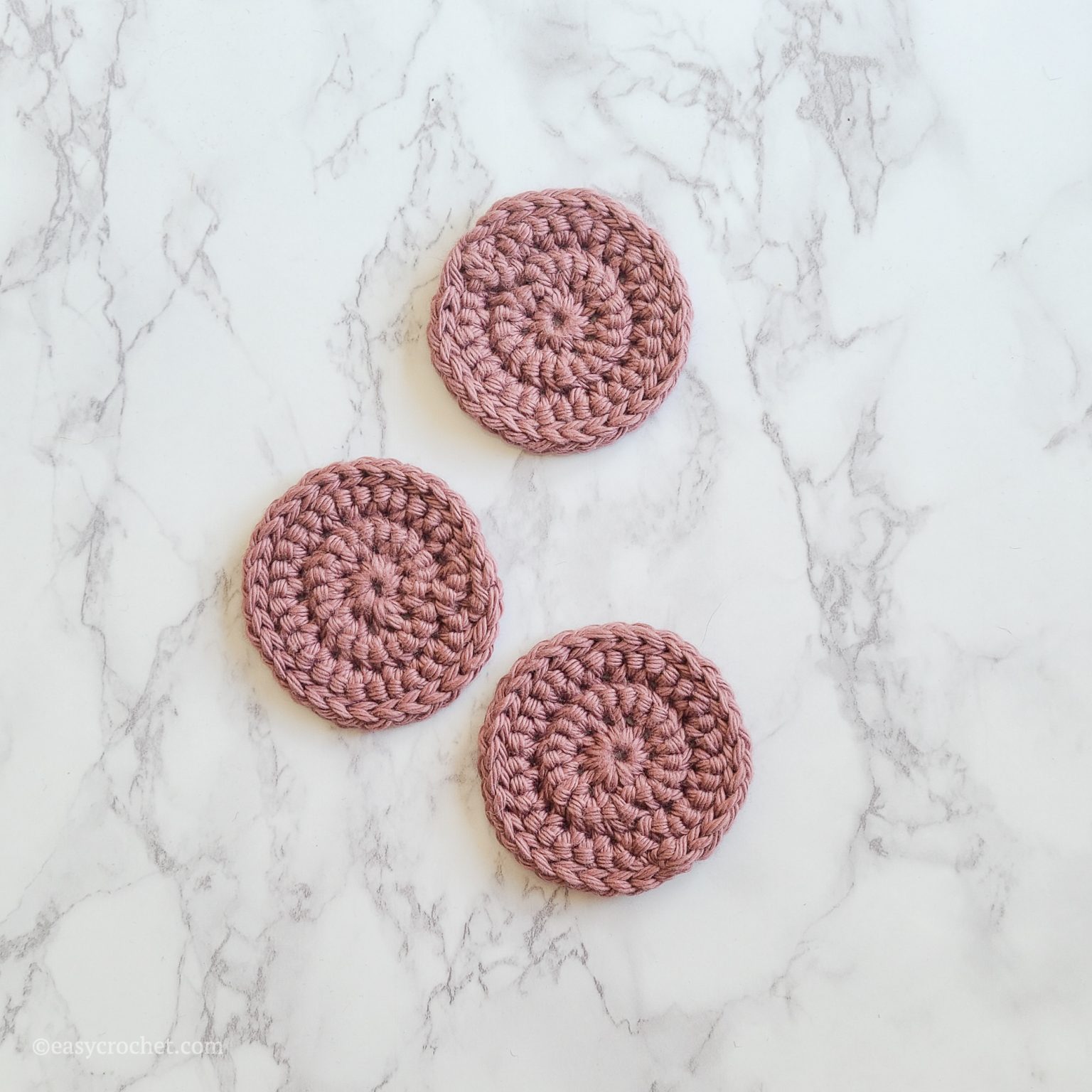 How Do You Crochet a Makeup Remover Pad (aka Scrubby)?
To crochet a face makeup remover scrubby, you'll only need to know a few crochet stitches as well as have on hand a cotton or cotton blend yarn. I'll go over the stitches as well as the yarn below, so you'll have all the information before you start crocheting.
The Stitches For Scrubbies
To make these crocheted removers, you will need to know how to do a herringbone half double crochet and a single crochet. I will explain each one in detail below and provide a video link to each stitch as well.
Herringbone Half Double Crochet (hddc): Hhdc video lesson
Yarn over, Insert the crochet hook into the stitch indicated
Yarn over (3 loops on hook)
Pull up a loop and pull that loop through the first loop on the hook (2 loops on hook)
Yarn over
Pull through remaining two loops on the hook
Single Crochet (sc): Sc written lesson
Insert hook from front to back in the second chain from the hook or designated stitch
Bring the yarn over (Yo) the hook and pull the yarn back through the chain (or stitch) from back to front (2 loops on hook).
Yo and pull through both loops on the hook.
I chose the hhdc stitch for these scrubbies because I wanted a stitch that would have a bit of texture, so it would help clean a face more.
To finish off these scrubbies I used a slip stitch along the outside round to give it a nice clean edge. I am pleased with how it turned out. Take a look in the picture below. Like I mentioned briefly before, we will be working in the round, which is simple once you get the hang of it!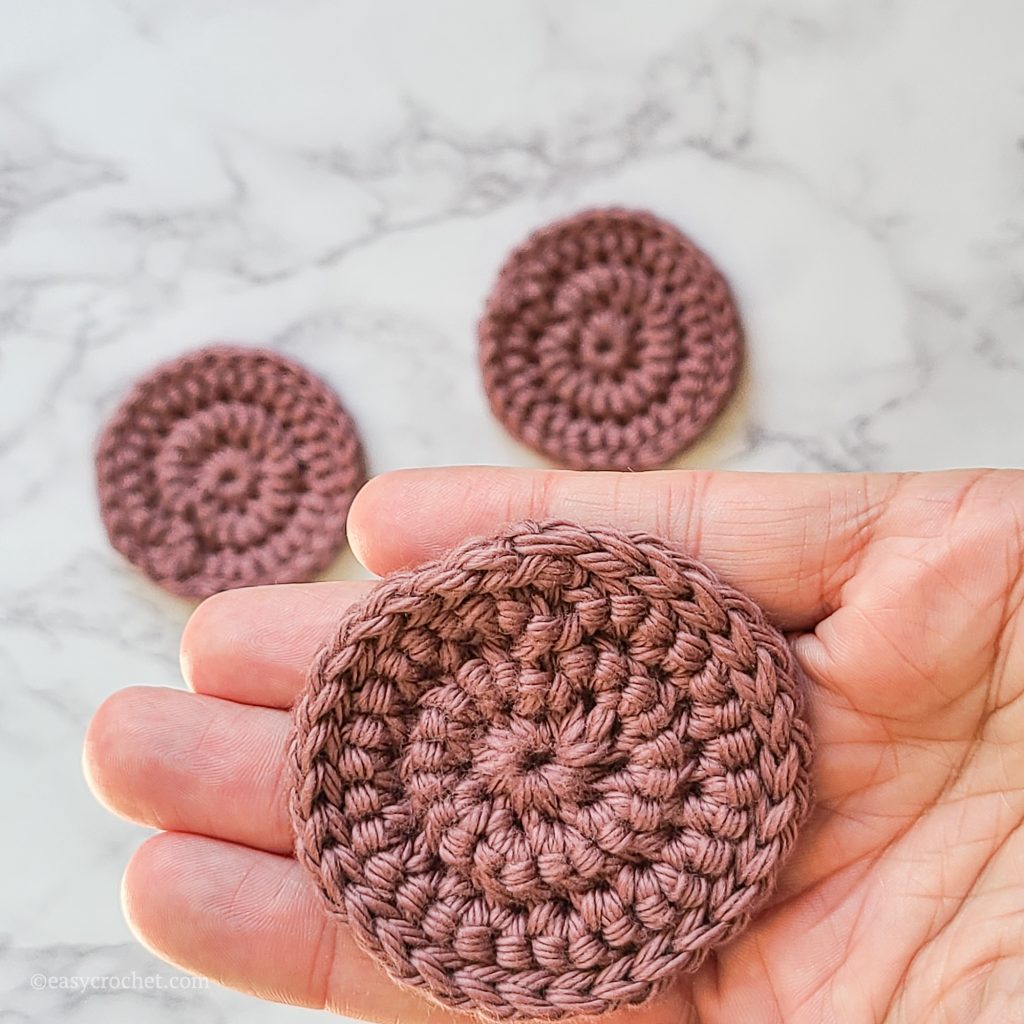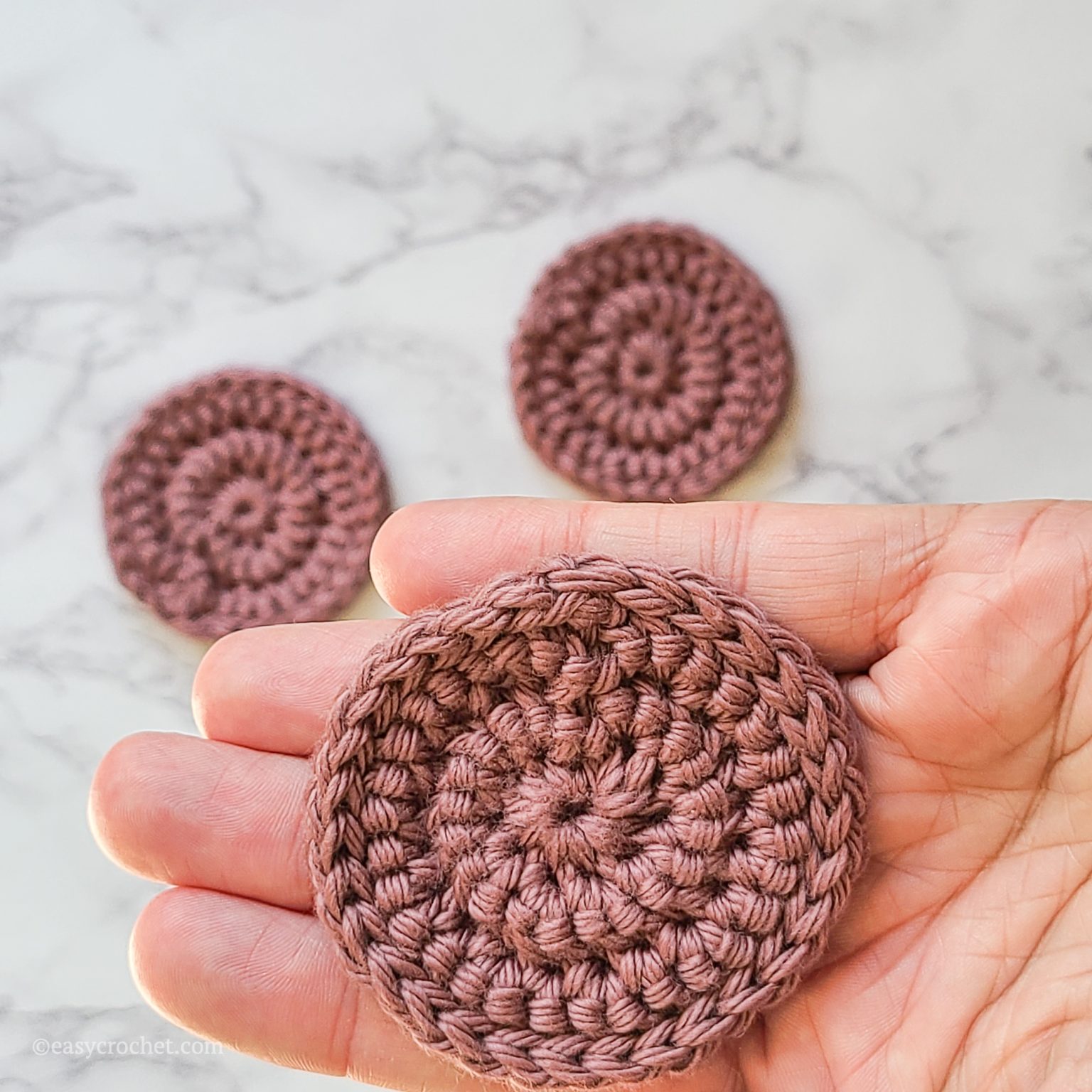 The Yarn for Crochet Face Scrubbies
But before we get started, let's discuss the yarn you'll want to use for these crochet scrubbies.
The yarn for scrubbies should be always be 100% cotton yarn. It will make it a million (or more) times easier to reuse since it can easily be thrown in the washer and dryer after you clean your face. Plus, it will make these crochet face scrubbies last longer.
For this pattern, I will be using Lion Brand Pima yarn. Pima is Lion Brand's line of soft cotton yarn. Pima is 100% cotton, and is considered a #4 Medium weight.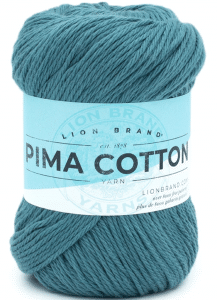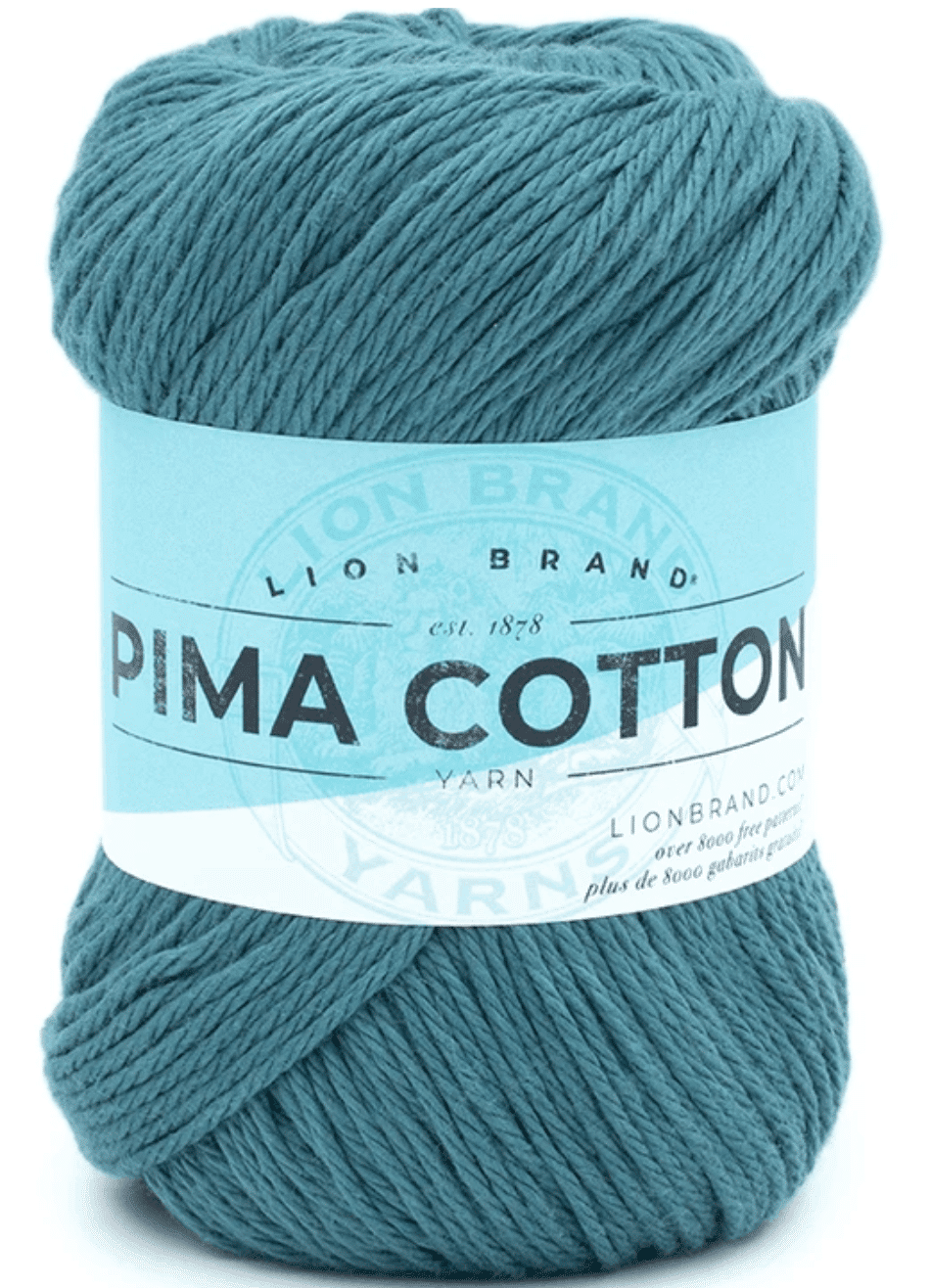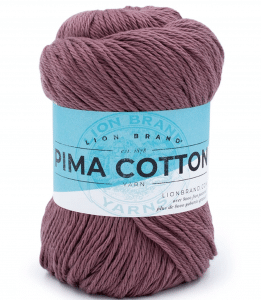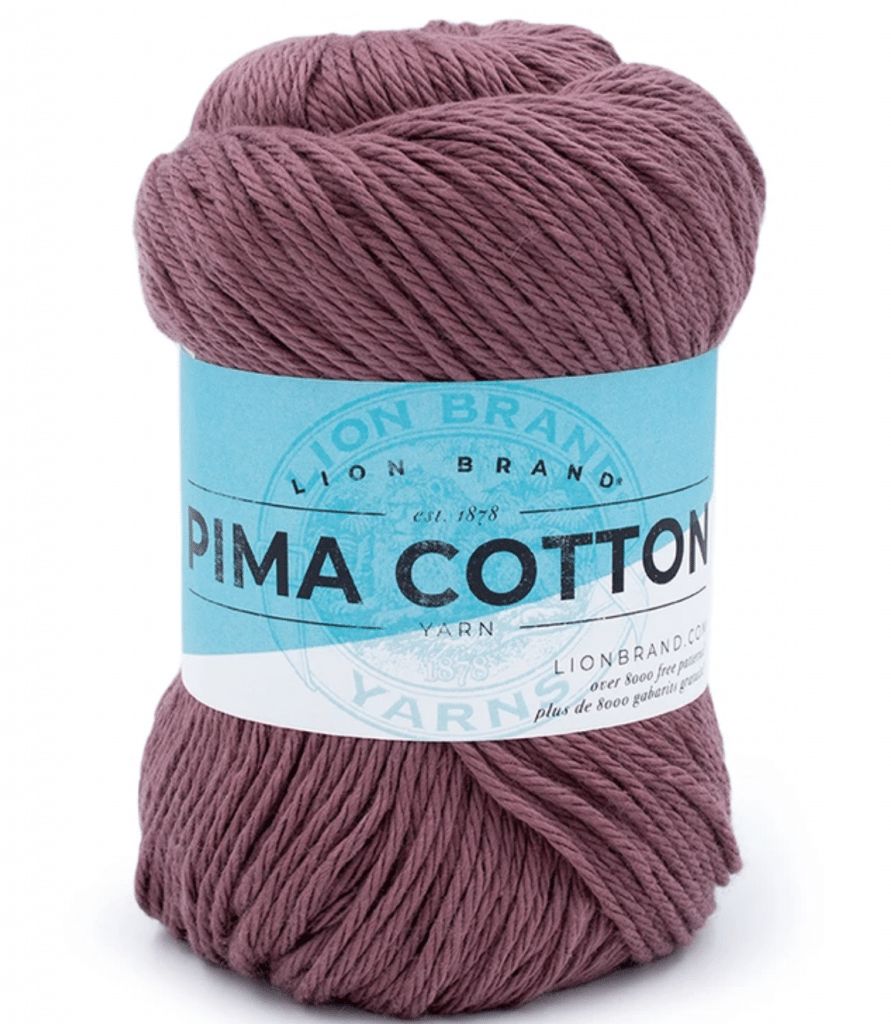 The yarn colors I used: I used the colorway Rose Taupe, but if you'd prefer you can use the color Vintage because it would make it much easier to clean the makeup off after it is used. Just use a little bleach (or natural alternative) when you are cleaning to remove the makeup.
My favorite part and probably the best part of this pattern is that you can make quite a bit of these scrubbies with just one skein of yarn. You could even use left over Pima from another project since these take such a small amount of yarn!
Need a Substitute Yarn?
If you can't find this yarn, then no worries! A great substitute for these remover pads would be Lily Sugar'n Cream yarn or any 100% cotton four weight yarn. There are many options to choose from and honestly all would work!
You can also use this same round remover design but use scrubby yarn instead to create a crocheted face scrubby pattern! I suggest using fits your face type best. If you really want to exfoliate, you can use a Red Heart Scrubby Yarn or something similar.
Learn How to Crochet A Face Scrubby
If you are ready to get started on this beginner-friendly design, read on down to find the full free pattern, material list and pattern. Once you have all the supplies in hand, you can start making these scrubby pads today!
I hope you enjoy this free crochet pattern for face scrubbies!
Free Crochet Face Scrubbie Crochet Pattern
Skill Level: Easy
Materials
Less than 20 yards of 100% cotton yarn Pima Cotton from Lion Brand Yarn or any medium weight 4 cotton yarn.
Yarn needle
Scissors
Crochet Abbreviations
sc = single crochet
sl st = slip stitch
Finished Size
Gauge
Gauge is not important for this pattern
Notes
Written in standard US terms
The Crochet Scrubbie Remover Pattern
Round 1: Make a magic circle. 10 sc into the magic circle, sl st to the top of the first sc. (10) or Ch 2 and crochet 10 sc into the second ch from the hook. (10)
Round 2: ch 1, 2 hhdc into each st around, sl st into the first hhdc. (20)
Round 3: ch 1, *1 hhdc into the first st, 2 hhdc into the next st, repeat from * around, sl to to the top of the first hhdc. (30)
Round 4: ch 1, sl st into each st around. (30)
Finishing: Fasten off the yarn neatly and weave in the two loose ends with a yarn needle.

I hope you enjoyed this crocchet face scrubby pattern and the quickness of it! I have been trying to make more and more fast patterns lately because time is of the essence when you have so many crochet projects you want to make in waiting!
If you enjoyed this pattern come join the Easy Crochet Facebook Group where we share our work in progress pictures, ask questions and get in on some good yarny deals. We are nice. Promise.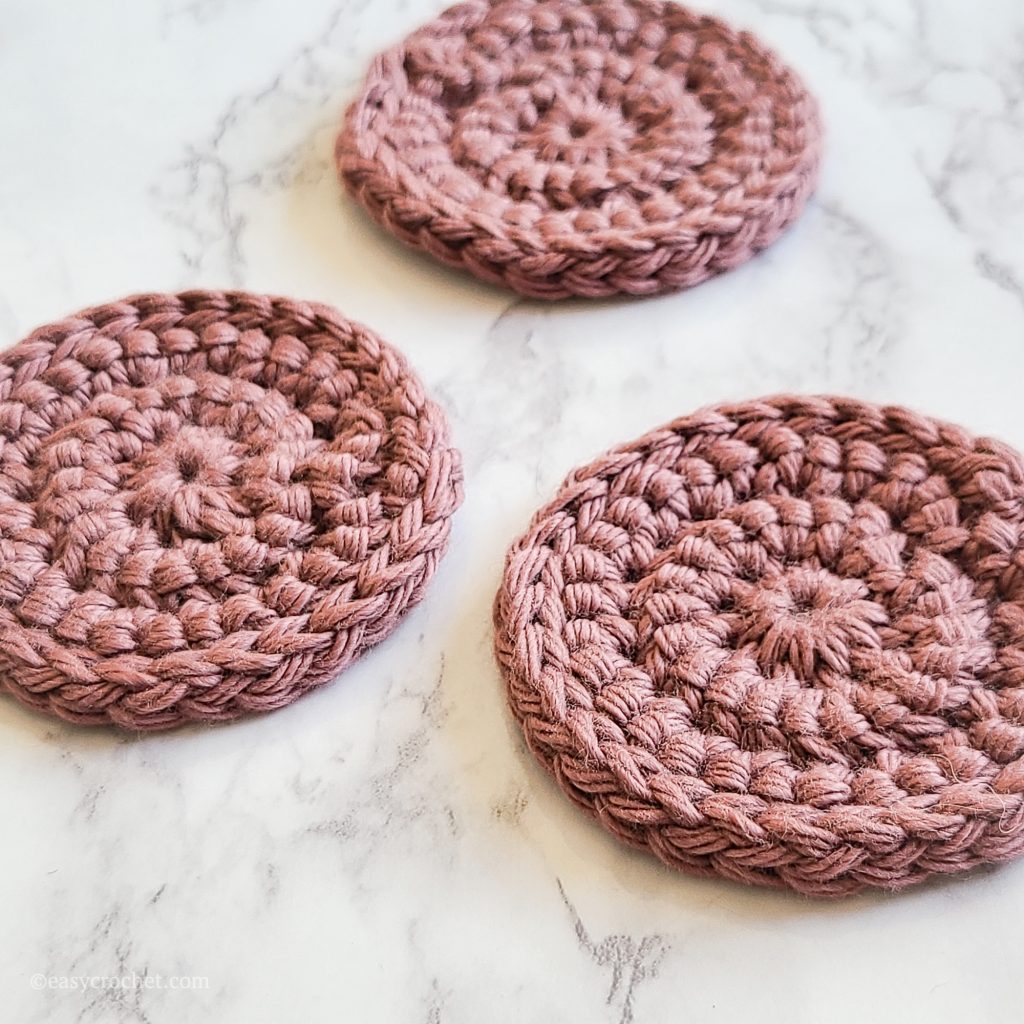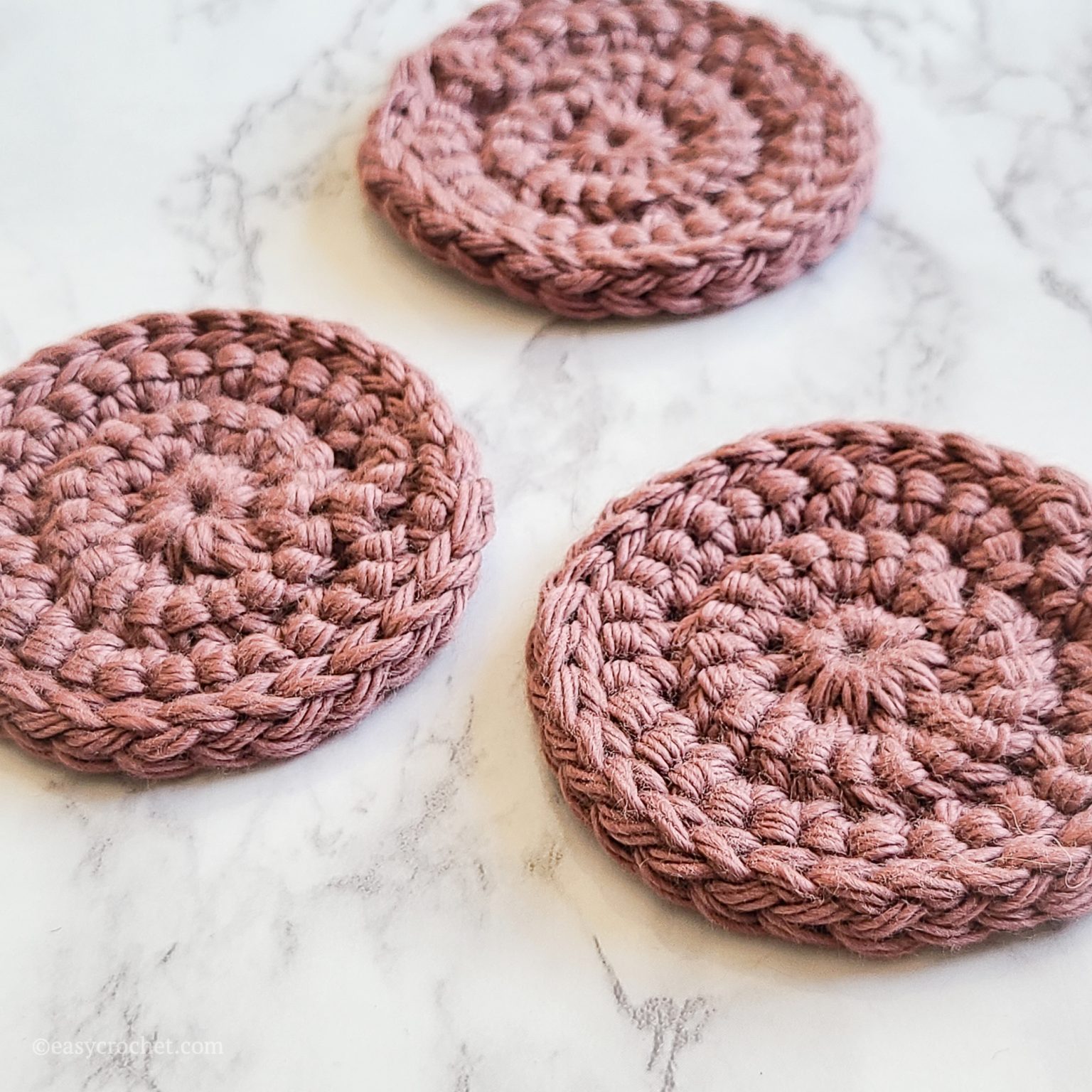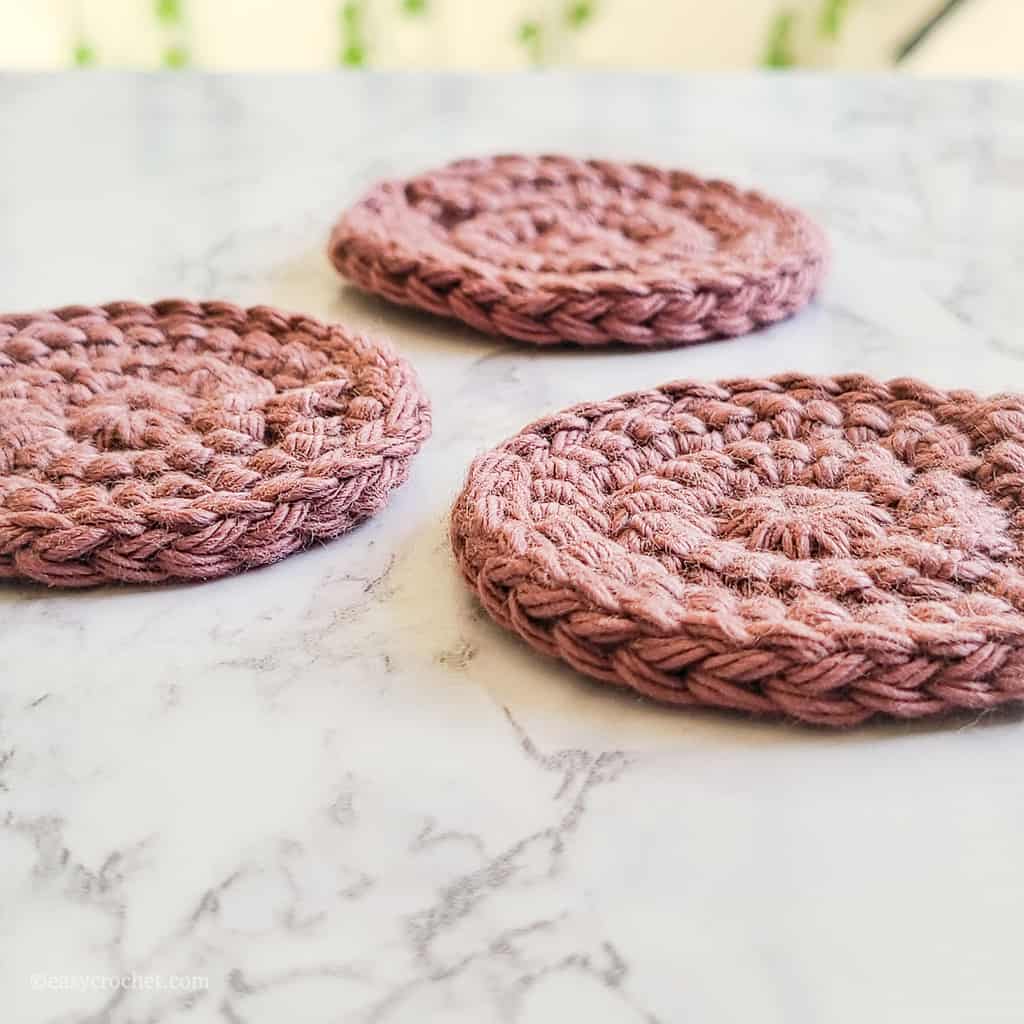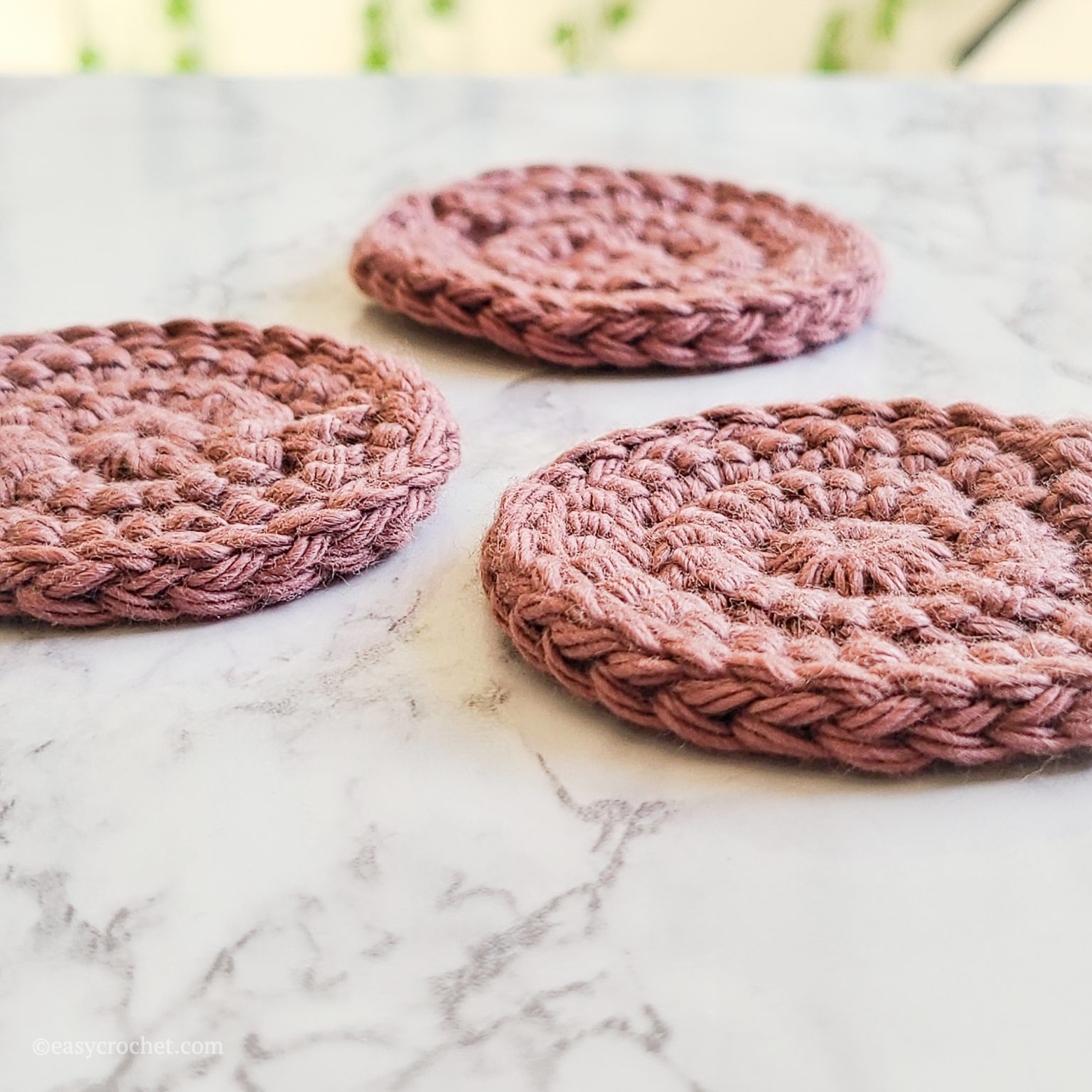 More Free Crochet Patterns