13 Lacy Crochet Scarf Patterns
If you want to crochet a lacy scarf, then this pattern collection is for you! Lacy crochet scarf patterns are particularly popular because they offer a delicate and feminine look while still providing the practicality of a scarf.
Below, I'll talk about what you'll need to crochet a lacy scarf, such as the stitches and materials needed.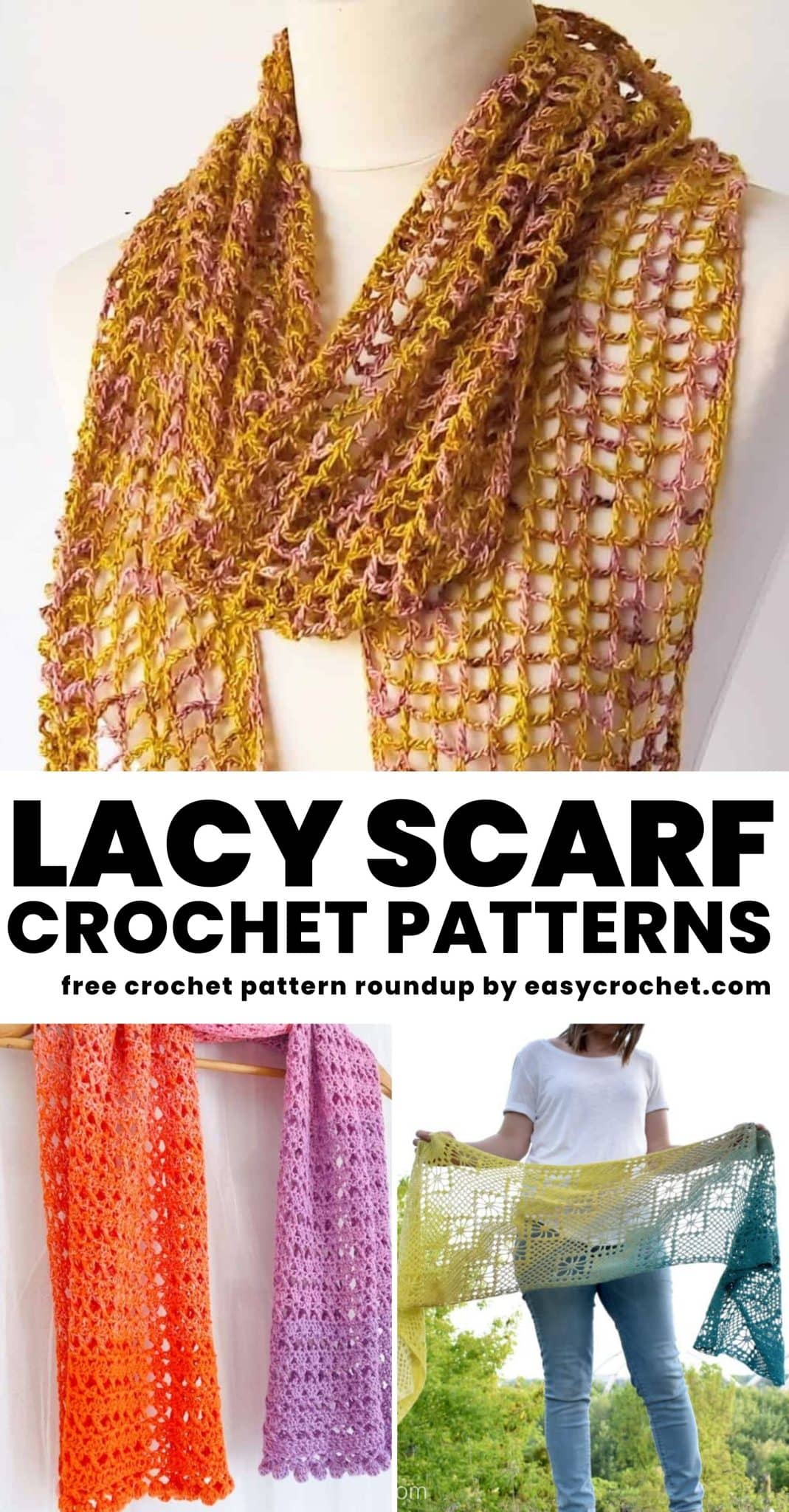 How to Crochet a Lacy Scarf
Take a look below at the easy crochet stitches and materials that are commonly used to make lacy scarves to find which would work best for you.
Crochet Stitches in A Lacy Scarf
Lacy crochet scarves typically use a combination of basic crochet stitches such as chain stitches, single crochet stitches, double crochet stitches, and triple crochet stitches. However, the stitch patterns used in lacy crochet scarves often incorporate variations of these basic stitches to create a more intricate and delicate design.
Crochet Materials Needed for a Lacy Scarf
To crochet a lacy scarf, you will need a few materials. Here is a list of the common materials you will need:
Crochet Hooks: You will want to make sure that you have crochet hooks in the appropriate size for your chosen yarn. The size of the hook will depend on the thickness of the yarn you are using and the tension you want to achieve.

Lacy scarves are typically made with lightweight yarn, so smaller hook sizes ranging from B (2.25 mm) to G (4.0 mm) are commonly used.

Yarn: Select a yarn that is lightweight and suitable for creating a delicate and airy fabric. Lace weight or fingering weight yarns made from natural fibers like cotton, silk, bamboo, or lightweight acrylic blends are commonly used for lacy scarves.

The amount of yarn required will depend on the length and width of the scarf you want to make, so check the yarn label for the recommended yardage.

Scissors: A pair of sharp scissors is essential for cutting yarn as you work on your scarf and for finishing your project.
Stitch Markers: Stitch markers are useful for marking the beginning of a row or a specific stitch in your pattern, which can help you keep track of your progress and maintain the correct stitch count.
Tapestry Needle: A tapestry needle or yarn needle is used for weaving in the ends of yarn and for sewing together any seams or joining motifs, if applicable.
Pattern: You will need a pattern or stitch chart for the specific lacy crochet scarf design you want to create, and luckily, if you scroll down you'll find some of the best free patterns, there are!
With these materials in hand, you'll be ready to start crocheting your own beautiful and intricate lacy scarf. Promise!
Tips for Crocheting Lacy Scarves
Choose a lightweight yarn to create a delicate and airy scarf.
Use a larger crochet hook to create a looser stitch pattern and drape.
Practice the stitch pattern before beginning the scarf to ensure that you understand the technique.
Consider adding fringe or tassels to the ends of the scarf for a decorative touch.
Pick a neutral color for a timeless and classic look, or experiment with bright and bold colors for a more modern and playful style.
Easy Crochet Lacy Scarf Patterns
Explore this collection of lacy crochet scarves, all of which are free crochet pattern and are easy to make as well! Enjoy!
More Free Crochet Scarf Patterns
Take a look at these other free crochet scarf patterns that you may like to make as well!