Chevron Scarf Crochet Pattern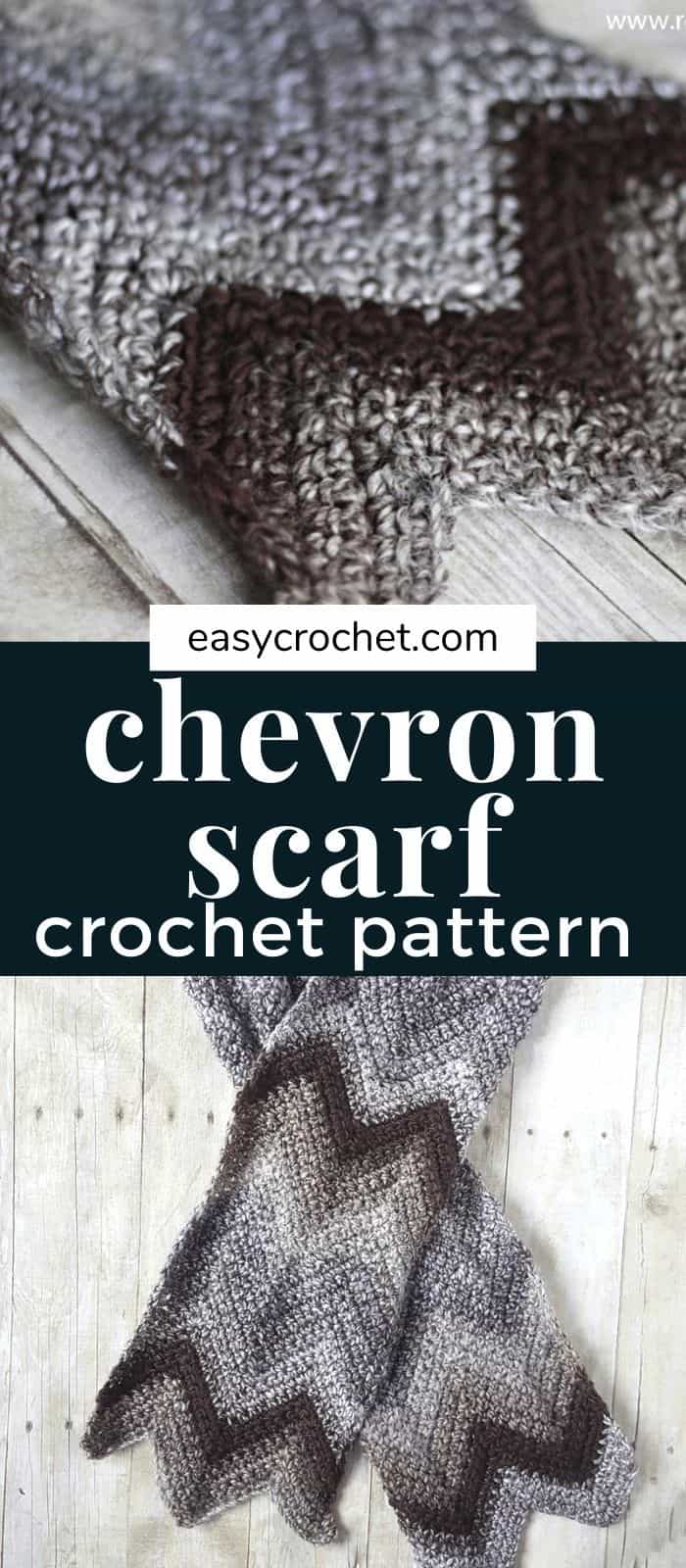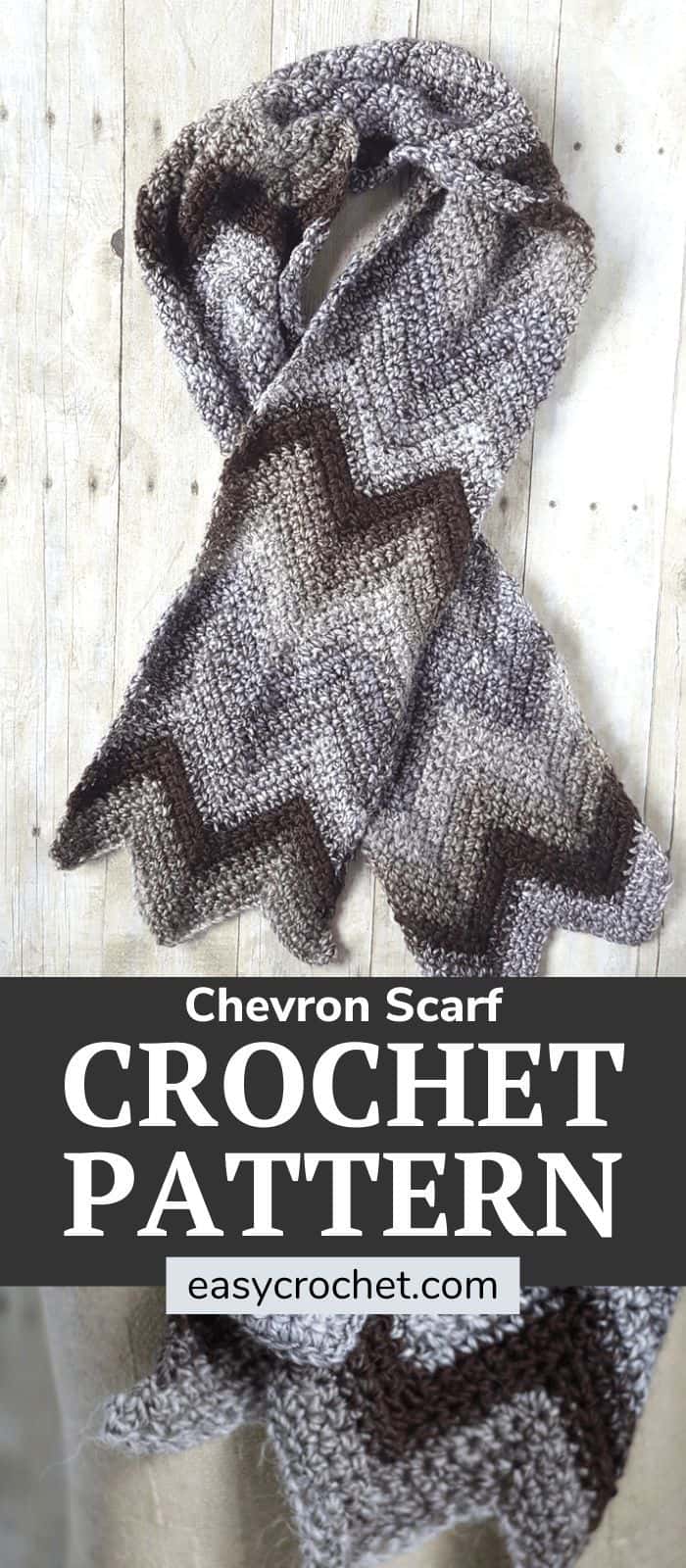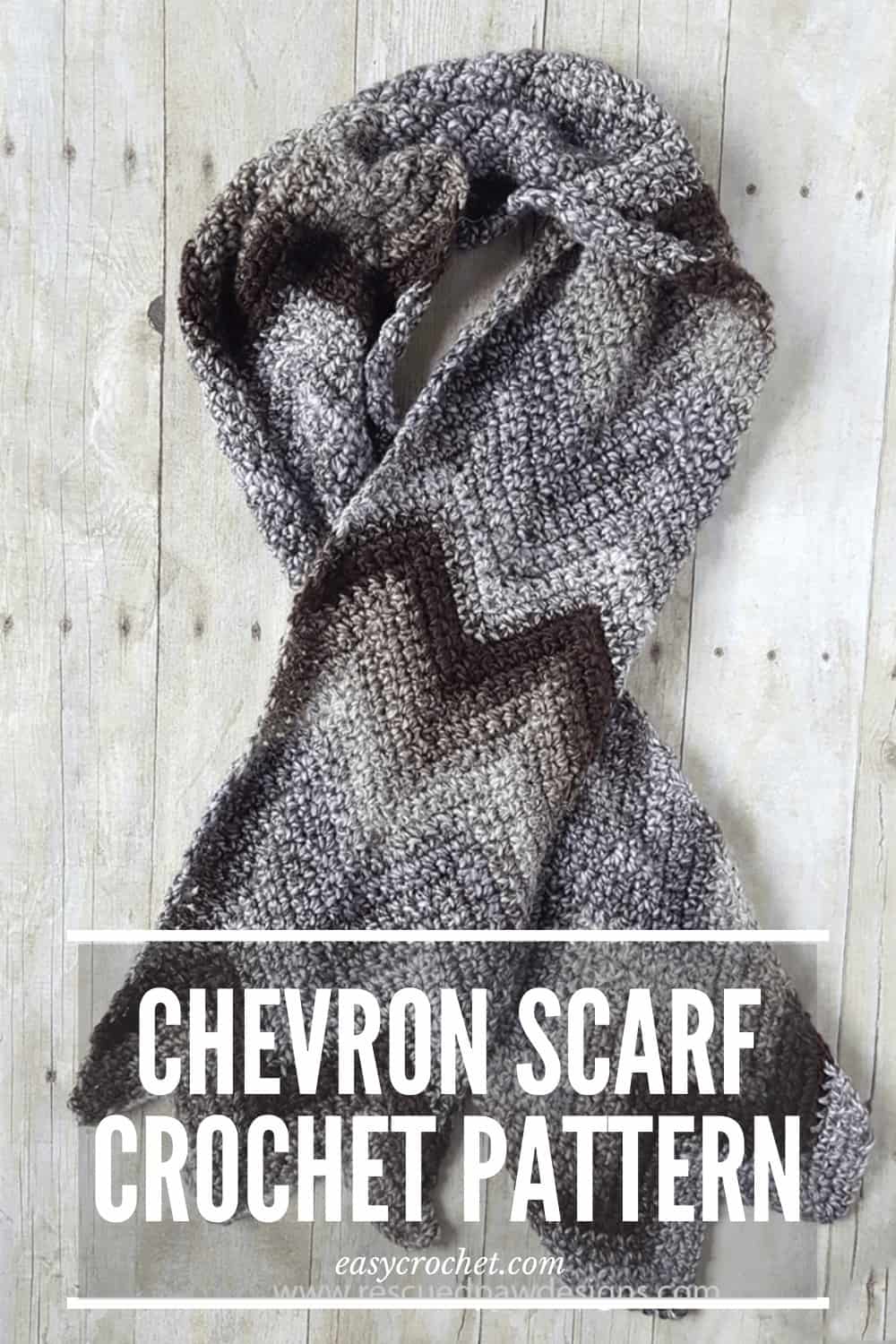 Hey there! Get ready to dive into the wonderful world of crochet with an easy and oh-so-stylish chevron scarf pattern. Using only single crochet stitches, you'll be able to create a fabulous accessory that will turn heads wherever you go.
This pattern is perfect for all skill levels, so whether you're a crochet newbie or a seasoned pro, you'll be able to whip up this trendy scarf in no time. So grab your hook and let's get crocheting a fabulous chevron scarf that's sure to add a pop of personality to any outfit!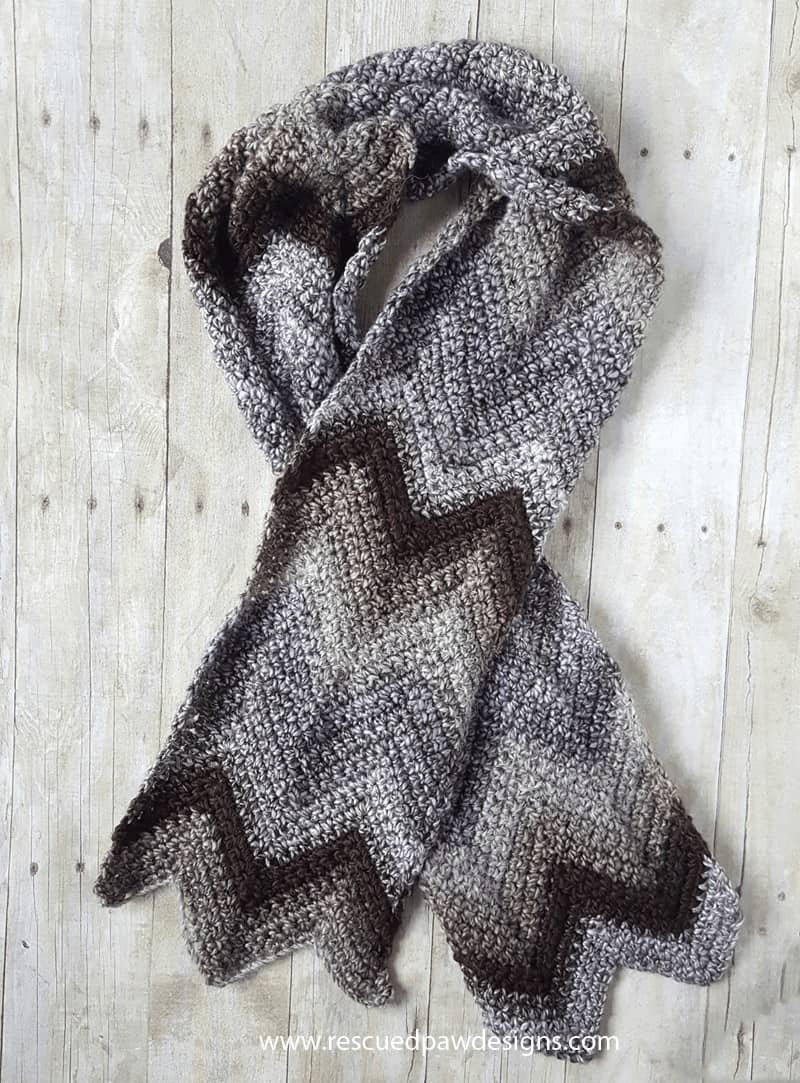 This Crochet Chevron Scarf is Excellent for Beginners!
Are you looking for a new but easy scarf design to crochet? If so, then you'll love this chevron scarf pattern!
This easy chevron scarf crochet pattern is the perfect project for a beginner who is looking for something a bit more than a straight scarf. It's zigzag design is simple to learn and adds a uniqueness to this beautiful scarf.
If you have mastered a scarf made in a straight line, then this crochet chevron scarf would a great next crochet project.
I can promise as a beginner you will want to give this one a try. If you scroll on down you will be able to find the free pattern and get started right away!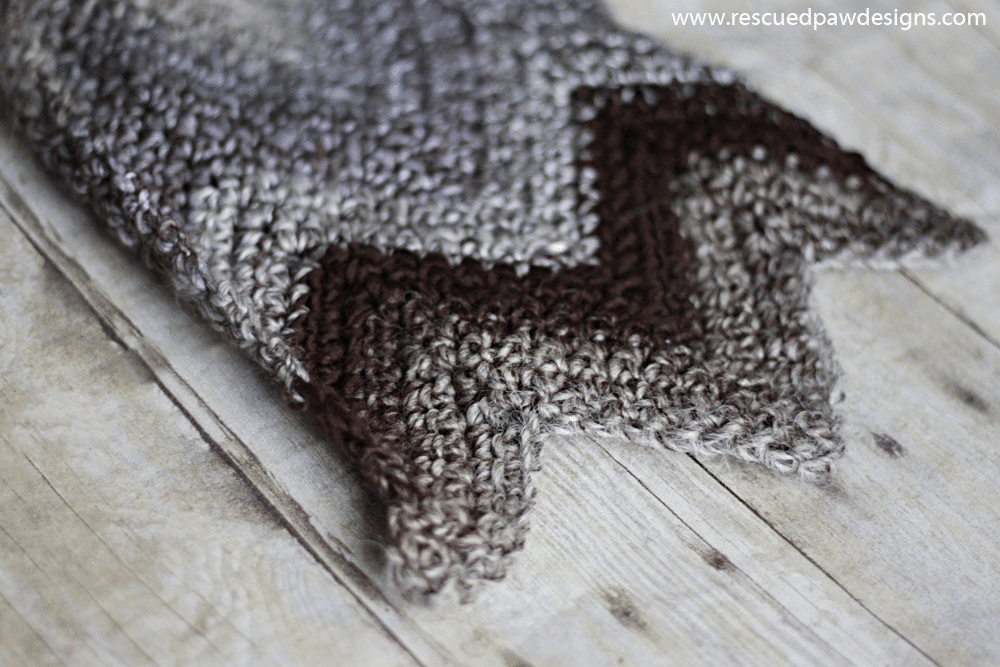 This Chevron Scarf Design Uses Only One Stitch
If you can single crochet, then you can make this scarf! I also have a tutorial on how to do the single crochet if you need a refresher.
Crochet Stitch for a Chevron Design
Single Crochet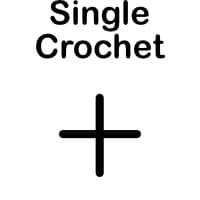 Patterns Using This Stitch →
The chevron stitch is one of my favorites and is one of the seven best crochet stitches for scarves in my opinion! I think the best part is that the single crochet makes it a perfect one night, watching Netflix and relaxing crochet project! I am going to go out on a limb and promise you'll love this one stitch crochet scarf too.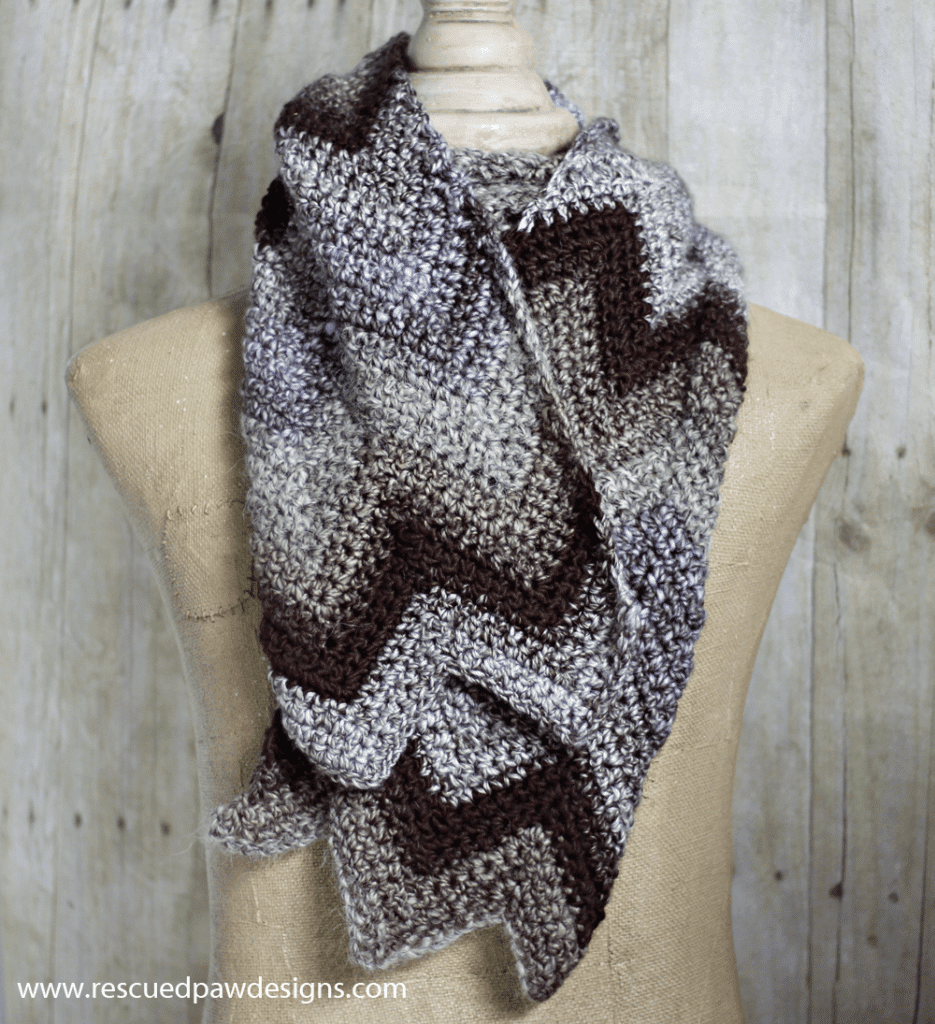 The Yarn That's Great for This Chevron Scarf
To begin my chevron design, I used beautiful yarn from the Isaac Mizrahi skyscraper craft yarn line called Chrysler. This yarn is considered a bulky fiber but is more like a worsted weight, in my opinion.
It is incredibly soft though, and does have a neutral palette of blended colors which slowly shade from one to the next!
The best part of this yarn is that it creates a natural striping in the pattern as you work, which means no need for color change and switching yarns.
Do You need a substitute yarn?
As of 2019, the yarn I used has been discontinued, so I recommend, Lion Brand Homespun as a good substitute. You will still get the same beautiful chevron pattern and softness.
Homespun
This yarn is made by Lion Brand, and is a Weight 5 – Bulky yarn.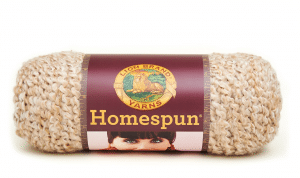 Buy Now
Patterns Using This Yarn →
Ready to Get Started?
Scroll on down to get the free pattern and have fun crocheting! I hope you enjoy this chevron scarf pattern! I am so excited for you to try out this chevron design.
Happy Crocheting!
How to Crochet a Chevron Scarf
Skill Level: Easy
Materials
Two skeins of Isaac Mizrahi Craft Skyscraper Yarn in Chrysler or 322 yards of any other bulky (five) yarn such as Lion Brand Homespun
Yarn needle
Finished Size
Approx. 68″ long x 9″wide
Abbreviations
Notes
Each row is approx. 9″ wide.
Gauge is six sc for every 2″
I suggest counting and recounting your st's as you go to make sure you have the correct amount throughout your scarf.
Every row should end with five sc then a sc2tog.
Written in standard US terms.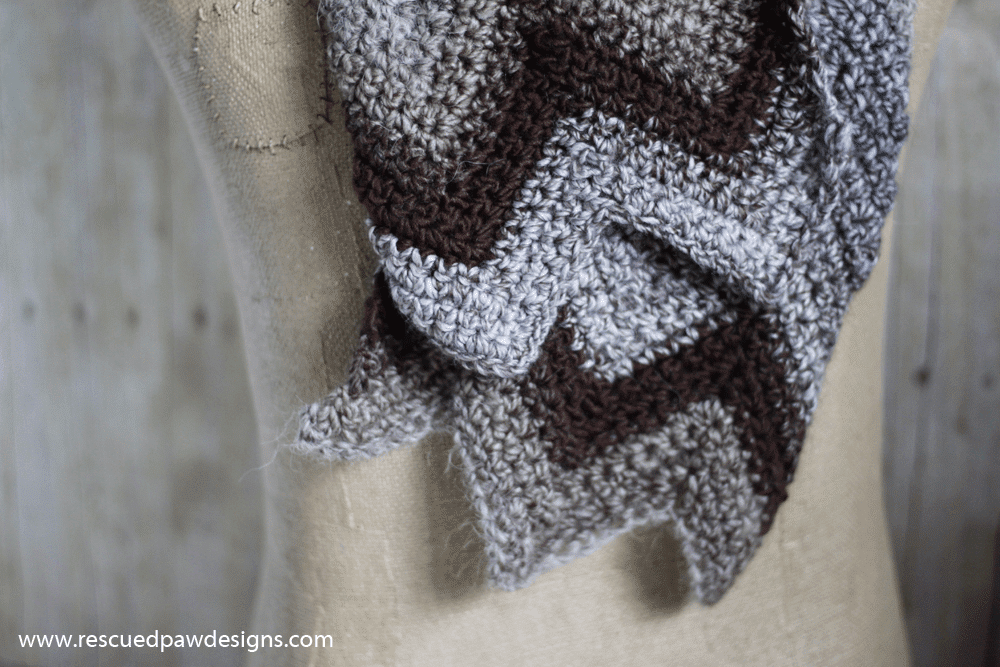 East Chevron Stitch Pattern Steps
Foundation Row: ch 33
Row 1: For row 1 start in 2nd ch from hook (for row 2 -135 start in first st)
sc2tog, 1 sc in each of next 5 st, sc 3 times in next st, *1 sc in
next 7 st, skip next 2 st, 1 sc in next 7 st, sc 3 times in next st.
Repeat from * across until you are left with 2 st then sc those last two remaining stitches together (aka sc2tog), turn. (32)
Row 2- 135: ch 1, repeat row 1. (32)
You can make your scarf shorter or longer if you prefer by adding or subtracting rows.
Finishing: Fasten off yarn and weave in loose ends throughout the crochet scarf with a yarn needle.
You will need to block this scarf since it tends to roll up. Be sure to read this great article on blocking here for extra help with this part.

Are you looking for more chevron patterns to make? Try the Wonders chevron blanket, the Neutral chevron throw and much more in our archives.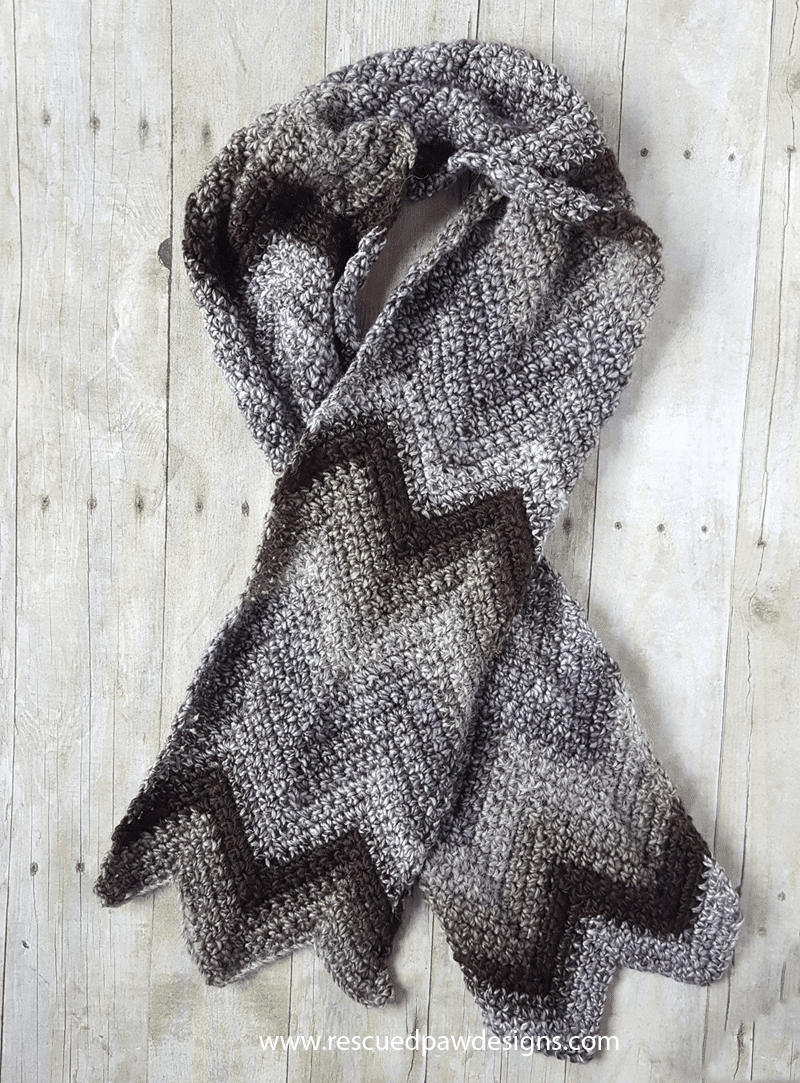 You Are Done!
I hope you enjoyed this quick crochet chevron scarf pattern! If you have any questions about any of my crochet patterns, please feel free to ask! If you liked this pattern, you might also like my quick one-hour cowl too!
You May Also Like These Chevron Patterns