9 Free Crochet Blanket Patterns using Chunky Yarn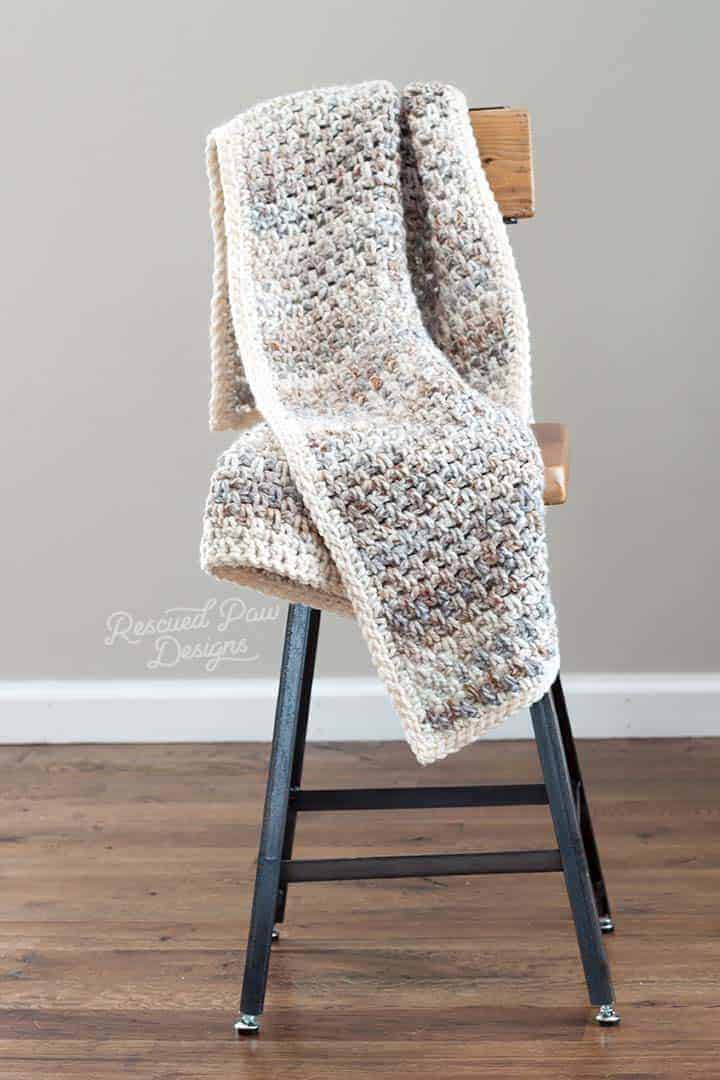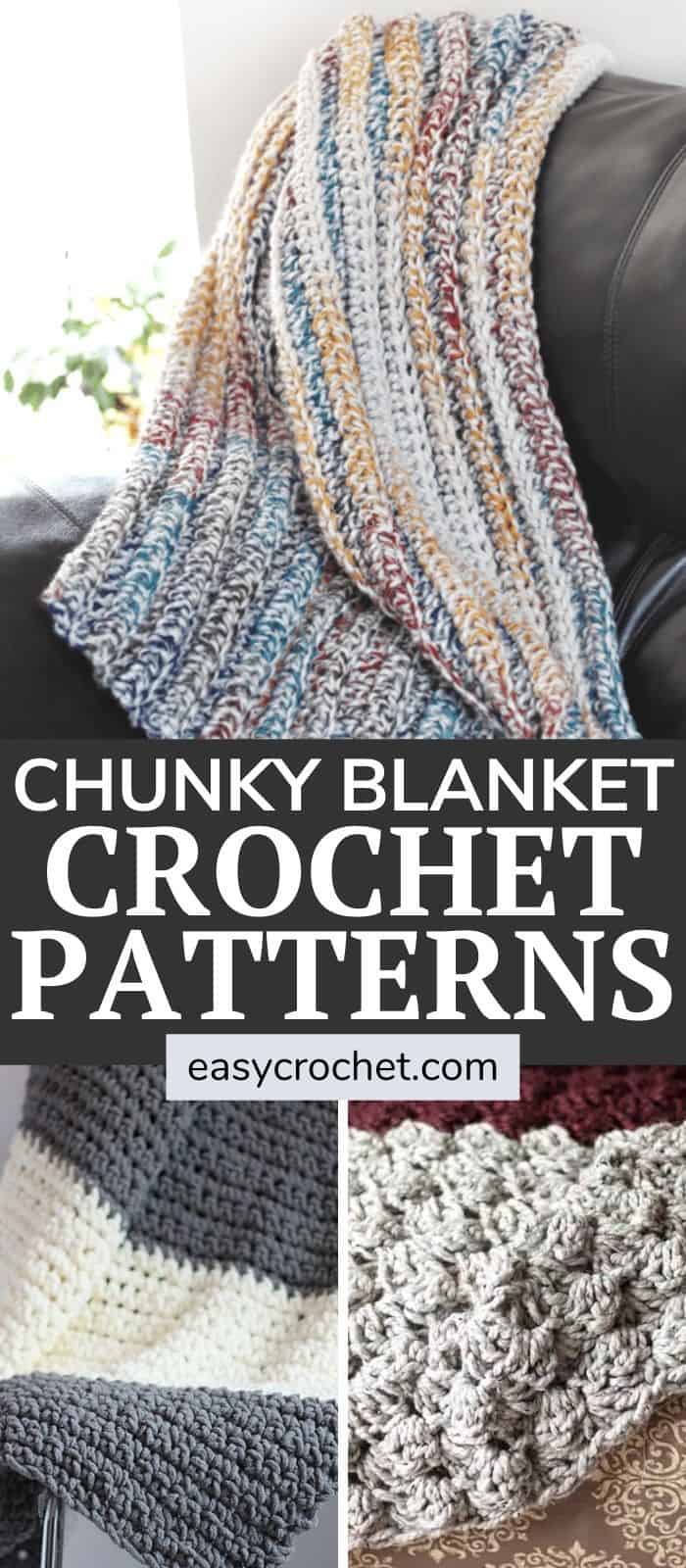 Crochet blankets are fun and easy to make with chunky yarn because they work up fast.
If you, are looking for some free chunky yarn blanket crochet patterns or wondering how to make a chunky yarn blanket? I can help! And let's not forget the best part? They are all FREE crochet blanket patterns!
Explore the collection of cozy bulky blanket patterns below that are all free, available in a variety of different blanket sizes, work up fast and use simple stitches, so you can make the ultimate blanket to snuggle in.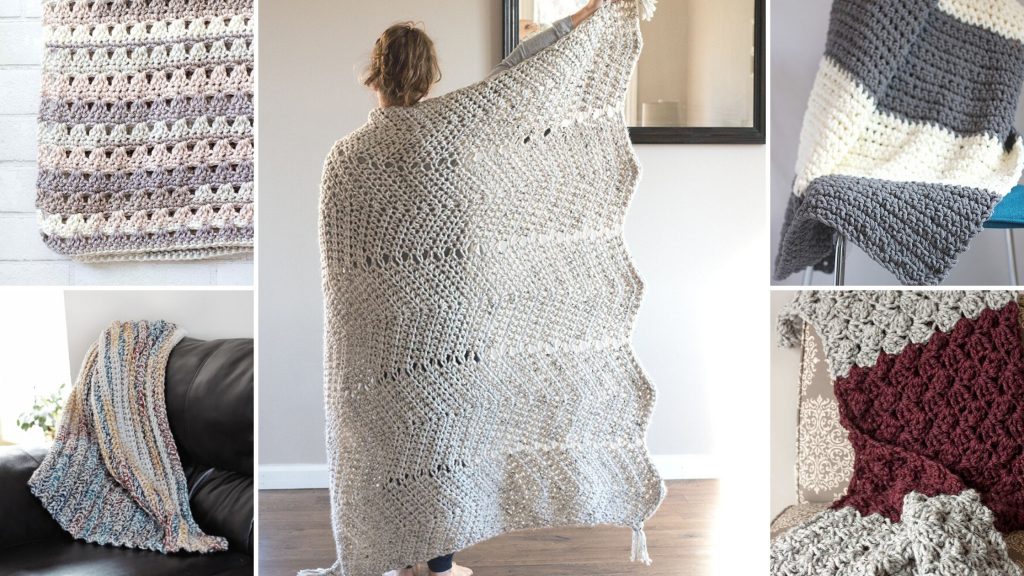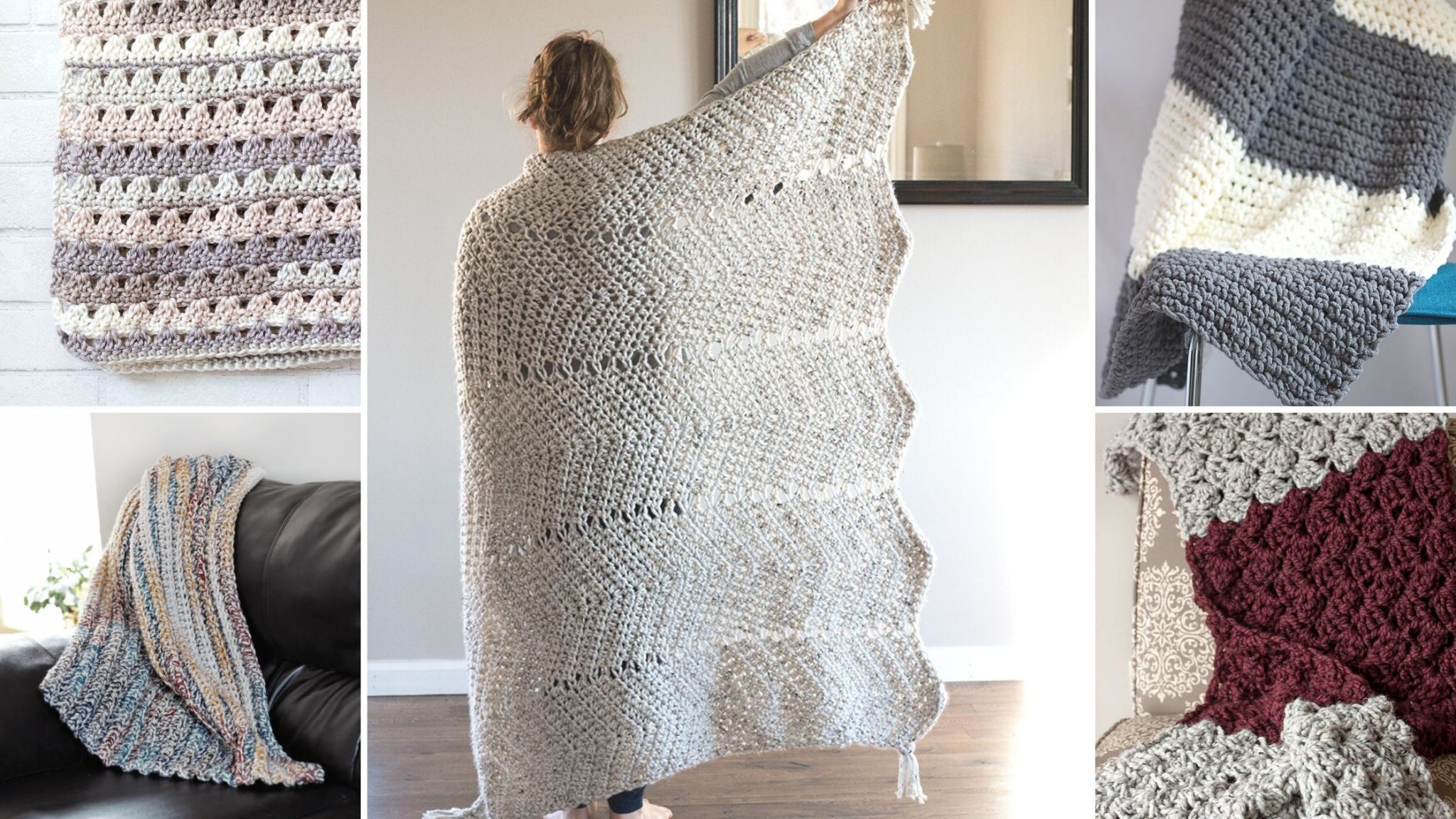 What is a Chunky Crochet Blanket?
A blanket made from chunky blanket yarn is one that uses a #5 weight or #6 weight yarn. Learn a little more about these yarn types below to understand yarn weights.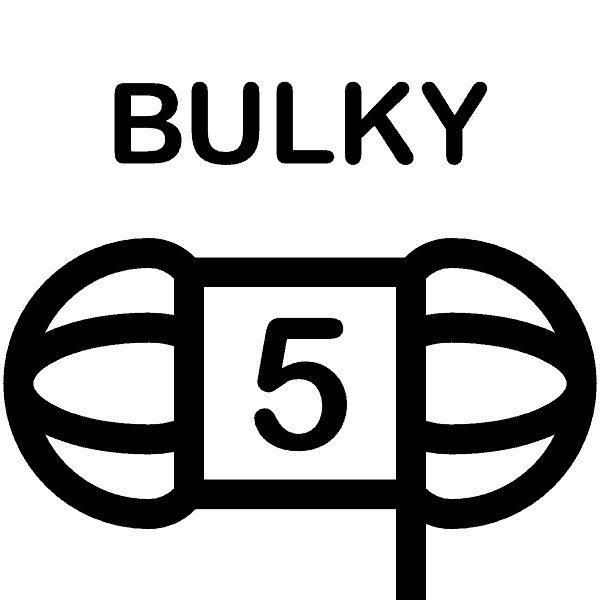 Weight #5 or Bulky yarn includes the yarn types of chunky, craft and rug. This weight of yarn is usually crocheted using the US hook sizes of K-10.5 to M-13 and the metric sizes of 6.5 to 9 mm.
---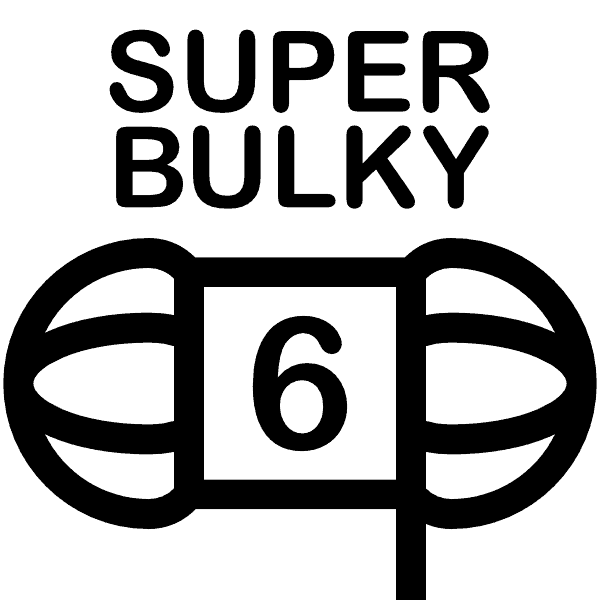 Weight #6 or Super Bulky includes the yarn types of super bulky and roving. This weight of yarn is usually crocheted using the US hook sizes of M-13 to Q and the metric sizes of 9 to 15 mm.
If you use either weight of yarn when crocheting or knitting a blanket, you'll have the coziest and warmest blanket ever. Which is perfect for Fall & Winter! I've put together a list of chunky crochet blankets that are worked up using bulky weight 5 yarn & super bulky 6 yarn that are all simple to crochet.
Ever since I was little, I have loved curling up with a good book and a big chunky blanket while reading. Now that I am able to crochet my own extra cozy blankets, I appreciate my me time even more! If you are in the mood to crochet a blanket you can snuggle in, these patterns are it!
Keep on reading to learn more about the bulky, chunky yarn and thick yarn I love and all the blanket patterns I recommend, so you can create your very own thick yarn blanket!
The Best Bulky Yarns to Use for Chunky Crochet Throws
There are lots of different bulky five and super bulky six yarns on the market today, but the best are Lion Brand Wool-Ease Thick & Quick, Bernat Blanket Yarn, and Lion Brand Hometown! You can learn more about these bulky 5 gauge and super bulky 6 gauge yarns below.
These yarns will work for either a crochet or knit blanket. Both knitting and crochet use the same yarn, so our chunky yarn recommendations will work for both. In fact, the only real different will be that your chunky knit blanket will likely be a little more tightly woven than one made from crochet, making it even warmer!
Best Yarns for a Chunky Blanket (or Super Bulky Blanket)
Bulky #5 Weight Yarns
Bulky #6 Weight Yarns
Blankets that use bulky weight yarn are almost always a favorite of crocheters and knitters because of how fast they work up. The thicker yarn makes for a quick crochet project, which means you can get started on that next pattern even faster!
I love using Bernat Blanket yarn to get an instant chunky blanket and Bernat Baby Blanket Yarn to make a quick cozy baby blanket.
If you love to crochet cozy thick blankets and happen to have extra chunky yarn lying around, I can help! You can make quite a few different blankets with this collection of FREE bulky crochet throw patterns!
Read on down to take a look at this list these chunky yarn crochet patterns so you can make a cozy crochet blankets/throws that uses chunky yarn. You can check out my videos on how to make a chunky blanket at the bottom of the post too.
Enjoy!
The Best Bulky and Super Bulky Yarn Crochet Blanket Patterns
Check out some of my favorite bulky and super bulky yarn weight patterns below, so you can find your next crochet blanket project!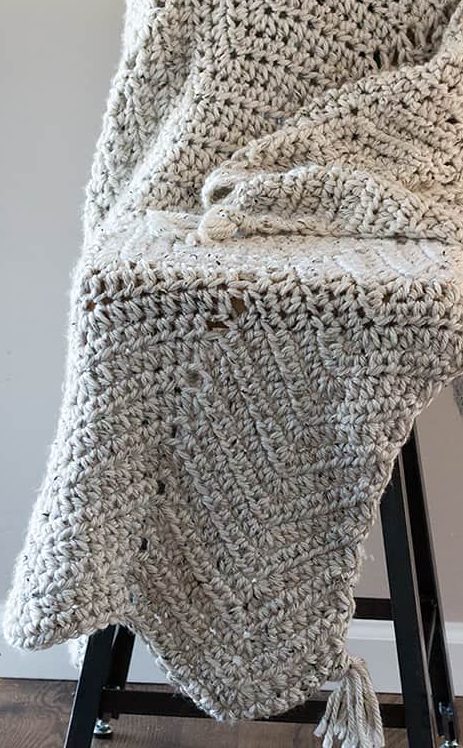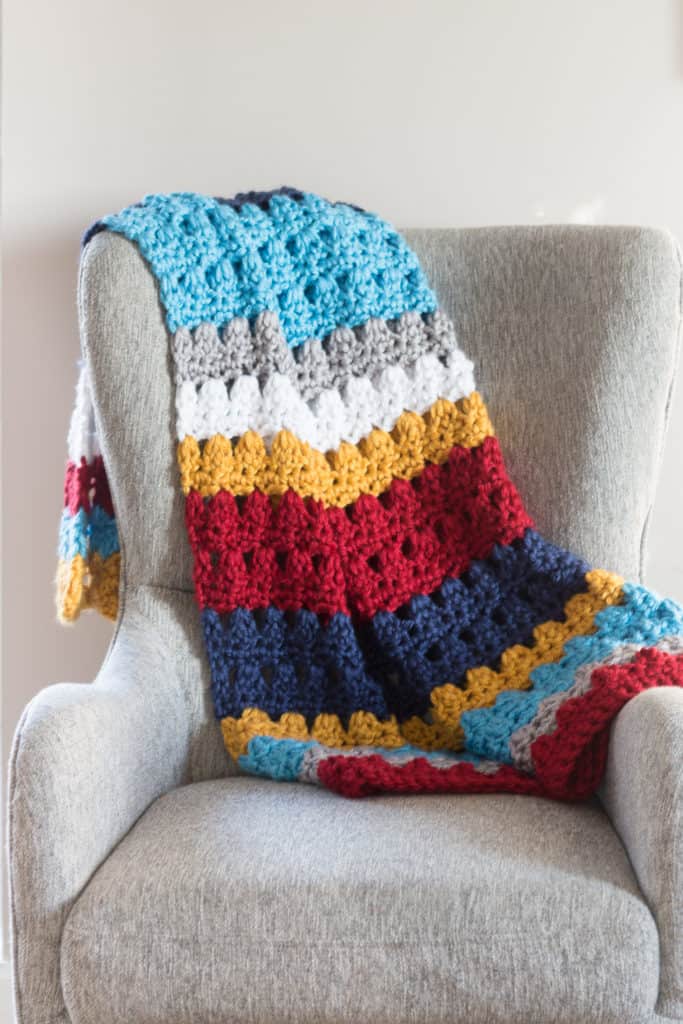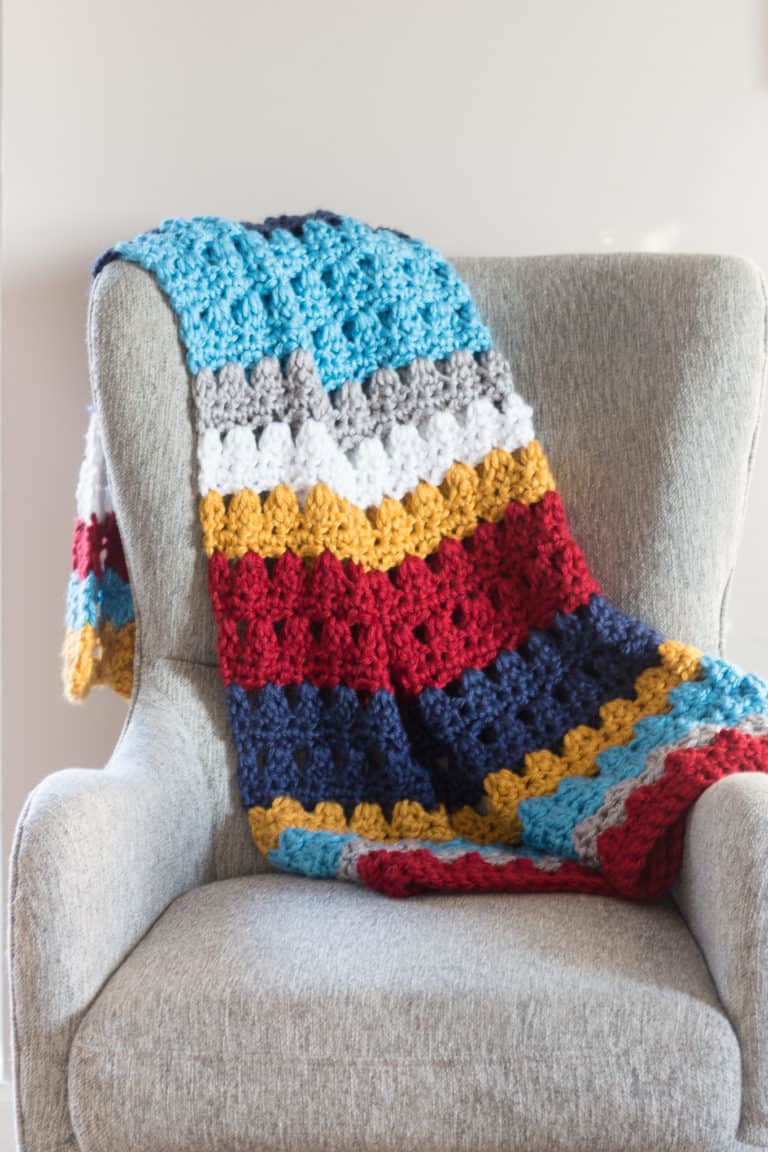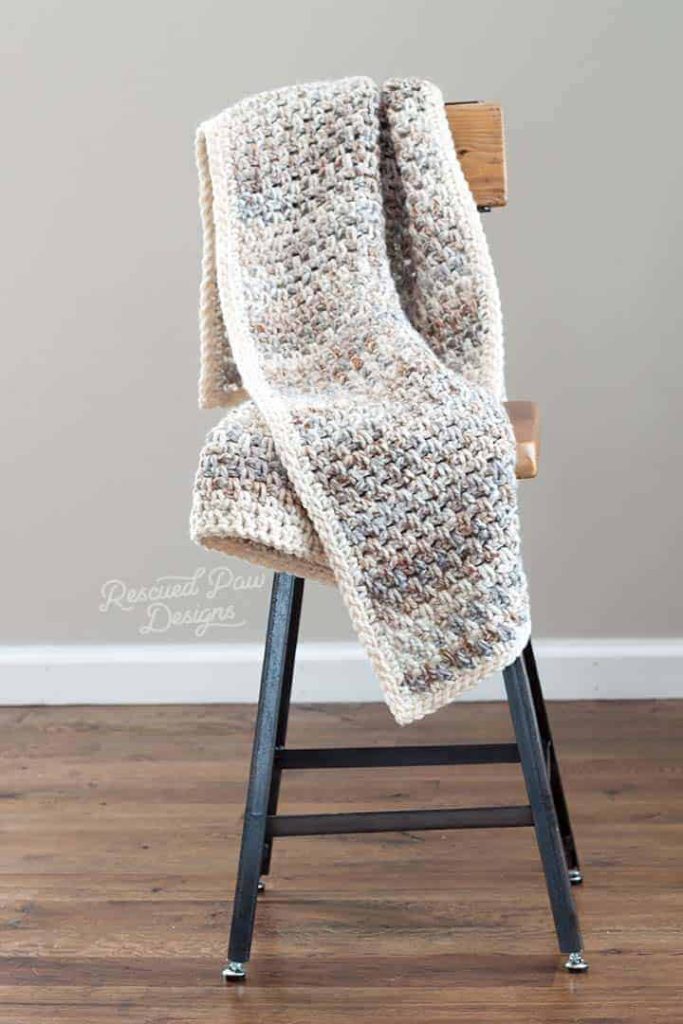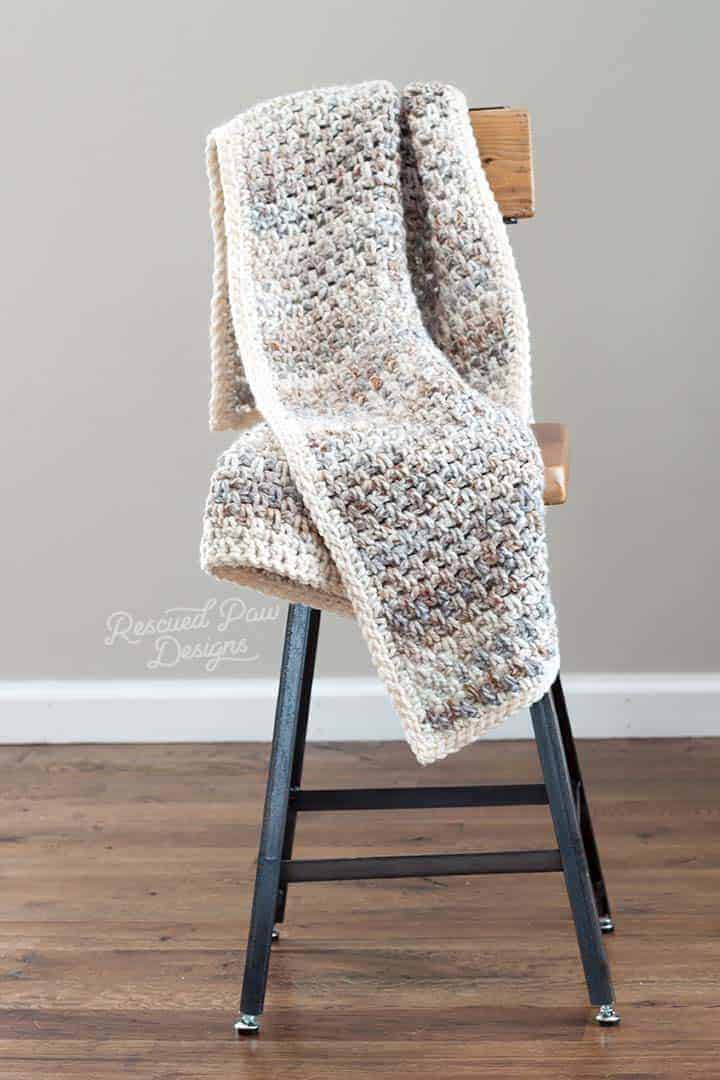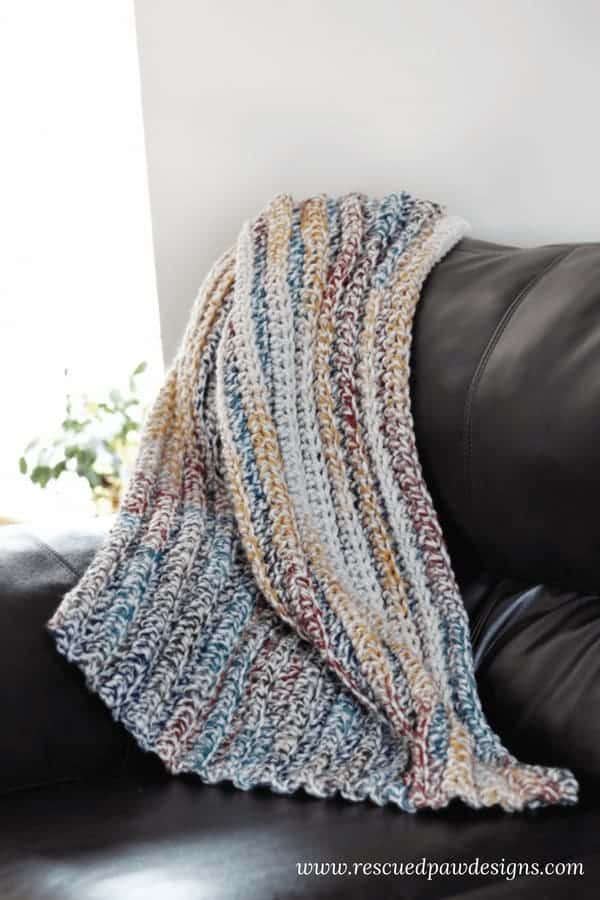 The Best Super Chunky Yarn Blanket Pattern
Yarn: Lion Brand Wool-Ease Thick & Quick
Weight: Super Bulky/ Chunky #6
My favorite chunky blanket and probably my go favorite (I know I say that a lot) is this blanket because it uses one stitch (the hdc!) and is available to make in FIVE different blanket sizes.
This is a good crochet stitch for chunky yarn, and you'll love how fast it works up! You'll love the great stitch definition and texture that this pattern gives your blanket.
Find the free chunky blanket pattern here on the blog or purchase the ready to print PDF version in our shop.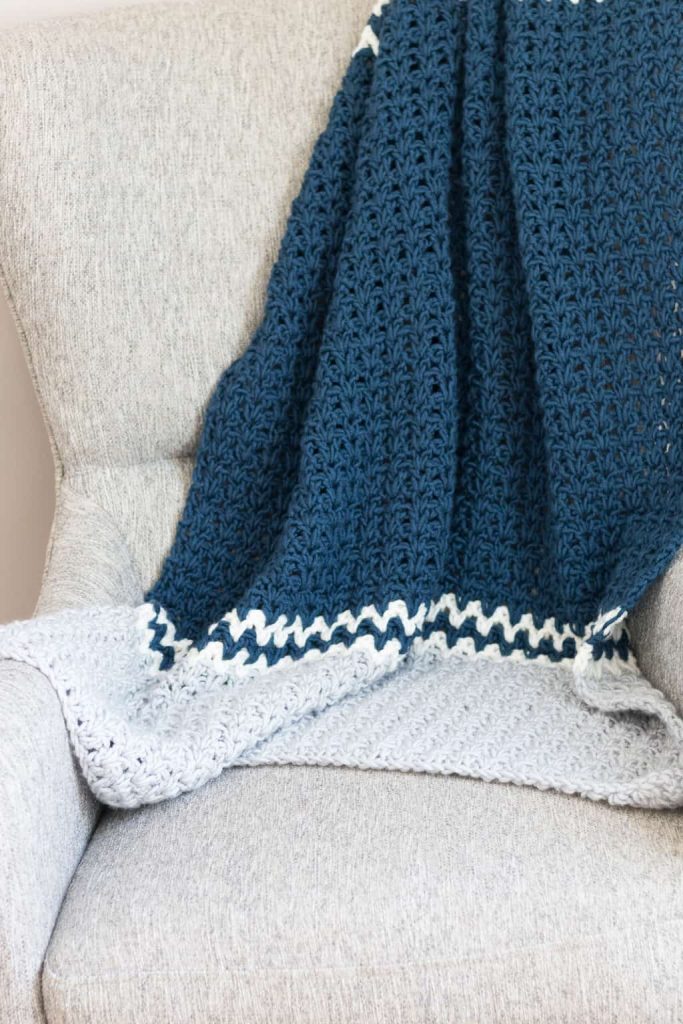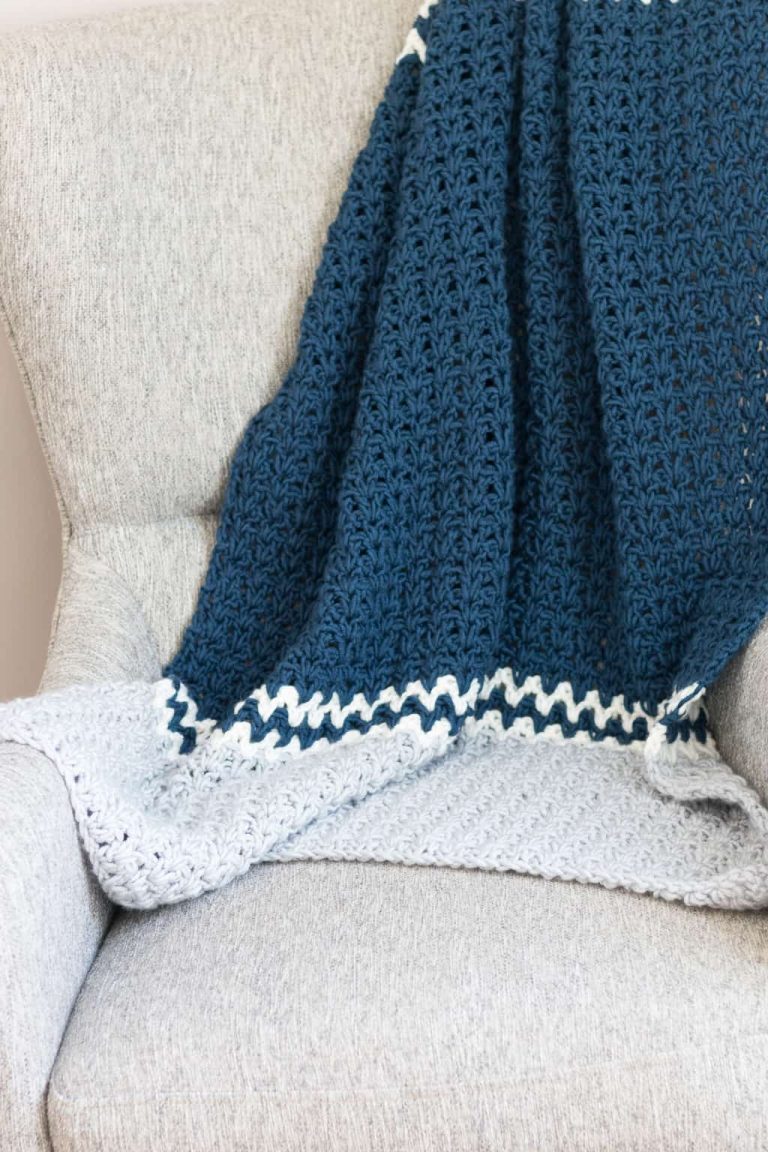 V-Stitch Crochet Bulky Blanket Pattern
Yarn: Color Made Easy
Weight: Bulky #5
This classic V-stitch blanket uses cozy bulky 5 yarn from Lion brand called Color Made Easy which is a soft and chunky yarn. It also works up quick due to the simple stitches used, which is always a positive when crocheting a blanket.
Find the free blanket pattern here on EasyCrochet.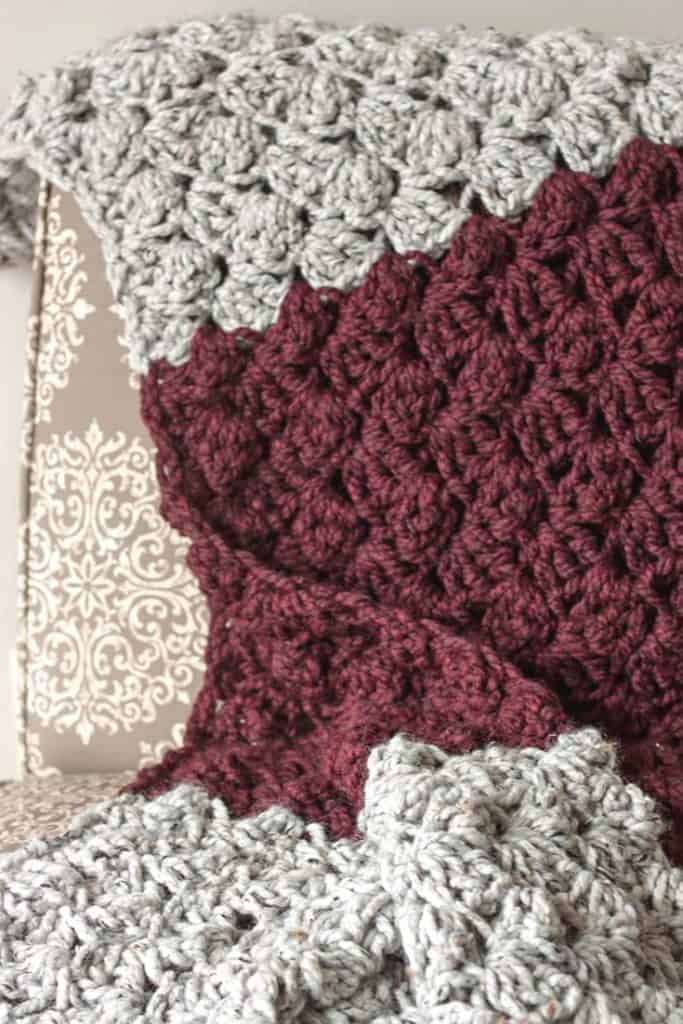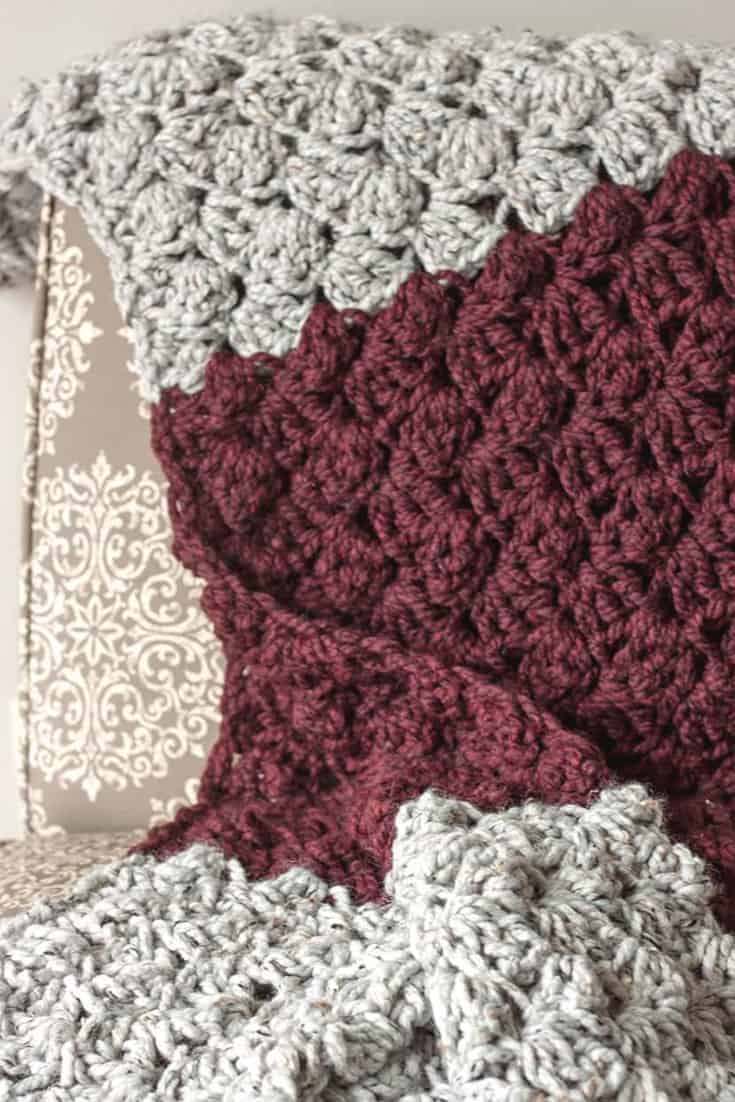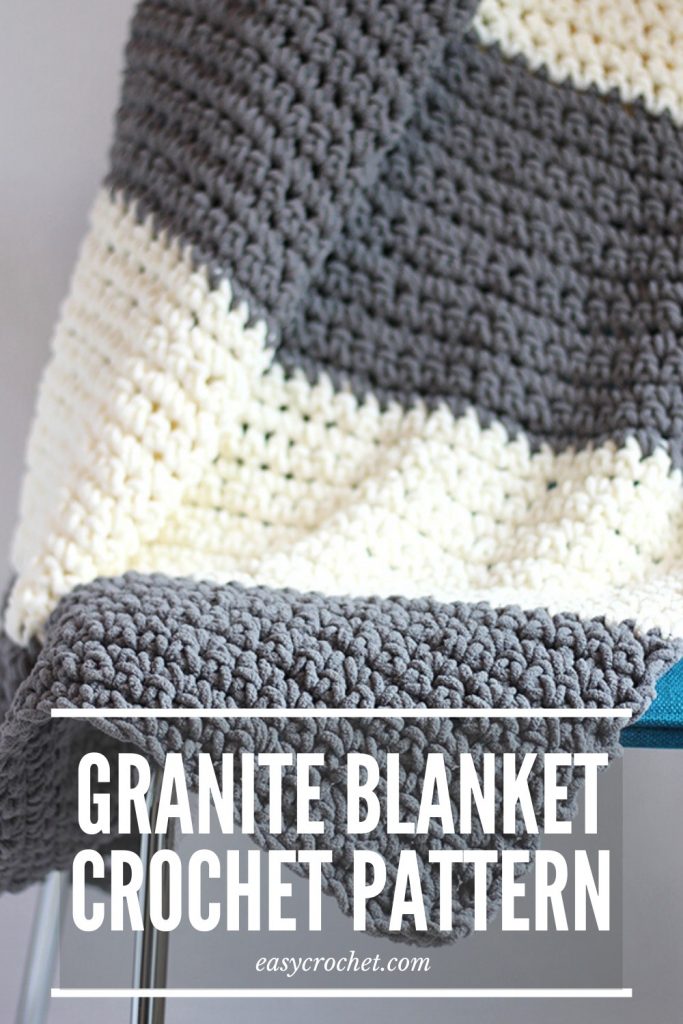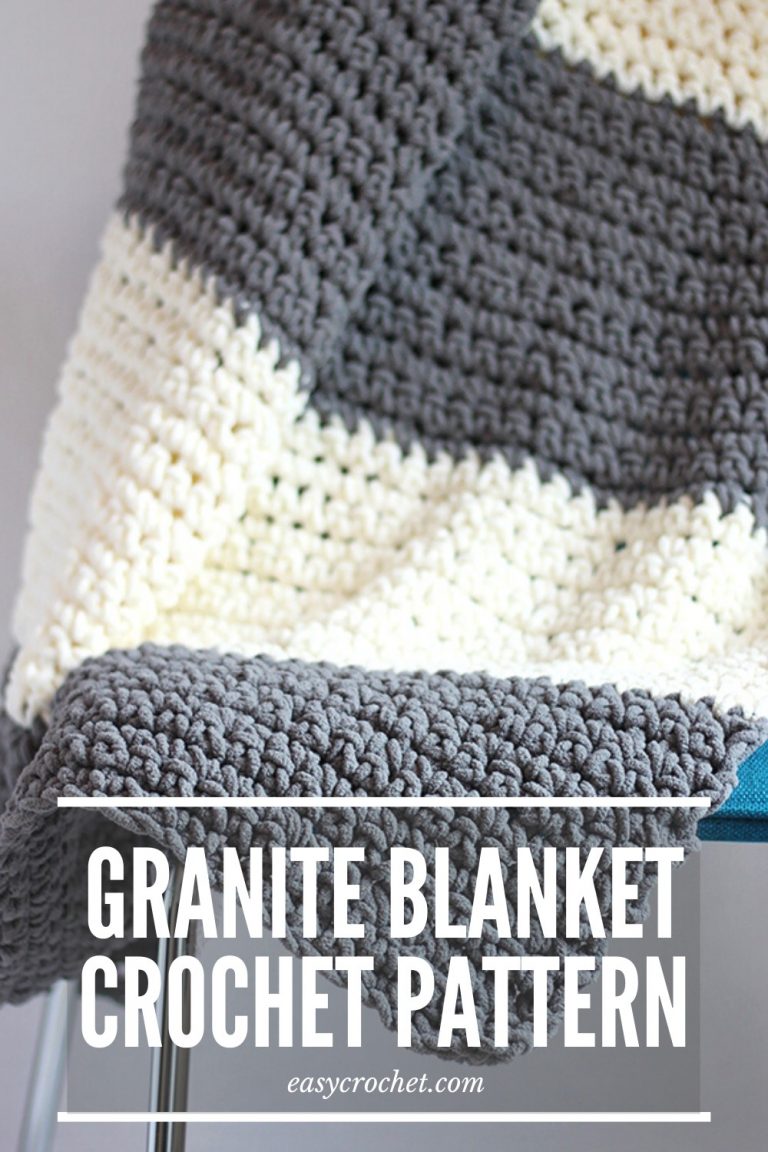 Granite Chunky Throw Blanket
Yarn: Bernat Blanket Yarn
Weight: Super Bulky/ Chunky #6
If you are looking for a simple one stitch chunky throw to crochet then the granite throw is for you! This easy blanket uses Bernat Blanket yarn which is a super bulky yarn that is available in an impressive collection of colors.
Get the simple free crochet pattern here on the blog to start working on your very own chunky afghan today!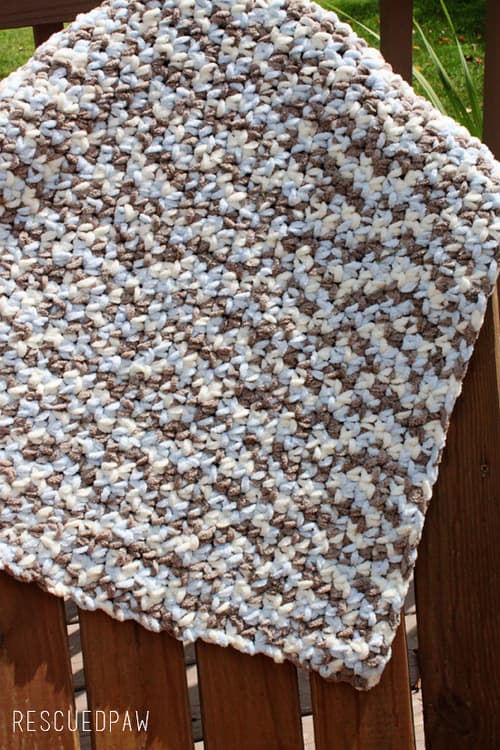 Bernat Blanket Yarn Baby Blanket
Yarn: Bernat Blanket Yarn
Weight: Super Bulky/ Chunky #6
This easy to crochet chunky baby blanket uses just one simple stitch which means it w works up fast! If you are in need of a chunky crochet baby blanket then this one is it!
Get the free baby blanket pattern or purchase the AD-free PDF version in our shop.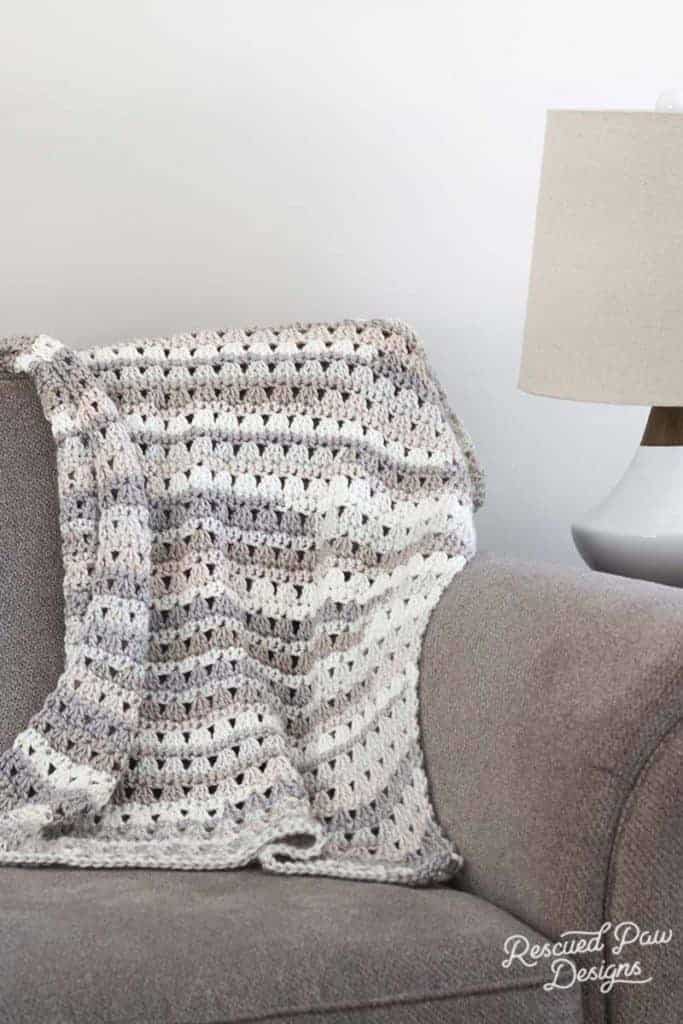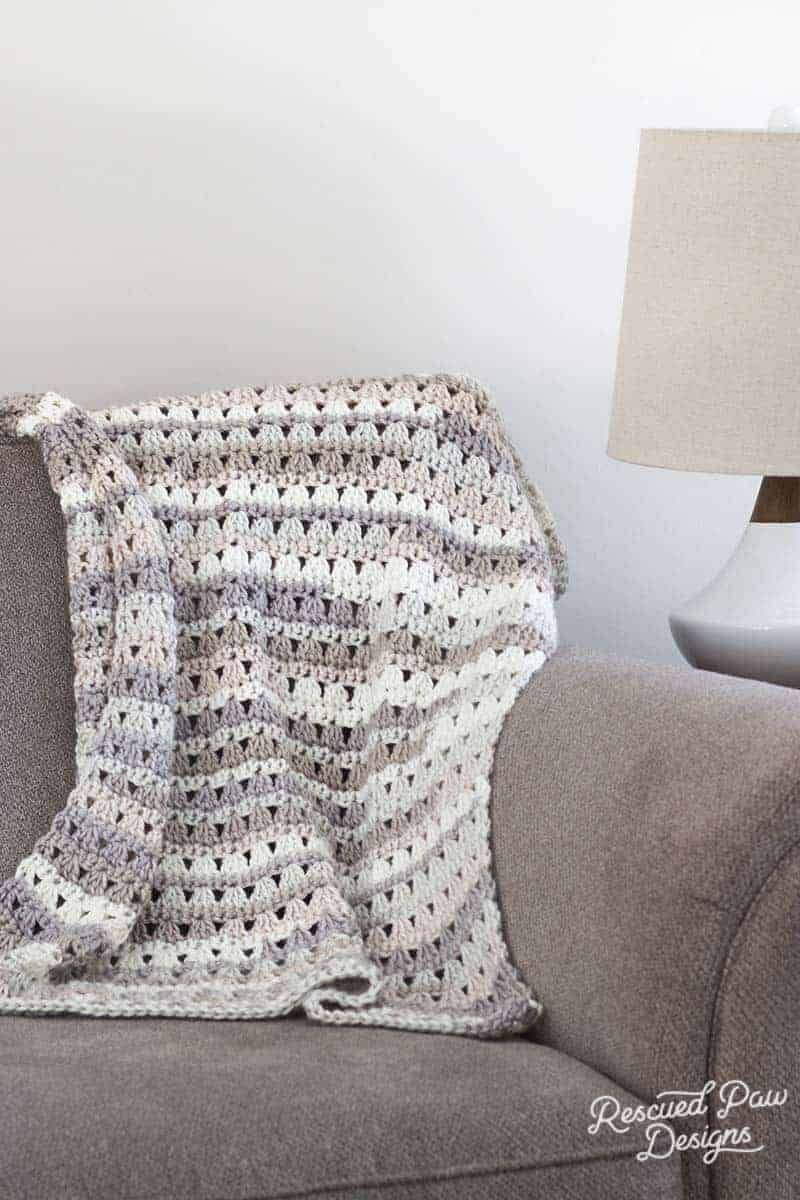 Easy to Crochet Chunky Blanket
Yarn: Red Heart Soft Essentials
Weight: Bulky #5
You are going to love crocheting this chunky blanket! The Alissa uses Red Heart Soft Essentials Yarn that is a bulky 5 weight yarn that is extra soft and has amazing drape!
Get the free Alissa Blanket Pattern or purchase the Ad-Free PDF in the Easy Crochet shop.

Bulky yarns are great for chunky projects and accessories like scarves, cowls and headbands. Be sure to explore the crochet pattern database for inspiration. I can't wait for you to explore this great list of patterns! Happy Crocheting!
That's It for These Chunky Crochet Blankets, Afghans & Throws!
Tell me… Which chunky blanket are you going to pick to make? If you'd rather work up a blanket using worsted weight yarn I have a couple of good suggestions that you could try too! Like the Easy Chevron, Wonders Chevron and the Simple Color-Blocked Blanket!
More Free Crochet Blanket Patterns
Be sure to look at seven chunky yarn hat patterns that you can make if you'd like to try your hand at other bulky yarn crochet patterns.