Colorful Chevron Blanket Pattern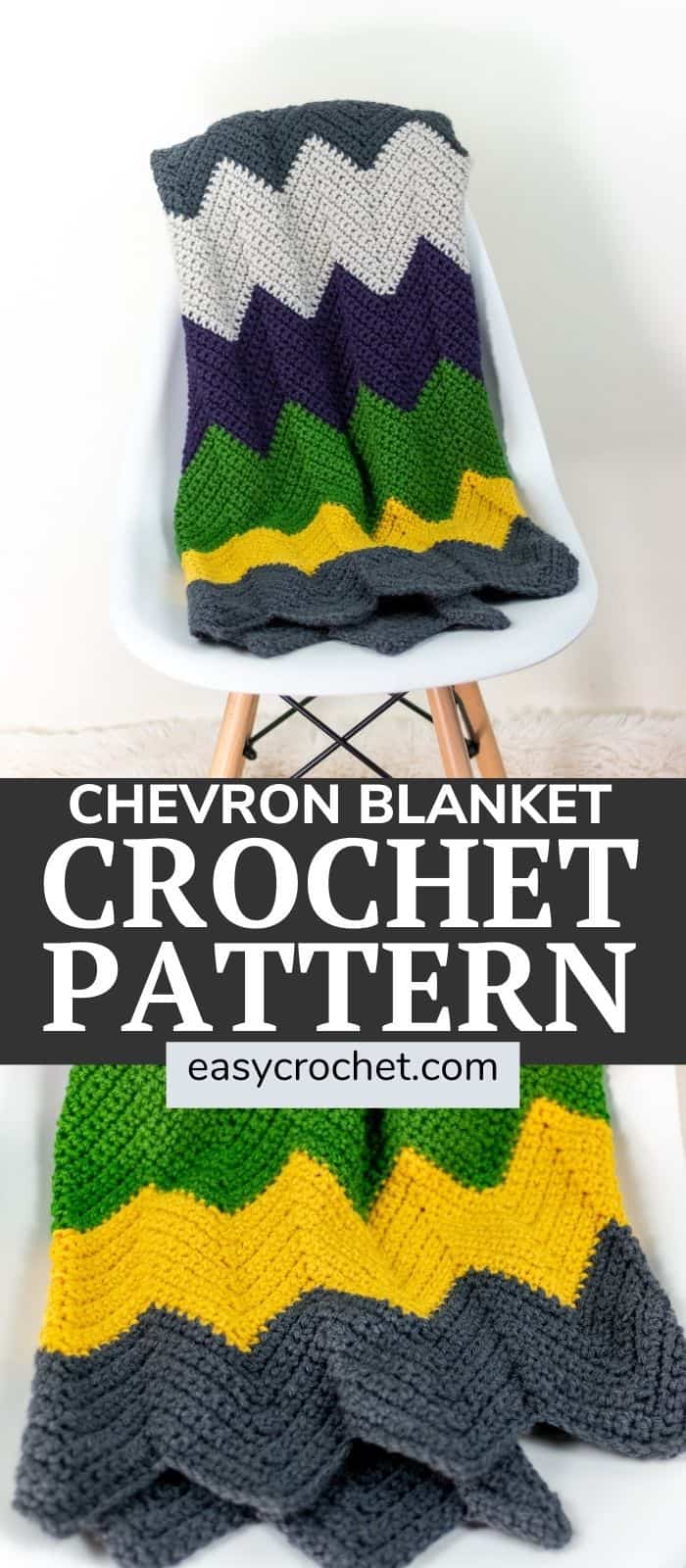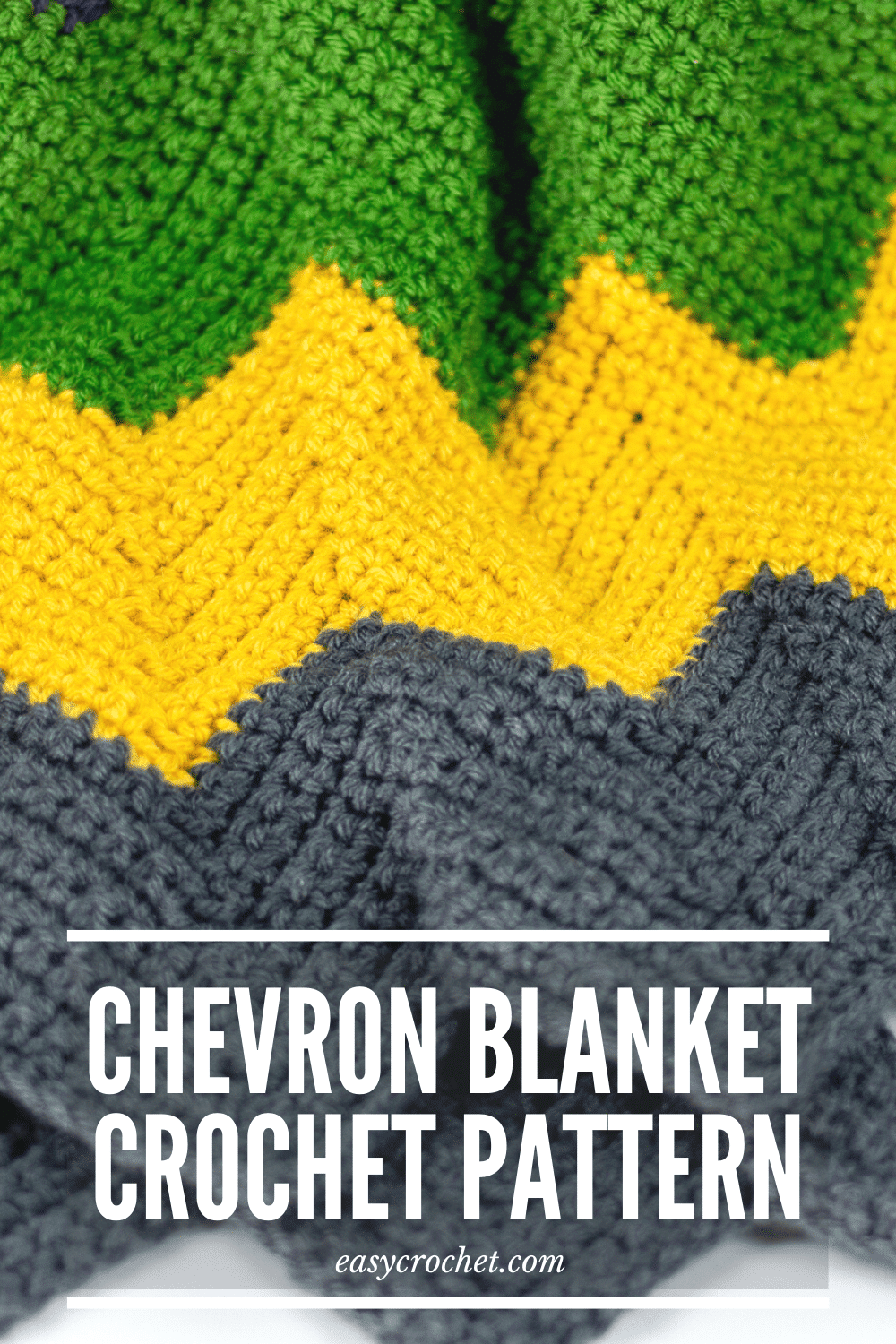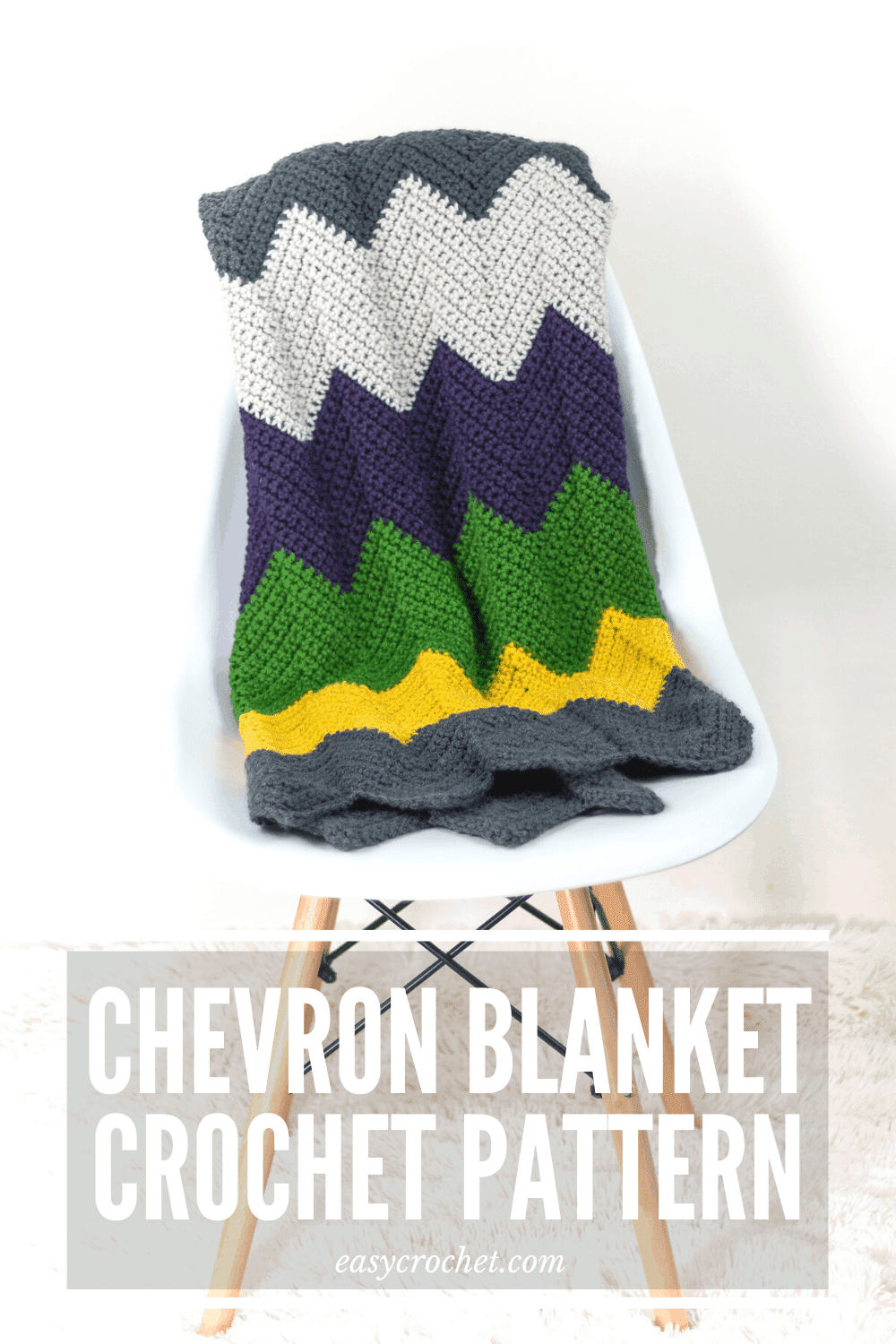 Are you looking for an easy to crochet chevron blanket? Look no further! This chevron crochet pattern is the one you've been looking for.
Learn how to create this simple chevron pattern to make a blanket, throw or even a baby blanket as your next crocheted project!
Read on down for the free crochet tutorial.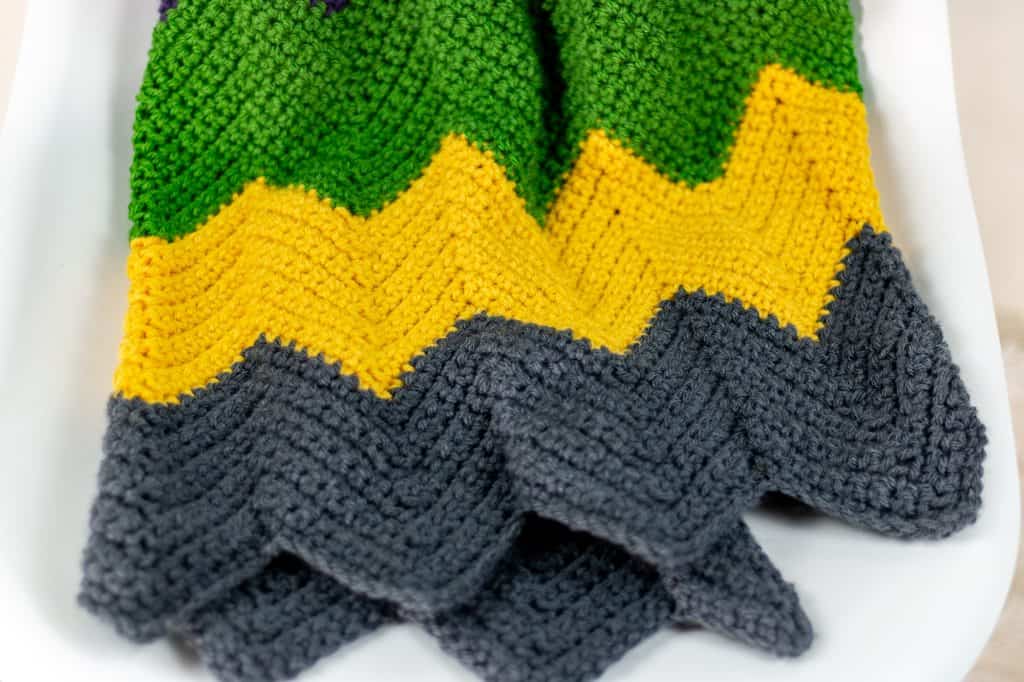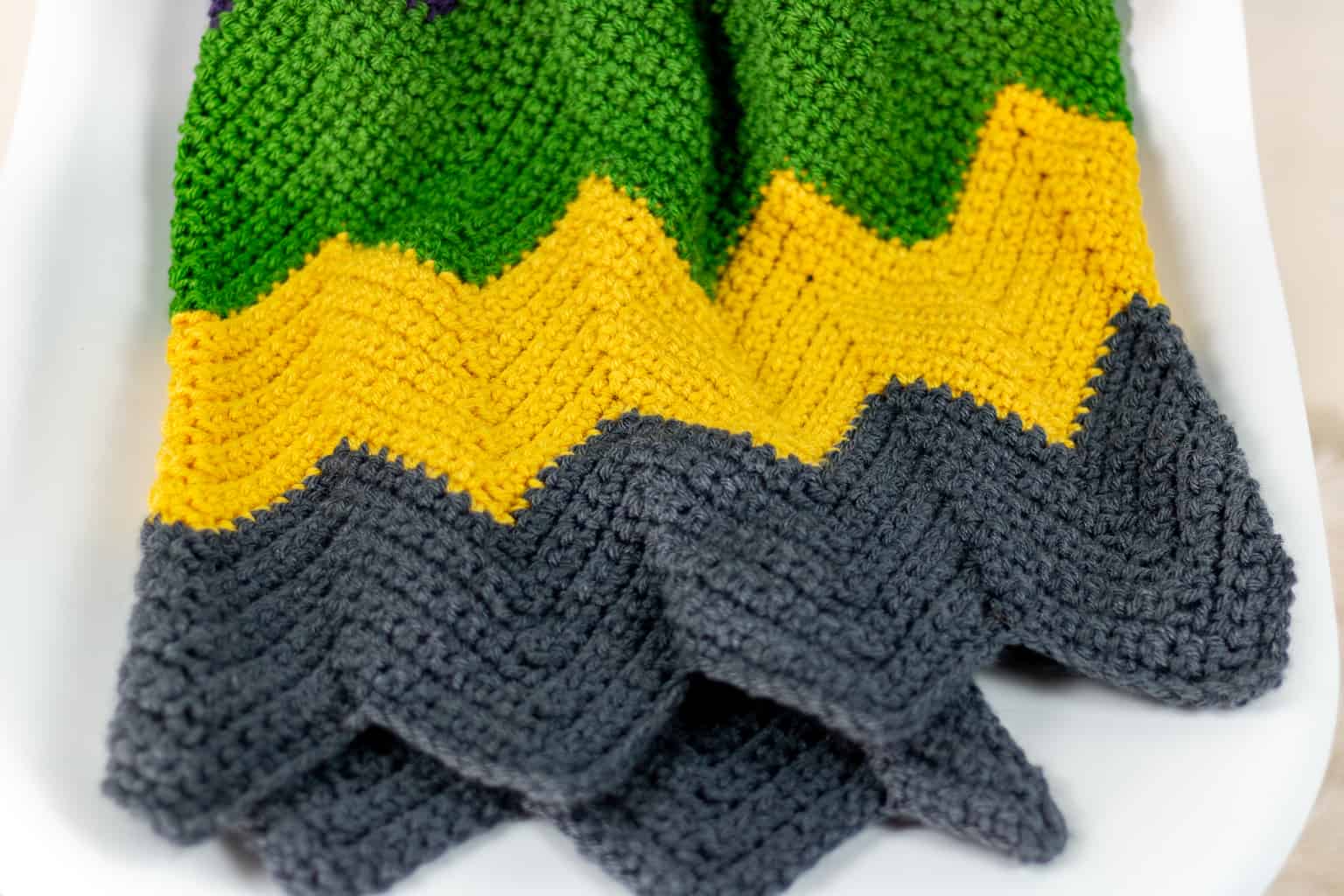 Remake of an Old Chevron Classic
The most popular crochet pattern so far on my blog is my Neutral Chevron Blanket that I designed a few months ago.
To mix it up a little, I (well, my daughter) convinced myself to remake this same blanket in some fun colors to create the colorful chevron blanket! I hope you like it!
Add Pops of Color to Your Chevron Pattern!
Elise and I decided to redesign the original Easy Crochet chevron design with bright fun colors of her choosing (she is my official creative director) and make it a little bigger.
You are welcome to crochet along with me as a work on it and share updates. I can't wait for you to make it too!
I ultimately went with Lion Brand Vanna's Choice yarn because it is easy to find (think local craft stores or Walmart!) and it washes up beautifully, which is a must with children in the house!
Happy Blanket Making!
Chevron Crochet Blanket Pattern
Skill Level: Easy
Materials
3 balls each of Lion Brand Yarn Vanna's Choice

in Mustard, Kelly Green, Purple, Charcoal, Linen

Yarn needle
Crochet Hook 6 mm
Scissors
Stitch Marker (to keep track of stitch count)
Crochet Abbreviations
ch = chain
sc = single crochet
sc2tog = single crochet two together
st = stitch
Notes
Written in standard US terms
If you would like to make this blanket smaller or larger, start with a beginning chain that is a multiple of 17. For Example: 17, 34, 51, 68, 85, 102, 119, 136, 153, 170, 187, 204, 221, 238, 255, 272, 289, 306, 323, 340. Then add on an additional 16 stitches to which ever length you choose.
Remember to always Ch 1 at the start of each row.
Colorful Chevron Crochet Blanket Pattern Steps
Start with a beginning chain of 169 with Charcoal
Row 1: working in both loops (in second chain from hook) sc2tog, 1 sc in each of next 5 st, sc 3 times in next st, *1 sc in next 7 st, skip next 2 st, 1 sc in next 7 st, sc 3 times in next st. Repeat from * across until you are left with 2 st then sc those last two remaining stitches together (aka sc2tog), turn.
Row 2-11: Ch 1, repeat row 1
Change Color here to Mustard. (If you need help change colors HERE is a tutorial). Ch1, Repeat Row 1 until 11 rows are reached.
Change Color to Kelly Green and Ch 1, Repeat Row 1 for 11 Rows.
Change Color to Purple and Ch 1, Repeat Row 1 for 11 Rows.
Change Color to Linen and Ch 1 Repeat Row 1 for 11 Rows.
Repeat color pattern until you reach your desired length.
11 rows takes approximately 1 skein of yarn and I plan on using 3 skeins of each color for a total of 15 color blocked rows.
Finishing
Fasten off the yarn and weave in the ends with a yarn needle throughout the blanket.
When you are done crocheting your entire blanket weave in all the ends with a yarn needle. Yeah!! Weaving in ends of a blanket definitely isn't fun but it is a have to do if you'd like a finished blanket.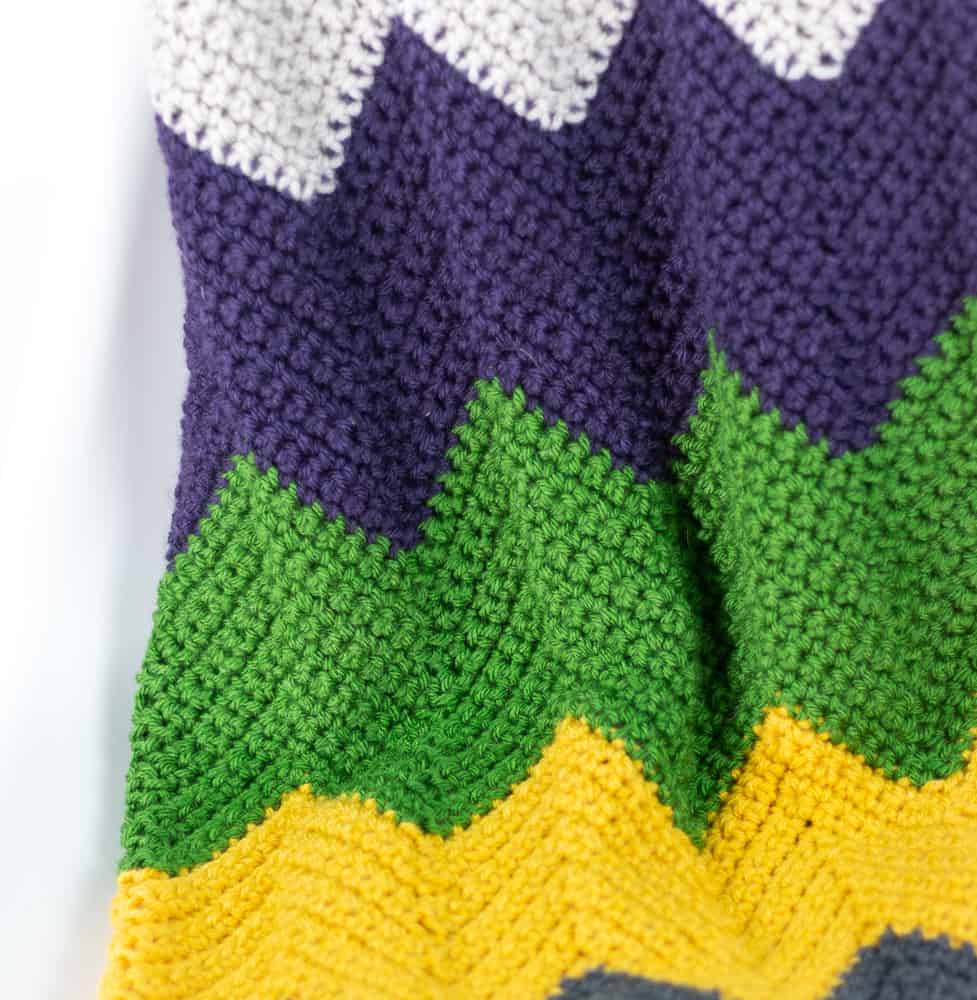 I Hope You Had Fun Making This Colorful Chevron Blanket!