Color Blocked Stripes Blanket Free Crochet Pattern
Are you looking for a new blanket to crochet? If so, this blanket may be it!
Use this simple and free three – color crochet blanket pattern that is made with just basic double crochet stitches to make the perfect blanket for your space.
It's so easy to crochet that you'll probably want to make more than one for your home.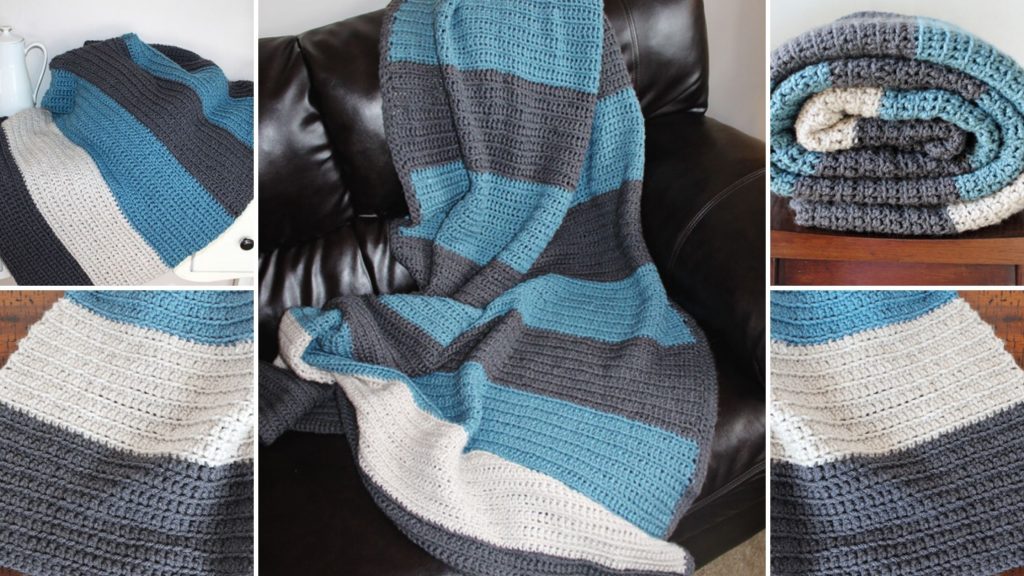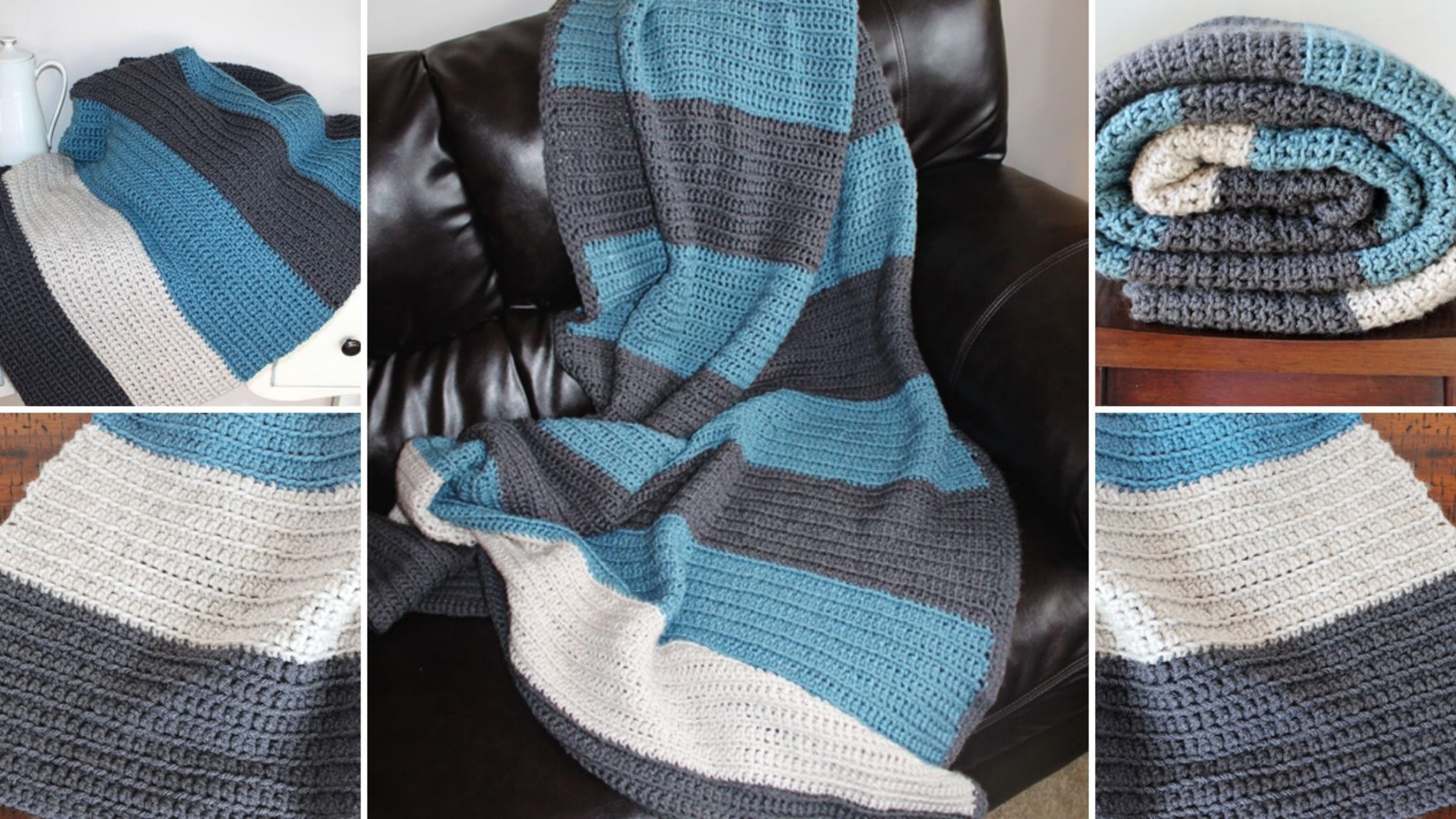 Happy Blanket Making!
Easy to Make and Perfect for Beginners!
This simple three color crochet blanket patterns that feature fun stripes is easy to make, which makes it perfect for beginner crocheters and those who are looking for a quick weekend crochet project.
There are some color changes to achieve the color-blocked stripe throw blanket, but I promise you can do it!
Read on down to get started if you would like to learn how to crochet a simple blanket for beginners.
Uses the Simple Double Crochet Stitch
Double Crochet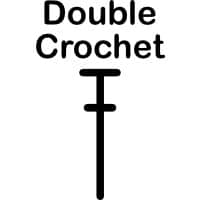 Patterns Using This Stitch →
This simple striped blanket is worked up with just double crochets, which makes it easy & quick! I love using simple crochet stitches in blankets because fast crochet projects and simple stitches mean a quick project.
Watch the video tutorial on the double crochet stitch on the Easy Crochet Youtube channel to learn this stitch.
Another great thing about this blanket is that when you do decide to put it down for a second, you don't have to worry about where you are in the pattern!
The only thing you will need to worry about is to keep on double crocheting! I would suggest keeping track of your rows with a stitch marker or pen/paper for a quicker project.
The Yarn You'll Want to Use for Your Double Crochet Afghan
Vanna's Choice
This yarn is made by Lion Brand, and is a Weight 4 – Medium yarn.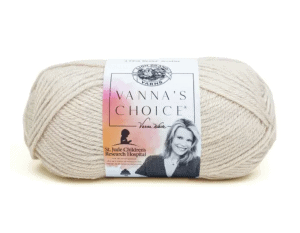 Buy Now
Patterns Using This Yarn →
For the whole blanket pattern, I used one of my favorite yarns, Lion Brand Vanna's Choice! It is a perfect yarn that can be washed, dried, and reused time and time again.
The yarn colors I decided to go with for this particular design were Dusty Blue, Charcoal Grey, and Linen. I linked up a few of the colors below, so you can take a look and pick your favorite.
The colors go so well together and are a pretty neutral color palette, which is just my taste! The color combinations are endless, so feel free to make this blanket in any color palette you can imagine!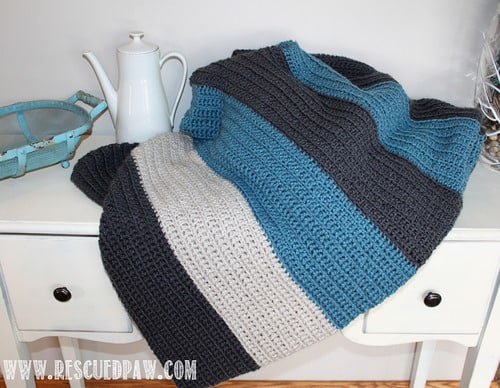 Are you ready to learn how to crochet a simple blanket? If the answer is yes, then follow along with the free crochet pattern below to begin making your very own striped blanket!
Free Simple Crochet Blanket Pattern
Skill Level: Basic
Materials
Lion Brand Yarn Vanna's Choice in Dusty Blue, Charcoal Gray, and Linen.
The exact amount needed will depend on the size blanket you wish to make, or you can use any worsted weight (4) yarn. You can use our blanket resizing calculator to determine how much yarn you will need.
Size J Crochet Hook 6.00 mm
Yarn needle
Scissors
Crochet Stitches
Chain Stitch (CH):
A simple crochet stitch that often forms the foundation of what crochet stitches are worked into during projects.
Make a slip knot.
Insert hook into slip knot point first, bring yarn over the shaft of the hook from back to front and grab it with the throat of the hook.
Draw hooked yarn through slip knot and onto the hook. This movement will make one chain stitch
Repeat steps two and three until you have the desired number of stitches for a pattern. One loop will remain on the hook.
Double Crochet (DC):
Wrap the yarn over (YO) the hook, insert the hook into the specified st.
YO the hook again, draw the yarn through the st so there are 3 loops on the hook
YO the hook again draw it through 2 loops so there are 2 loops on the hook
YO the hook, draw it through the final 2 loops.
Notes
Just keep crocheting until your first color is finished, then change colors which was approximately 14 rows.
If you need help changing colors in your blanket I have a simple tutorial that will help.
Written in standard US terms.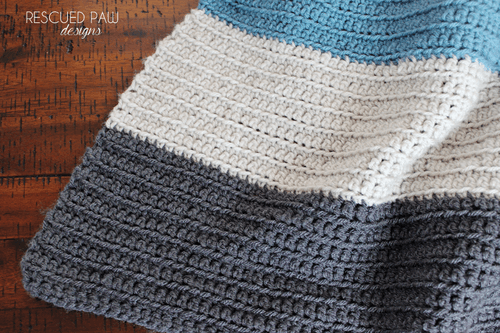 Pattern Steps
Foundation Row: Chain 120 with your first color of choice.
Row 1: In the 3rd chain from hook double crochet, double crochet across until the end of the row, turn. (118)
Row 2: Chain 2, double crochet in the first stitch, double crochet in every st across, turn. (118)
Row 3 – desired length: Repeat Row 2 switching colors as desired. (118)
Border
I also did a border of single crochets with 3 single crochets in each corner along the outside with the charcoal gray color, but that is optional.
Finishing
Fasten off and weave in loose ends with a yarn needle.

That's it! You completed the simple striped crochet blanket pattern! If you have any questions about this pattern, please feel free to ask.