Crochet Ripple Blanket Progress
I have been working on this crochet ripple blanket off and on for a couple of weeks now and haven't made it very far.
I have been able to add on one more row of color and now am stuck on what color to do next after the Tangerine Orange color.
I am stuck between 4 colors Teal, Turquoise, Off White or White.
Any suggestions??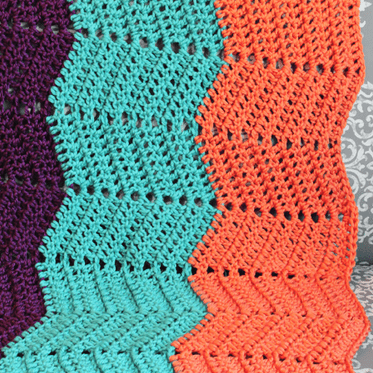 This pattern is really simple to get the hang of so you should go ahead and get started on one too!! If you would like to follow along and get started on this yourself, you will need to use my tutorial that is found here.
Feel free to change up the colors and be creative!! I will be posting updates as the blanket progresses along!
I have a little warning if you do make the size I am making. It is pretty big!!
Have fun and Happy Crocheting!
Crochet Ripple Blanket Pattern
Skill Level: Intermediate
Materials
Worsted Weight Yarn (4) I am using Red Heart Soft Yarn so far in Tangerine, Grape, and Deep Sea.
Crochet Hook according to the type of yarn used. (I am using a Clover Amour Crochet Hook, Size J, 6.0 mm
Scissors
Yarn Needle
The colors below are the ones that are yet to be determined!! (The yarn did get mangled in the taking of these pictures!!)
Notes
Gauge is 10 Stitches = 4 inches
Width is approximately 50 Inches
Written in standard US terms

The Ripple Blanket Pattern
To Start: Chain 136
Follow along with the ripple blanket tutorial here on how to make the ripple effect in crochet.
Crochet 10 Rows of Each Color.
To join a new color onto your blanket you can follow along with my tutorial on how to change yarn colors in crochet.
Keep on crocheting until you reach your desired length.
So this is what I have done so far..
Please help me decide the next color!