Wonders Chevron Crochet Blanket Pattern
If you are looking for an easy chevron blanket crochet pattern that works super up fast and is fun to crochet, then this chevron blanket is the one for you!
This chevron uses one simple stitch and is perfect for newer crocheters to try. Read on down to find the free pattern for this crocheted chevron blanket, the yarn you'll want to use, and then you can get started today.
I am so excited for you to try this chevron design!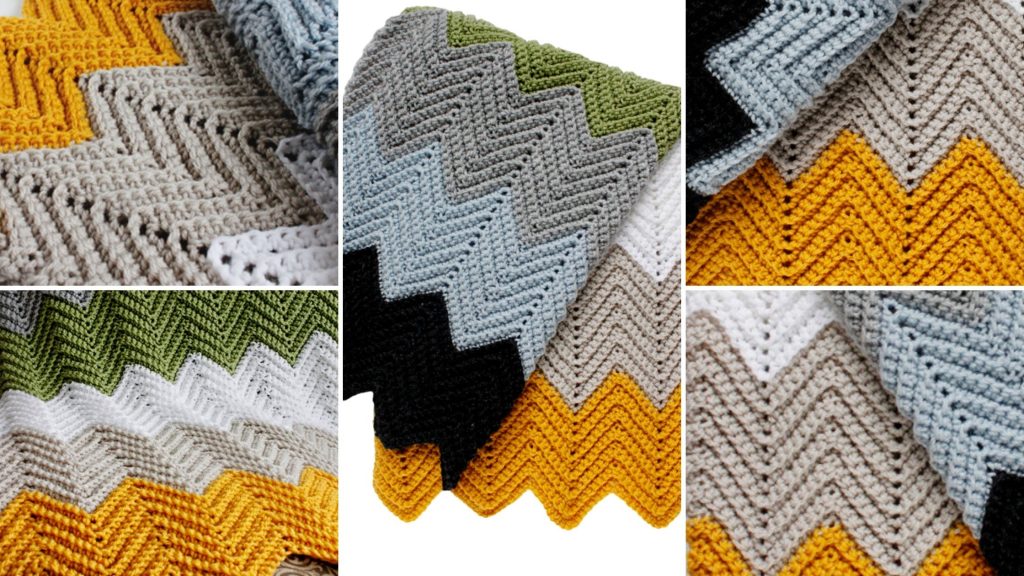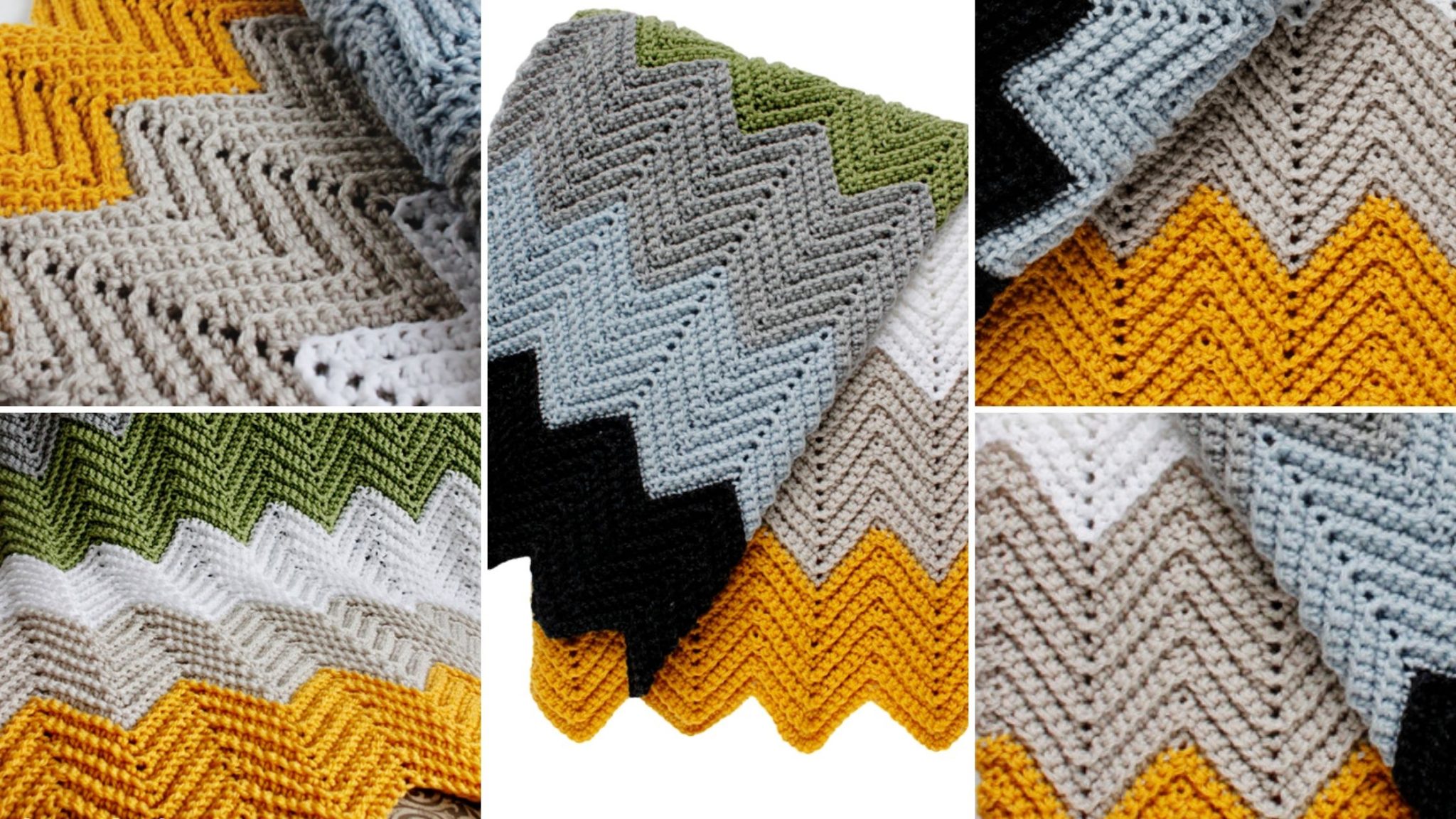 The Yarn That Is Perfect for This Chevron Crochet Blanket
This colorful chevron blanket consists of 7 different colors, color-blocked in a unique chevron pattern worked in the back loops only.
Crocheting into the back loops of a stitch creates an excellent ribbed look and gives projects a great texture. It's always fun to be a little different when crocheting!
I used my favorite yarn, Lion Brand Vanna's Choice for this project, but any worsted weight yarn would work! Vanna's choice is a four weight yarn (aka worsted weight) that is available in a considerable variety of colors.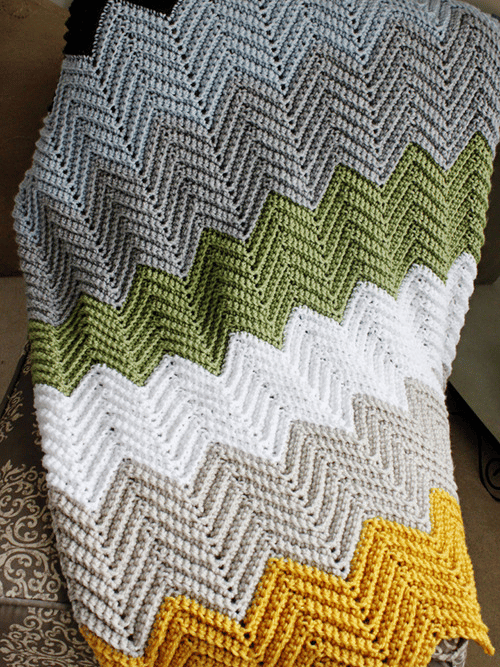 Where to Find Vanna's Choice Yarn for This Chevron Blanket

Chances are that if you are looking to make your chevron blanket in a specific color of yarn, you will find it in this yarn line.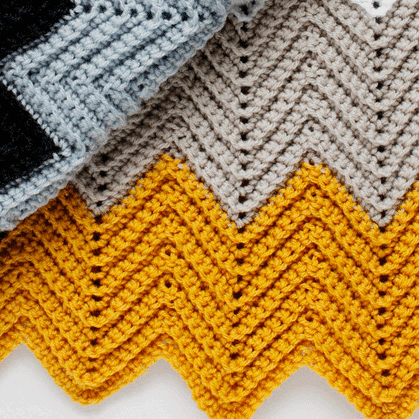 The Stitches For a Chevron Blanket
To crochet this chevron blanket, you will need to know how to single crochet! Since this chevron technique is easy to learn and uses only single crochets for the entire project, it is perfect for beginners.
Learn more about the single crochet stitch below with my free stitch tutorials.
If you are a new crocheter, this would be the ideal bigger chevron project to try! You might even like to try my Chunky Chevron Blanket too or the Luna scarf which is a smaller chevron type pattern.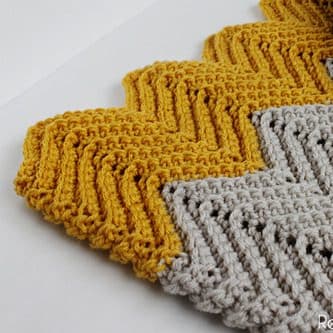 Free Chevron Crochet Video Tutorial
If you'd like, you can watch the chevron video tutorial on how to complete a chevron blanket. Please let me know if you have any questions about this video lesson.
Ready to get started?
Go ahead and read on down for the free Wonders Chevron Crochet Blanket pattern, and you'll be on your way to crocheting your very own zigzag blanket!
Just a warning… I have been slightly obsessed with chevrons lately, so you may be seeing more projects like this on the blog in the future.
The Free Chevron Blanket Crochet Pattern
Skill Level: Easy
Materials
Worsted Weight (4) Yarn 7 colors. I used Lions Brand Vanna's Choice in Mustard, Linen, Silver Blue, Dark Grey Heather, Light Gray Heather, White, and Loops'n Threads Brand Yarn Impeccable in Fern.
Yarn Needle
Scissors

Abbreviations
sc = Single Crochet
ch = Chain
st = Stitch
sc2tog = Single Crochet Two Together

Insert hook into second chain from hook, yarn over the hook, and draw the yarn through the stitch, so there are 2 loops on the hook
Insert the hook through the next stitch, wrap the yarn over the hook, and draw the yarn through the stitch, so there are 3 loops on the hook.
Wrap the yarn over the hook and draw the yarn through all three loops at once.
Notes
You will be working in the back loop throughout the entire project. Here is a blanket tutorial that will help with the back loop: Back Loop Tutorial.
How to change colors in crochet. Here is a tutorial: Change Colors in Crochet Guide.
Written in standard US terms.
Gauge
Sizing
Approximately 34 inches wide by 45 inches in height or the size of a baby blanket when using a starting ch of 135.
If you would like to make this blanket smaller or larger, start with a beginning chain that is a multiple of 17.
For example: 17, 34, 51, 68, 85, 102, 119, 136, 153, 170, 187, 204, 221, 238, 255, 272, 289, 306, 323, and 340, then add on an additional 16 chains to which ever length you choose.
You can use our Blanket Resizing Calculator to calculate different blanket sizes.
Pattern Steps
The entire pattern is worked in the back loops starting with row 2.
To Start: Ch 135 with the first color of choice
Row 1: sc first two st's together, 1 sc in each of next 5 chains, 3 sc in next chain, 1 sc in each of next 7 chains, * skip 2 chains, 1 sc in next 7 chains, 3 sc in next chain, 1 sc in of next 7 chains, repeat from *across ending with 5 sc's, you will now be left with 2 sc, sc those last two remaining stitches together (aka sc2tog), turn.
Row 2: Ch 1, starting in first st sc2tog (pick up a loop in each of the two stitches you will be crocheting together, yarn over, and draw through all 3 loops on hook.) 1 sc in next 5 stitches, 3 sc in next stitch, * 1 sc in next 7 stitches, skip next 2 sc. 1 sc in each of the next 7 stitches, 3 sc in next stitch, repeat from * across until you reach last 7 stitches. 1 sc in the next 5 stitches. sc2tog in the last 2 stitches, turn.
Row 3 – 13: repeat row 2.
Row 14 – 26: join in the second color and repeat row 2.
Row 27 – 39: join in the third color and repeat row 2.
Row 40 – 53: join in the fourth color and repeat row 2.
Row 54 – 66: join in the fifth color and repeat row 2.
Row 67- 79: join in the sixth color and repeat row 2.
Row 80 – 93: join in the seventh color and repeat row 2.
Finishing: Fasten off the end and weave in the loose ends throughout the blanket with a yarn needle.

If you'd like to make more chevron designs, I can help! Explore more FREE patterns using a chevron stitch here on Easy Crochet!
You May Also Like This Crochet Pattern
If you liked the Wonders Chevron Crochet Blanket, you may also like our Ombre Ripple pattern and other chevron patterns listed below as well.