Crochet Wave Stitch Tutorial and Blanket
Learn how to make this smooth wave crochet blanket today using simple stitches that are great for beginners! Ready to get started on this wave crochet pattern?
This technique is simple to learn and makes gorgeous crocheted waves once all the stitches come together. Keep on reading to find out how to crochet the wave stitch and make this crochet blanket pattern!
Stitches for this Ripple Wave Blanket
Simple crochet projects like this blanket design are always a must for me because they usually use easy crochet stitches.
To make a wave blanket, you will need to know how to make a few basic stitches, like the single crochet (sc) and double crochet (dc). Learn more about each stitch below.
Wrap the yarn over (Yo) the hook, insert the hook into the specified st.
Yo the hook again, draw the yarn through the st, so there are 3 loops on the hook
Yo the hook again draw it through 2 loops, so there are 2 loops on the hook
Yo the hook, draw it through the final 2 loops.
Insert hook from front to back in the second chain from the hook or designated stitch
Bring the yarn over (Yo) the hook and pull the yarn back through the chain (or stitch) from back to front (2 loops on hook).
Yo and pull through both loops on the hook.
Speaking of crochet hooks, be sure to use the size your yarn label calls for if you are going to use a different weight of yarn that I did.
Every yarn is different, so for the best results, try to follow along with the recommended size of crochet hook for a good blanket outcome.
Easy to Crochet Wave Blanket
If you enjoy easy crochet projects as much as me, then be sure to look below to find the pattern for this wave stitch!
You could create whatever you want with it. Just think… A dishcloth, crochet ripple baby blanket or even a pillow! I can't wait to see what else you can come up with, use this wave design on.
Happy Crocheting!
Crochet Wave Stitch Tutorial Pattern
Skill Level: Easy
Materials
Size J crochet hook 6 mm
Worsted Weight 4 Yarn. I used Lion Brand Vanna's Choice in Pink, Charcoal Gray, Purple and Raspberry
Scissors
Yarn Needle

Notes
To make this blanket larger or smaller use a starting chain in a multiple of 3 then chain 1 after you have chosen your length. For example, 3, 6, 9, 12, 15, 18, 21, 24, 27, 30, 33, 36, 39, 42, 45, 48, 51, 54, 57, 60, etc.
Use the blanket size calculator to figure out different sizes.
The Crochet Blanket Pattern Steps
FOUNDATION ROW: Ch any length you desire in multiples of 3
ROW 1: starting in the second st from the hook sc, sc in every st across, turn.
ROW 2: ch 1, Rep row 1
ROW 3: ch 1, Rep row 1
ROW 4: sc 3 sts, dc 3 sts, * sc 3 sts, dc 3 sts, rep this pattern from * until the end of the row, turn.
ROW 5: ch1, sc in every st in row, turn.
ROW 6: ch 1, dc 3 sts, sc 3 sts, * dc 3 sts, sc 3 sts, rep this pattern from * until the end of the row, turn.
ROW 7: ch 1, sc in every st in row, turn.
ROW 8 -?: ch1, rep rows 4-7 until you reach the desired length of your project and end with 3 rows of sc and a final row of a sl sts.
You are welcome to change colors whenever and have fun with it.
You Are Done!
Have Questions About This Blanket Pattern?
No problem! Just post in our Facebook group and someone would be glad to help!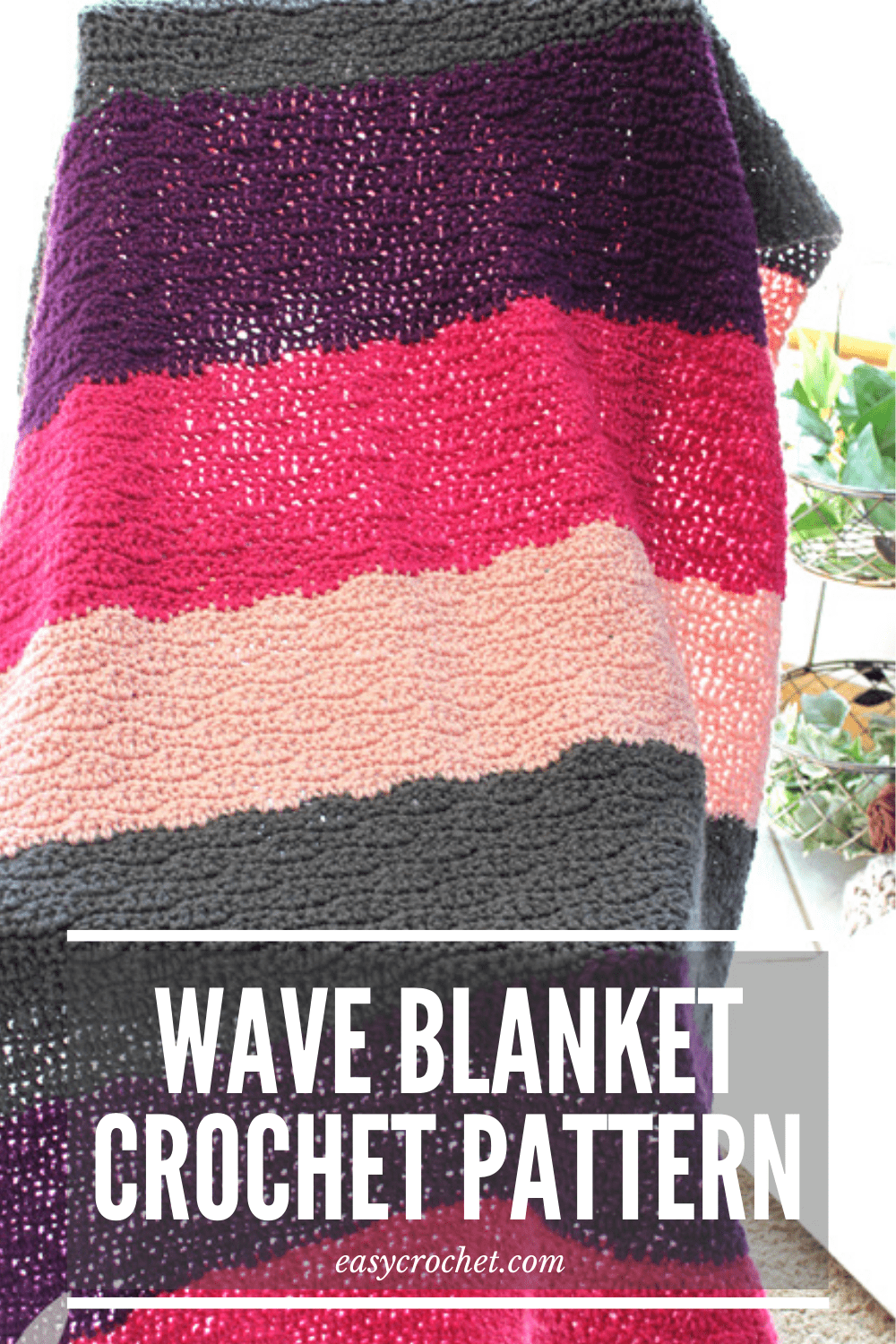 Make sure to stop over to check out my Maker shop Yarn Mamas where you will find tees & totes for yarn lovers!
You May Also Like These Free Crochet Blanket Patterns