Free Knotted Headband Crochet Pattern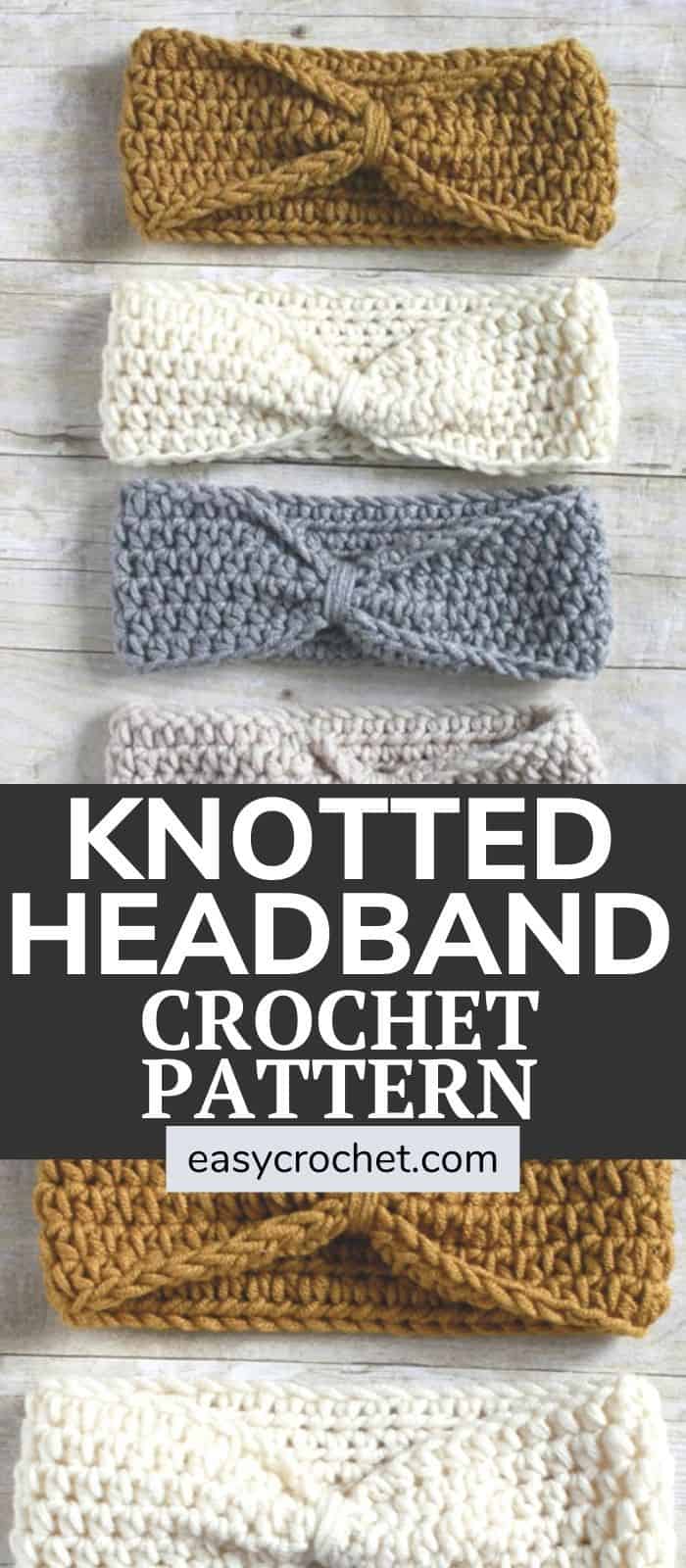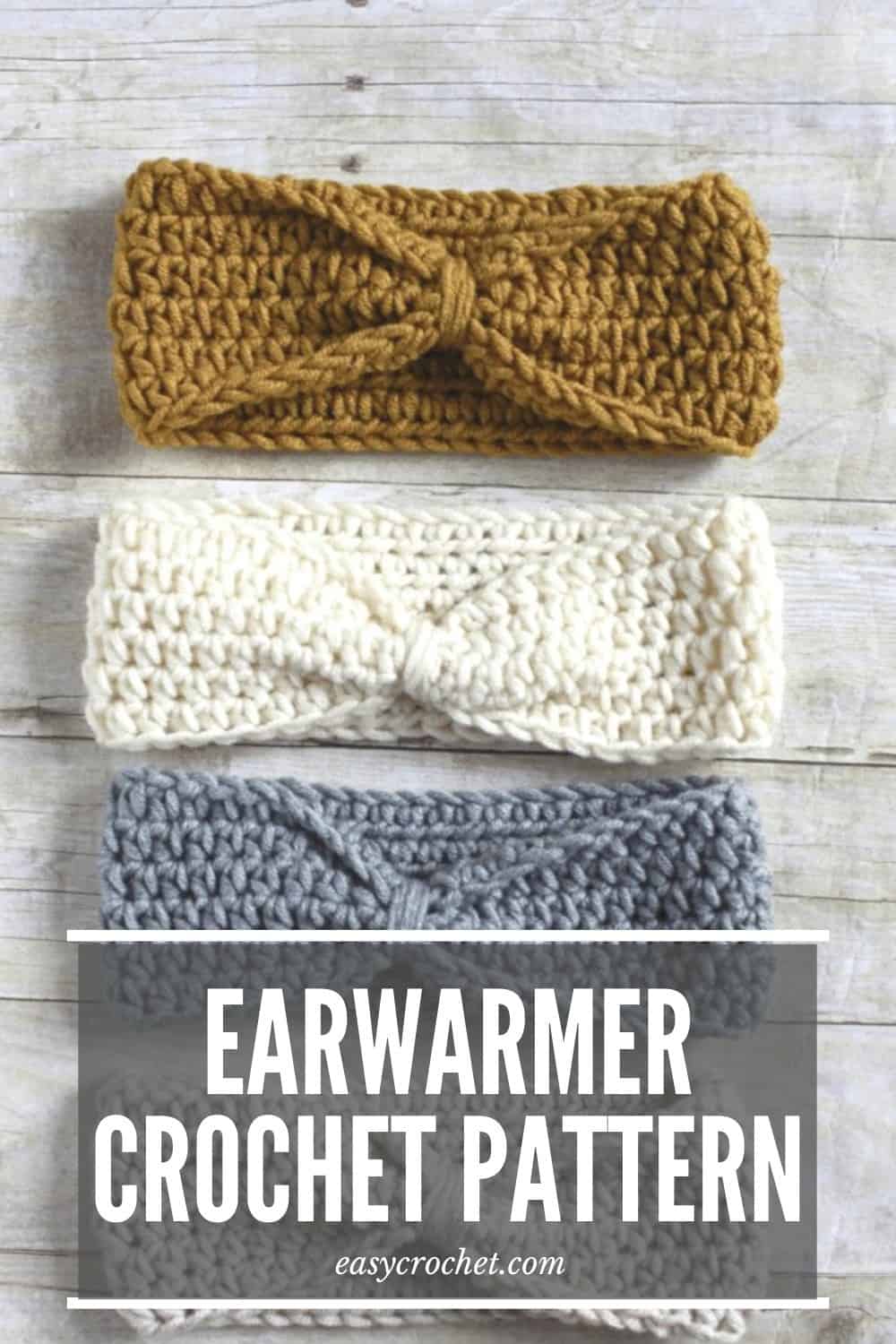 Are you looking for a modern, quick to make headband? If so, you'll love this crochet design! This crochet knot headband is the perfect project for a beginner who is looking for a quick crochet headband pattern to whip up!
You can make one for you and for everyone you know, since it comes in seven different headband sizes! Read on down to find the FREE crochet headband pattern below, learn about the yarn used to make one and more.
Happy Headband Making!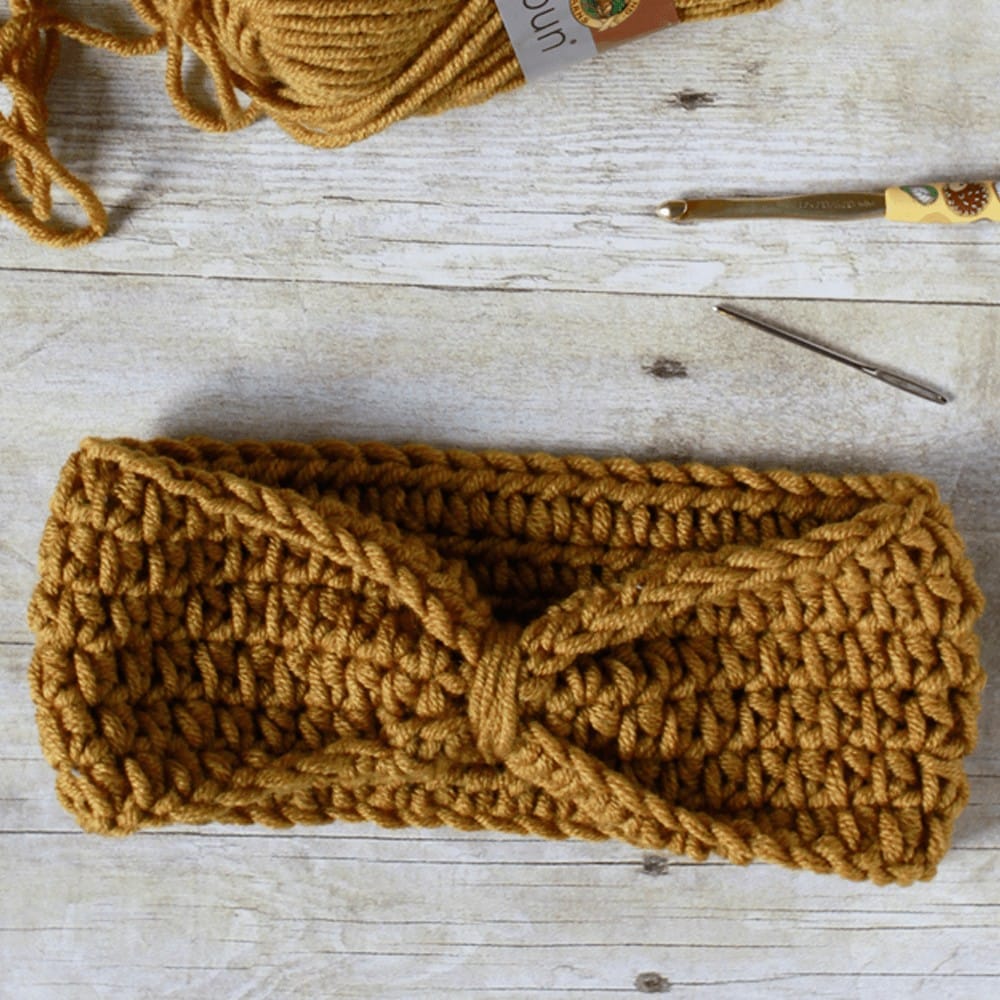 The Yarn
To make my knotted headband, I used my favorite yarn, Lion Brand Woolspun, in Honey. It is a bulky lamb wool blend fiber that is exceptionally soft and easy to crochet projects with.
I have also used it to design other crochet projects like my Dreaming Clouds Crochet Ear Warmer, Chained Crochet Headband and many more! It's pretty wonderful. Promise! (Update 2021: This yarn is no longer being made. You may still be able to find it on Amazon and in other shops)
Substitutions: If you can't find this yarn, I'd suggest using Hue + Me from Lion Band as the perfect replacement! It has a similar feel to the Woolspun, but without the wool!
Click the yarn image below to check out this Hue + Me yarn!
The best thing about this pattern is that you can make TWO headbands with just one skein of yarn. You could even get crazy and make even more in a few different colors, as I did! (see the pictures)That means you can make one for yourself and a friend! I love patterns like this that let you get more, and I hope you do too.
Great Headband Pattern for Beginners!
This simple to make headband is perfect for beginner crocheters since it uses only one stitch – the half double crochet – throughout almost the entire crochet pattern! Here is a little refresher on this stitch if you are unfamiliar:
Half Double Crochet (hdc):
YO (yarn over) insert hook from front to back of the designated stitch, YO the hook and pick up a loop.
YO the hook and pull back through all three loops on the hook.
Since we are only going to use one stitch, it makes these crocheted headbands work up superfast and is the definition of a beginner-friendly pattern! They seriously will be done in no time at all, which makes any project even better! If you think you are ready to try this EASY crochet headband, then read on down for the full, FREE pattern! OH…. and Happy Crocheting Friends!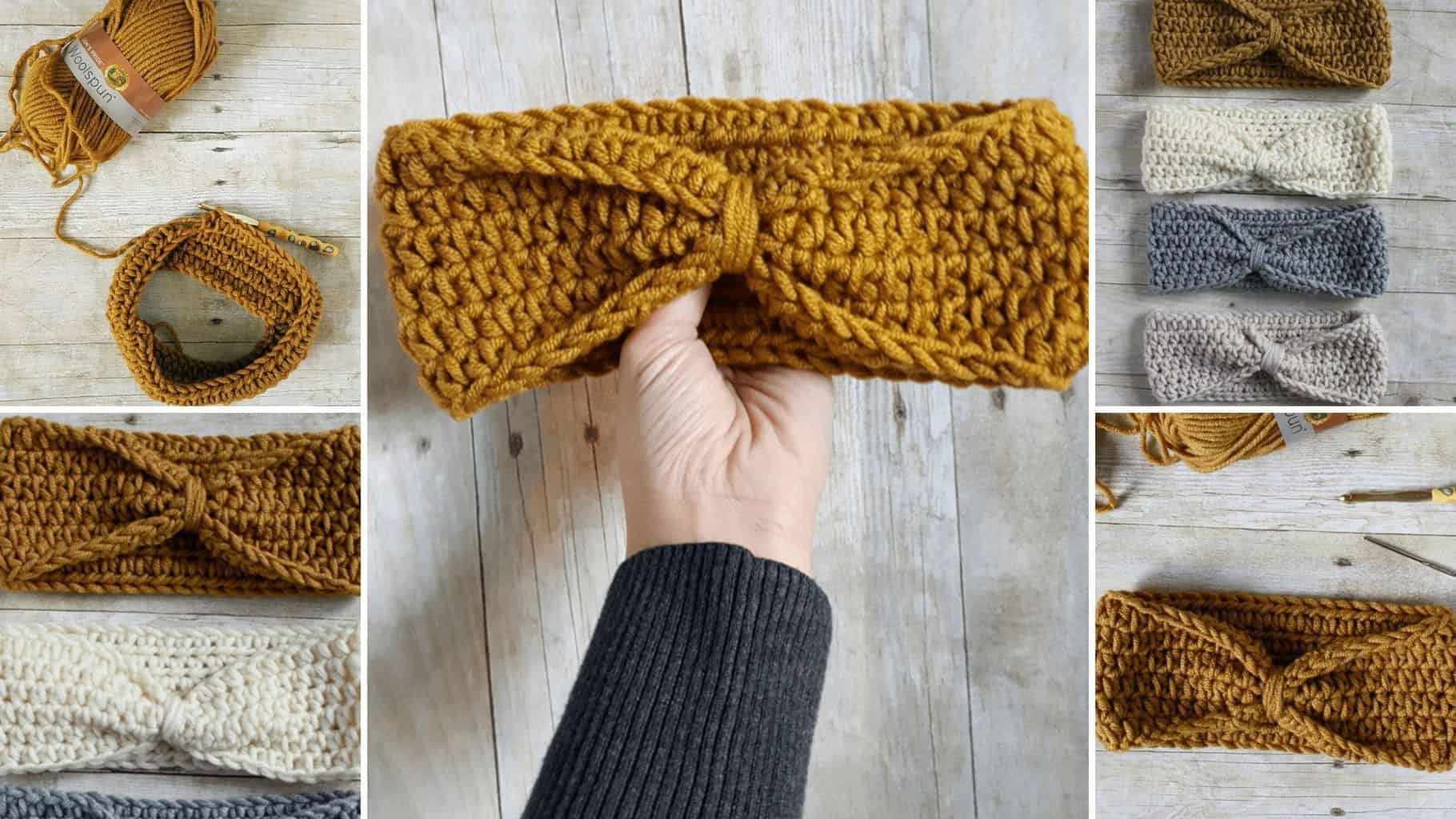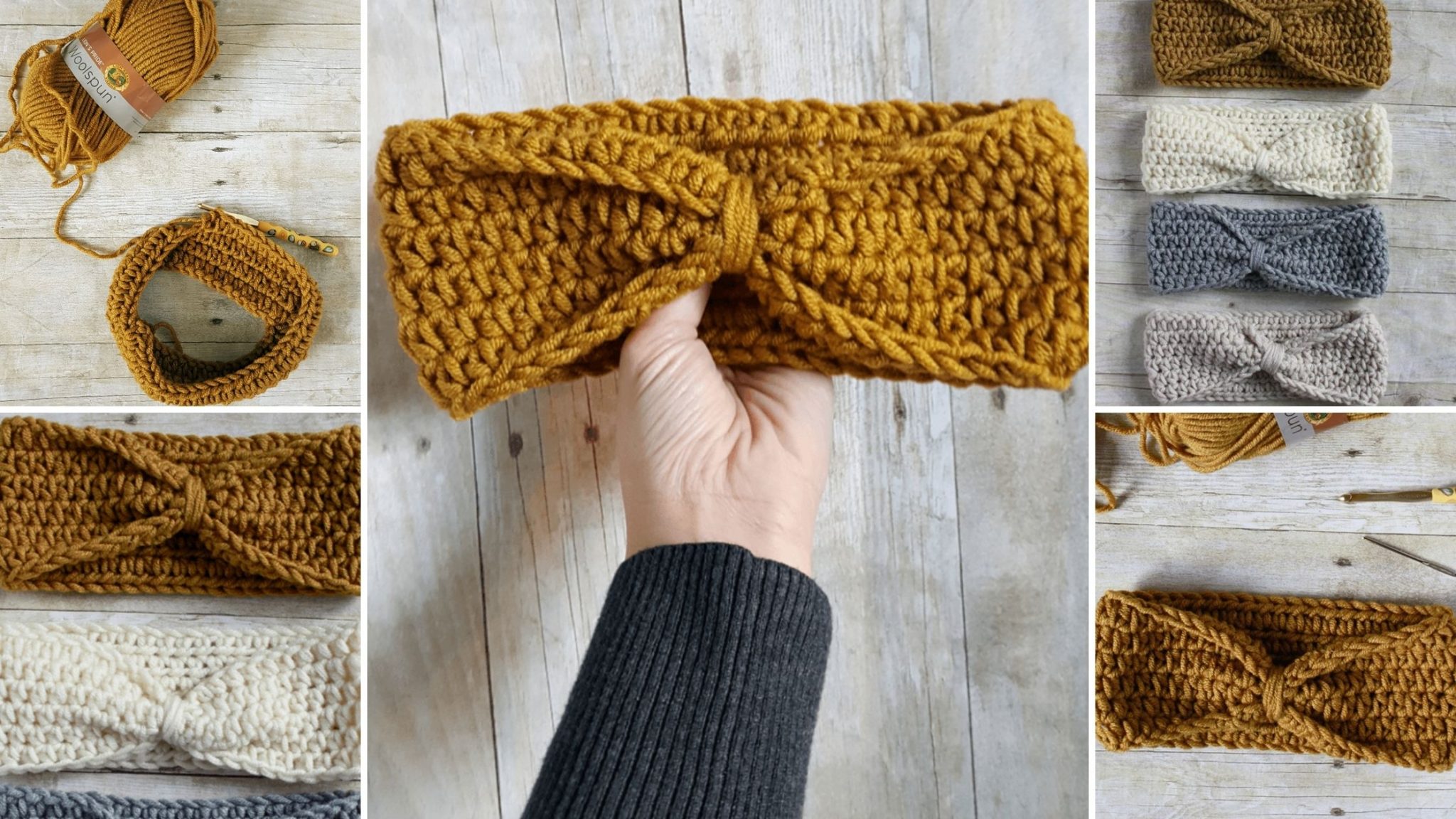 Knotted Headband Crochet Pattern
Skill Level: Easy
Materials
Gauge
Gauge is critical for proper fit.
12 stitches x 9 rows = 4"
Notes
If a different weight brand of yarn and or gauge isn't followed, then the headband will not turn out the same size as written.
Written in standard US terms
Crochet Abbreviations
hdc = half double crochet
sl st = slip stitch
st = stitch
ch = chain
Add to Ravelry – Knotted Headband Pattern
Headband Size Chart & Yardage
| | Height | Cir. | Starting Chs | Yardage |
| --- | --- | --- | --- | --- |
| Preemie | 4 | 9 | 36 | 42 |
| Baby | 4 | 14 | 42 | 56 |
| Toddler | 4 | 16 | 48 | 70 |
| Child | 4 | 18 | 54 | 85 |
| Tween | 4 | 20 | 60 | 99 |
| Woman | 4 | 21 | 63 | 106 |
| Man | 4 | 22 | 66 | 113 |
Sizes are listed in inches for height and circumference. Yarn is in yards.
The Pattern
The sizes listed are as follows: preemie, baby, toddler, child, tween, woman, man.
Round 1: Ch 36 (42,48,54,60,63,66), sl st to first ch forming a circle, making sure not to twist ch.
Round 2: Ch 1, hdc in every st around, sl st to the top of first hdc NOT the ch. 36 (42,48,54,60,63,66)
Round 3 – 9: repeat round 2.
Finishing: Leave a 12-inch piece of yarn and then proceed to fasten off. Squeeze headband together, then wrap a 12″ piece around the seam of headband 3 or 4 times to finish. Tie ends of yarn together and weave in throughout the headband securely.
You Are Done!

Thanks for Being Here!
Thanks for stopping by to try out this headband! If you liked this pattern, you'll probably like these other crocheted headbands too! And like always if you need any clarification feel free to ask!
Furthermore, don't forget to stop by and check out my shop Easy Crochet, which specializes in designs just for makers and downloadable PDF crochet patterns.
You May Also Like These Free Crochet Hat Patterns
Do you want to make more patterns like this? Try my chained headband, wrapped headband, or search the headgear archives for more free patterns. I hope you enjoy this simple, fun, and QUICK knotted crochet headband pattern. Here are some others you may love as well.