Wrapped Crochet Headband Pattern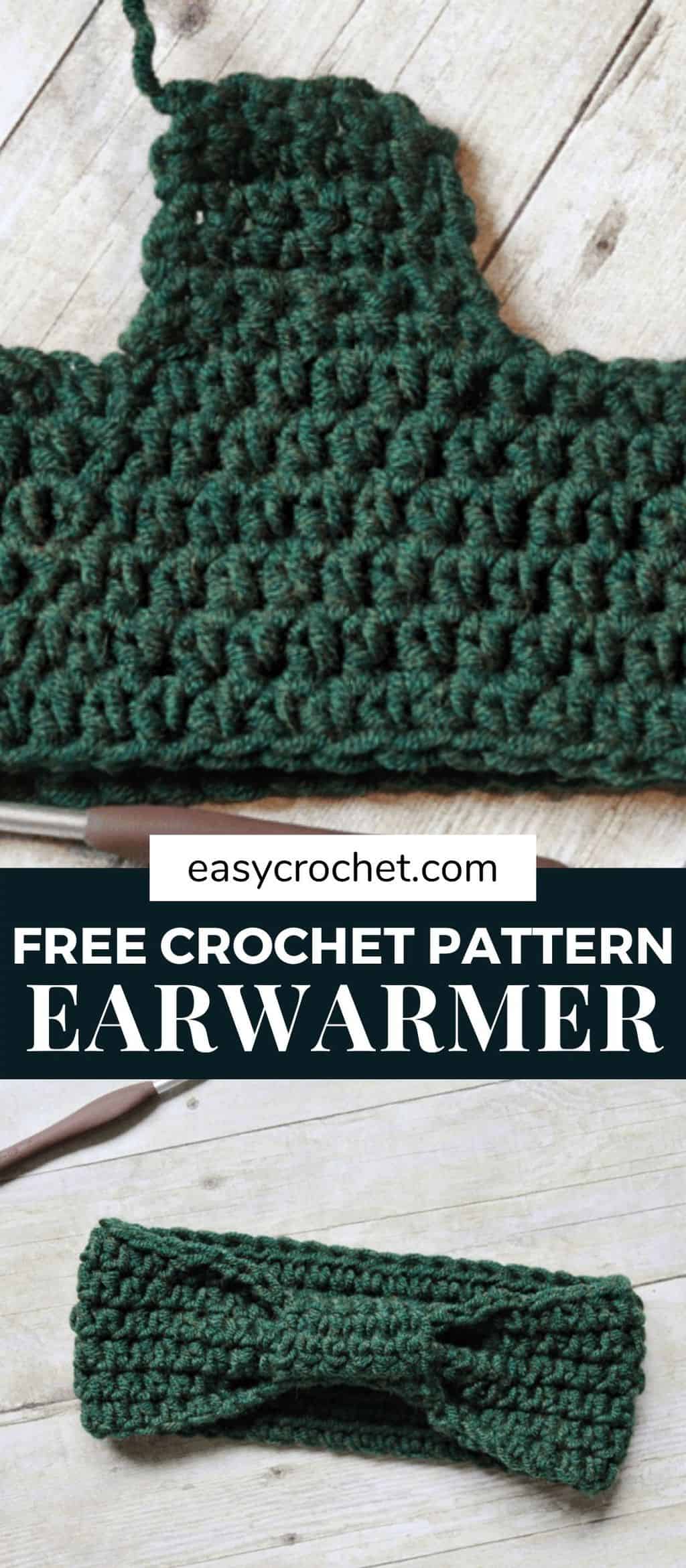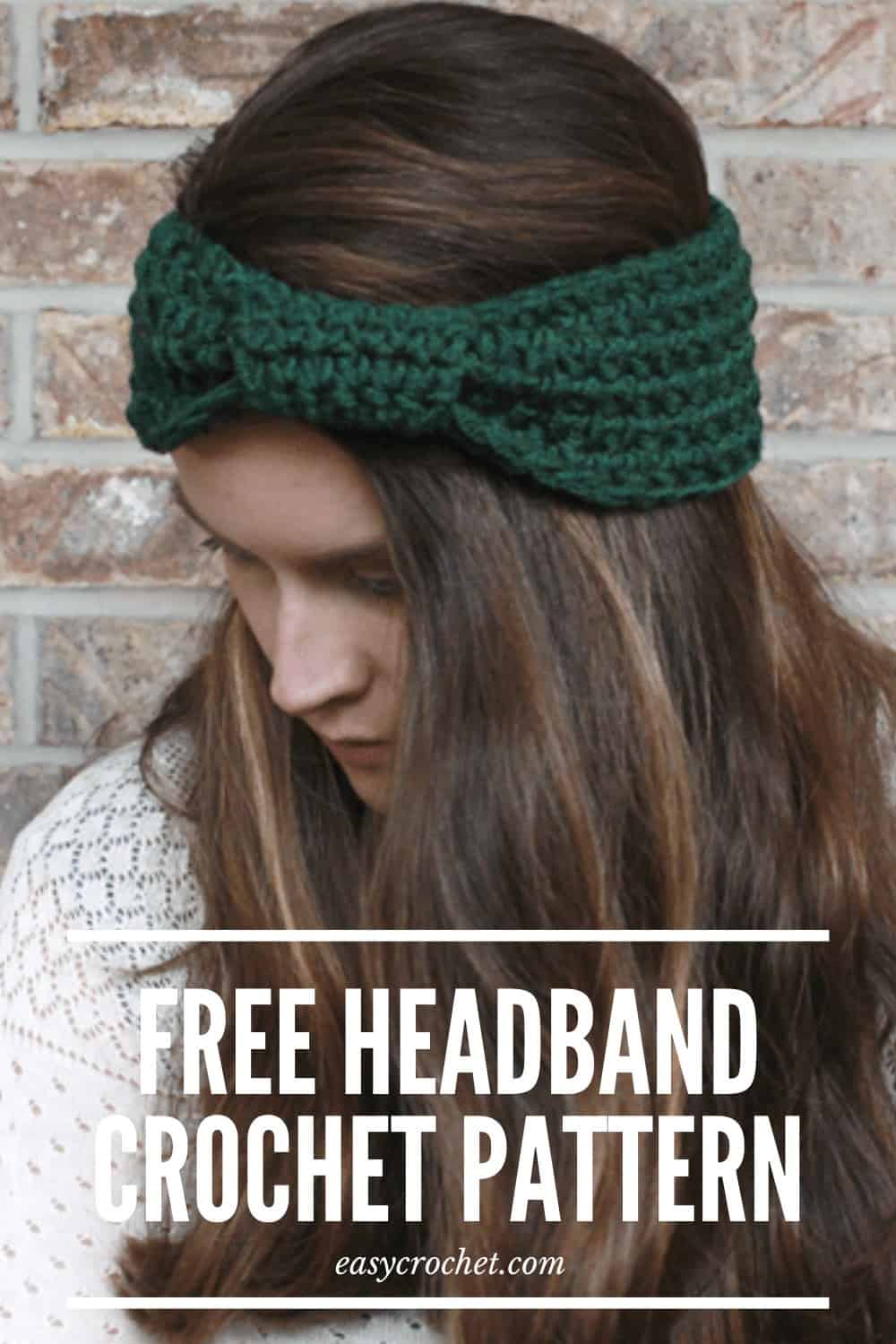 Are you looking for a quick, modern, and cute headband crochet pattern? If so, then I have got the pattern just for you.
The wrapped crochet headband pattern uses simple stitches, is great for all crochet skill levels and uses extra cozy yarn.
Keep on scrolling down to find the crochet pattern to make your headband today!
If you want more crochet headband patterns like this, then I can recommend a few that you may like. Try my reader favorite chained ear warmer or the fun puff headband design. I can't wait to see your finished wrapped headbands!
Happy Crocheting!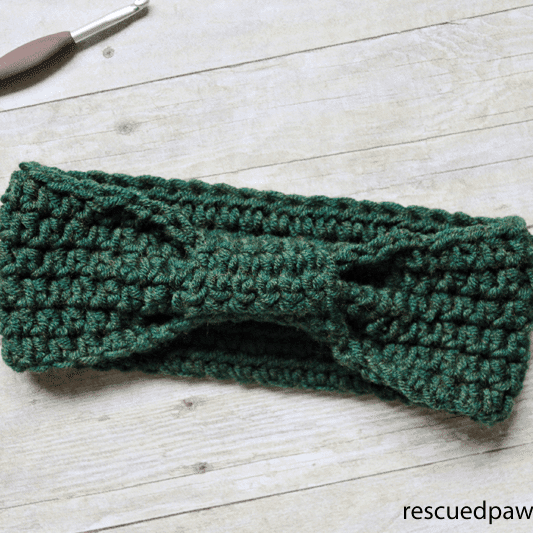 The Yarn That's Perfect for This Crochet Wrapped Headband
This ear warmer was made with Lion Brand Woolspun, but since it's no longer widely available, I would recommend using Color Made Easy instead as a replacement. It has a similar feel and works up almost identically to Woolspun. If you do find Woolspun you will be in for a yarn treat!
I loved creating this easy headband with this particular yarn! It is one of my favorites and is perfect for this wrapped crochet pattern because of how easy it is to work up!
Woolspun is a soft yarn that moves over a crochet hook nicely and lays really nice once crocheted. Once you try this yarn you will see exactly why I decided to use it for this design! I love how once the yarn is wrapped it lays beautifully.
You can find this yarn on Amazon or directly from LionBrand.com.
Easy Headband that Uses Simple Stitches!
This wrapped headband crochet pattern uses a simple combination of single and half double crochets throughout, which means it works up extremely fast!
Single Crochet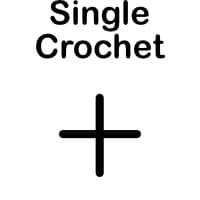 Patterns Using This Stitch →
Half Double Crochet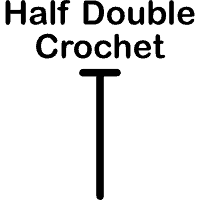 Patterns Using This Stitch →
These simple stitches are great for beginners to use and would be fairly easy to learn to make this headband.
I promise that you can make this design. It really is that easy to crochet!
How to Wrap This Headband
This headband is worked in the round like a normal crochet headband but instead of fastening off the yarn we will do something extra. Once the last round in the ear warmer is reached you will start to crochet back and forth in rows.
This will create the piece of the design we will use to wrap around the rounds we just created! I will go into more detail about this below in the pattern so don't worry!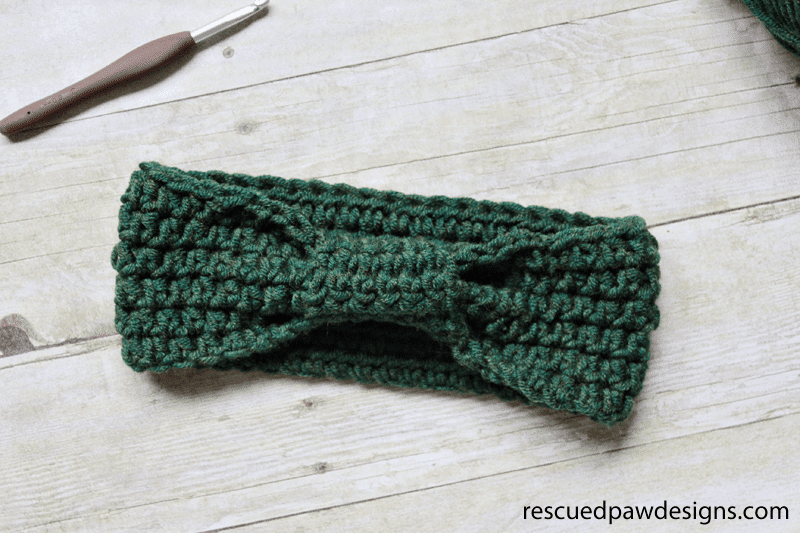 Ready to Get Started on This Easy Ear Warmer Pattern?
After you gather all your supplies which are listed below then you are ready to get started on your wrapped headband! I can't wait to see what colors you decide to use! Read on down for the full free crochet pattern!
If you wanted to make this pattern in a different size, it is available in 4 sizes (coming soon to PDF form) so you can make one for everyone you know!
Happy Crocheting!
Wrapped Headband Crochet Pattern
Skill Level: Easy
Materials
Notes
Gauge is approx. 4 STS for every 2″ (Gauge is very important to the fit)
One size fits most teen – adult women approx. 21″ circumference & 4″ width.
Written in Standard US Terms
Crochet Abbreviations
Learn more about crochet abbreviations for beginners
CH = chain
ST = stitch
SC = single crochet
HDC = half double crochet
Pattern Permissions
SELLING: You may sell items made from patterns on Easy Crochet unless otherwise stated. If you choose to sell items made from this pattern, please link back to me at www.easycrochet.com for credit. Please do not use my pictures to sell your items.
TRANSLATIONS: Please do not post a translation of my pattern(s) anywhere. If you would like to help make a translation I would be happy to publish it on Easy Crochet with a link and full credit to your blog. For further questions, please email krista@easycrochet.com
PLEASE DO NOT COPY, SHARE, ADJUST OR RESELL MY PATTERNS (with the exception of 1 picture & a link)
The Pattern Steps
Teen to adult woman
The PDF pattern with 4 sizes is available in my shop (coming soon)
ROW 1: Leaving a 6″ tail CH 7, in 2nd CH from hook, SC, SC in the remaining CH's across, turn (6)
ROW 2: CH 1, in 2nd ST from the hook, SC, SC in the remaining ST's across, turn. (6)
ROW 3: Repeat row 2
ROW 4: Repeat row 2
ROW 5: Repeat row 2
ROW 6: Repeat row 2
DO NOT FASTEN OFF YOUR WRAPPED HEADBAND, WE WILL BE WORKING IN THE ROUND NOW
ROUND 1: CH 37 , (making sure not to twist) SL ST to to the first SC of row 6 to form a circle. (43)
ROUND 2: CH 1, in 2nd ST from the hook HDC, HDC in every CH around, sl st to top of the first HDC (43)
ROUND 3: Repeat round 2
ROUND 4: Repeat round 2
ROUND 5: Repeat round 2
ROUND 6: Repeat round 2
ROUND 7: Repeat round 2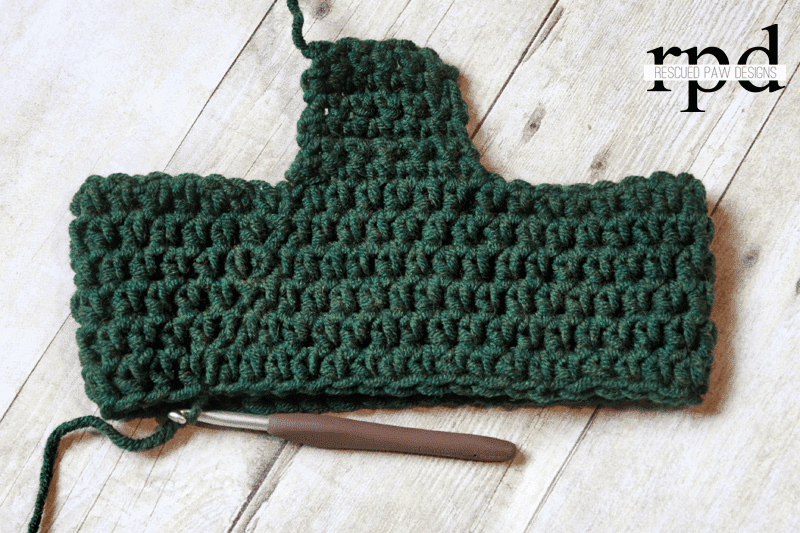 Finishing
Fasten off.
Squeeze your wrapped headband together as shown in the picture below.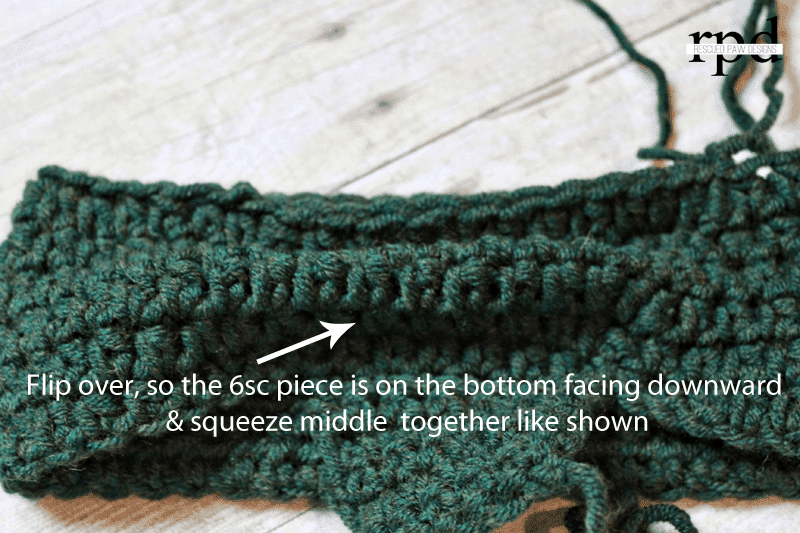 Wrap the 2.5″ SC row piece around the middle of the head warmer around the squeezed middle.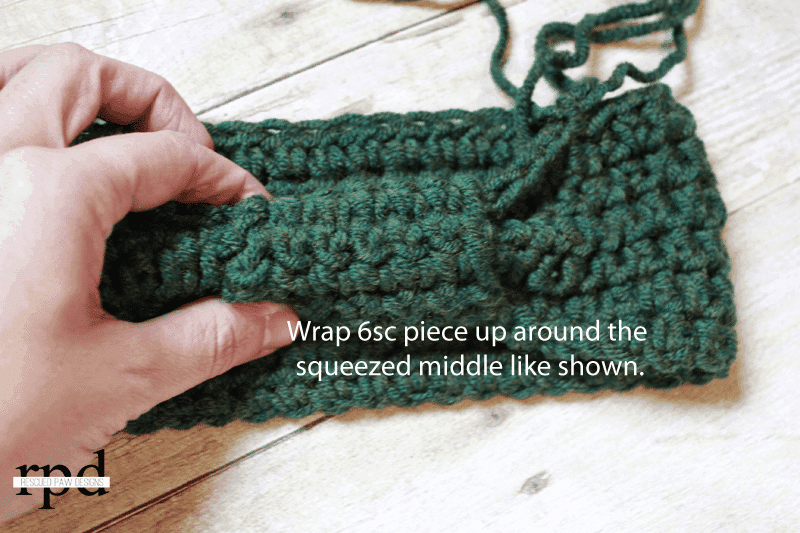 Using the 6″ tail & yarn needle, weave together to the first 6 sc row to the last sc row to close around the headband.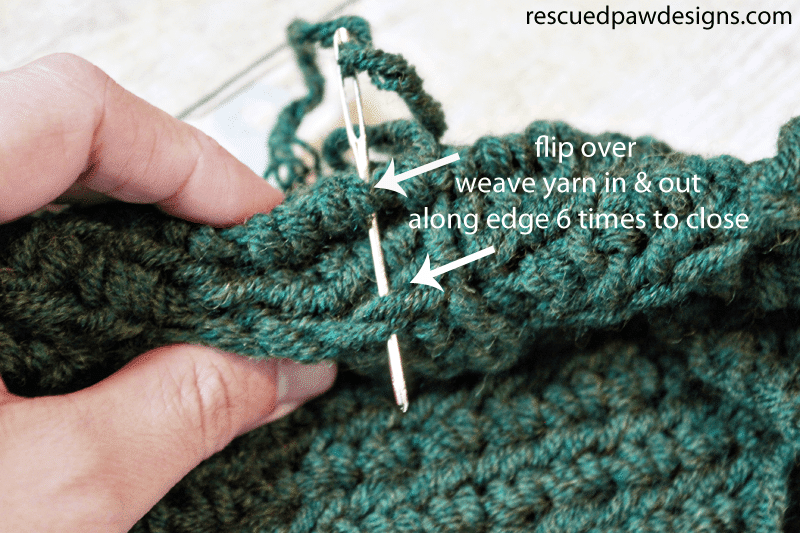 Fasten off securely and weave in loose ends throughout with a yarn needle. You are done!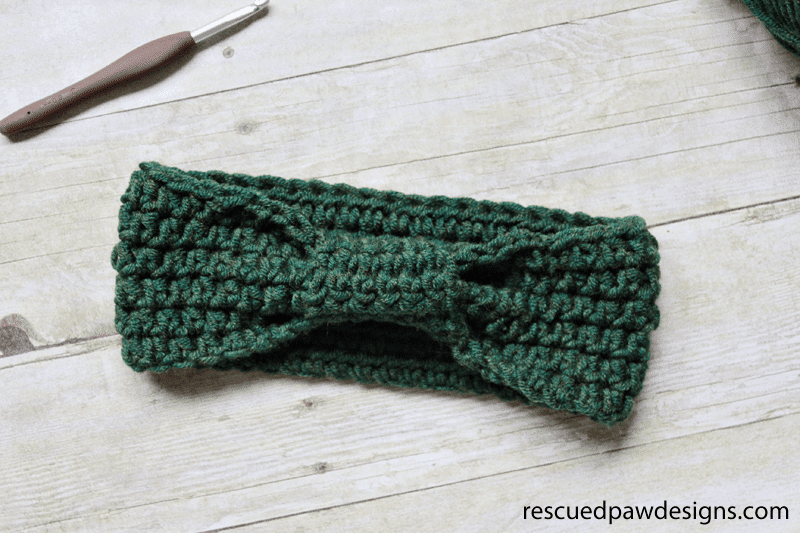 If you like wearing headbands over hats, then you will probably like my Chained Crochet Ear Warmer Pattern, Wrapped Crochet Ear Warmer Pattern and Cabled Crochet Ear Warmer Pattern too!
And it doesn't hurt that most of these crochet patterns are pretty simple and work up fast! Yay, to quick projects!