Knit a Blanket for Beginners – An Easy and Free Knitting Pattern
Are you looking for a good beginner tutorial on how to make a knitted blanket pattern? I've created a free pattern which is a beginner-friendly knit design, and it will have just about anyone knitting blankets in no time at all!
Now, I am typically a crocheter, but I created this knitting pattern for those that are looking to get started with knitting, or those crocheters like me that want to expand their skill set.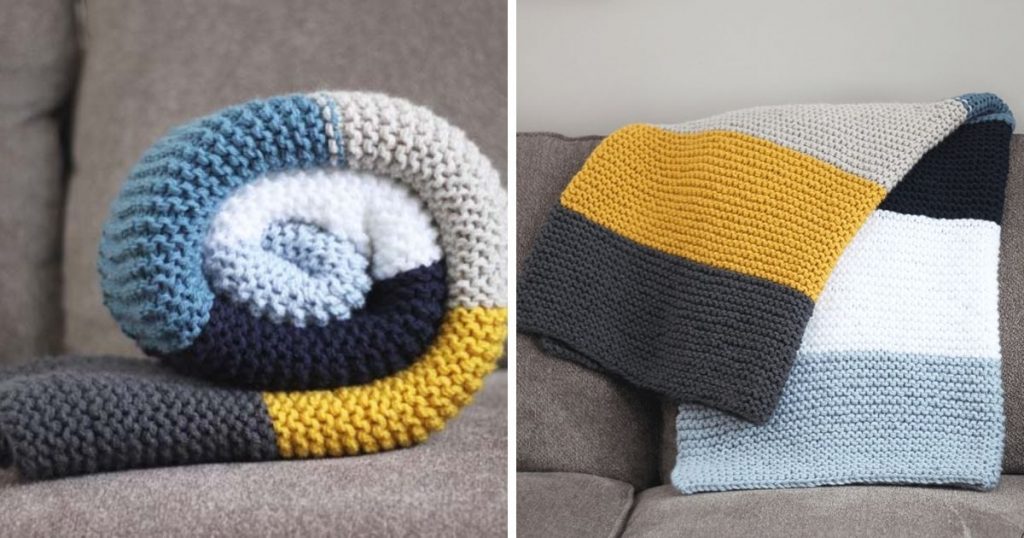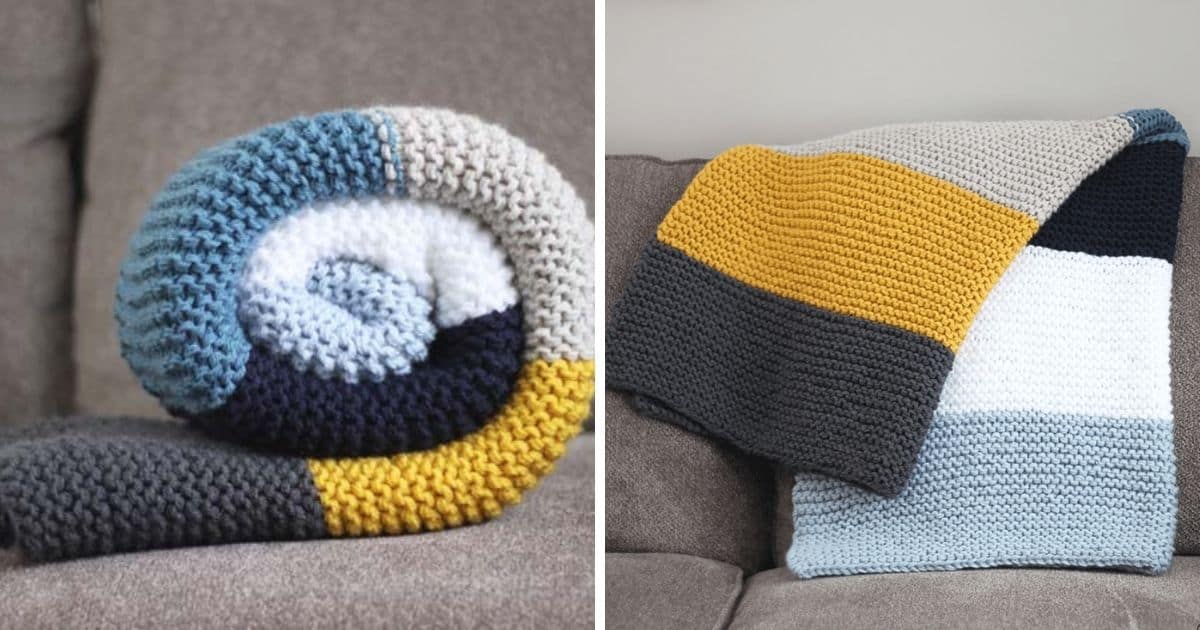 If you want to knit more projects after learning this one, try my list of the easiest striped knit patterns, which all happen to be 100% free. I hope you enjoy learning how to knit this blanket with me!
Read on down to find the free blanket knitting pattern to get started today!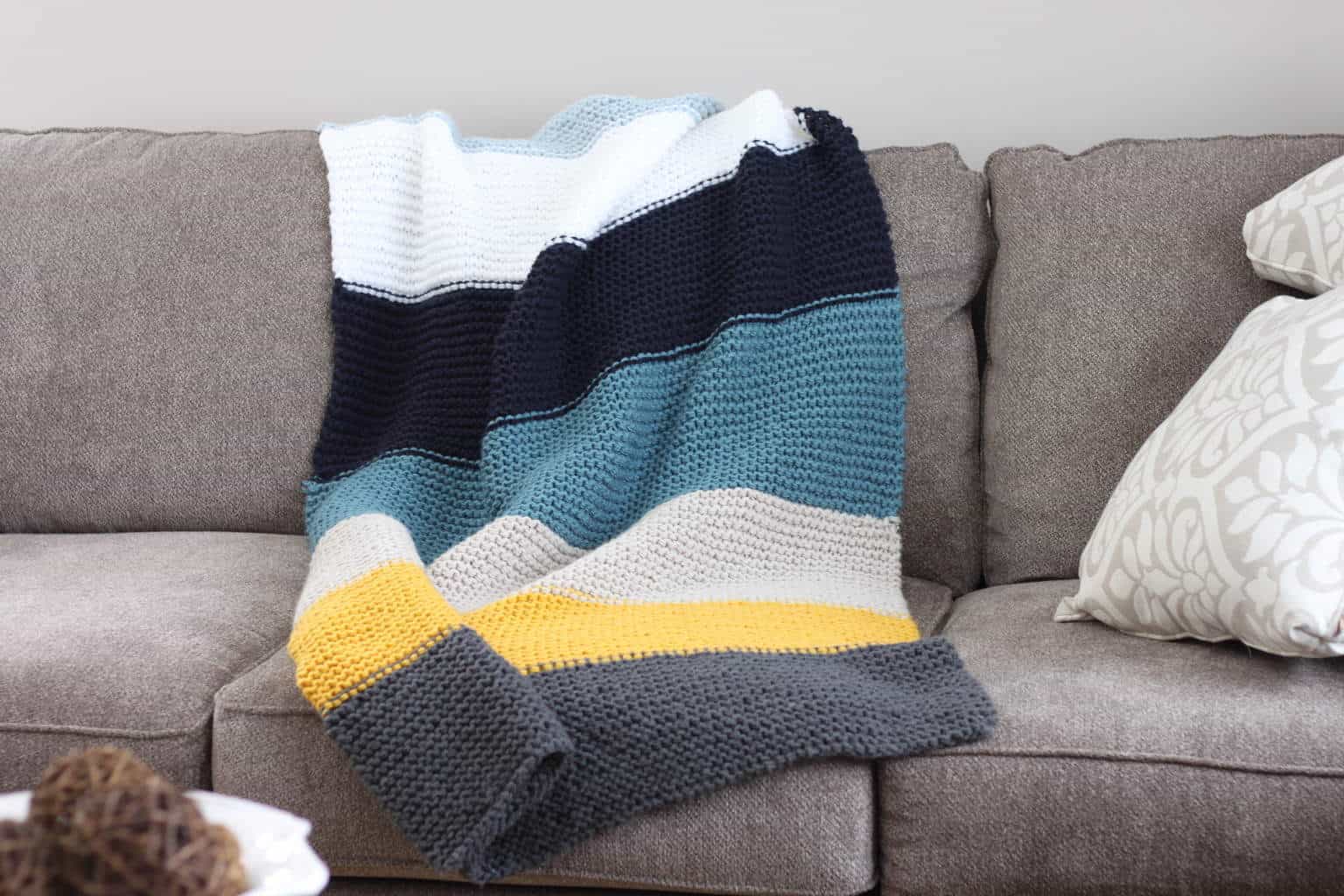 Beginner Knit Blanket Pattern
This knit blanket is great for beginner knitters to try their hand at. I know this because I am a new(ish) knitter. I've started, restarted and gotten frustrated with so many knit projects over the years. None ever got finished until now, and I am very proud of myself for it!
I love this simple striped knit blanket, and I think I may now love knitting as much as I love crocheting!
The Yarn That's Perfect for a Knit Blanket
To make this simple striped knit blanket, you will need 14 skeins of Vanna's Choice yarn from Lion Brand. Yep. I know… that's a lot! Vanna's Choice yarn is a medium-weight, 100% acrylic yarn and is available in quite a few color choices, which means you will always have a blanket that is unique to you.
For this pattern, I held two yarn skeins together at once while knitting it to make sure my blanket was extra, extra cozy. I wanted to end up with a chunky knit blanket feel, and I think this did it. You could also try it with one skein at a time, but you would need to use smaller knitting needles to make it work.
This knit blanket is easy to make. However, even though it's simple, you can see that I made a mistake with the dusty blue and navy yarn when I joined in the color.
Whoops! I was going to rip the blanket back to the mistake to fix it, but thought 1) "Hey, it gives it a little character" and 2) I was past the point of the mistake. It was going to take a lot of work to take it all out! So anyway, the mistake stayed put… Oh, well. But no matter because this blanket still means just as much to me.
Ok, ready? This striped knitted blanket is all yours once you've gotten the yarn and needles! Scroll down to get this FREE knit blanket pattern using the garter stitch today!
Happy Knitting!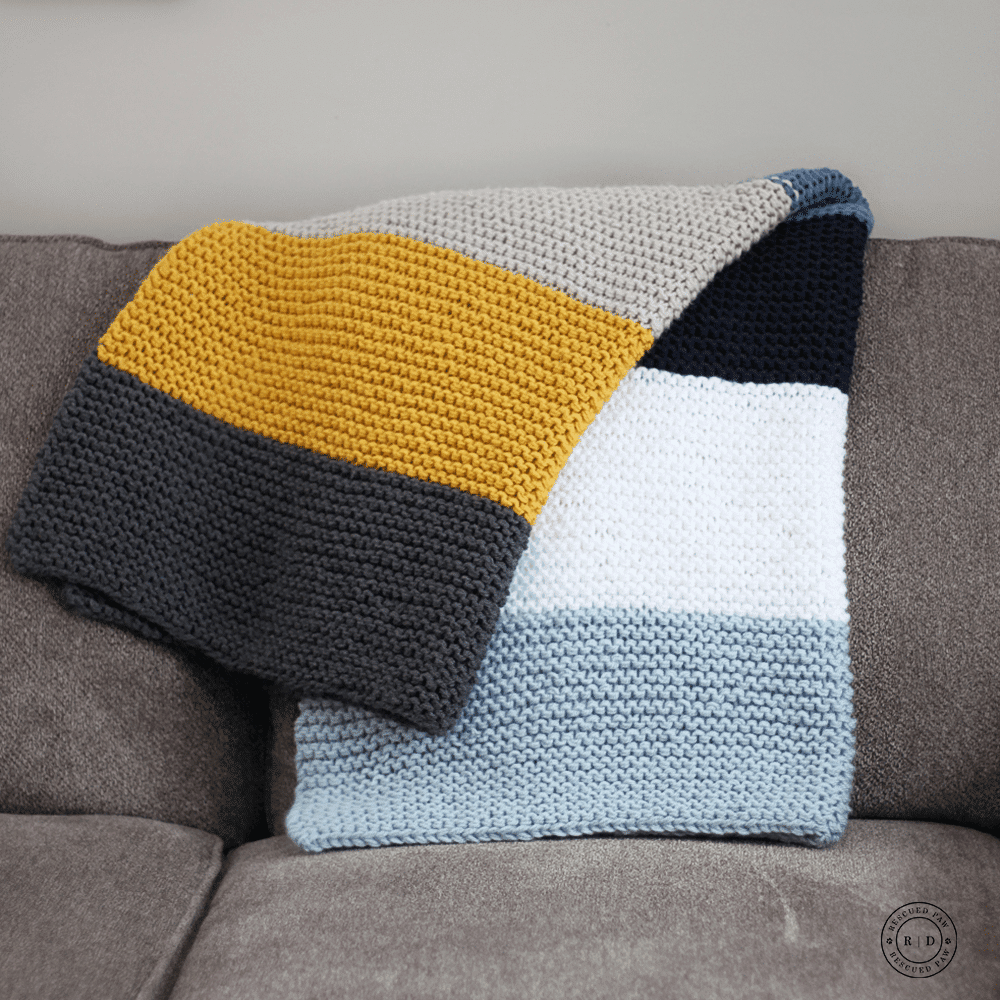 How to Knit a Blanket for Beginners
Skill Level: Easy
Materials
Vanna's Choice Yarn – 7 colors – 14 skeins – 2 of each color or 2,380 yards of worsted weight (4) yarn

Mustard, White, Charcoal Grey, Linen, Dusty Blue, Navy and Silver Blue Colors

Yarn needle
Pattern Notes
Finished size varies with starting stitches (ST)
The entire blanket is worked while holding two skeins of yarn at the same time.
This pattern is written in Standard US terms.
Learn how to do the long tail cast on: Tutorial
Learn how to do the Garter Stitch
Learn how to change colors in knitting: Video
UPDATE: 12/11/2018 I didn't measure during making, but I just measured again. (not sure how accurate since kids have used it, and it has been washed) but it measured 37″ wide & 60″ length
Simple Striped Knit Blanket Pattern
Foundation Row: While holding two strands together and with the first choice of the color cast on 90 ST's
Row 1: Turn work and knit stitch in every ST across (90)
Row 2 – 140: Repeat row 1 (90) changing color strands every 18-20 rows (depending on your preference).
Finishing
To Finish: Cast off and weave in the loose ends throughout the blanket with a yarn needle. I used a crochet hook, and it worked perfectly as well.
That's it! You're all done and should now have a cozy knit blanket to snuggle up with!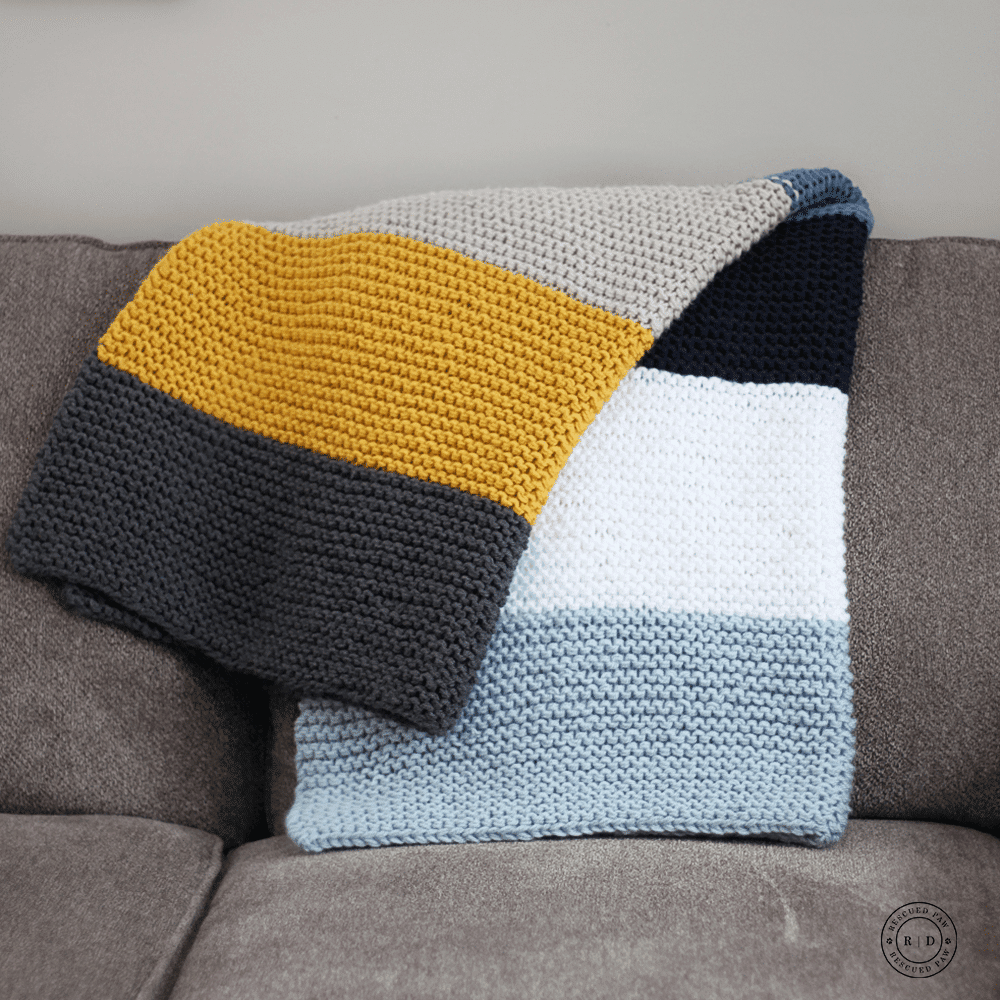 You Are Done With Your New Knit Blanket!
Enjoy your new knit throw blanket! If you need any clarification about this simple striped knit blanket, please feel free to ask! I'll try the best I can to help you out.
You May Also Like These Knitting Patterns
While you are here, be sure to check out our Easy Crochet Shop where you will find yarny tees, totes and more just for makers and a portion of your sale will be donated to animal rescues! You get a pretty awesome tee and the pups get some help! It's a win-win.
Don't forget to share your finished work with me!
Instagram – @easycrochetcom
Facebook – Easy Crochet
#easycrochetcom