Imagine yourself curled up in a warm, extra chunky blanket! Can you see it? Then you will love these free crochet Bernat Blanket Yarn patterns below that are the ultimate blankets to make to stay cozy!
These Bernat Blanket Yarn crochet patterns are perfect for creating comfy, chunky, and EASY crocheted blankets that will keep you (or baby) extra warm.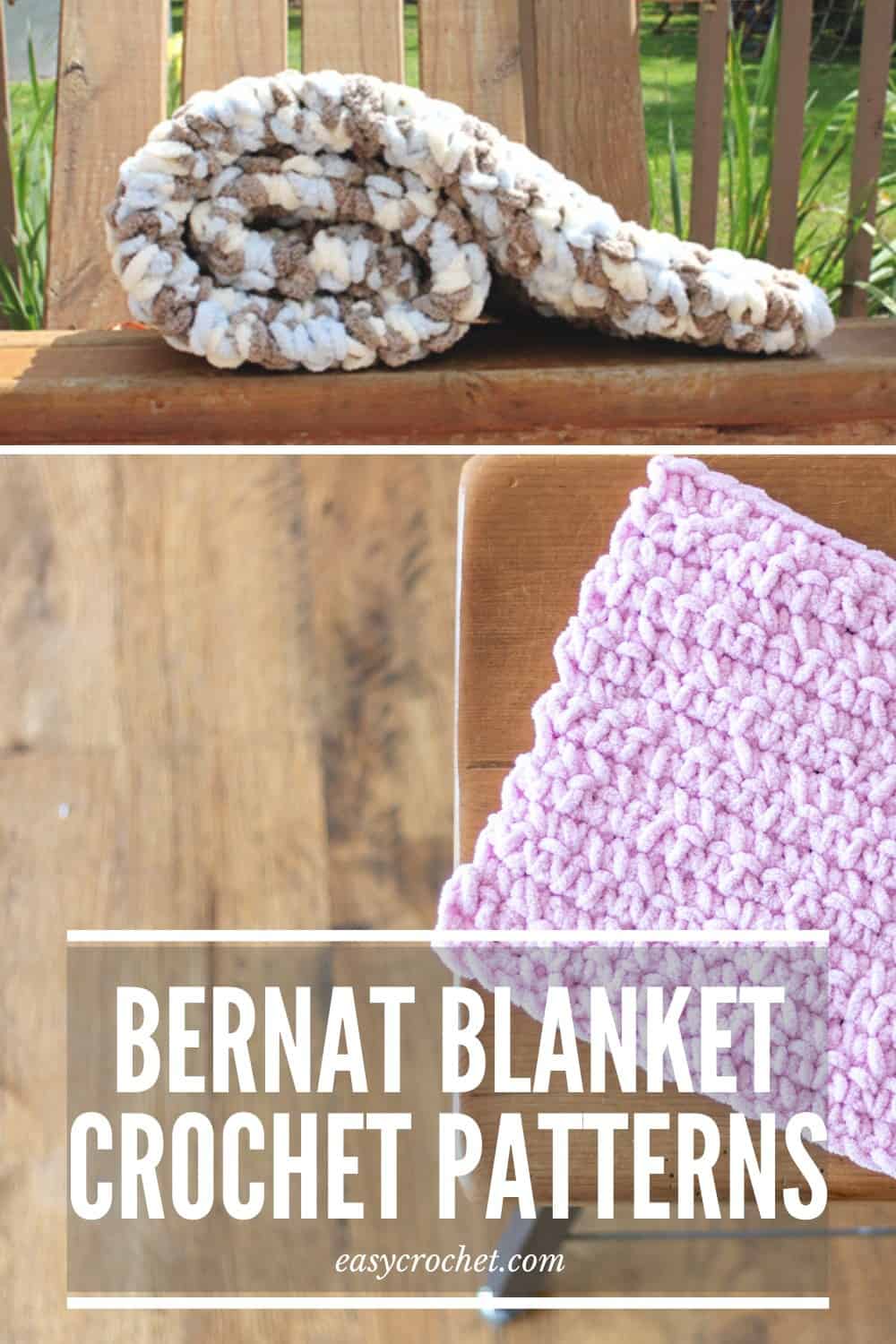 What Is Bernat Blanket Yarn?
Bernat Blanket yarn is a chenille-style yarn that is extra cozy, chunky and all-around perfect for creating blankets and other projects specifically for fall and winter! It is 100% polyester and is considered a super bulky 6 yarn which means fast, quick projects that are machine washable! Bernat Blanket Yarn is available in several styles including Blanket Yarn, Baby Blanket yarn, Bernat Baby Velvet Yarn, Bernat Blanket Twist Yarn and more.
Bernat Blanket yarn is soft to work with and can be crocheted up by a beginner effortlessly. As long as you use the recommended hook size you will have no trouble with this blanket yarn being too stiff. If your crochet project using Bernat Blanket Yarn is stiff you'll need to try to go up a hook size so it has softness and drape. You'll have to try this chunky yarn for yourself to see what I mean! You'll love it. Promise.
If you can't find Bernat Blanket bulky yarn I recommend substituting Lion Brand Yarn I Wanna Make a Blankie Yarn which can be found at Walmart, online at Amazon or directly from the LionBrand.com website. Pick out your favorite color of the Bernat Blanket yarn or the substitute yarn, and move on below to now pick out your favorite crochet blanket pattern.
Crochet Blankets That Use Bernat Blanket Yarn
If you are you looking for more blanket ideas with different yarn types, explore our EasyCrochet.com blanket archives. We have almost 100 free and exclusive blanket crochet patterns that we know you will love. Read on down to find some of the coziest blankets that you can crochet today using Bernat Blanket Yarn and Bernat Baby Blanket Yarn!
Happy Crocheting and I hope you enjoy this list of super bulky Bernat blanket patterns!
---
---
---
---
---
---
---
---
If you loved all the bulky yarn Bernat patterns above then you'll definitely want to take a look at these bulky yarn crochet blanket patterns too.
More Free Crochet Blanket Patterns
All the crochet patterns below are free to use and are a mixture of worsted weight, bulky and super bulky yarn afghan & blanket patterns.