Crochet Weighted Blanket using Bernat Blanket Extra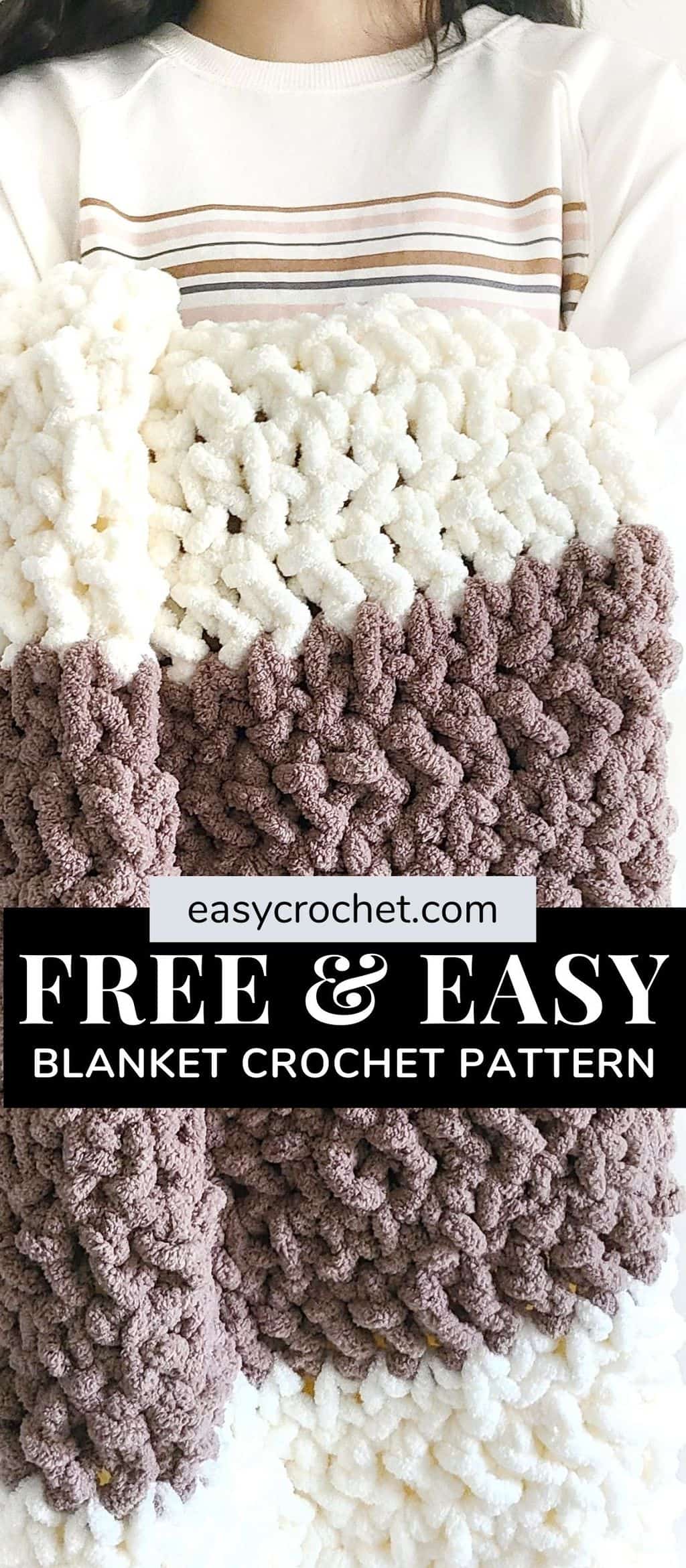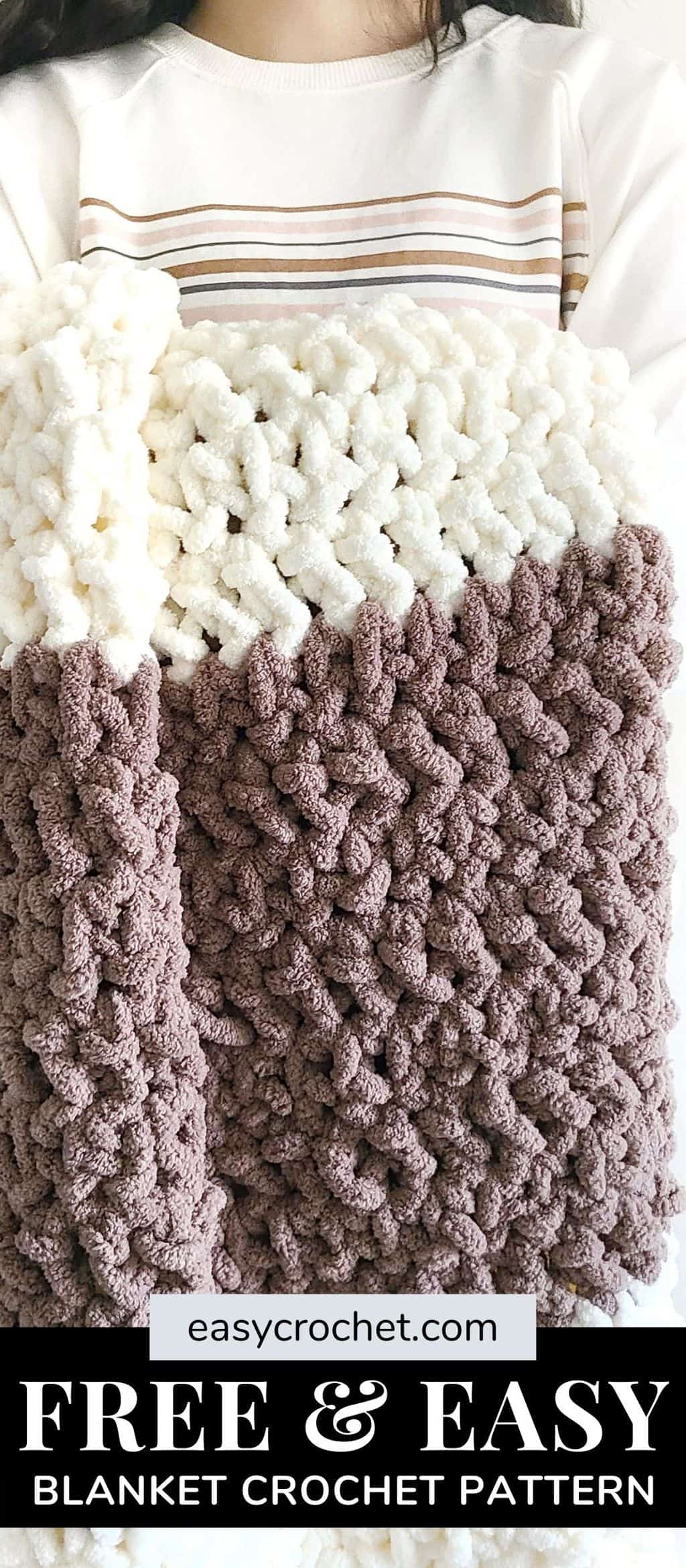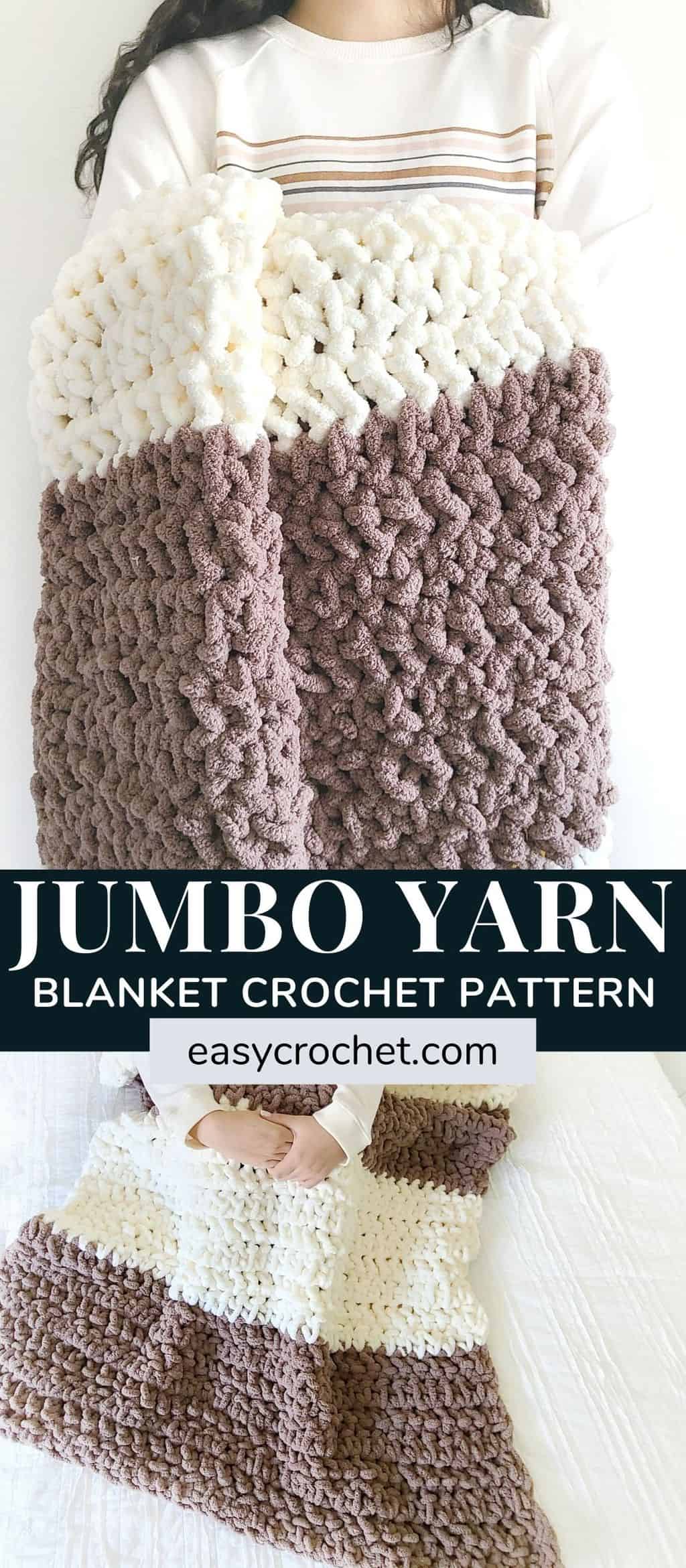 Are you looking to make a crochet weighted blanket?
If so, you'll LOVE this throw that uses Bernat Blanket Extra yarn, which crochets into a cozy and weighted blanket. These blankets are great for helping you relax and sleep better.
Plus, it's a free crochet pattern too!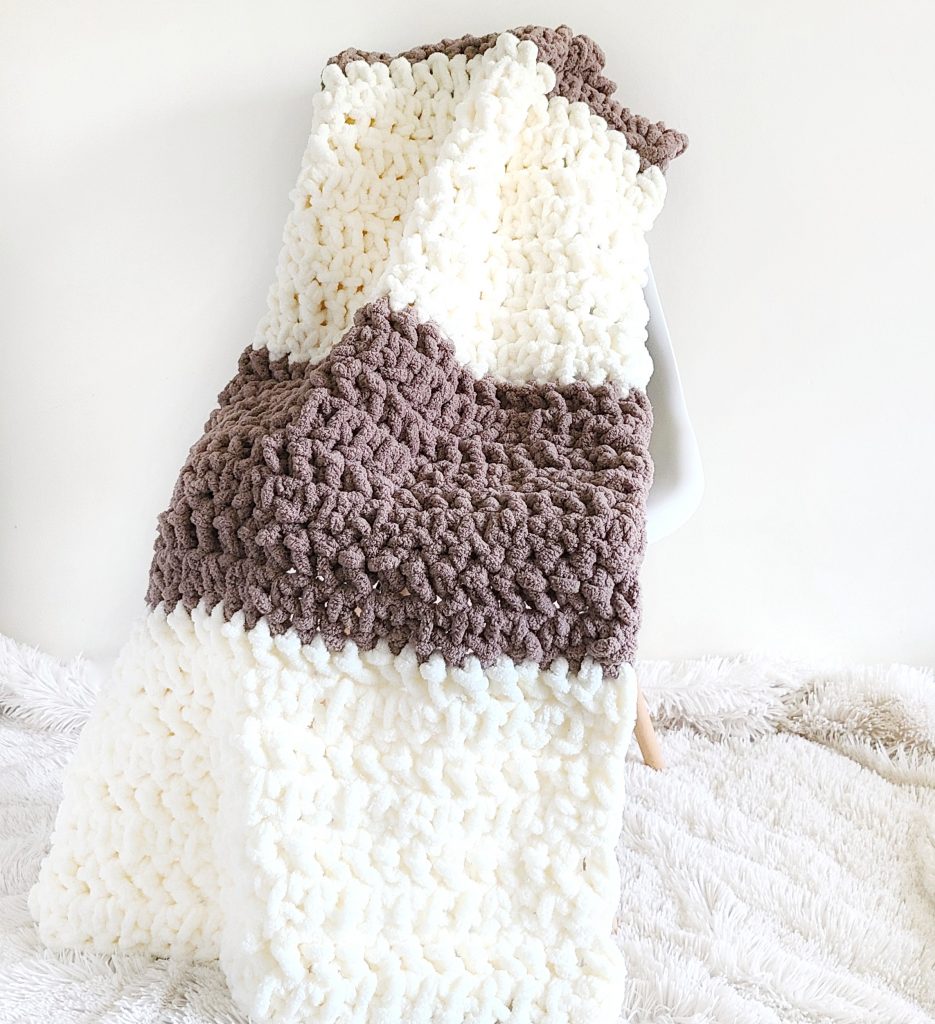 How to Crochet a Weighted Blanket
This velvety striped color blocked blanket is the perfect blanket size to use to keep cozy warm during the cold winter months.
This yarn is thick and extremely squishy and when it is worked up in a blanket it feels like a crocheted weighted blanket which is known to help with relaxation. Sign me up!
You'll really one need two things to make crochet weighted blankets!
A Large Crochet Hook
You'll love how this easy blanket works up with just two stitches and can be made in just a few days. Plus, it crochets up extra fast because of the jumbo size yarn used.
Scroll on down to learn more of the yarn and stitches used to make this Bernat extra cozy crochet blanket!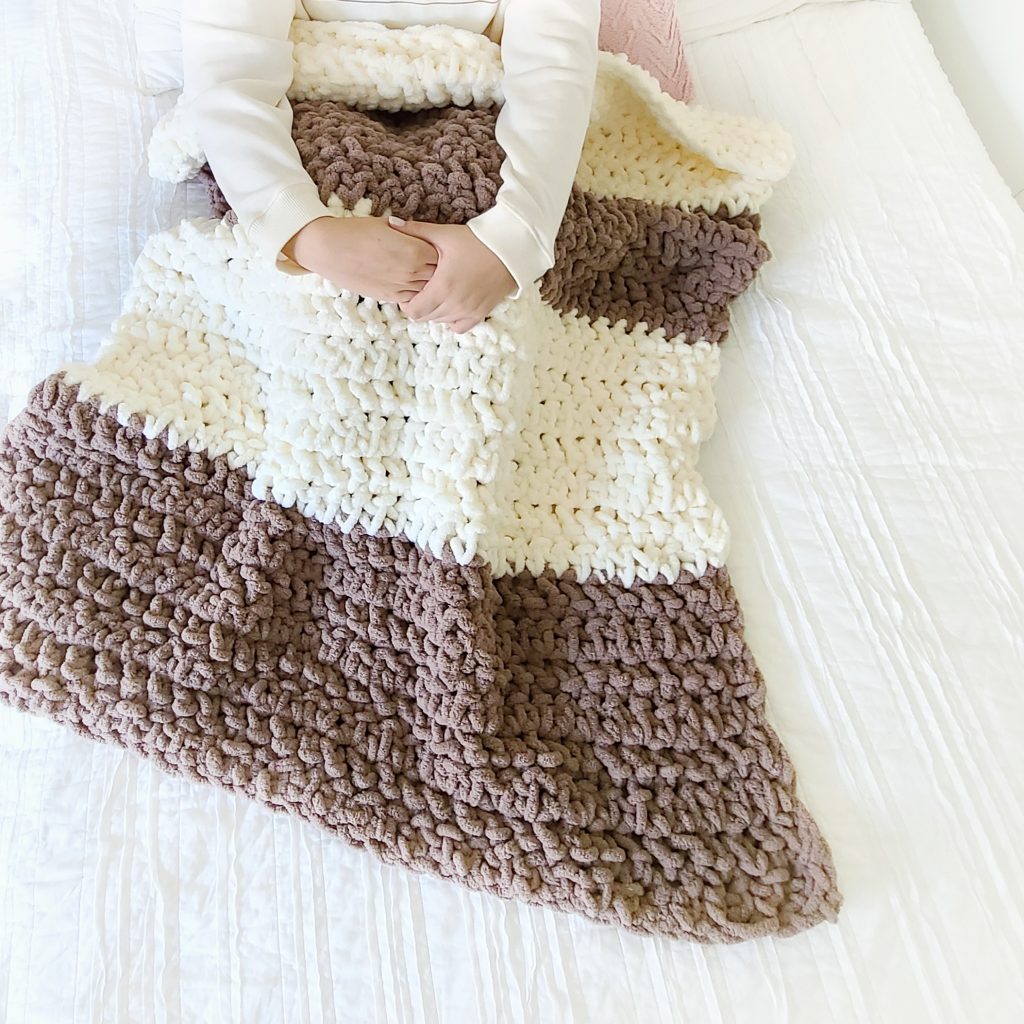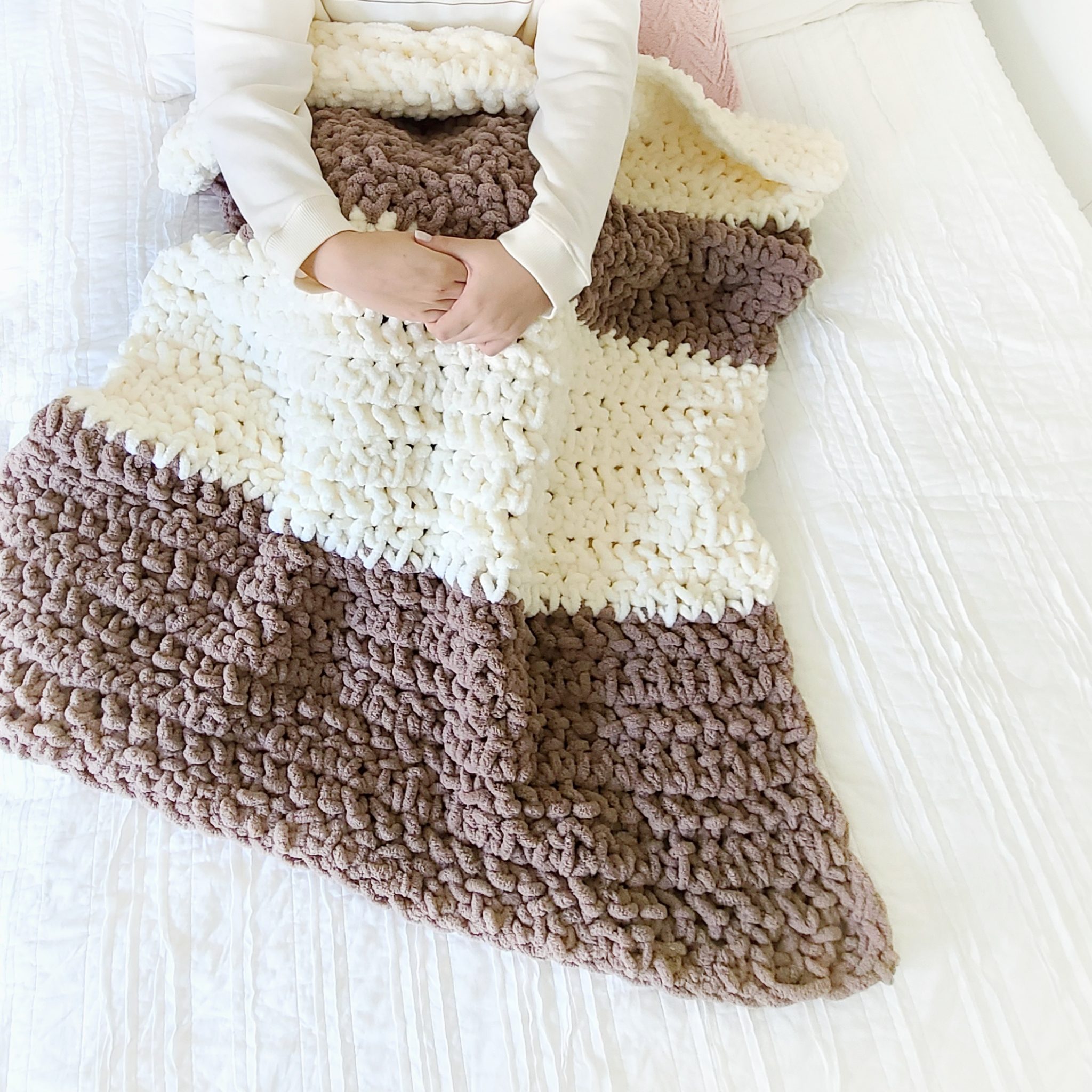 The Yarn
To crochet this throw blanket, you will want to use Bernat Blanket Extra yarn. It is a jumbo #7 weight yarn that is 100% polyester. It has 97 yards in each skein and is washer and dryer friendly.
Blanket Extra
This yarn is made by Bernat, and is a Weight 7 – Jumbo yarn.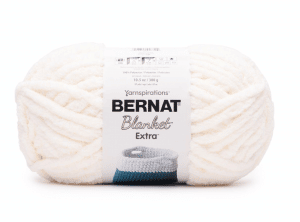 Fiber: 100% Polyester
Yardage: 97 yards
Hook: 15 mm (P/Q)
Substitute:
Buy Now
Patterns Using This Yarn →
You will need less than 400 yards for the throw blanket shown in the images. This whole blanket used about 4 balls of yarn. I used two skeins of the color Vintage White and two skeins of the color Mushroom, alternating to give it a color blocked look with stripes.
You could easily do a solid color blanket instead of the stripes if you'd prefer to use one color of yarn. I found this yarn at my local craft store, but you can find it available on Yarnspirations as well as Amazon too.
Take a look at all the Bernat blanket yarn colors available and learn more about the yarn above when you click on the image.
Crochet Hook
This jumbo sized yarn is works up well with a 15 mm or bigger crochet hook. I used a Q 15.75 sized crochet hook, but occasionally, you will see Q labeled 16 mm as well. The sizes of the hooks will be slightly different depending on who manufactured the crochet hook.
Both hook sizes will work as long as the gauge is met for the blanket. You can learn more about crochet hook sizes and the types to see which one you'd prefer to use.
With trial and error, I quickly figured out that a plastic hook works much better than a wooden one. The plastic glides much better over this particular chunky yarn and makes for an easier crocheting experience.
You can experiment with different types of hooks to see which one you'd like to use with your blanket.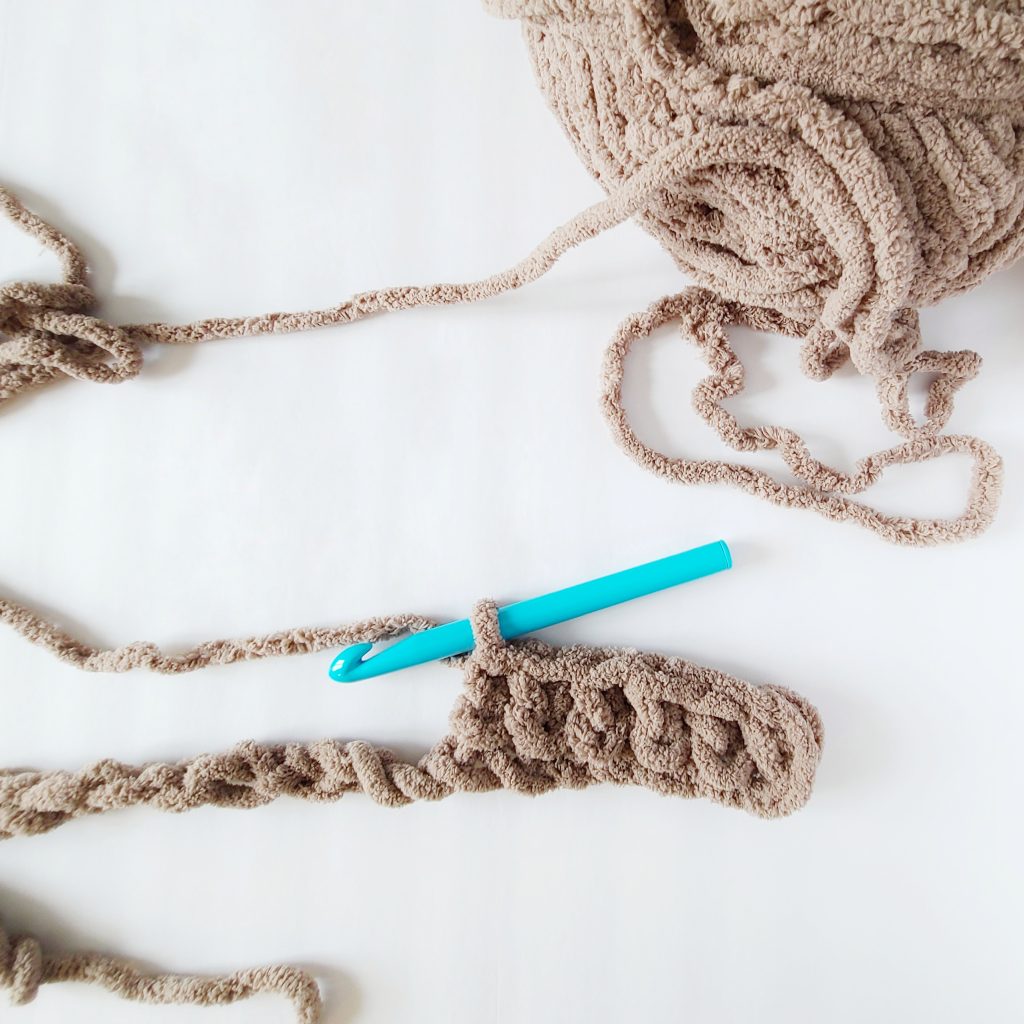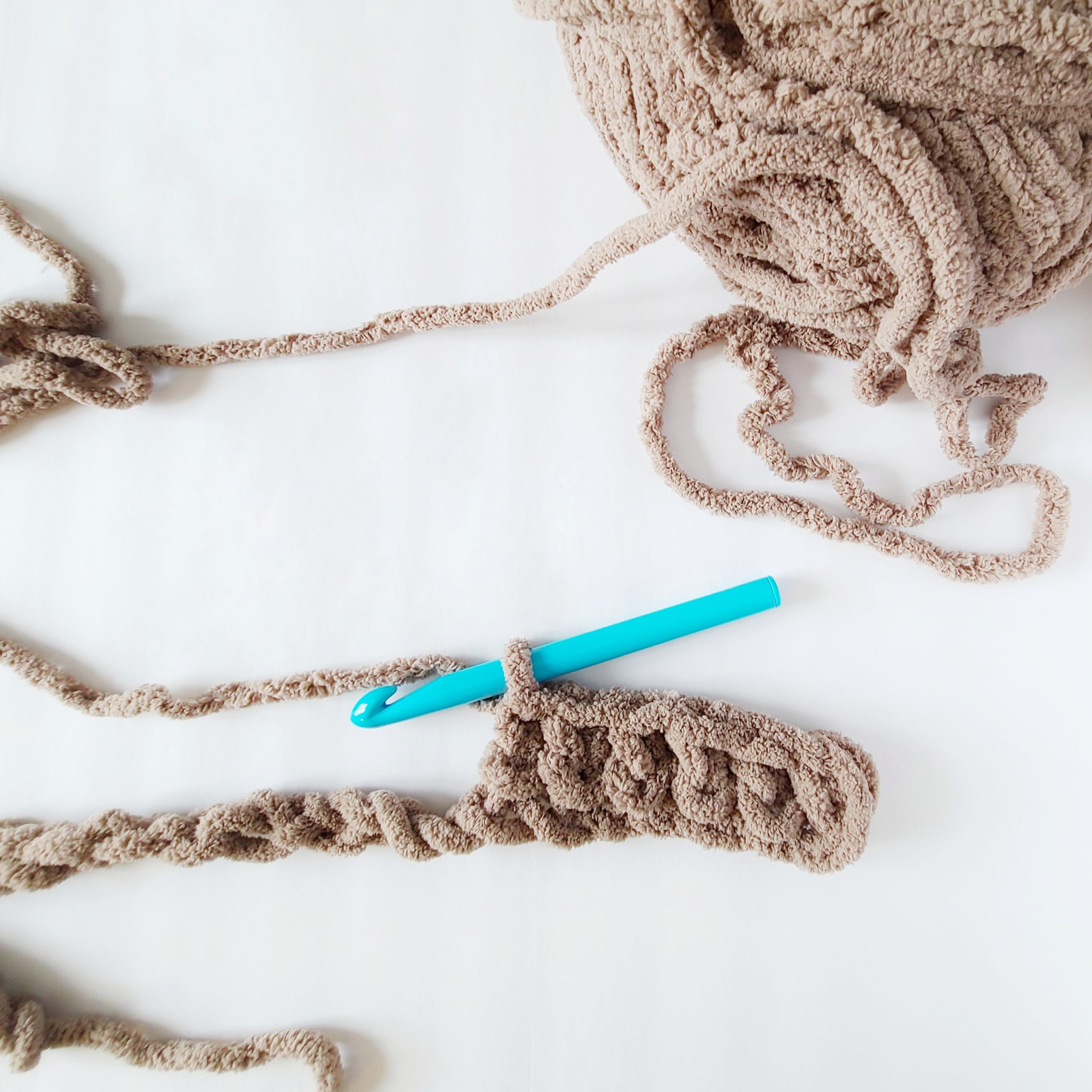 The Stitches For This Blanket
The entire blanket is worked with just two easy crochet stitches, the herringbone half double crochet (hhdc) and the half double crochet (hdc).
I have a full video tutorial for these stitches available, which can be found in the sidebar on desktop and down below the pattern on mobile as well as desktop.
Learn more about each stitch below used to make this blanket.
Half Double Crochet (hdc): – Video Tutorial
YO (yarn over) Insert hook from front to back of the designated stitch, YO the hook and pick up a loop.
YO the hook and pull back through all three loops on the hook.
Herringbone Half Double Crochet (hhdc) – Video Tutorial
YO, insert hook into the stitch indicated
YO (3 loops on hook)
Pull up a loop and pull that loop through the first loop on the hook (2 loops on hook)
YO, pull through the remaining two loops on the hook
I started each row of the blanket with a hdc, followed by 34 hhdc and ending the row with one hdc. I did this to give the edges a cleaner look because I knew I wasn't going to do a border on my blanket.
If you'd like to do a border, I'd suggest a couple of rounds of single crochet or half double crochet, but keep in mind you will need more yarn than I recommended below for your blanket.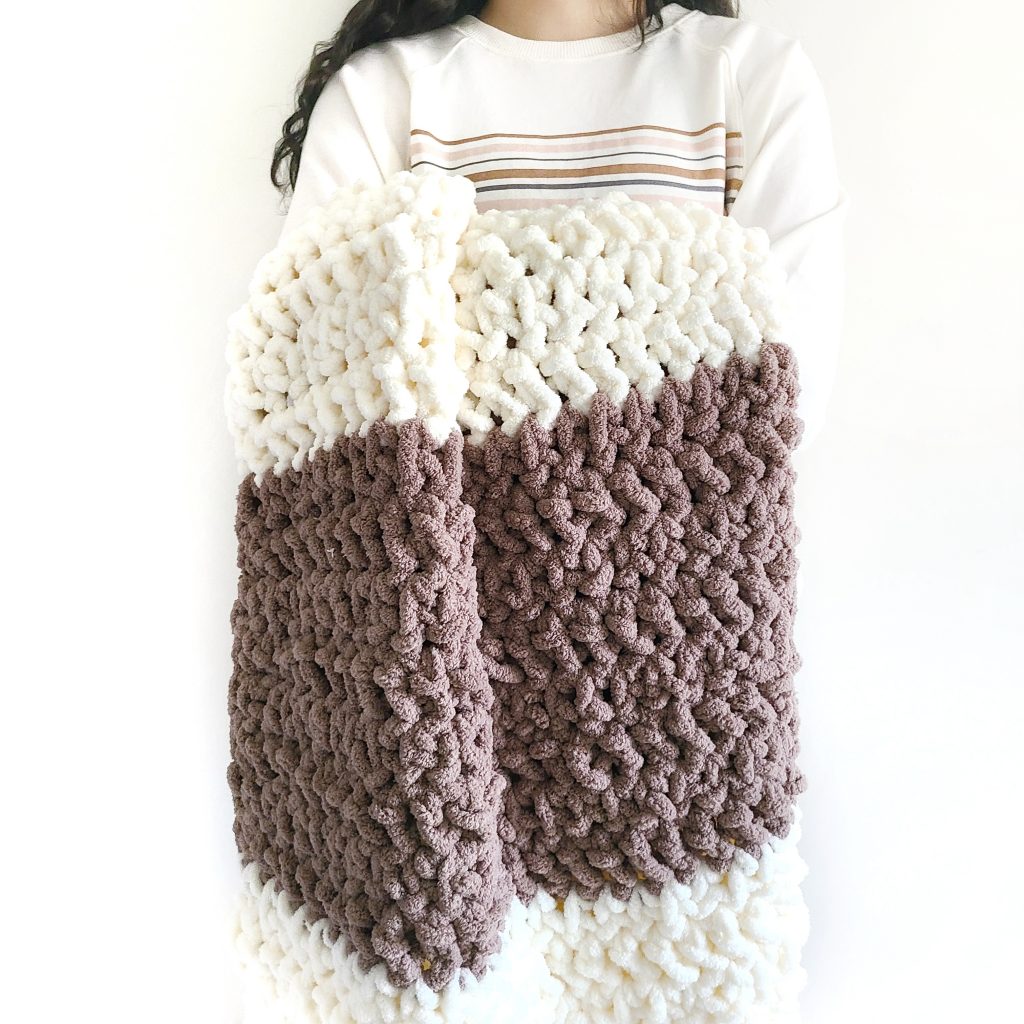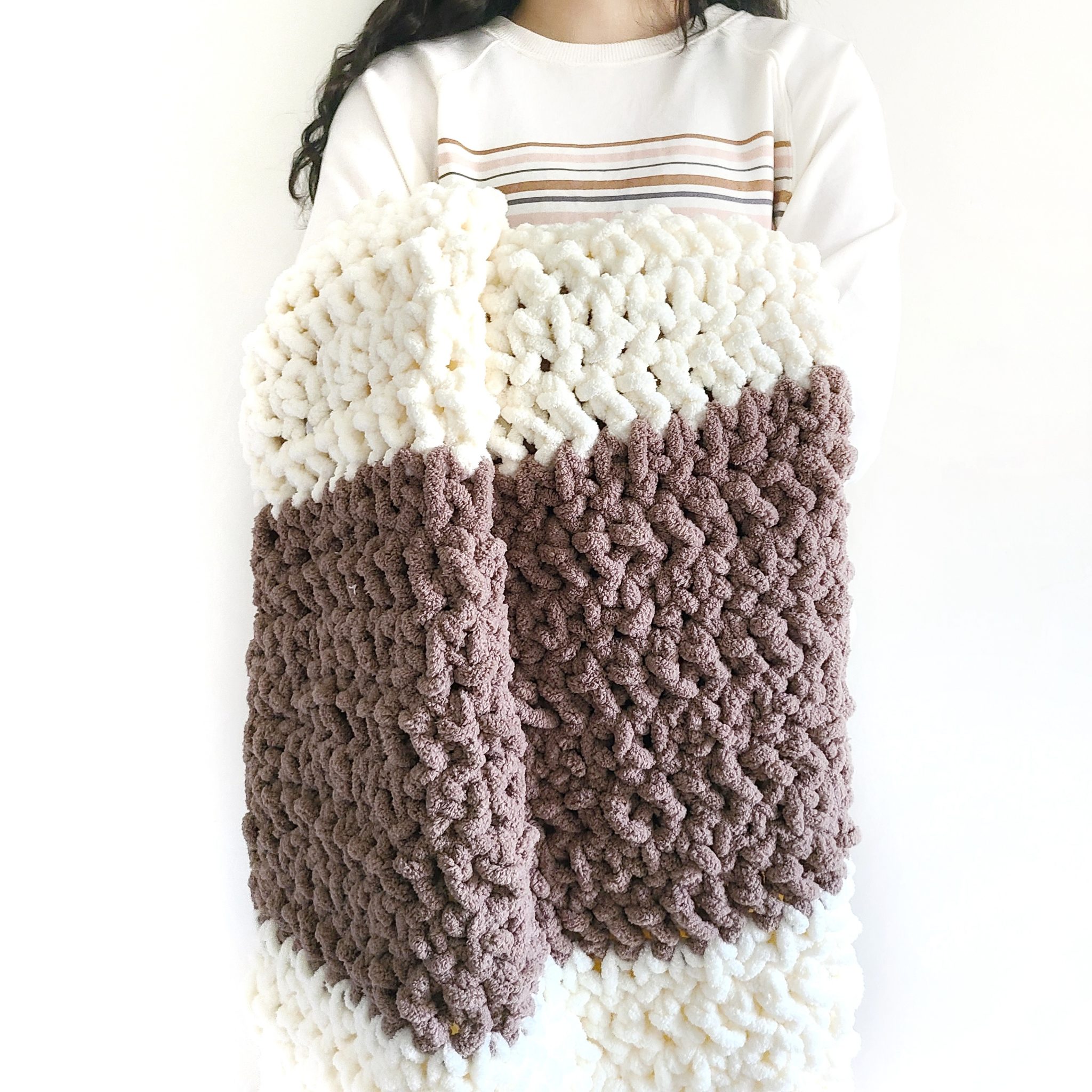 Ready to Get Started?
Read on down to find the full blanket pattern as well as the video tutorials and more. I can't wait to see your creations and if you do make one, please share it in the Easy Crochet Facebook Group.
Crochet Weighted Blanket Pattern
Skill Level: Easy
Materials
Finished Size
Approximately 48″ height X 36″ width – Small Throw Size
Change the blanket size by using our Blanket Resizing Calculator

Use your gauge swatch to change the size with our Calculator
Gauge
6 st(s) x 4 rows = 6″ x 6″
The gauge pattern is worked by chaining 7 and following the pattern as written below for four rows.
Crochet Stitch Abbreviations
hdc = half double crochet
st(s) = stitch(es)
ch(s) = chain(s)
hhdc = herringbone half double crochet
rep = repeat
Notes
The pattern is written in standard US terms
Change yarn colors at the end of the row where indicated
Change the size of blanket by working using a starting chain in any number. Each stitch is approximately one inch, so chain the number you want the blanket to be in inches.
Fill in the blanket resizing calculator to find exact yardage and skeins needed for each standard blanket size.
Finished blanket is a little over 4 pounds.
The Bernat Blanket Extra Throw Pattern
To Start: Ch 37 Using Color A
Row 1: 1 hdc in the 2nd ch from hook, 1 hhdc into each ch across, 1 hdc in the last ch, turn. (36)
Row 2 – 8: ch 1, 1 hdc into the first st, 1 hddc into each st across, 1 hdc in the last ch, turn.
Row 9 – 16: Change to Color B, rep row 2 – 8.
Row 17 – 24: Change to Color A, rep row 2 – 8.
Row 25 – 32: Change to Color B, rep row 2 – 8.
Finishing: Cut yarn and pull yarn through last st and weave in loose ends. You can use your fingers or a smaller crochet hook.

Save to Crochet this Later
Save the images below to Pinterest, so you'll be able to crochet a big blanket when you have time.
You can also follow along with us to see all our new free crochet patterns and tutorials too!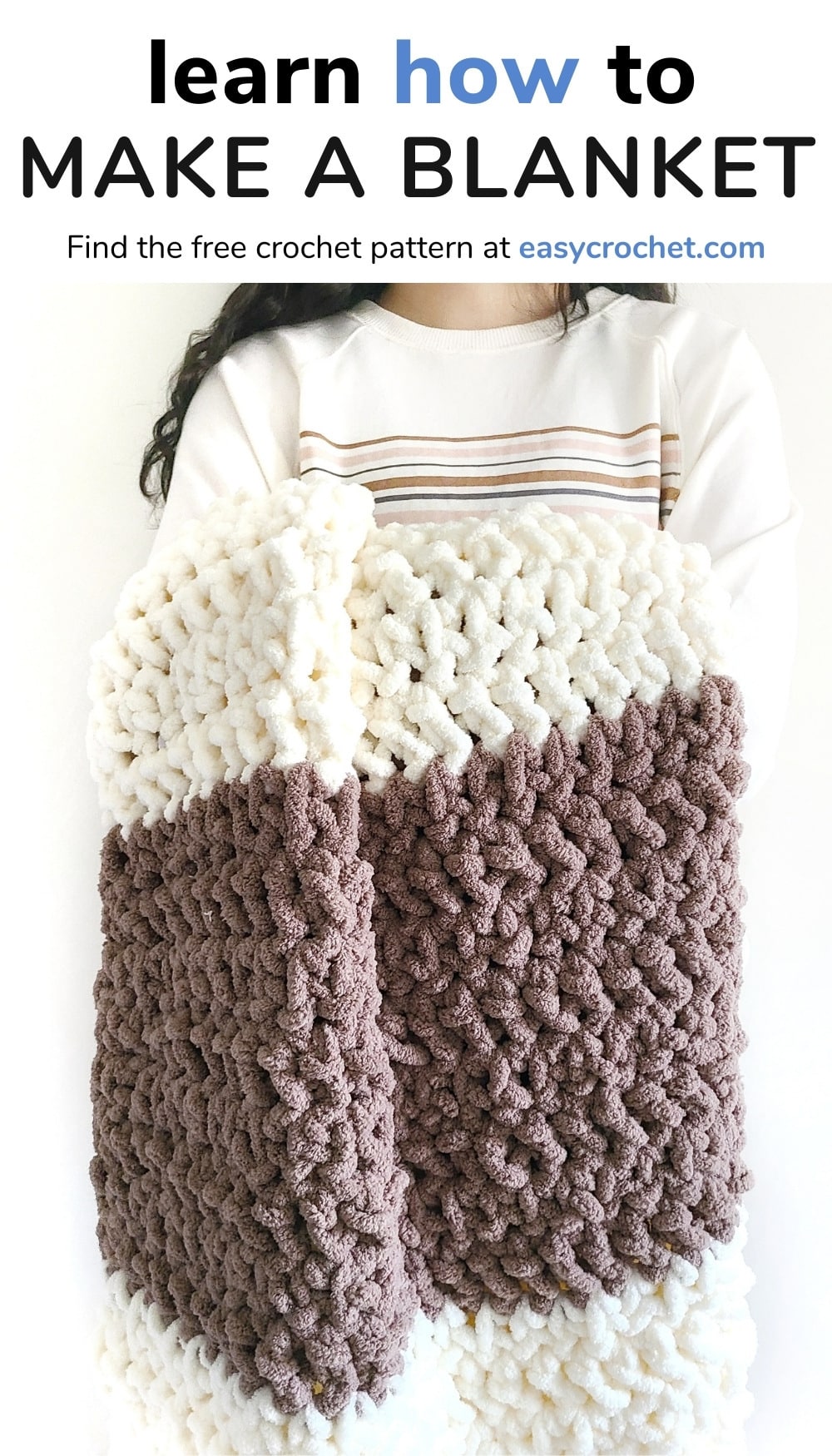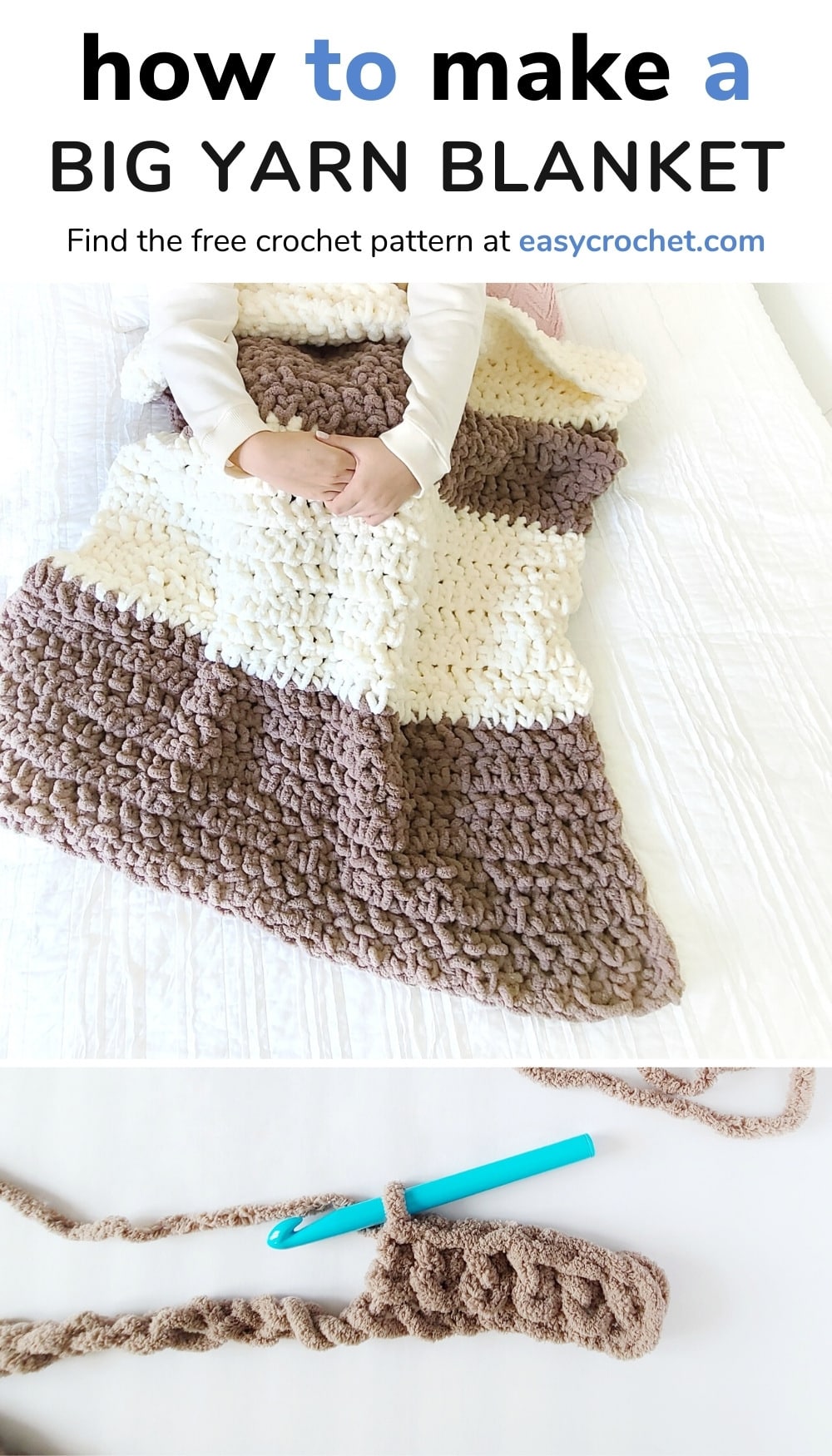 More Crochet Blanket Patterns
If you liked this super chunky blanket pattern, you may like this roundup of 7 chunky crochet blankets, all of which are free crochet patterns. Furthermore, be sure to check out some of my most recent blanket designs below.