How to Crochet a Pumpkin Earwarmer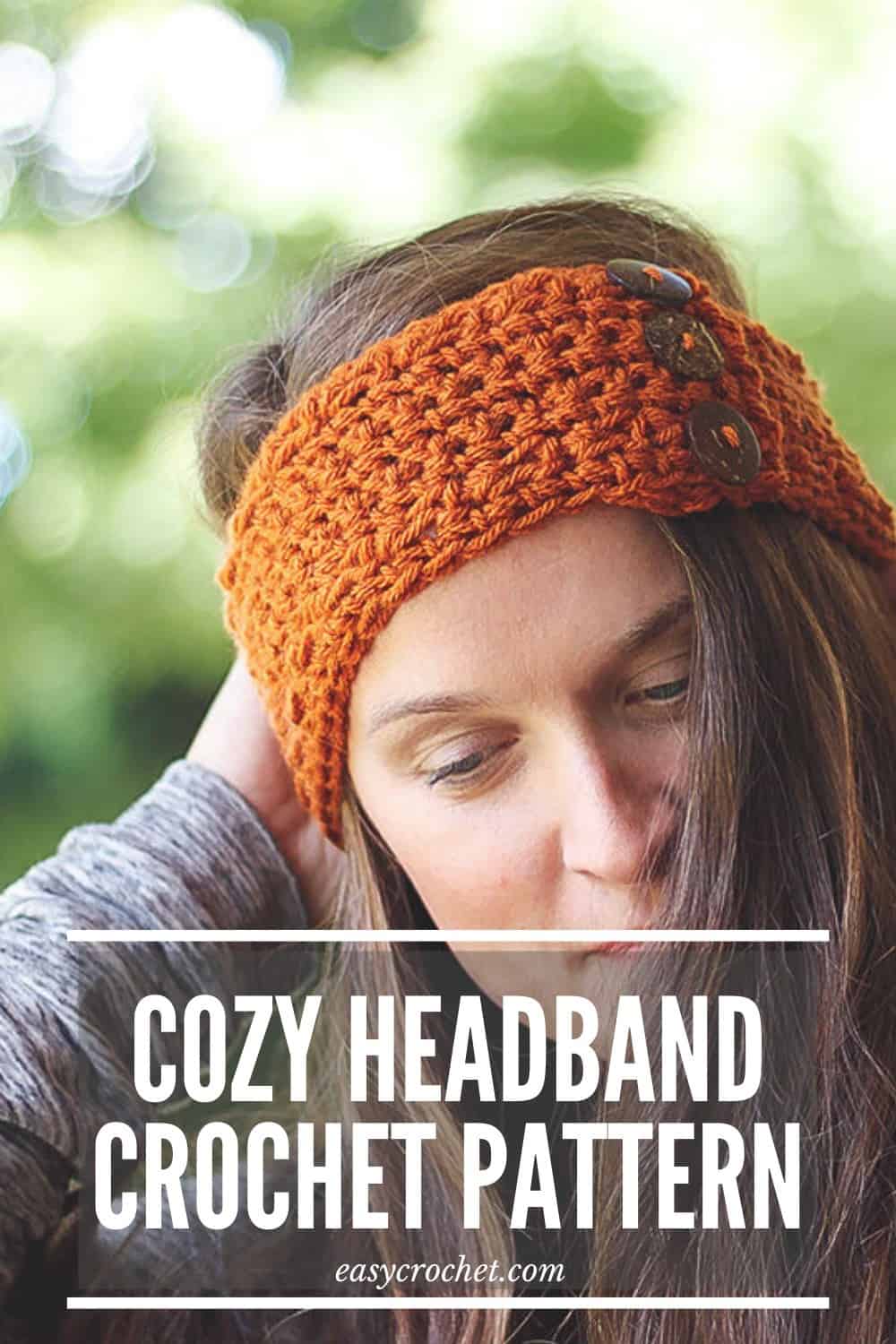 It's starting to feel a bit like fall here in Pennsylvania, so I knew it was the perfect time to design a new crochet ear warmer pattern for Fall.
I always see crochet pumpkin hats online, so I wanted to make something a little different but still in the fall spirit, so this pumpkin crochet ear warmer was created!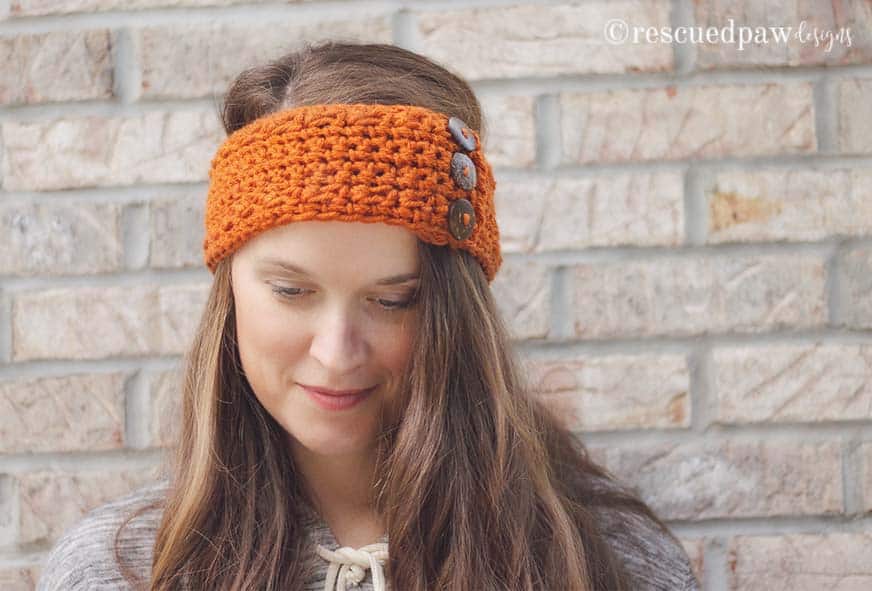 This cozy & warm crochet headband with buttons will be a favorite for sure! Read on down to find the free crochet ear warmer pattern.
Read on down to find the free crochet ear warmer pattern so you can get started today! Or you can explore the Easy Crochet pattern archives with access to over 300 free designs.
I hope you enjoy this beginner-friendly fall crochet design!
Happy Crocheting!
What Yarn Should I Use For a Fall Ear Warmer?
The perfect yarn for a Fall ear warmer is one that really highlights the color of the season. You can't go wrong with orange, red or mustard color when making a fall headband or earwarmer!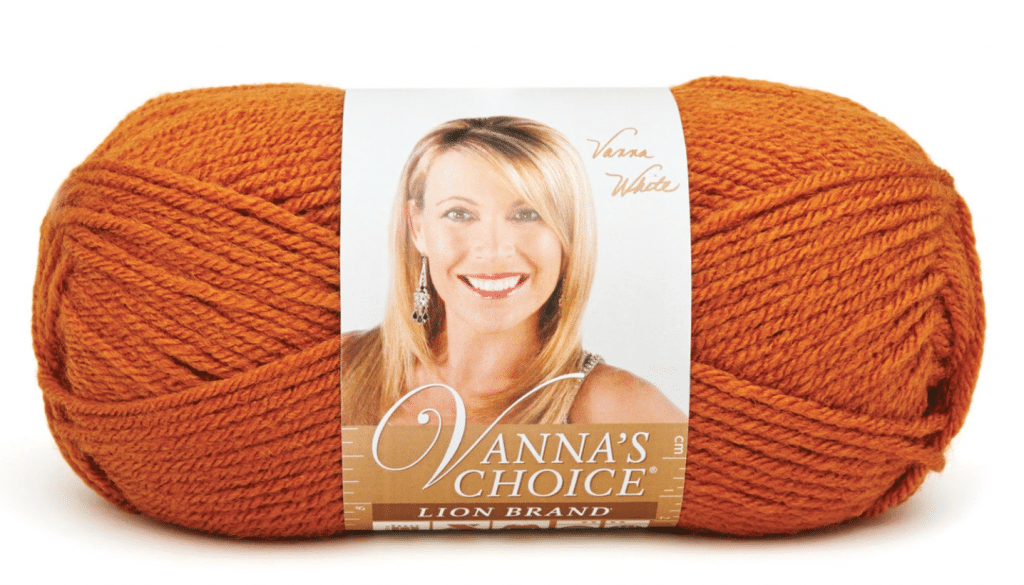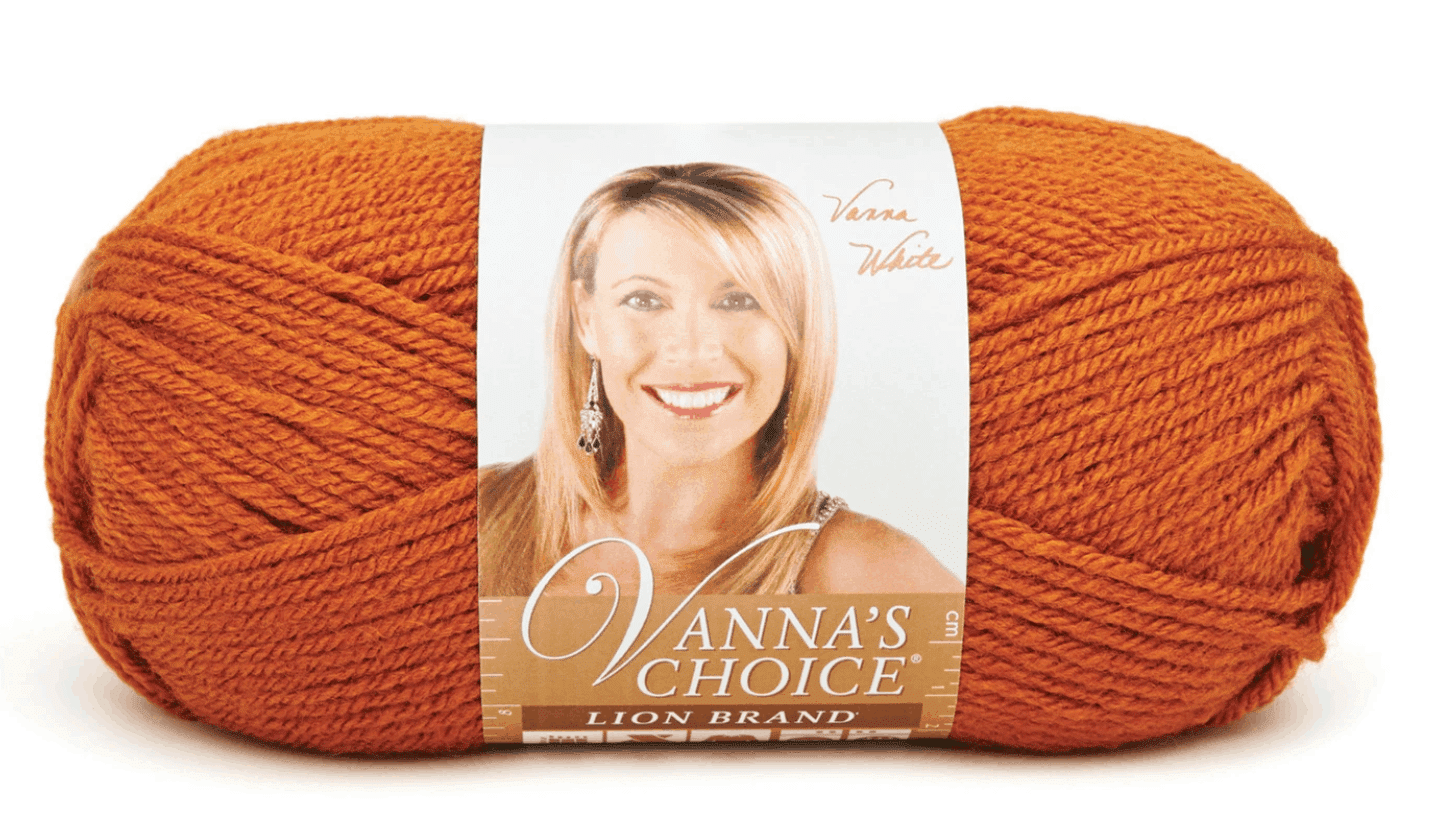 For this easy crochet ear warmer, I used one of my favorite yarns Vanna's Choice by Lion Brand Yarn in Rust, which is a great color to go along with these cooler temperatures. Click the yarn image below to check it out and explore more color options.
Vanna's Choice
This yarn is made by Lion Brand, and is a Weight 4 – Medium yarn.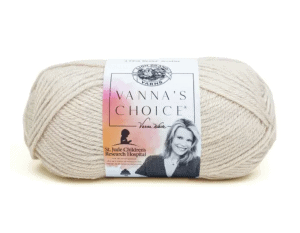 Buy Now
Patterns Using This Yarn →
What Stitches are Used in A Fall Ear Warmer?
This pumpkin ear warmer uses a simple combination of single and half double crochets, which means it's the perfect pattern for beginners. Learn about each of these stitches below that include easy tutorials.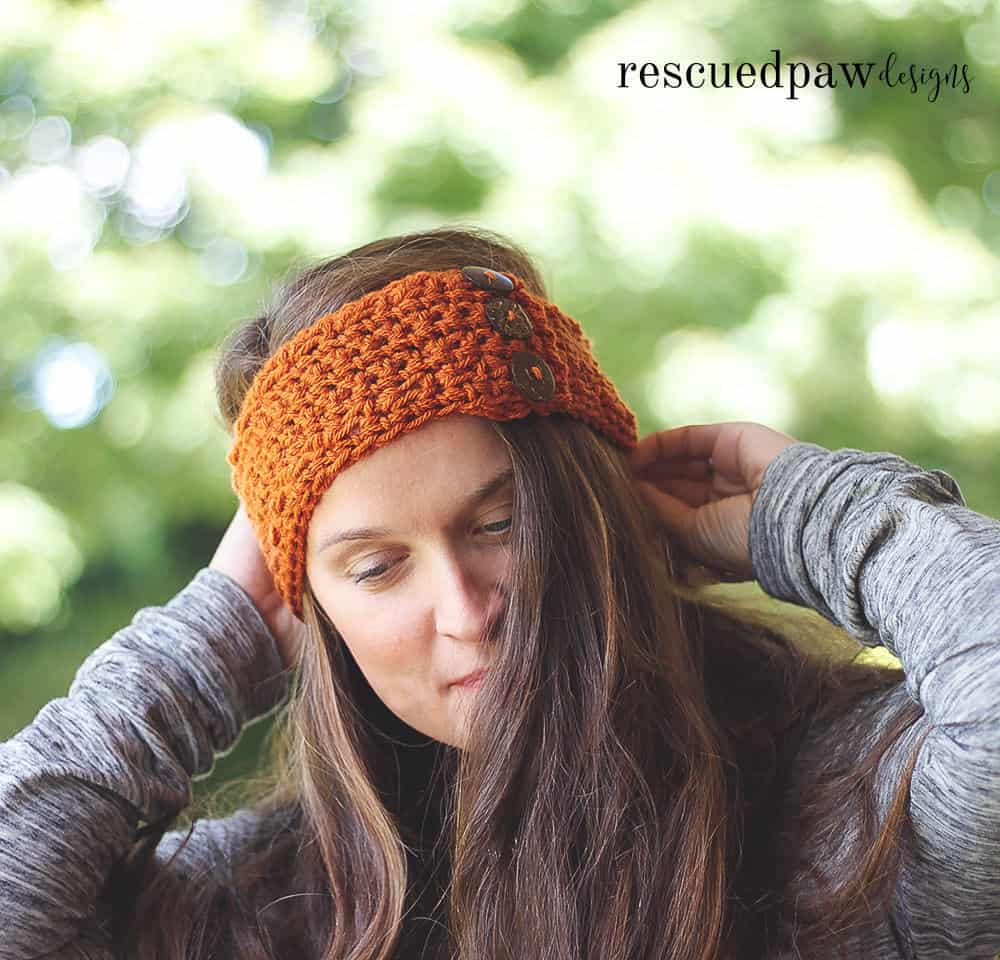 I hope you enjoy this fun fall design because it was super fun to write, and I'd love for you to enjoy it too!
Please read on down for the full, FREE crochet pumpkin ear warmer pattern & tutorial.
Learn How To Make a Fall Crochet Ear Warmer
Skill Level: Intermediate
Materials
Crochet Abbreviations
SC = Single Crochet
CH = Chain
SL ST = Slip Stitch
HDC = Half Double Crochet
Gauge
Finished Size
22″ Circumference as written & 3.5″ tall
Fits most teen – adult women
Notes
Leave a 12″ – 15″ tail when finishing weaving in ends of your crochet ear warmer with the tail.
Crochet Pumpkin Ear Warmer Pattern
Foundation Row: CH 51 and turn your work.
Row 1: CH 1, sc in 2nd CH from hook and in every CH across, turn.(50)
Row 2: CH 1, SK first ST, * HDC & SC in next ST, SK next ST, repeat from * across, ending with a HDC & SC in last ST, turn. (50)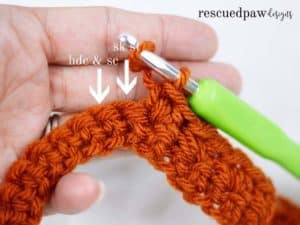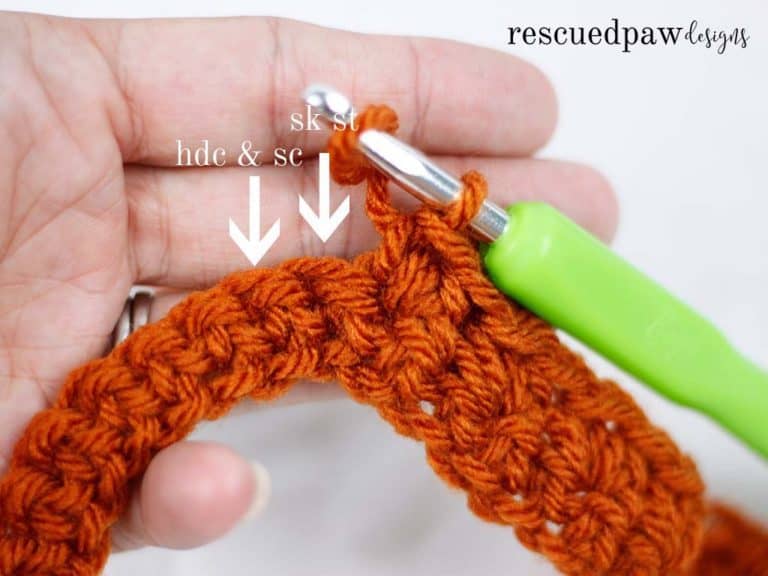 Row 3: CH 1, SC in every ST across, turn. (50)
Row 4-7: Repeat row 3. (50)
Row 8: Repeat row 2. (50)
Row 9: Repeat row 3, fasten off. (50)
Finishing
Lay the headband out flat with the wrong side up
Overlay the flaps as shown. You can adjust the fit as needed with this step.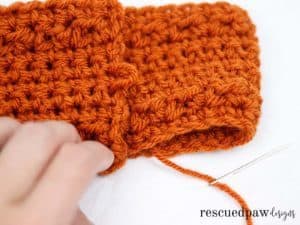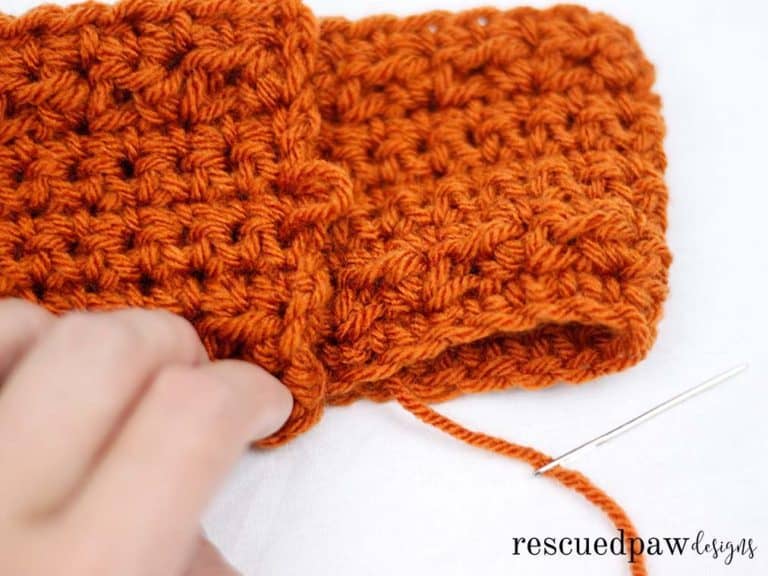 Using a 12″ – 15″ tail & yarn needle, fasten together the headband.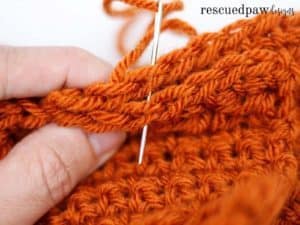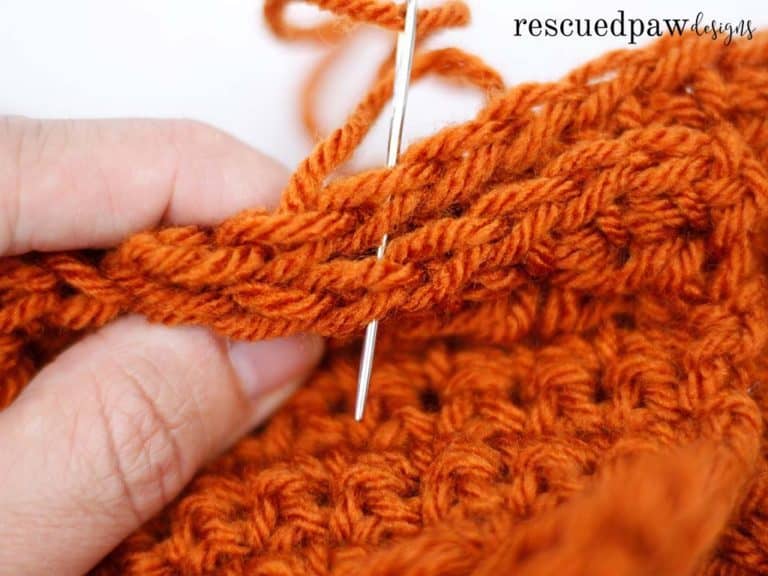 Lay buttons out along your crochet ear warmer as shown. Use some leftover yarn & a yarn needle to attach buttons securely.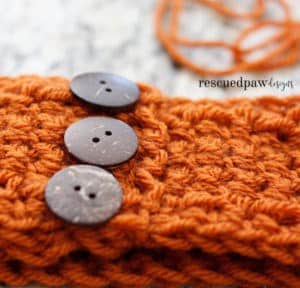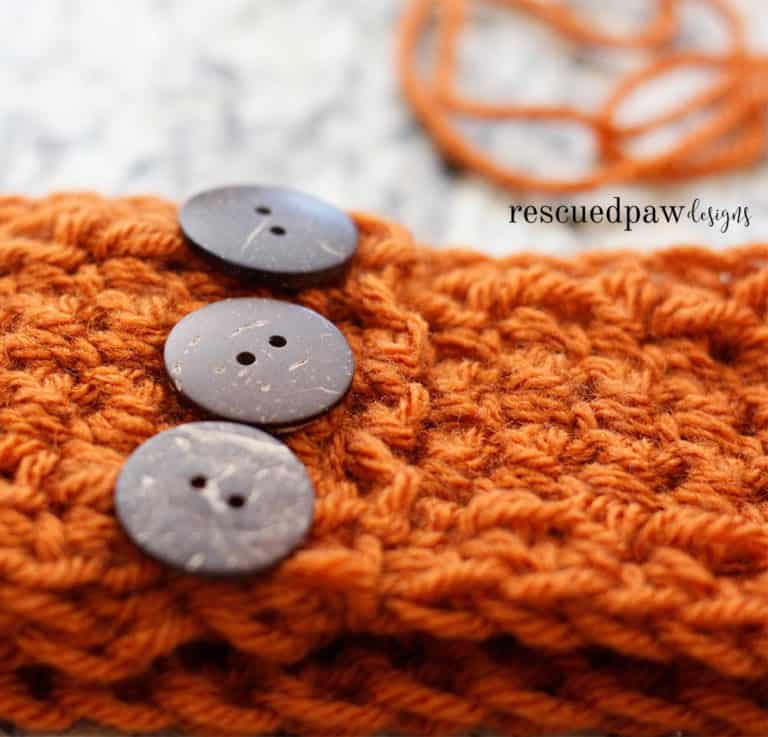 You are done!

Be sure to be prepared for fall with this crochet headband (ear warmer) pattern because there is a chill in the air and the leaves are already starting to cover the ground. It is truly a beautiful sight!
If you like wearing ear warmers like this one, then you will most definitely like my Chained Crochet Ear Warmer Pattern, Wrapped Crochet Ear Warmer Pattern or my Cabled Crochet Ear Warmer Pattern too!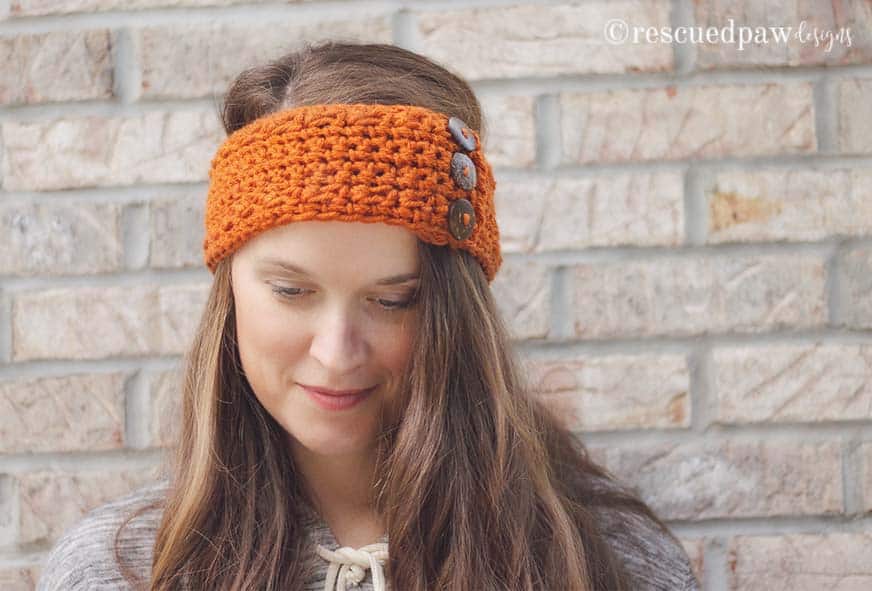 I hope you enjoyed this free crochet pumpkin headband pattern and if you have any questions, please feel free to email me at krista@easycrochet.com
Extra Information
SELLING: You may sell items made from patterns on Easy Crochet unless otherwise stated. If you choose to sell items made from this pattern, please link back to me at www.easycrochet.com for credit. Please do not use my pictures to sell your items.
TRANSLATIONS: Please do not post a translation of my pattern(s) anywhere. If you would like to help make a translation, I would be happy to publish it on Easy Crochet with a link and full credit to your blog. For further questions, please email krista@easycrochet.com
PLEASE DO NOT COPY, SHARE (a link is OK), ADJUST OR RESELL MY PATTERNS
More Free Crochet Pattern Designs