Crochet Headband Pattern Frozen Snowflakes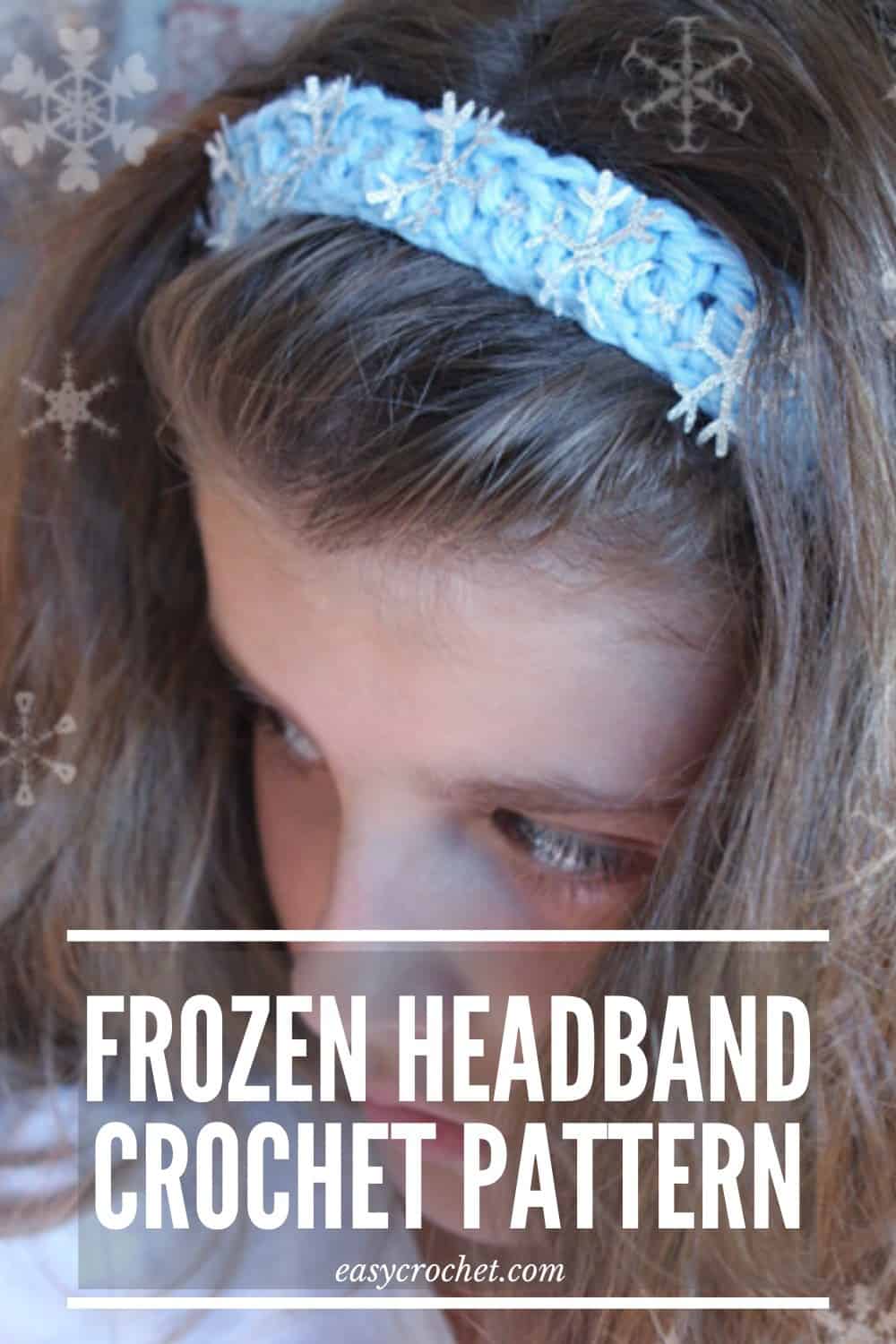 My daughter was a snow queen for Halloween and of course I had to add my crochet touch to her costume, so I made her a snowflake crochet headband!
I used some leftover medium weight yarn and ribbon from another project, so this cute headband only cost me pennies to make.
If you want to make this yourself read on down for the full written and picture tutorial.
The Yarn
I used Lion Brand Pound of Love in Pastel Blue which is a medium weight four yarn. If you can not find the exact yarn any medium yarn will work great!
Happy Crocheting Friends!
Snowflake Crochet Headband Pattern
Skill Level: Easy
Materials
Yarn, Lion Brand Yarn Pound of Love in Pastel Blue or any medium weight four yarn such as Lion Brand Ice Cream
Size H Crochet Hook 5 mm
May Arts Ribbon Silver Snowflake
Yarn Needle
Scissors
Notes
If you would like to make your headband wider after you slip stitch to the top of the first double crochet don't tie off instead chain 2 and double crochet in every chain around. Repeat the chain 2, double crochet around until you reach your desired width.
Crochet Snowflake Headband Pattern
Chain 60 (this fits my 8 year old) (make sure to measure the person you are making the headband for you may need more or less beginning chains to fit the person correctly)
Join your chain 60 to the first chain to make a circle with a slip stitch. (make sure not to twist your chain)
Chain 2, double crochet in 3rd chain from the hook, double crochet in every chain around. (do not double crochet into Slip Stitch from beginning chain)
Slip stitch to top of first double crochet not the chain 2. Fasten off. and weave in ends with yarn needle.
Gather your snowflake ribbon and lay on top of headband where you want to attach it. Trim away excess with scissors. (I only attached it to the top part of the headband not the whole way around)
Thread your yarn needle with the blue pastel yarn and weave around the ribbon to attach to the headband.(I tried to only weave around the thinner pieces of the ribbon)
Fasten of yarn securely, weave in loose ends and you are DONE!!
Thanks for stopping by and I hope you enjoy making this headband!