The Top Easy Crochet Washcloth Patterns to Make
If you are looking for an easy and free washcloth crochet pattern to make, then this collection of washcloth patterns is perfect for you to look through. Each of these crochet washcloth patterns can be made in different colors, and some even have video tutorials to help out.
Each washcloth pattern has different skill levels, ranging from basic to easy, so be sure to look through the pattern you want to make to be certain it will work for you as a crocheter.
Read on down to find some easy washcloth patterns as well as dishcloth patterns to crochet that are free to use. Enjoy.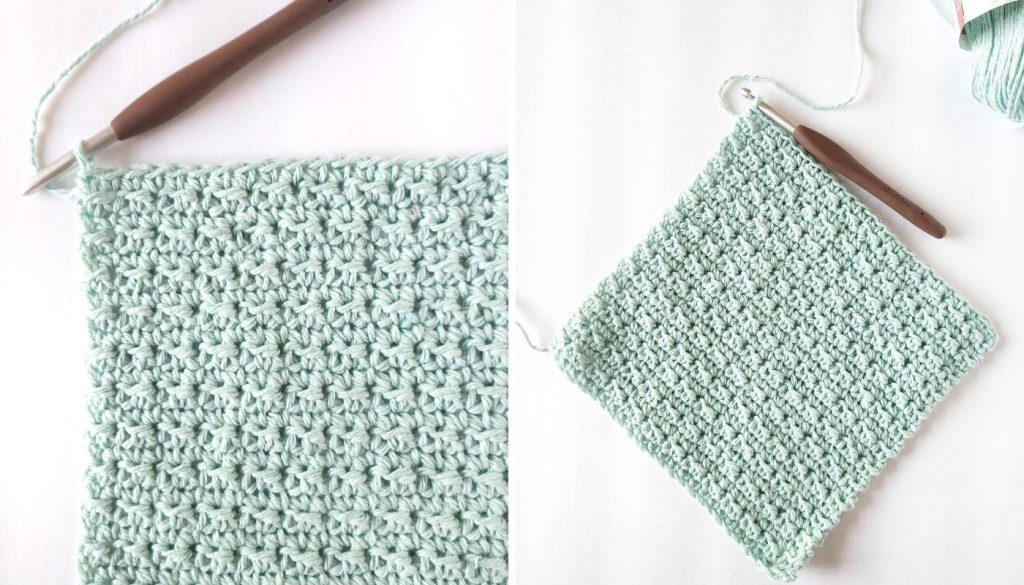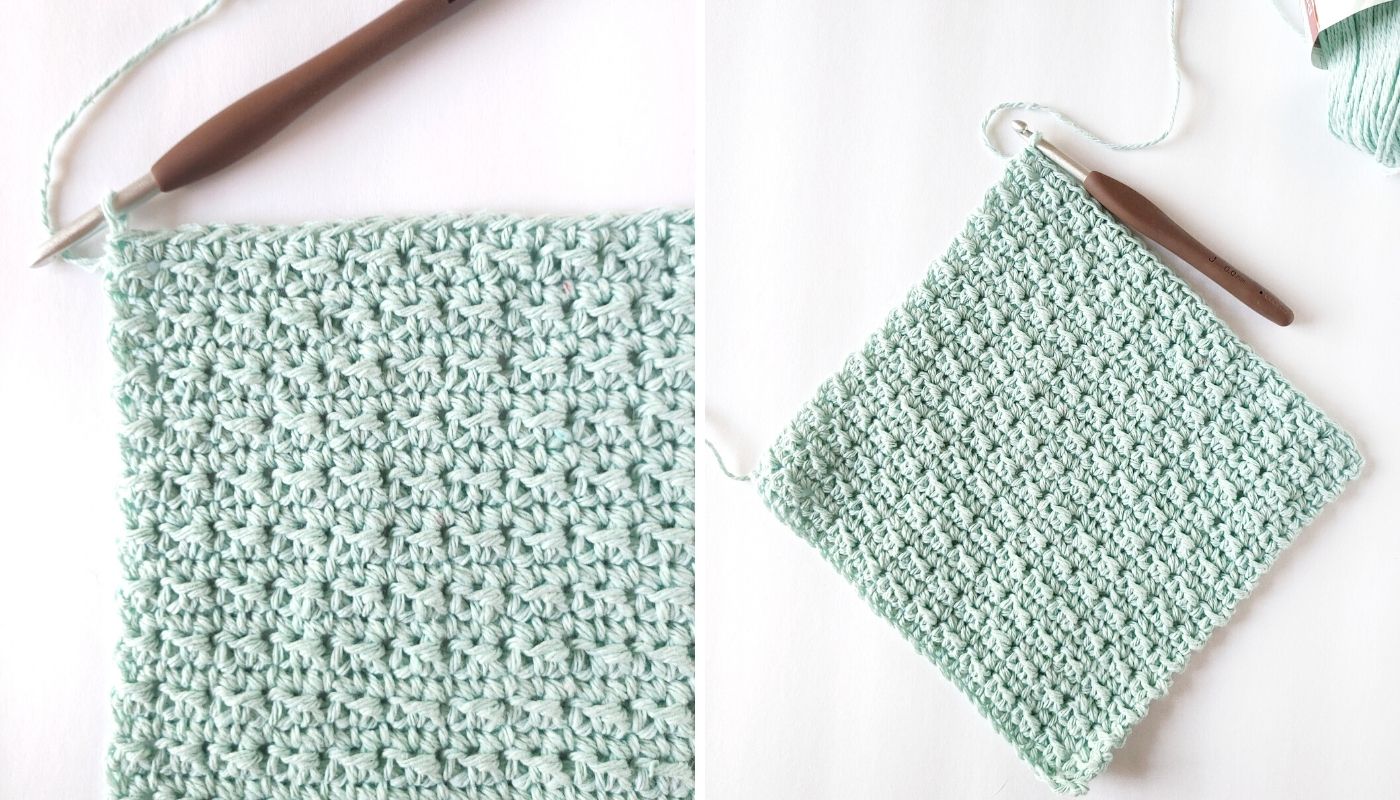 Materials Needed for Crochet Washcloth Patterns
While you would need many of these materials for any crochet project, crocheted washcloths sometimes require different types of materials depending on the pattern.
Take a look below at the different weights of yarn, hook sizes and other things that work best for washcloth designs.
Stitch Markers: A stitch marker can be used to keep track of the rows you are working in most washcloth patterns. As a beginner crocheter, this can be helpful for making an even washcloth design.
Crochet Hook: Most of the washcloth patterns below will let you know what size crochet hook to use for that particular washcloth, ranging from 4 mm to 6 mm sized hooks.
Yarn: While almost any yarn can be used for washcloth patterns, the most commonly used is a cotton yarn. Cotton yarns can be easily washed and are durable. Each of the patterns will have the recommended yarn listed in the pattern.
Yarn Needle: A yarn needle (or tapestry needle) will come in handy to sew in the yarn ends of the washcloth.
Scissors: A good pair of scissors to cut yarn is not a necessity, but it is a nice option to have. I prefer small stork scissors as my yarn only cutting scissors.
Measuring Tape: A tape measure will come in handy to determine gauge and if the washcloth is the correct size as the pattern indicates.

Easy Crochet Free Washcloth Crochet Patterns
Below you'll find that I included some dishcloth patterns as well as washcloth patterns depending on the design since they can have double uses.
While I do have a few washcloth and dishcloth patterns of my own which are included below, I also found some from fellow designers that are pretty wonderful with details and technique.
I hope you enjoy this fun collection of free patterns and find a new favorite wash cloth to crochet.
---
---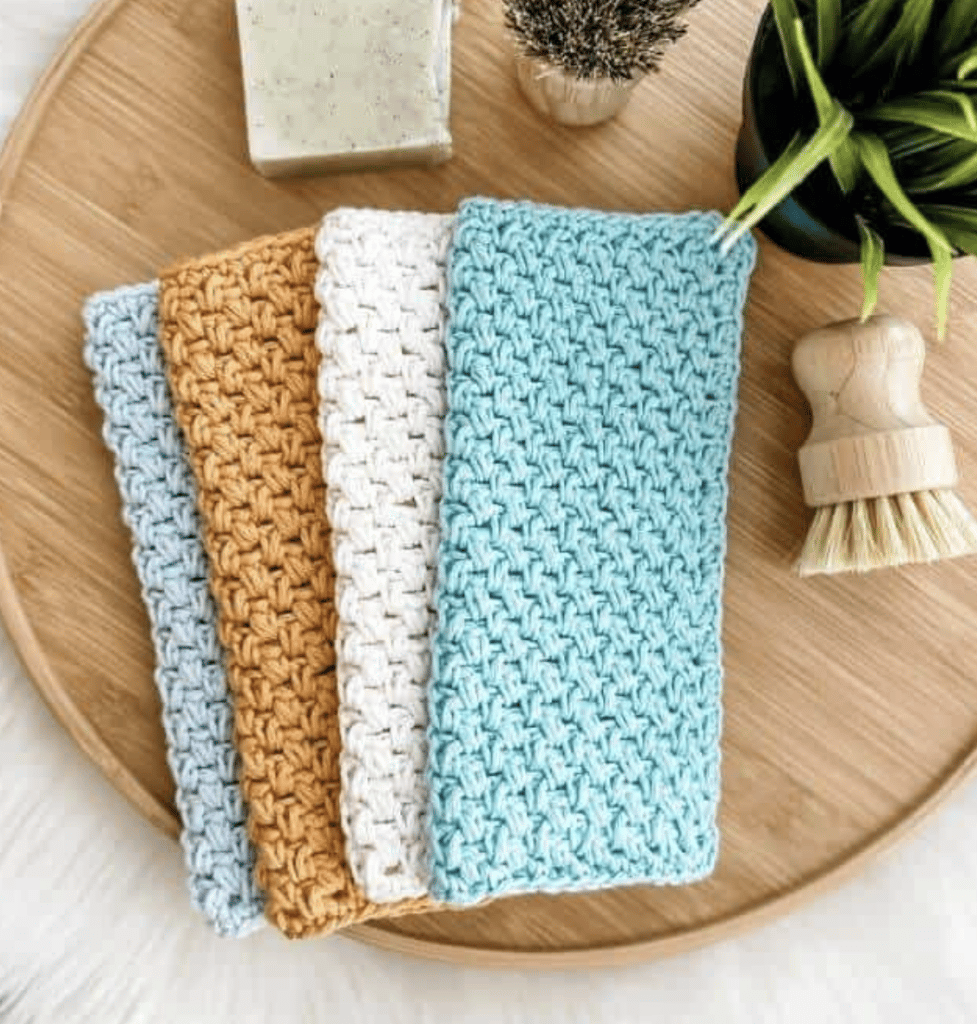 Pebble Beach Washcloth
Skill Level: Easy
Yarn: Paintbox Cotton Aran
This beautifully textured washcloth uses the mini bean cluster stitch to get its look. Find the free washcloth pattern from Daisy Cottage Designs.
---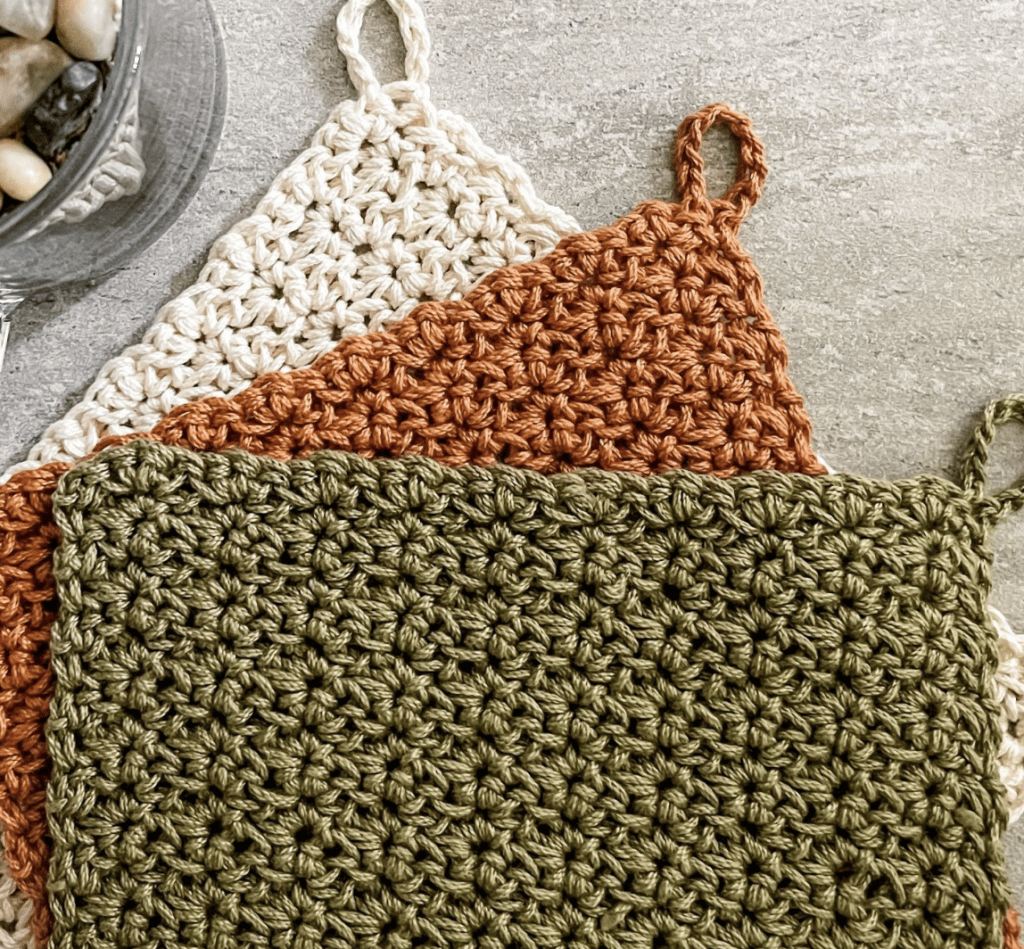 Half Moon Washcloth
Skill Level: Easy
Yarn: 24/7 Cotton
If you can single crochet, chain, and slip stitch then you can make this washcloth from TL Yarn Crafts! Get the pattern and video tutorial for this washcloth pattern below.
---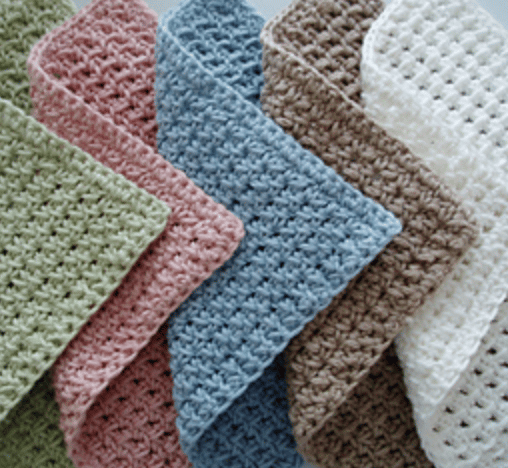 Spa Washcloth
Skill Level: Easy
Yarn: Any four weight cotton yarn
This spa day washcloth pattern is available on Ravelry as a free PDF. Get this easy design to make a washcloth for your next at home spa day!
---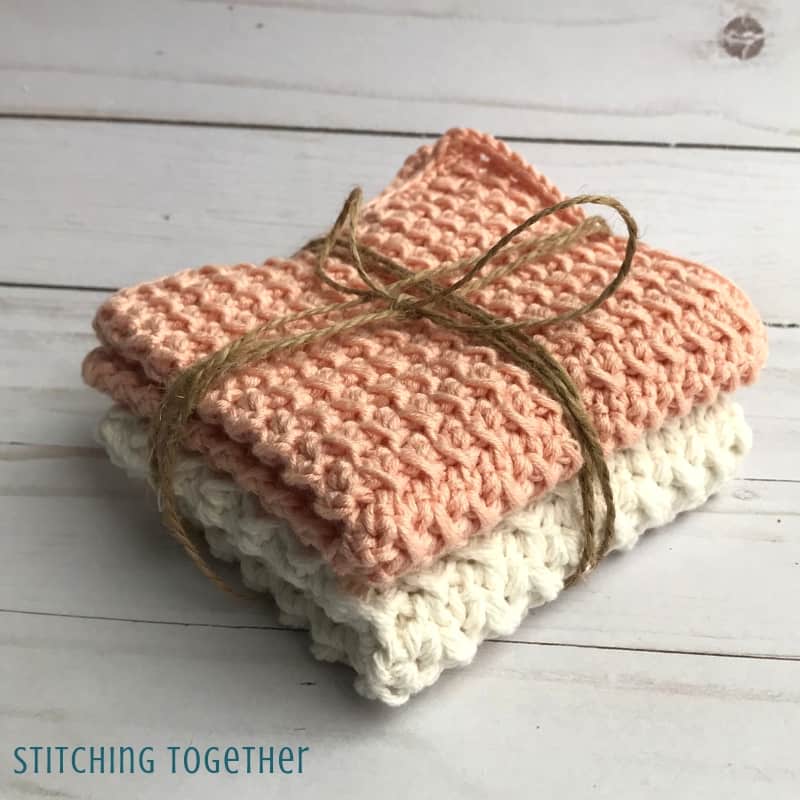 Crochet Baby Washcloth
Skill Level: Easy
Yarn: Premier Cotton
You'll love how easy it is to make these baby washcloths! They make great gifts and are made with the softest yarn, which is perfect for a babies skin. Get the free pattern from Stitching Together.
---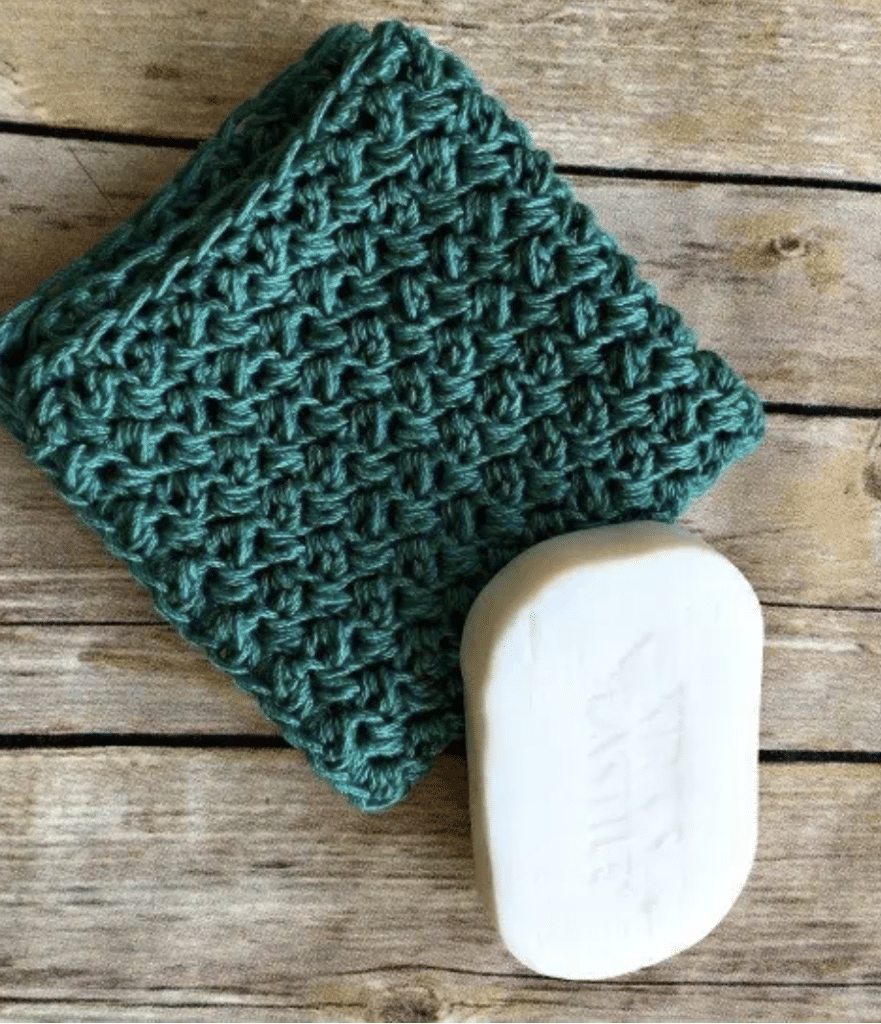 Heavily Textured Washcloth
Skill Level: Easy
Yarn: 24/7 Cotton
This simple to make textured washcloth pattern is an easy design that is a great beginner crocheter project. Get the free pattern from Love Life Yarn below.
---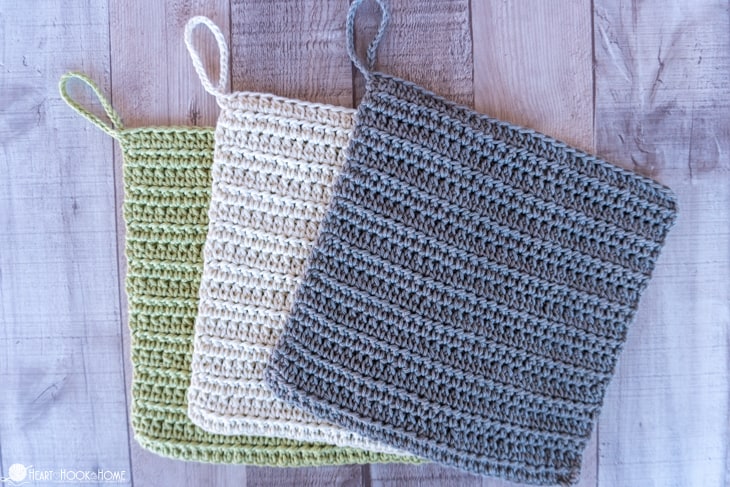 ---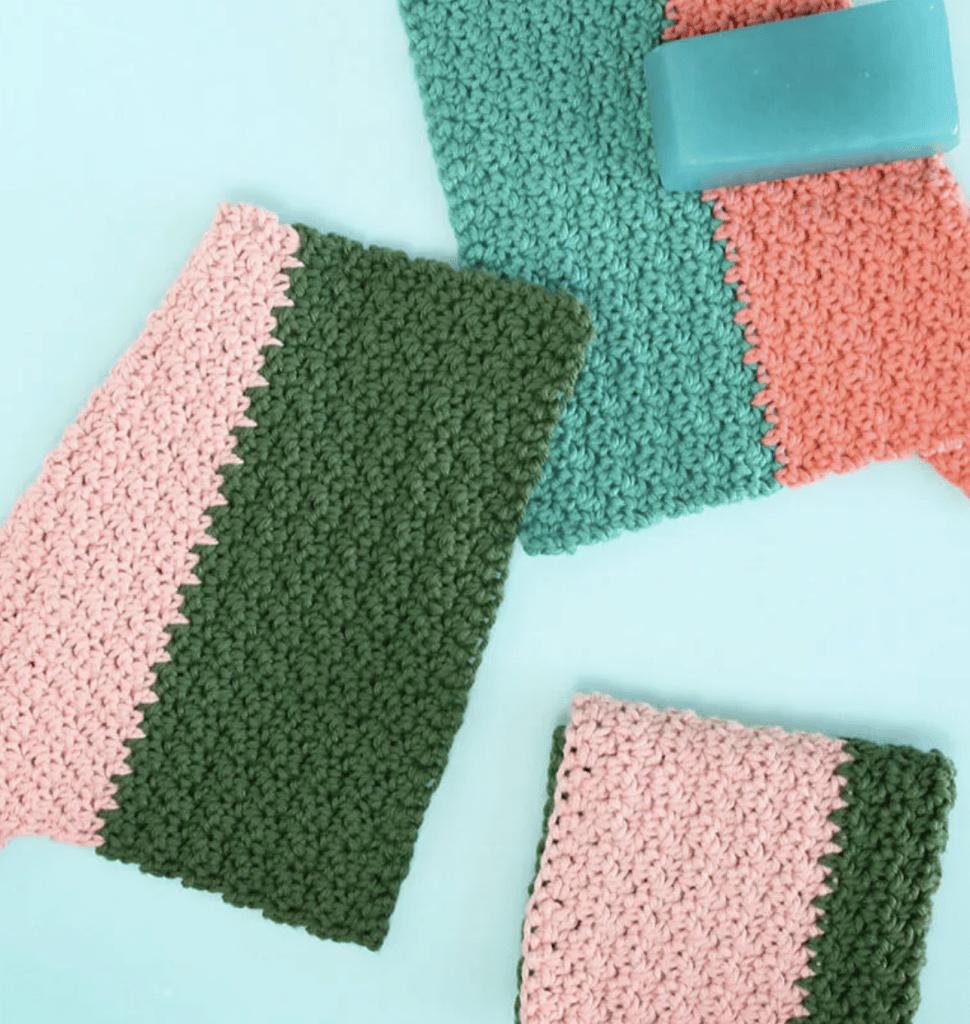 ---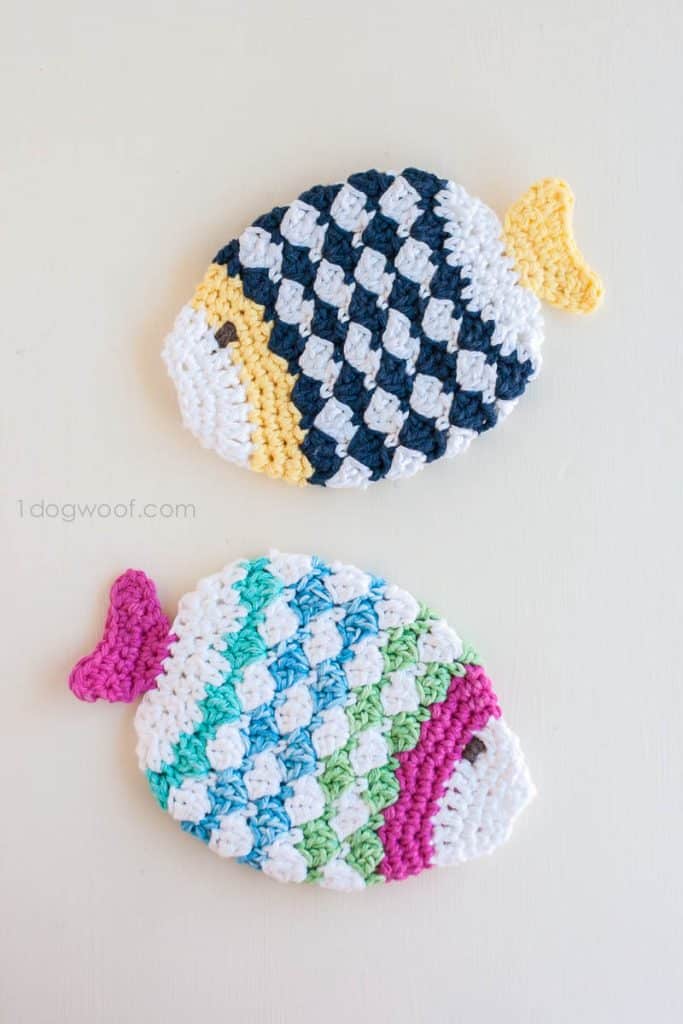 Fish Washcloth
Skill Level: Easy
Yarn: Lily Sugar'n Cream
These crochet fish washcloths are adorable and have a step-by-step photo tutorial too! The color combinations are endless with this fun design from One Dog Woof.
---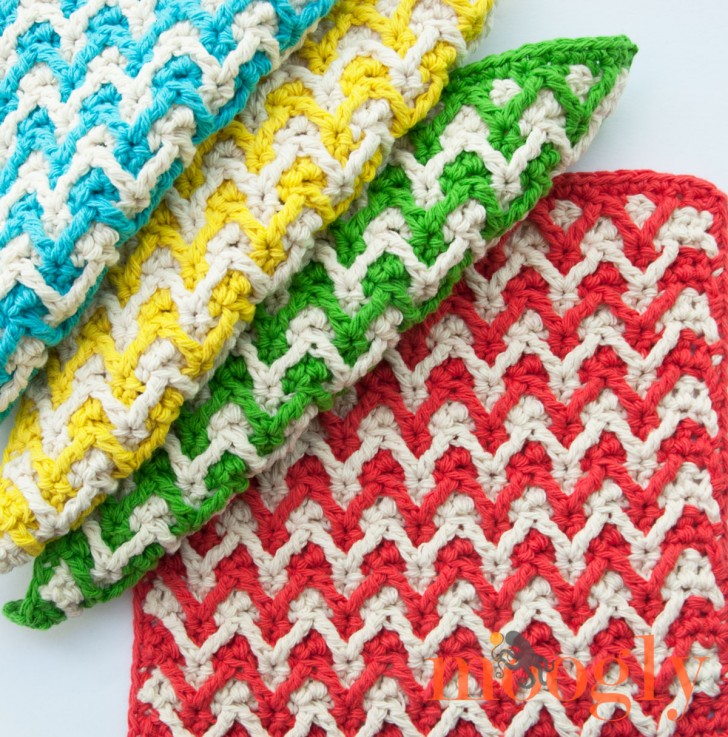 Chevron Washcloth
Skill Level: Intermediate
Yarn: Any four weight cotton yarn
These bright colorful washcloths from Moogly are a great way to add color to your home. This washcloth is considered an intermediate pattern because of the connecting loops.
---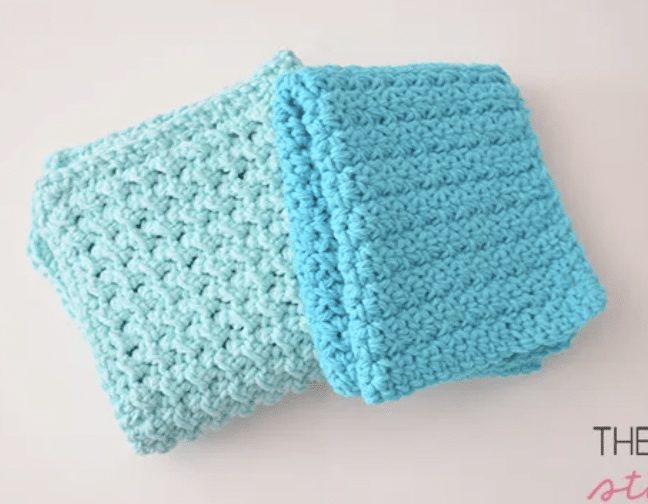 Easy Textured Washcloth Set
Skill Level: Easy
Yarn: Lily Sugar'n Cream
These easy to make washcloths make a perfect set to gift or make for your own home. Get the free pattern from Stitchin' Mommy below.
---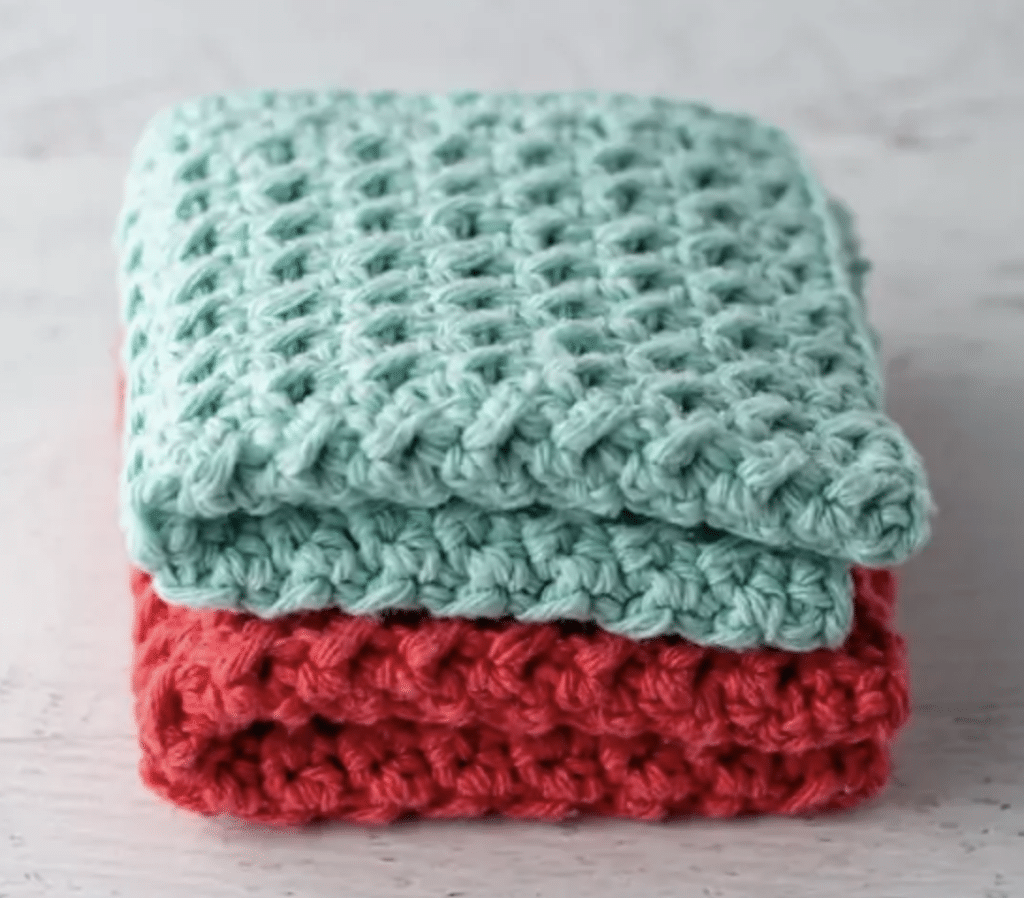 All Washed Up Washcloth
Skill Level: Easy
Yarn: Any four weight cotton yarn
These washcloths have a beautiful look to them and only uses simple stitches like the half double crochet and single crochet. Get the crocheted washcloth pattern from crochet365knittoo.com
---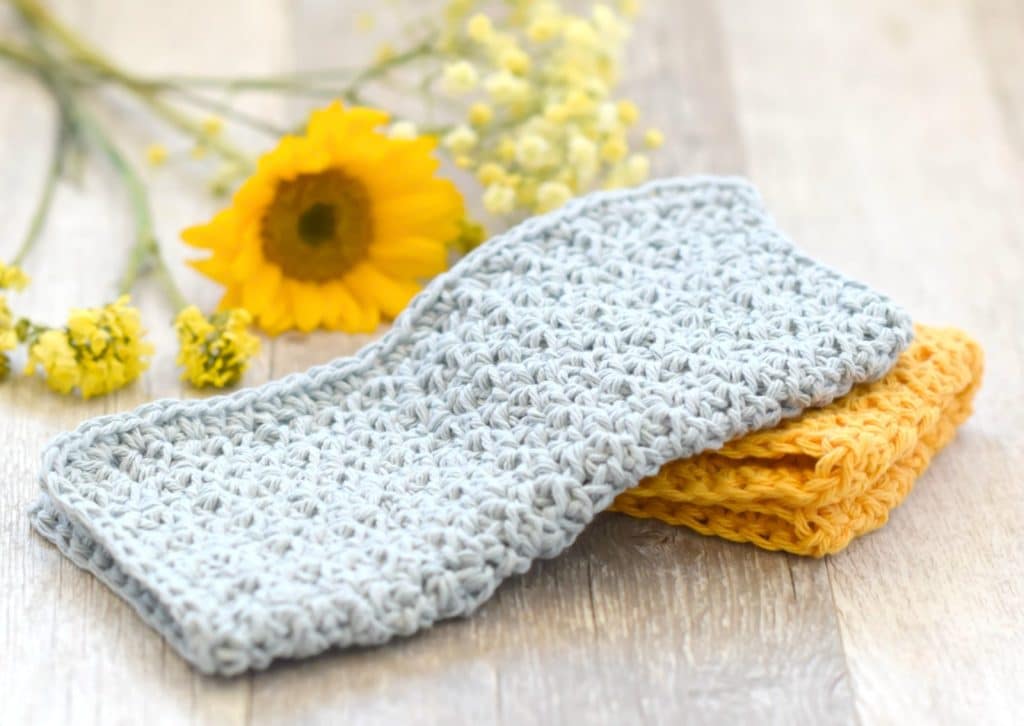 Farmhouse Washcloth
Skill Level: Easy
Yarn: Any four weight cotton yarn
If you can single crochet and chain, then you can make these spider stitch washcloths from Mama in a Stitch. They use cotton yarn and are designed to be oversized.
---
More Free Crochet Patterns for the Home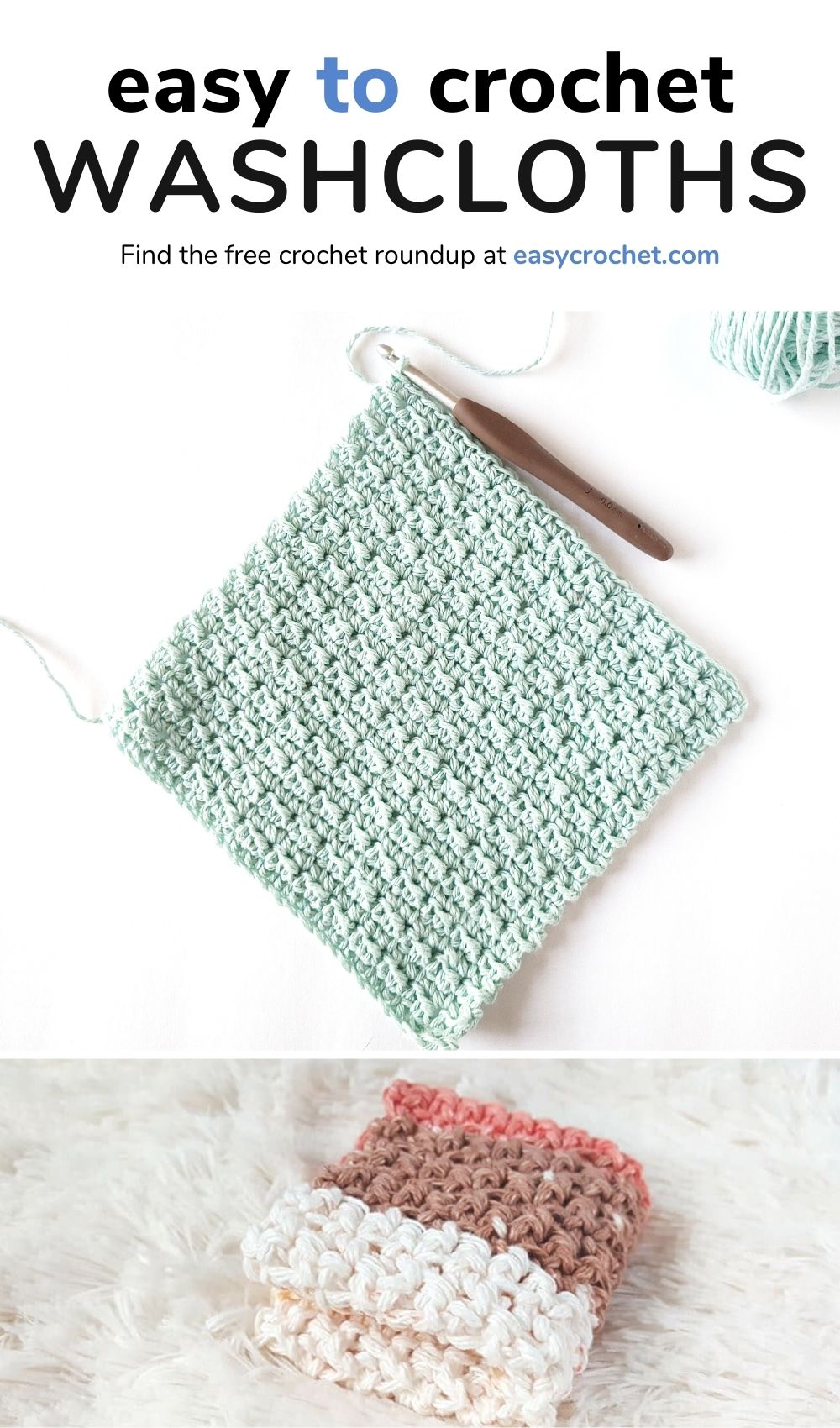 Even More Free Crochet Patterns