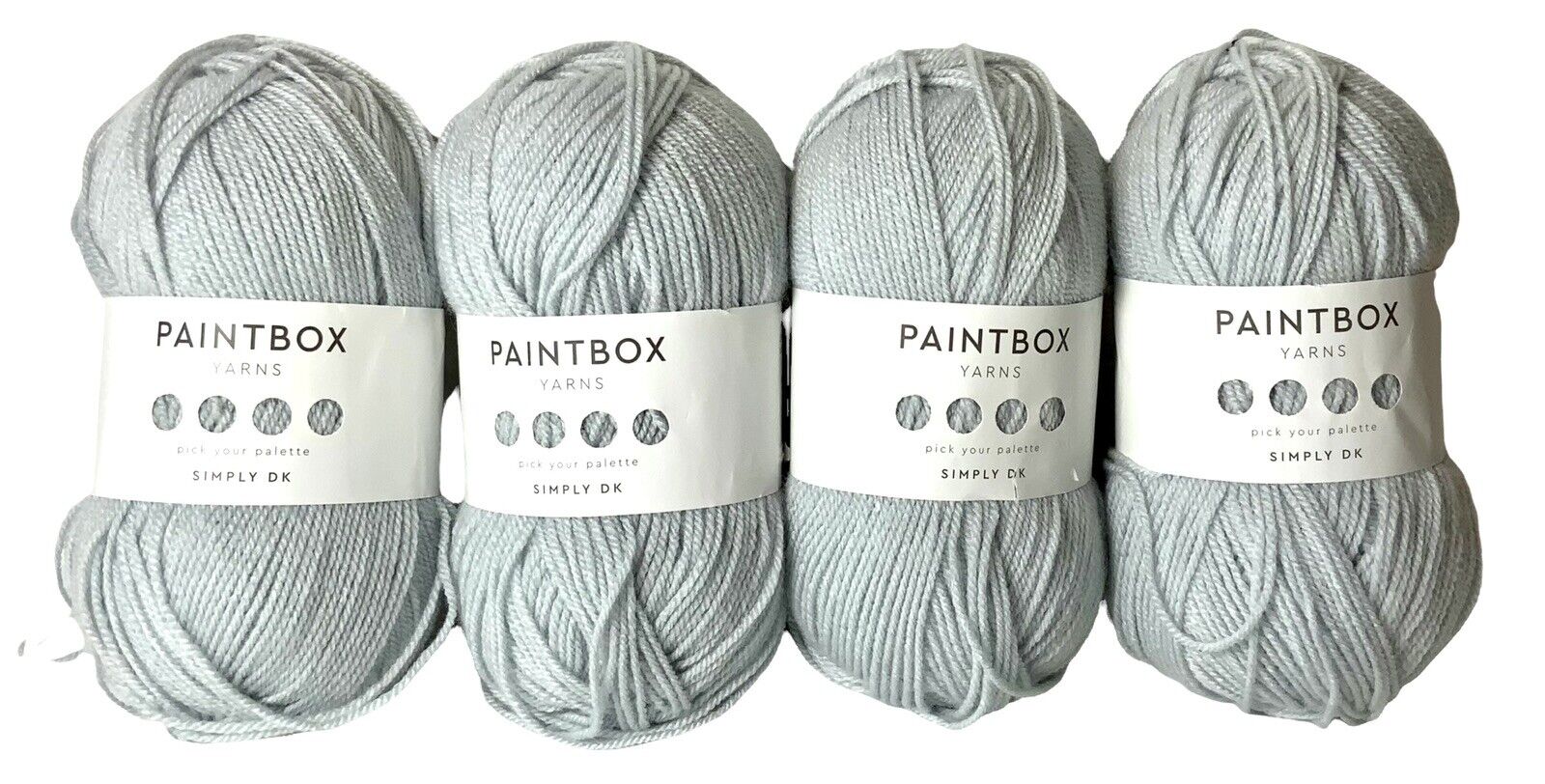 There are so many beautiful yarns available for knitting and crochet crafts; in every color, thickness, and texture you could imagine. If you're a newbie to either of these crafts, you could be forgiven for being unsure of all the different types of yarn there are.
In this article, we answer the question "What is DK weight yarn?"
DK is an abbreviation for Double Knitting. The weight of a yarn describes its thickness, not how heavy it is. DK is the most popular yarn weight because it is suitable for making so many different items, such as clothing, accessories, and toys. It's warm enough for winter items, but is not too bulky.
When you start a crochet or knitting project, the pattern will specify the type of yarn you should use and the needle or hook size.
What Is DK Weight Yarn?
Double Knitting or DK yarn is a lightweight yarn with myriad knitting and crocheting projects waiting to be created. It's the most used type of yarn because of its versatility. Although it is called Double Knitting yarn, it's not referring to the knitting technique or limiting the yarn to a type of project. It's simply a weight description term.
DK weight yarn has various names over different parts of the globe. In Europe, Australia, and New Zealand, you may find it labeled as 8-ply or 6-ply. According to the Craft Yarn Council (CYC), it is a light yarn or weight 3. This means that it is heavier than a Weight #2 Fine (often called sport weight) and lighter than a Weight #4 Medium yarn, commonly known as worsted weight.
Weight 3 – Light

This yarn weight is also known as DK (double knitting) or Light Worsted. The best hook sizes to use with this weight of yarn are 4.5 mm (7), 5 mm (H-8) & 5.5 mm (I-9).
Patterns Using This Yarn Weight →
DK yarns are usually sold in skeins or hanks, but occasionally, you will find them packaged in "yarn cakes."
Characteristics Of DK Weight Yarn
When crocheting or knitting with DK yarn, you should notice a consistency in the size and tension of your projects. If you're the disciplined type of crocheter, you may knit or crochet a gauge before starting your project to ensure your finished item is the correct size.
With DK yarn, typical gauges will finish as follows: a four-inch knitted swatch in stockinette stitch usually consists of 21-24 stitches. On a swatch of single crochet the same size, you can expect to have 12-17 stitches. The size of your crochet hook or needles will affect your gauge. The larger the hook or needles, the larger and looser the item will be.
Although DK yarn will vary between types, it will generally give you 190 -300 meters/yards per 100 grams of yarn.
Double Knitting yarn will typically measure 11-15 Wraps Per Inch (WPI). To count the number of WPI, take a strand and wrap it around a pencil or ruler until you have covered an inch on its surface. Then count the strands. A DK yarn will fall within the measurement mentioned above.
DK yarns are typically 8-plies, although this isn't a universal standard. Still, Australia and New Zealand refer to DK as 8-ply.
The Advantages Of DK Yarn
DK yarn is the most popular choice for a few reasons:
Versatility. It is suitable for various projects, including toys, clothing, accessories, and blankets.
Affordability. You can buy DK yarn at very reasonable prices, especially online.
Availability. DK yarn is available everywhere, from supermarkets to craft shops, and comes in extensive colors and fibers.
User-friendly. It is simple to use, especially for beginners – not too thin and delicate.
Uses For DK Weight Yarn
The list of uses for DK weight yarn is endless, but some of the popular choices by crocheters are cardigans, sweaters, blankets, scarves, beanies, and soft toys, to name but a few.
Double Knitting yarn works very well for winter items. It is very warm but doesn't have the awkward bulk of some thicker yarns.
DK yarns are also great for double knitting. This knitting technique creates two layers of material on one pair of needles.
Popular DK Weight Yarns

You can see which yarn is considered DK weight by looking at any yarn skein's label. Look for the #3 icon (shown above), or the works Light or DK. Some of my favorite yarns are DK weight, including popular lines from Lion Brand, Bernat and Paint Box.
Comfy Cotton Blend
This yarn is made by Lion Brand, and is a Weight 3 – Light yarn.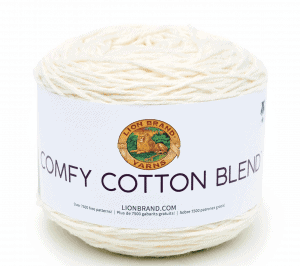 Buy Now
Patterns Using This Yarn →
Simply DK
This yarn is made by Paint Box Yarns, and is a Weight 3 – Light yarn.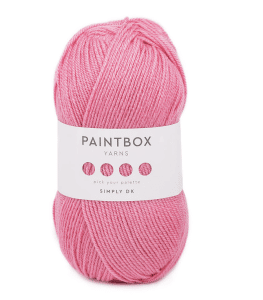 Fiber: 100% Acrylic
Yardage: 302
Hook: 4 mm (G-6)
Substitute:
Buy Now
Patterns Using This Yarn →
Swish DK
This yarn is made by WeCrochet, and is a Weight 3 – Light yarn.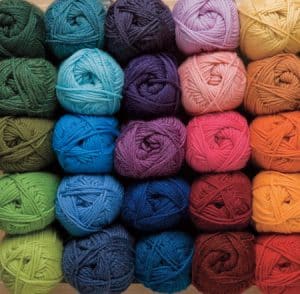 Fiber: 100% Superwash Merino Wool
Yardage: 123
Hook: 5.5 mm (I-9)
Substitute:
Buy Now
Patterns Using This Yarn →
Softee Baby
This yarn is made by Bernat, and is a Weight 3 – Light yarn.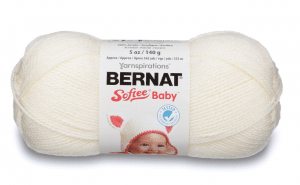 Fiber: 100% Acrylic
Yardage: Ball Size Solids: 140g / 5 oz, 331 meters / 362 yards Ball Size Ombres: 120g / 4.25 oz, 283 meters / 310 yards
Hook: 4 mm (G-6)
Substitute: Premier Everyday DK
Buy Now
Patterns Using This Yarn →
Weight Vs. Ply
In the past, when most people were knitting or crocheting with wool yarn, the ply was a standard thickness. A 2-ply yarn was thin, and an 8-ply was a lot thicker. These days, yarns are made from many different fibers, so there is no consistency in their weight according to the number of plies.
The Craft Yarn Council has worked with the hook, needle, and fiber industries and the relevant pattern publishers to develop symbols and guidelines to standardize the yarn weights, needle and hook sizes, and pattern writing.
The goal is to simplify it for designers, industry, and publishers to create user-friendly products. Consumers can then easily select the right materials for their projects.
What Size Hooks And Needles Go With DK Yarn?
According to the Craft Yarn Council, when you're using DK yarns for a knitting project, sizes 3-5 needles are suitable (3.75mm-4.5mm).
For crochet items, use 4.5mm-5.5mm hooks or sizes 7 to I-9.
4.5 mm (7)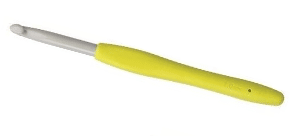 Buy Now
Patterns Using This Hook →
5 mm (H-8)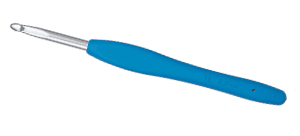 Buy Now
Patterns Using This Hook →
5.5 mm (I-9)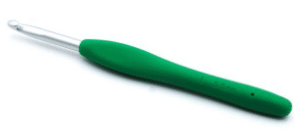 Buy Now
Patterns Using This Hook →
It should be noted, though, that you should always check your knitting or crochet pattern first for recommendations on the needle or hook sizes. It's always best to stick to the pattern.
How To Choose Yarn If You're A Crochet Newbie
One can crochet with almost any type of yarn, but some are easier for beginners. Wool, acrylic, and cotton are the most popular yarn choices for beginner crochet projects.
Wool is a great yarn type to practice your crochet stitches. It's resilient and forgiving when you make those repetitive mistakes in the beginning. And you will make them. It usually unravels easily and still looks good on the finished product. Beware if you have allergies, though!
Acrylic yarns are widely available and affordable, and come in many rainbows of colors. Some of the cheaper quality yarns tend to split and may not provide a great finish.
Cotton yarns are not very elastic, so this choice may make it harder to learn to crochet. But it works well when you want an item to hold its shape. It is a nicer yarn to use if you're learning in the summer because it's lighter than wool.
Crochet Patterns Using DK Weight Yarn
I like to use DK weight yarn on blankets, shawls, and scarves. My favorite project using this weight yarn is my Bobble Baby Blanket. This spring cowl and triangle wrap are perfect for beginners as well.
View all our crochet patterns using DK weight yarn.
Final Threads
DK yarns come in millions of colors and fibers, but within reason, they are all the same thickness. Double Knitting weight refers to the thickness of the yarn, regardless of the number of plies twisted into it.
There are endless knitting and crochet projects suitable for this type of yarn, and even more stunning yarns to choose from. Doesn't it make you want to haul out those needles and hooks and start creating?