Easy Crochet Dishcloth Pattern for Beginners (all single crochets!)
Learn how to crochet a dishcloth with this easy crochet pattern using only single crochets. This dishcloth pattern is great for beginners who are learning how to crochet and can be crocheted rather quickly too.
Below, I'll teach you about the best yarn to use for dishcloths, all about the crochet stitches and provide a free step by step pattern too for this single crochet dishcloth. I hope you enjoy this easy crochet pattern for a beginner dishcloth!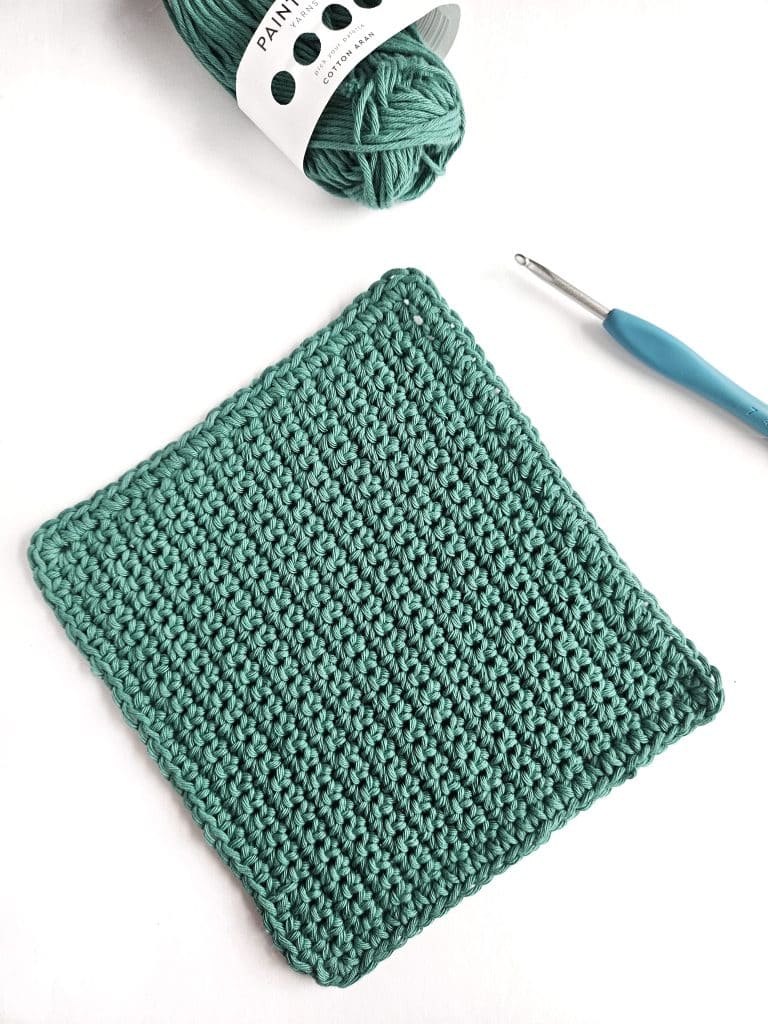 Related: How to Crochet a Hot Pad
How to Crochet a Dishcloth
A dishcloth is a small, square cloth used for washing dishes, cleaning surfaces, or wiping up spills. Below, we will guide you through a single crochet dishcloth pattern that is easy and fun to make for beginners.
First, we will go over the stitches and materials as well as the steps to create a dishcloth, followed by the free pattern and video tutorial as well.
Stitches
Materials
Paintbox Cotton Aran (Slate Green) or any 100% cotton yarn (worsted weight) less than a skein.
Crochet hook (size 4.50 mm)
Scissors
Tapestry needle
Now that you know about the stitches and materials, it's time to start crocheting this easy dishcloth with the steps below.
Step 1: Chain the Foundation Row
Start by making a slip knot with your crochet hook and then chain 25 stitches.
Step 2: Single Crochet
Insert the hook into the second chain from the hook and make a single crochet stitch. Continue making a single crochet stitch in each chain stitch across the row. You should have a total of 24 single crochet stitches.
Step 3: Repeat
Repeat step 2 for as many rows as you want the dishcloth to be. Generally, dishcloths are around 7–10 inches square or rectangle, so you can keep crocheting until your dishcloth reaches that size or 25 rows like the sample.
Step 4: Fasten Off
Once you have reached the desired size, fasten off the yarn by cutting it with the scissors, leaving a tail of around 6 inches. Thread the tapestry needle with the yarn tail and weave in the ends by going back and forth through the stitches on the last row.
Note: I also have an easy crochet washcloth pattern for beginners, you may enjoy crocheting as well.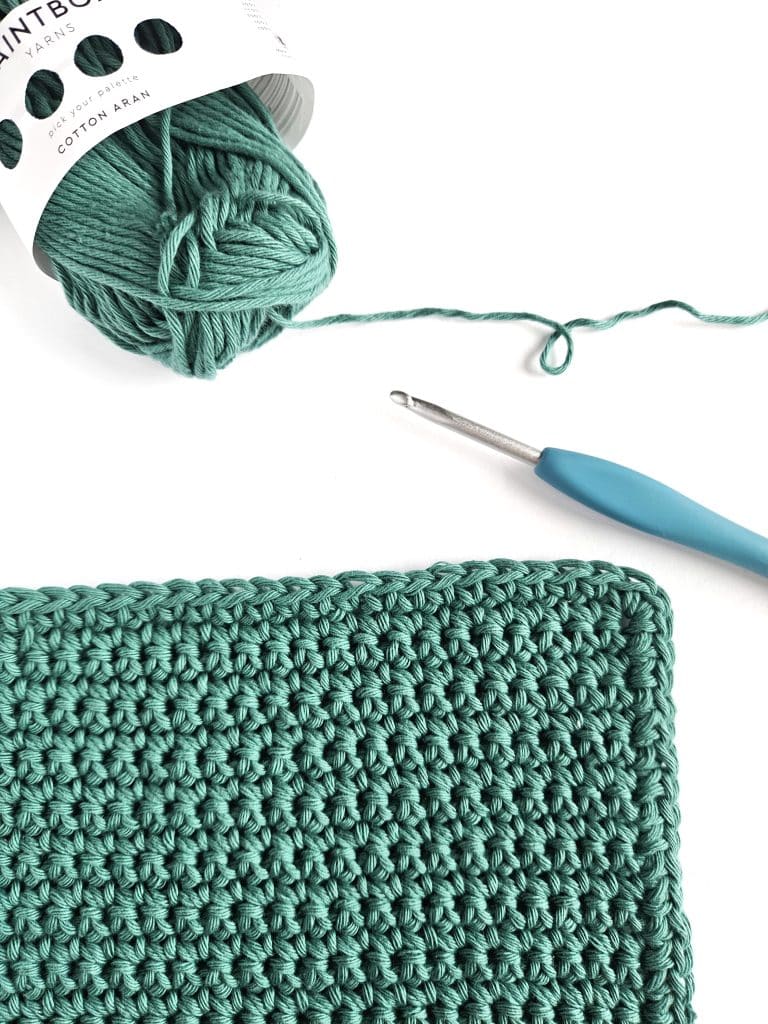 Tips and Tricks for Crocheting a Dishcloth
Use a 100% cotton yarn, as it is absorbent and durable, making it perfect for dishcloths.
To make a thicker and more absorbent dishcloth, you can use two strands of cotton yarn held together.
You can experiment with different colors and stitch patterns to create unique and personalized dishcloths.
Don't worry if your dishcloth doesn't come out perfectly square – it will still work just as well!
Add a border if you'd like a sturdier dishcloth, but if you prefer not to add one, that is ok too!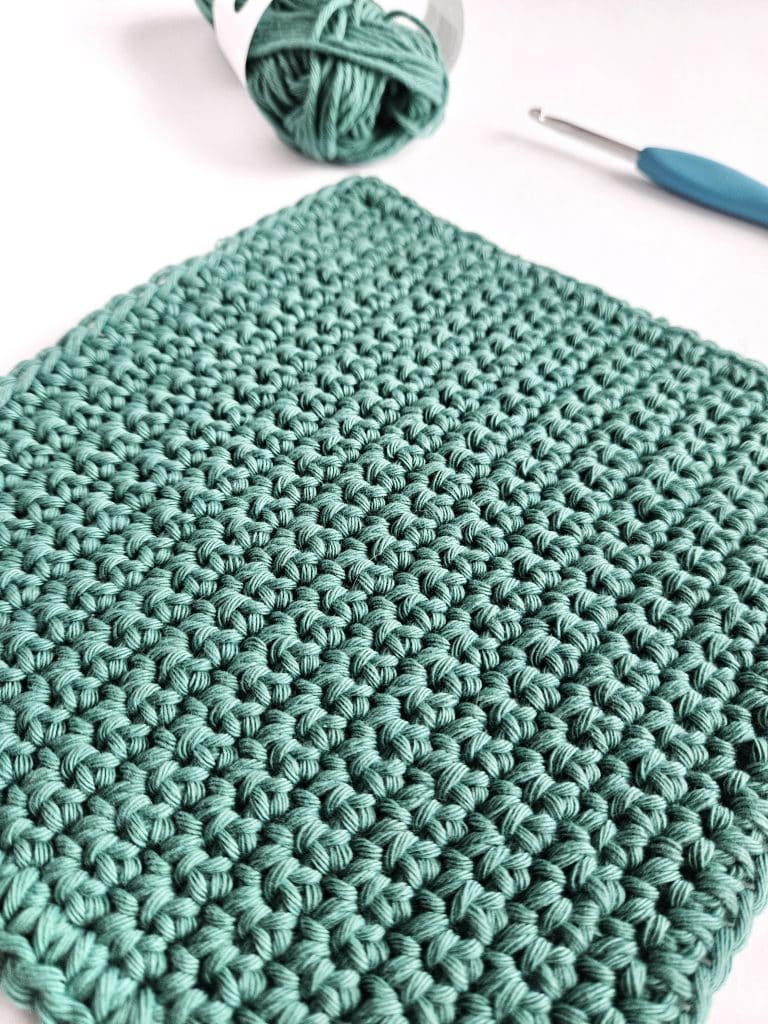 Let's Get Started
Crocheting a dishcloth is a quick and easy project that is perfect for beginners. With just a few simple stitches, you can create a useful item that also makes a great gift.
Now that you know what stitches you'll need to know, all about the yarn and the basics of what we'll be crocheting, you can get started on this easy crochet dishcloth pattern!
Remember, take your time, read the pattern thoroughly and practice as much as you can. Now all that's let to do is to grab your crochet hook, yarn and get started on your very own single crochet dishcloth today!
The Dishcloth Pattern
Skill Level: Easy
Materials
Paintbox Cotton Aran (Slate Green) or any 100% cotton yarn (worsted weight) less than a skein.
Crochet hook (size 4.50 mm)
Scissors
Tapestry needle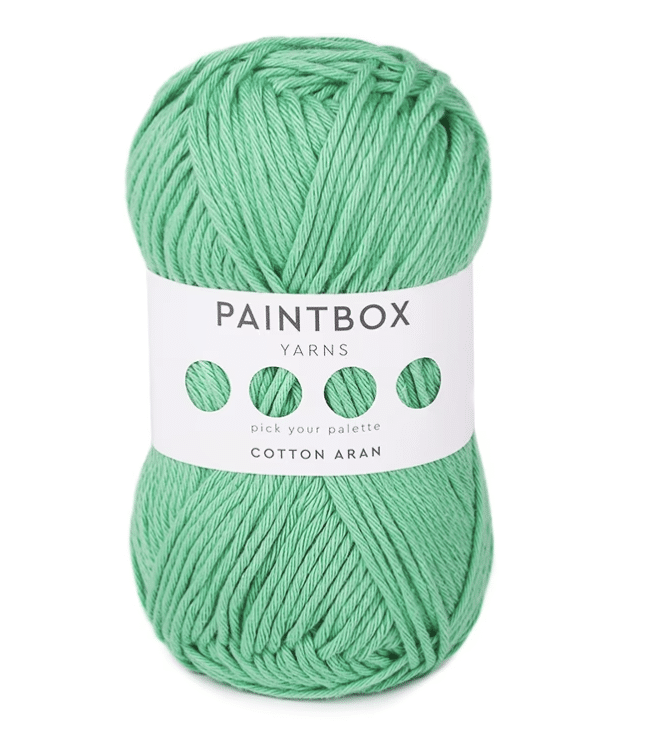 Finished Size
Notes
The dishcloth pattern is written in standard US terms.
The Pattern
Row 1: Ch 25, In the second chain from the hook sc, sc into each ch across, turn. (24)
Row 2: ch 1, in the second st from the hook sc, sc into each st across.
Row 3-25: rep row 2
do not fasten off after row 25
Crochet Dishcloth Video Tutorial
(coming soon)
Border
Optional
Round 1: 2 scs into the same st as the last sc for a total of 3 scs into one st, work sc evenly around the outside of the dishcloth making sure to work 3 sc into each corner, once you reach the end sl st into the top of the first sc.
More Free Crochet Patterns for Beginners
Take a look at some of my favorite crochet guides and crochet stitches for beginners below.
More Crochet Patterns for the Kitchen