Waffle Stitch Crochet Dishcloth Pattern
If you've been wanting to make an easy crochet dishcloth, then this is the one for you to crochet.
This waffle stitch dishcloth is made with basic crochet stitches and is a great project for a crocheter who'd like to try something a bit more challenging.
Find the free crochet dishcloth pattern below to get started crocheting today.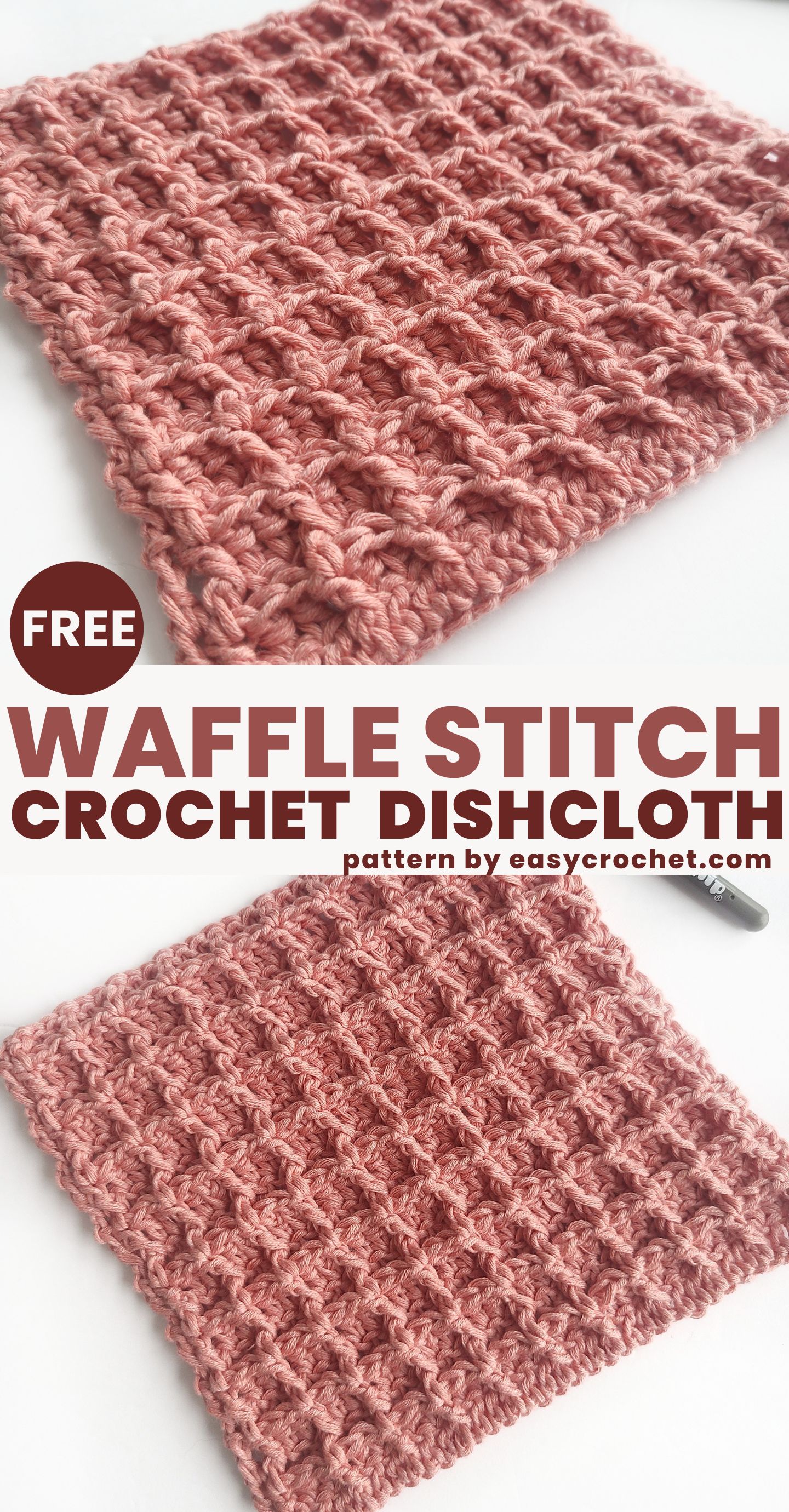 How to Make a Crochet Waffle Stitch Dishcloth
To be able to crochet a dishcloth using the waffle stitch, you will need to know how to make a waffle stitch in crochet.
What is The Waffle Stitch?
The waffle stitch gets its name from a double crochets and a post double crochet combination. The raised stitch of the front post double crochet followed by a double crochet creates a stitch combination that looks like waffles.
The waffle stitch is a fantastic stitch technique to use to get texture in scarves, blankets, and any project you can think of.
Waffle Stitch Photo Tutorial
Above, you'll find a detailed waffle stitch tutorial that you can use to learn how to make this dishcloth easily.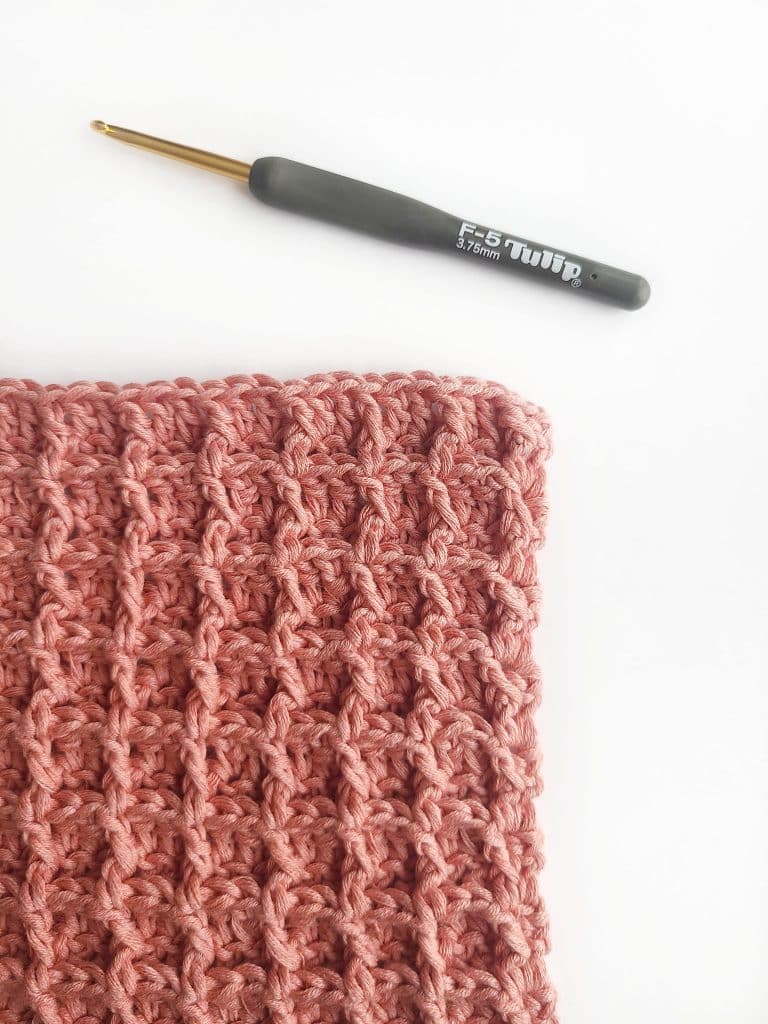 Stitches in a Waffle Stitch
You'll be able to see how the stitches create the waffle dishcloth design in more detail below in the photos. But first, let's elaborate on each of the stitches you'll need to have knowledge of.
Double Crochet (dc): Dc Photo + Video Tutorial
Wrap the yarn over (Yo) the hook, insert the hook into the specified st.
Yo the hook again, draw the yarn through the st, so there are 3 loops on the hook
Yo the hook again draw it through 2 loops, so there are 2 loops on the hook
Yo the hook, draw it through the final 2 loops.
Front Post Double Crochet (fpdc): Fpdc Photo Tutorial
Yo, from the front of your work, insert hook front to back to front again around the post of the next stitch, pushing the post forwards towards you
Yo, pull the yarn back through the post, so there are three loops are on the hook
Finish like a normal dc stitch. (yarn over and draw through two loops twice
I crocheted my dishcloth with a starting chain of 32, and crocheted 20 rows to make about a 7.25 -inch by 7.25 -inch square. You can change the size of your dishcloth by using a starting chain in a multiple of 3 plus 2 and crocheting any number of rows.
If you make it bigger you will not need any extra yarn because the size shown uses less than a skein, so you could probably get two to three dishcloths out of one ball of yarn no matter the size.
Scroll on down to learn more about the yarn you'll want to use.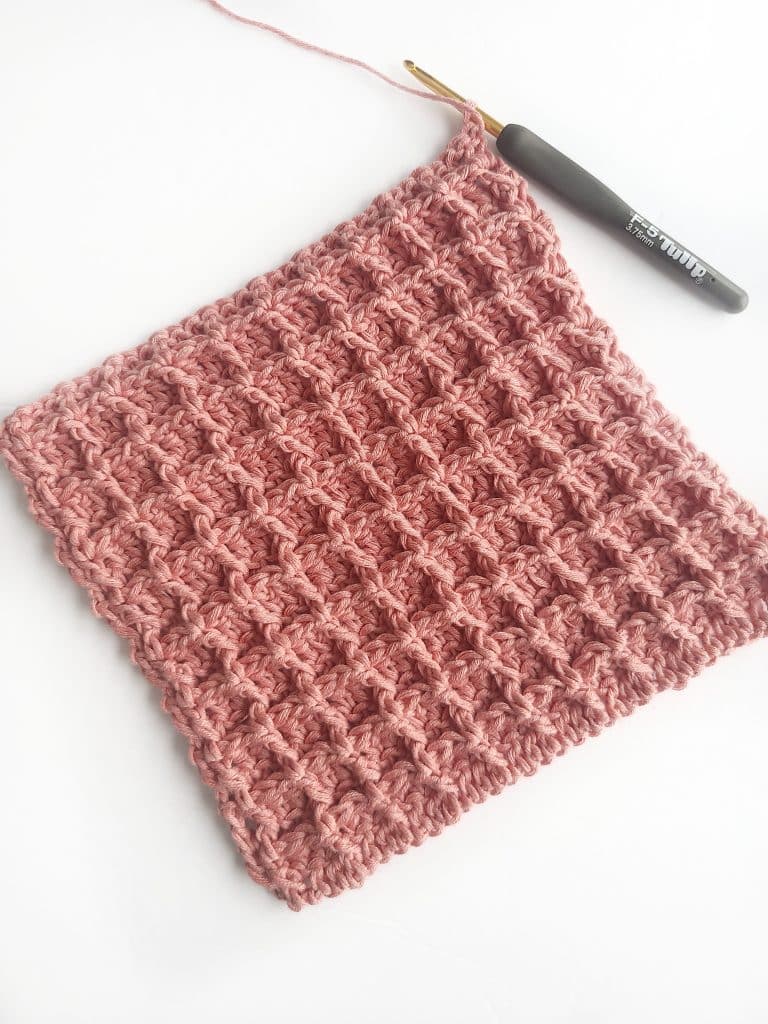 Yarn for a Dishcloth
Cotton yarn is the best yarn to use for dishcloths, since they can be washed easily and will hold up to daily use for many years.
For this design, I used We are Knitters The Cotton, which is a four weight 100% pima cotton in the color Blush.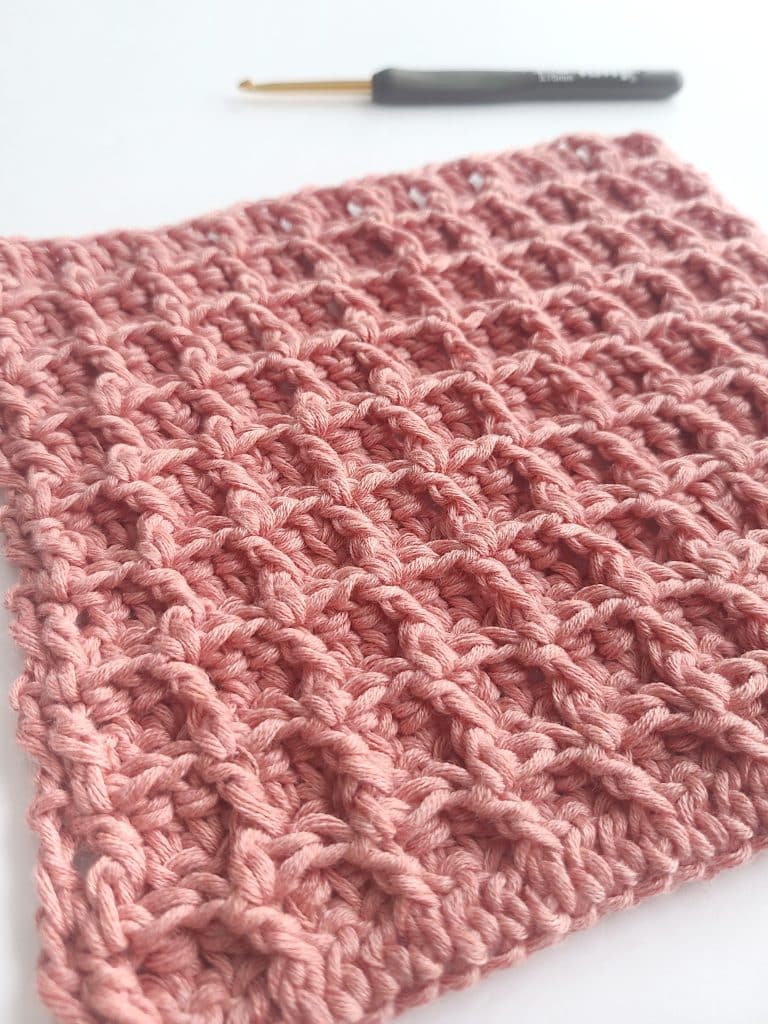 Now that you know what stitches you'll need to know, all about the yarn and the basics on what we'll be crocheting, you can get started on this textured waffle stitch crochet dishcloth pattern!
Remember, take your time, read the pattern instructions thoroughly and practice as much as you can.
Enjoy!
Easy Waffle Stitch Dishcloth Pattern
Skill Level: Intermediate
Materials
Crochet Stitches + Abbreviations
dc(s) = double crochet(s)
st(s) = stitch(es)
ch(s) = chain(s)
fpdc(s) = front post double crochet(s)
rep = repeat
Notes
Ch 2s at the beginning of the rows count as a st
The pattern is written in standard US terms
A waffle stitch is created by chaining a multiple of 3 such as 9, 12, 15, 18, 21, etc. and adding 2 more stitches to that multiple. You'll always use a starting chain of 3 + 2 when crocheting a waffle stitch.
Use this tutorial to help learn how to make a waffles stitch: Waffle Stitch Photo Tutorial
Finished Size
Pattern
*ch 2's count as a st in st counts shown in () at the end of the rows.
To Start: Chain 32
Row 1: dc in 4 ch from hook and in each st across, turn.
Row 2: ch 2, *fpdc in next st, dc in next 2 sts, repeat from * until the last 2 sts, fpdc in next st, dc in top of ch, turn. (30)
Row 3: ch 2, *dc in next st, fpdc in the next 2 sts, repeat from *until the last 2 sts, dc in next st, dc in top of ch, turn.
Row 4 -19: Rep rows 2 and 3, ending with a row 2
Finishing: Fasten off and weave in loose ends with a yarn needle.
More Free Crochet Patterns for the Home
If you enjoy crocheting home decor items, then you may like our beginner-friendly washcloth pattern as well as some other free patterns below too!