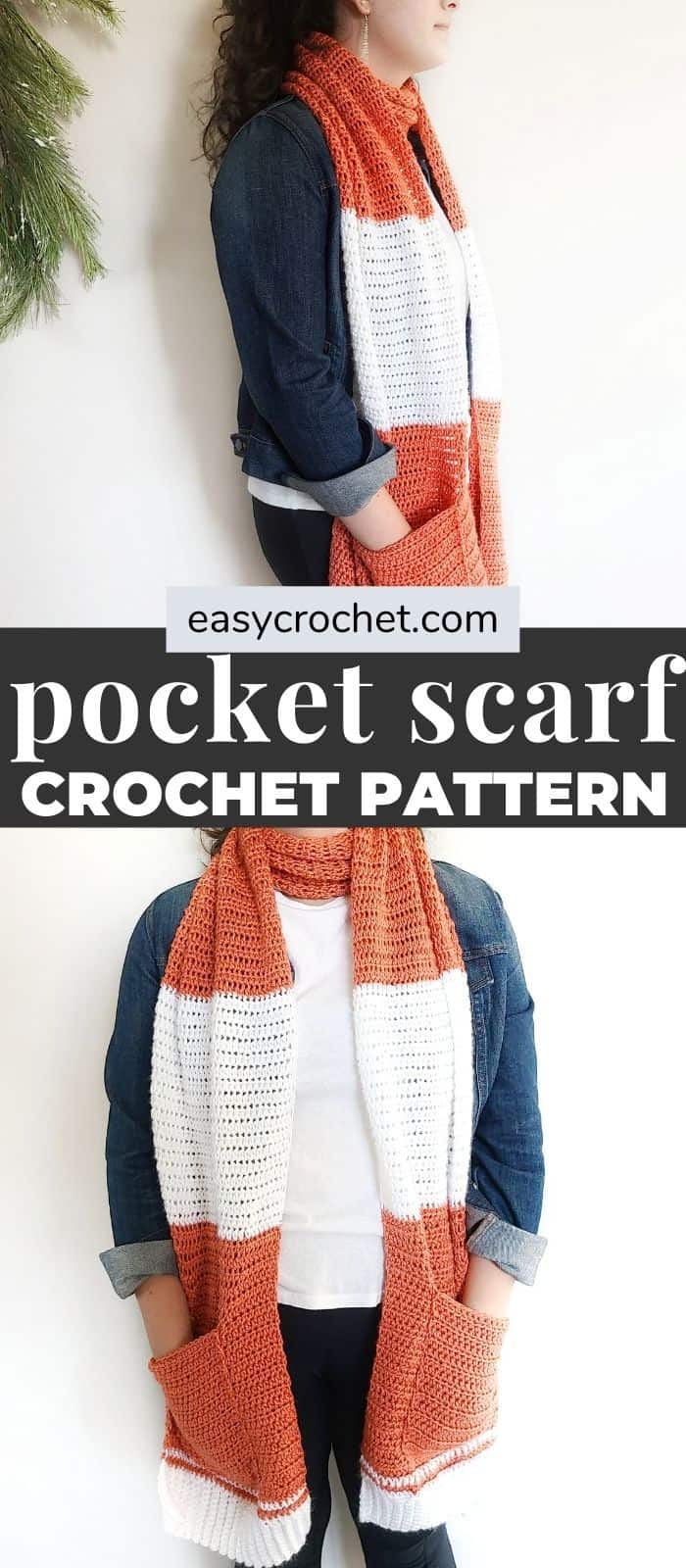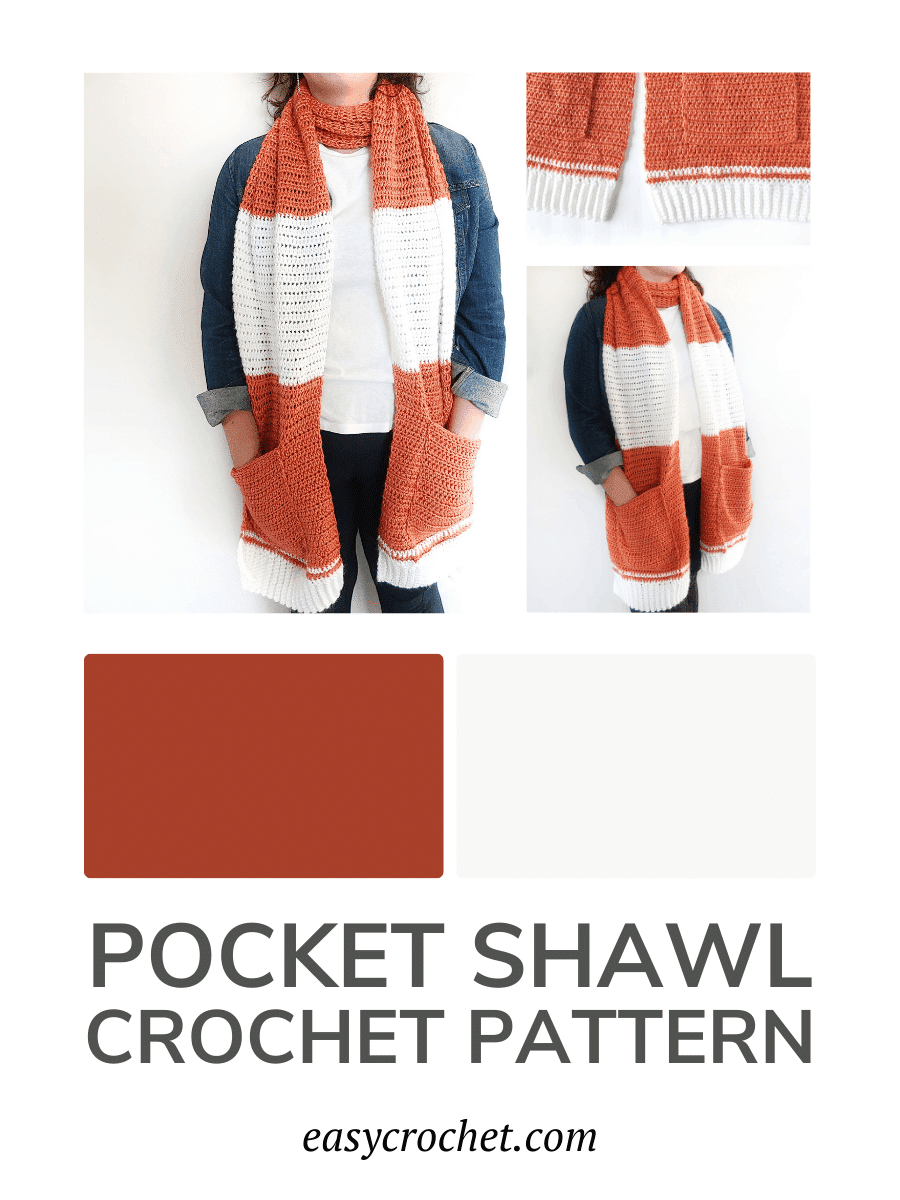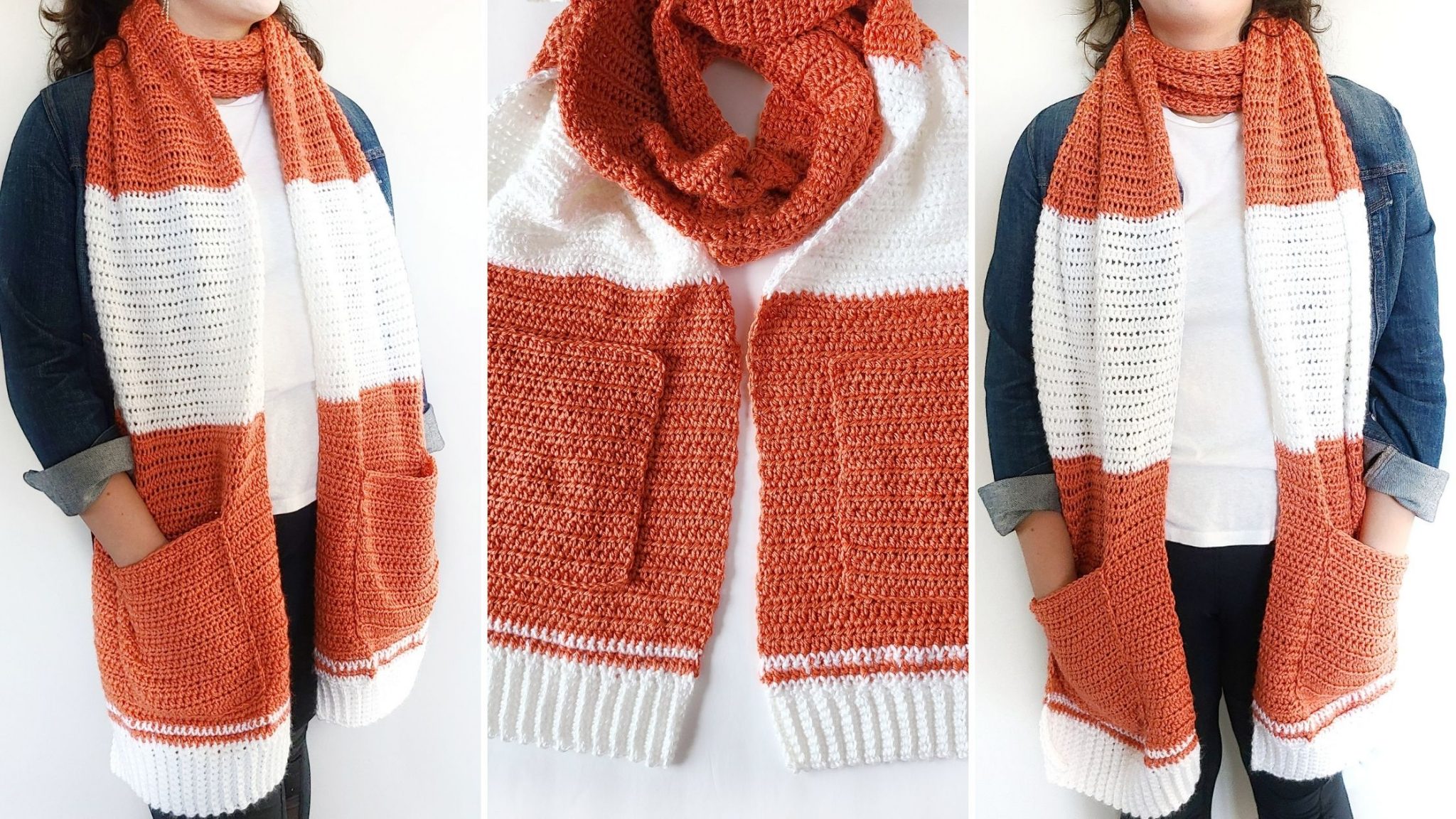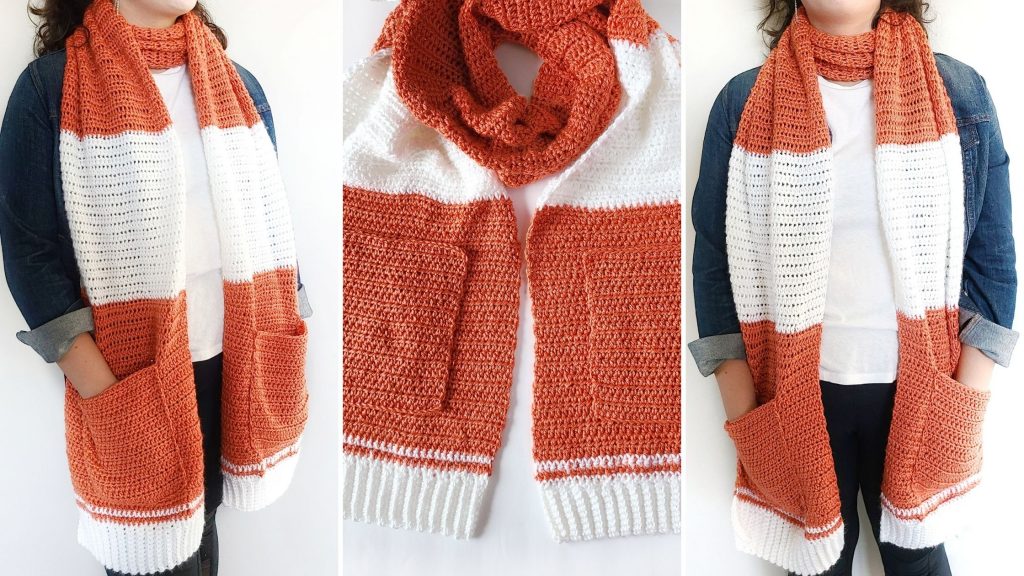 Pocket Shawl Free Crochet Pattern
Are you looking for an easy crochet scarf with pockets that also happens to be a free pattern? If so, this is the pattern for you! Pocket shawls are beautiful designs that are a mix of a crochet shawl, a crochet wrap and a crochet scarf, which is in my opinion makes for a great combination.
I designed a similar shawl with pockets a few years ago with a different yarn and never released it. But after seeing how popular these shawls have been recently, I really wish I did publish it back then!
I knew that I had to come up with something similar like my previous design with yarn that is now available, so this easy pocket shawl was created!
When I was designing this shawl, I wanted one that was easy to crochet but had a little something extra to it. The pattern as a whole is simple and crochets up fast.
The ribbing on each end is where you may want to watch a video tutorial, or take a brief look at the tutorial I have linked below for some extra help. The ribbing is what makes this shawl unique, as well as the fun pockets.
The Stitches
This pocket shawl design uses only two different stitches which means it can be worked up in no time at all. Simple stitch designs are my favorite to use and the reason my last two designs the ombre cowl and hdc infinity scarf use them.
I promise you can create beautiful pieces with easy and basic crochet stitches. If you know how to half double crochet and single crochet then you will be good to go for crocheting this shawl!
Learn more about each stitch below if you need or want a refresher.
---
The Stitches for a Pocket Shawl
Once you take a look at the stitch videos, explanations and the link below for the ribbing (it's located in the pattern section below) you will be ready to start making this pocket scarf.
The ribbing uses only a single crochet and a single crochet in the back loop, but it can get confusing for a beginner, so that's why I highly suggest looking over the tutorial below in the pattern section.
But, first things first let's learn more about the yarn I used for this design.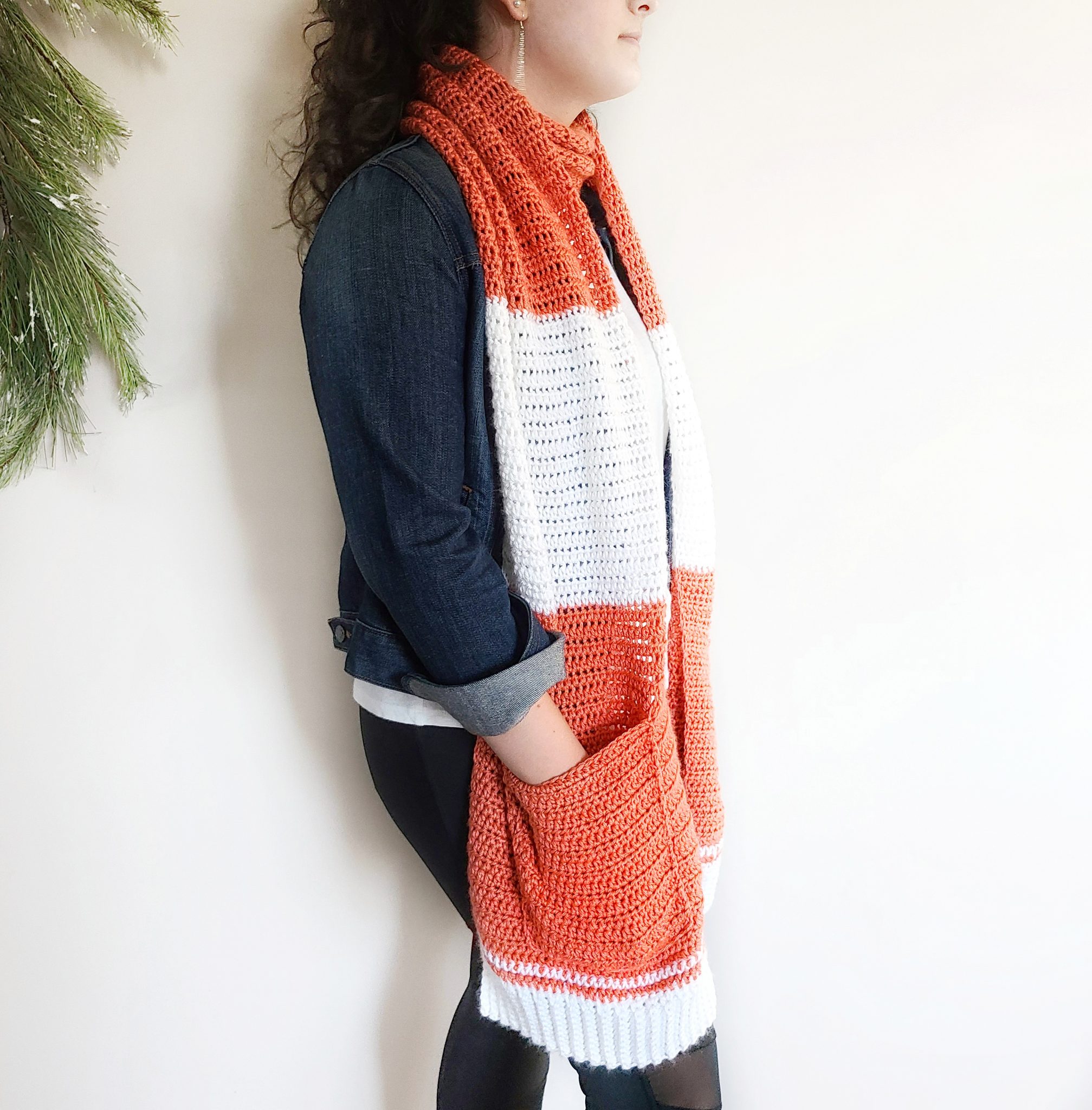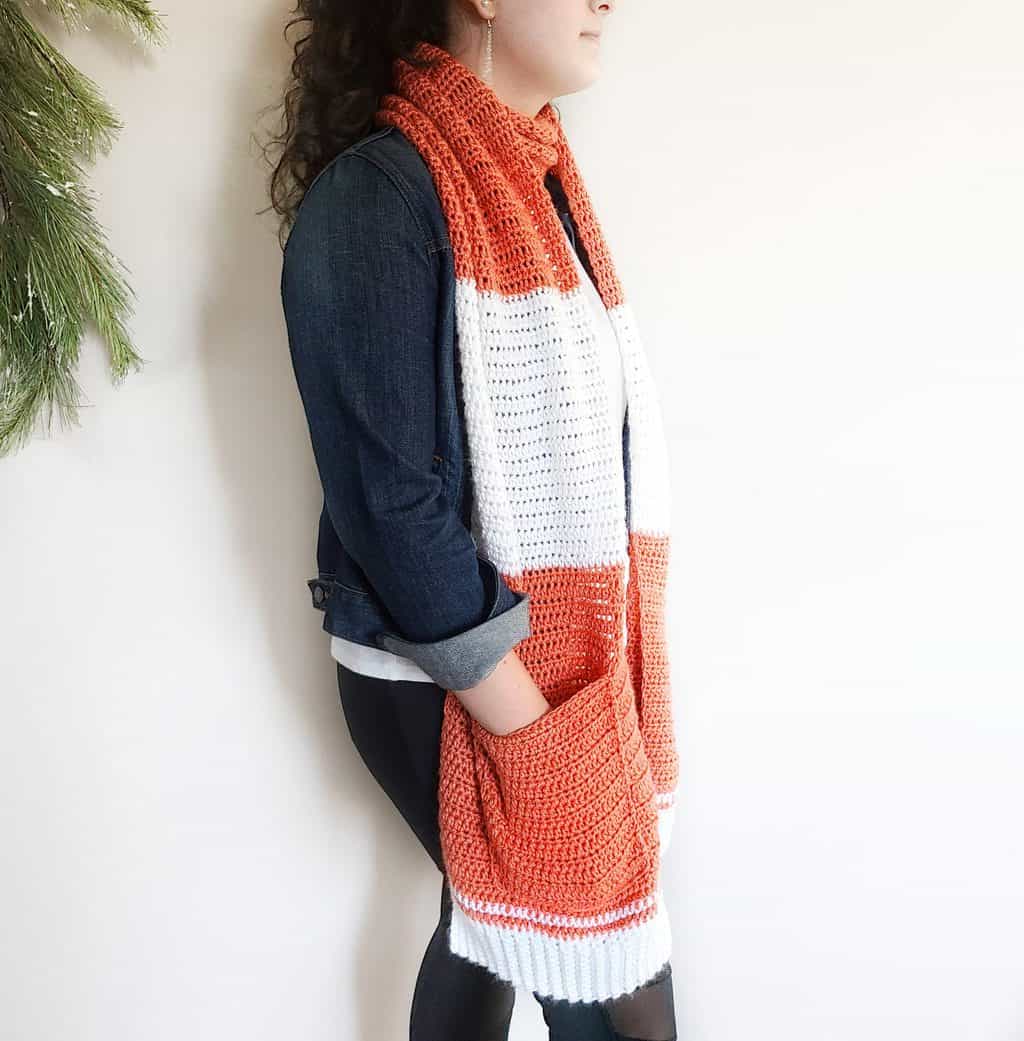 The Yarn
I used Caron Simply Soft which is a 100% acrylic medium weight four yarn in the colors Persimmon & White. If you decide to use the same yarn there are many colors you can pick from so you can make it truly unique to you.
You honestly can't go wrong with any colors you choose! Take a look at the colors I mentioned before Persimmon & White which are featured in this shawl pattern below.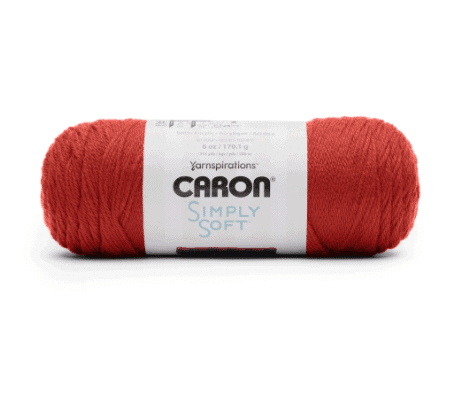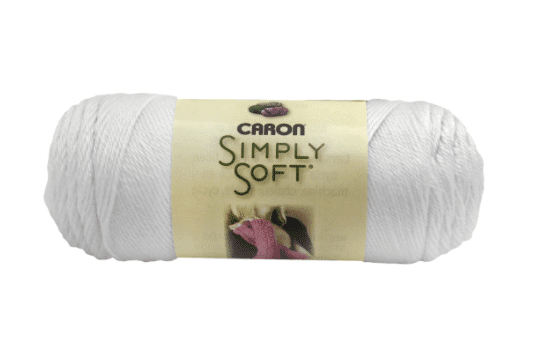 Looking for a substitution?
If you'd like to substitute a yarn any four weight yarn will work. You can use whatever brand you like to work with and have on hand.
I recommend Lion Brand Heartland, Lion Brand Vanna's Choice or Red Heart Soft if you are looking for different yarns to try.
Psst: I love all these yarns but in order they would go Heartland, Soft Essentials than Vanna's. Have fun choosing!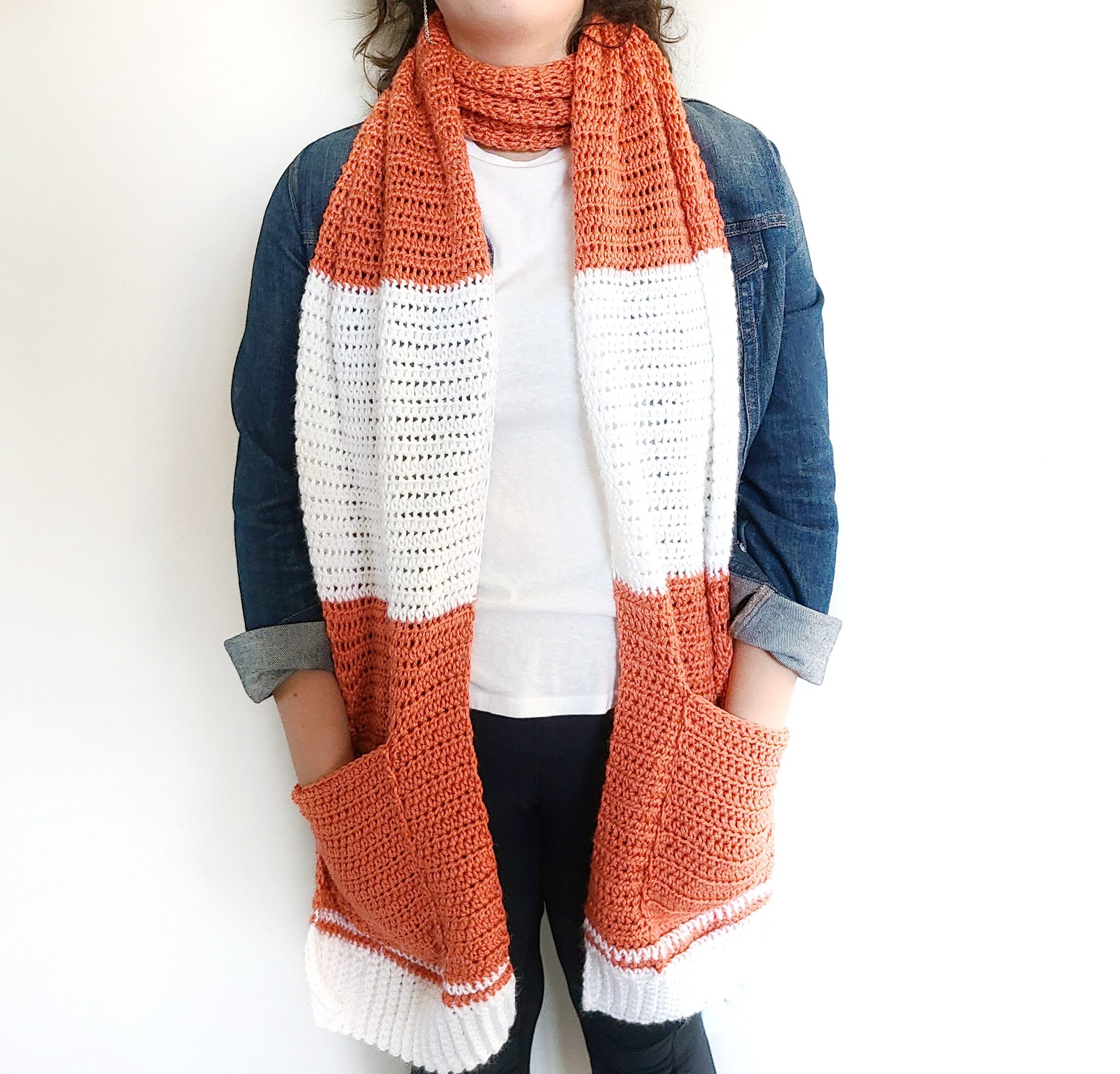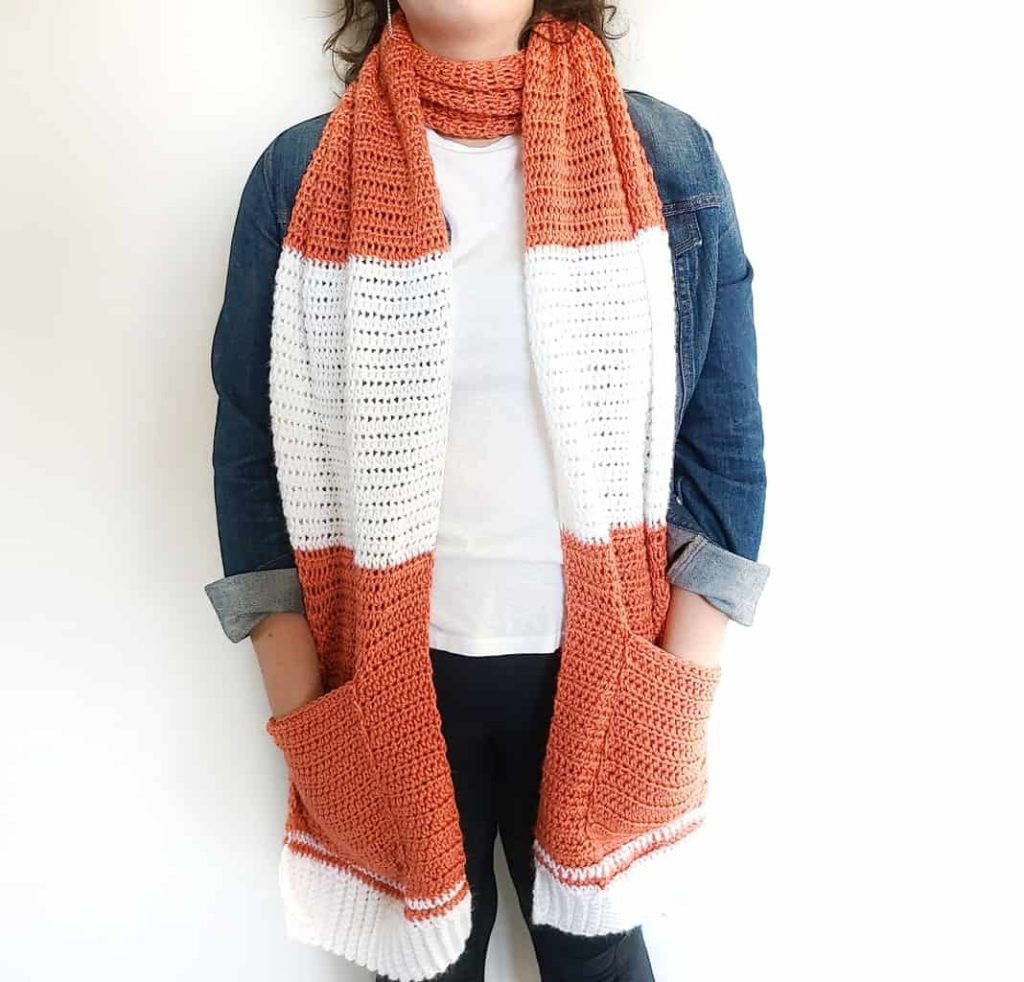 How To Change the Size of the Pocket Shawl
Adjusting the size of the pocket shawl is simple! Since the main part of the shawl is worked in half double crochets it is easy to add or subtract rows to get the perfect fit.
This Pocket Shawl is meant to be wrapped like a scarf and then draped over the shoulders like a shawl. But, if you'd rather have the pocket shawl shorter instead of being wrapped then just subtract some rows of the shawl.
Keep in mind the shawl will stretch when worn so it may end up a bit longer than what you had in mind. If you account for this and shorten it you should be good to go.
A good rule of thumb if you do decide to shorten this is to make it the length of your wingspan so it fits perfect for you or the person you are making it for.
The size shown fits the model well, and she's 5'5″ as well as me and I'm 5'8″ for reference.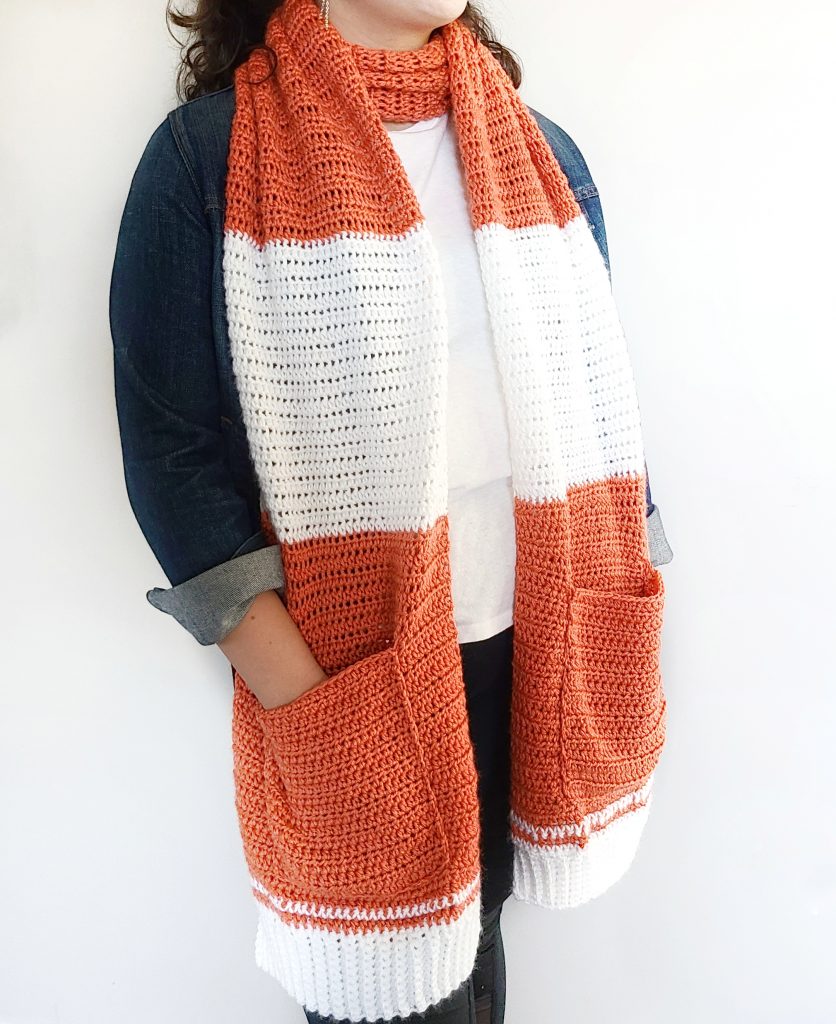 Are you ready to get started?
Read on down to find the full free pocket shawl pattern, details about the materials you'll need and the gauge pattern.
I hope you enjoy this pattern and if you have any questions please let me know.
Happy Crocheting!
Pocket Shawl Crochet Pattern
Skill Level: Intermediate
Materials
Gauge
10 rows x 14 st = 4″ x 4″
Gauge Pattern: Ch 15 and work pattern as written starting with the main pattern.
Finished Size
Approx. 70″ x 12″
This will more than likely stretch when worn
Notes
This crochet shawl pattern is written in standard US terms
Ribbing uses hook size G 4 mm
The main pattern uses hook size I 5.5 mm
Pocket patterns are included after the main shawl pattern
Learn how to change colors in crochet or join in colors in crochet to use throughout this pocket shawl design.
Crochet Abbreviations
sc = single crochet
sc bl = single crochet back loop
hdc = half double crochet
sl st = slip stitch
The Pattern
Ribbing: 4 mm hook
Row 1: With Color A ch 9, sc into the second ch from the hook and each ch down, turn. (8)
Row 2: Ch 1, sc bl into each st, turn. (8)
Row 3 – 42: Rep row 2 (8)
Leave yarn attached
Main Pattern: 5.5 mm hook
Row 1: Ch 1, Work along the long top end of the ribbing, sc across evenly at the top of each row of ribbing across, turn. (42)
Row 2: Join in Color B, ch 1, hdc into each st across, turn.
Row 3: Join in Color A, Ch 1, sc into each st across, turn.
Row 4 – 30: Join in Color B, Ch 1, hdc into each st across for 26 rows.
Row 31 – 49: Join in Color A, Ch 1, hdc into each st across for 18 rows.
Row 50 – 128: Join in Color B, Ch 1, hdc into each st across for 78 rows.
Row 129 – 147: Join in Color A, Ch 1, hdc into each st across for 18 rows.
Row 148 – 174: Join in Color B, Ch 1, hdc into each st across for 26 rows.
Row 175: Join in Color A, Ch 1, sc into each st across.
Row 176: Join in Color B, Ch 1, hdc into each st across.
Ribbing: 4 mm hook
Learn how to add ribbing to the end of a project
Step 1: Join in Color A, Ch 9
Step 2: sc into the bl of the second ch from the hook, sc into the bl of each of the next, sl st, sl st, turn.
Step 3: sk the two sl sts and work a sc into the back loop of each st back up (8)
Step 4: Ch 1, sc bl in every st down, sl st, sl st, turn.
Repeat Steps 3 & 4 for a total of 41 rows.
Pockets x2: 5.5 mm hook
Ch 25
Row 1: in the second ch from the hook hdc, hdc into each st across. turn. (24)
Row 2: ch 1, hdc into each st across.
Row 3-19: Repeat row 2
Fasten off leaving a 24″ tail to attach the pockets to the scarf
Finishing:
Place the pocket where you prefer.
Try to line up the pocket rows with the shawl rows as best possible.
Use stitch markers to attach the pockets on the scarf at each corner or where they are needed.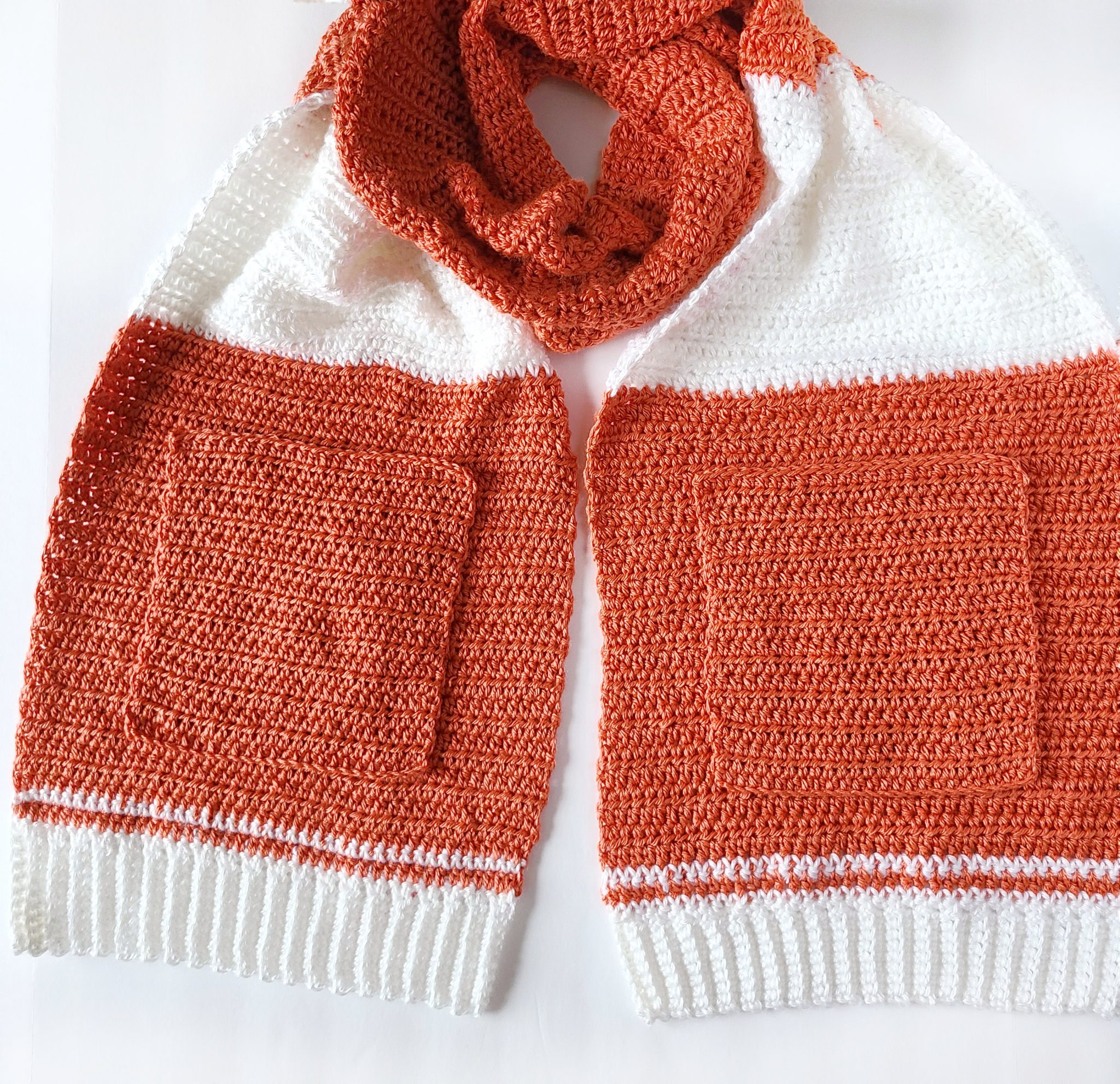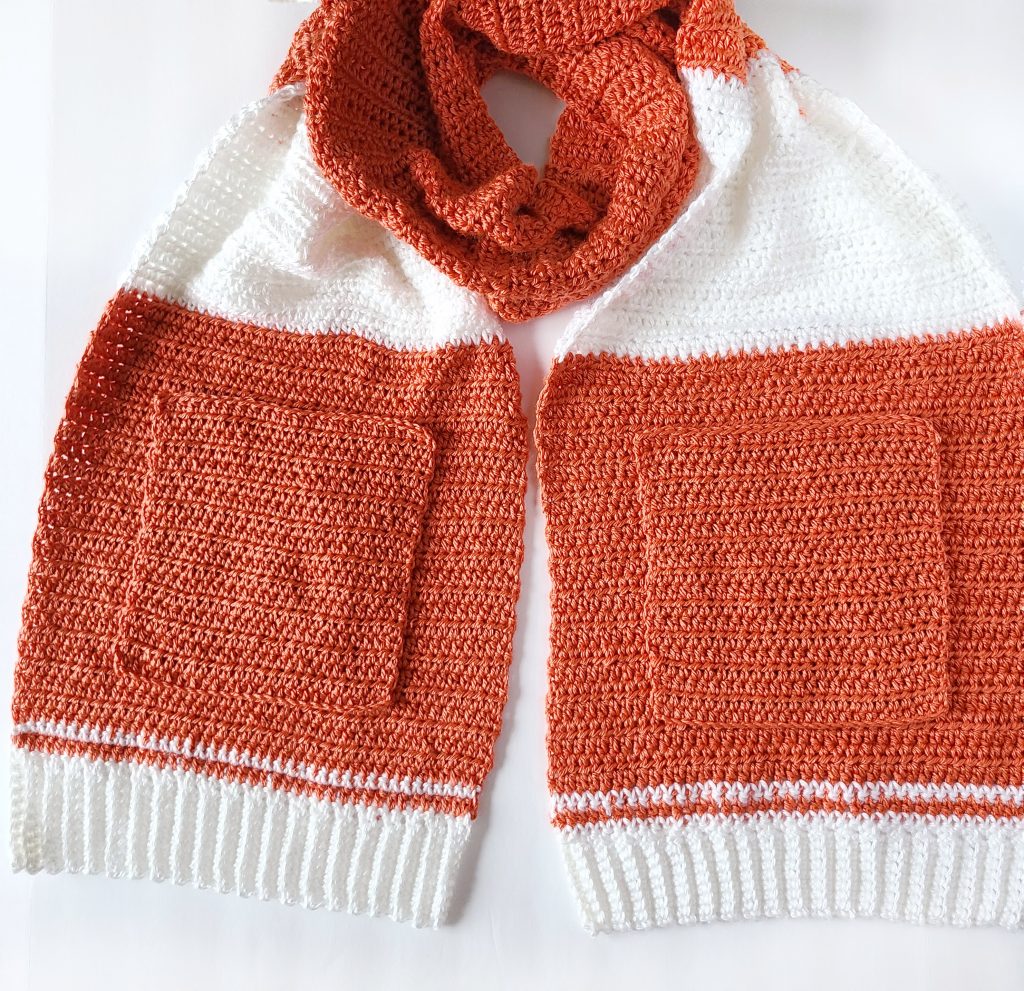 Attach the long end of the pocket you left to the yarn needle and start sewing the pocket onto the scarf.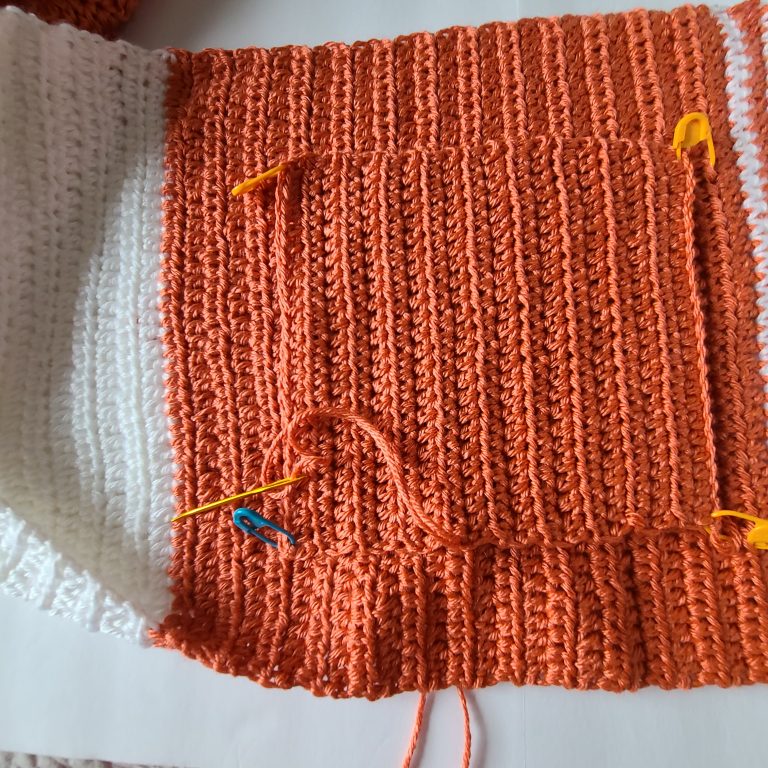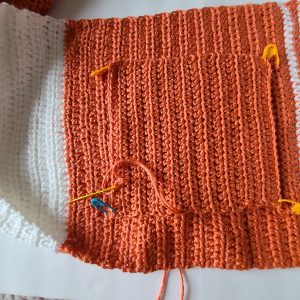 Make sure to leave the top of the pocket open
Finish up by weaving in the ends throughout the shawl!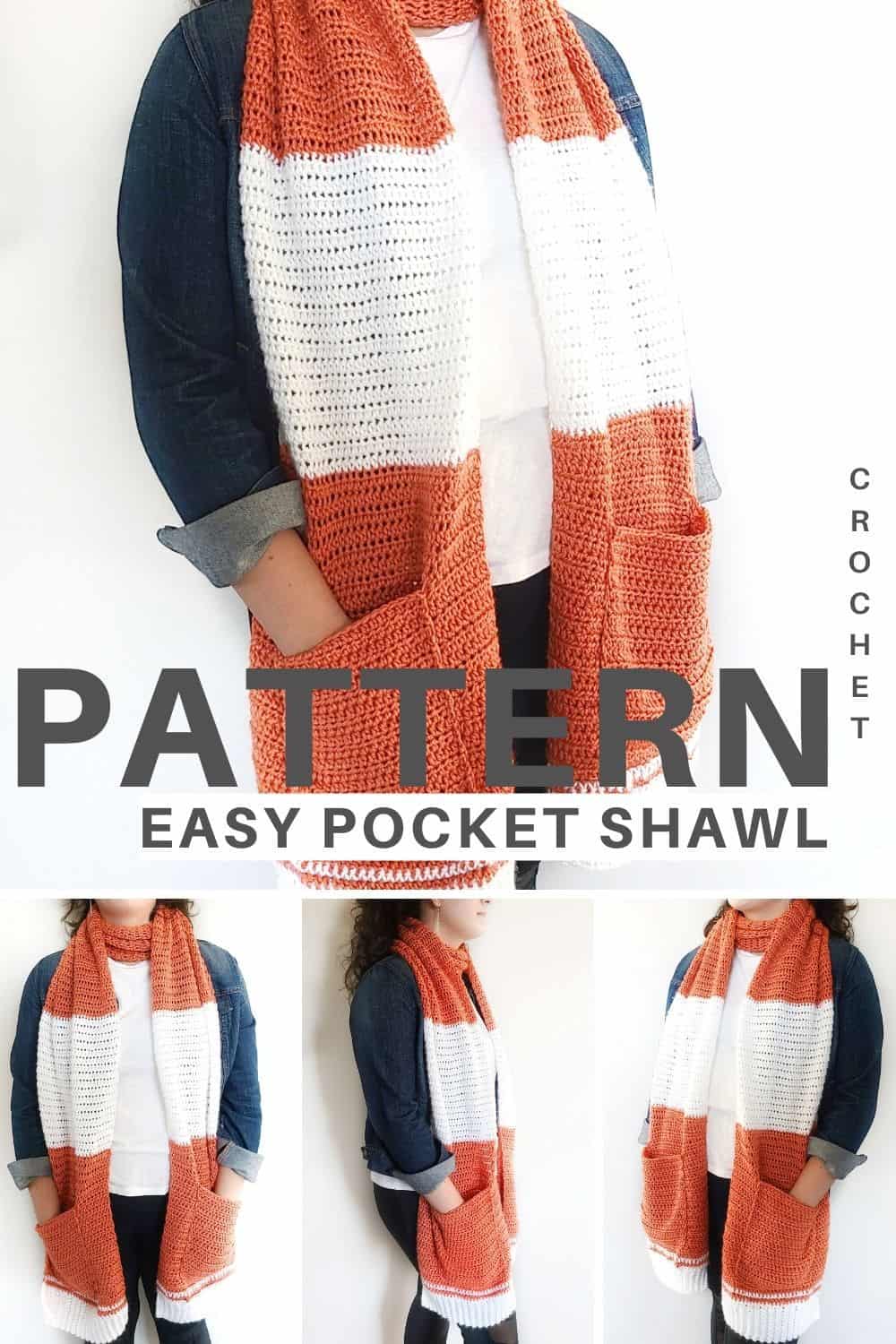 More Free Crochet Patterns
I hope you enjoyed this easy shawl pattern! Take a look below at even more easy patterns to make, such as our collection of crochet pocket shawl patterns and more!