12 Fingerless Gloves Crochet Patterns: Easy & Free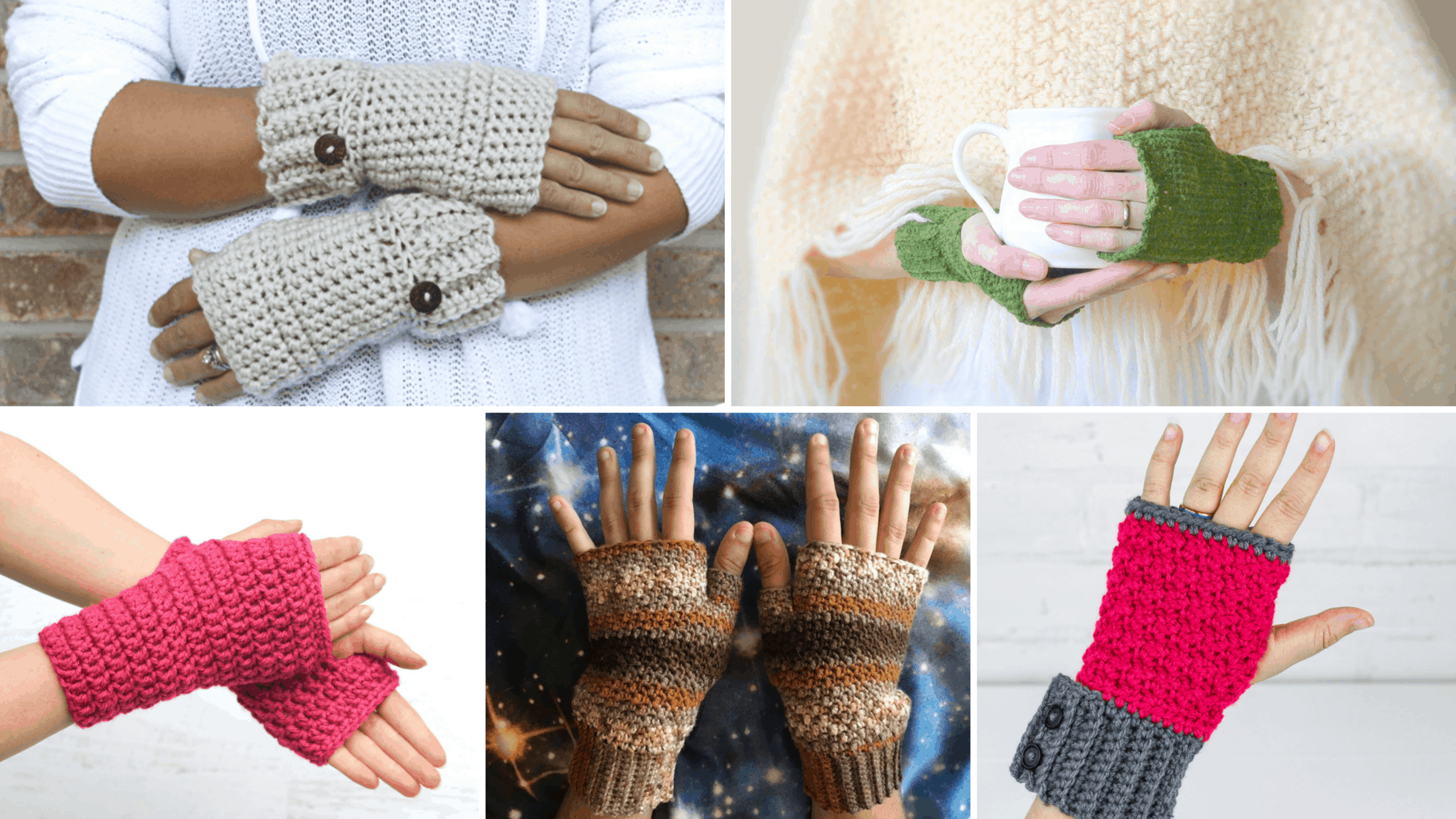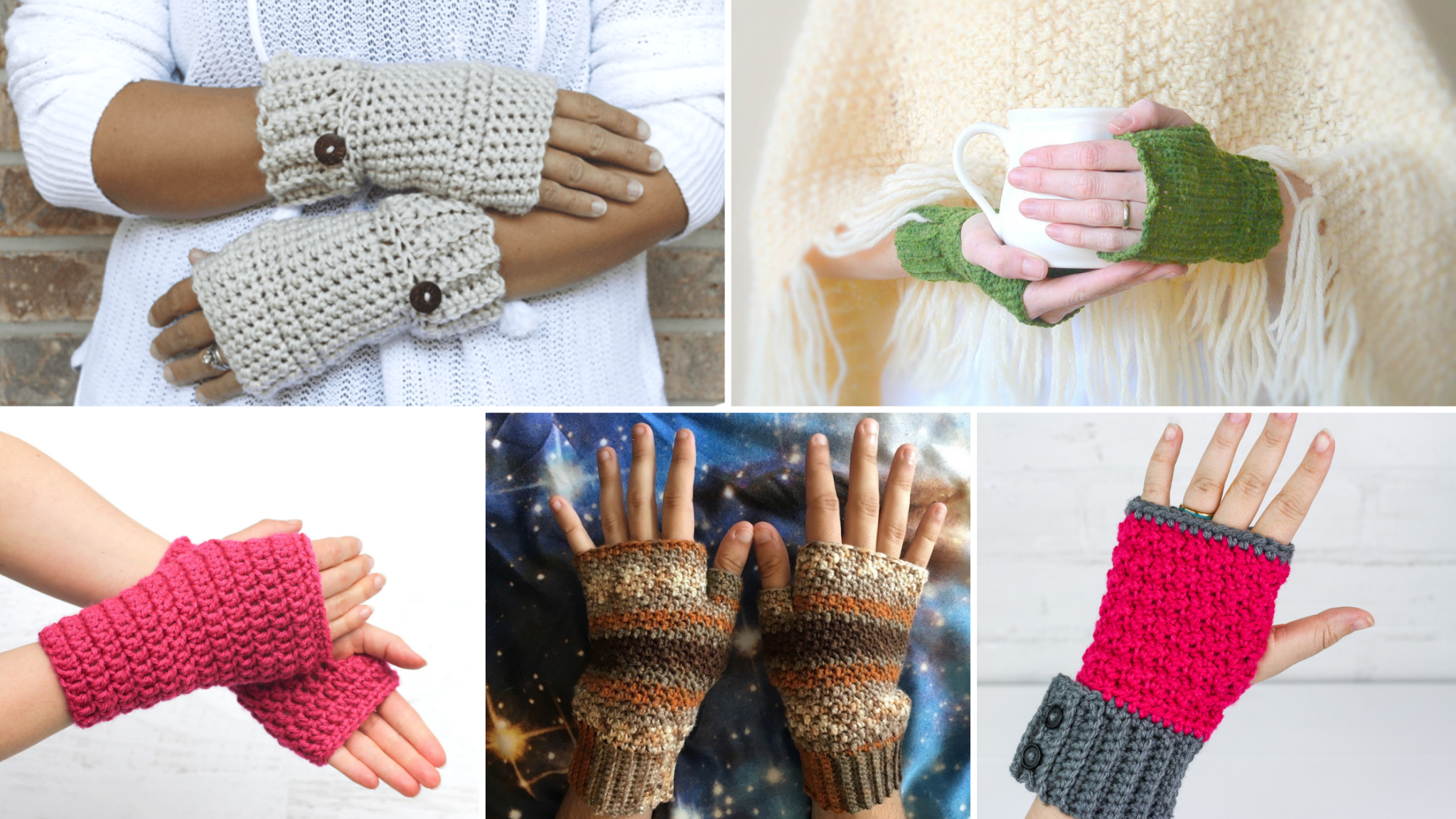 Are you looking for some easy fingerless gloves patterns you can crochet? If so, I've rounded up some of the trendiest crochet fingerless gloves you can make for this upcoming Fall and Winter season.
Scroll on down to find a few of my favorite fingerless gloves crochet pattern designs, so you can get started crocheting a pair today!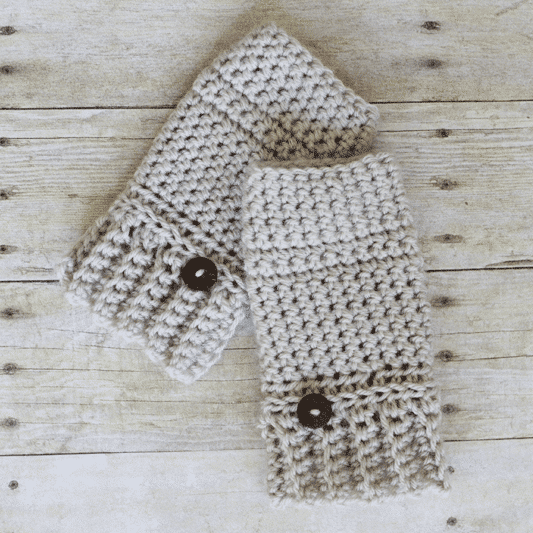 Why You'll Love These Fingerless Gloves
A couple of years ago, I designed a pair of fingerless gloves that are stylish and simple to crochet, which in my opinion are probably the two best things about any type of crochet pattern!
Crochet glove patterns are a great way to stay cozy and keep your hands from the freezing cold. However, no finger gloves are even better because your hands can stay warm, and you will still be able to use your phone simultaneously since your fingers are free.
When the weather gets chilly, I tend to make cozy crochet blankets to keep busy. But occasionally, I want a project that takes less time, so I will crochet up some fingerless gloves.
If you are a beginner crocheter who is looking for a fast project, then these types of glove designs are the one for you.
Types of Fingerless Gloves
There are three main types of crocheted fingerless gloves. They all fall under the same category, but each has its own little wrinkle to make it special.
Individual Finger Holes: These gloves have five-finger holes similar to a normal glove, but the tips of each of them are cut off.
Fingerless Mittens: Gloves that utilize the mitten-style do not make holes for each finger. Instead, these patterns have one large opening for all fingers to stick out of. They do, however, usually have a separate hole for your thumb.
Hoodie-style: Some fingerless gloves have a sort of hood that flips up to cover the fingers when they aren't needed to do finger things. When the hood is closed, the glove resembles a closed up mitten.
Certain fingerless glove patterns will also feature a longer wrist warmer section that will extend down the forearm of the wearer. However, this is a small feature that could easily be added to any glove pattern shown here.
Keep on reading to learn to explore the collection of stylish free fingerless gloves crochet patterns that are great for men, women, kids and more!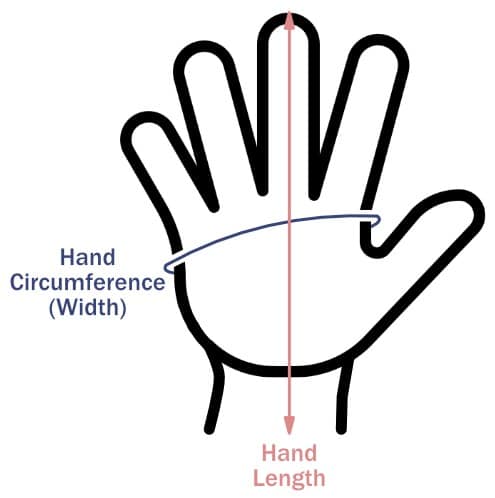 Sizing Fingerless Glove Patterns
The first step to correctly sizing your crochet fingerless gloves pattern is to take correct measurements of your hand. After measuring your hand's circumference and length, you can decide which size (small, medium, large, etc.) is right for you.
If it's not possible to take a measurement of the eventual wearer of your project, then you'll need to make a best-guess estimate. There is no easy way to do it, but certain sizes are more common for different genders and age groups.
Adult men will usually fit inside the Large to Extra Large sizes.
Adult women typically fit best in the Medium to Large sizes.
The rest are for varying age groups of children and teens.
Free Fingerless Glove Crochet Patterns
Below, I rounded up a variety of free fingerless gloves crochet patterns, most of which are perfect for any skill level of crocheter to try.
First up will be my gloves pattern, followed by some other great designs I found across the web.
As a bonus, most of these crochet gloves all use basic crochet stitches, which means they are all easy to crochet. Enjoy!
Easy Crochet Fingerless Glove Design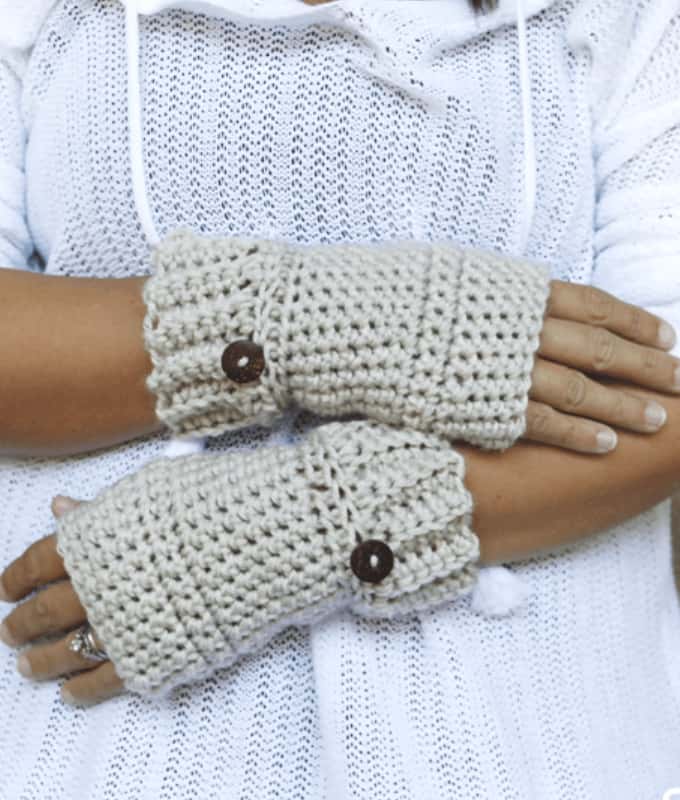 Skill Level: Easy
Designer: Easy Crochet
Pattern: Andy Crochet Fingerless Gloves
You can crochet a pair of fingerless gloves quick with just one beginner-friendly crochet stitch! This pattern uses a cozy four weight yarn so that you'll know for sure that these gloves will keep your hands warm on a Winter day!
---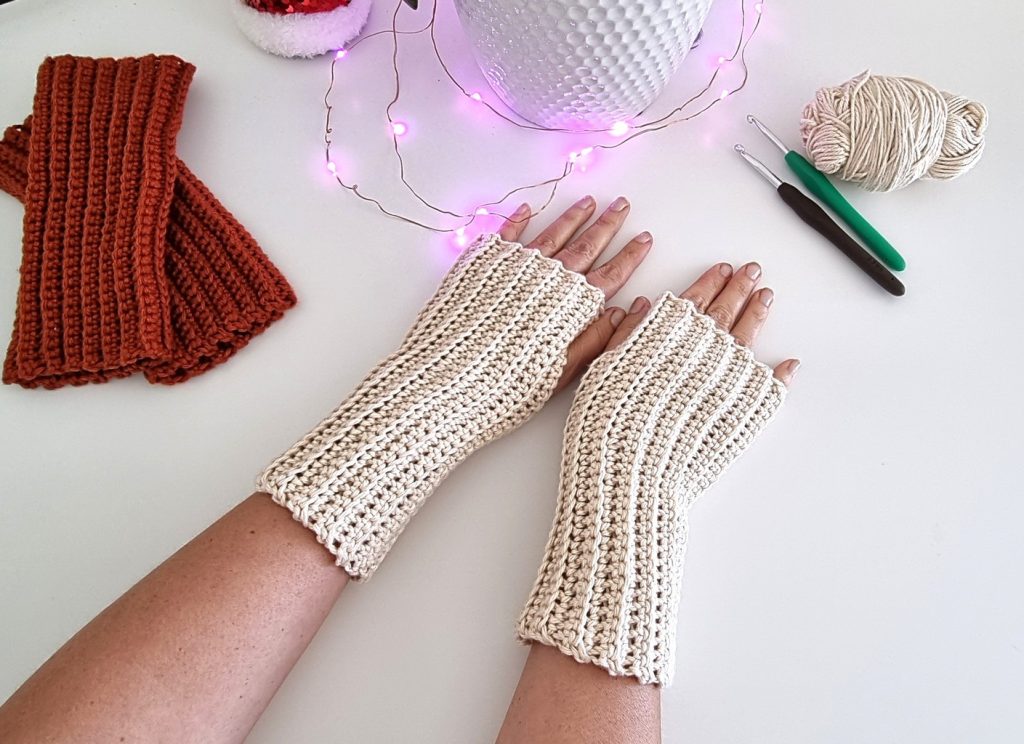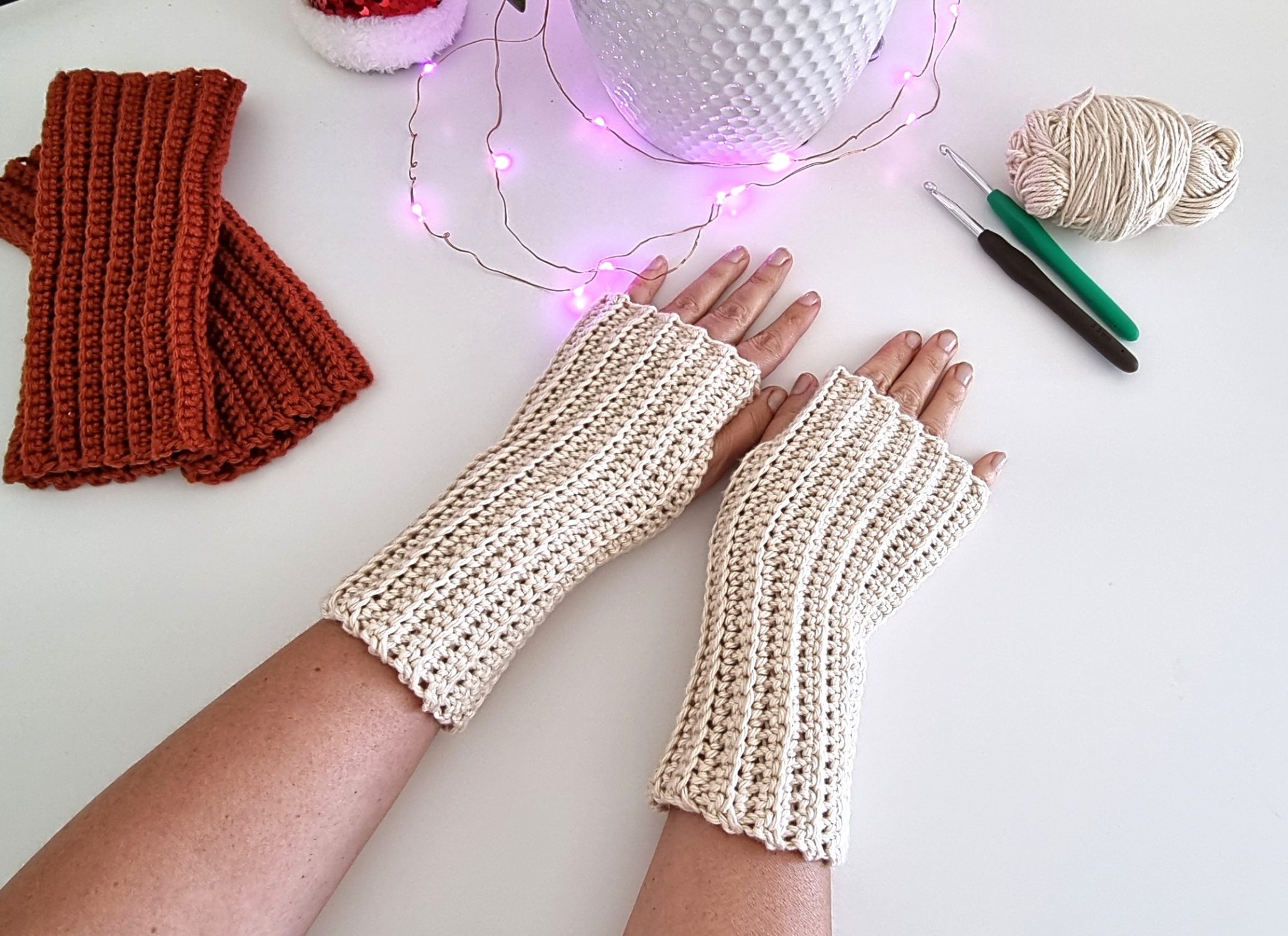 ---
Other Fingerless Glove Patterns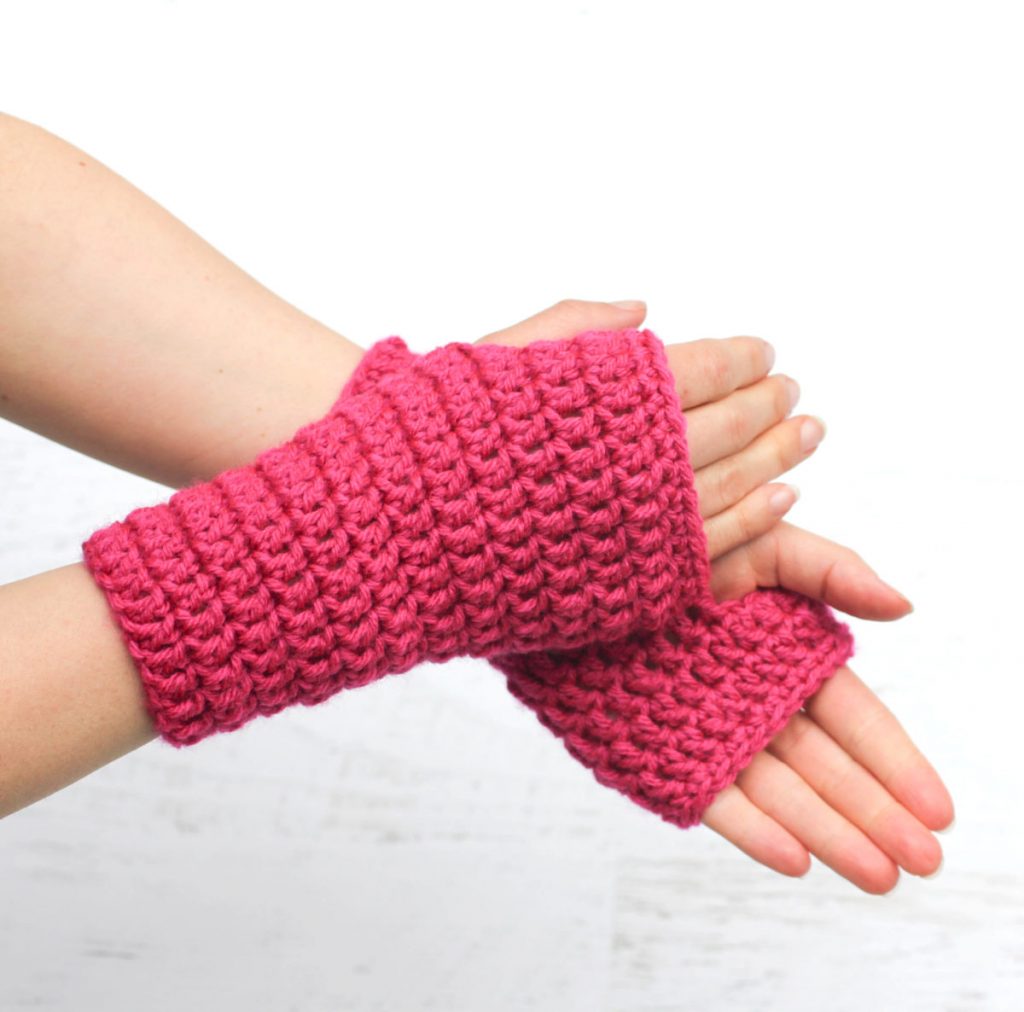 Skill Level: Easy
Designer: Repeat Crafter Me
Pattern: 50 Minute Gloves Pattern
With just less than an hour, you can crochet these beginner-friendly fingerless gloves. With just one stitch worked in the round, these gloves are truly the definition of easy crochet!
---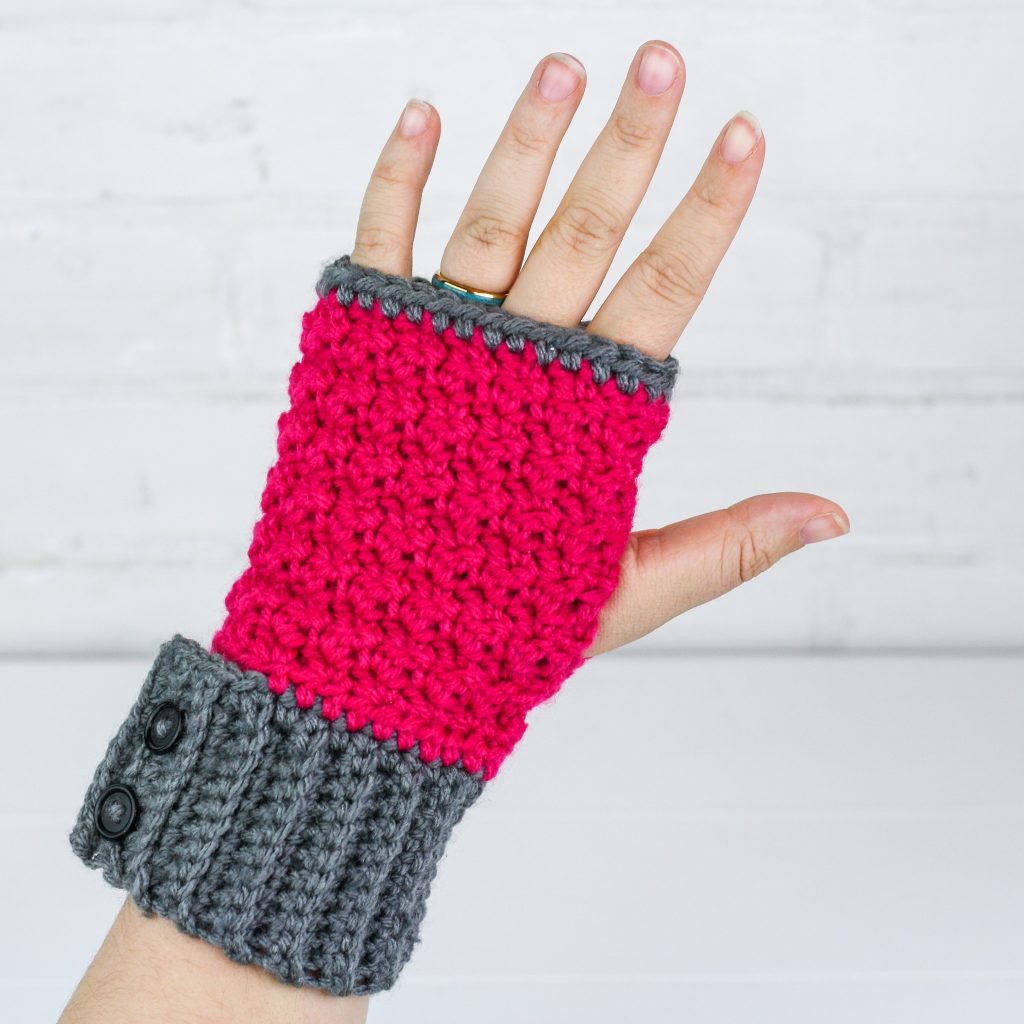 Skill Level: Easy
Designer: Winding Road Crochet
Pattern: Textured Crochet Fingerless Gloves
Learn how to crochet a pair of fingerless gloves with this free pattern. The designer also includes some photo tutorials that help explain some details of the glove design.
---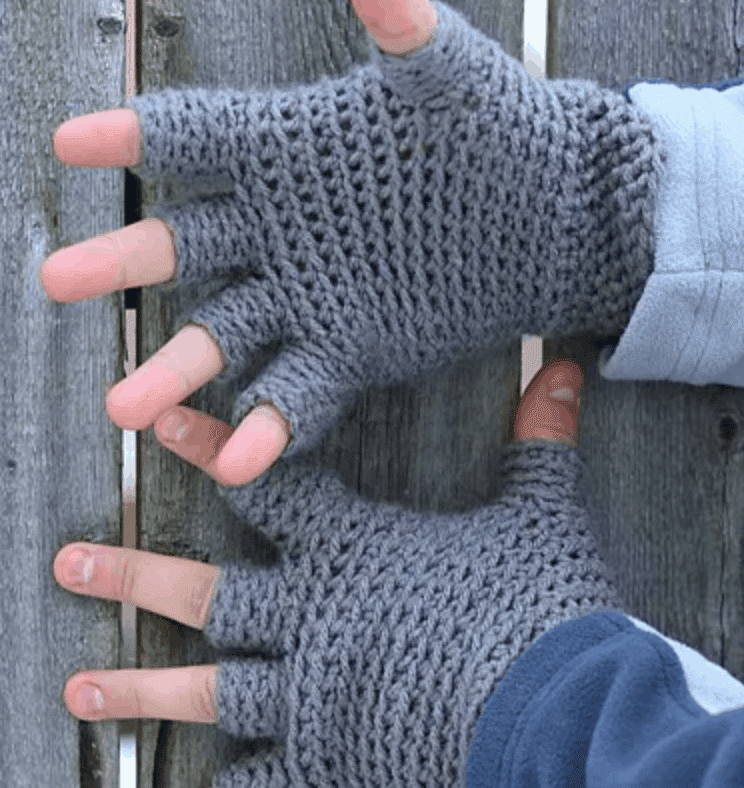 Skill Level: Easy
Designer: Yarnutopia
Pattern: Fingerless Gloves Design
Not only does this fingerless gloves pattern have a free written pattern, there is a free video pattern too! Learn how to crochet these easy crochet gloves today.
---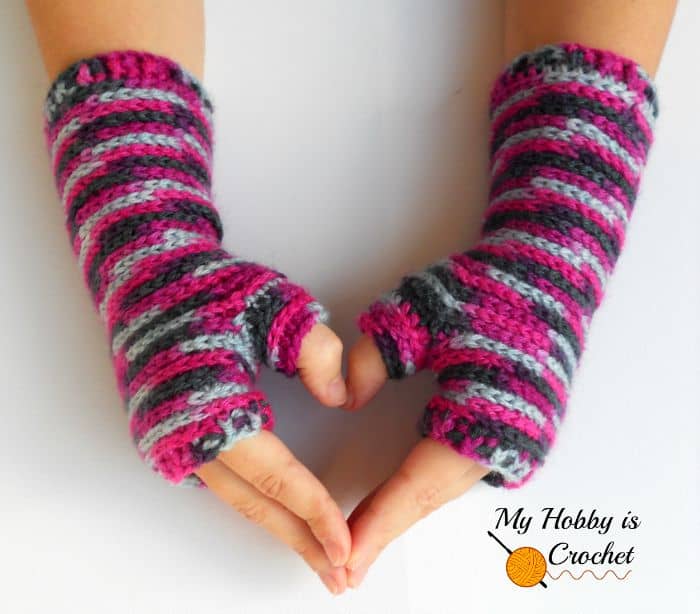 Skill Level: Intermediate
Designer: My Hobby is Crochet
Pattern: Fingerless Glove Wrist Warmers
This free crochet pattern for braided gloves are unique and will be sure to stand out! Learn how to crochet these beautiful wrist warmers with the free pattern!
---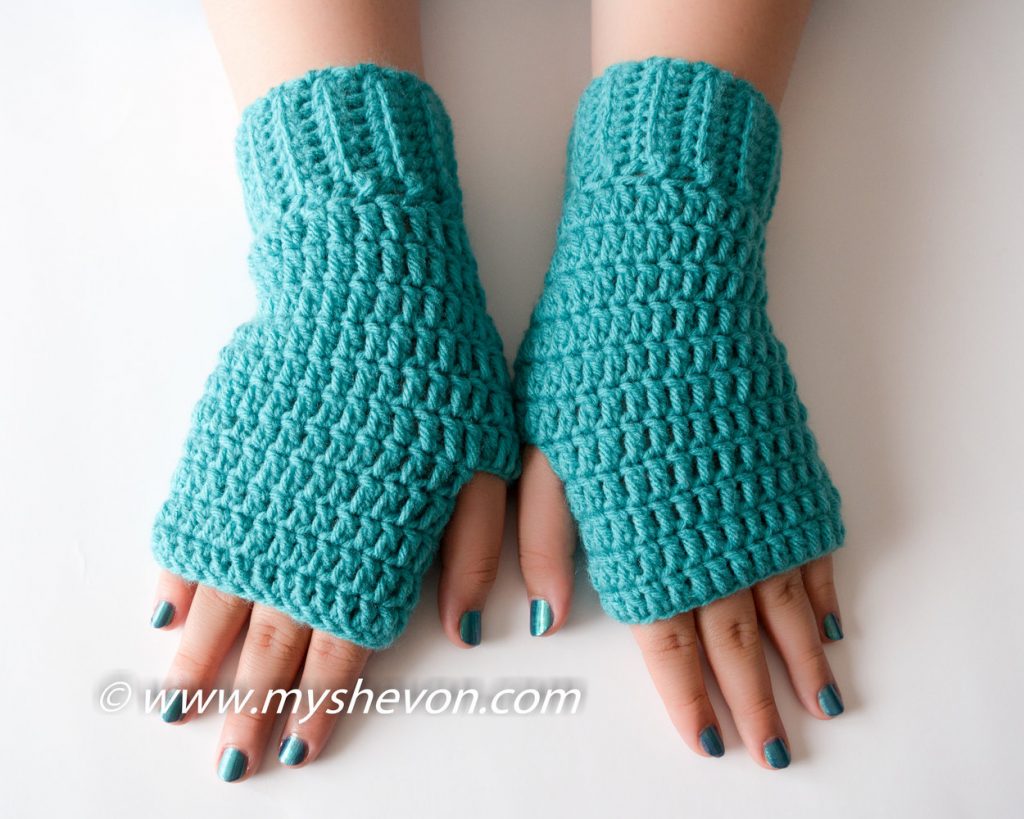 Skill Level: Easy
Designer: Shevon
Pattern: Crochet Easy Fingerless Gloves
You can crochet these simple gloves with just one stitch, which is the double crochet! They are so simple, you can crochet a pair for everyone in your family! The kids will definitely want to wear these gloves.
---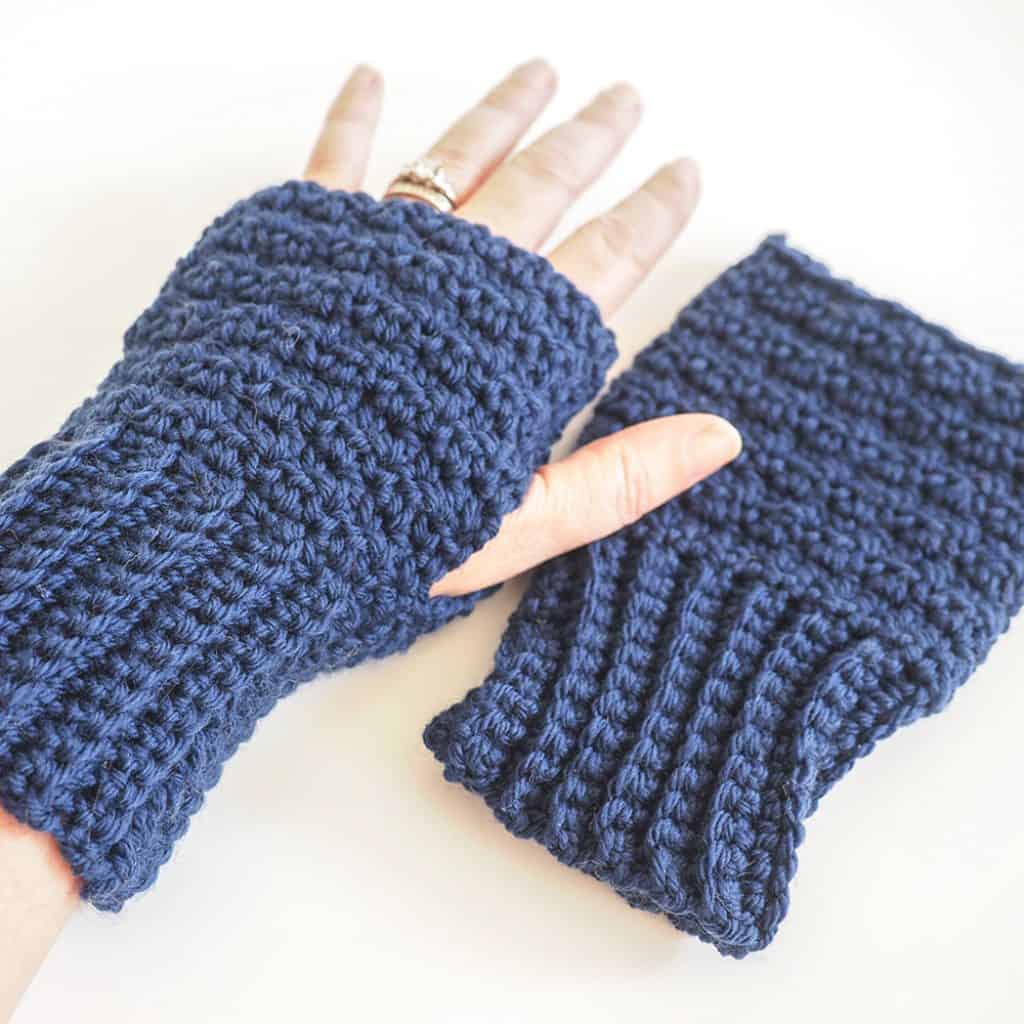 Skill Level: Easy
Designer: Stitch 11
Pattern: Lemon Peel Crochet Gloves
With just the single crochet stitch, you can create a beautiful pair of fingerless crochet gloves. This tight stitch is great because it means your hands will stay cozy and warm! These crochet wrist warmers are a must make for all skill levels.
---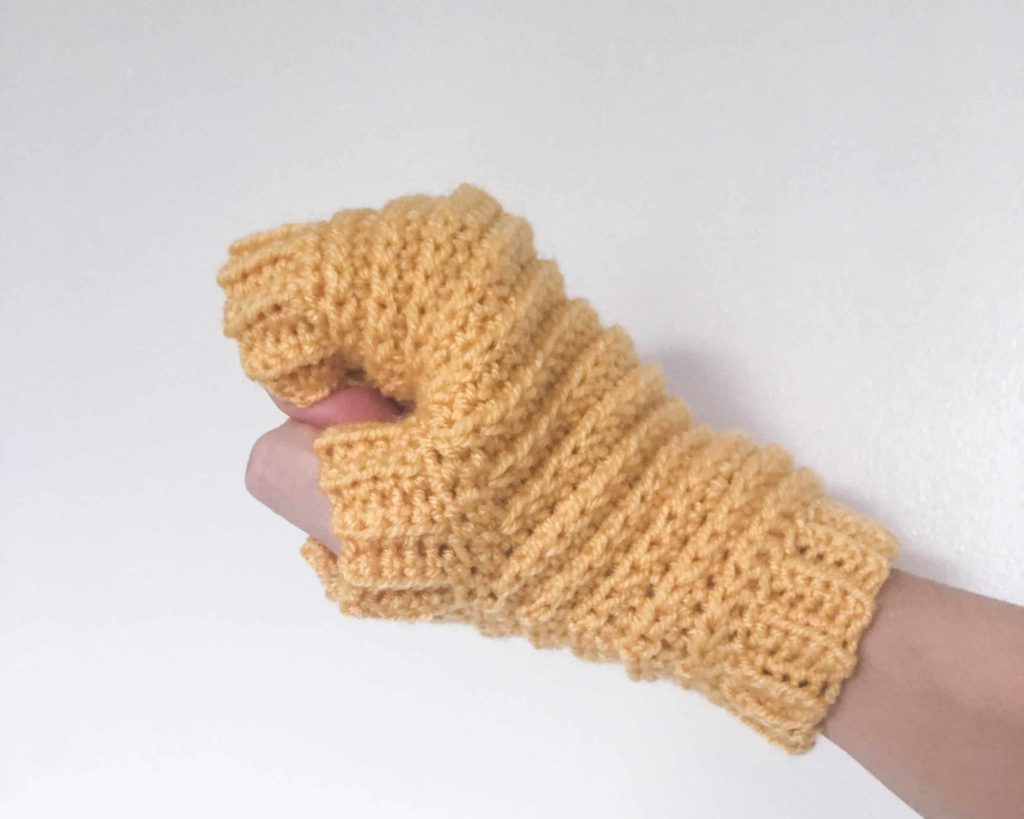 Skill Level: Easy
Designer: Dora Does
Pattern: Crochet Fingerless Mittens
These lovely fingerless crochet mittens are great for any skill level of crocheter that has some basic crochet knowledge. The texture on these cozy gloves means they will be extra warm!
---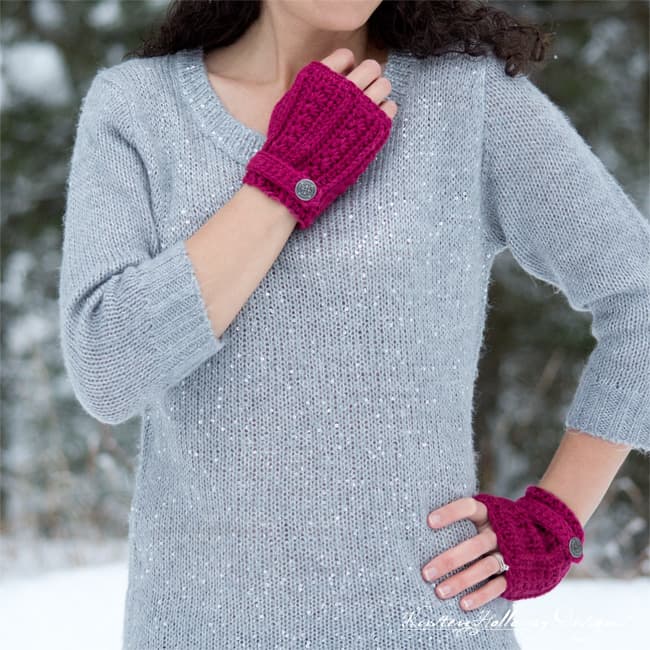 Skill Level: Easy
Designer: Kirsten Holloway
Pattern: Crochet Star Stitch Gloves
These fingerless gloves use the textured and beautiful star stitch. They are made with the single crochet, half double crochet, and front- and back-post double crochet stitches. These easy crochet mitts also have a matching hat if you'd like to make that too.
---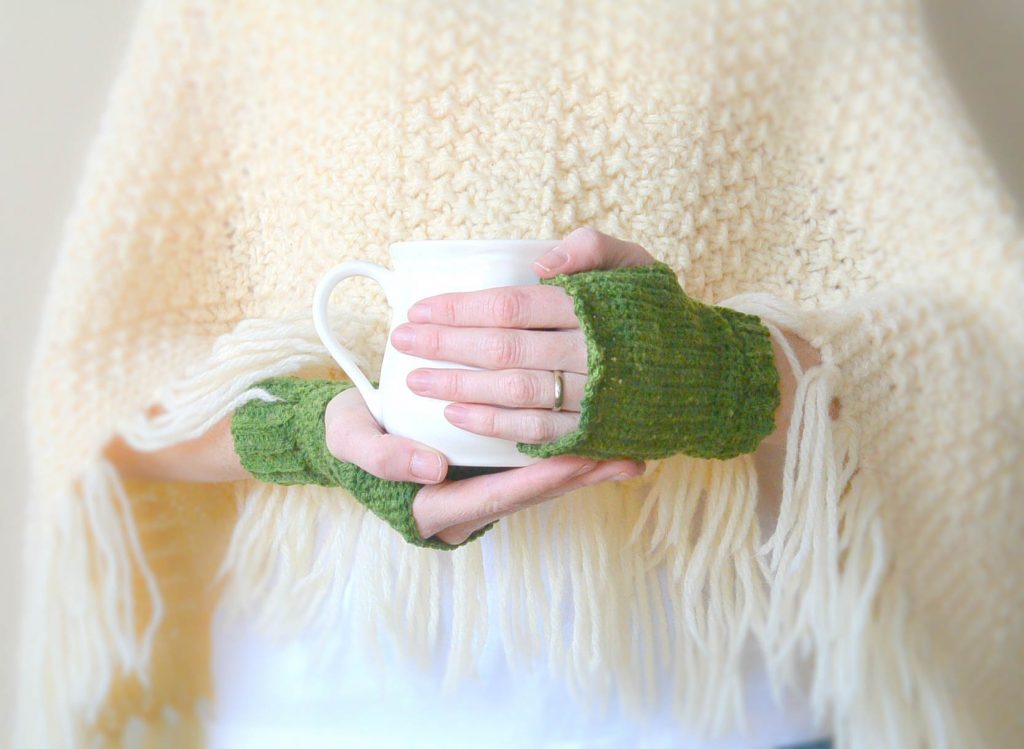 Skill Level: Easy
Designer: Mama in a Stitch
Pattern: Prairie Winds Fingerless Gloves
This free crochet fingerless gloves uses just one easy stitch: the single crochet. To finish the gloves off, you'll slip stitch at the top to create a lacy edge. If you love patterns with easy crochet stitches, then this is the one for you.
---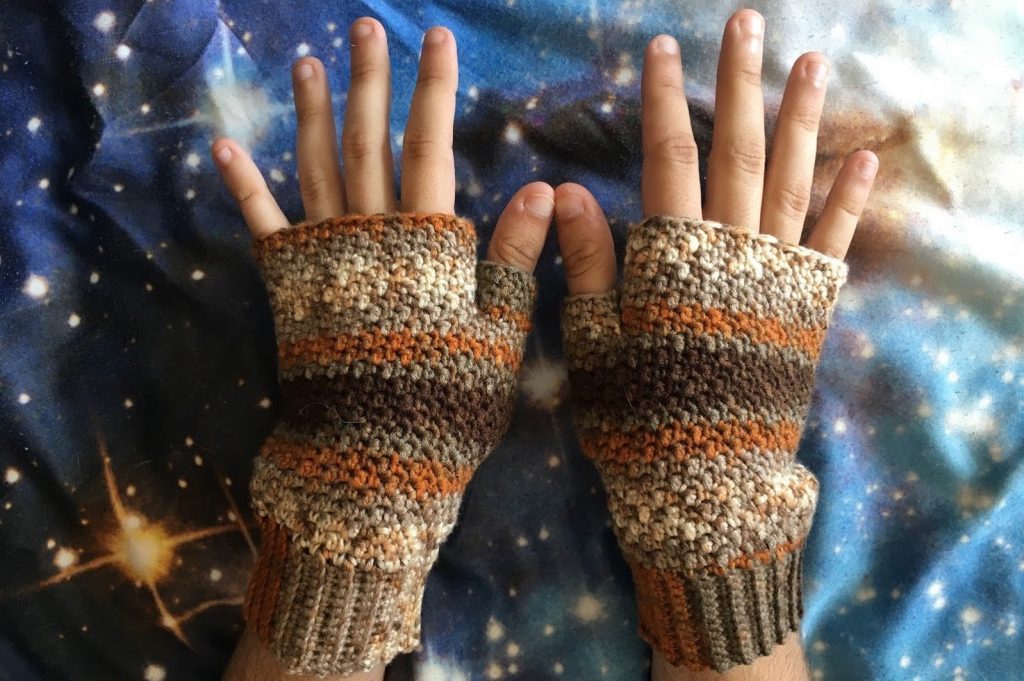 Skill Level: Easy
Designer: Kaper Crochet
Pattern: Griddle Stitch Mitts
With just a single crochet and chain stitch, you can crochet this stylish fingerless glove pattern! These use less than a skein of yarn, so you can crochet them up fast.
---
More Free Crochet Patterns
I hope you enjoyed this roundup of free crochet fingerless gloves patterns! If you'd like more cozy winter patterns, explore the list below.