Looking for an easy fingleress gloves crochet pattern? If so, I am excited to tell you about the Andy gloves crochet pattern that I just designed!
You will just need to read on down to find the full free pattern to get started today!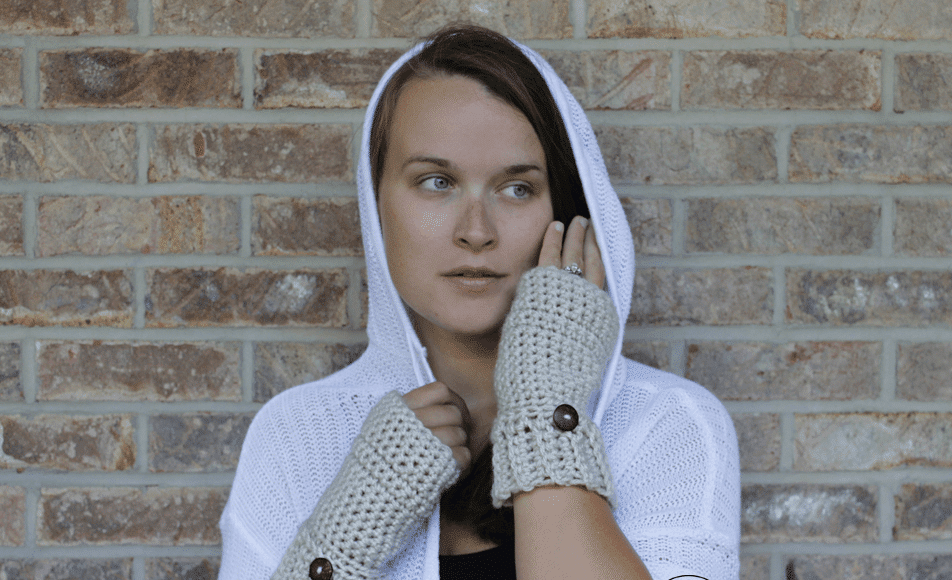 These Fingerless Gloves Wrist Warmers Are a Quick Project
If you are like me then you are always taking off your gloves and putting them back on when using any electronic so these crochet gloves are a must-have.
I can't tell you the amount of times before I designed these that I would get so frustrated because I couldn't use my phone with regular gloves! These fingerless ones really help and work up fast!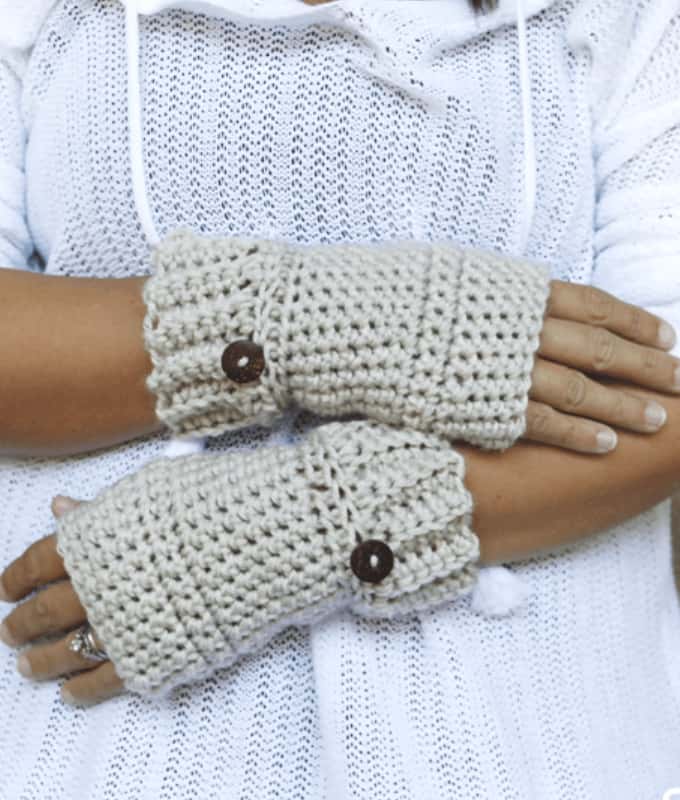 Make a Matching Scarf
The simplicity of this crochet hand warmer design and the fact that they are made to match another reader favorite the Andy Crochet Scarf puts this crochet pattern in my top 10!
If you love matching crochet sets then this definitely is the pattern for you.
If you want to make a pair of these hand warmers for yourself, keep on reading down for the free crochet pattern!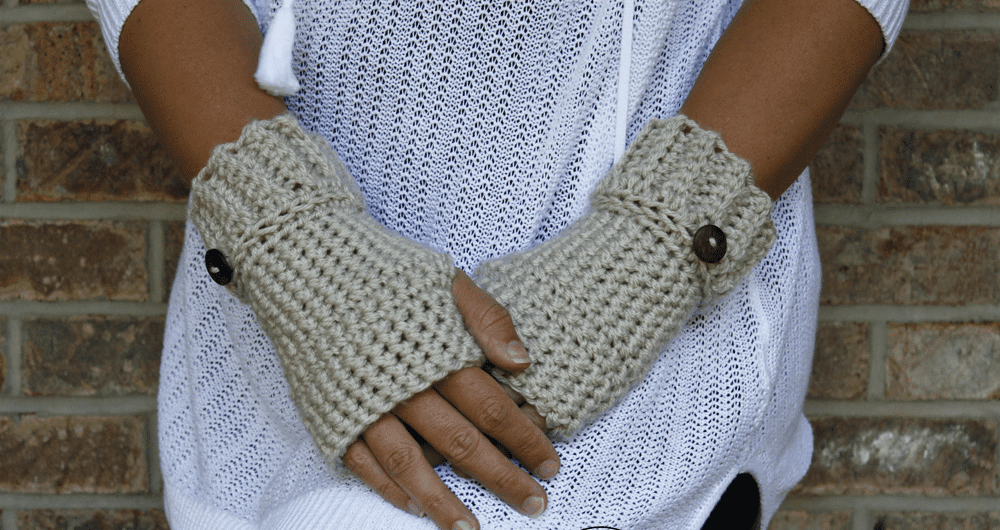 The Yarn That's Perfect to Make These Easy Fingerless Gloves With
This pair of crochet hand warmers only uses one skein of Lion Brand Vanna's Choice yarn, which is my favorite, gotta use all the time yarn! The linen color is my favorite but, you can choose from any array of colors from their line to suit your taste.
Also, since these crochet wrist warmers use so little yarn they are a perfect crochet project to use up extra fiber you may have left from other designs!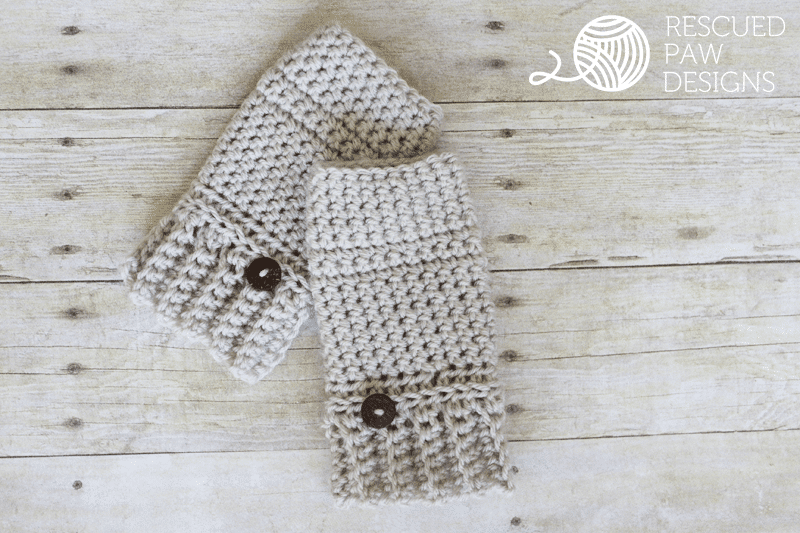 Finish These Gloves With a Button
I finished these crochet gloves off with a coconut shell button which are always my go-to buttons! You'll love how they add a natural earthly feel to almost any crochet project.
I found my set of buttons on Amazon, but most local craft stores should carry them if not then click that affiliate link above and grab some! I promise these are super easy to work up and if you have any questions at all about these crochet hand warmers please, feel free to ask.
Enjoy and Happy Crocheting!
Free Fingerless Gloves Pattern
Skill Level: Easy
Materials
Finished Size
8″ Height x 8″ Circumference
One size fits most
Crochet Abbreviations
Learn more about crochet abbreviations.
hdc = half double crochet
ch = chain
bl = back loop
fl = front loop
st = stitch
sk = skip
sl st = slip stitch
sc2tog = single crochet 2 together
---
Selling: You may sell items made from patterns on Easy Crochet unless otherwise stated. If you choose to sell items made from this pattern, please link back to me at www.easycrochet.com for credit. Please do not use my pictures to sell your items.
Images and Content: The images and content of EasyCrochet.com are protected by copyright laws. Do not distribute or copy the content without written permission. Do not edit or remove watermarks from any original image from easycrochet.com. If you would like to share an image, please only use 1 with a link back to Easy Crochet. Thank you for respecting my work.
Translations: Please do not post a translation of my pattern(s) anywhere. If you would like to help make a translation I would be happy to publish it on Easy Crochet with a link and full credit to your blog. For further questions about the free crochet pattern fingerless gloves, please email [email protected]
---
Easy Fingerless Gloves Free Pattern
(make 2)
Ribbing
(each row should be 2″ wide = 6 sc's for every 2″)
FOUNDATION ROW: ch 7, sc in 2nd ch from hook, sc in remaining ch's across, turn (6)
ROW 1: ch 1, working in the bl and starting in the first st sc, bl sc in remaining st's across, turn. (6)
ROW 2- 21: repeat row 1. (6)
Hold together ends with side of the ribbing you started the pattern with with on the inside, sl st 6 times across evenly along seam to form a circle.
Do not fasten off yarn and continue on to glove pattern below to finish
Glove
(gauge is 6 sc for every 2″)
Round 1: ch 1, do 21 hdc's evenly around top of ribbing, sl st top of first hdc (21)
Round 2: ch 1, starting in first st hdc in the fl, hdc in the fl in the remaining st's around, sl st to top of first hdc (21)
Round 3-5: ch 1, starting in the first st sc, sc in the remaining st's around, sl st to to the top of the first sc (21)
Round 6: ch 1, starting in the first st do 2 sc's, sc around until you are left with 1 st, 2 sc's in remaining st, sl st to top of first sc (23)
Round 7: ch 1, starting in first stitch sc, sc in the remaining st's around, sl st to to the top of the first sc (23)
Round 8: repeat round 7 (23)
Row 9: (we will be working in rows now) repeat round 7 but do not sl st to top of first sc, turn your work (23)
Row 10: ch 1, starting in the first st sc, sc in every st in row, turn (23)
Row 11: repeat row 10 (23)
Row 12: repeat row 10 (23)
Round 13: ( we will be working in rounds now) repeat row 10, but sl st to top of first sc of round (23)
Round 14: repeat round 7
Round 15: ch 1, in first st sc2tog, sc around until you are left with 2 sc's, sc2tog. sl st to top of first sc (21)
Round 16: ch 1, in first st sc, sc in remaining st's around, sl st to top of first sc (21)
Round 17: repeat round 16 (21)
Round 18: ch 1, starting in 2nd ch from hook sl st, sl st in every st around, sl st to top of first sl st, fasten off yarn (21)
Finishing The Gloves
Weave in loose ends throughout with yarn needle.
Button attachment: (optional) Cut a 6″ piece of yarn, using yarn needle, attach the button to the outside left of glove securely

Don't forget to add this Andy Crochet hand warmers pattern to Ravelry so you can make them again! Andy Crochet Hand Warmers Pattern
You May Also Like These Free Patterns