Easy Guide to Double Crochet for Beginners (dc)
The double crochet stitch is a common crochet stitch used in many crochet patterns like blankets, scarves, and sweaters. If you have landed here wondering what does double crochet means, then you are in the right place!
This stitch – usually abbreviated as dc – is one of the easiest stitches of all the crochet stitches to learn! It is a basic stitch that is used often in many crochet patterns.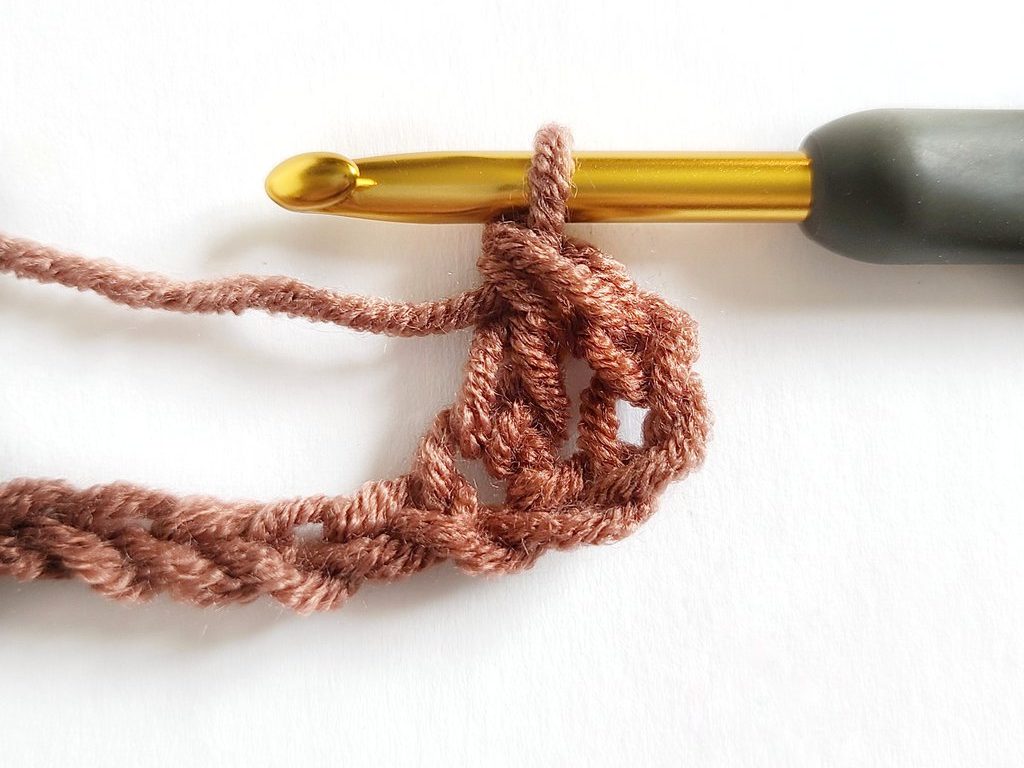 Below, we'll show you how to double crochet with a video as well as a photo tutorial, so you'll be ready to make all the double crochet patterns you want!
Tip: After you learn the dc stitch, be sure to check out my other crochet stitch tutorials here for beginner crocheters as well.
What is a Double Crochet?
A double crochet stitch (abbreviated as dc) is a basic crochet stitch that creates a tall and open fabric. To make a double crochet stitch, follow these steps:
Yarn over (yo) the hook, which means to wrap the yarn around the hook from back to front.
Insert the hook into the third chain from the hook (or as directed in the pattern).
Yarn over and pull up a loop (there will be three loops on the hook).
Yarn over again and pull through the first two loops on the hook (there will be two loops remaining on the hook).
Double crochet stitches are one of the must-know basic stitches in when beginning to crochet. You will no doubt find yourself coming back to this classic stitch time and time again because it works well in so many crochet projects.
The double crochet stitch is roughly 3 chains tall. Whereas, the single crochet stitch is only one chain tall. The height in the diagram below shows that you'll need three turning chains worked at the beginning of each row.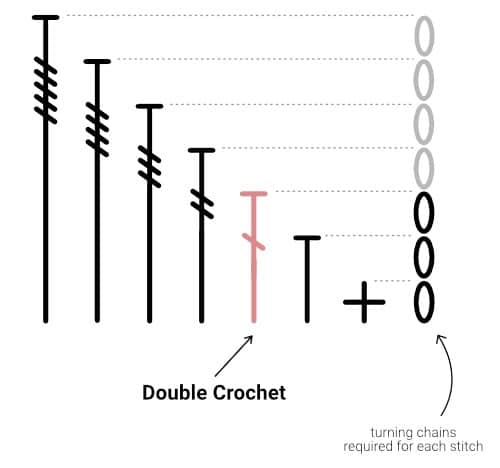 Tip: The diagonal bars in the symbols indicate how many times you'll need to wrap the yarn around your hook before working the stitch.
Chart Symbol
As seen below, a dc is shown in a chart with a tall line with two shorter lines going through the top. When you see this symbol, then you know that you will need to double crochet in a pattern.
Double Crochet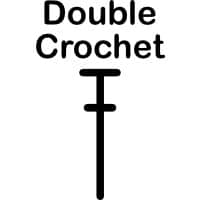 Patterns Using This Stitch →
The Double Crochet Stitch is Easy to Learn
This common stitch in crochet is super simple to learn and is usually one of the first stitches that a beginner crochet works with. I promise that once you get the hang of this easy DC crochet stitch, it will become one of your favorites!
Next, you might want to try, if you haven't already, these easy stitches too.
Plus, since you now know how to make the double crochet stitch, you will have four awesome crochet stitches you can make almost any crocheted pattern.
Now, go grab your crochet hook and yarn. We have a new crochet stitch to learn.
When you scroll down to take a look at this written tutorial as well as the dc video tutorial, you will be able to crochet the double crochet stitch in no time! I can't wait to see all the projects you apply this easy and fun stitch to!
Let's Get Started
Follow along below, where I've created a step-by-step picture tutorial on how to learn the double crochet stitch. This tutorial is perfect for beginners and includes a DC video tutorial on YouTube too!
Furthermore, learning the double crochet stitch is important if you plan to ever make granny squares. The double crochet is the most commonly used stitch with just about any classic granny square.
How to Double Crochet (DC) Tutorial for Beginners
Skill Level: Basic
Materials
Any yarn brand or yarn weight (I used a #4 weight yarn; Color Theory by Lion Brand)
Crochet hook size that corresponds with the yarn used (I used a 5.5 mm Etimo crochet hook)

Notes
The DC photo tutorial is below, followed by the written pattern. The video is above.
This double crochet tutorial is written in standard US terms.
Double Crochet (dc) Stitch Tutorial
STEP 1: For your foundation chain (the base of your project), chain 12 (That is what I used for my sample)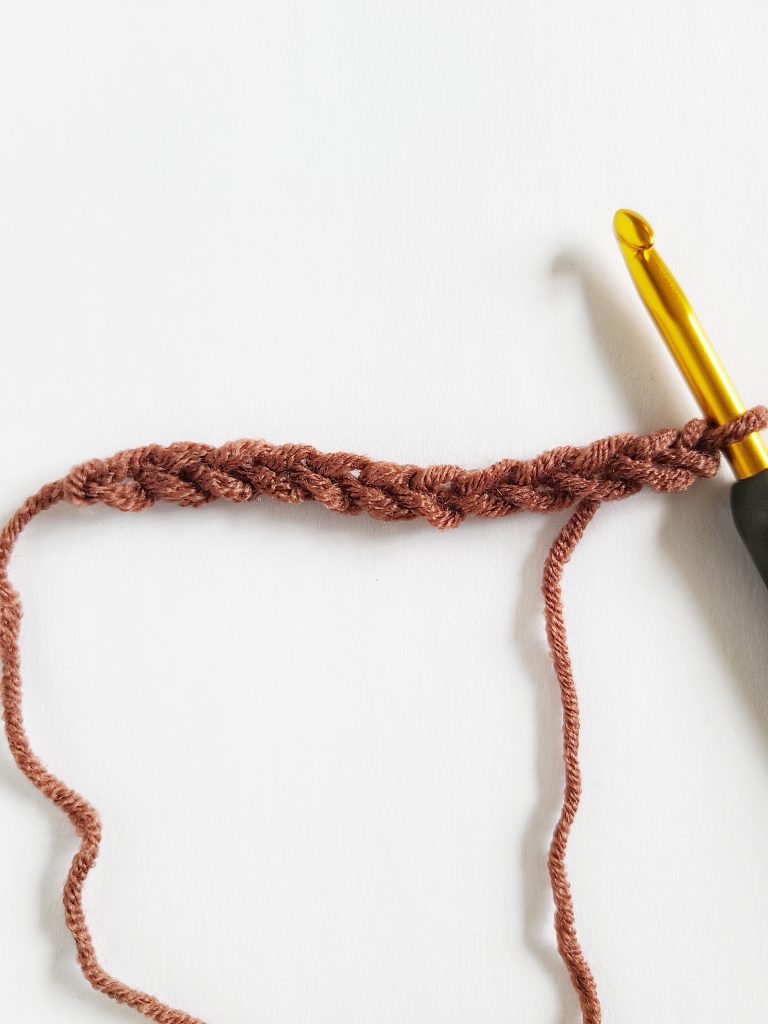 STEP 2: Yarn over the crochet hook with the working yarn (not the yarn tail)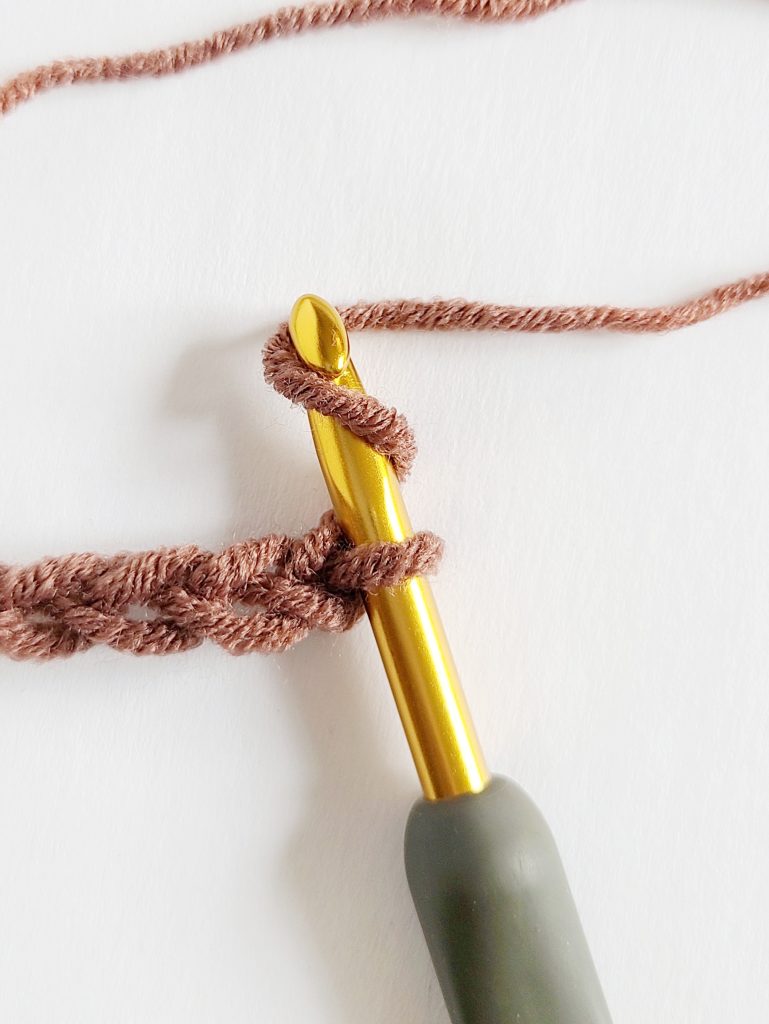 STEP 3: Insert the crochet hook into the fourth chain from the hook (3 loops on hook)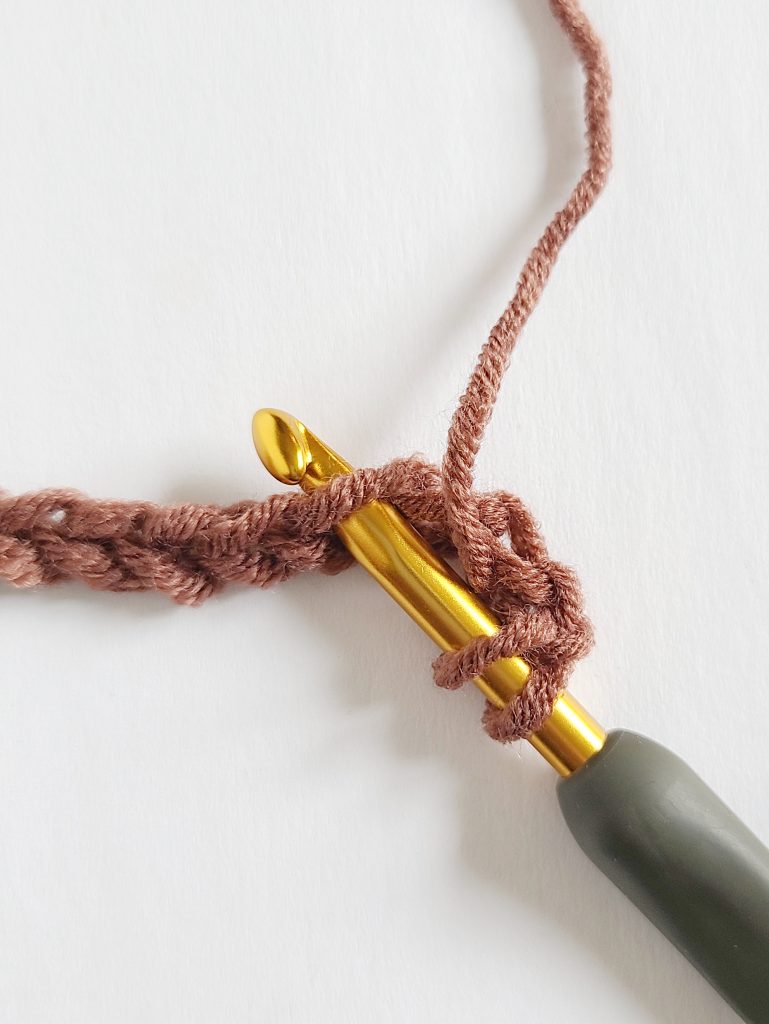 STEP 4: Yarn over the crochet hook with working yarn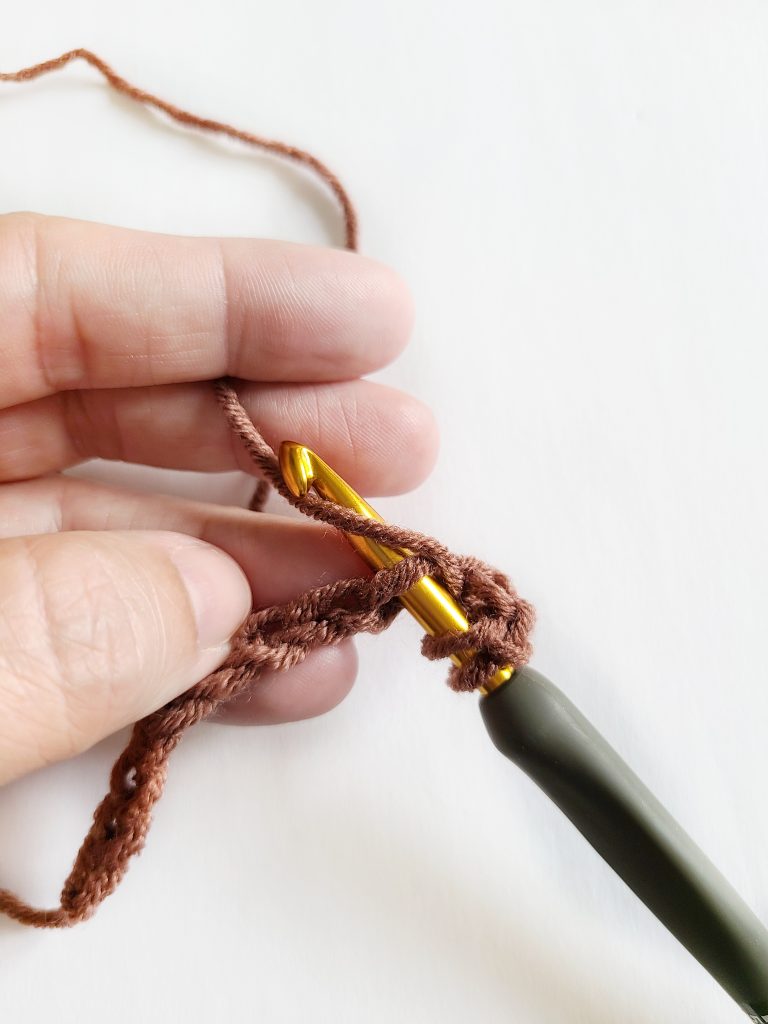 STEP 5: Pull back through the chain (3 loops on hook)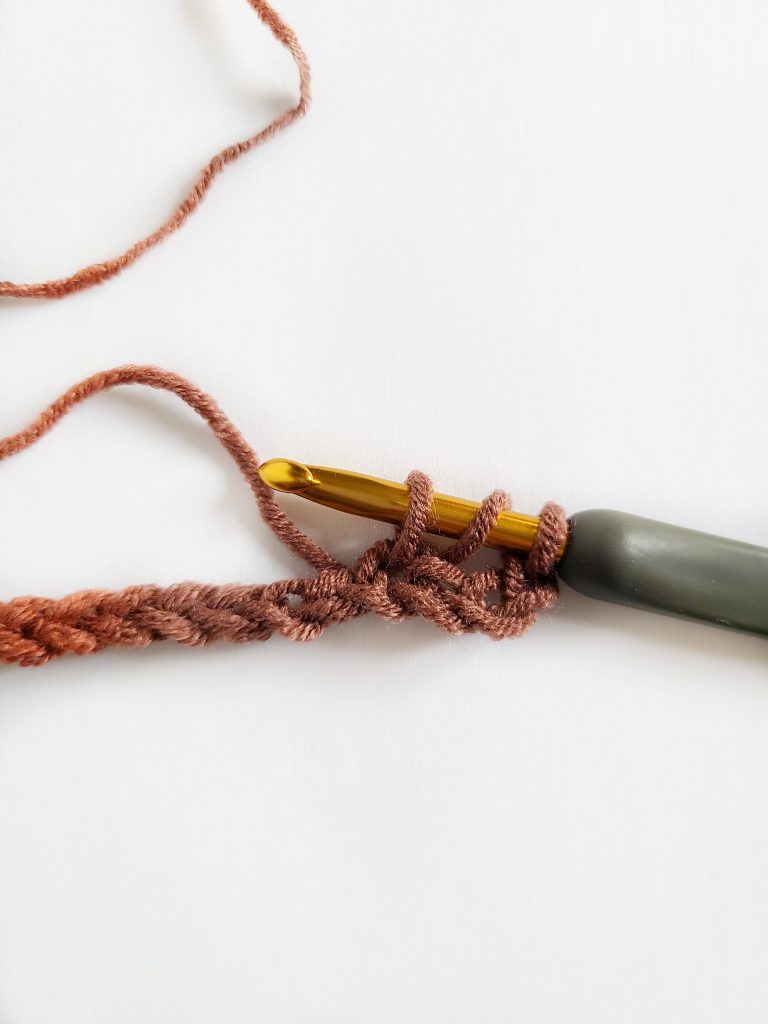 STEP 6: Yarn over and pull through two loops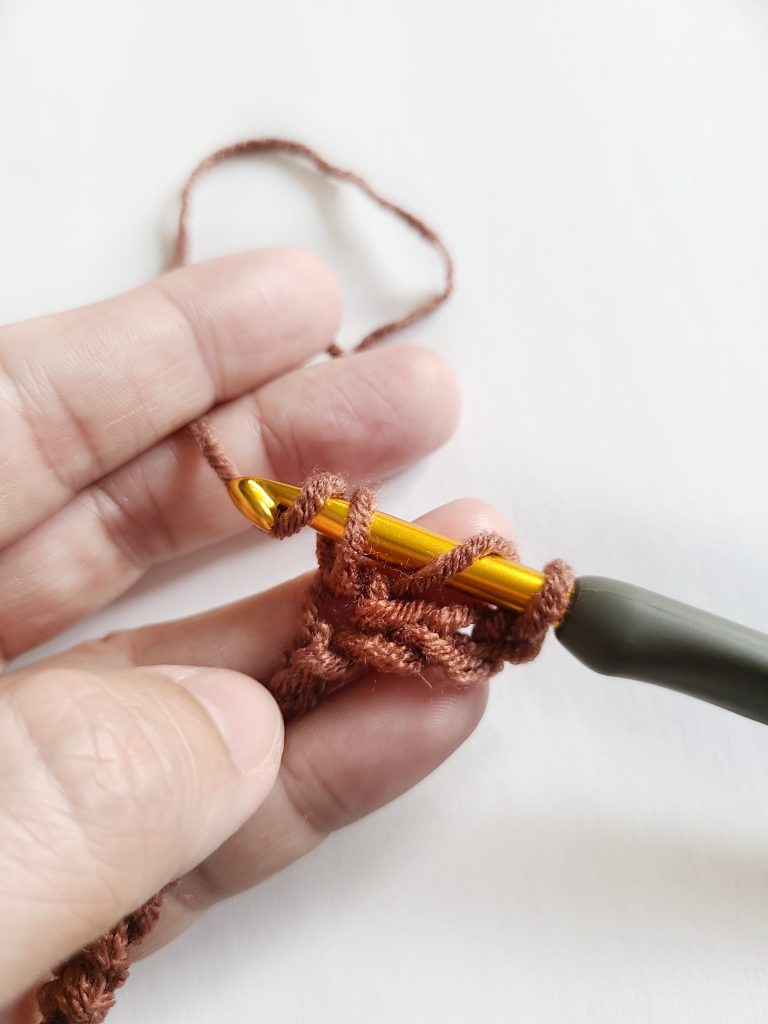 STEP 7: You should have two loops now on the hook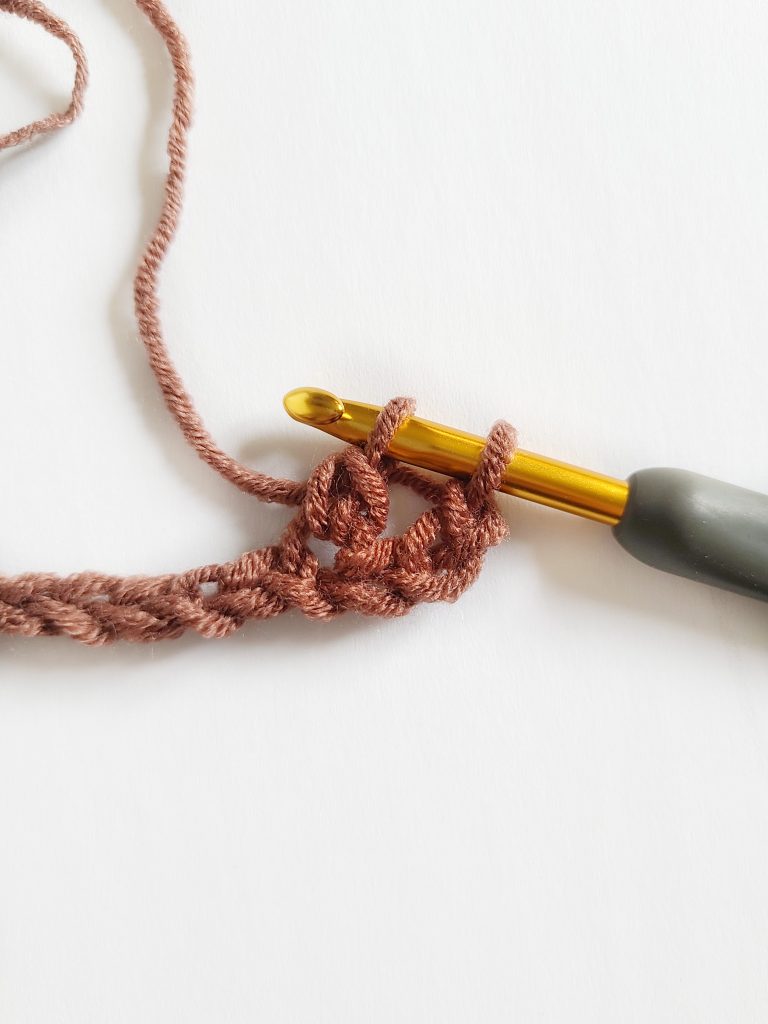 STEP 8: Yarn over and pull the hook through the remaining two loops!!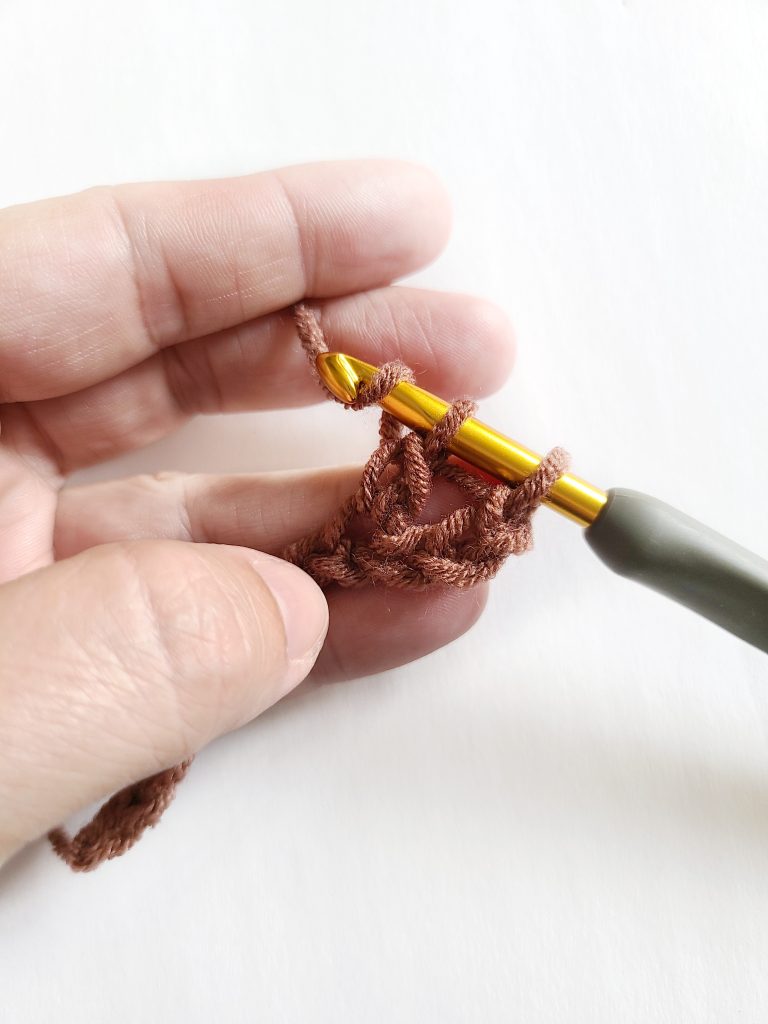 STEP 9: You have completed your first double crochet stitch of the row.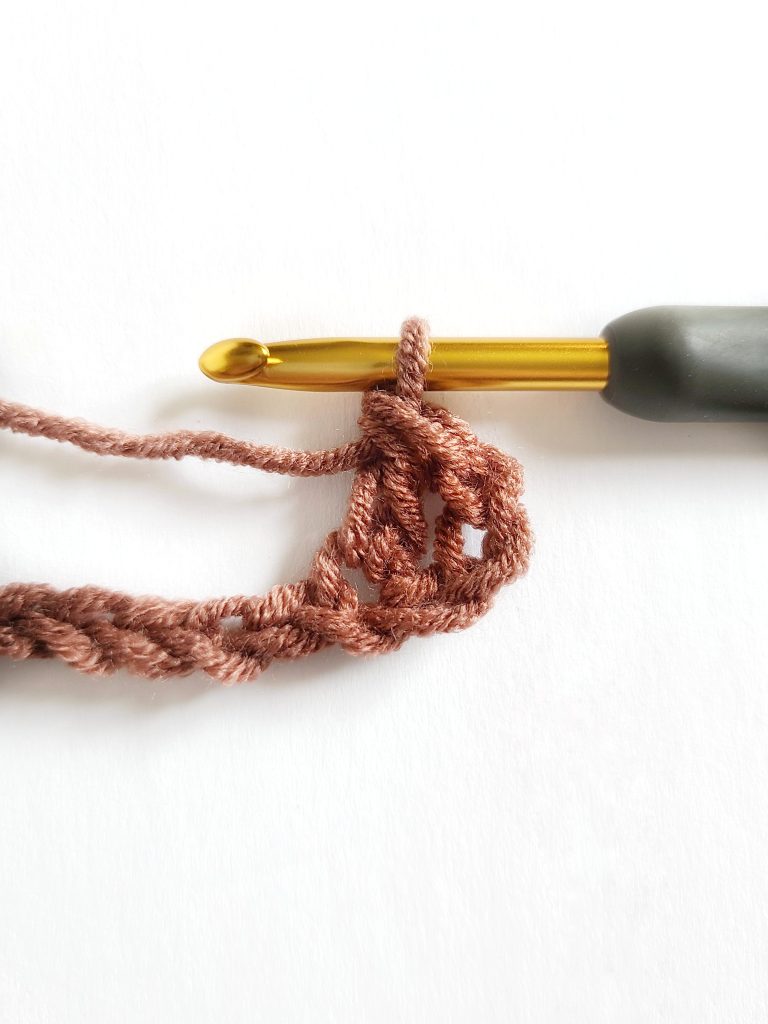 Step 10: For the next stitch, repeat steps 2-8 to make more double crochets, repeat those steps until you reach the end of the first row.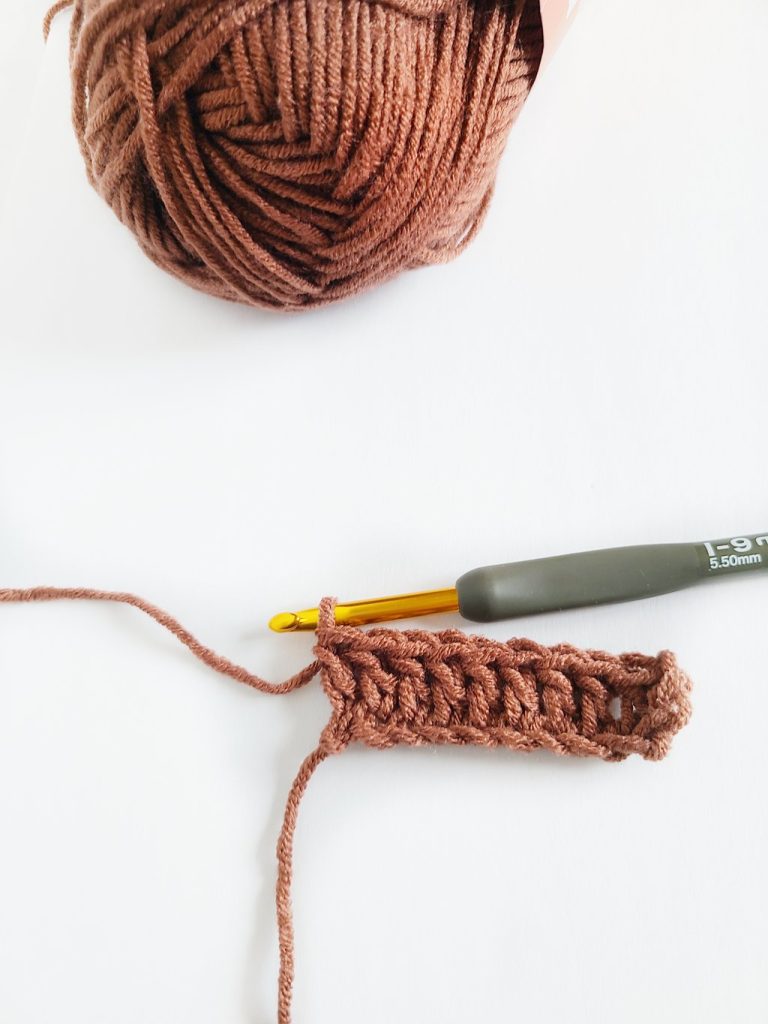 Step 11: To begin the second row, after your last dc stitch of the first row, turn your work and chain three for your turning chain.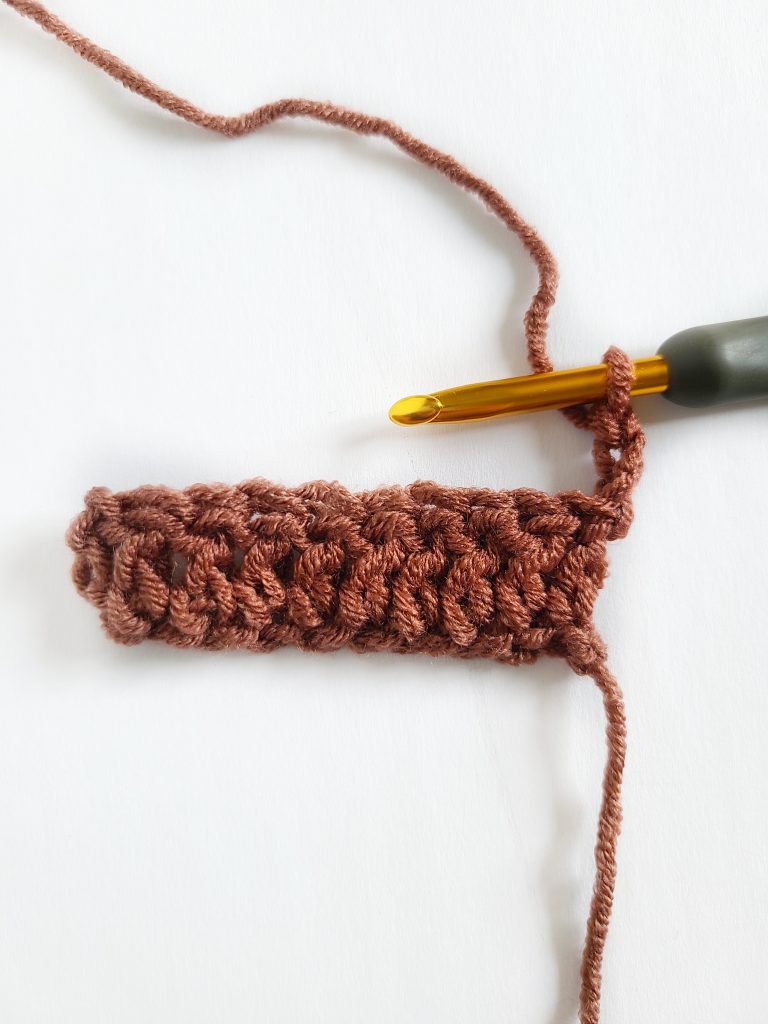 Step 12: Yarn over the crochet hook and dc into the second stitch of the row (not the chain 3)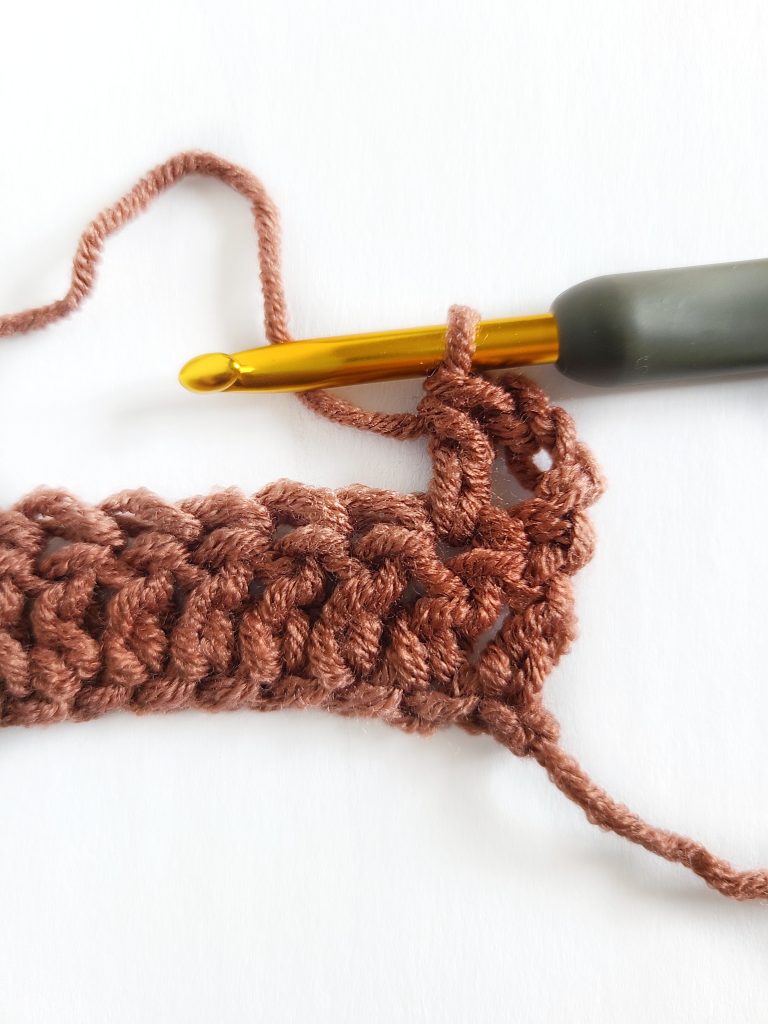 Step 13: Continue with steps 2-8 across until the end of the row, ending your with your last dc in the ch 3 from the row before. You're done with row 2!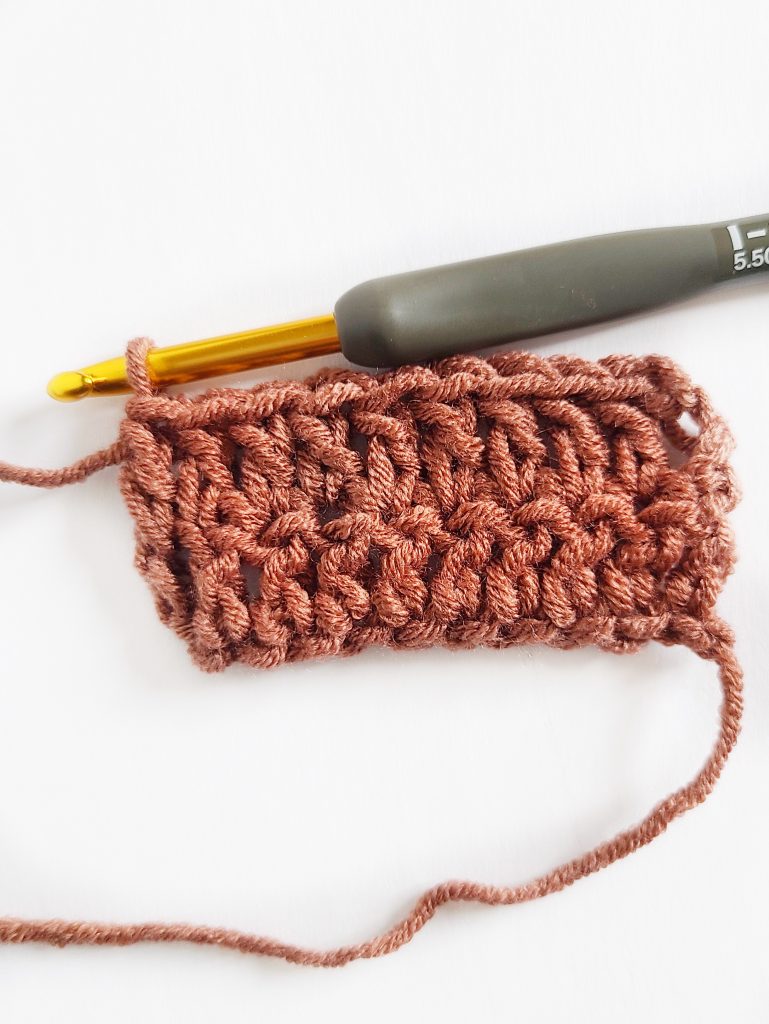 More Rows: Continue on, repeating the step 11 through 13 for as many rows as you'd like.
Written Double Crochet (dc) Instructions
Wrap the yarn over (yo) the hook, insert the hook into the specified st.
YO the hook again, draw the yarn through the st, so there are 3 loops on the hook
YO the hook again draw it through 2 loops, so there are 2 loops on the hook
YO the hook, draw it through the final 2 loops.
Double Crochet Stitch Video Tutorial
If you are more of a visual learner, we also created a video tutorial on how to make the Double Crochet stitch.
If you have an ad blocker enabled, you may not be able to see the video. Please, disable and refresh the page to view the video tutorial.
Free Crochet Patterns that use the Double Crochet Stitch
If you are already familiar with this simple stitch, then you can check out some of my favorite simple dc stitch projects here:
The double crochet is also used in many crochet projects like afghans, cowls, scarves and more. Take a look at a couple of my favorite designs to make that use this easy stitch too.
Be sure to check out some of my free crochet blanket patterns too when you become a pro double crocheter!
---
Common Double Crochet Stitch Questions
How to Change Colors with the Double Crochet Stitch
When you feel comfortable enough with this double crochet stitch, you can change colors too. Follow along with our how to change colors in crochet tutorial to learn. If you prefer video tutorials, be sure to follow along with me on YouTube.
How do you turn in a Double Crochet row?
Turning with the dc stitch is easy. When you get to the end of the dc row, you firs turn your work followed by a chain 3. Next, you can continue to work on with the next row of the pattern you are following. Turning your work and starting a new row in double crochet go together.
What is a Double Crochet Cluster?

Occasionally, when you are crocheting with double crochets, you may want to make a double crochet cluster. A double crochet cluster stitch is explained below. It is a group of two double crochet stitches clustered together (as an increase) and worked from a single stitch. It is the opposite of a double crochet 2 together (dc2tog) stitch, which is a decreasing stitch.
Double Crochet Cluster (2-dc cl):
Yo (yarn over), insert hook in st (stitch)
Yo, pull through st
Yo, pull through 2 loops on hook
Next, (yo, insert hook in same st, yo, pull through st, yo, pull through 2 loops on hook) 3 times
Yo, pull through all 5 loops on hook, ch 1.
What is a Double Crochet Stitch Called in the UK?
A double crochet (dc) stitch in US terms is considered a treble (tr) in British American terms or UK terms.
What is a Front Post Double Crochet?
A front post double crochet is one double crochet stitch worked around a stitch from the previous row from the front to the back. Using post stitches creates texture and can add a cabled look to crochet projects. You can also back post double crochet too, which is explained in detail in our post stitches in crochet tutorial.
You May Also Like These Crochet Stitch Tutorials Too