A Variety of Easy Crochet Patterns
The patterns listed in this roundup are all easy, and were chosen by the EasyCrochet.org editors.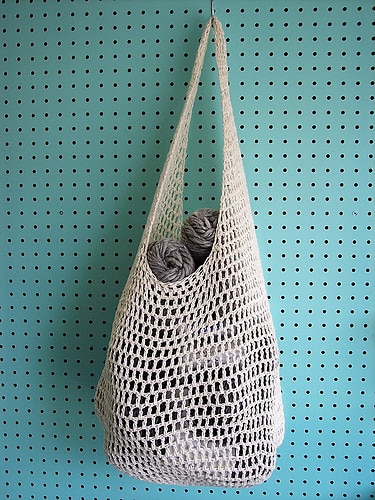 You can never have too many bags, and crocheted market bags like this one are so versatile. Take it to the farmer's market, grocery store, gym, or to the beach to carry all your necessities. This crocheted bag pattern comes from Haley Waxburg on Ravelry. I love the finished mesh quality of this bag; it gives your contents some breathing room and stretches slightly when carrying a heavy load – ideal for stocking up on produce at the farmer's market on a hot summer day. Crocheted bags like this make a beautiful accessory, regardless of what you use them for.
You can customize the finished size of this bag simply by changing the size of the crochet hook you use; a larger hook will result in a larger bag. This is made with 2 skeins of DK weight yarn. If you're not familiar with it, DK stands for "double knitting". It is a lighter yarn than worsted weight, but slightly heavier than fine yarns.
Materials: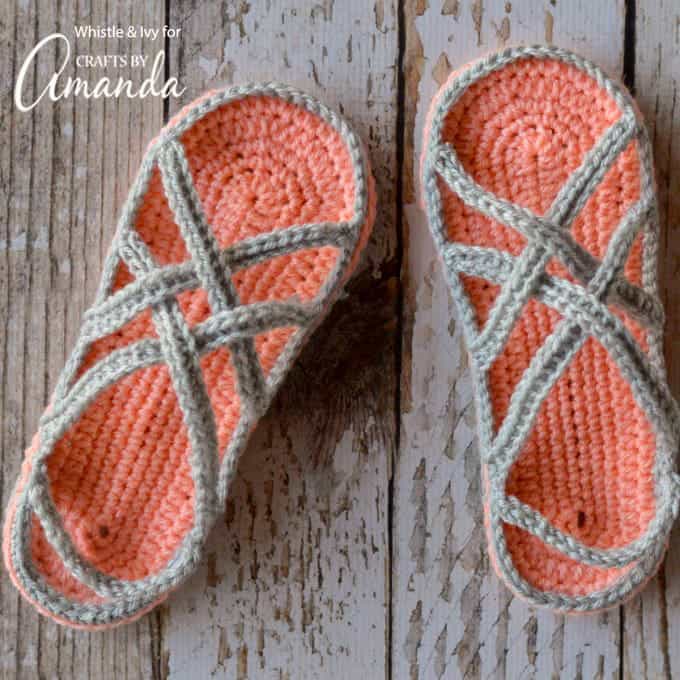 Yesterday was officially the first day of summer, though with the high temps we've been having, it's been feeling like summer for quite a few weeks now! While searching for some summery crochet projects, I came across these adorable sandals from Crafts by Amanda. I don't know about you, but I like to go without socks for pretty much the entire summer, opting for sandals instead. Finding comfortable sandals can be a challenge, though. I'm always on the lookout for something simple to wear (besides flip-flops). These crocheted sandals look wonderfully comfortable and would be perfect for those warm spring or summer days in or out of the house.
All you need to make this is some medium weight yarn, a hook, and a darning needle. These sandals work up fairly quickly, so consider these if you need a weekend project. Instructions are provided for size 7, 8, and 9. Use your foot as a size guide for the straps, and be sure to make them nice and snug, as the straps may loosen up over time. I am already picturing these in all kinds of beautiful color combinations.
Materials: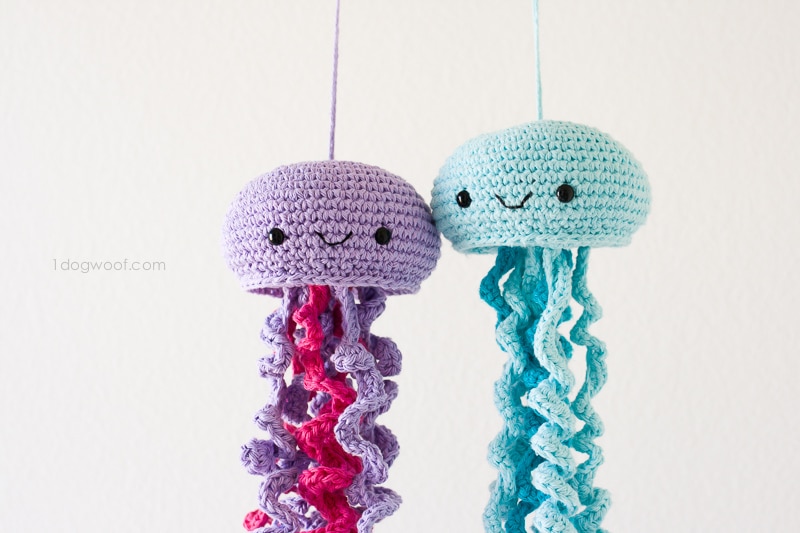 I came across these crocheted jellyfish and decided I HAD to share them. Aren't these just about the cutest things ever?? These were made by Chiwei over at One Dog Woof. They were originally intended to be used by her kids for drying their hands, but they're irresistible enough to be played with and snuggled with. I love the idea of having these hanging in the bathroom as hand towels. My kids have an ocean-themed bathroom, so I think I need to make some jellyfish for them!
The finished size of the jellyfish head is about 5 inches (13 cm) across, and the finished length is 15-18 inches. This would be a fun project to get creative with colors – can you imagine a whole school of multicolored crocheted jellyfish just hanging around??
Materials: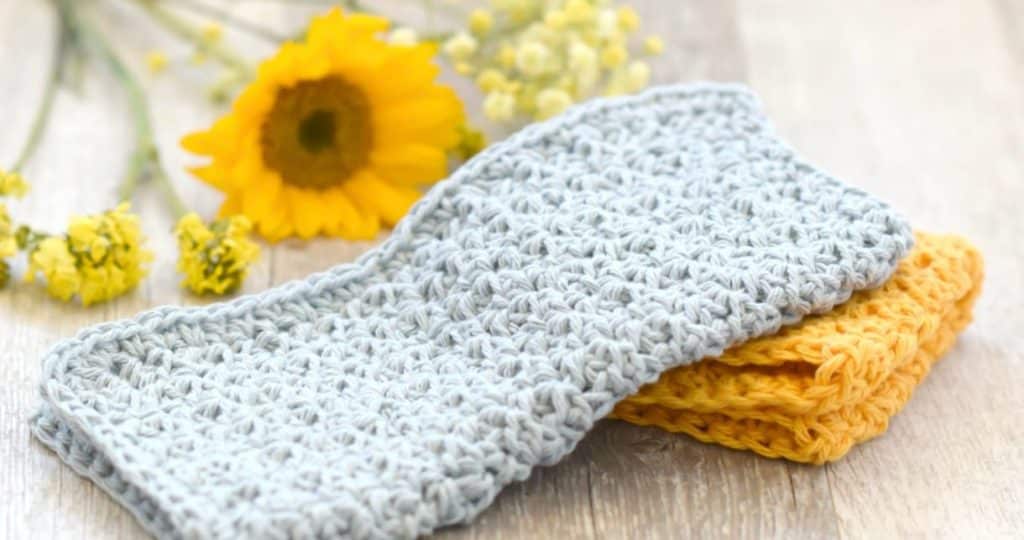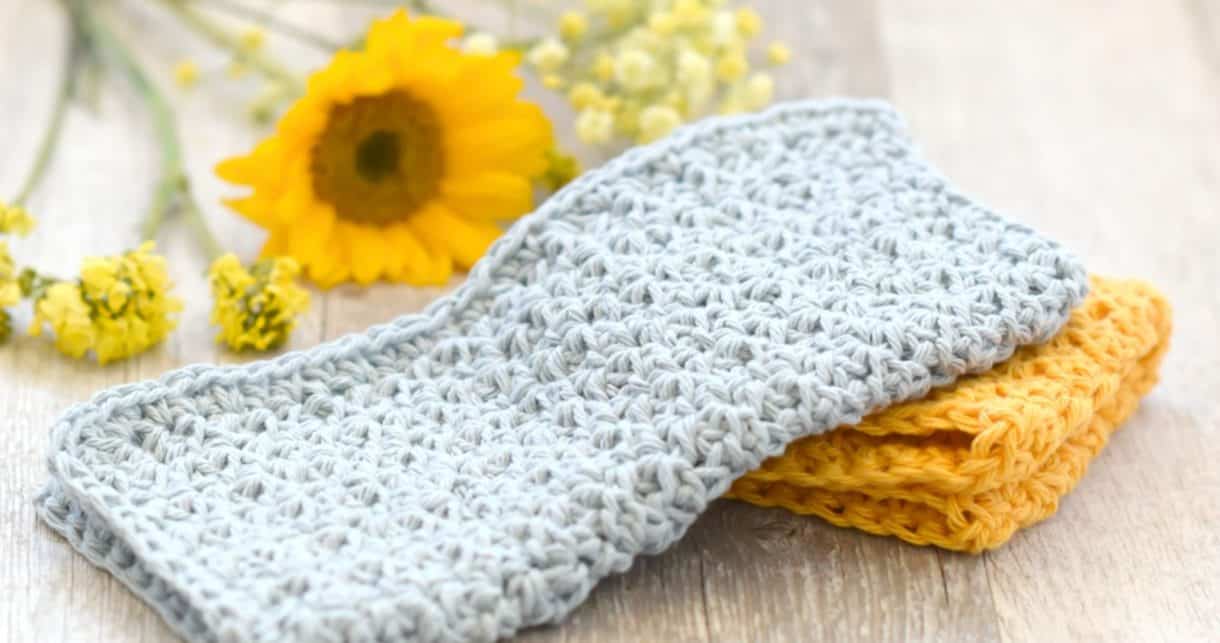 I'm a big fan of crocheted wash cloths for so many reasons. They last a long time, they're awesome for heavy duty cleanup jobs, and the best part – if you make your own, you can make them in whatever colors you like and whatever size you like! I think I've mentioned it in previous posts, but I've made a ton of crocheted dish cloths while practicing different stitches. Even those, usually made with scrap yarn, have outlasted anything I've ever bought at the store. The pattern I'm sharing today is from Mama in a Stitch. She calls these "farmhouse style" wash cloths because they are oversized and heavy duty.
As with any crocheted wash cloths, you'll want to use cotton yarn for these, since synthetic yarns don't absorb water very well. The finished size of these is about 9 inches (22 cm) square, but you can make them in any size you want, as long you stick with an even number of stitches. This pattern uses the spider stitch, which is simply a combination of beginner stitches.
Materials: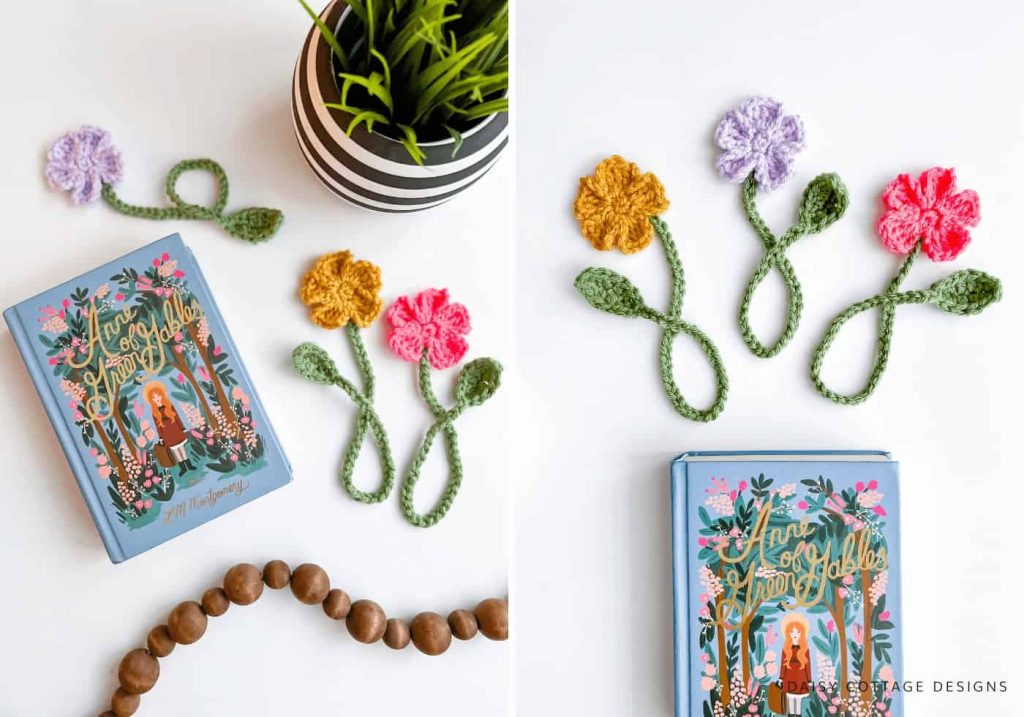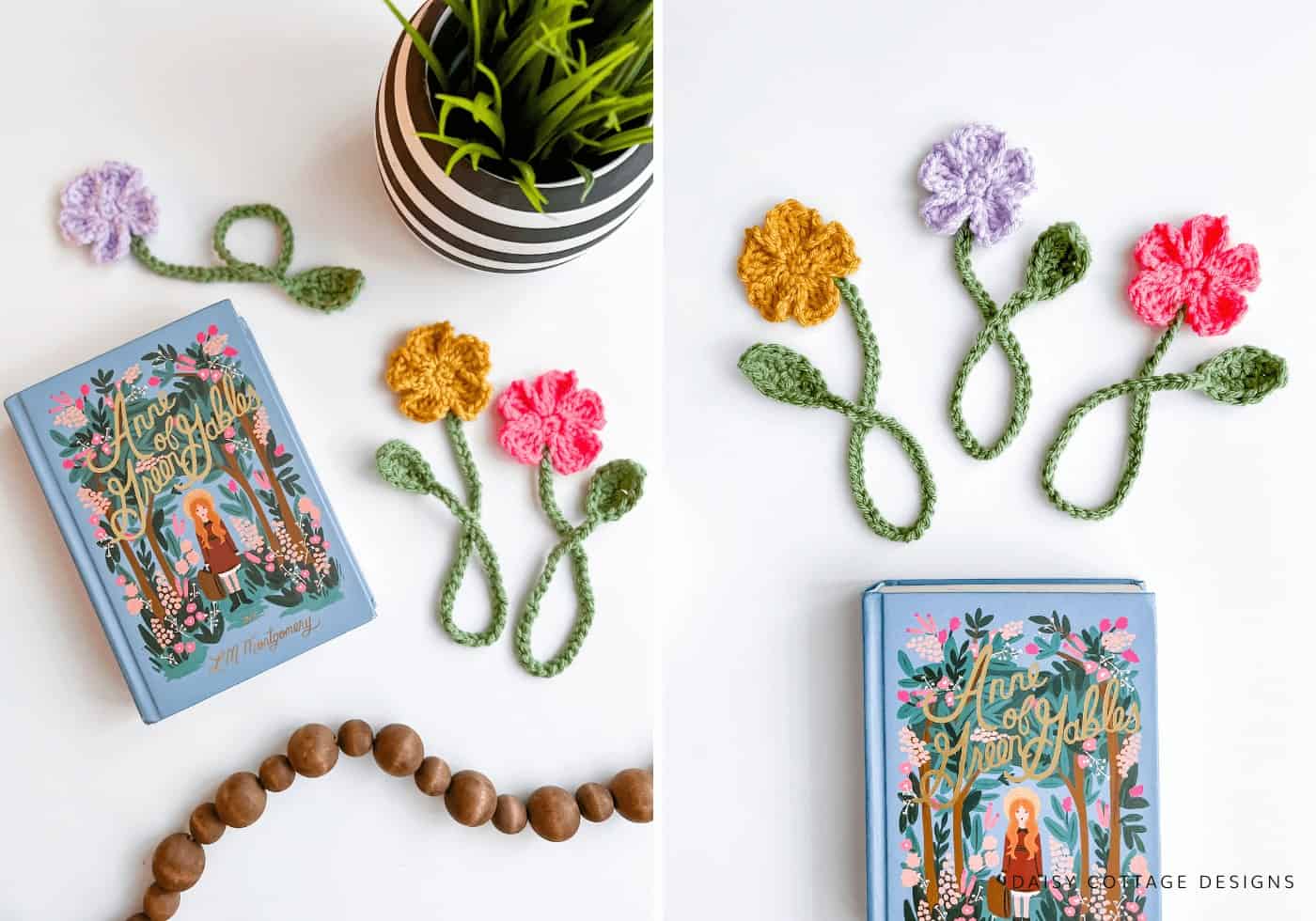 Flowers and books are two of my favorite things in life, so I love the idea of a crocheted flower bookmark. I used to sit and make all kinds of crocheted flowers in beautiful colors, but I never knew what to do with them when I was finished. They ended up in a pretty little pile, until I attached some to hair clips for my daughter. I wish I had thought to turn them into a bookmark like this – so much better than the random scraps of paper I usually end up using for bookmarks!
The daisies for this project can be made from a variety of colors of worsted weight yarn you might have leftover from other projects. Add brightly colored buttons for the centers, and you have unlimited options for fun flower colors. Then simply use green yarn to create the stem and leaf on the bookmark. These are a quick project that would make wonderful gifts for Christmas, Mother's Day, birthdays… you name it! Enjoy!
Materials: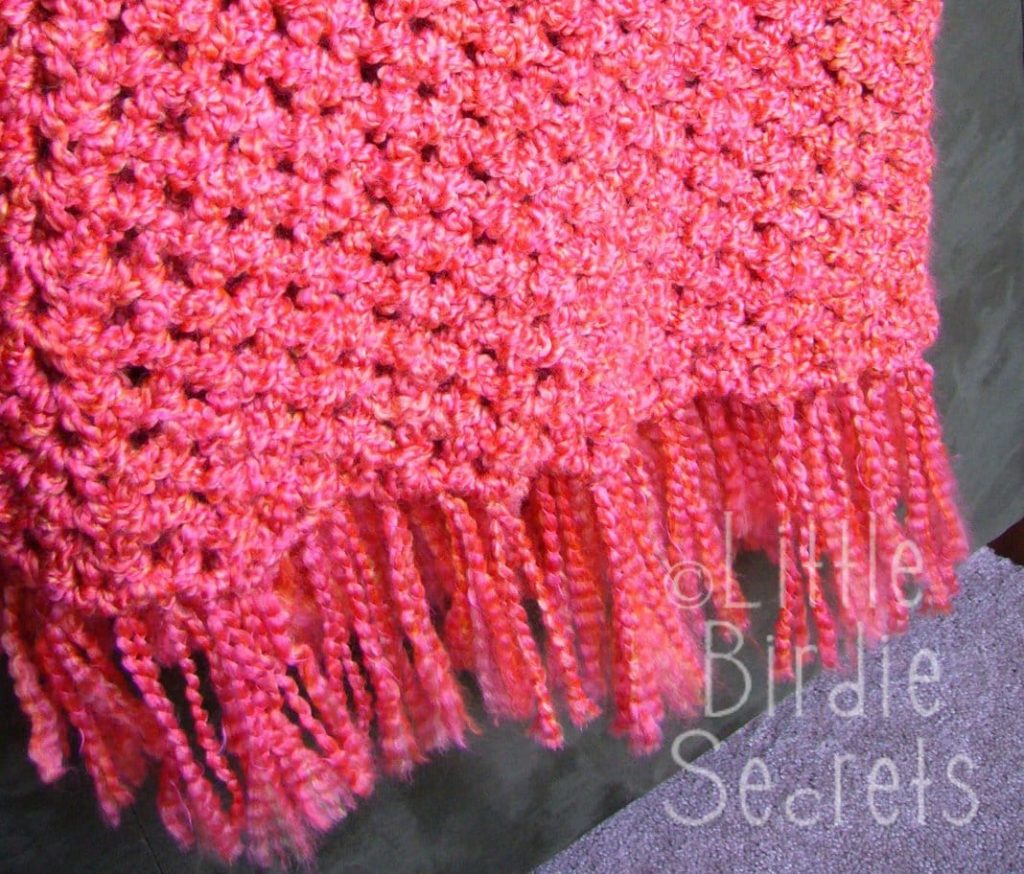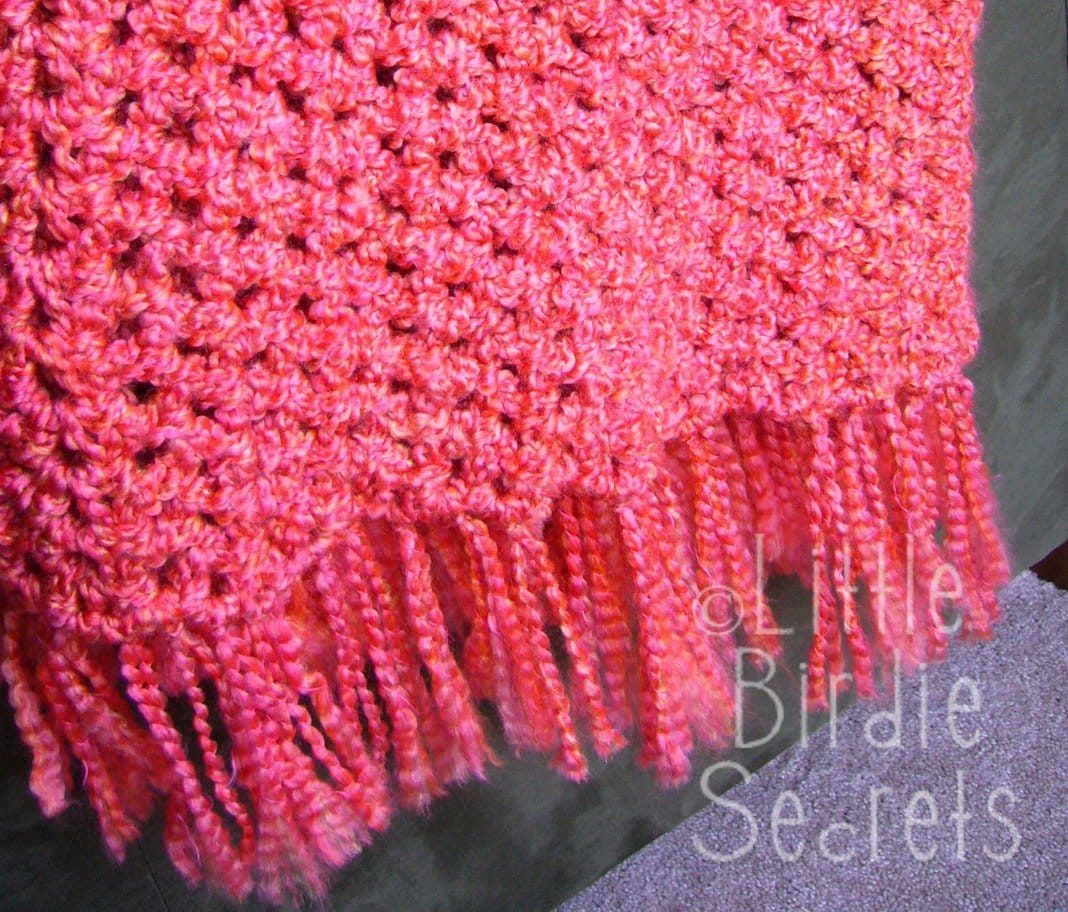 If you know your crochet basics and have a few hours of time, you can make this cozy afghan blanket, perfect for cozying up in with a good book this winter or for giving as a holiday gift. The pattern, from Little Birdie Secrets, uses thick, textured yarn and a large hook size (15.75mm, or size Q). The large hook and chunky yarn is what makes it such a fast project to complete, and also gives the blanket a nice thick texture. You'll use double strands of yarn as you work this, so it takes more yarn than a single-strand project, but the results are beautiful. To finish it off, you can add fringe as shown in the image, or weave a satin ribbon through the border rows.
Materials: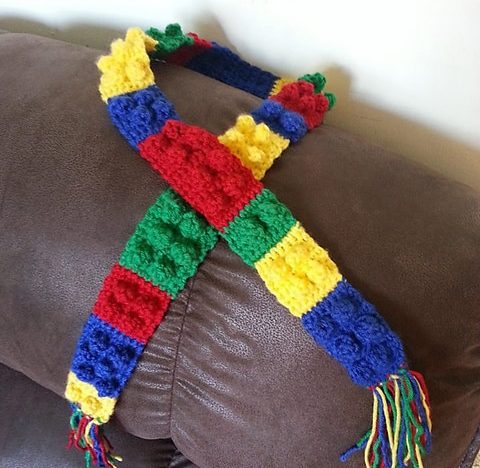 I was looking for some scarf patterns for kids today and came across this adorable idea from Samantha Marsalla on Ravelry. This scarf would be the perfect Christmas gift for little Lego fans. It's not very wide, making it ideal for toddlers, and the length and colors can easily be customized to suit your preferences. How cute!!
Materials: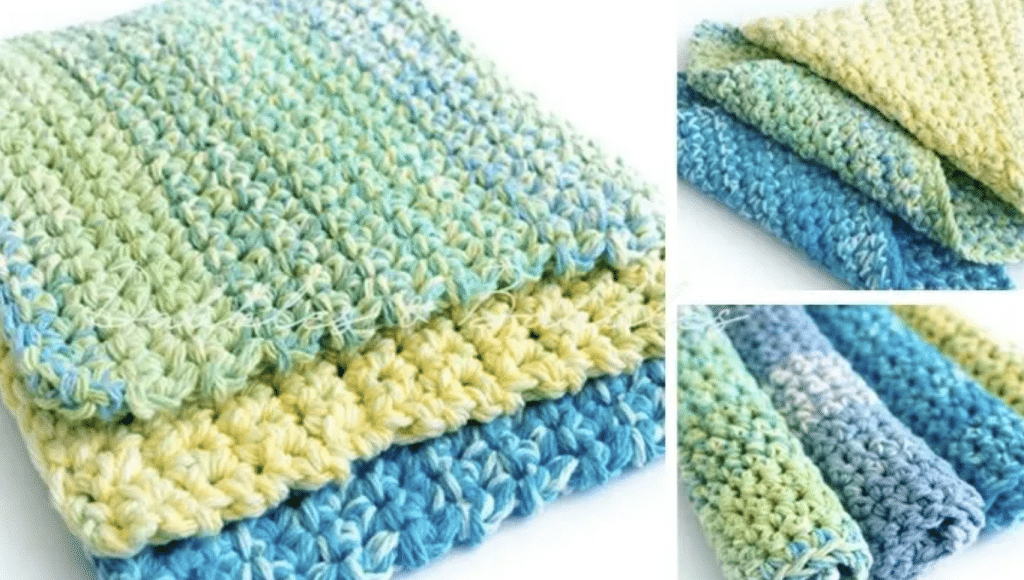 Crocheted dish cloths are so wonderful to have around the house. Have you ever used them? They are sturdy enough to handle the messiest jobs and to last a long time, whether you use them in the kitchen, in the bathroom as wash cloths, or for cleaning elsewhere in the house. I always keep them on hand in the kitchen and have turned several of my stitch practice swatches into wash cloths for my kids, and they have amazed me with their durability and longevity.
If you want to try to make some crocheted wash cloths for yourself, here is a great project that anyone can do. This free pattern comes from Dabbles and Babbles and requires only two stitches – single crochet stitch and chain stitch – so it is a perfect pattern for beginners. Cotton yarn works best for these, since synthetic yarn doesn't absorb water very well. For this project, you'll crochet with 2 balls of yarn at the same time, which is why these dish cloths end up so nice and thick. They turn out beautifully, so they would make great gifts – if you can stand giving them away!
Materials: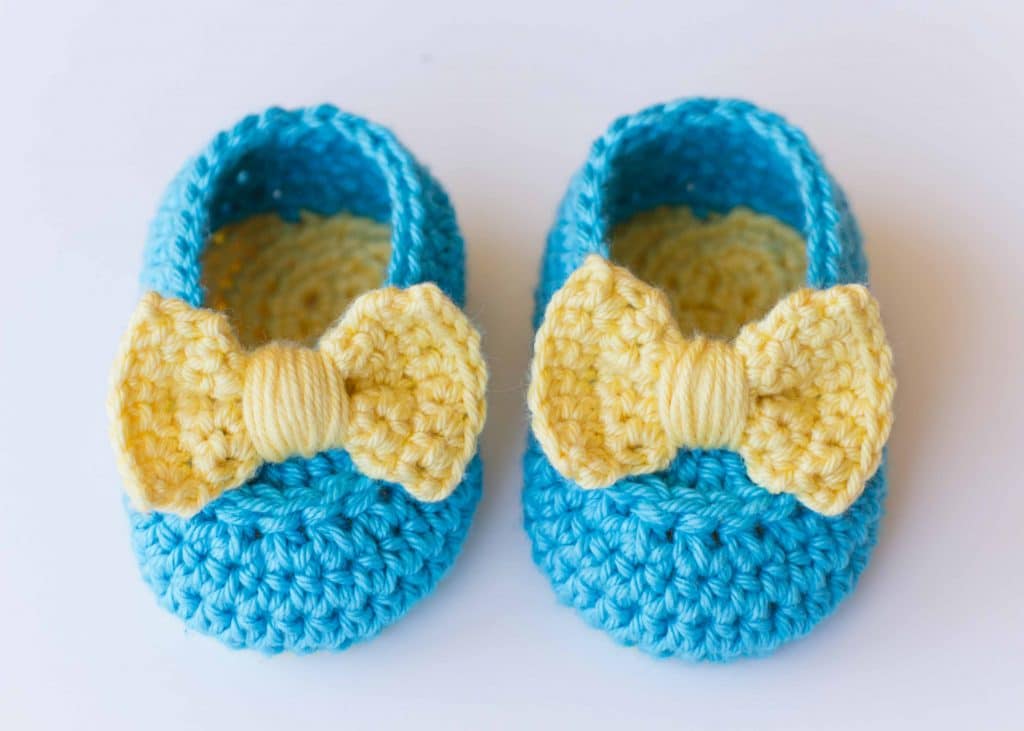 Crocheting footwear may seem a little intimidating to beginners, but socks, slippers, and baby booties don't have to be difficult to create. Aren't these little booties adorable! I love the bow and the colors!
These can be made with beginner crochet skills using just the slip stitch, single crochet stitch, and half double stitch. You can follow a great tutorial with pictures over at Hopeful Honey.
Materials: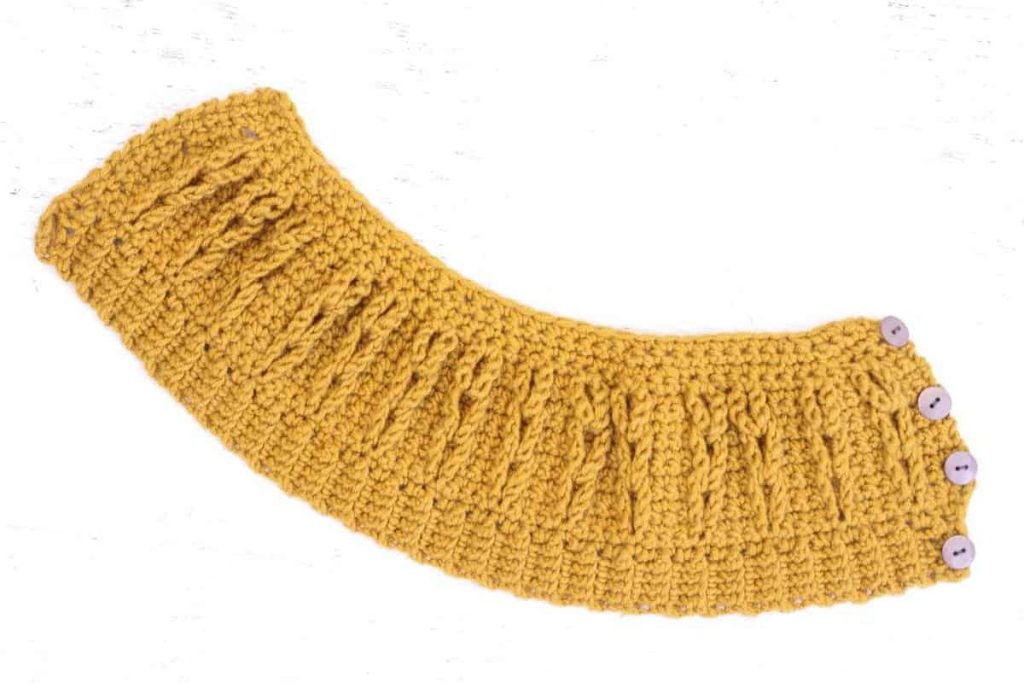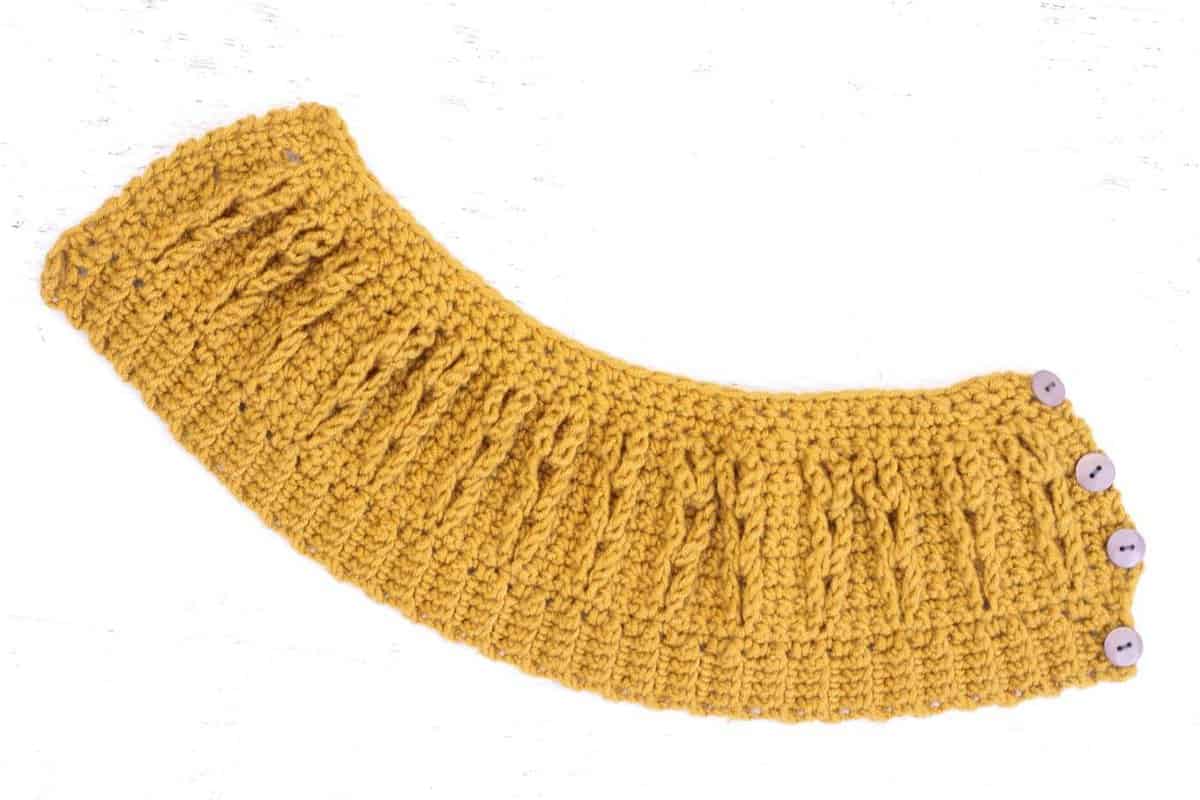 Bun beanies have gotten really popular lately, and for good reason! The first time I saw one of these – posted by a knitting friend of mine on Instagram – I thought the idea was absolutely brilliant! If you have long hair and have to awkwardly stuff it into a beanie whenever you go out in cold weather and don't want to wear your hair down, you know what a pain it is. Not only do you have a big, unsightly bump of hair somewhere in the beanie, it's very uncomfortable. I have very long hair and live in a state with very cold winters, so I deal with this all the time. Not fun.
I went searching for a free bun beanie pattern and just loved this one from Make and Do Crew. Why? Because it's a simple pattern, but the faux cables make it look very dressy. Also, I love that it can be wrapped around your head and buttoned instead of just pulled down over the bun like most beanies. This pattern uses just single crochet and chain stitches and one skein of yarn.
Materials: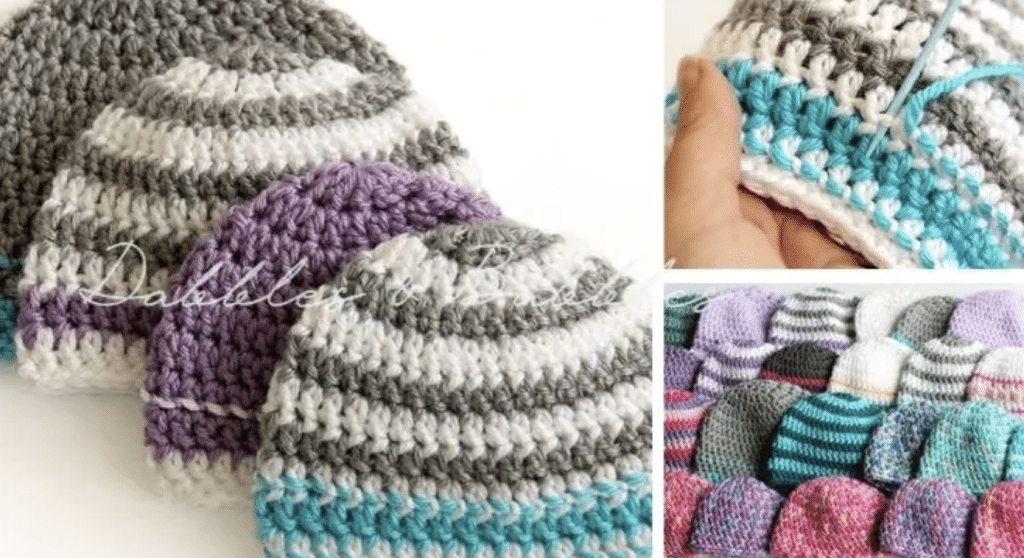 If you're looking for a way to give back this holiday season, here's a great opportunity to do just that while indulging your creative side. Hospitals are always in need of caps for newborns, preemies, and cancer patients. These caps from Dabbles & Babbles were made with this idea in mind and donated to a local hospital.
This is something anyone can do, and this pattern is easy enough for even novice crocheters to tackle. It can also easily be customized for whatever size you require, from preemie to men's large. Of course, these beanies would also make wonderful Christmas gifts. Since they are a fairly fast project, you can make some for gifts and some to donate, all while getting in some great crochet practice and learning to incorporate color changes within a pattern.
Materials: