Crochet Pizza Slice Pattern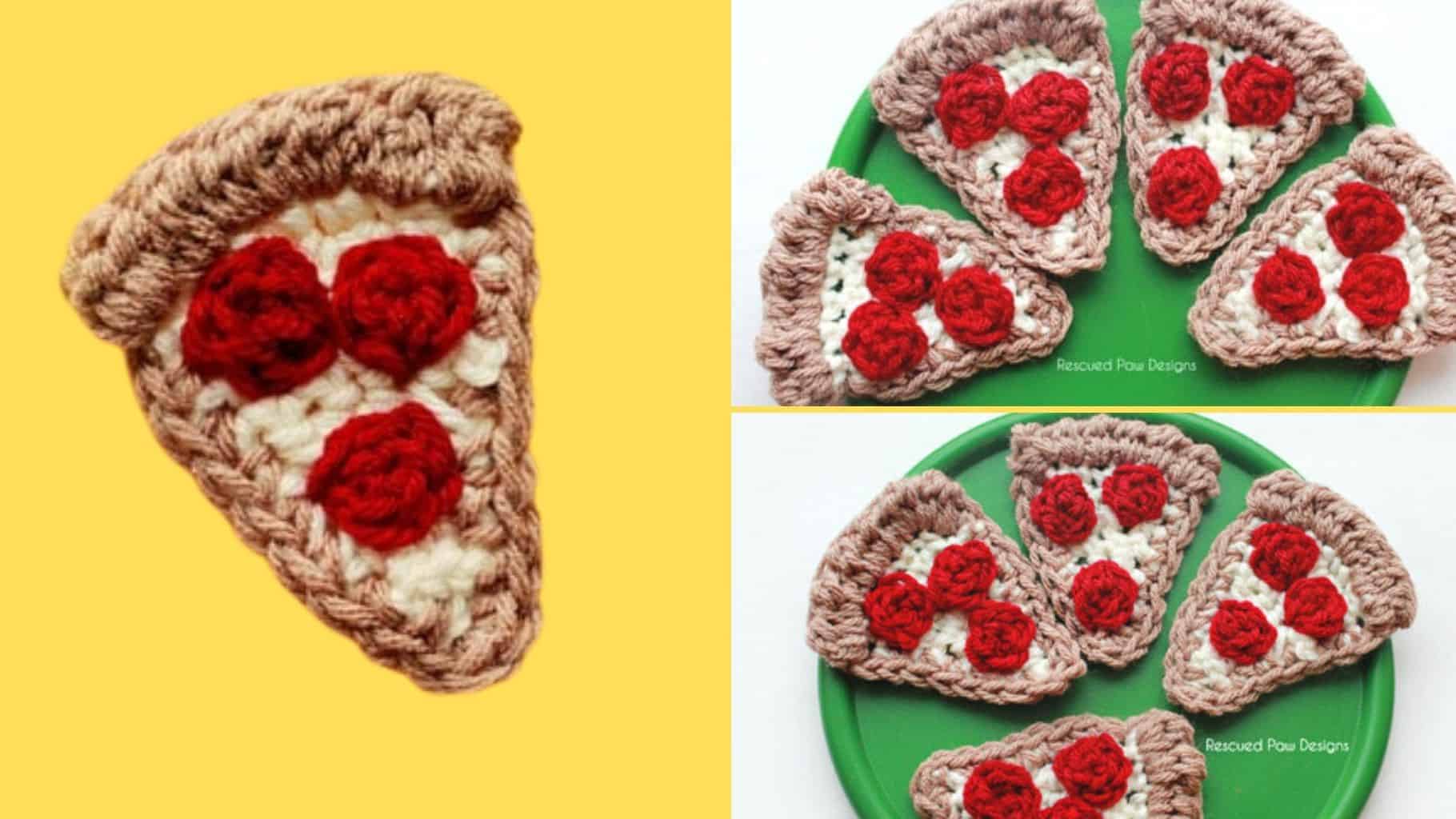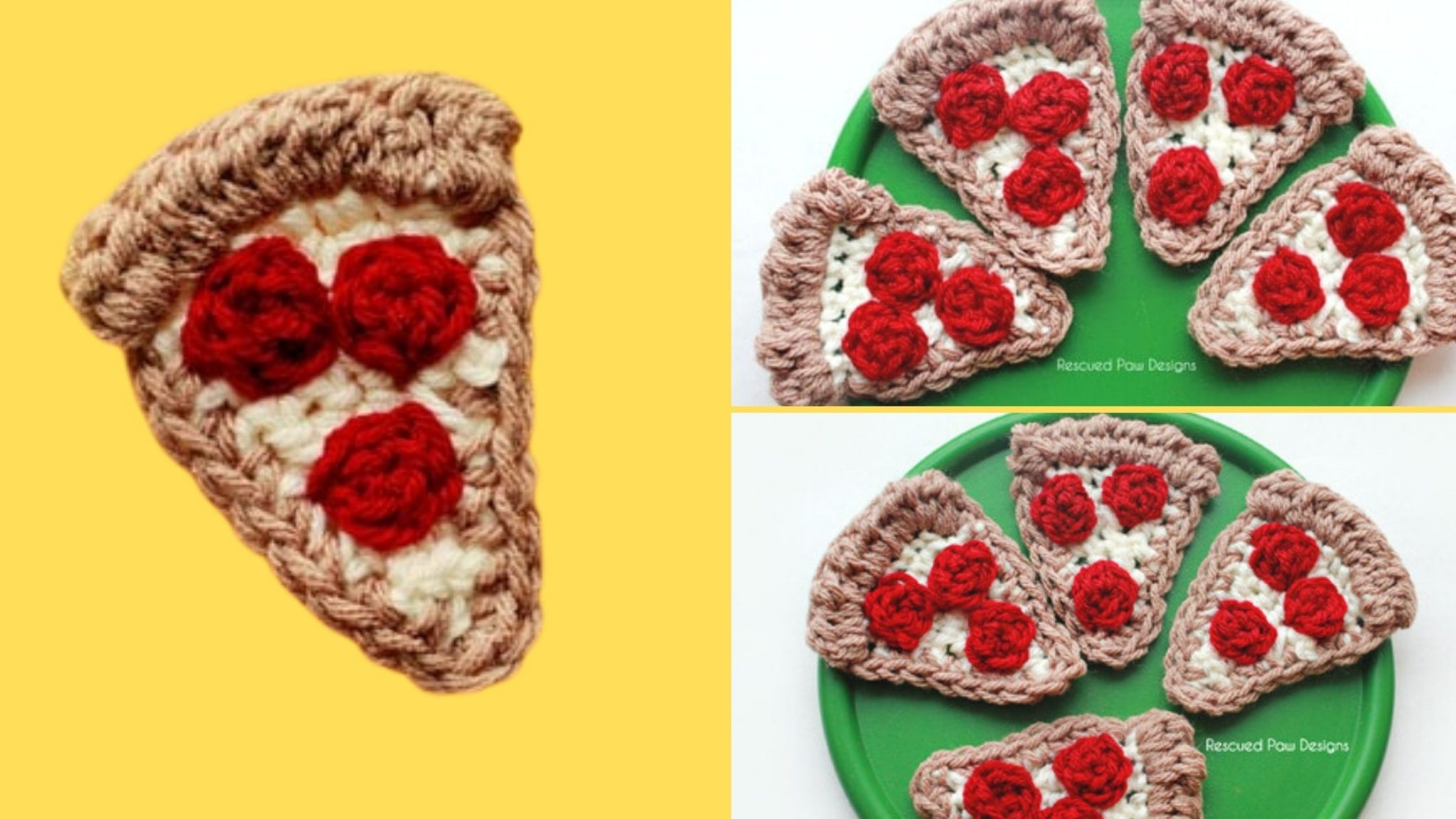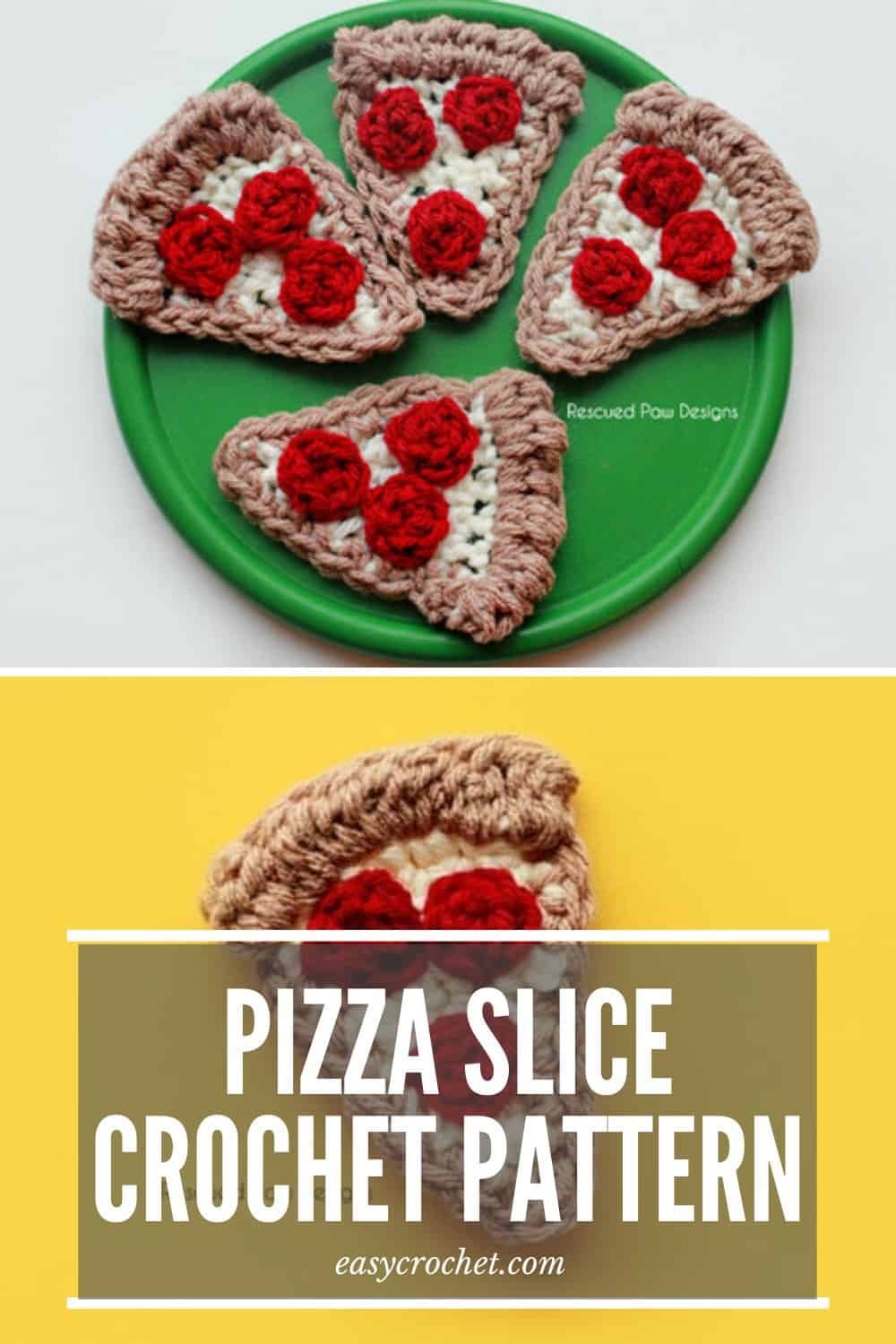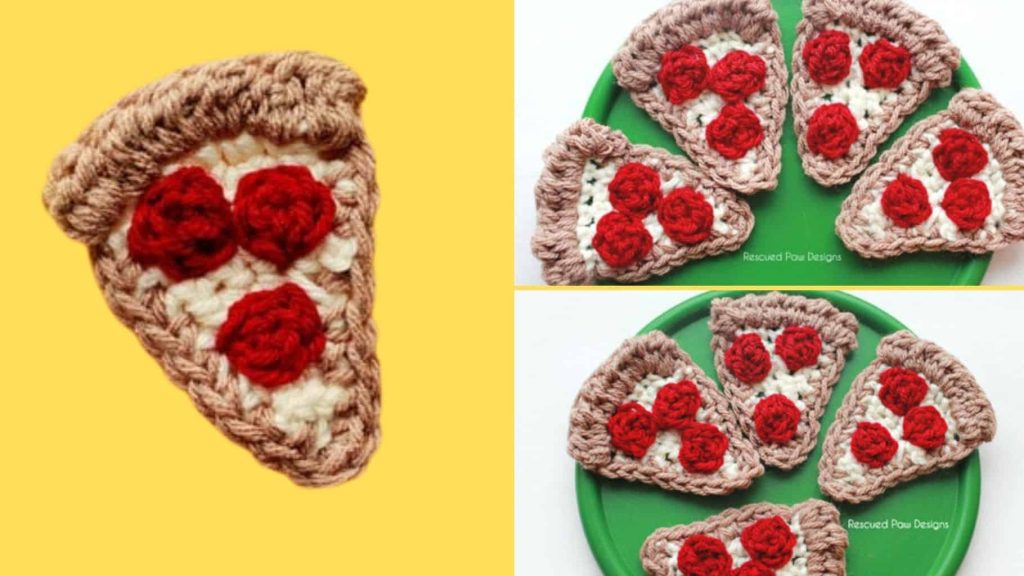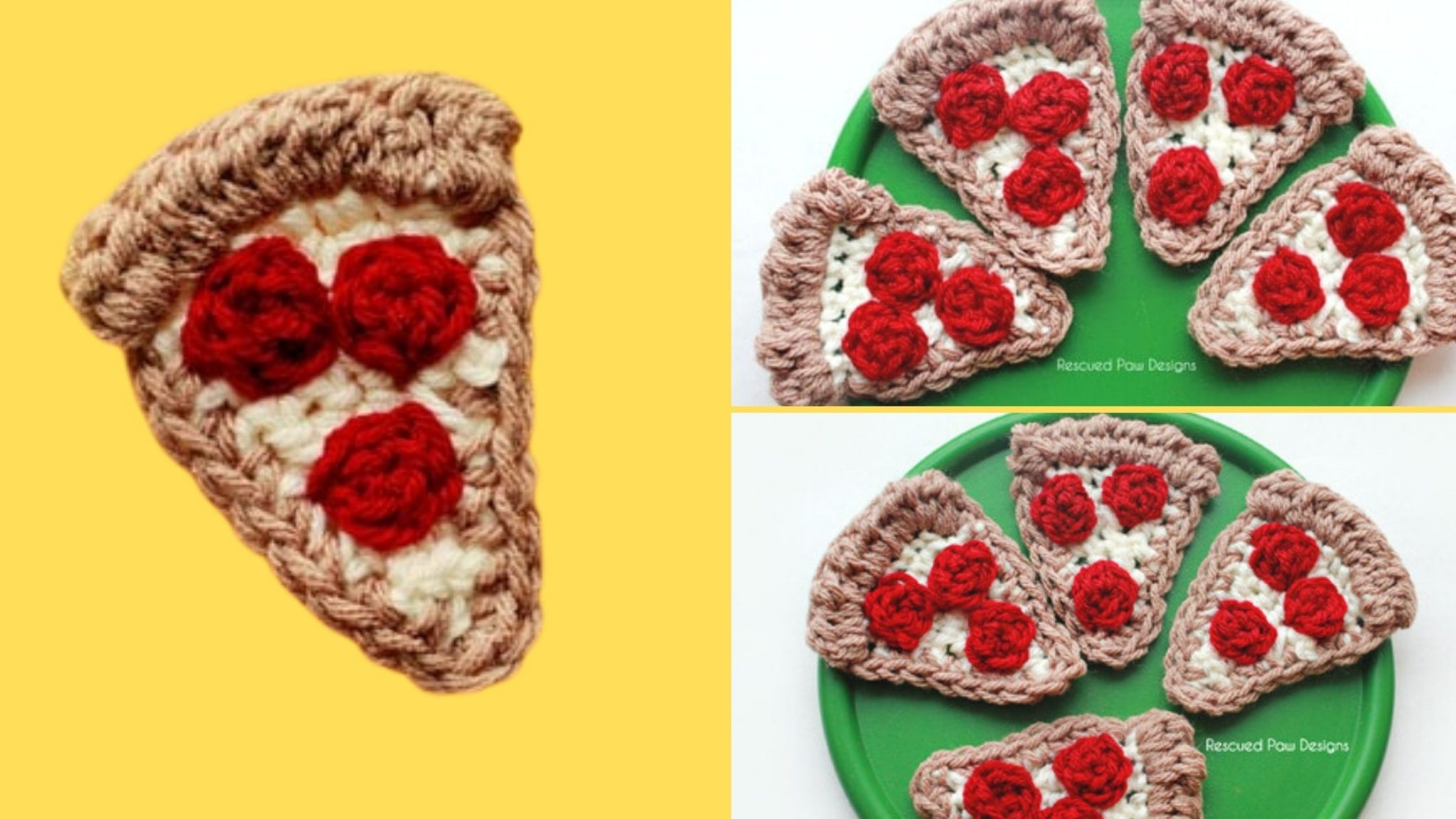 I was browsing Etsy last night and found a cute saying that said: "you've stolen a pizza my heart". I instantly knew that I had to create a crochet pizza slice!
Now that I've made this pizza slice I am pretty sure that I need to make a larger version and make a crochet pizza blanket! My kids would absolutely love that kind of crocheted blanket!
If you are looking for more free crochet patterns, I can help! Explore the Easy Crochet pattern archives to find over 300 free designs! Meanwhile, I can't wait for you to try this fun pizza design.
Happy Crocheting!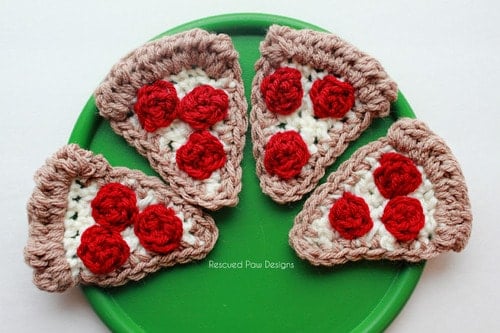 Crochet Pepperoni Pizza Anyone?
If you love making any kind of crochet food items then you will love this pizza pattern too! Scroll on down to learn about the yarn I used to create this easy crochet pizza pattern!
To make this pizza crochet pattern, you'll want to use some worsted weight yarn. I used yarn that I had leftover from previous projects, like Impeccable yarn from Michaels and Vanna's Choice from Lionbrand. If you don't have any scrap yarn, I would recommend Lion Brand Vanna's Choice! Vanna's Choice is great to use because of how well it holds up to daily use and the wonderful colors that are available!
Use This Pizza for All Types of Crochet Projects!
These little pizzas would be adorable as an appliqué on a crochet blanket, crochet hat or even a crochet sweater! My kids used them as a hide-and-seek game called find the pizza so there really are many creative ways to use this pizza!
If you are ready to get started on these crocheted pizzas, then read on down for the full, FREE tutorial.
Happy Crochet Pizza Making!
Crochet Pizza Slice Free Pattern
Skill Level: Intermediate
Materials
Worsted weight (4) yarn in cream, tan, and red.
Yarn needle
Scissors
Measuring Tape
Crochet Stitches
Notes
The pizza pattern is written in standard US terms.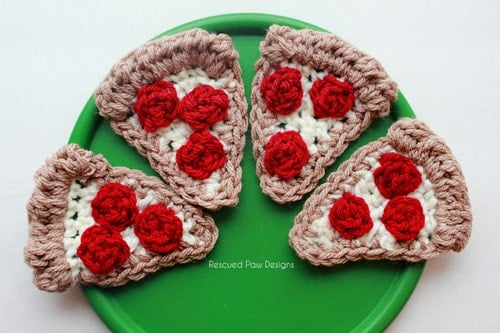 The Crochet Pizza Pattern
Cheese using cream yarn
Row 1: Chain 7
Row 2 & 3: single crochet across row, chain 1, turn.
Row 4: single crochet in the next 2 chains, single crochet 2 together, single crochet in the next 2 chains, chain 1, turn.
Row 5: single crochet across, chain 1, turn.
Row 6: single crochet 2 together, single crochet, single crochet 2 together, chain 1, turn.
Row 7: single crochet across, chain 1, turn.
Row 8: single crochet 3 together, single crochet 3 together video tutorial chain 1, turn.
Row 9: single crochet 1, fasten off
Crust
Using the tan yarn. Fasten on yarn to long side of pizza. Make 7 single crochets down the side, then 3 single crochets in the single crochet of row 9, to finish make 7 single crochets down the other side. Fasten off yarn.
Top Crust
Using tan yarn. Fasten on yarn where you fastened on yarn to begin your crust above (not where you ended!) make 6 Bobble Stitches across. Slip Stitch to top of single crochet from previous crust. Fasten off. Weave in loose ends with yarn needle
Pepperoni
Using red yarn. Chain 2, single crochet in second chain from hook, 5 times, slip stitch to top of first the sc, fasten off. (Repeat for a total of 3 times)
Finishing
Attach pepperoni to your crochet pizza with a yarn needle. Watch a tutorial here on how to attach an applique.
The finished size of each piece of pizza is approximately 4 inches tall and 3 inches wide (at the widest point).

Thanks for stopping by! If you need any clarification about this crocheted pizza pattern, feel free to email me or leave a comment. Meanwhile, take a peek at a few more appliqué patterns to crochet below.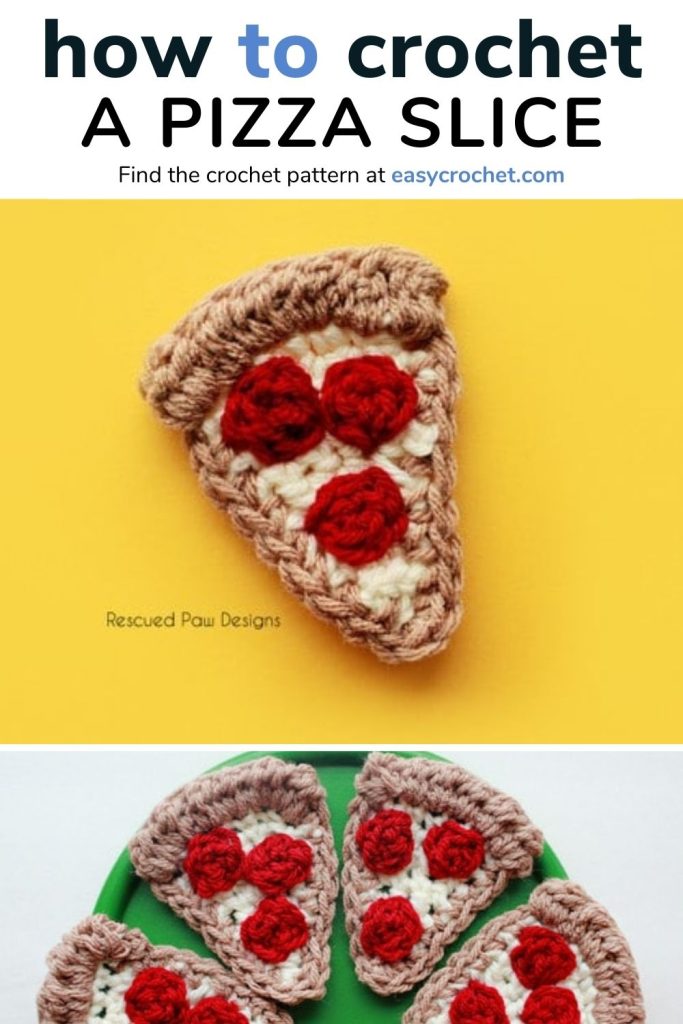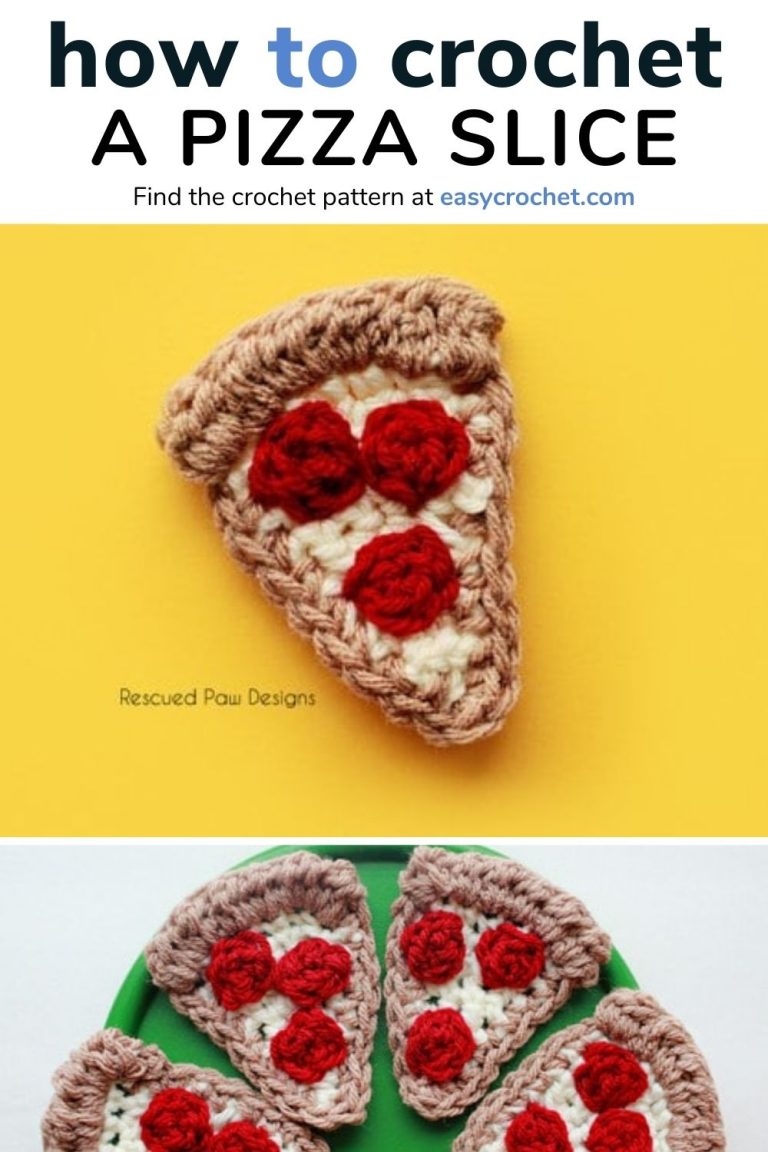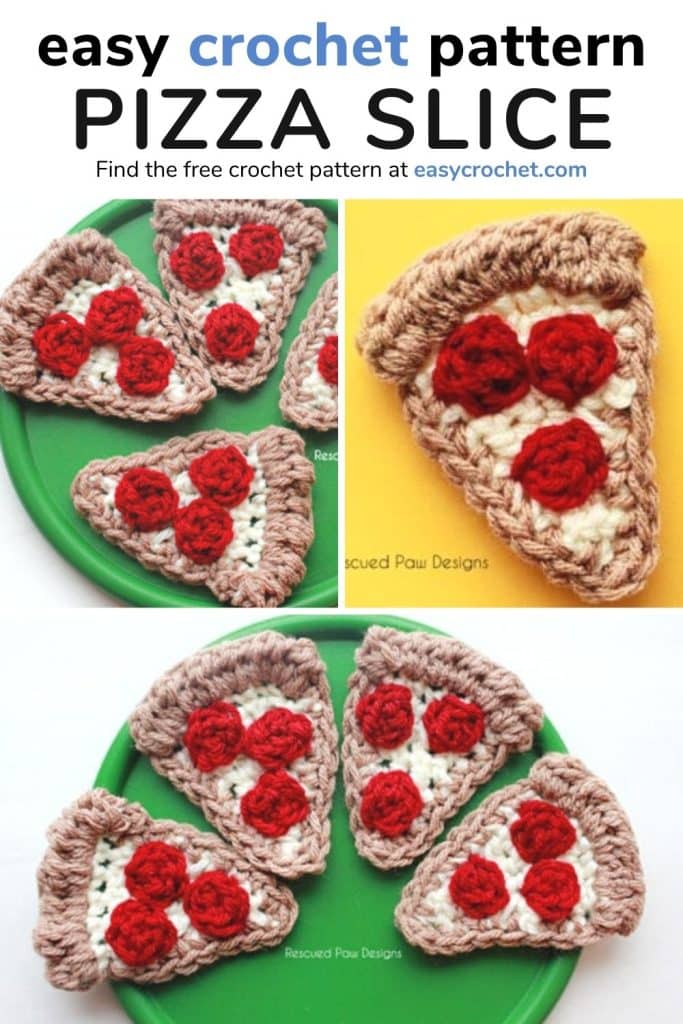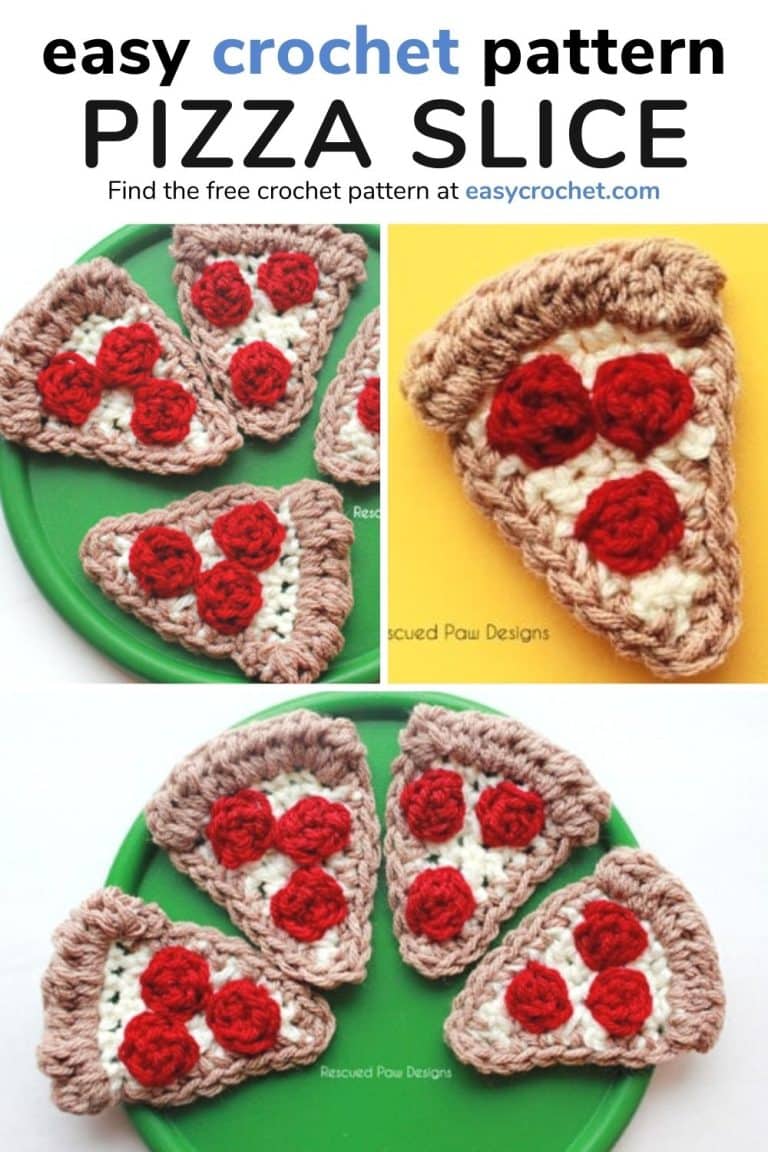 More Free Crochet Appliqué Patterns