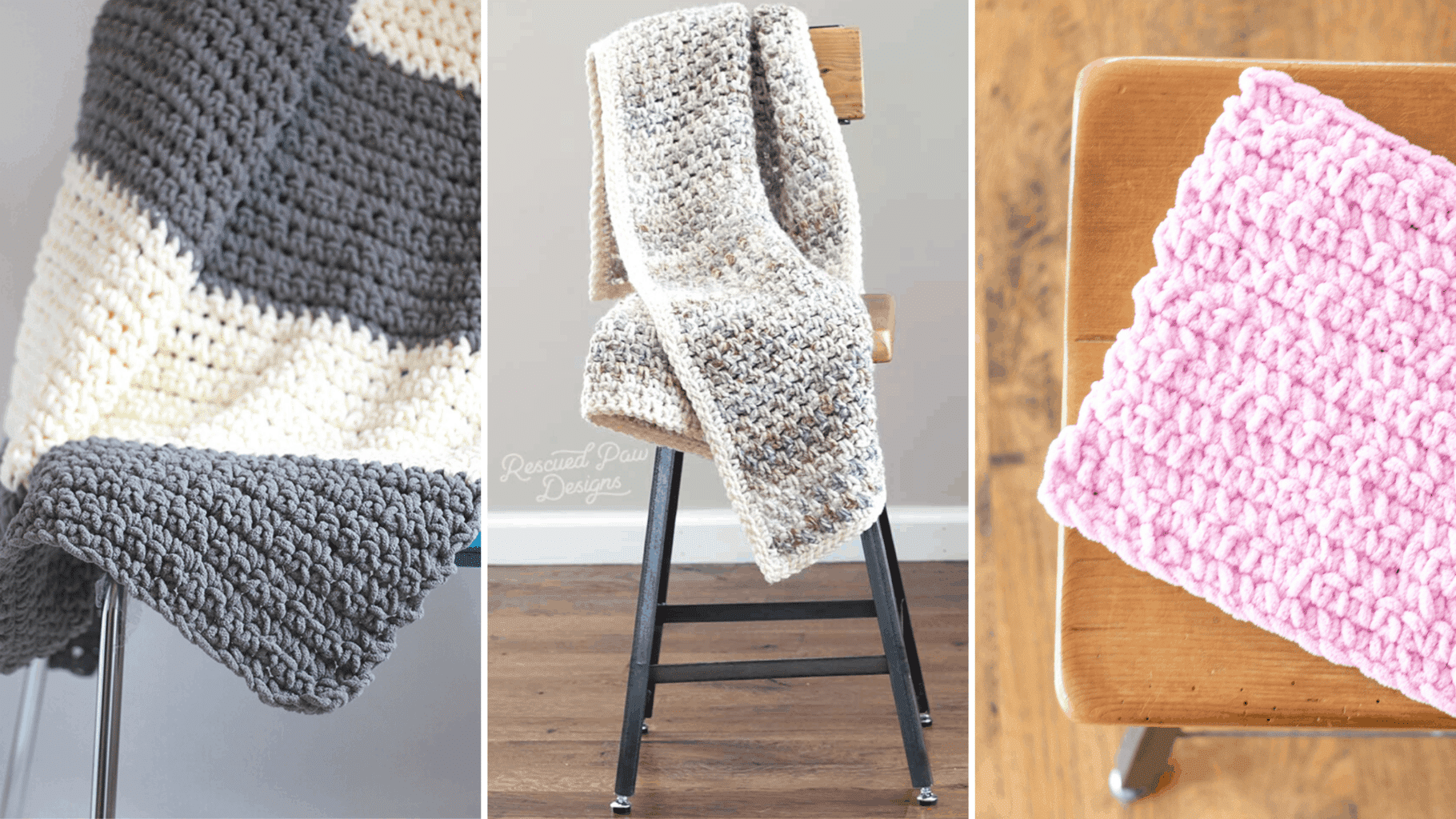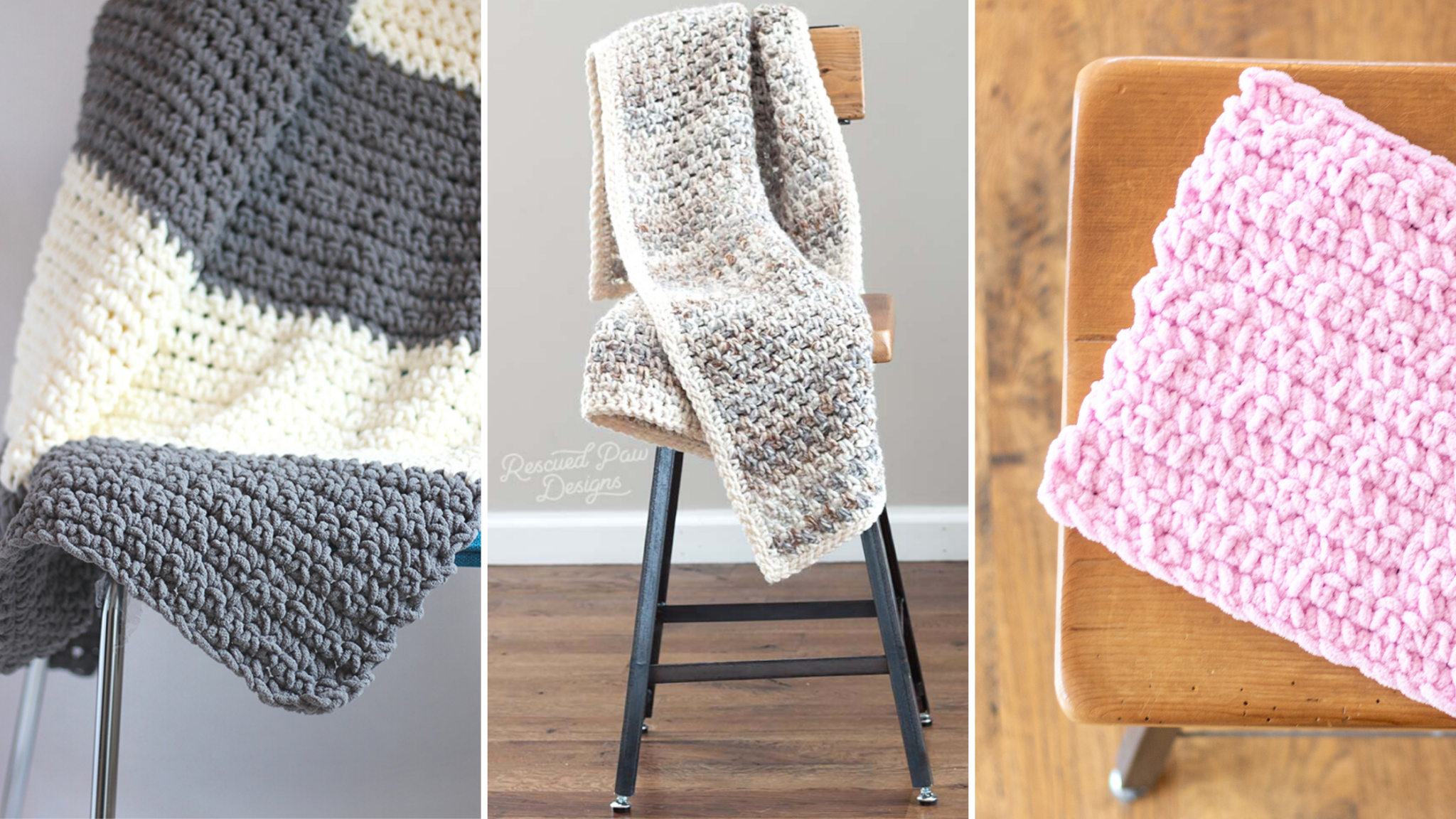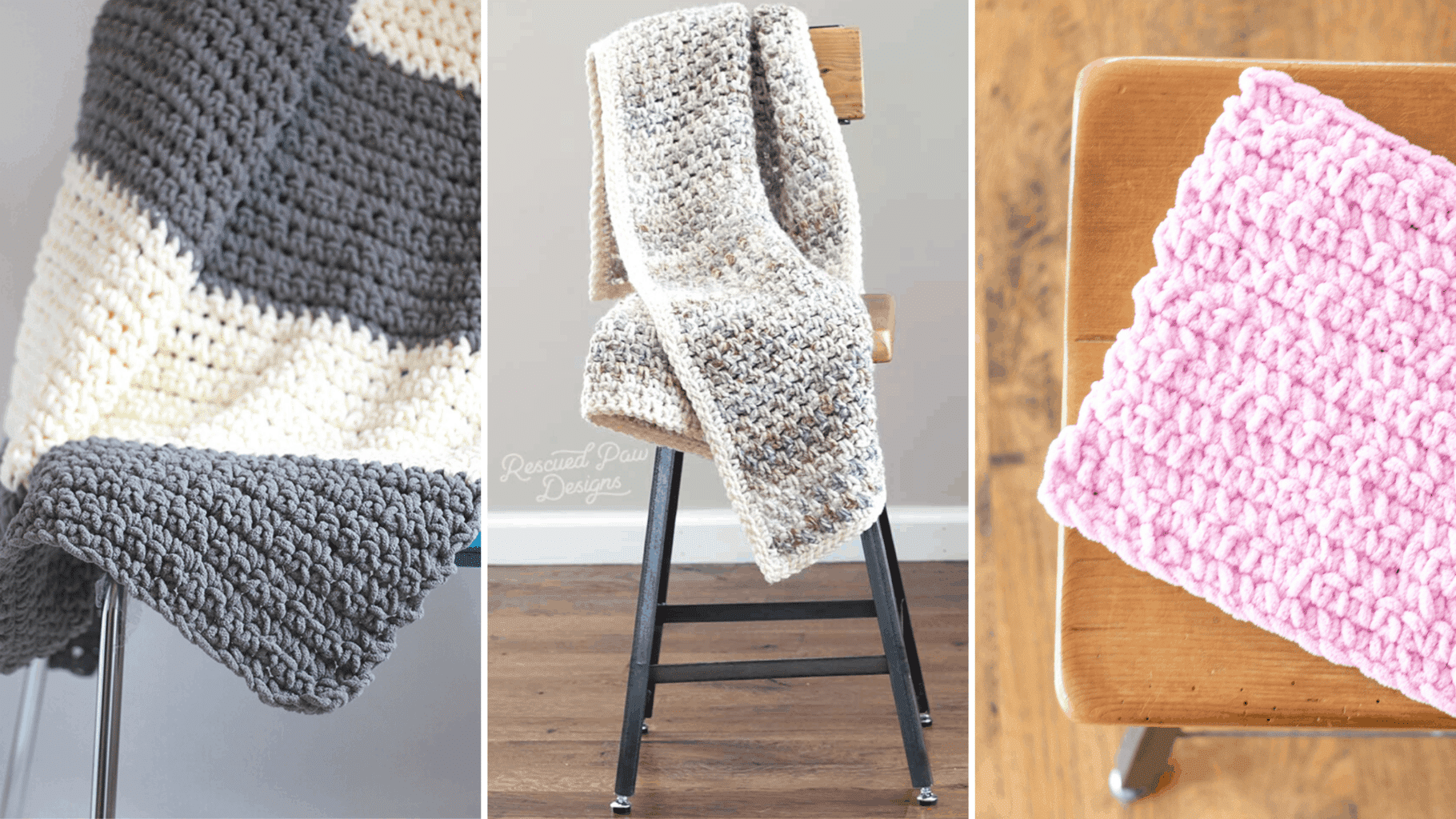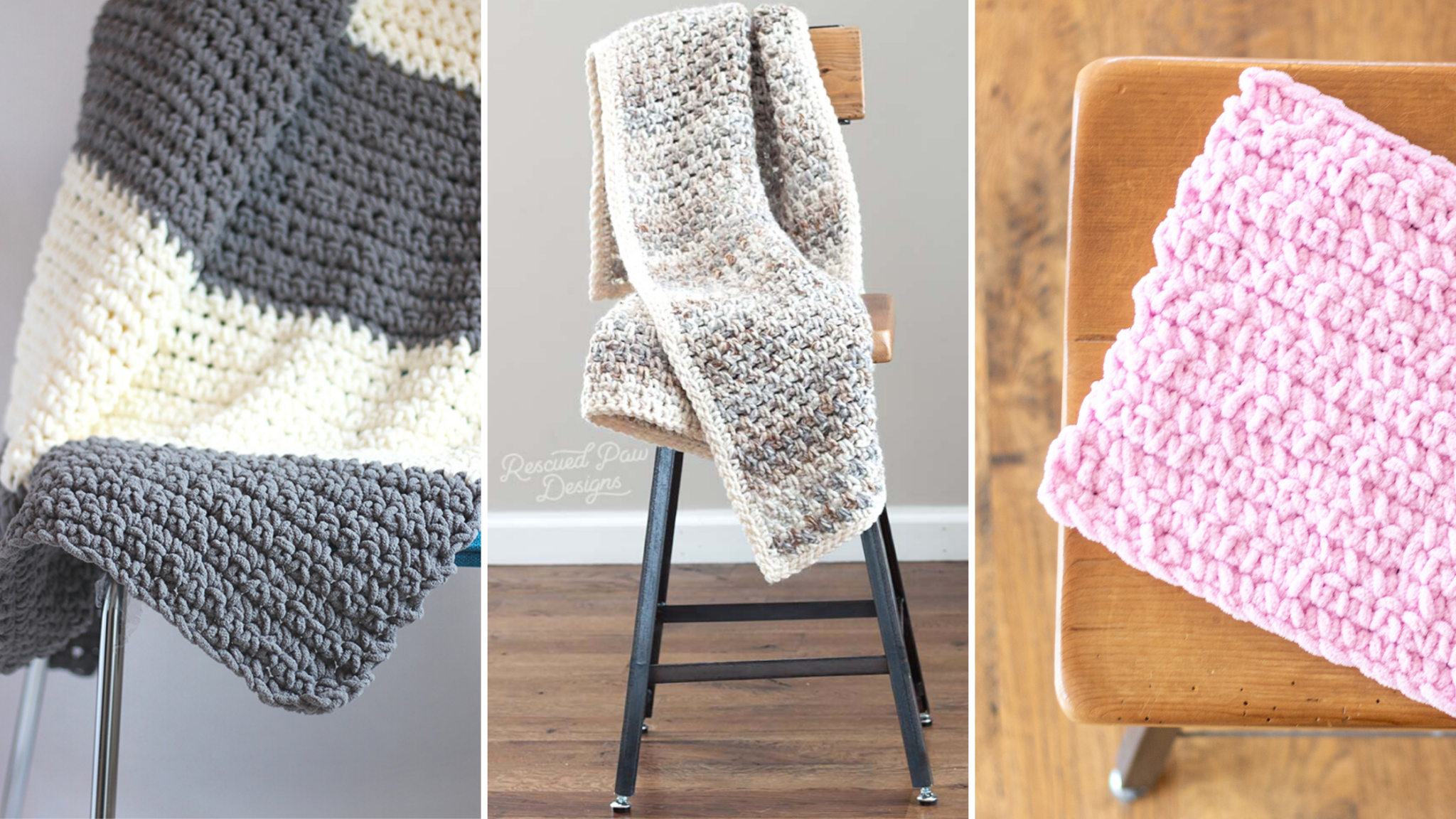 As a beginner crocheter you probably have reached the point in your crochet journey where you'd like to expand your skills to include crocheting a blanket. Well, there is good news! A lot of crochet blanket patterns are actually easy to crochet and are worked up using basic crochet stitches.
Read on down to find out how to crochet a blanket for beginners and if you'd like a refresher on how to crochet check out our crochet beginner guide. Below, you'll also learn how to read blanket instructions so you'll be ready to crochet a blanket or afghan in no time.
All About Crochet Blankets
When you decide to crochet a blanket there are many choices to make!
First, you will want to decide on what pattern you'd like to try. Crochet blankets that use simple stitches like single crochets or half double crochets are usually the best choice when you are first beginning to crochet a blanket. Try to look for ones that use one or two stitches throughout. It shouldn't be too hard because they are many easy crochet blanket patterns online to pick from.
Secondly, you'll want to decide if you'd like to crochet a blanket pattern with a video or one that uses a written pattern. People learn in many ways so you will need to decide on what method of learning crochet patterns works best for you. You will find out pretty quickly that there are a lot of different blanket patterns to pick from online.
Once you have picked a crochet blanket to crochet and picked your method of learning you are ready to begin!
Written Crochet Blanket Patterns
If you decided to go with a written blanket pattern the next step would be to start crocheting the blanket reading the instructions that are given. Most simple beginner patterns will start with a chain stitch that will be worked into with a basic stitch of choice like a single crochet. Simply put, once you finished your chain you will work a single crochet for example starting in the second chain from the hook back and forth in rows to create a blanket.
Most written patterns will have simple instructions written out row by row that can be read easily. There are usually notes given about the blanket design, a crochet abbreviation list to use for reference in the pattern and material list (Hello, yarn!) given to help a crocheter learn more about the blanket they are about to make.
If you feeling confident about reading a blanket pattern and crocheting a blanket take a look at the beginner crochet afghan patterns below. All the designs in the list are free crochet blanket patterns and are great for those who are just learning how to crochet a blanket. Enjoy.
Single Crochet Blanket Patterns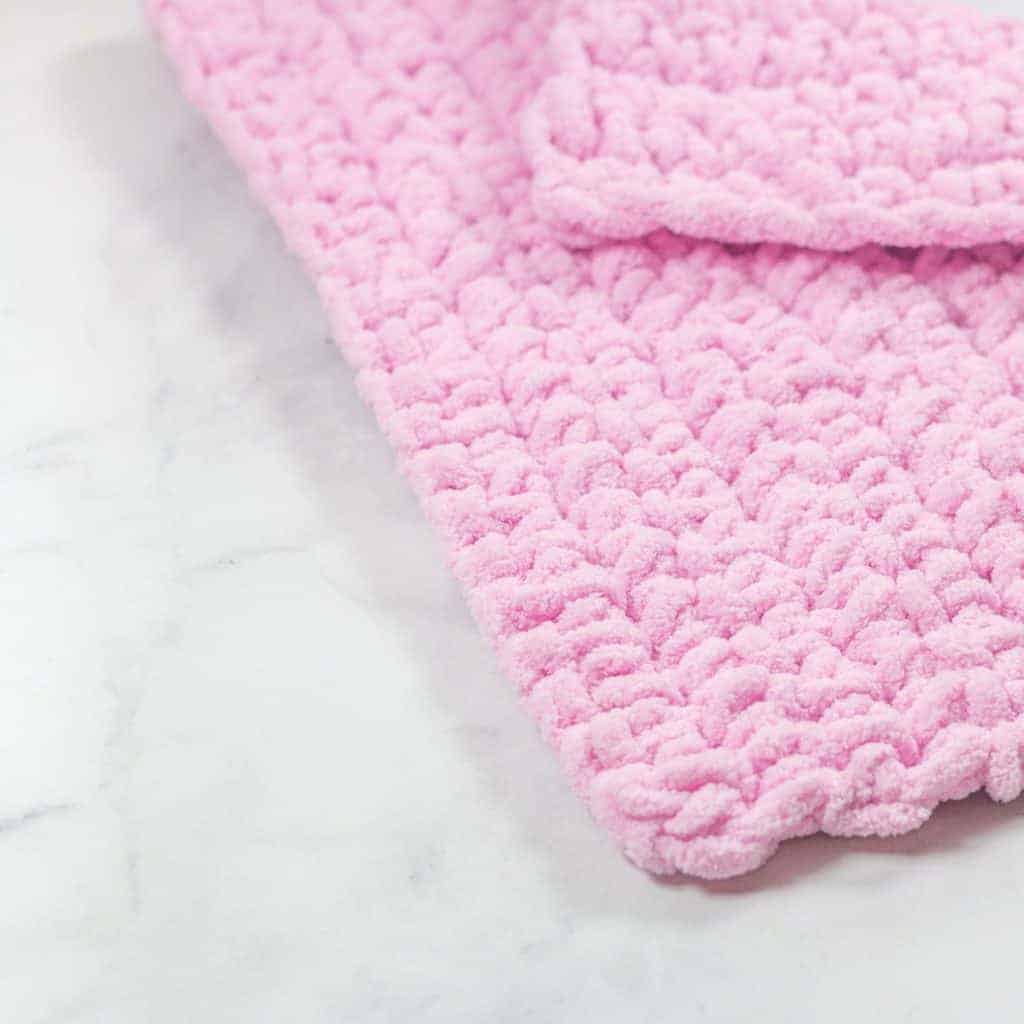 Simple Single Stitch Baby Blanket
Single crochet stitch blankets are one of the best patterns to try as a beginner. When you are a new crocheter who wants to learn how to make a blanket this single stitch baby blanket is always one that I recommend trying. You'll love how easy it is! Promise.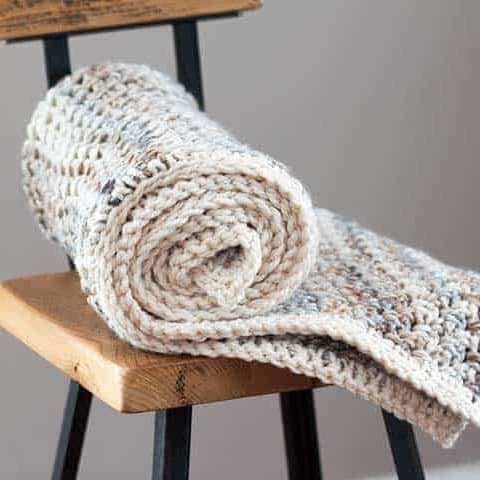 Single Crochet and Chain Blanket
The Jane Blanket Pattern uses a chain and single crochet to create a beautiful design. You may have seen or heard this stitch referred to as the moss stitch or sand stitch before. Whatever you call it is definitely an easy crochet blanket to crochet when you are first learning the basics of a crochet blanket.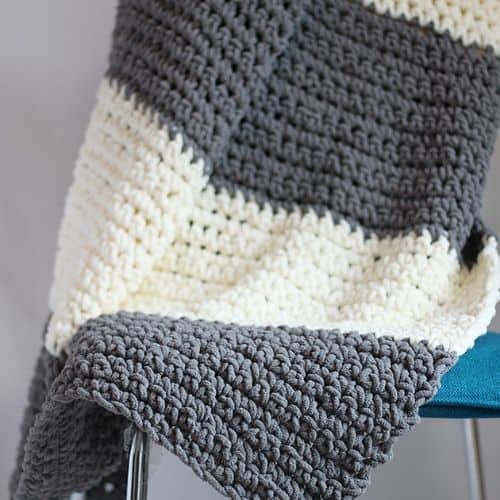 Granite Single Crochet Blanket
This color blocked single crochet blanket is easy to crochet with just one stitch. You can crochet it with the two colors shown or just use one color to avoid color changes and joining in yarn. Either way this simple blanket is great when learning to crochet a blanket.
Video Crochet Blanket Patterns
Charlotte Blanket Pattern
The Charlotte is a blanket that uses two simple crochet stitches and works up to create a beautifully textured blanket design. This one is for advanced beginners but almost anyone could make this blanket with the crochet blanket video below! Charlotte Crochet Blanket Pattern
Alissa Crochet Blanket Pattern
The Alissa is a blanket that uses basic crochet stitches. If you can double crochet and single crochet you can make this easy blanket design. This afghan uses the simple stitches in a combination to create a unique crochet blanket that is beautiful! Be sure to use the blanket video tutorial below for extra help. Learn to crochet the Alissa Blanket with our free pattern.
You will more than likely find in your crochet journey that blankets can be designed and made in many ways and not just in rows like the written and video tutorial blanket patterns above. Take a look below at a few more varieties you can look at when debating on the type of crochet blanket you want to crochet.
Individual Square Blanket
Blankets can be crocheted with individual squares and granny squares that are sewn together to create a larger afghan or blanket design. These types of crochet blankets are unique because each square can be made with different stitch or color. A blanket made with crochet squares is definitely one that a crocheter should try at some point in their crochet journey.
Crochet Squares To Try
Blankets Made with Shapes
Not only can blankets be made with squares but you will sometimes see them made with triangles or hexagons. These shapes of crochet blankets are fun to see because they are different from the normal. Take a look at a blanket made with two triangles below to see how unique a blanket design like this really is.
Crochet Triangle Blanket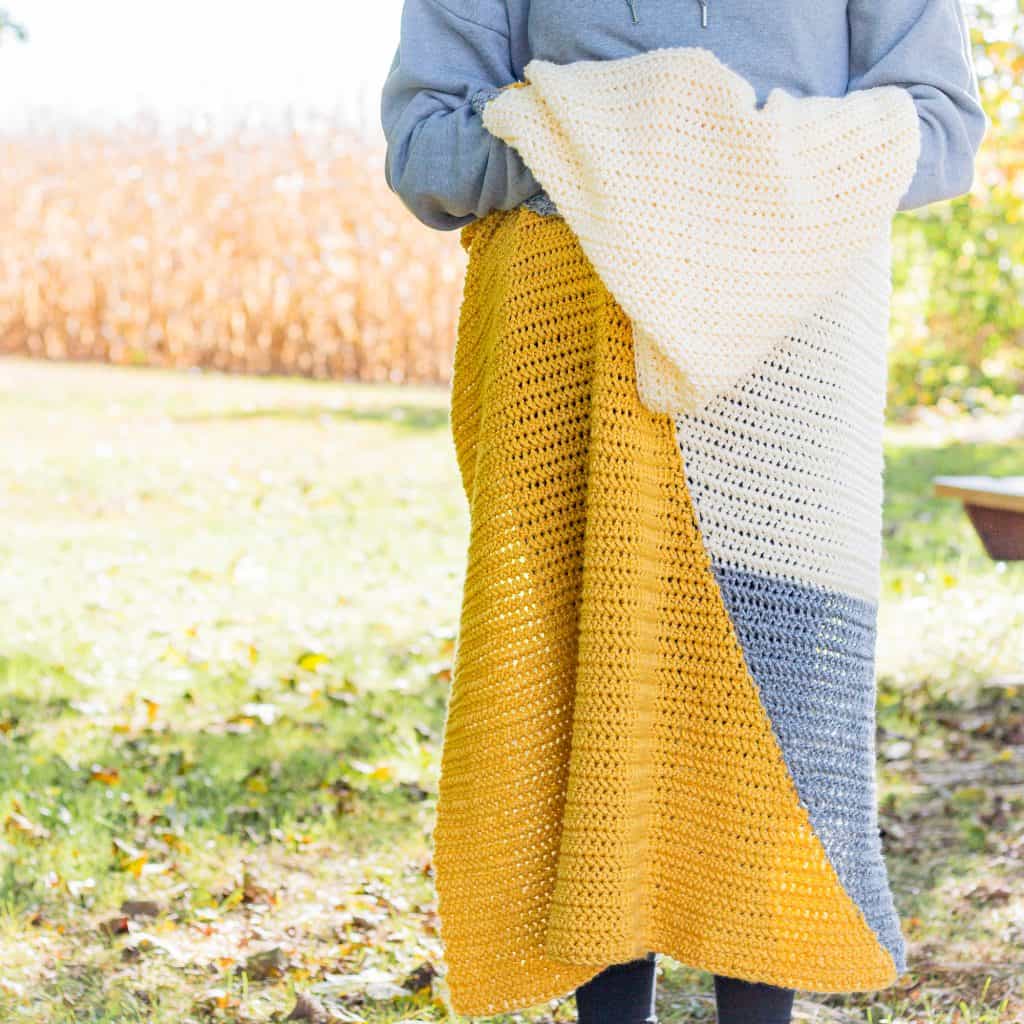 This triangle shape blanket design is beautiful and uses a simple stitch. It is worked in two triangle pieces and sewn together to create a unique blanket design. This baby blanket is one that is great to add to your list to make when you are learning to crochet a blanket.
I hope you enjoyed this overview of how to crochet a blanket and all the different types of crochet blankets that can be made. If you have any questions please join the Easy Crochet Community Group on Facebook.
More Free Crochet Blanket Designs