How to Crochet a Blanket for Beginners + Free Pattern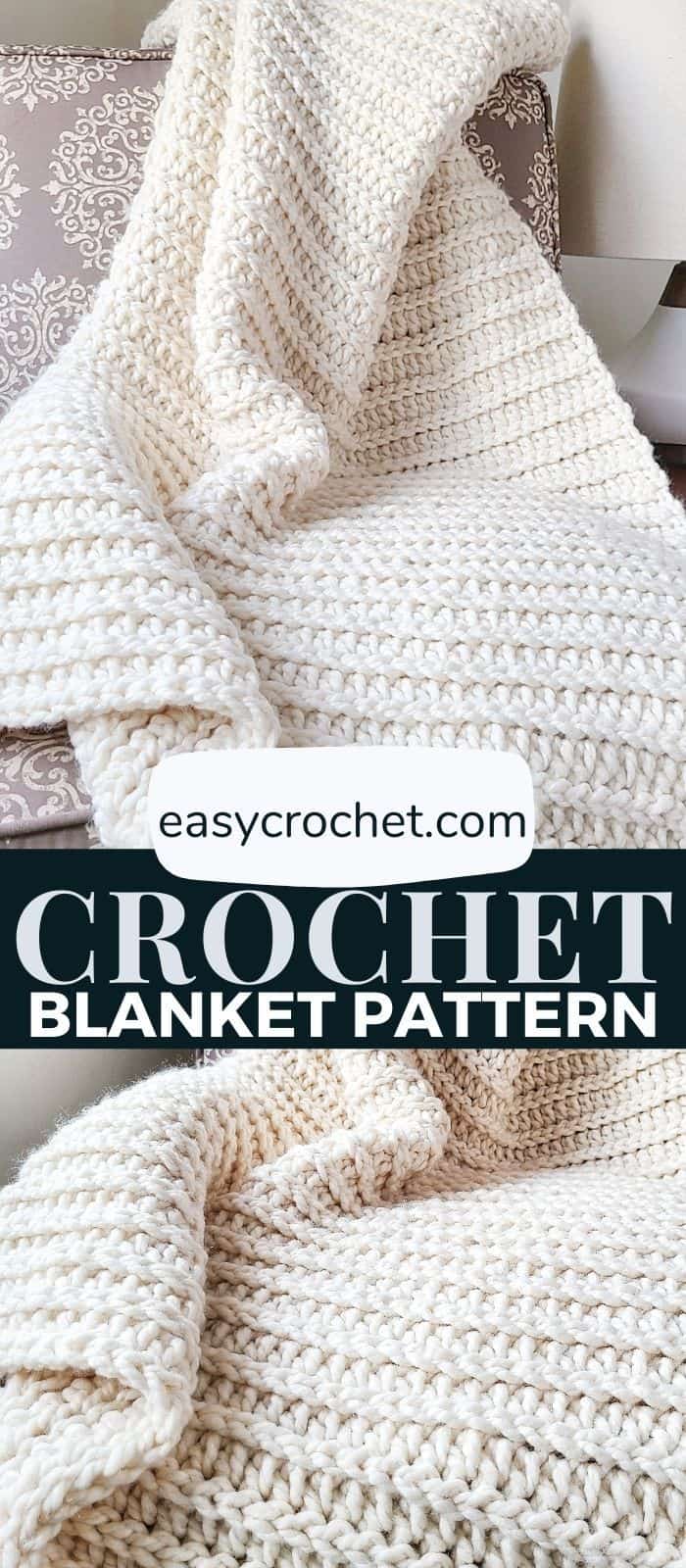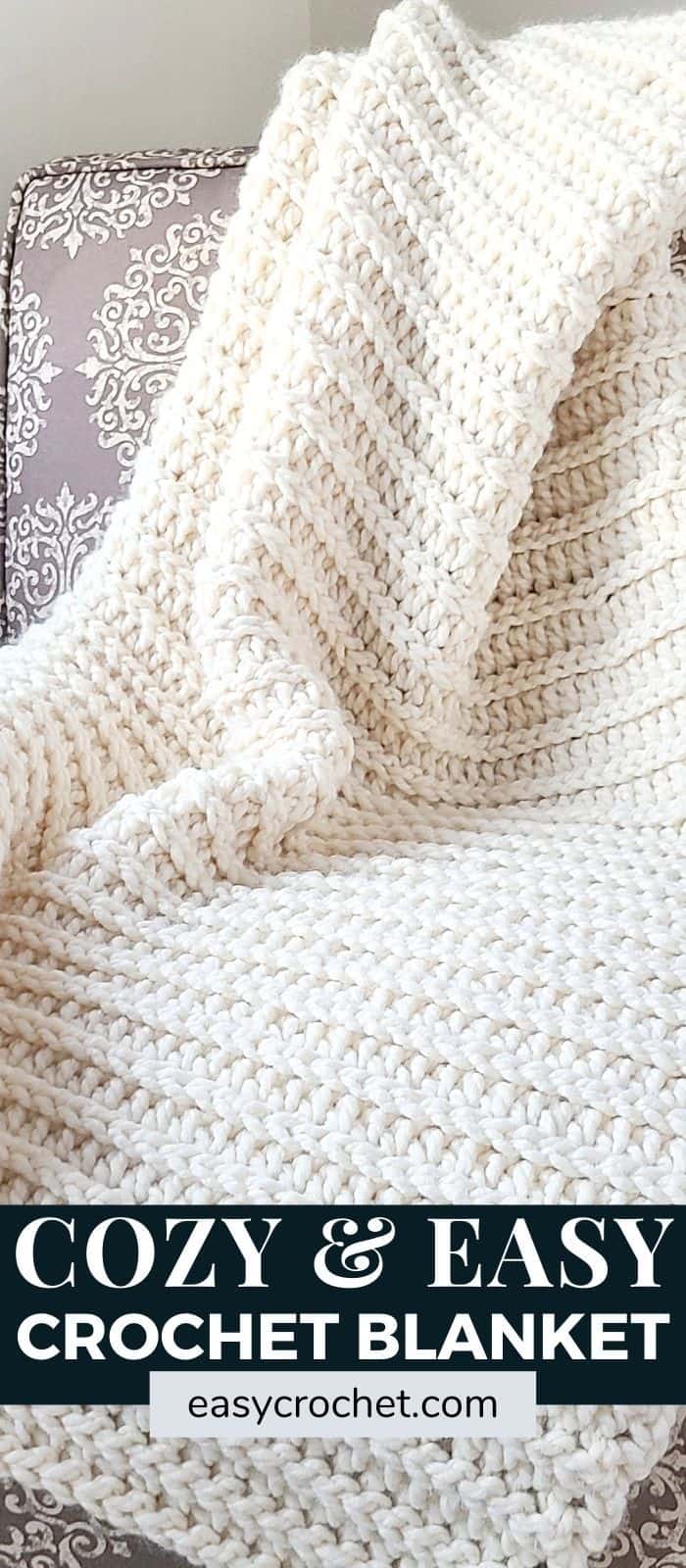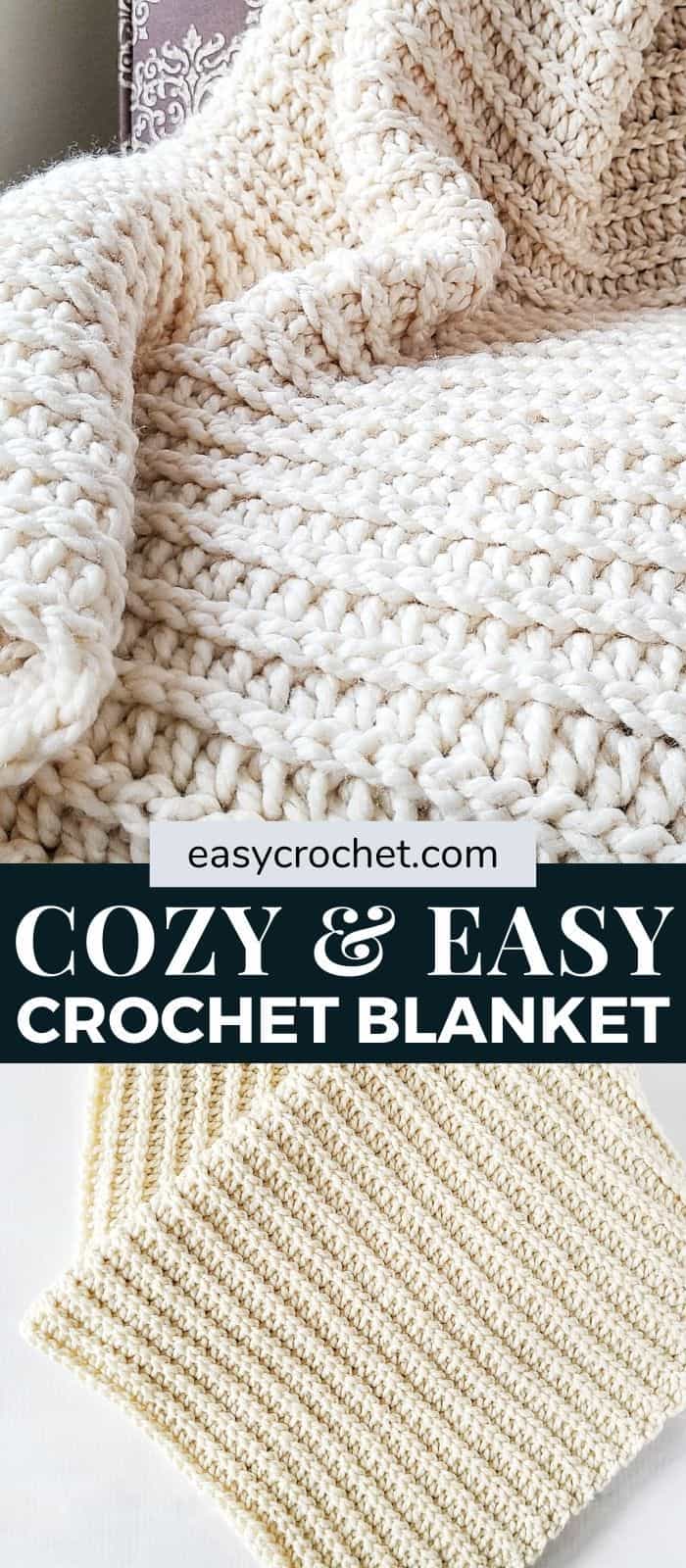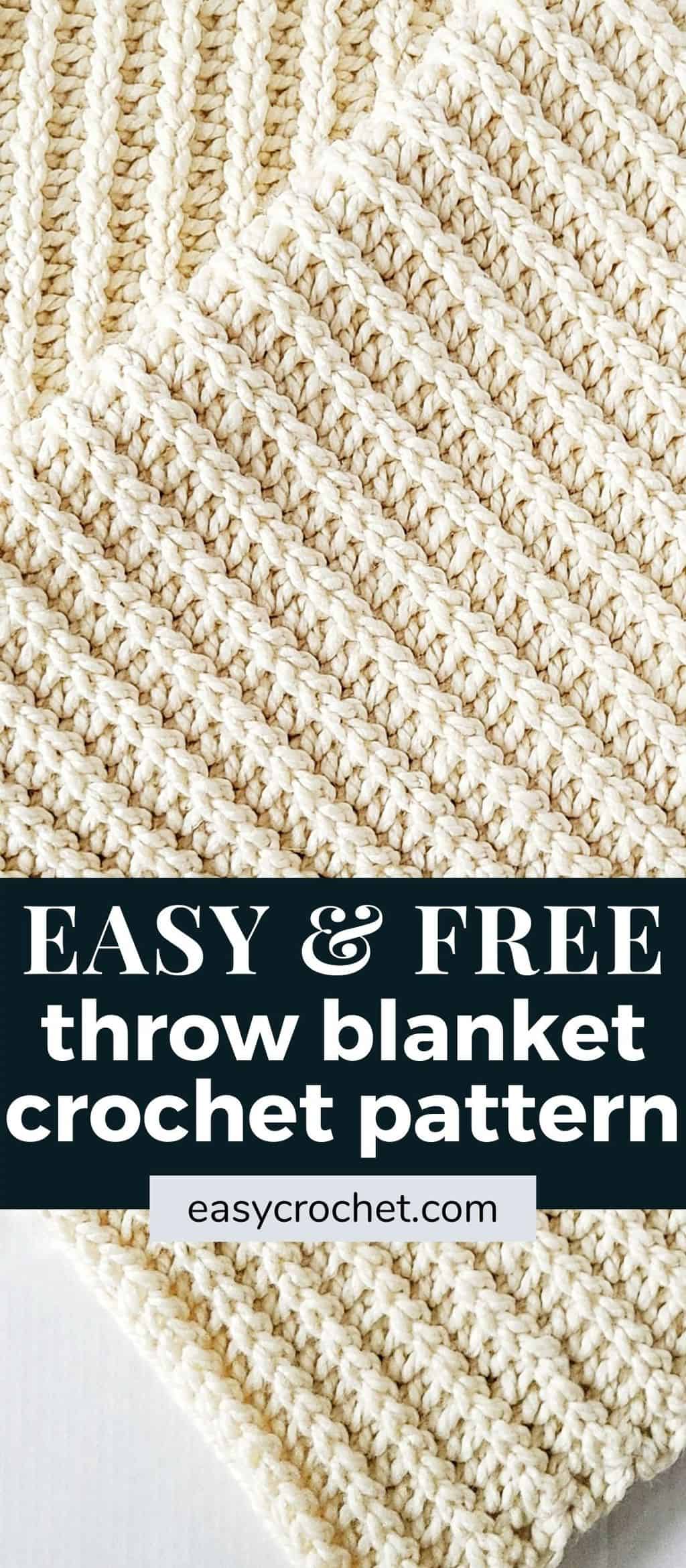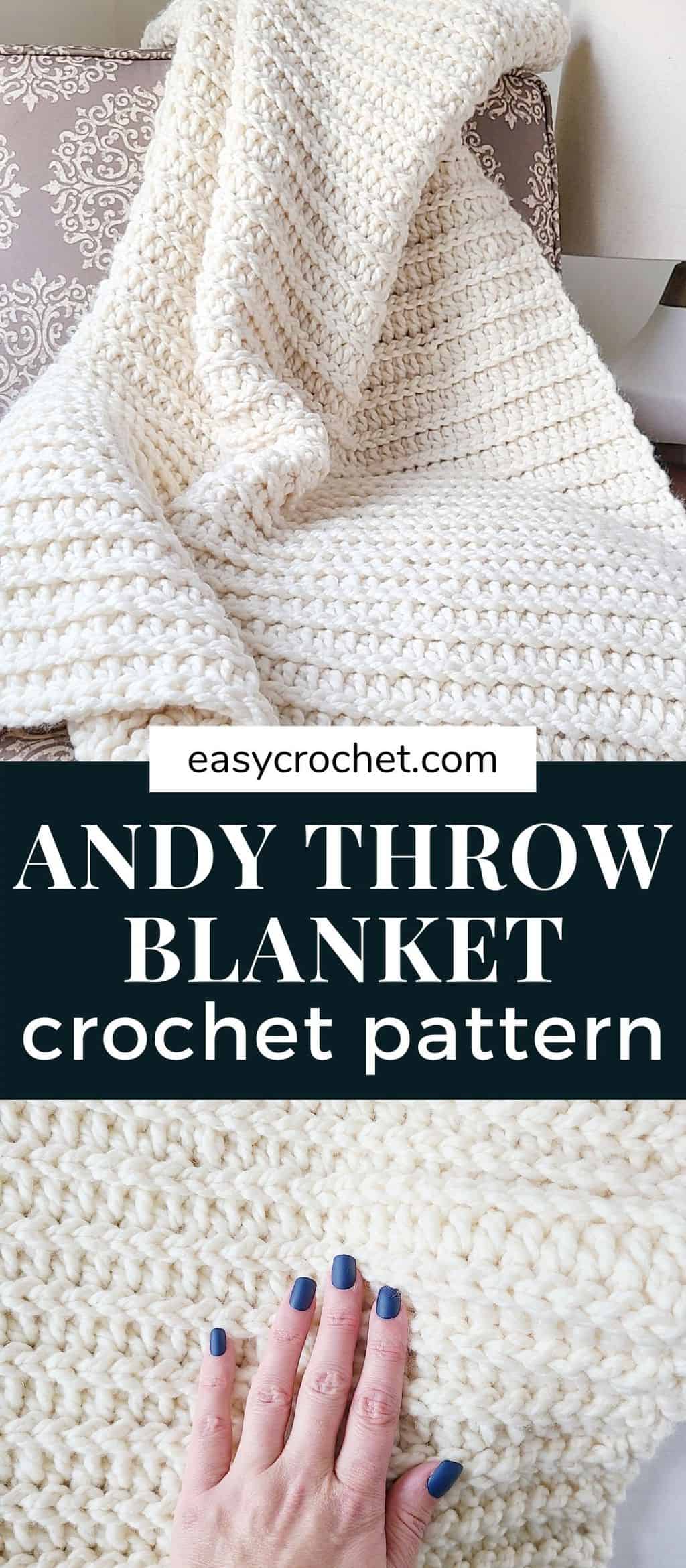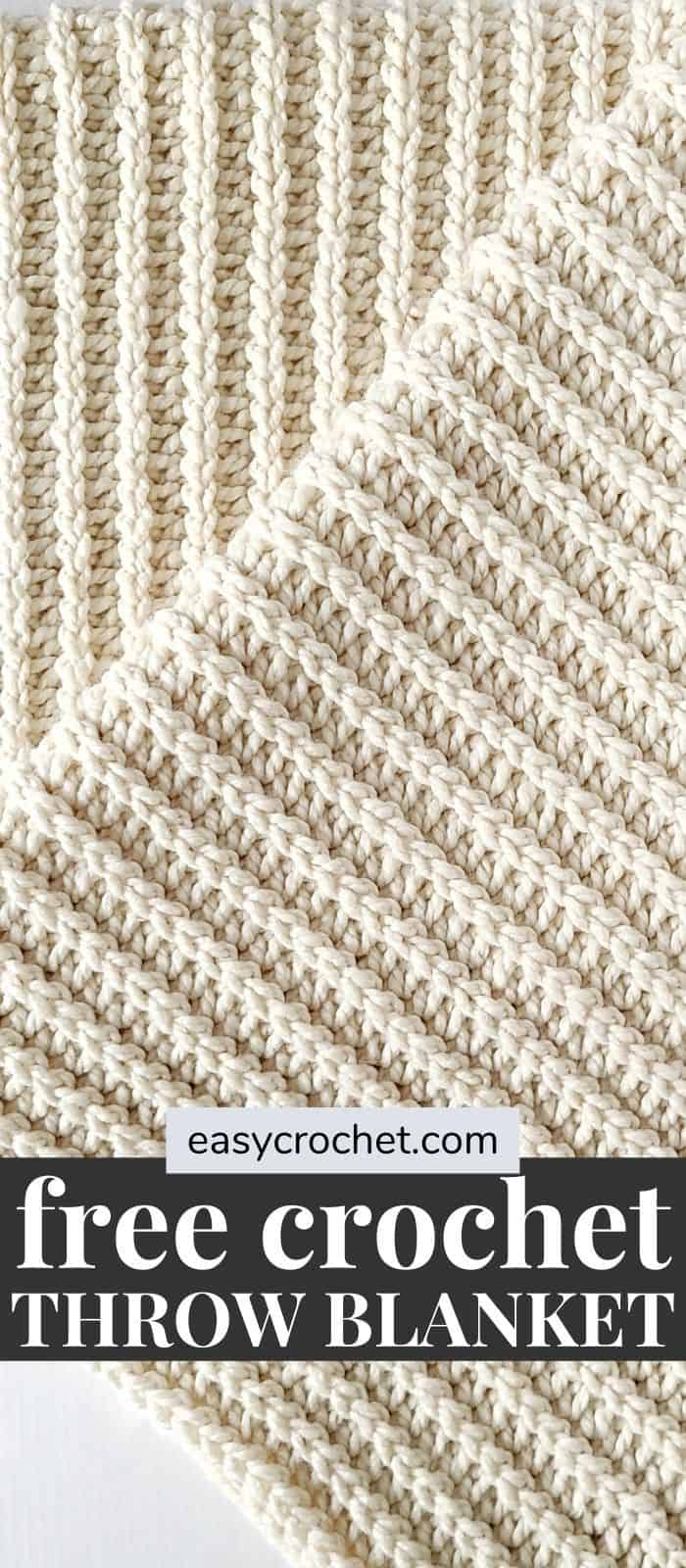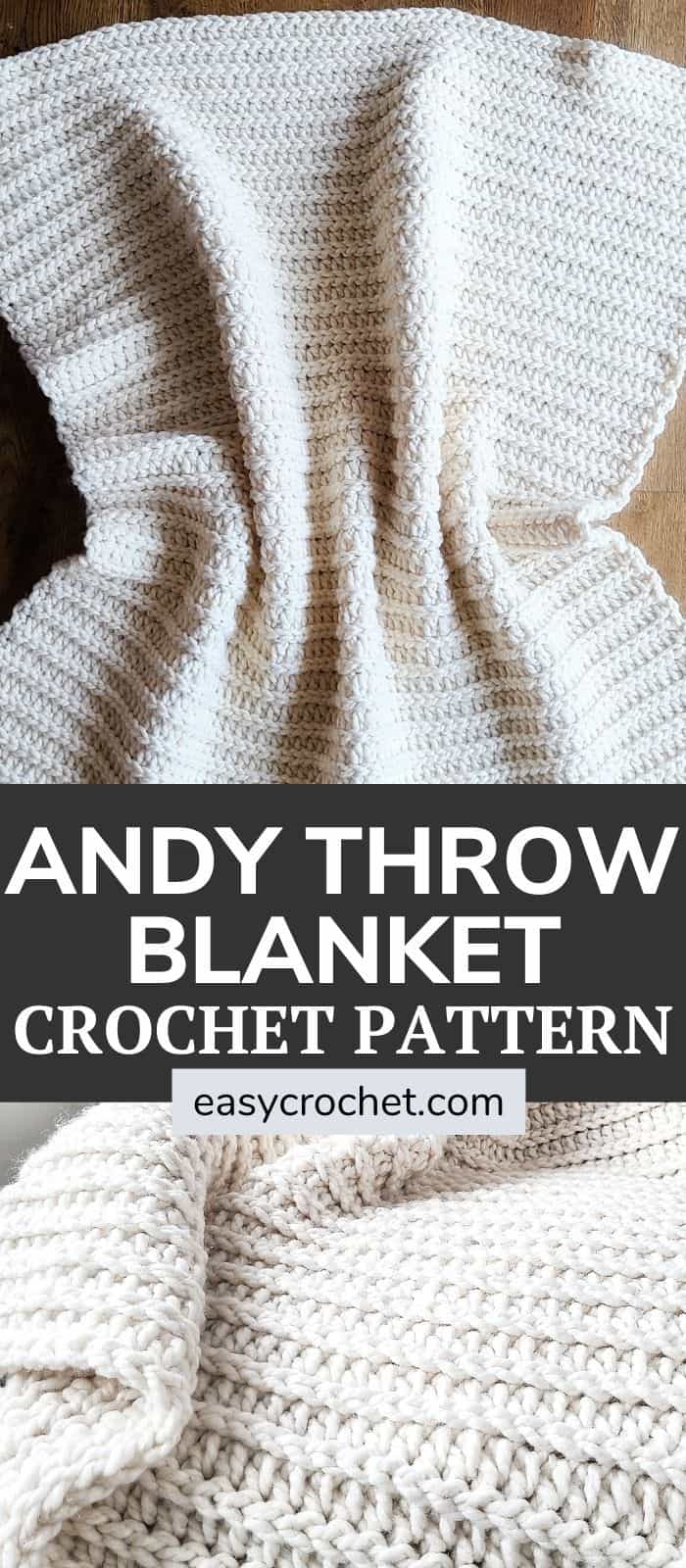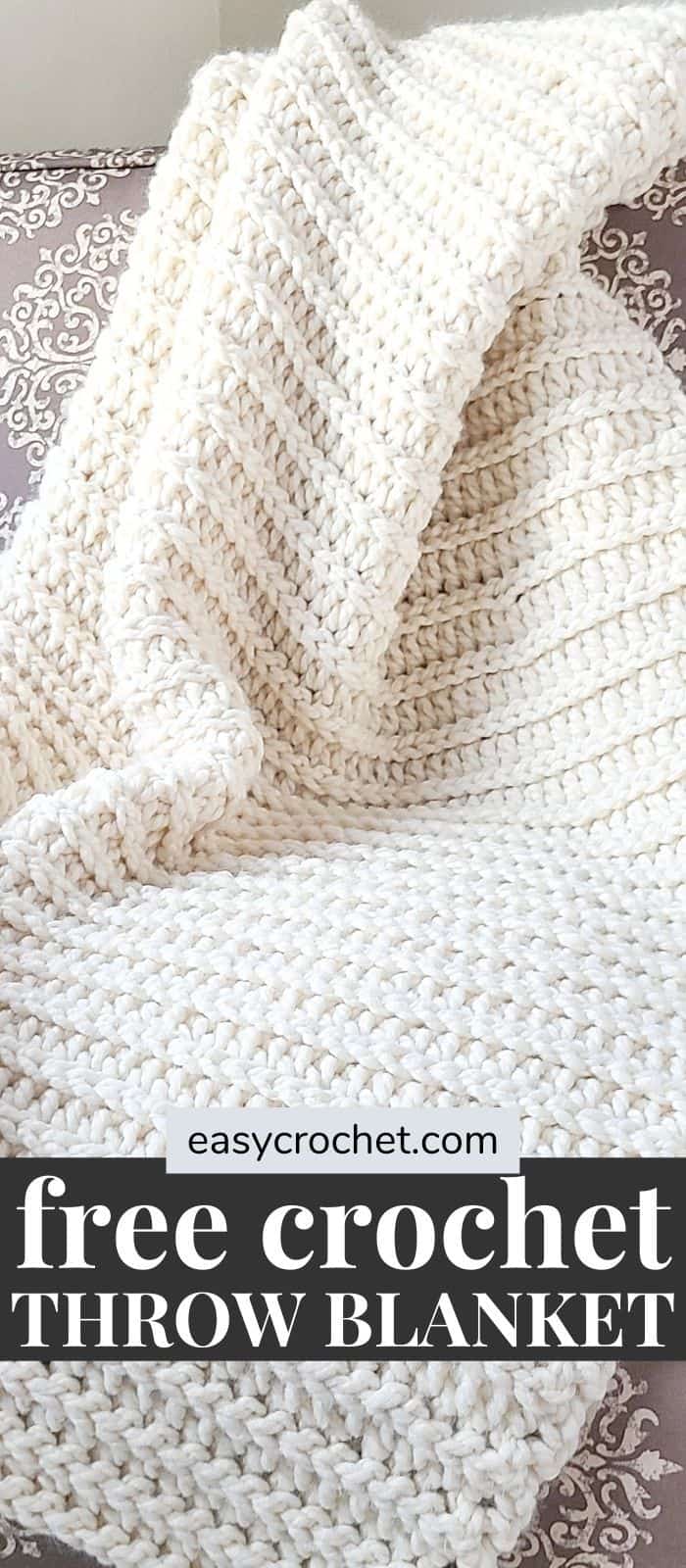 Are you looking for a cozy crochet blanket to make, or maybe you want to learn how to crochet your first easy blanket? If so, look no further because the Andy crochet throw blanket is the one crochet pattern you'll want to make immediately!
Below we'll show you how to crochet a blanket with our easy instructions, go over the explanation of the basic crochet stitches and yarn needed as well. With all this, we hope as beginner crocheters, you'll be ready to make crochet blankets like this one free one shown below.
Enjoy and Happy Crocheting!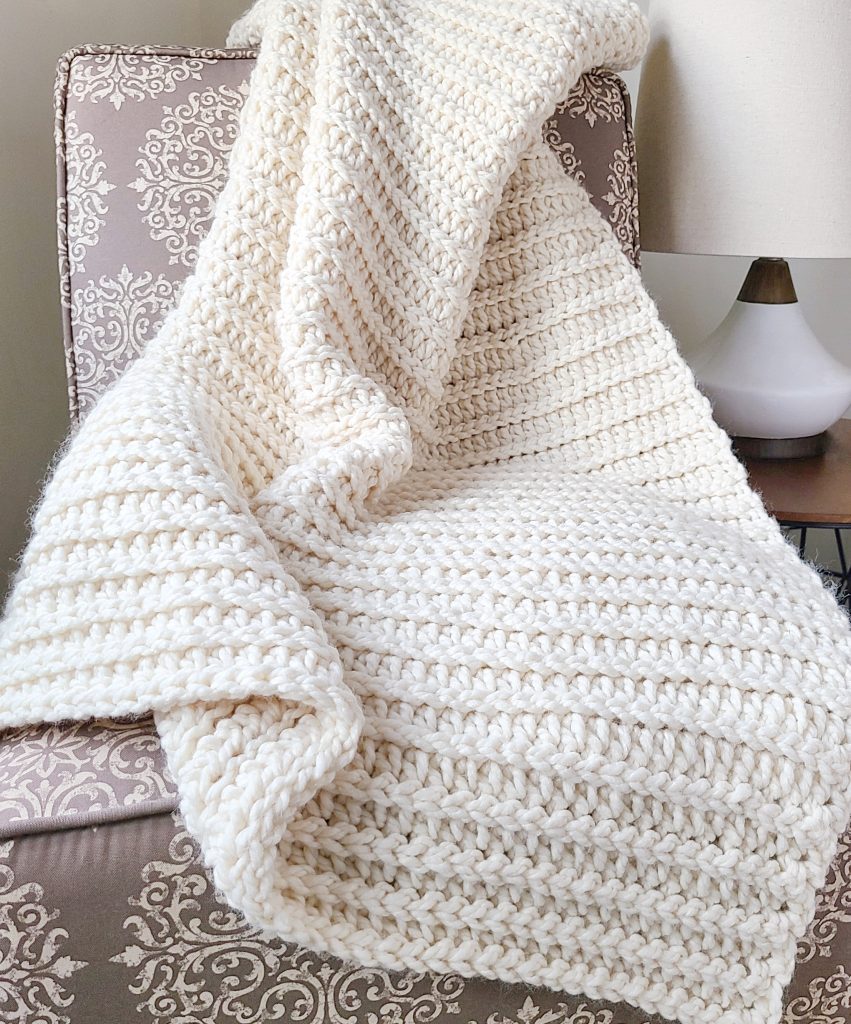 How to Crochet a Blanket and Free Pattern
This modern knit-like blanket is worked up with super easy crochet stitches and looks so much harder to make then it really is! You'll love how quick it works up because of the simple stitches, which makes it truly a beginner blanket pattern.
If you are new to crocheting blankets, this is the perfect beginner-friendly blanket pattern. I promise. Learn more about the crochet stitches you'll need to know, all about the yarn, and the free afghan pattern below.
Extra: Be sure to take a look at the free chunky crochet blanket pattern below!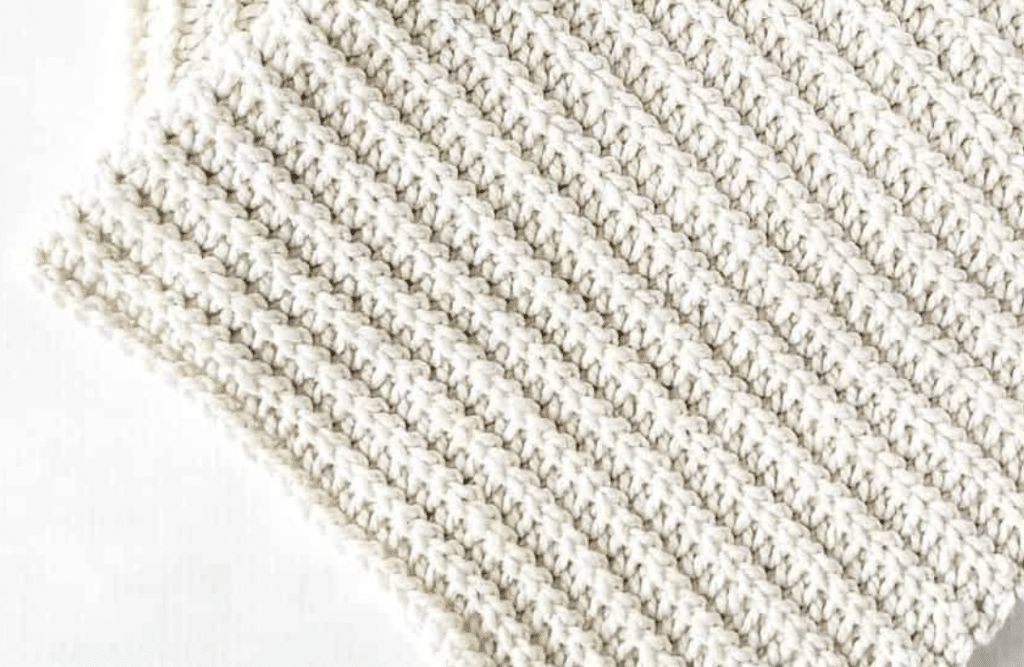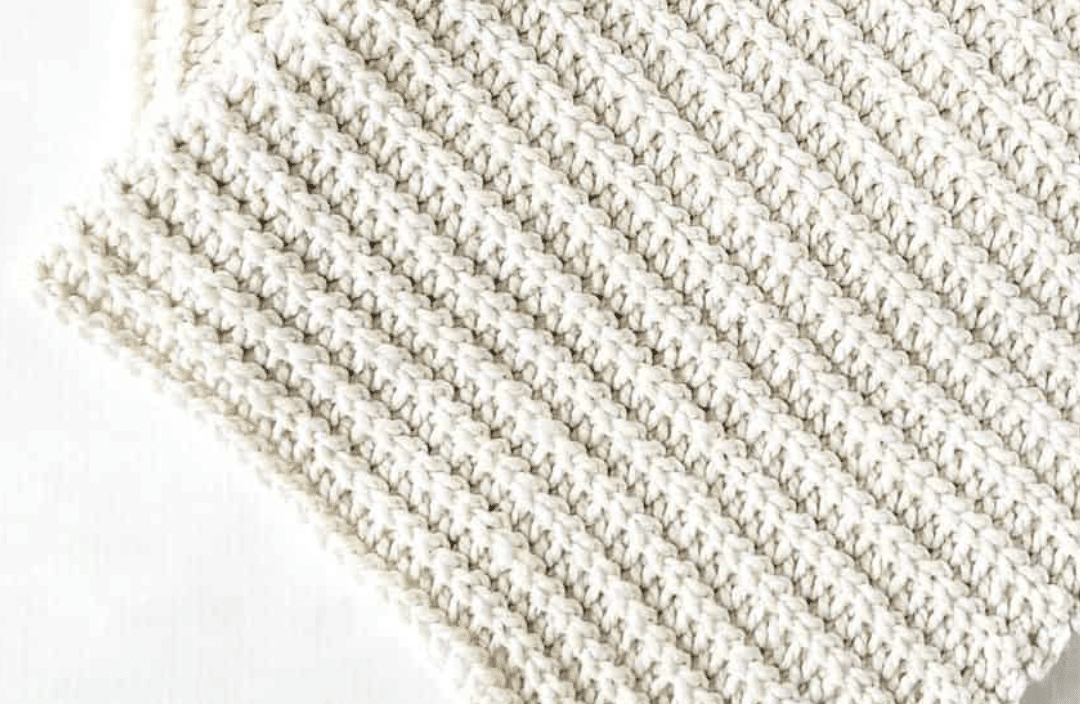 The Crochet Stitches for a Blanket
You will only need to know a few basic crochet stitches for this chunky crochet blanket pattern. I listed the easy stitches out below, and most have a tutorial along with them.
Single Crochet: The single crochet (sc) is a basic crochet stitch that is one of the first stitches new crocheters learn.
Slip Stitch Back Loop: This slip stitch back loop (sl st bl) is worked in the back part of the V of the stitch.
Half Double Crochet: The hdc is another easy stitch to learn and looks great worked upped.
Half Double Crochet Back Loop: The Half double crochet back loop stitch (hdc bl) is a half double crochet worked in the back loop or the back V of a stitch.
Chain Stitch: The chain stitch (ch) is the base of most crochet projects and is a straightforward stitch to get the hang of.
The stitch patterns of the single crochet back loops, and half double crochet back loops create a knit-like look to this crocheted blanket. These stitches also create a blanket that is cozy without holes, so it's perfect for Winter cozying!
These basic stitches work up pretty fast since it's a throw size, which means a fast weekend or week crochet project! You'll also need to know how to do the chain stitch in crochet, which is the base of most crochet pattern and projects you'll make.
How Many Chains Will I Need to Crochet a Throw?
For this blanket design, you will want to start with 105 chains to get the blanket size of 52″ x 60″ (132 x 153 cm). In the note section below, you'll find information about how to change the blanket size to what you'd like to make.
Next, let's discuss the yarn you'll want to use to crochet a blanket!
The Yarn For This Crochet Blanket
To crochet this blanket just like mine, you will want to get a hold of Wool-Ease Thick & Quick from Lion Brand Yarn. It is a super bulky yarn (six weight yarn) that is 20% wool & 80% acrylic.
Wool-Ease Thick and Quick
This yarn is made by Lion Brand, and is a Weight 6 – Super Bulky yarn.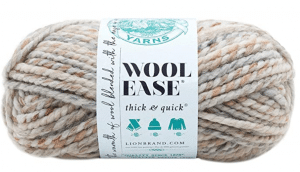 Buy Now
Patterns Using This Yarn →
This yarn is great for projects that you want to get done quickly because of how bulky the yarn is. If you are looking for a chunky blanket that will only take a few days to complete, this cozy blanket pattern may be the one!
I used the color Fisherman for this throw because I wanted this blanket to be a neutral color, so it would look good in any room it was put in.
If you'd like to make this blanket in a different yarn color, there are over 40 different colors you can choose from. This means you can create a blanket that is truly unique to you.
Related: You may also like our curated collection of some of my favorite crochet blankets and afghans as well.
Common Questions About Crochet Blankets
How many yards of yarn do I need to crochet a throw blanket?
To make the blanket as written, you'll need about 14 skeins of WET&Q or about 1,380 yards (1,262 meters) of super bulky #6 weight yarn. If you change yarn brands, the number of skeins will likely vary because each yarn has a different amount of yarn in each skein. See the yardage chart in the pattern for more details.
Yarn Substitution
If you'd like to use a yarn that doesn't contain wool, I recommend using Hometown Yarn, which is also from Lion Brand. It is 100% acrylic, and a super bulky #6 weight. It works up very similar to WET&Q.
Can I use a different yarn weight to make this blanket?
Yes, you can! You can use a worsted weight yarn, five weight yarn or any weight you choose! You will need to work up a 4″ x 4″ swatch of the blanket to determine how many stitches and rows you'll need in that 4″ x 4″ section. Not only that, but you then can input some information into our blanket calculator to determine how big your blanket will be.
Why is My Crochet Blanket Slanted?
The most common reason for a slanted crochet blanket is adding stitches either at the beginning and end of rows or by placing two stitches in the same stitch accidentally. Stitch markers can help by placing them every 15–20 stitches, as well as at the beginning and end of every row.
How Do I Wash a Crochet Blanket?
The best method is to follow the washing and drying instructions on the fiber you used to crochet the blanket. Certain materials will require different care. For example, cotton can be washed in a machine using hot or cold water. Learn how to wash a crochet blanket with our easy tutorial.
Do You Have More Questions?
If you have any other questions about this blanket, please join our Easy Crochet Facebook Community for the quickest response as well as an opportunity to make new crochet friends.
You can use Vanna's Choice, Brava Worsted or Red Heart Soft, which are all great four weight yarns if you'd like to use a weight of yarn other than a six like suggested.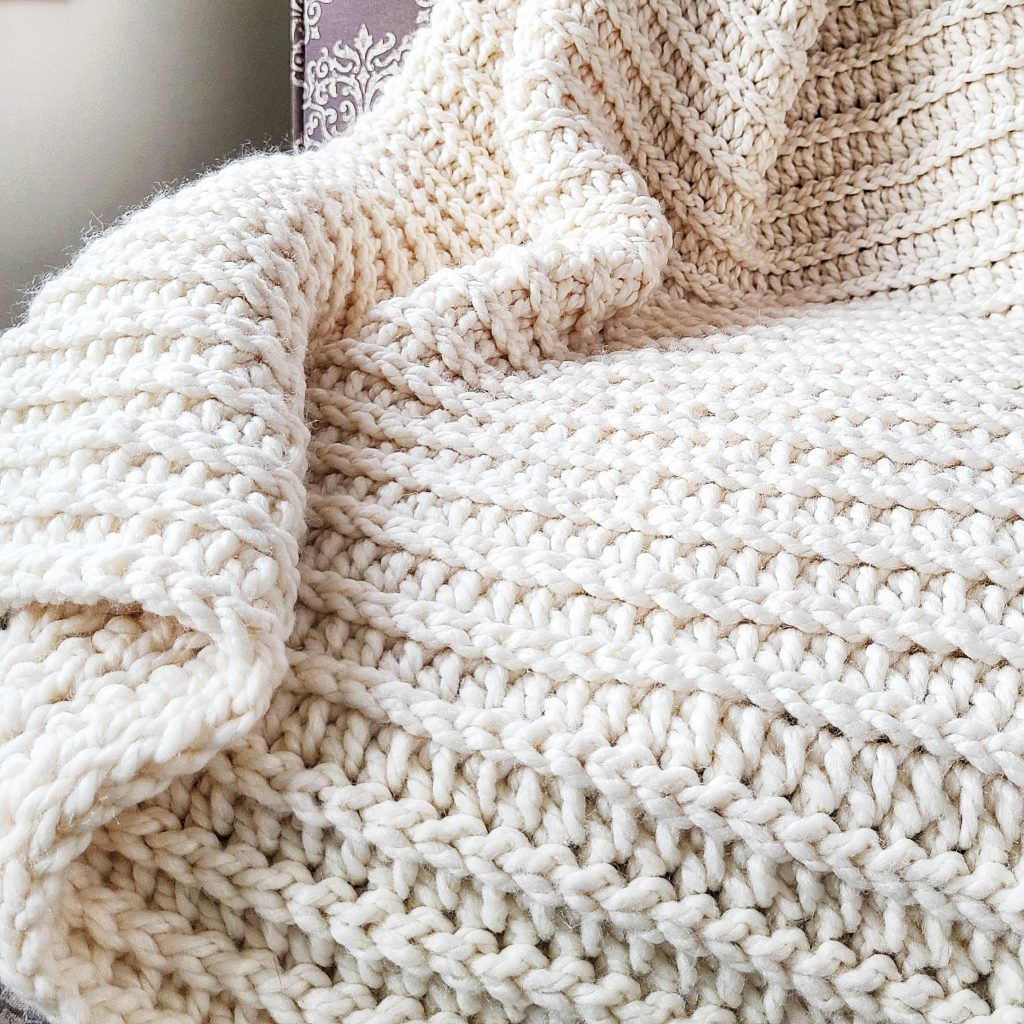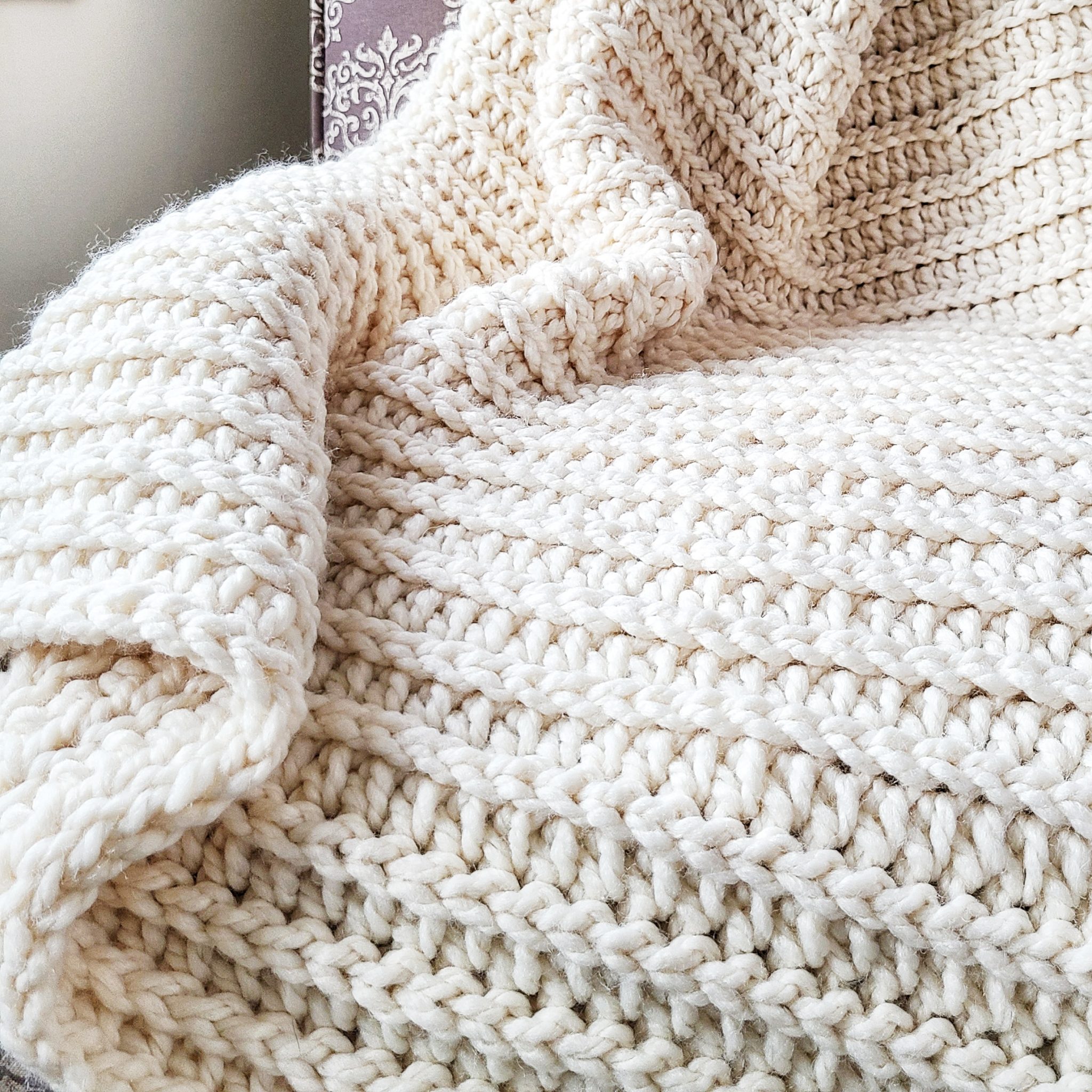 Are You Ready to Get Started?
If so, scroll on down to find the free crochet throw blanket pattern here on the blog or purchase the AD-FREE PDF in the EC shop for on the go crocheting.
I hope you enjoy learning how to crochet a blanket with this easy stitch pattern!
PS: Be sure to take a look at the Video Tutorial for the Andy Blanket as well, after taking a look at the written blanket pattern below.
The Andy Crochet Throw Pattern
Skill Level: Easy
Materials
Crochet Abbreviations
Gauge
Finished Size
Notes
Size Chart
Stitches across are the starting chs for your blanket.
| | Height | Width | Stitches Across | Rows |
| --- | --- | --- | --- | --- |
| Throw Blanket | 60 in (153 cm) | 52 in (132 cm) | 105 | 90 |
Yardage Chart
Skeins per blanket were calculated using Lion Brand Wool-Ease Thick & Quick 6 oz 106 yard size. If you are using a different super bulky #6 weight yarn, go by yardage instead.
| | Total Length | Total Skeins |
| --- | --- | --- |
| Throw | 1,379 yd / 1,261 m | 14 |
The Throw Blanket Pattern
To Start: Ch 105
Row 1: in the second ch from the hook hdc, hdc into each ch across, turn. (104)
Row 2: Ch 1, in the first st sc, sl st bl in the next st, sl st bl into each st across ending with 1 sc in the last st, turn.
Row 3: Ch 1, in the first st hdc, in the next st hdc bl, hdc bl into each st across ending with 1 hdc in the last st, turn.
Row 4 – 89: Rep row 2 & 3
Row 90: Rep row 2
Finishing: Fasten off yarn and weave in loose ends throughout the blanket with a large yarn needle.
Crochet Blanket Diagram
Here is the crochet diagram using standard symbols showing how to create the blanket crochet pattern.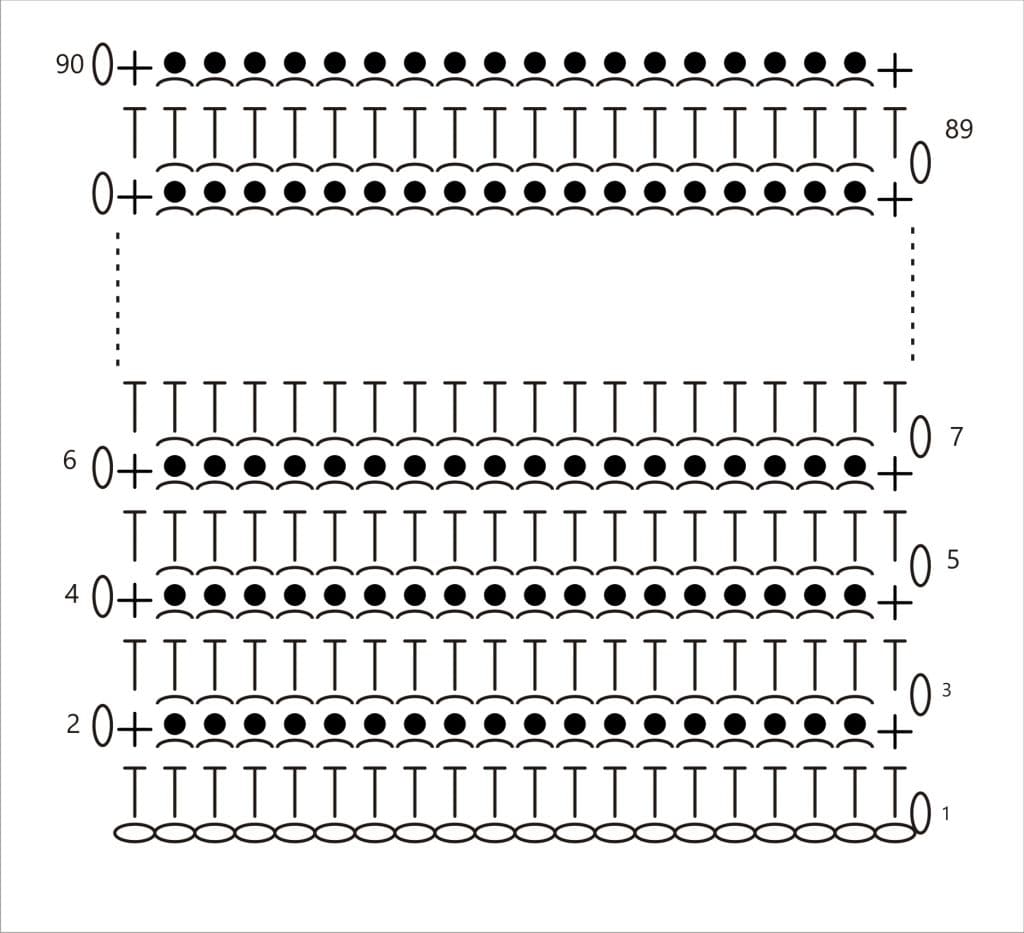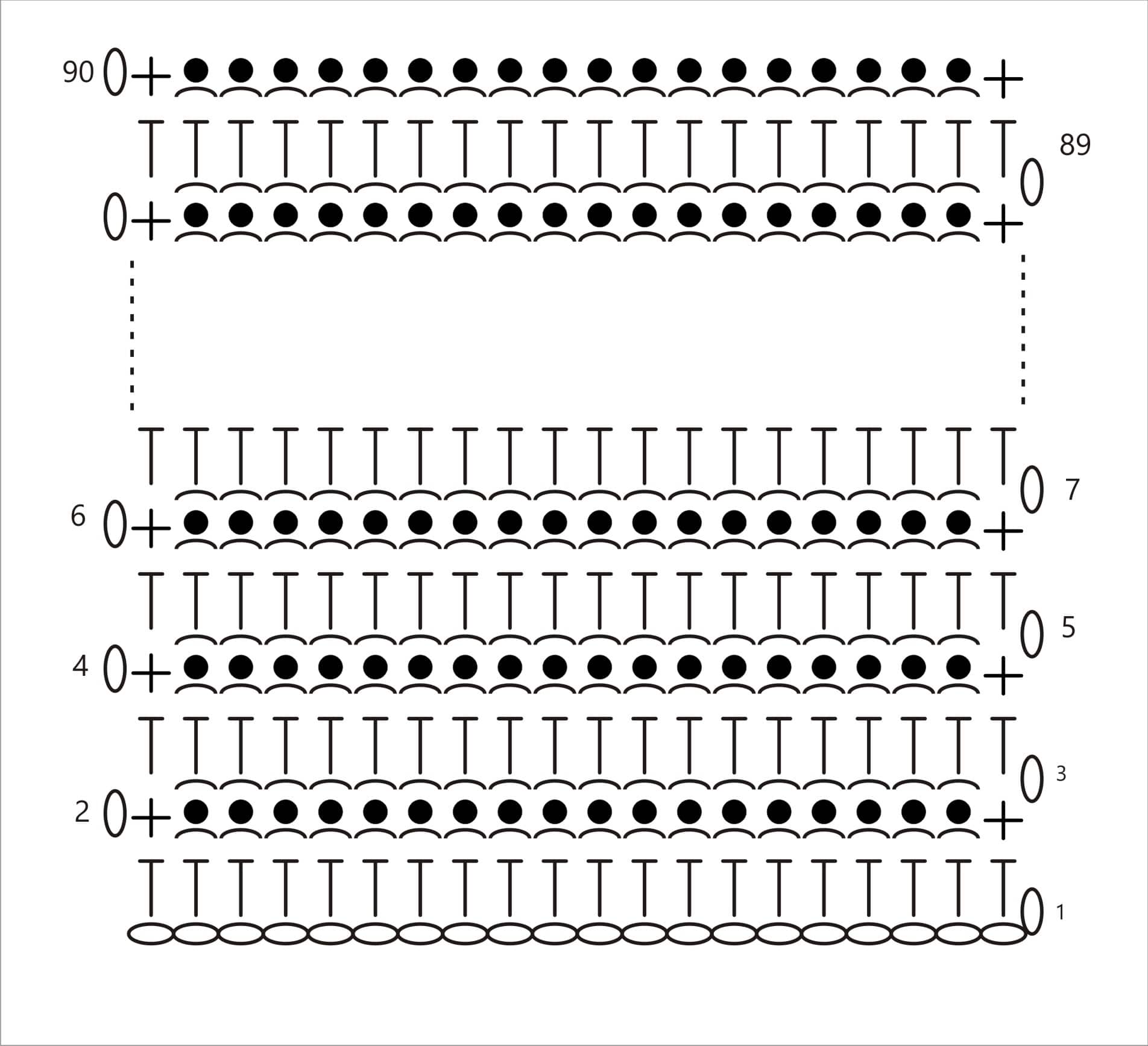 Andy Throw Blanket Video Tutorial
If you have an ad-blocker installed, you may not be able to see the crochet blanket video tutorial. Allow ads and refresh the page to view.

More Free Crochet Blanket Patterns
Did you like this blanket pattern? If so, here are a handful of other free patterns for crochet blankets on Easy Crochet that you may love as well. All of these Easy blanket crochet patterns are perfect for varying skill levels, ranging from beginner to more advanced. Enjoy.