Easy Crochet Glasses Case Pattern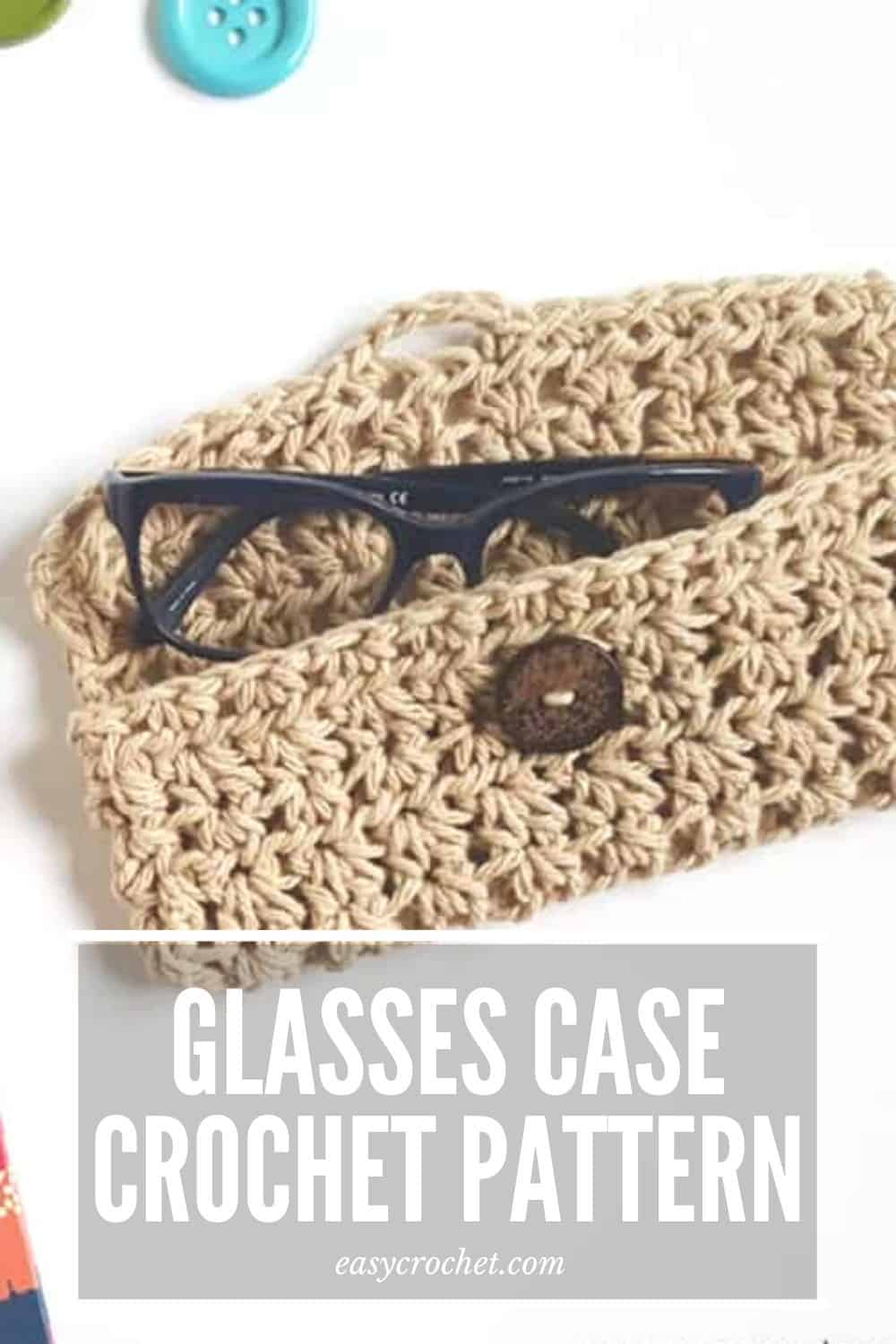 Have you ever thought about crocheting a DIY glasses case? If so, this pattern is for you! This eyeglass case that is perfect for storing your glasses, sunglasses, or extra pair in to keep them safe.
You definitely have come to the right place if you are searching for something to store your glasses in while not in use! This case pattern is super easy and is a great accessory to use daily!
Read on down for the full free crochet glasses holder pattern!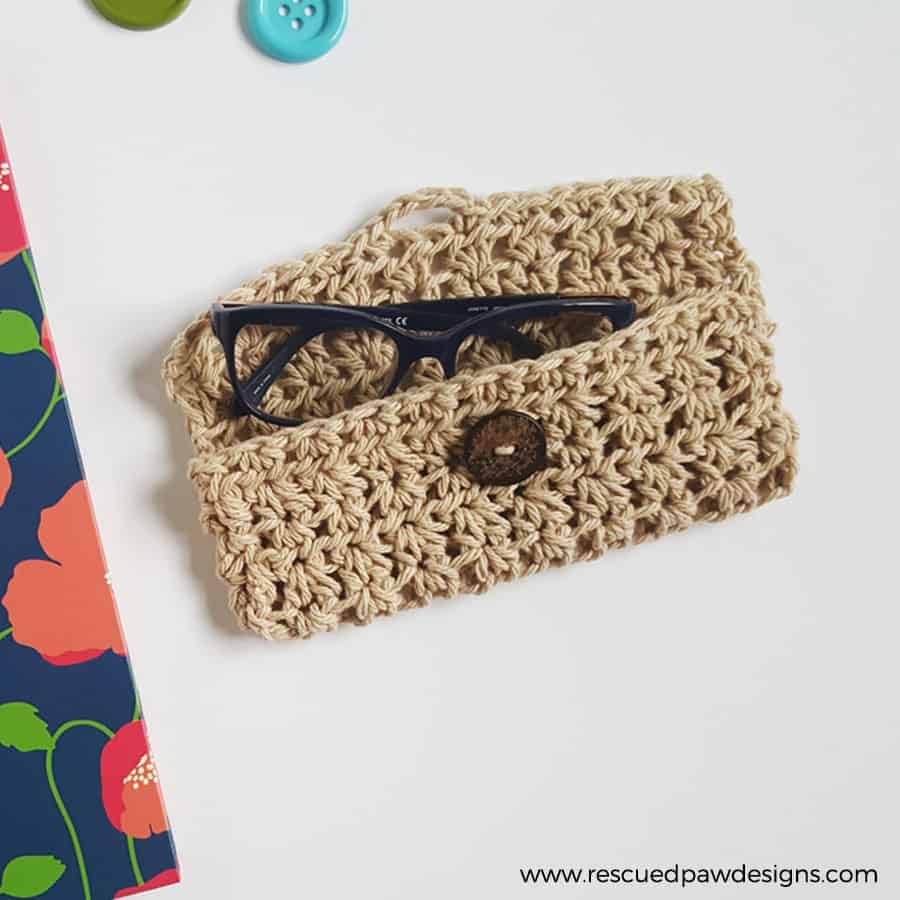 This Crochet Eye glasses Holder Uses Cotton Yarn
For this crocheted case I used Lily's Sugar and Cream because it is a long-lasting cotton yarn, will wash up perfect and won't scratch your glasses!
Since this glasses case will most likely be with you most of the time and being used, it is a good idea to use a cotton yarn that is easy to wash. Take a peek at a few of my favorite colors of Sugar and Cream yarn below.

The Crochet Stitches in this Case
Crocheting this case is pretty simple since it uses a basic crochet stitch. This easy pattern is made up entirely of half double crochet stitches, single crochets and slip stitches which creates a quick design.
These stitches make it a great pattern for beginner crocheters who are just learning how to crochet. Learn more about the half double crochet stitch, single crochet stitch and slip stitch below.
Yo (yarn over) insert hook from front to back of the designated stitch, yo the hook and pick up a loop.
Yo the hook and pull back through all three loops on the hook.
Half Double Crochet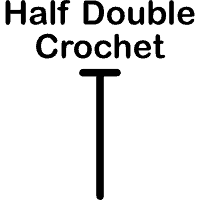 Patterns Using This Stitch →
Insert hook into designated stitch
YO (yarn over) and pull back through the st and through the loop on the hook.
Slip Stitch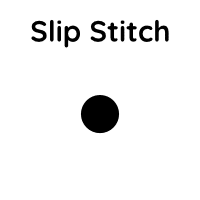 Patterns Using This Stitch →
Insert hook from front to back in the second chain from the hook or designated stitch
Bring the yarn over (Yo) the hook and pull the yarn back through the chain (or stitch) from back to front (2 loops on hook).
Yo and pull through both loops on the hook.
Single Crochet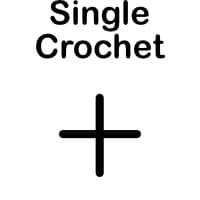 Patterns Using This Stitch →
You will also have to know to half double crochet increase, which in this case is working two half double crochets into one stitch.
How to Crochet an Eye Glass Case
This simple tutorial will make it easy to crochet a case for glasses! I hope you enjoy this fun crochet project! Read on down for the full, free glasses' case crochet pattern.
Crochet Eyeglass Holder Pattern
Skill Level: Easy
Materials
Lily Sugar'n Cream cotton yarn (4 weight) in Jute or less than 100 yards of any cotton yarn.
Crochet hook size I 5.5 MM (or whatever hook size is needed for gauge)
1-inch button (I used a coconut shell button).
Yarn needle
Scissors

Crochet Stitches + Abbreviations
ch = chain
st(s)= stitch(es)
hdc(s) = half double crochet(s)
sk = skip
rep = repeat
hdc inc = half double crochet increase (2 hdcs in the same st)
Gauge
Gauge is approximately 5 sts for every 2 inches
Finished Size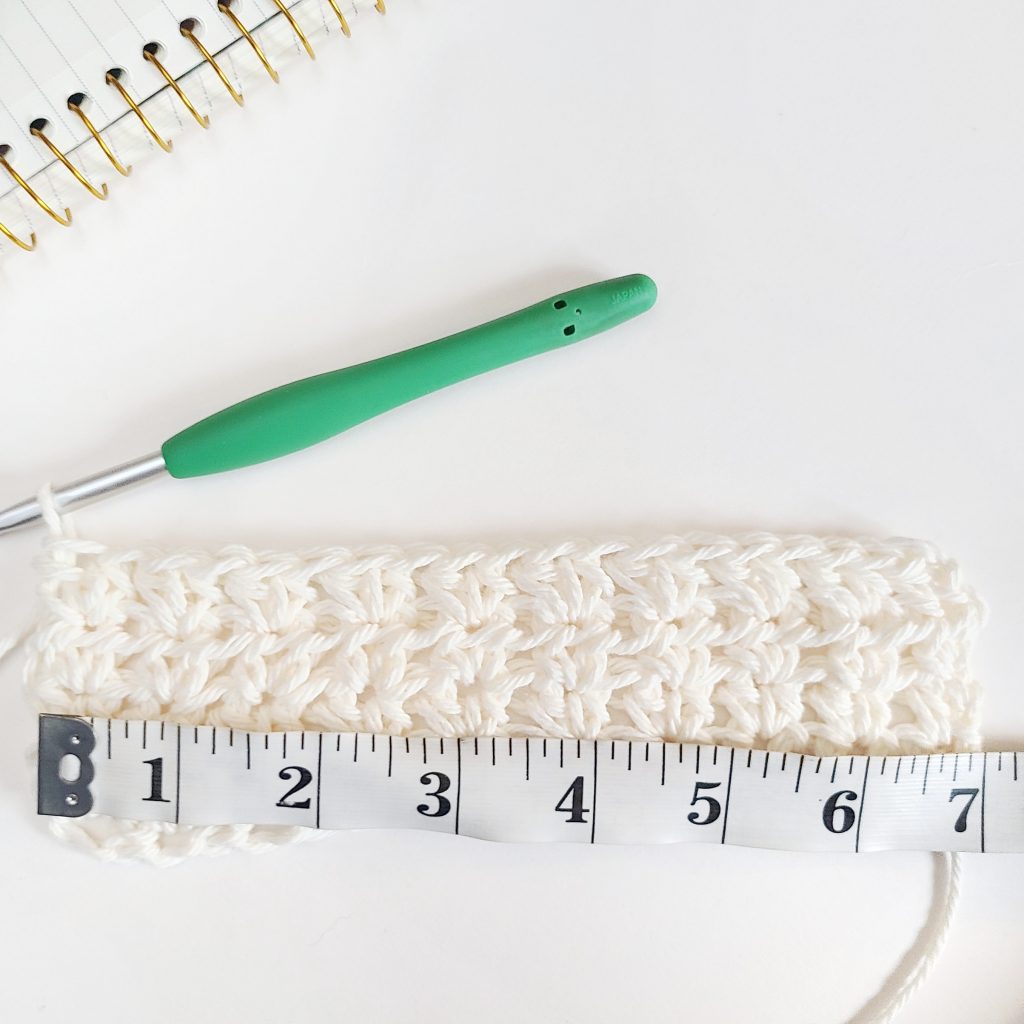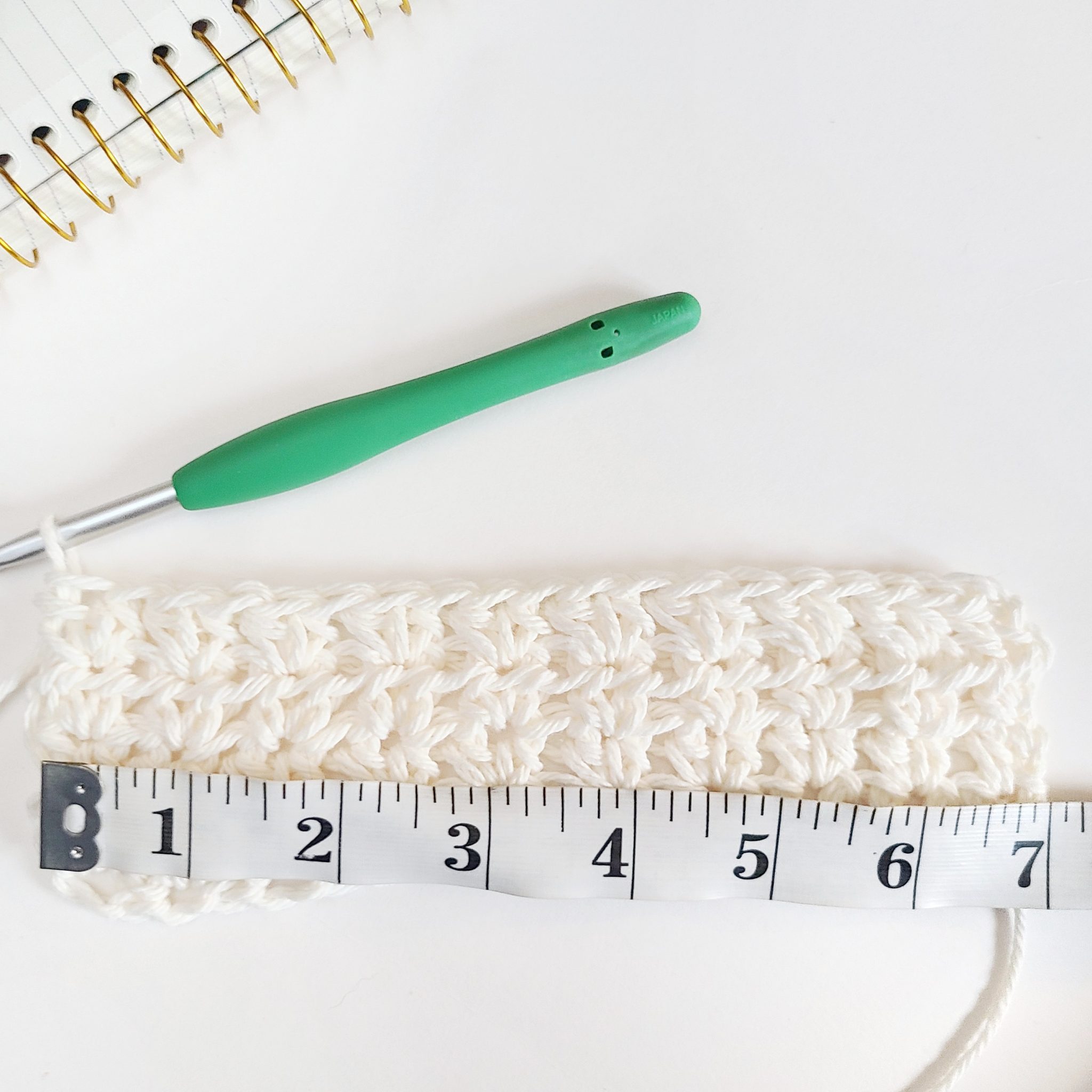 Finished size of this case is approximately 7″ wide x 3″ inches in height when closed (when correct gauge and yarn weight is used)
The case may stretch after use, so it could measure differently after it is used a few times. For example, I have used mine for a few years, and it is now 8″ wide.
Notes
The pattern is written in standard US terms
Use a stitch marker to mark stitches to make it easier to find them. For example, the last st or first st of a row.
See stitch chart below for stitch placement in the pattern.
() at the end of the row is the total stitch count
SELLING: You may sell items made from patterns on Easy Crochet, unless otherwise stated. If you choose to sell items made from this pattern, please link it back to me at www.easycrochet.com for credit. Please do not use my pictures to sell your items.
IMAGES & CONTENT: The images and content of EasyCrochet.com are protected by copyright laws. Do not distribute or copy the content without written permission. Do not edit or remove watermarks from any original image from easycrochet.com. If you would like to share an image, please only use 1 with a link back to Easy Crochet. Thank you for respecting my work.
TRANSLATIONS: Please do not post a translation of my pattern(s) anywhere. If you would like to help make a translation, I would be happy to publish it on Easy Crochet with a link and full credit to your blog. For further questions, please email krista@easycrochet.com.
The Eyeglass Case Pattern Steps
Foundation Row: ch 21
Row 1: in 3rd ch from hook hdc, *sk 1 ch, hdc increase in the next ch, rep from * ending with hdc increase in the last ch, turn. (19)
Row 2: Ch 2, in first st hdc, *sk 1 st, hdc increase in the next st, rep from * ending with a hdc increase in the last st, turn, ch 2.
Row 3-12: Rep row 2
Row 13: Ch 1, sc in first st, *sl st in next, sc in next st rep from * for a total of 7 sts, sk 1 st, ch 3, **sl st in next st, sc in next st, rep from ** for a total of 7 sts ending with a sc in the last st, fasten off. You will end with a st count of (18)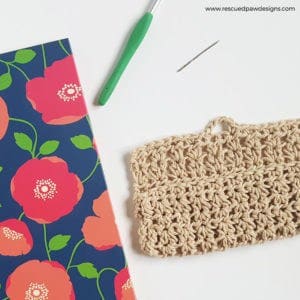 Finishing: Fold up the bottom of the case as shown in the picture above, or about 2.5″.
Cut two 6″ pieces of yarn and sew together the sides of the case with a yarn needle. You can use a whip stitch to join if you'd prefer.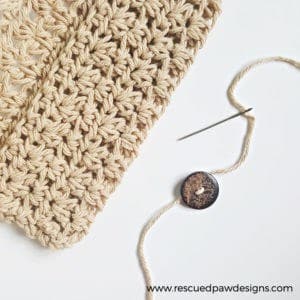 Attach the button to the center of the case.
Weave in loose ends throughout the case.
Stitch Chart Pattern
Use this stitch chart to visually see where the stitches are placed throughout the glasses' case pattern.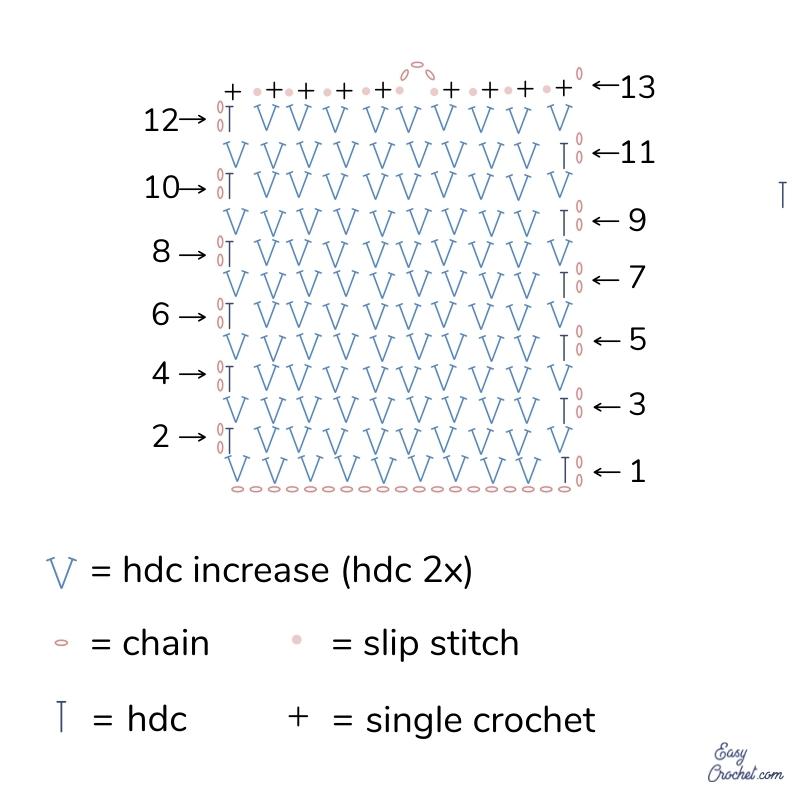 I hope you enjoyed this free glasses case crochet pattern! And If you have any questions about this pattern, please email me with kindness, comment below or find me over on Instagram!

Share this on Pinterest to Crochet Later
Use the images below to pin to Pinterest, so you can make learn this glasses case at any time. Follow along with on there too since we always share new free patterns as well as crochet stitches and tutorials too.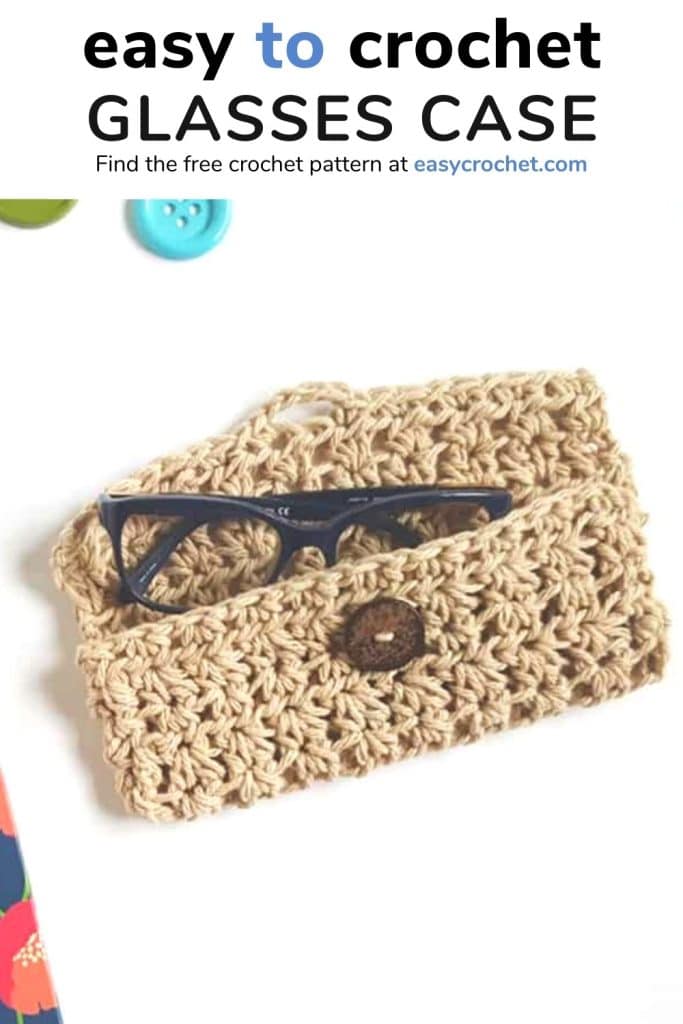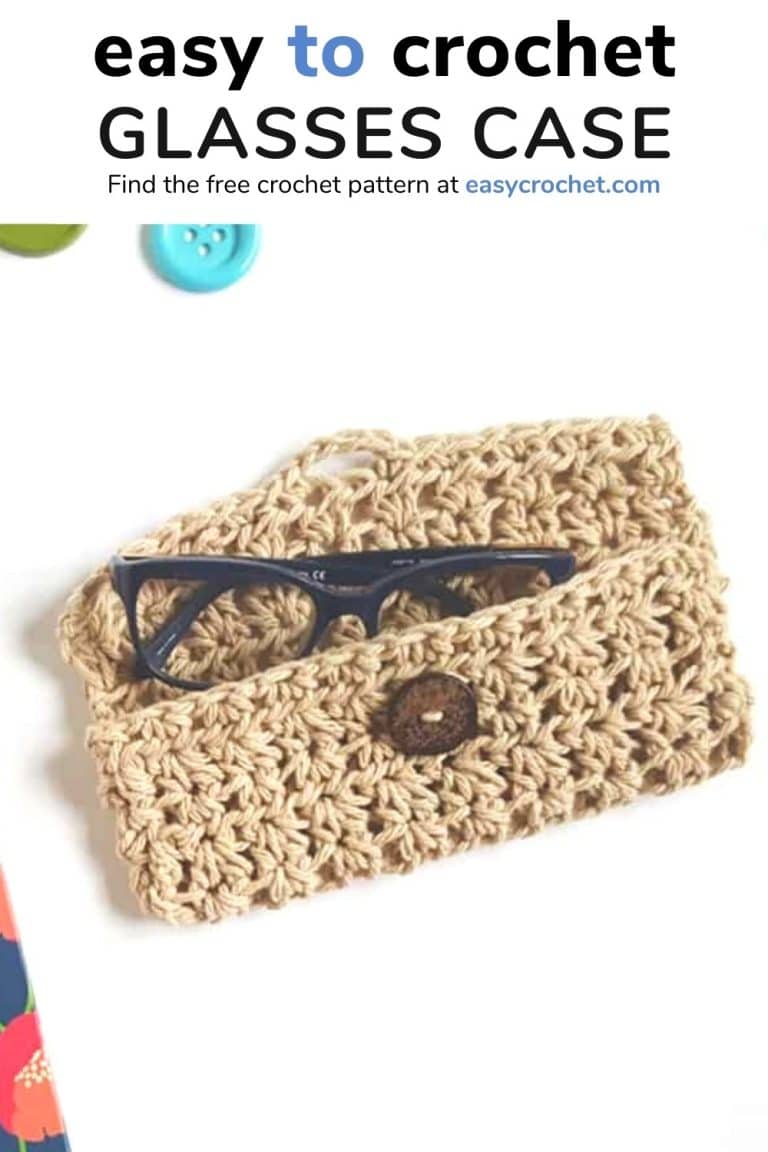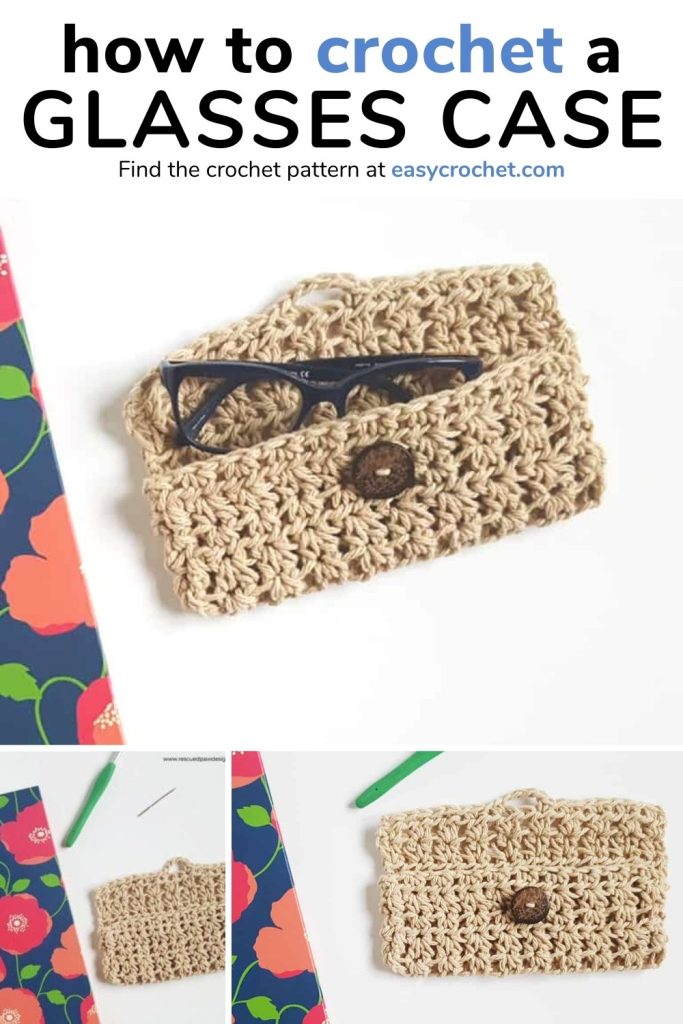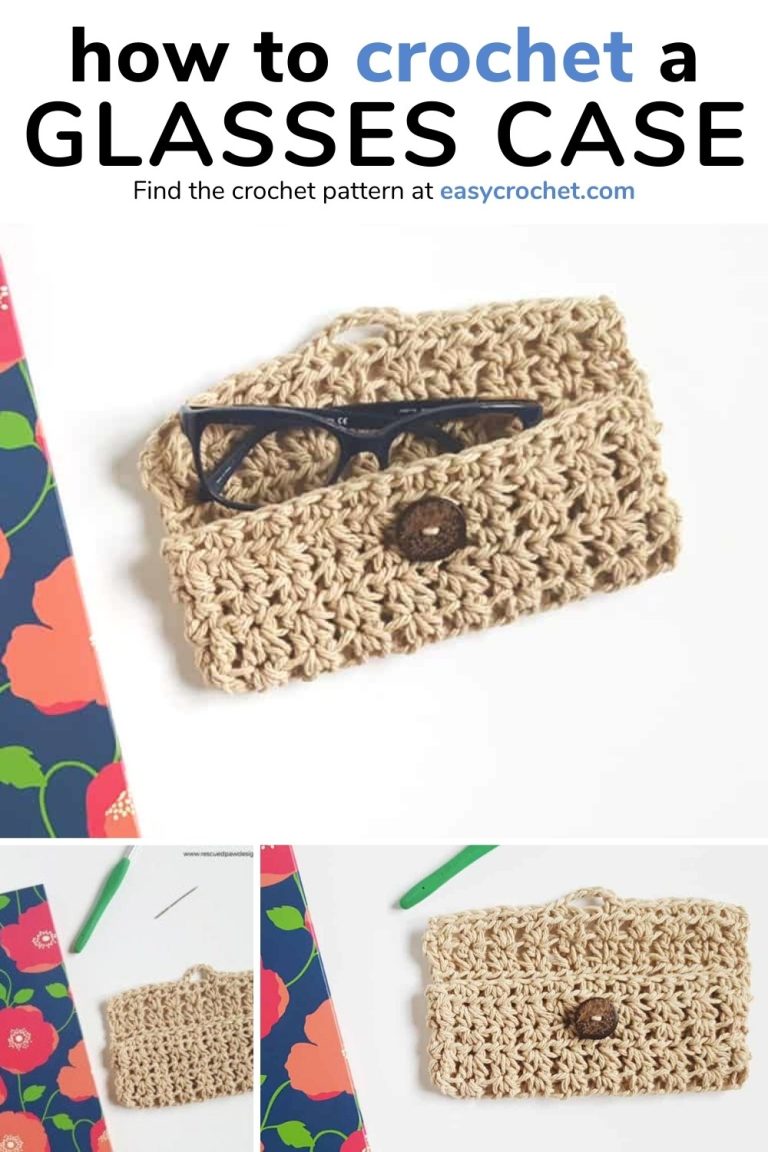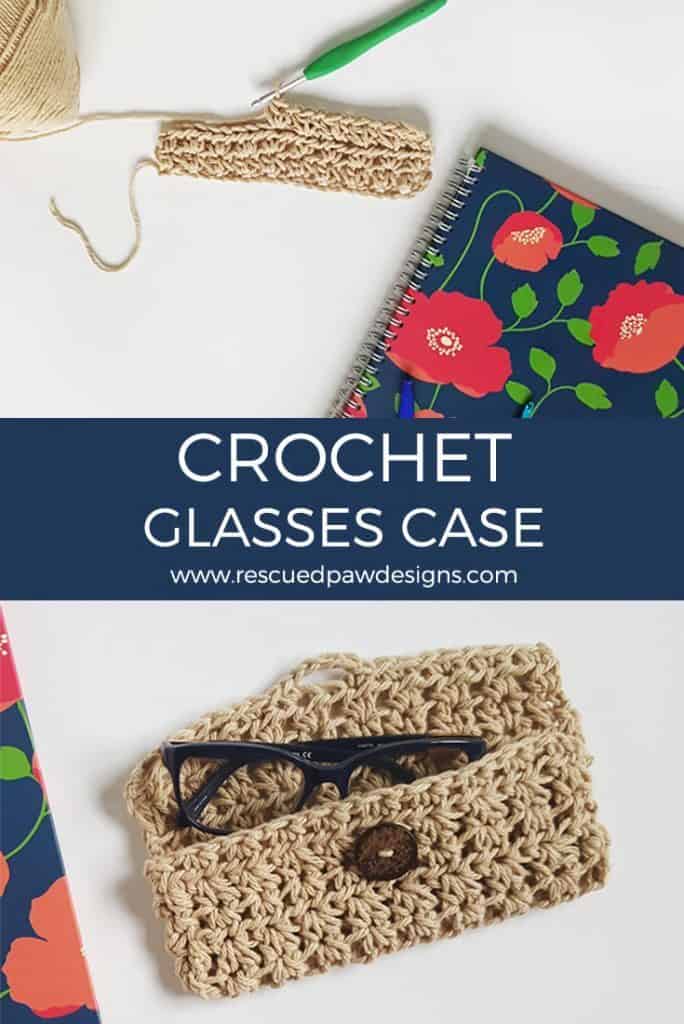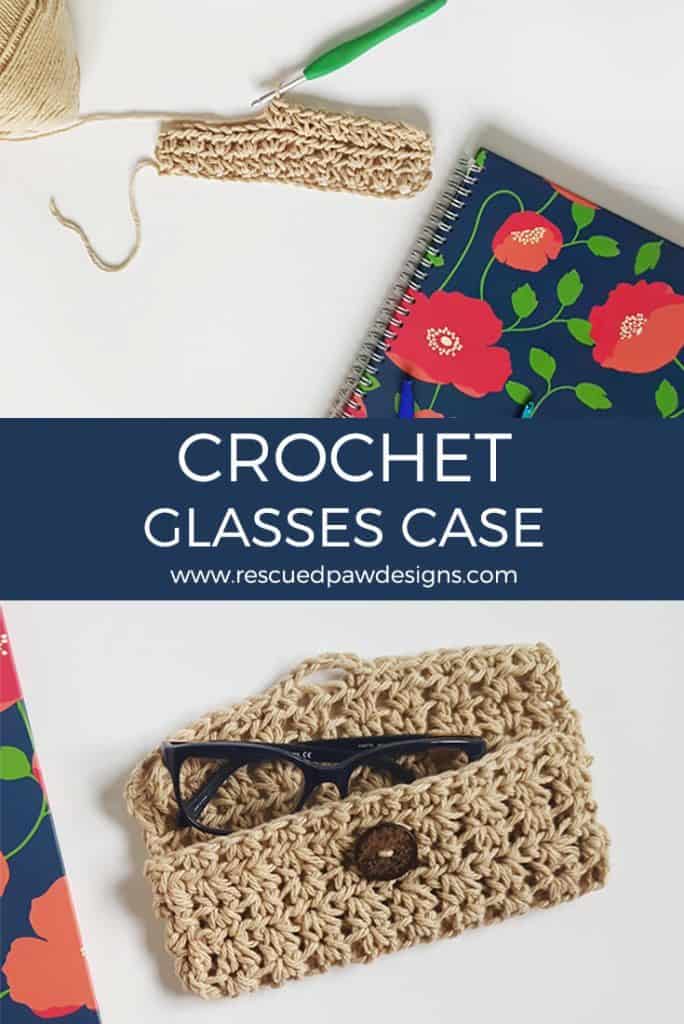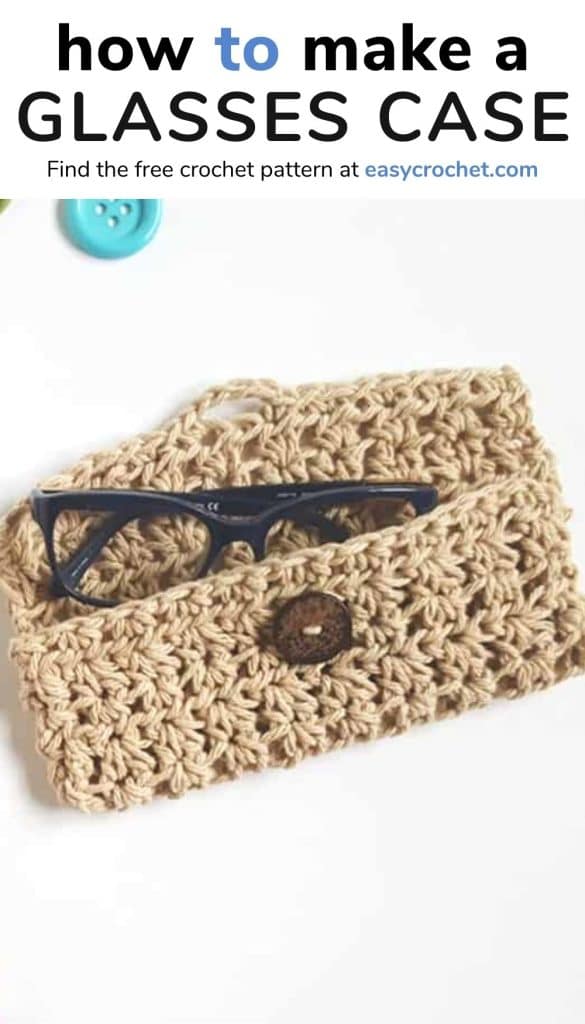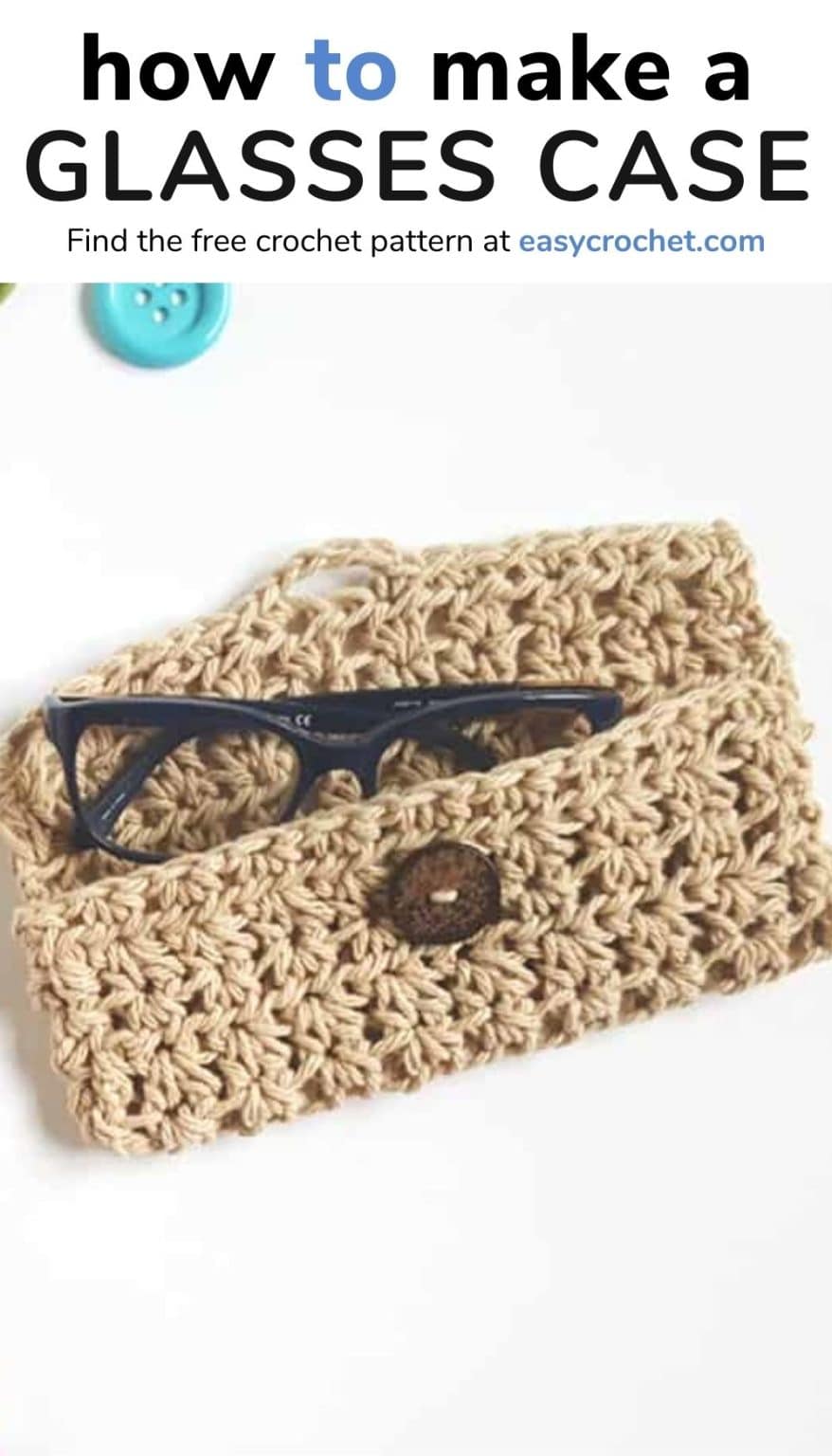 More Free Crochet Patterns for the Home