Chunky Ribbed Beanie Pattern: Easy Crochet Hat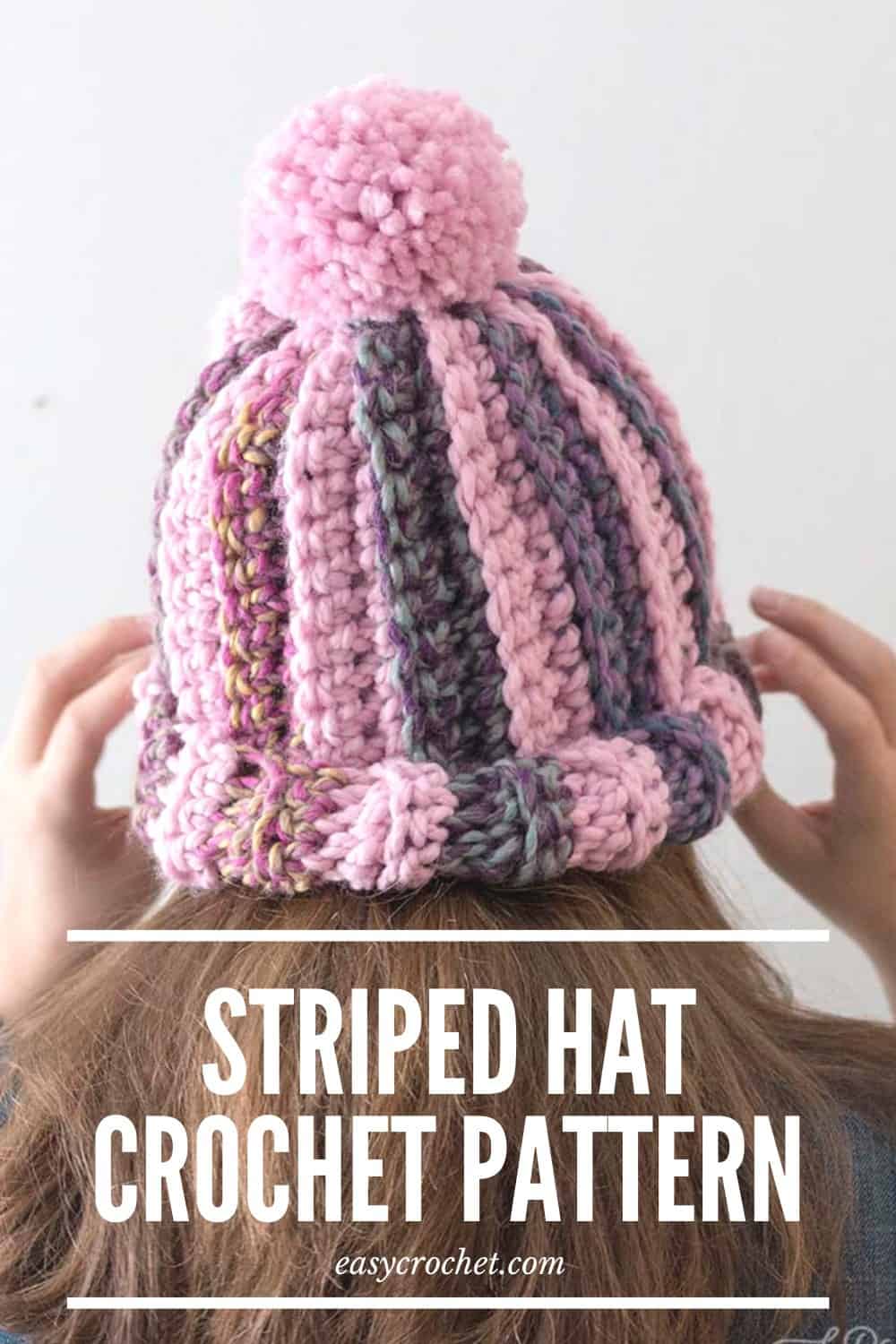 I think we can agree that easy and fast crochet patterns are always a good thing! This ribbed crochet beanie pattern fits that description and is the perfect easy pattern to try.
Keep on reading down to get this free ribbed beanie hat pattern to get started today!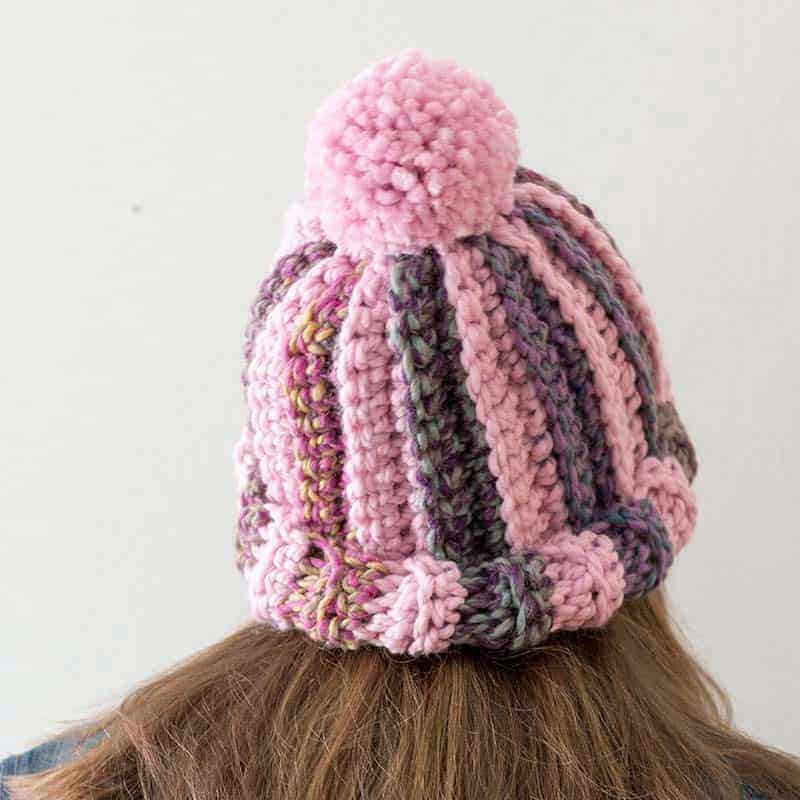 Are you looking to make more crochet hats? Try the Emily beanie, Messy Bun beanie, or search the crochet pattern archive.
I can't wait for you to try this chunky and beginner-friendly hat pattern!
Happy Hat Making!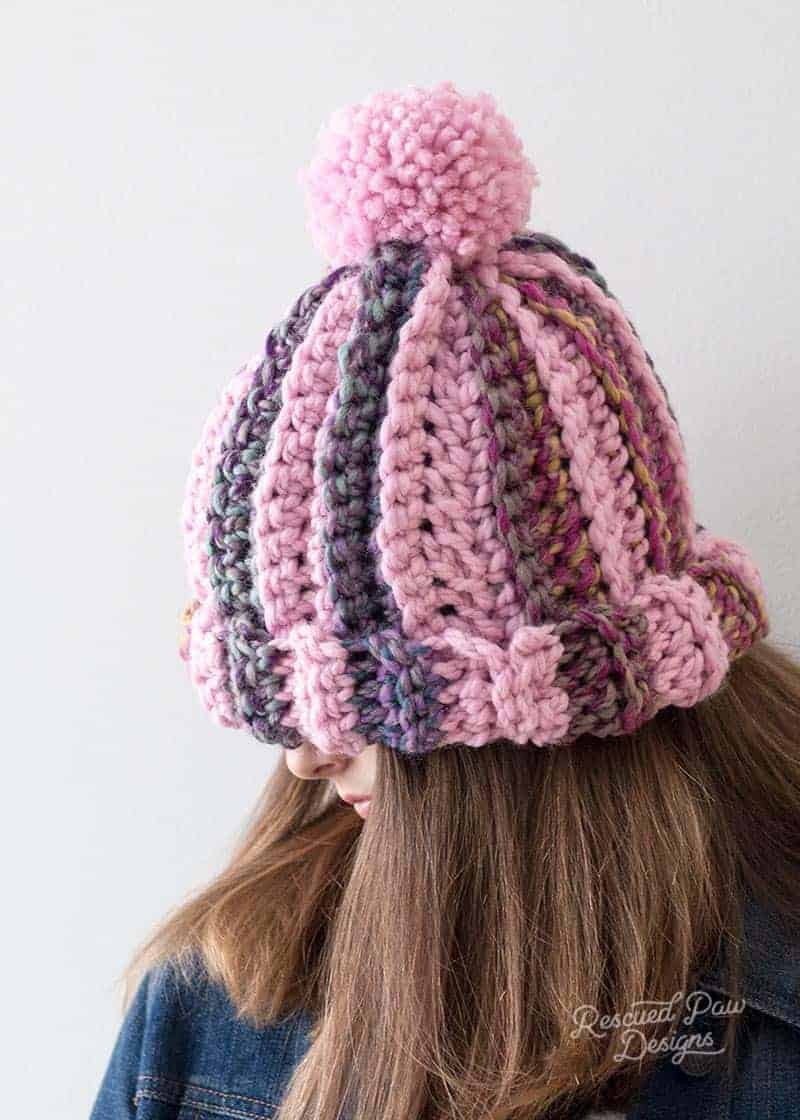 Why You'll Love This Ribbed Beanie Pattern
There are a few reasons you'll love crocheting this stretchy ribbed beanie pattern like the yarn, hardly any ends to weave in, and it's super easy to crochet as well.
The Yarn
To make this comfortable striped beanie, you will need some chunky yarn. I used Lion Brand Wool-Ease Thick & Quick in Blossom and Astroland.
Wool-Ease Thick and Quick
This yarn is made by Lion Brand, and is a Weight 6 – Super Bulky yarn.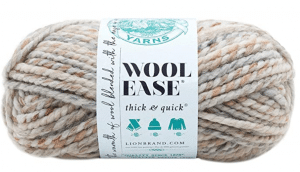 Buy Now
Patterns Using This Yarn →
The Astroland colorway is pretty spectacular because it gradually changes colors and can give the beanie a unique look every time. I made my example purposefully long, so the end could be folded up to make a brim.
Minimal Weaving in of Ends
As you can see, this is a striped hat, which means the dreaded color change and weaving in ends. But, since this is a pretty quick project, that part isn't too bad, so don't worry!
After you are done weaving in the ends, the last thing to do finish up this comfortable striped hat is top it with a pom!
I used the large Clover Pom maker (I found mine on Amazon) and made it as as chunky as I possibly could to guarantee it would be an extra fluffy pom!
To finish up the hat, attach the pom with a yarn needle and weave in the loose pom ends on the inside.
Super Easy Pattern to Try!
After you do the steps above, you'll have a finished striped hat! See! I told you this was such an easy crochet pattern. If you are ready to get started on this simple striped ribbed beanie then read on down for the full pattern and happy crocheting friends!

Simple Ribbed Beanie Crochet Hat
Skill Level: Easy
Materials
2 skeins of Lion Brand Wool Ease Thick & Quick. One in Blossom & One in Astroland between 125- 130 yards or any super bulky 6 yarn
Crochet hook size 9 mm
Large yarn needle (for weaving in ends)
Scissors
Notes
Finished size varies
Gauge is 7 stitches for every 4 inches
Written in Standard US terms
Learn how to change colors in crochet.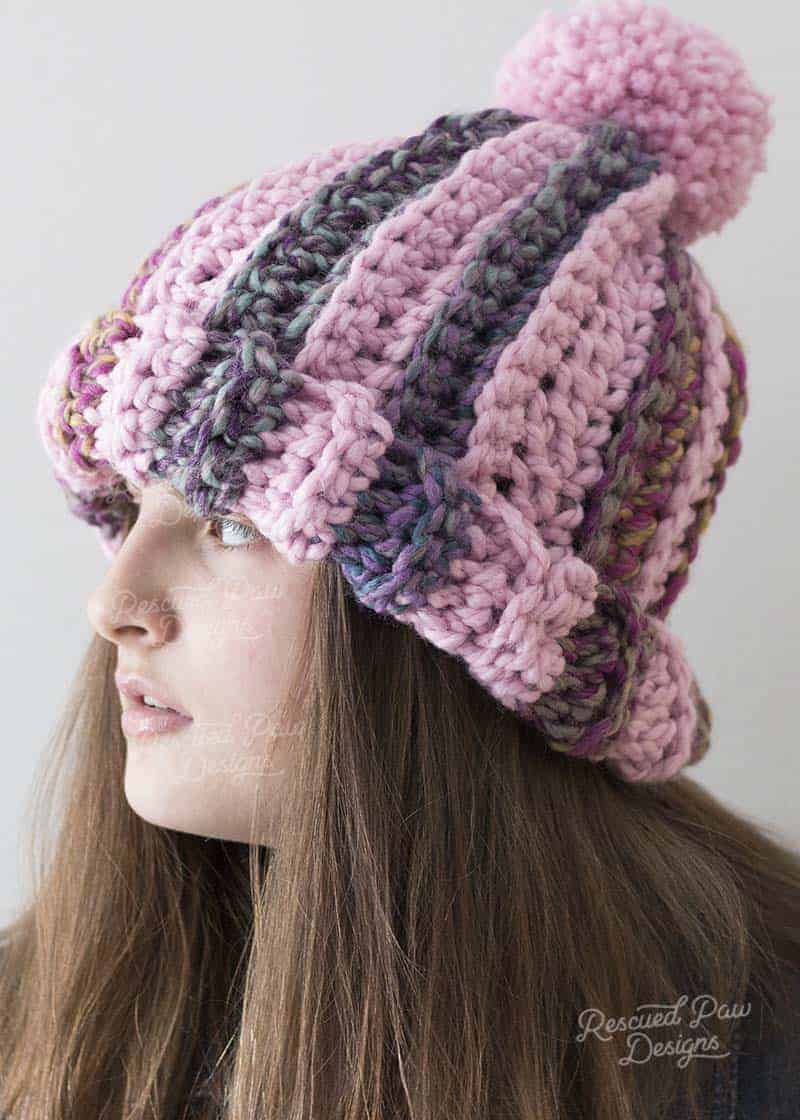 The Pattern Steps
Foundation Row: starting with the colorway blossom chain the length you wish for the hat (the height) I did mine 12 inches long so i would have enough left over to fold up the end of the hat to form a brim.
Row 1: working into the 2nd chain from the hook single crochet, single crochet in every chain across, turn your work.
Row 2: chain 1, starting in the first stitch single crochet in the back loop, single crochet in the back loop of every st across, (change colors), turn your work.
Row 3 -your desired width: Repeat 2 changing colors every two rows. End with a pink row if possible. Fasten off.
Finishing: Weave in all the loose ends with a yarn needle. Holding the two ends together, whip stitch the two short ends of the hat together to create a large tube.
Along the top open end, close your hat using the method shown "here". It is the same method I used to close my Simply Sweet Beanie.
Pom Pom: this part is optional, but I think it really finishes off the hat nicely. Using a large Clover Pom Pom Maker and the Blossom Wool Ease Thick & Quick, make a pom!
If you want it extra fluffy like mine, be sure to add a TON of yarn, and you will get the same look. Attach the pom with a yarn needle and fasten securely to the hat.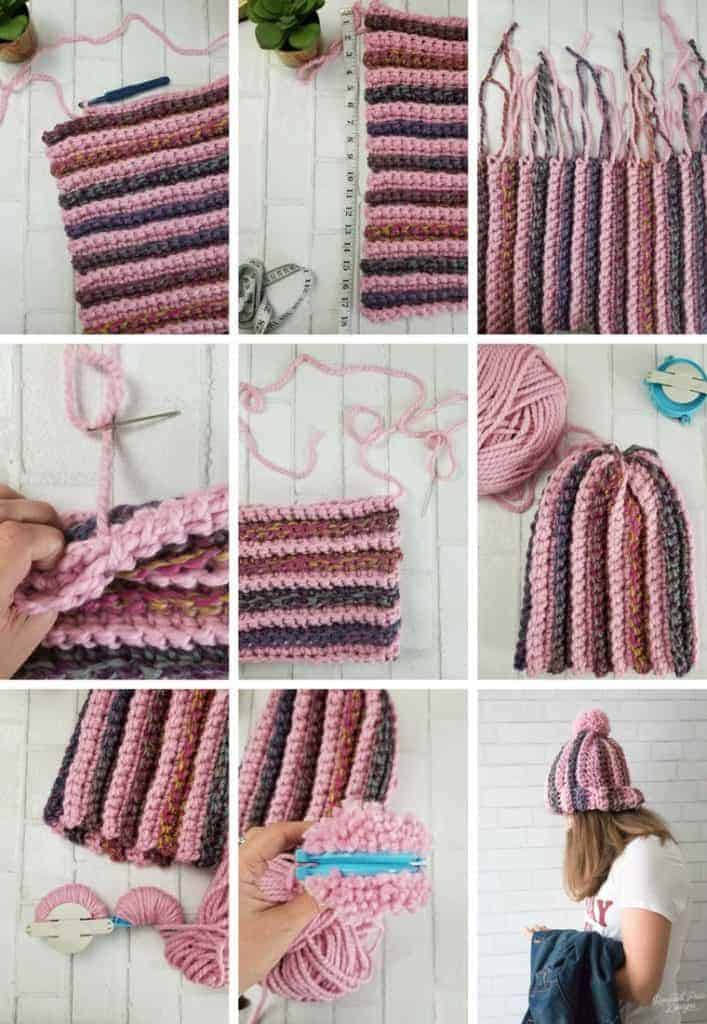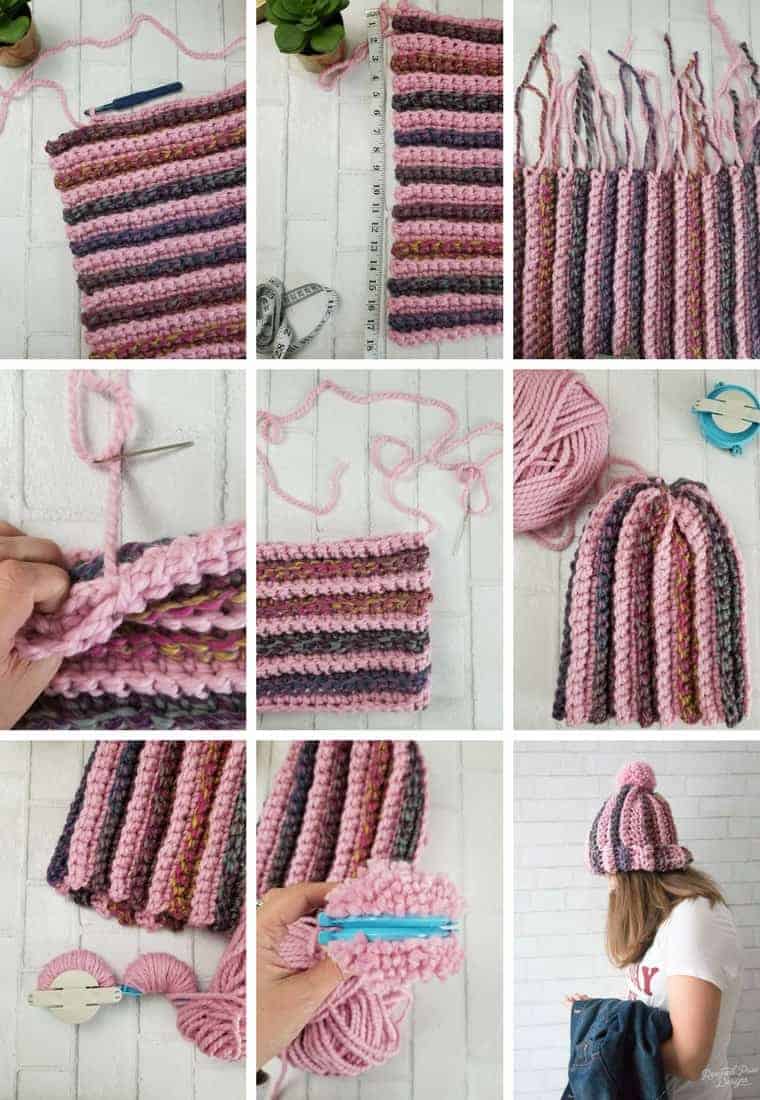 That's it! You have completed the simple striped crochet beanie You did it!
Did you think this was a quick and easy crochet hat? I hope so!

If you liked this ribbed beanie pattern, follow along with me on Facebook, Instagram, or Pinterest (where I pin daily!). If you prefer video tutorials, you can also find me over on YouTube!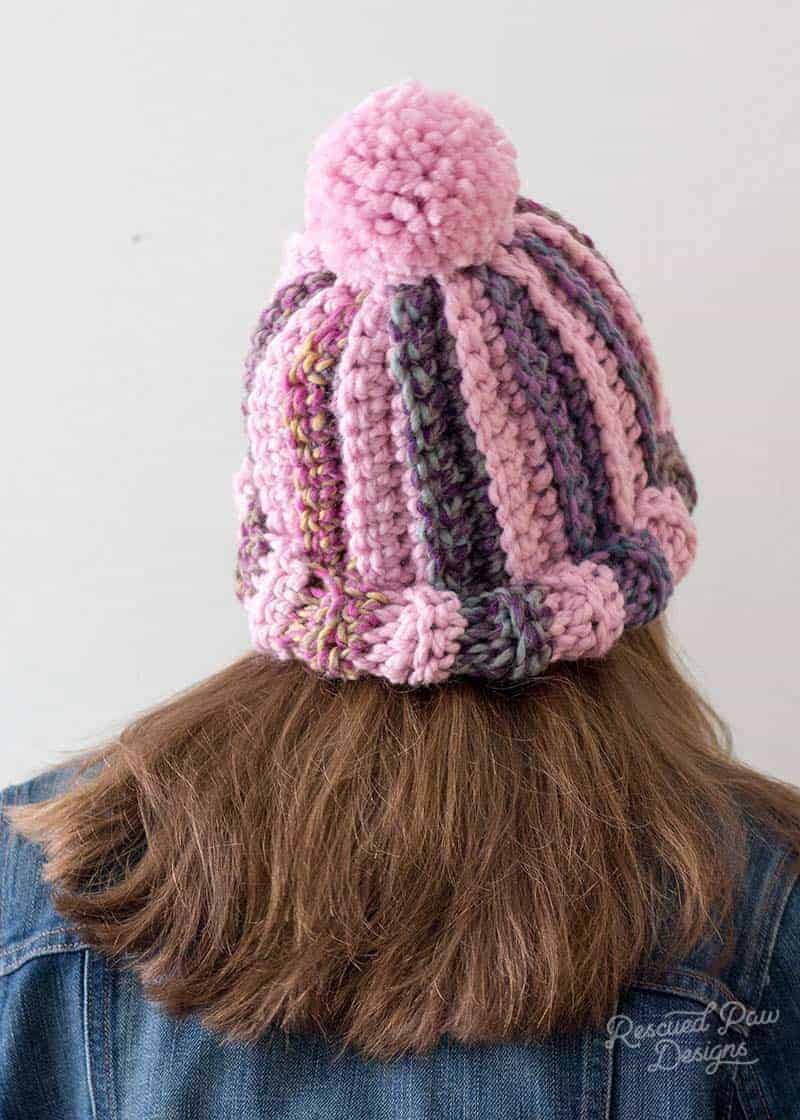 Are you looking for other crochet hats for beginners? If so, then click here to explore my free crochet hat pattern collection.
More Free Crochet Hat & Headband Patterns