11 Easy Crochet Ribbed Beanie Patterns
If you like the look of ribbed knitted beanies but prefer crochet, I have some great crochet ribbed beanie patterns for you! Don't worry if you're not an expert at crochet because adding ribbing to your hats is simple to do. Promise.
Below, I've got a collection of the best ribbed crochet hat patterns that are not only free crochet patterns, but they are all easy to crochet as well.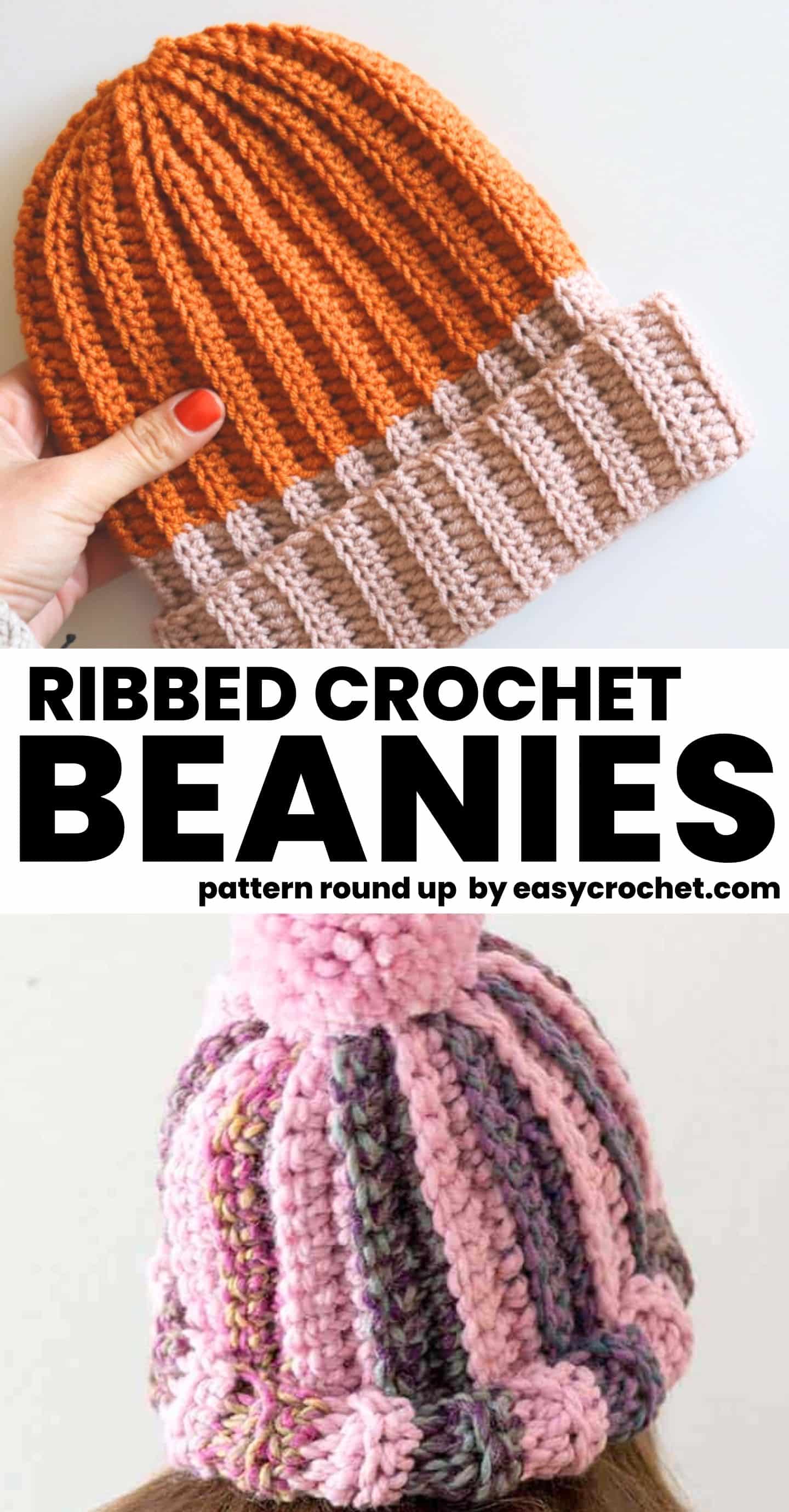 Supplies for Crocheting Beanies
To crochet a ribbed beanie pattern, you'll need a few essential supplies. Here's a list of what you'll need:
Yarn
You can use any type of yarn, but it's common to see plenty of patterns using a medium-weight yarn (also known as worsted weight or 4-ply). But be sure to check the pattern you want to make to see the exact yarn weight you'll need. The amount of yarn you'll need will depend on the size of the beanie you're making as well.
Crochet Hook
Choose a hook size that works with the yarn you're using. Between a size G/4.0 mm to H/5.0 mm hook is a good choice for most medium-weight yarns. Again, check the yarn label of the yarn you are using to make sure you use the correct hook size.
Scissors
You'll need a pair of sharp scissors to cut the yarn. I recommend stork scissors since they are small, sharp and fairly cheap too.
Tapestry Needle
You'll need a tapestry needle to weave in the ends of the yarn. You may hear these referred to as yarn needles as well, but either way, they are useful to finishing up a beanie.
Extras
You may also need stitch markers, tape measures or a pom maker as well if it is needed for a certain beanie pattern

With these supplies on hand, you'll be ready to crochet a ribbed beanie pattern of your own with all the easy crochet patterns below!
Why You'll Love Crocheting a Ribbed Beanie
Crocheting a ribbed beanie pattern is a great project for several reasons.
First, ribbing creates a texture that adds visual interest and depth to the beanie, making it stand out from other plain hats.
Second, ribbing provides stretch, so the beanie will fit snugly and comfortably on your head, keeping you warm and cozy.
Finally, crocheting a ribbed beanie pattern is a fun and satisfying experience, as you get to see your creation take shape and come to life stitch by stitch.
Plus, with so many free ribbed crochet patterns to choose from, you can create a beanie that perfectly suits your style and crochet skill level.
Ribbed Beanie Crochet Patterns
Our collection of ribbed beanie patterns offers beginner-friendly designs and are all free crochet hat patterns too!
More Free Crochet Hat and Beanie Patterns