Warm Up America Alissa Crochet Rectangle Pattern #3
Today I have rectangle number three for you for the Warm up America Collection. It is a 7″ x 9″ crochet rectangle square that is perfect to donate to the Warm up America organization. Are you looking for the other squares in the collection? To find them scroll down to the bottom of the post!
Keep on scrolling to learn how to crochet a rectangle today!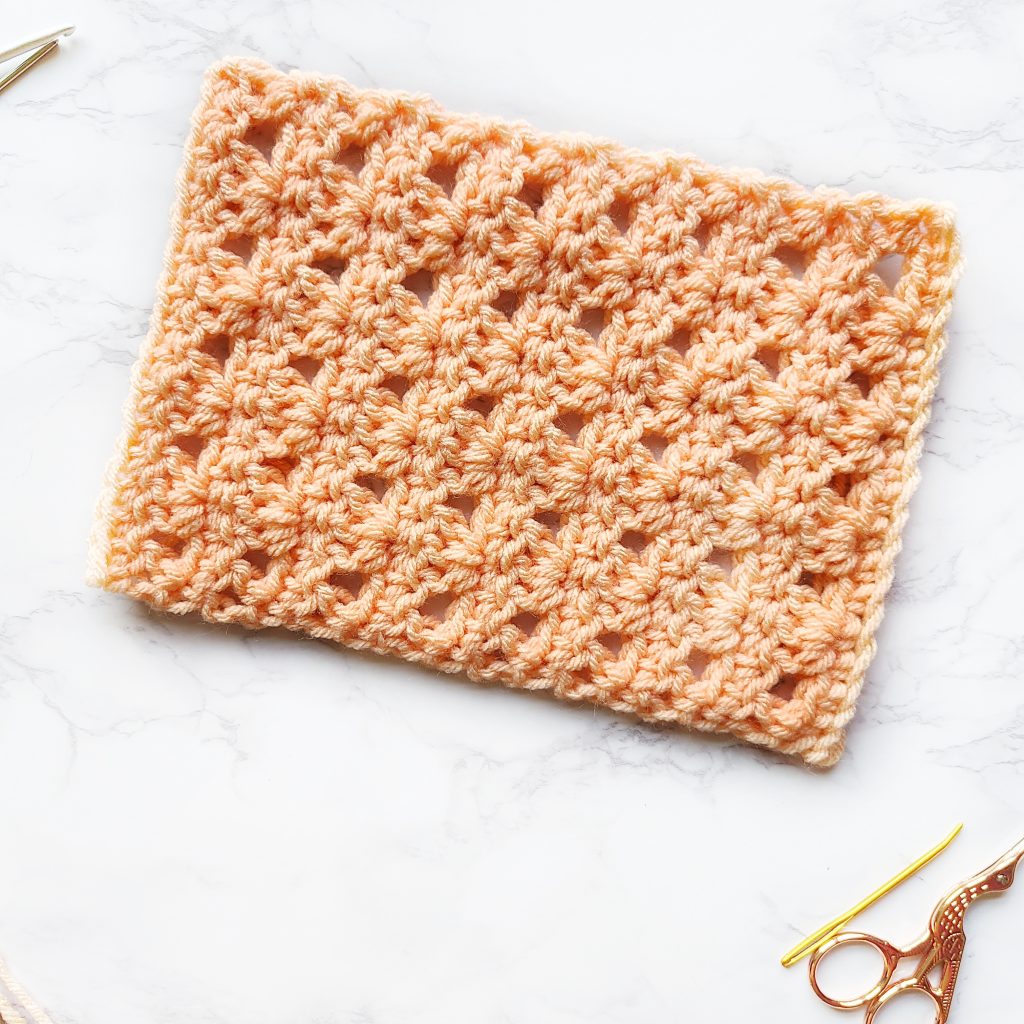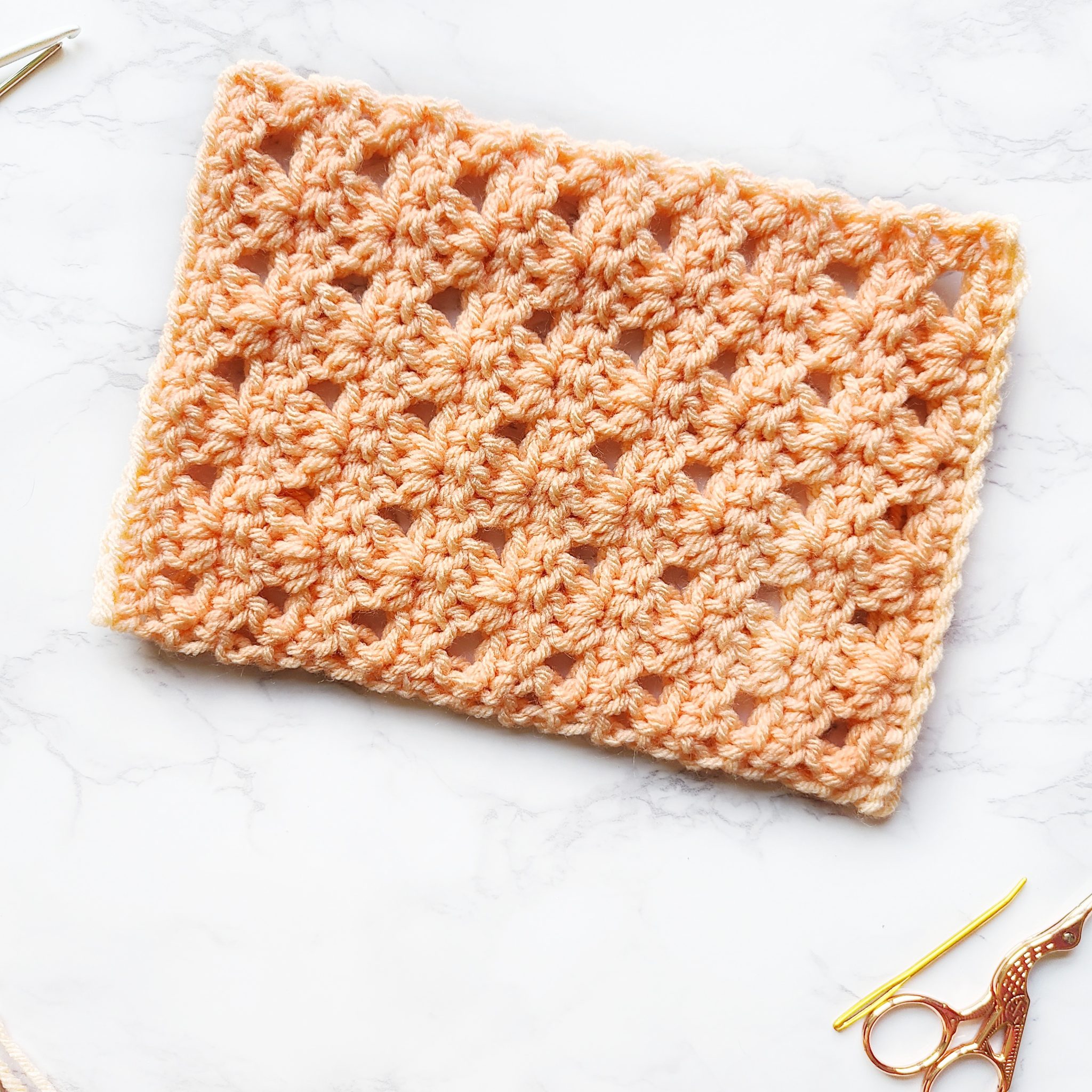 What is Warm Up America!?
Before you get started on your square you may want to learn more about what Warm Up America is. Warm up America is an organization that collects rectangles and blankets year round as well as many other items such as blue hats for the HatnotHate program to donate to those in need.
All projects, crochet or knit that are donated to Warm Up America should be machine-washable. Most donations are in a medium/worsted weight, but any weight yarn will work as long it is the 7″ x 9″ rectangle or completed afghan.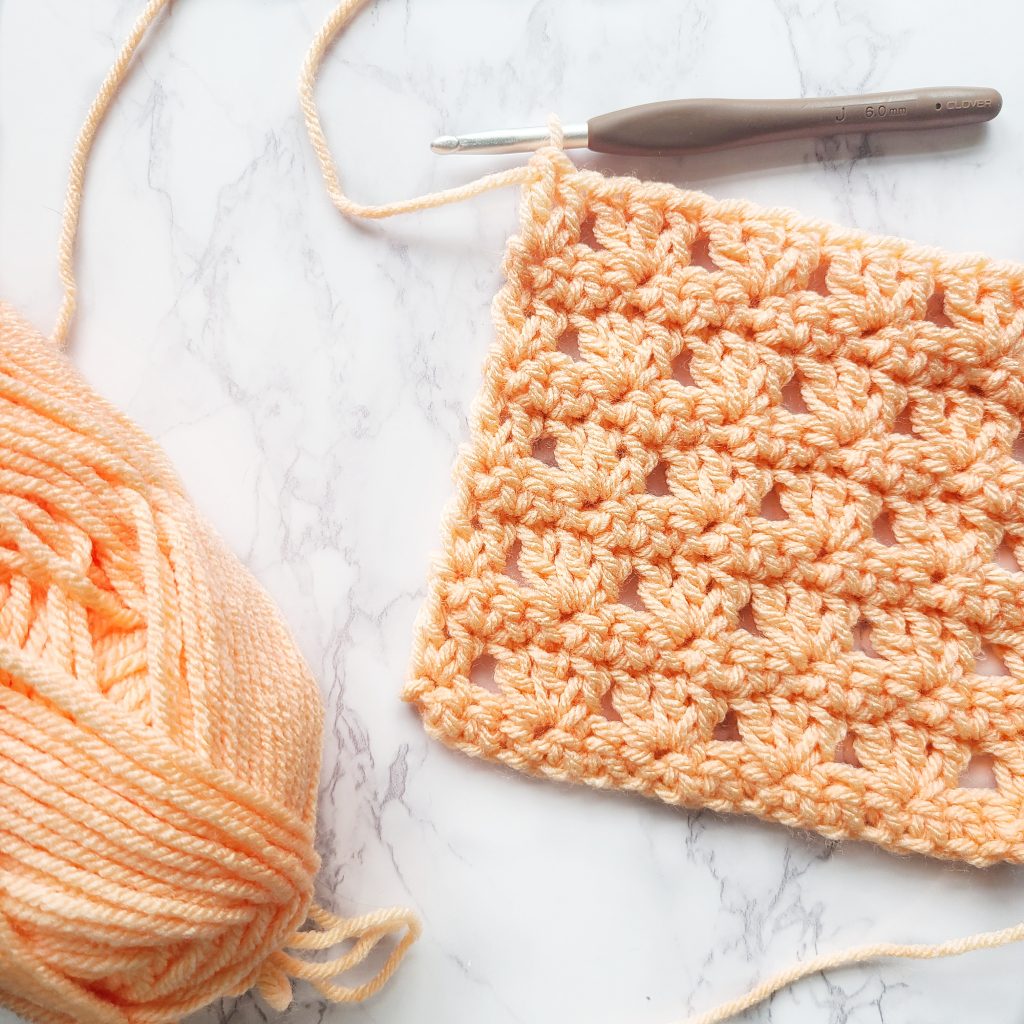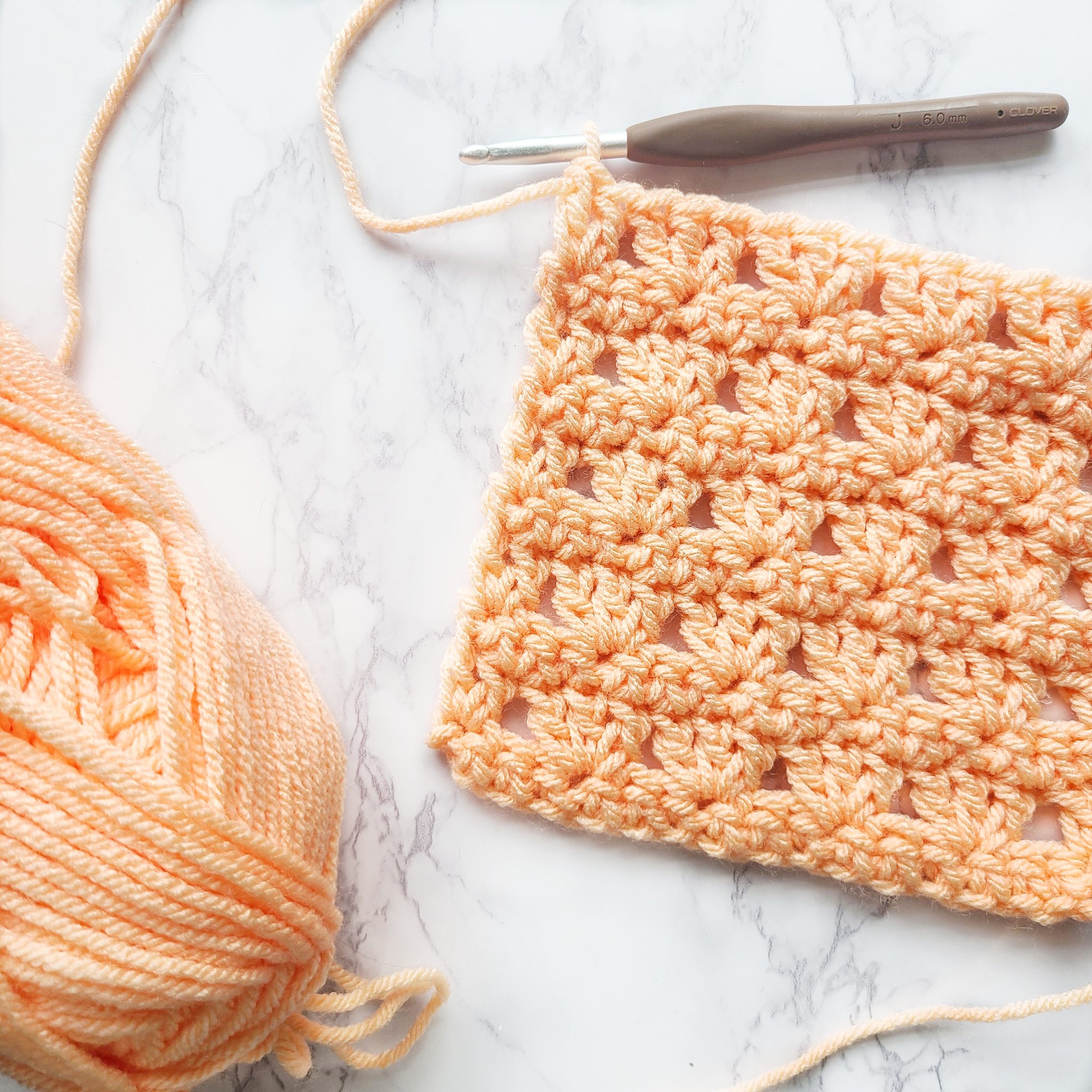 The Stitches For a Crochet Rectangle
To crochet this rectangle, you will need to know how to double crochet (dc) as well as single crochet (sc). The dc and sc are both basic crochet stitches that are easy to master. You can take a look at the details of these stitches below and try them before you begin.
Crochet Stitches for Alissa Rectangle Pattern
Double Crochet (dc):
Wrap the yarn over (YO) the hook, insert the hook into the specified st.
YO the hook again, draw the yarn through the st so there are 3 loops on the hook
YO the hook again draw it through 2 loops so there are 2 loops on the hook
YO the hook, draw it through the final 2 loops.
Single Crochet (sc):
Insert hook from front to back in the second chain from the hook or designated stitch
Bring the yarn over (YO) the hook and pull the yarn back through the chain (or stitch) from back to front (2 loops on hook).
YO and pull through both loops on the hook.
The square pattern is created by crocheting a row of single crochet stitches followed by a row of double crochet clusters. It is based of the Alissa Blanket design which is a crocheter favorite here on Easy Crochet. This is essentially the same except for the starting chain which I made a ch 2 for this instead of the ch 3, so the edges would be cleaner to stitch into when you want to join the squares.
See the picture below to take a look at the stitches up close in this rectangle.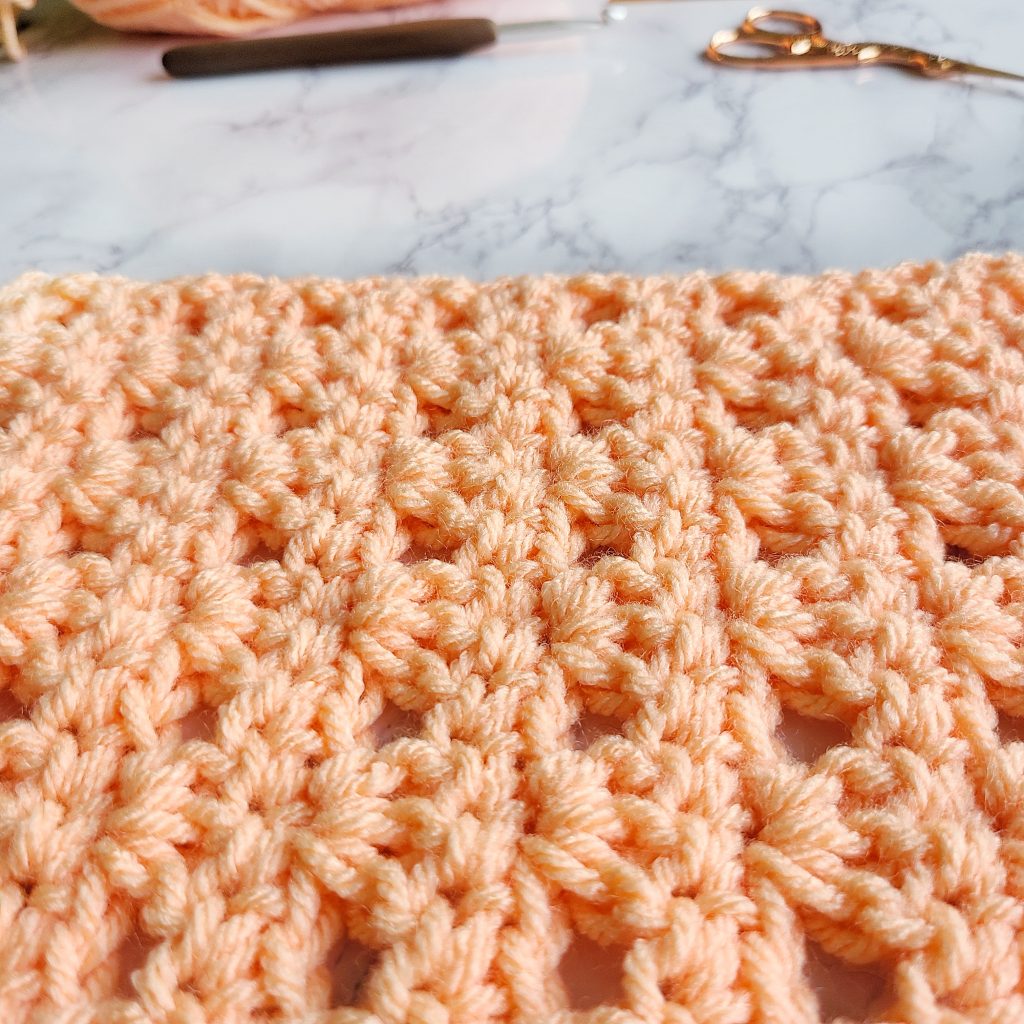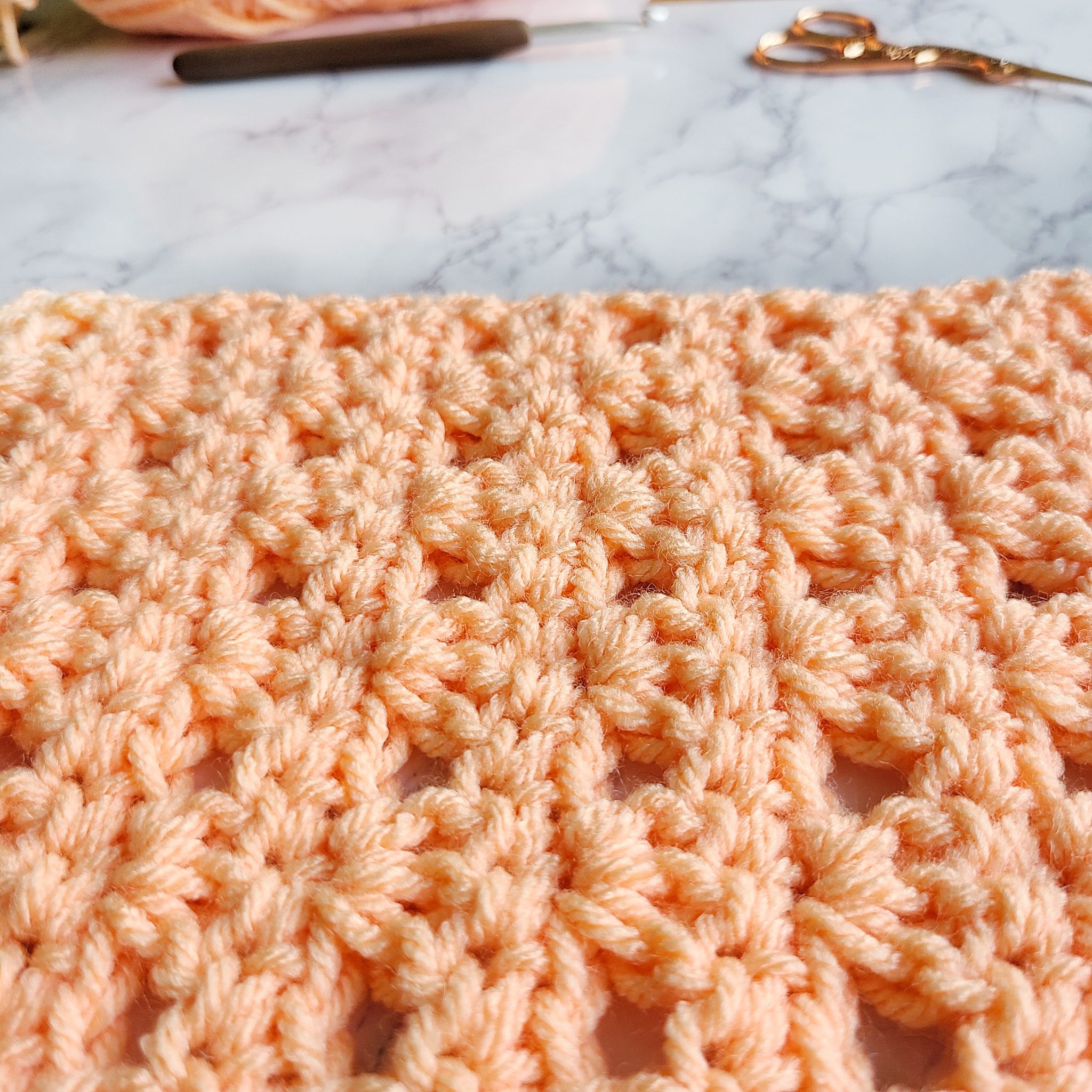 Let's Start Crocheting!
If you have any questions about this square, please let me know in the comments, or you can join the Easy Crochet Facebook Group where you can post your finished block section as well as ask questions.
Below you will find rectangle number three of the new Warm UP America section pattern collection.
Happy Crocheting!
The Alissa Crochet Rectangle Pattern
Skill Level: Easy
Materials
Paintbox Simply Chunky or any four or five weight yarn (as long as gauge is met)
6 mm crochet hook (or hook size needed to get gauge)
Scissors
Yarn needle (to weave in ends)
Measuring Tape

Finished Size
Crochet Stitch Abbreviations
ch(s) = chain(s)
dc = double crochet
sc = single crochet
st(s) = stitch(es)
rep = repeat
sk = skip
Notes
Written in standard US terms
Change size by using a multiple of 3 +5 chains
Keep track of your tension + gauge so that you get the 7″ x 9″ size requirement
Make sure your starting chain and first row are 7″ before you continue on. If it isn't the correct size change hook sizes to get the accurate gauge or fix your tension.
This rectangle block pattern has a width that is 7″ and the height is 9″
Keep in mind that if your rectangle is slightly off (in size) you can block your project to get the correct width or height if wanted.
The Pattern
To Start: Ch 17
Row 1: in the second ch from the hook sc, sc into each ch across, turn. (16)
Row 2: ch 2, in the 1st st make a dc, sk 2 st's, dc 3 times in next st, rep from across ending with 3 st's, skip 2 and 2 dc's in the last st, turn.(The turning chains count as a dc in these rows when counting sts)
Row 3: ch 1, in first st make a sc, sc in each st across, end with a sc in last st, turn. (or the top of the turning chain).
Row 4 – 17: Rep rows 2 & 3
Finishing: Fasten off by pulling yarn through the last st, cut and weave in loose ends with a yarn needle.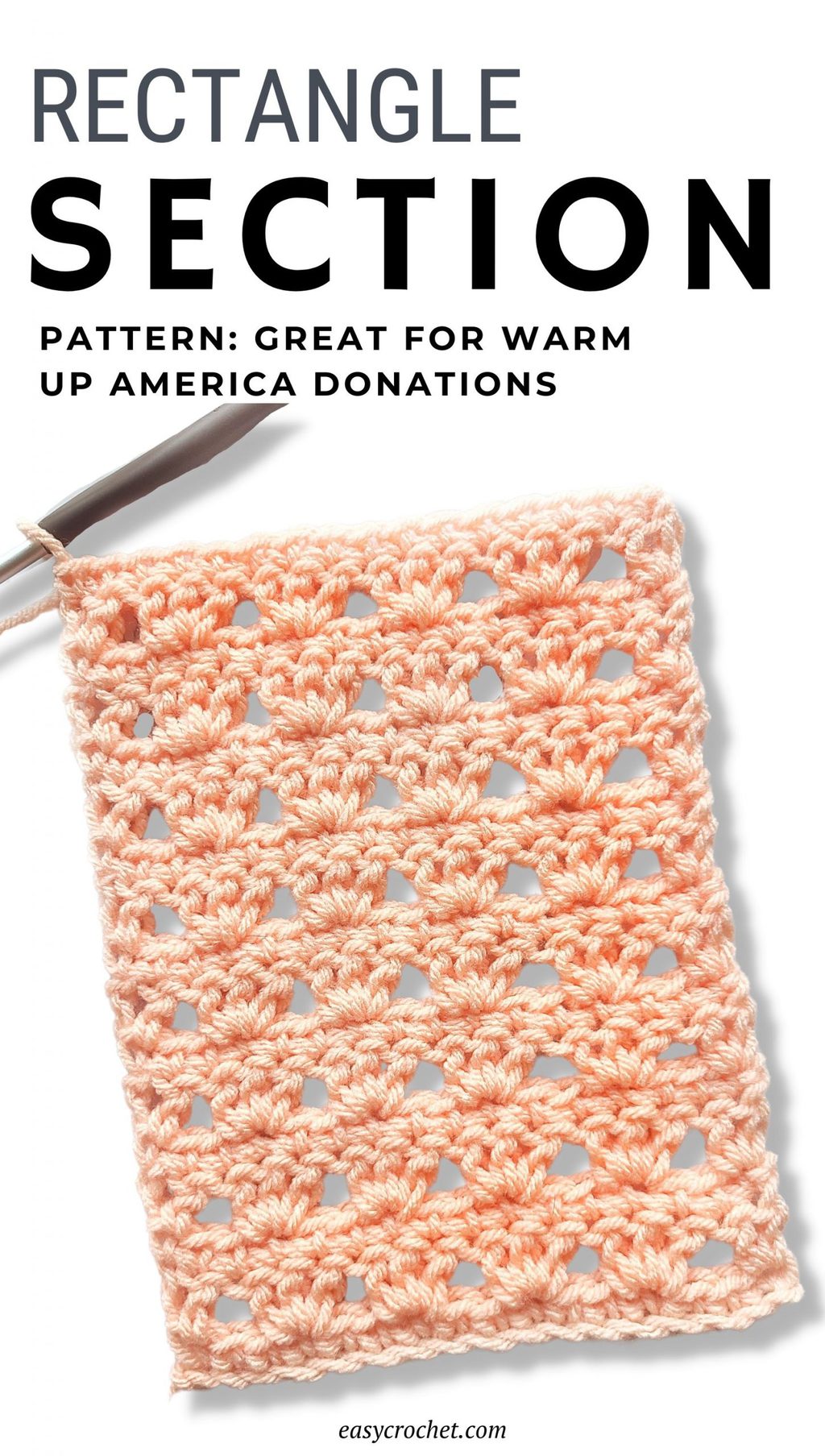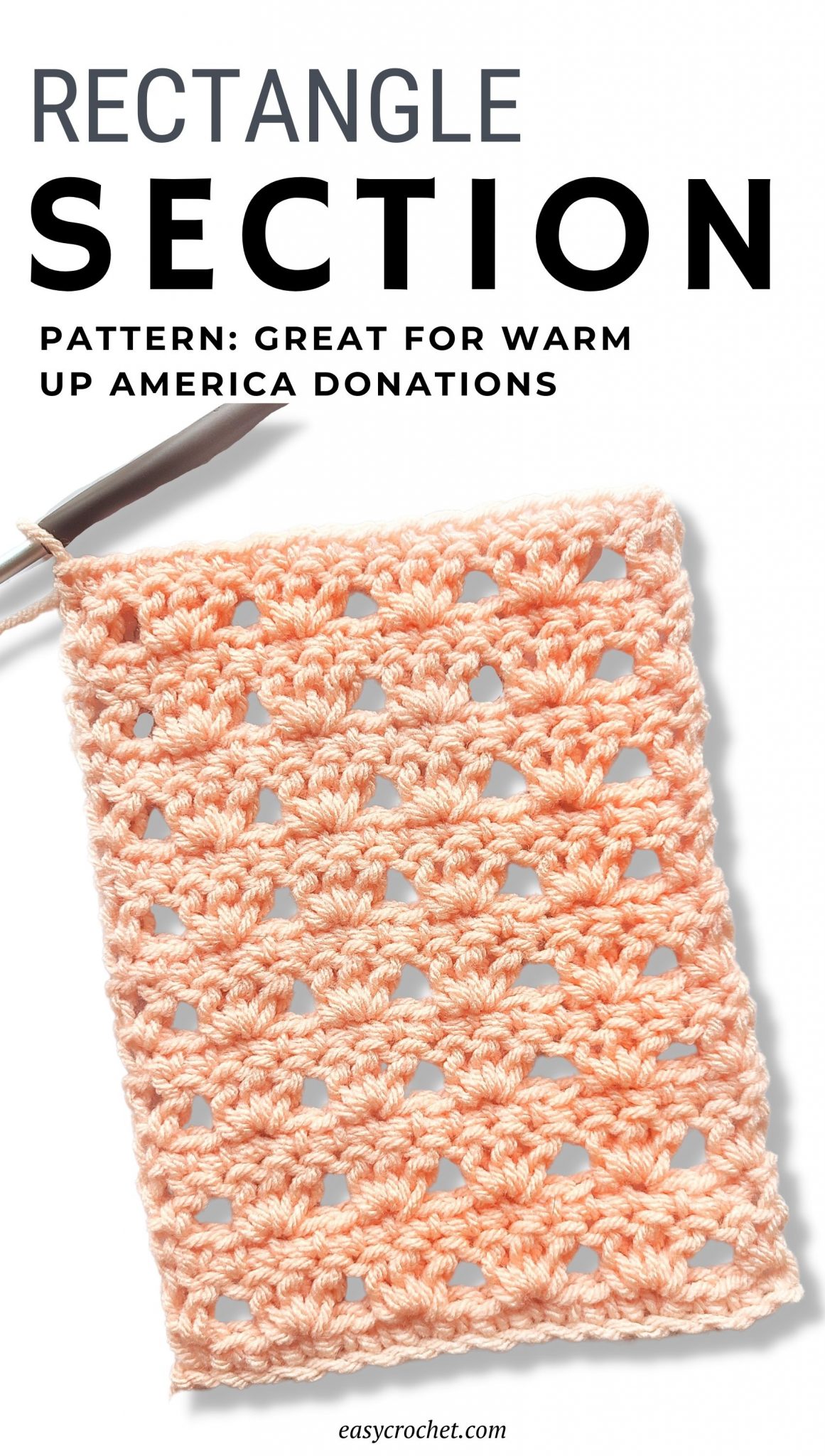 ---
Common Questions about Warm Up America
What Can I Donate to Warm Up America!?
Warm Up America accepts these knit and crochet items year round for donations:
Learn more about Warm Up Americas current needs on their website.
---
How many Sections Do I Need to make a Blanket?
Baby Blanket
35″ x 35″
Lap Blanket
35″ x 45″
Child Blanket
42″ x 54″
Adult Blanket
49″ x 63″
20 7″ x 9″ Sections
25 7″ x 9″ Sections
36 7″x 9″ Sections
49 7″ x 9″ Sections
---
What Types of Yarn Can I used to Make Blanket Squares?
You can use any yarn weight as long as its washable and meets the size guidelines of 7″ x 9″. Warm up America recommends using an acrylic yarn or a 100% cotton yarn that is a four weight, but they will accept any weight. For example, I used Paintbox Simply Chunky for mine which is a five weight yarn. Are you still not sure which yarn you'd like to use? Take a look at a few of my favorite four weight yarns below.

How Do I Assemble my Crochet or Knit Sections into a Blanket?
If you choose to assemble your crochet and knit blanket sections before sending them in you can use the mattress stitch, back stitch or single crochet as well as many other techniques. Learn more about how to assemble blankets directly from the Warm UP America website.
---
Where So I Send My Crochet or Knit Sections to?
Donate Here:
Send finished blanket / afghan projects or 7″x 9″ blanket squares to:
Warm Up America!
Attn: Box of 500 sections
3740 N. Josey Lane, Suite 126
Carrollton, TX 75007
Where Can I Find the Full Collection of Free Crochet Blanket Squares for Warm Up America?
As the collection is released weekly you can find all the free square patterns in the Easy Crochet blanket squares section here on the blog. You can also find a list of other crochet squares below too.
More Crochet Squares You May Like