The Best Crochet Hook Sets
When you are crocheting big projects like crochet blankets, crocheted sweaters and more, you want your hands to be comfortable! That is where a good set of crochet hooks comes in handy.
Below I'll highlight a few of my favorite crochet hook sets as well as crochet hooks for beginners. With many crochet hooks available, it's difficult to know which is are the best hooks to crochet with, so this post will help you decide.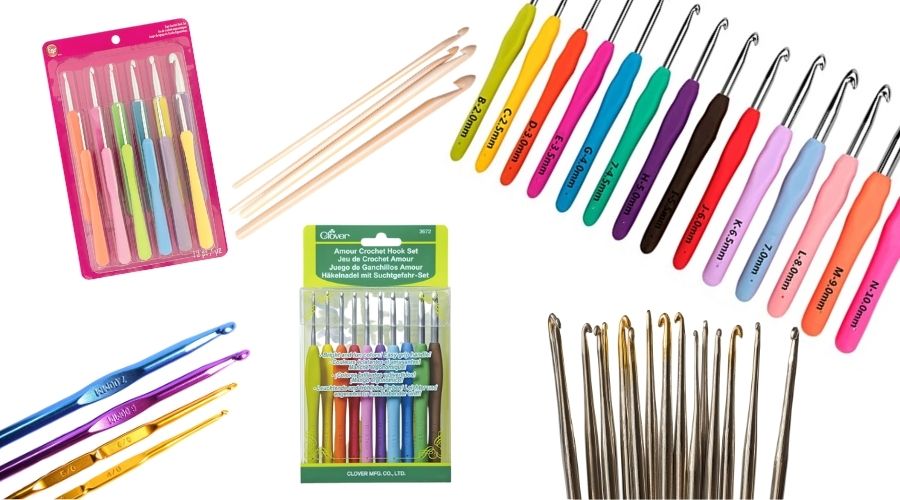 What is a Crochet Hook?
Crochet hooks are tools used in the art of crochet to create fabric from yarn or thread. They come in a variety of sizes and materials, such as aluminum, steel, bamboo, or plastic, and have a hook on one end to catch and pull the yarn through loops.
Crochet hooks can be purchased individually or in sets, and the size of the hook determines the size of the stitches and the finished product. They are essential for anyone interested in crochet and can be found in craft stores or online. It's important to choose the right size and material for your project to ensure the best results.
Materials – Comparing Different Types of Crochet Hooks
As crocheters, we have a wide range of materials to choose from when it comes to selecting our crochet hooks. Each material has its own unique features and benefits, which can make it challenging to decide which one to use for our projects. In this section, I will go over the four most common materials used for crochet hooks: aluminum, steel, bamboo, and plastic.
I, personally, prefer aluminum crochet hooks because they are lightweight, durable, and come in a variety of colors and sizes. They are also easy to handle, making them ideal for beginners. On the other hand, steel crochet hooks are thinner and sharper, which makes them ideal for working with fine yarns or creating intricate designs. I find that steel hooks work well for thread crochet and lacework.
If you are looking for an environmentally friendly option, bamboo crochet hooks are a great choice. They are made from renewable resources and have a warm feel that makes them comfortable to hold. They are also quieter to work with than metal hooks and are less likely to split or snag delicate yarns.
For those on a budget, plastic crochet hooks are the most affordable option. They are lightweight and come in a range of bright colors. They are also gentle on the hands and are less likely to cause fatigue during long periods of use.
When selecting a crochet hook material it's important to consider the type of project you will be working on, the weight of the yarn, and your personal preferences. Ultimately, the best crochet hook for you is one that feels comfortable in your hand and allows you to work efficiently and effectively.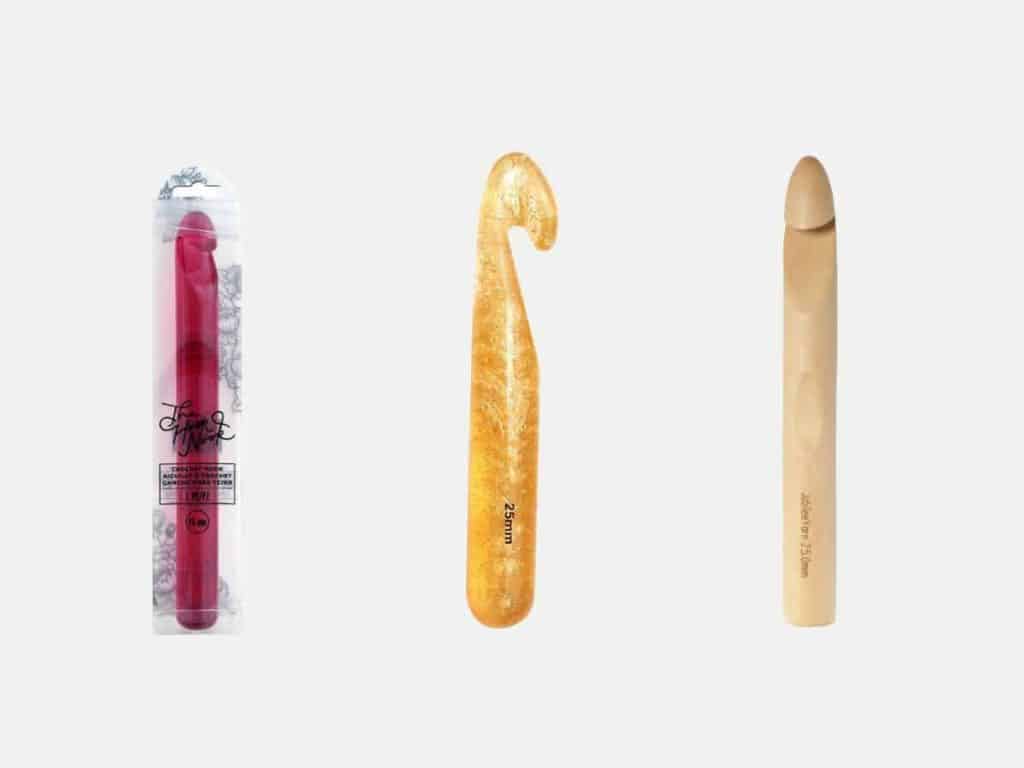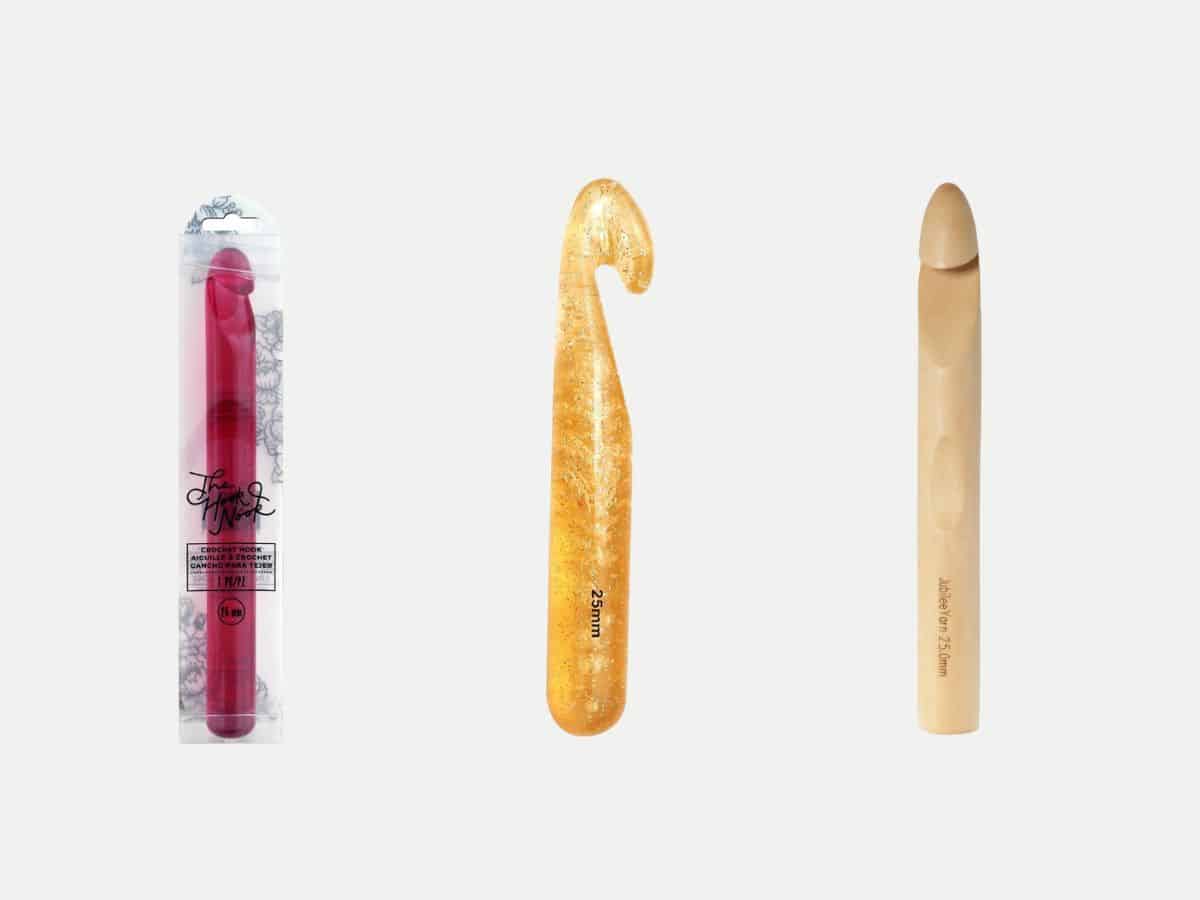 Crochet Hook Sizes
The right size of crochet hook is important for getting the results we want in our projects. Crochet hook sizes are labeled using a letter or a number, with larger numbers or letters indicating a larger hook size. Below, I will explain how to understand crochet hook sizes and how to choose the right size for your project.
Understanding Hook Sizes
Firstly, let's take a look at how crochet hook sizes are labeled. In the United States, crochet hook sizes are labeled with letters, with the smallest hook labeled as "B" and the largest labeled as "Q". In contrast, crochet hook sizes in other countries are labeled with numbers, with the smallest hook labeled as 0.75 mm and the largest labeled as 25 mm.
Choosing the Right Hook Size
To choose the right size crochet hook for your project, you need to consider the weight of the yarn you will be using. As a general rule, thicker yarn requires a larger hook size, while thinner yarn requires a smaller hook size. The yarn label usually provides a suggested hook size, but you can also check a crochet hook size chart to help you decide.
It's important to note that using the wrong hook size can affect the gauge of your project, which can result in a different finished size than intended. To ensure that your project turns out the way you want it to, always make a gauge swatch before starting your project. A gauge swatch is a small sample of your crochet work using the recommended hook size and yarn weight. By making a gauge swatch, you can measure the number of stitches and rows per inch and adjust your hook size accordingly.
Note: By investing in a crochet hook set, you will have a crochet hook size and type that will work for your preferred types of projects at all times.
Where to Buy Crochet Hooks
When you are first learning to crochet, you will more than likely want to test out different styles of crochet hooks before you commit to a complete crochet hook set. I know when I started crocheting I bought several brands of hooks to see which I liked best.
The best places to shop for crochet hooks are in local craft stores, yarn shops and online.
Take a look at a few of my favorite places to buy crochet hooks below.
Michaels: Online or In-store
Joanns: Online or In-store
WeCrochet: (their yarn is pretty spectacular too!)
Walmart: Online or In-store
Crochet hooks are available to shop in many styles and sizes, so it is best to learn all about crochet hooks and their sizes before you start shopping. If you dive right into purchasing a hook set without research, you will get overwhelmed easily.
Buy Individually or a Set?
Should you buy a crochet hook set, or the different sizes individually? I always prefer to buy the set of hooks. Most sets come with anywhere between 8-12 hooks, and they are always the most common sizes (i.e. sizes B to J).
After buying a set (or two, haha), you can always buy the non-standard sizes individually.
The Top Crochet Hook Sets
Explore this collection of the best crochet hook sets for crocheting. Take a second to look over each of the different types of crochet hooks before deciding which is the top crochet hook to buy for you.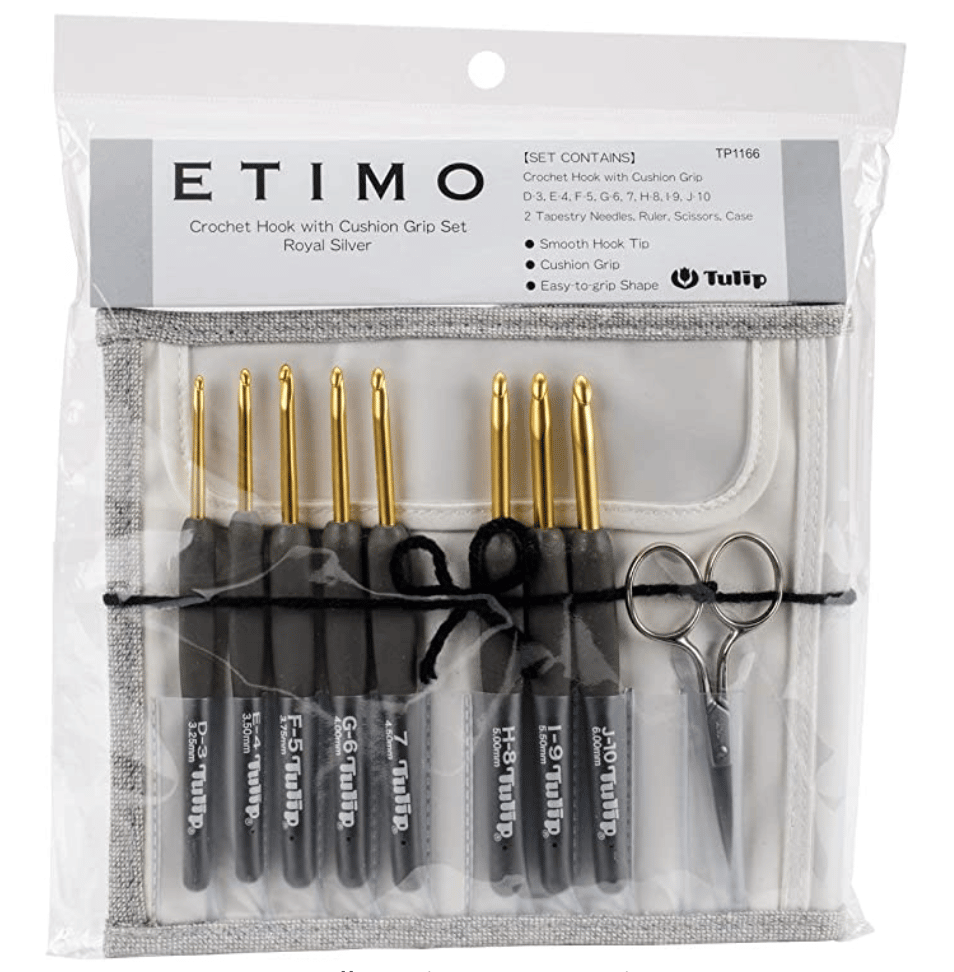 Tulip Etimo Crochet Hook Set
The best part of this top-rated tulip crochet hook set is the grip. You will love how comfortable these hooks are to crochet with and how your hand won't get tired.
The price on these can be high, but they are of superior quality and are the ergonomic hooks I recommend the most over any other crochet hook brand. As a bonus, this set comes with a hook carrying case, scissors and a sturdy ruler. The comfort when crocheting stitches is worth the investment!
This is my favorite set of crochet hooks by a mile. They can be a bit pricey, but in my opinion they are worth every penny!
Price: $$$
---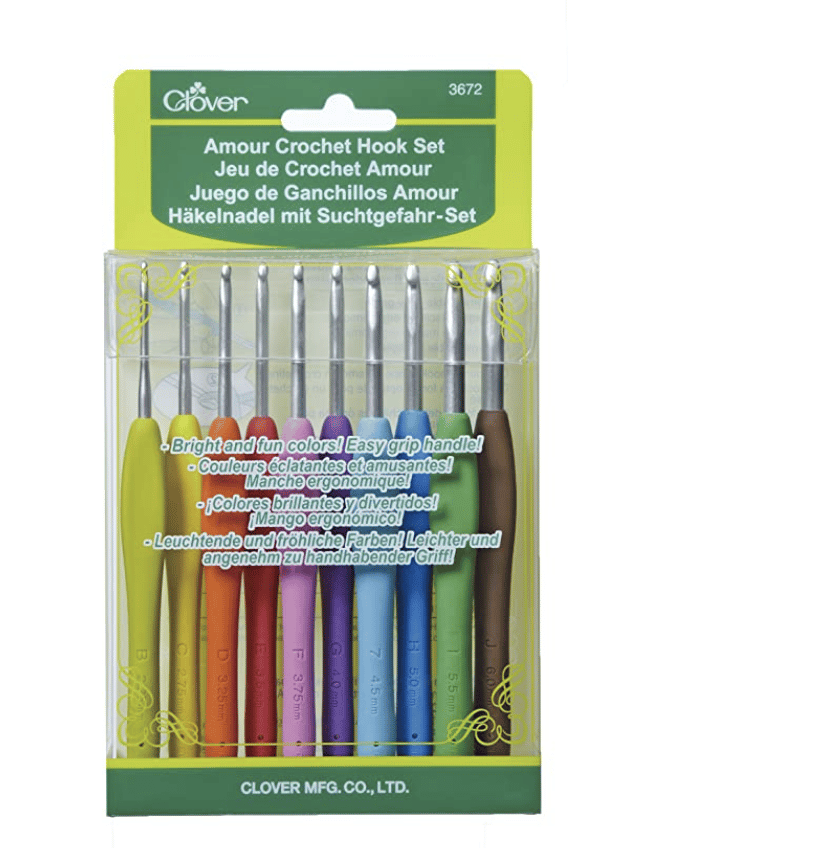 Clover Amour Crochet Hooks Set
A Clover crochet hook set is a great investment in your hands. They have comfortable grip handles and are easy to hold for long periods of time. If you suffer from hand fatigue or get a cramp from time to time, then these are the ones for you!
The price on these can also be high, like the Tulips, but they are of great quality and are my second favorite hook set I recommend. I love them so much, I have two sets of these for on the go crocheting and at home crocheting. Extra: You may also like to check out Clover Soft Touch Hooks that are made even wider at the handle to help with hand cramps too.
Price: $$
---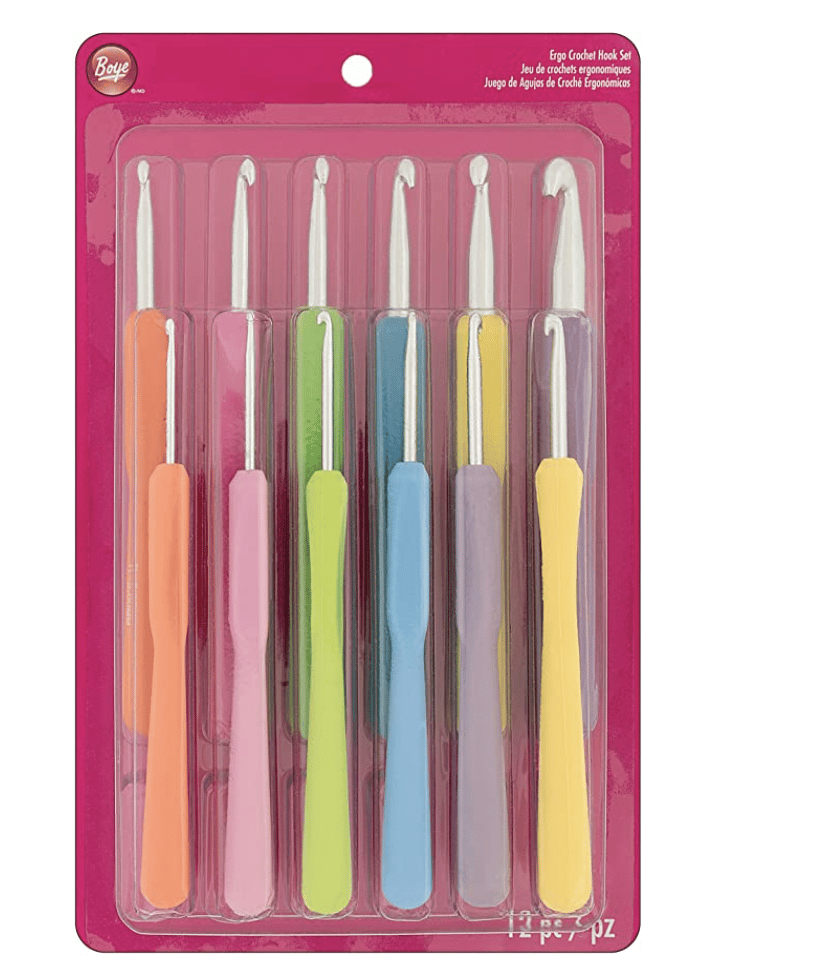 Boye Ergonomic Crochet Hooks
This crochet hook set includes twelve crochet hooks with a soft rubber grip (rubber handles).
The price on these are lower than the other two sets above, but still have a great quality to them. These are a good crochet hook set for beginners to try that want to have a comfortable hook for their hands.
Price: $
---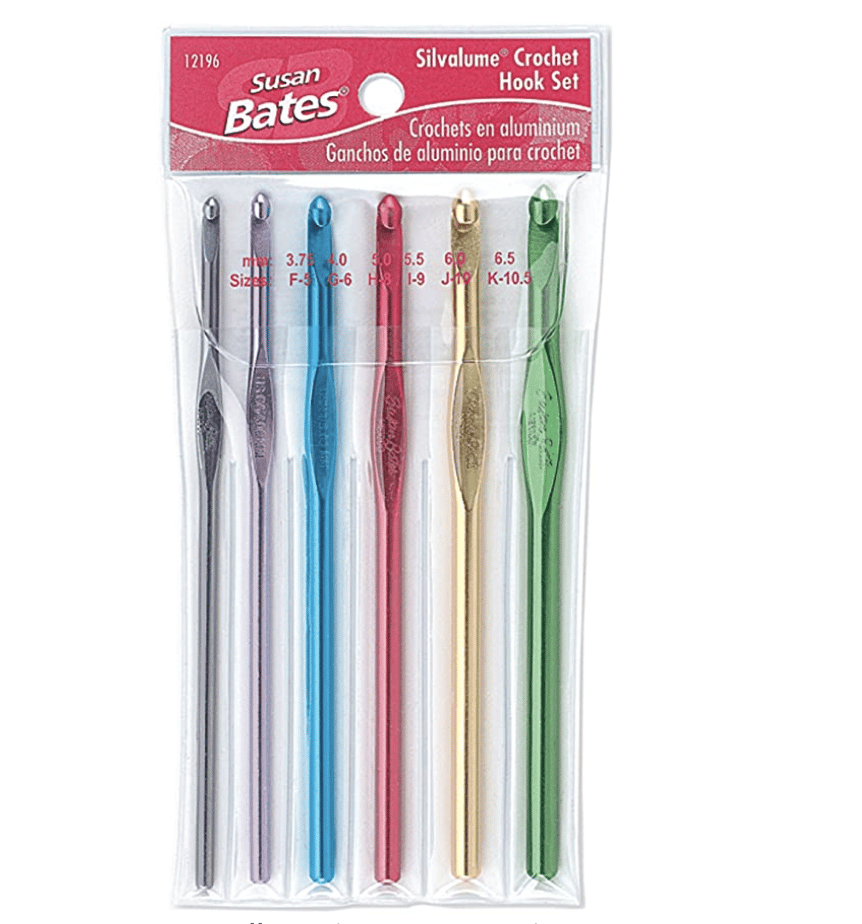 Susan Bates Hooks
This crochet hook set comes in a set of six different crochet hooks sizes. There are a variety of this brand's hook size sets available but the best Susan Bates hook set for a new crocheter is the one that contains the US sizes 3.75-mm, 4-mm, 5-mm, 5.5-mm, 6-mm and 6.5-mm. These sizes are most often used in easy crochet projects.
The price on these are significantly lower than the other two sets above, but still have a great quality to them. These are a good crochet hook set for beginners to try, have a thumb rest and are a strong hook set to have on hand.
Price: $
---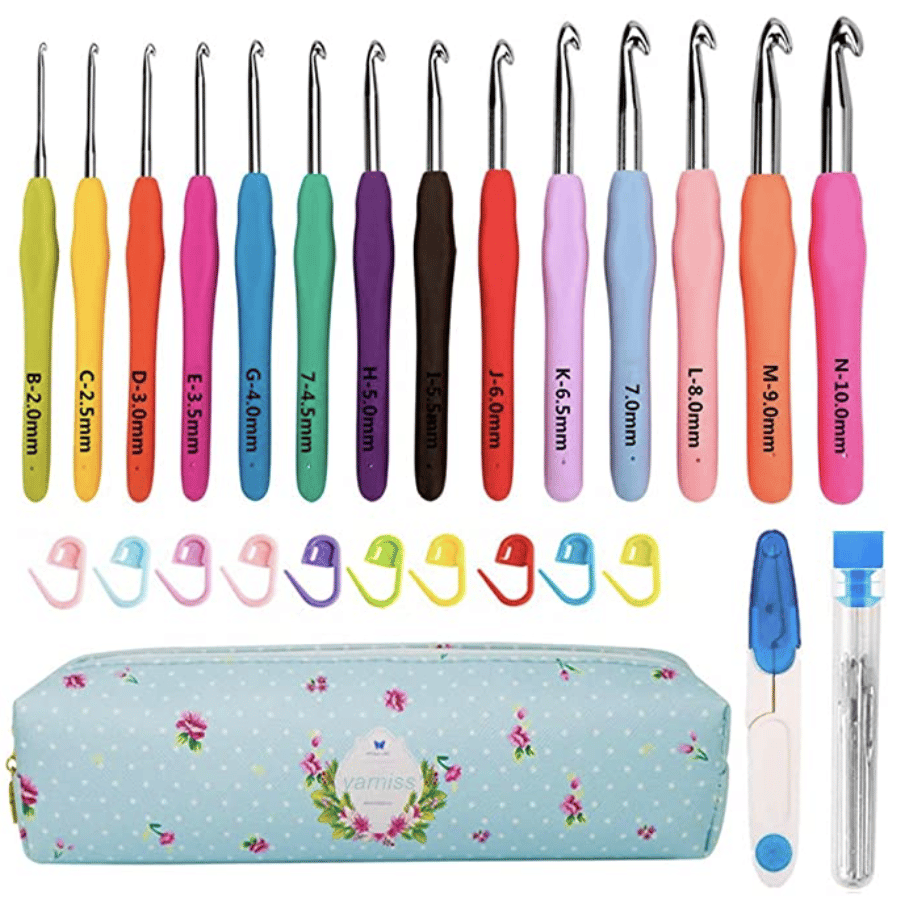 Yarniss Ergonomic Hook Set With Accessories
This set is a cheaper option of the soft grip crochet hooks to try if you aren't certain what hooks are right for you.
This set comes with 14 different sizes of crochet hooks, stitch markers, yarn needles, scissors, and a hook case for a low price. There are also a few different options to get smaller and larger crochet hook sets if you'd like to try those too. This set is perfect for a new crocheter who is looking for a nice crochet hook set to try.
Price: $
---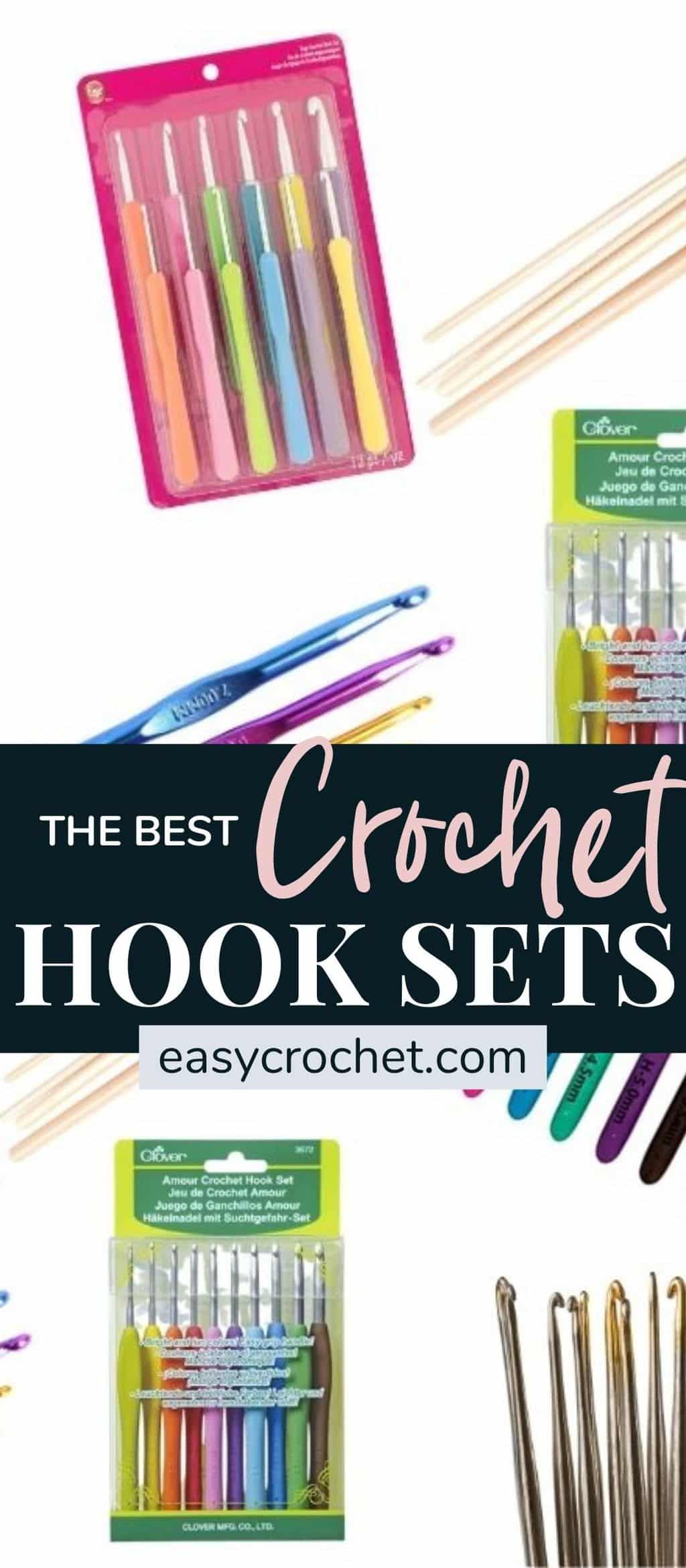 Free Crochet Patterns to Make with Your New Crochet Hooks