The Best Ergonomic Crochet Hooks & Crochet Hook Sets for Arthritis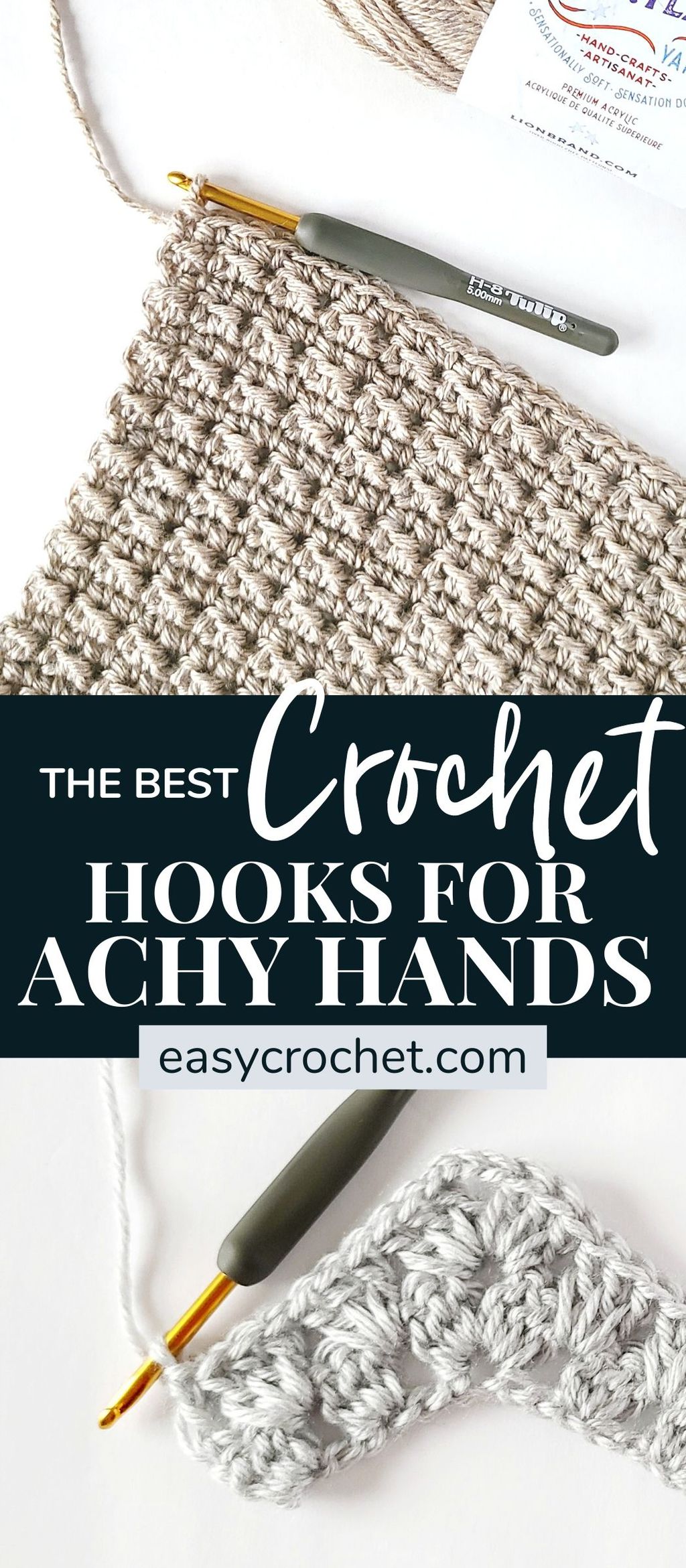 Crochet hooks come in a variety of sizes, shapes, and materials. When you have arthritis or sore hands, the soft larger grips of ergonomic crochet hooks are just what you need to help with the pain.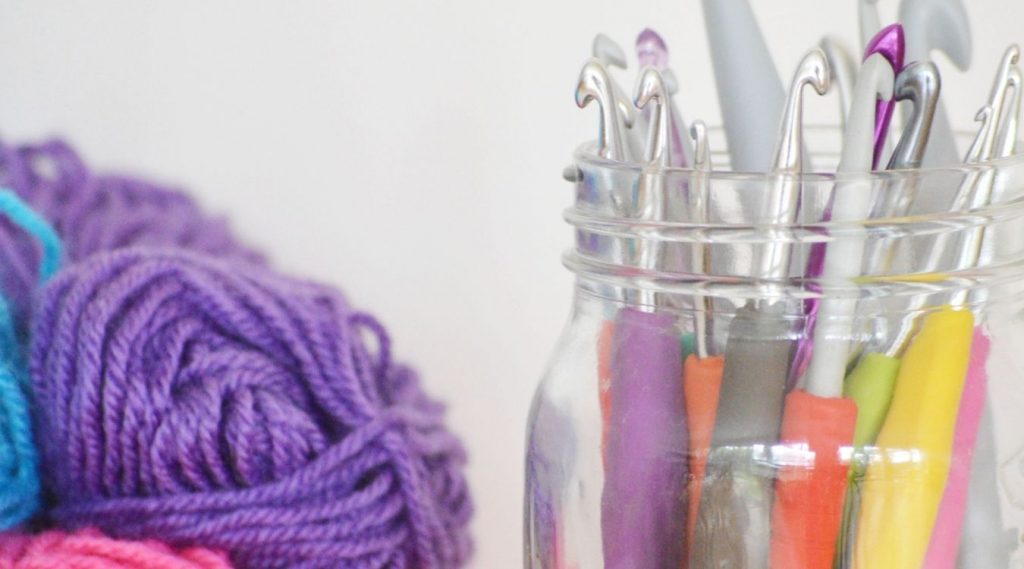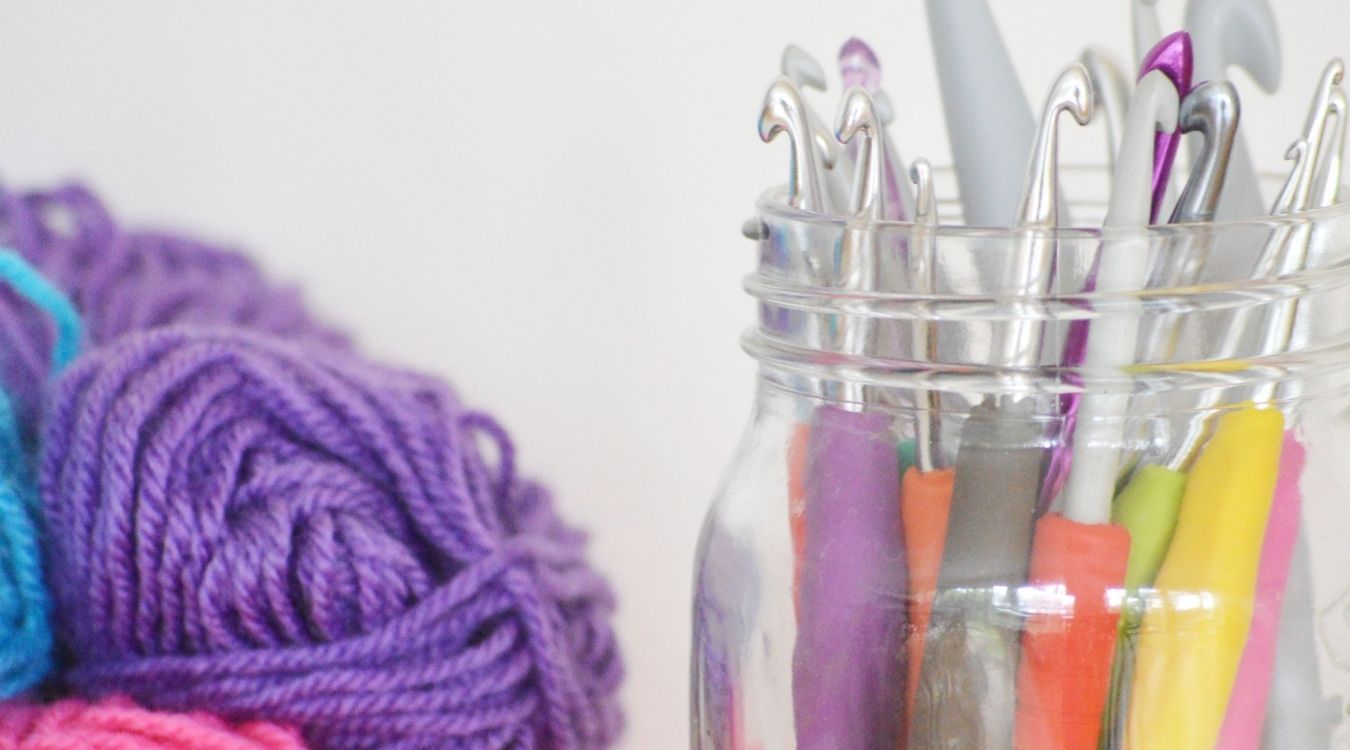 Scroll on down to see some of the best crochet hooks for arthritis and learn a bit about each kind of hook, so you can buy the ones that will help you the most.
What is an Ergonomic Crochet Hook?
Simply put, an ergonomic crochet hook is a crochet tool that is comfortable to hold. Ergonomic is relating to the design of something which makes it comfortable and effective for people who use it.
When you apply this to a crochet hook, it means that you want to have a hook that will help your hand get in the best possible position.
Ergonomic hooks usually have soft handles, bigger grips and are easier to hold. You will want to avoid plain metal hooks without any rubber or outer shell on the handle, since they can be hard to hold with sore hands. You can instantly feel the difference when you are holding an ergonomic hook vs. an aluminum crochet hook.
The Benefits of using Ergonomic Crochet Hooks
Achieves better tension & gauge
Less achy hands
Comfortable grip
Can crochet longer without breaks
Easier to crochet with arthritis
When you are crocheting with arthritis, tendinitis or any other hand injury, you want to make sure you are taking the best possible care of your hands. It is important to use a crochet hook that will help minimize pains and aches, and that is where ergonomic crochet hooks can help.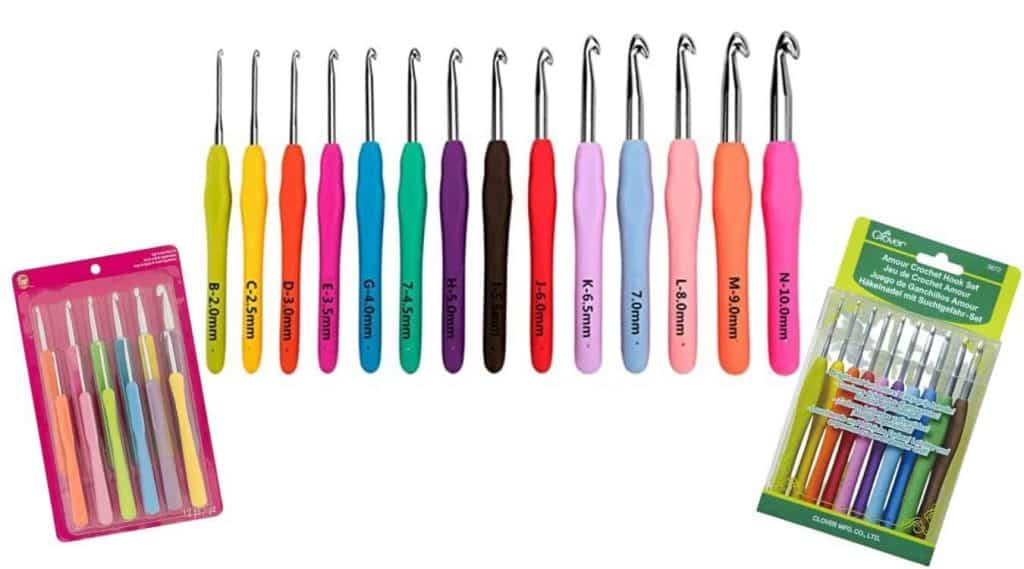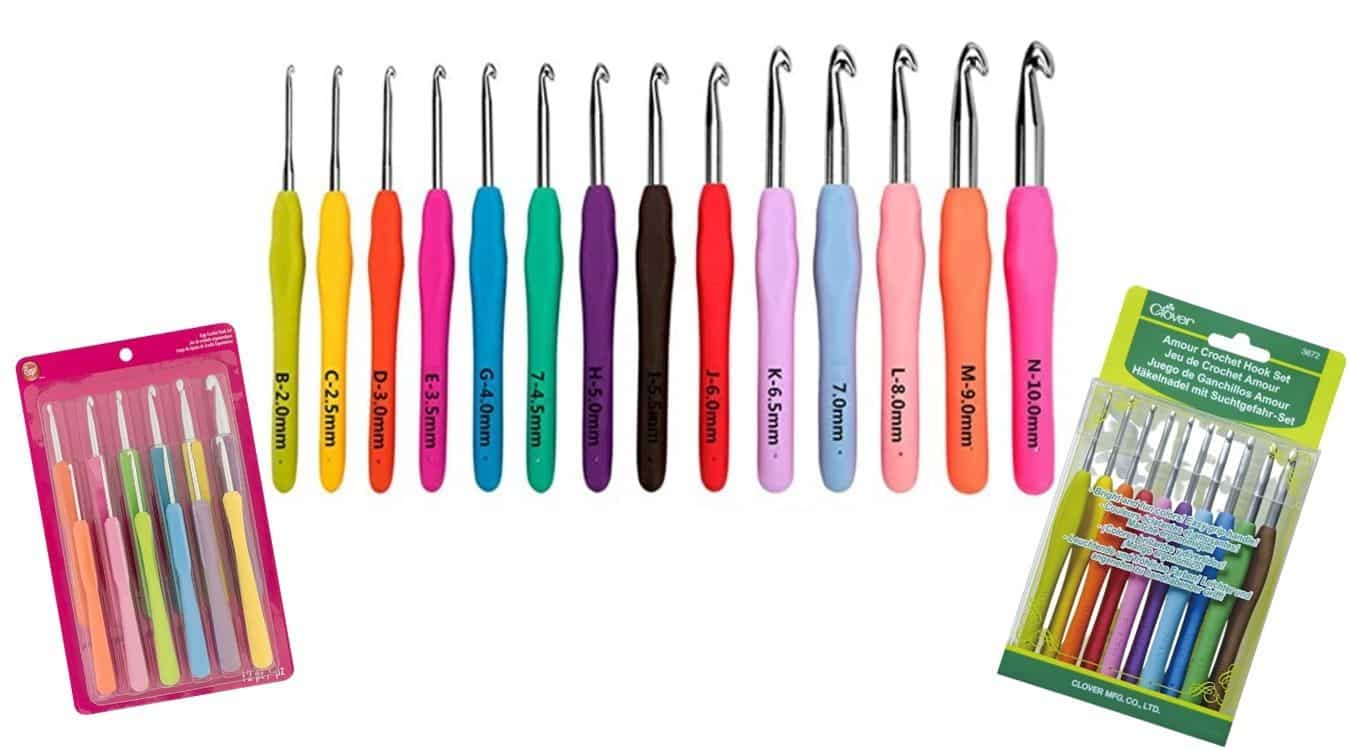 What are the Best Ergonomic Crochet Hooks?
The best ergonomic crochet hooks are the ones that work for you the best! If the hooks are comfortable to hold, making crocheting easier, helps with your arthritis pain and feel right, then they are the best!
After years of crocheting and getting a bit older, my hands thanked me when I started using my Tulip Crochet Hook set.
After you look at the list below, hopefully you find your new favorite hook set too.
Ergonomic Crochet Hooks for Sore Hands And Arthritis
The Ergonomic crochet hook sets below are perfect to try if you are looking for a way to ease your tired hands. Scroll on down to learn a bit more about each kind of hook and to find out which one would work better for you as a crocheter.
---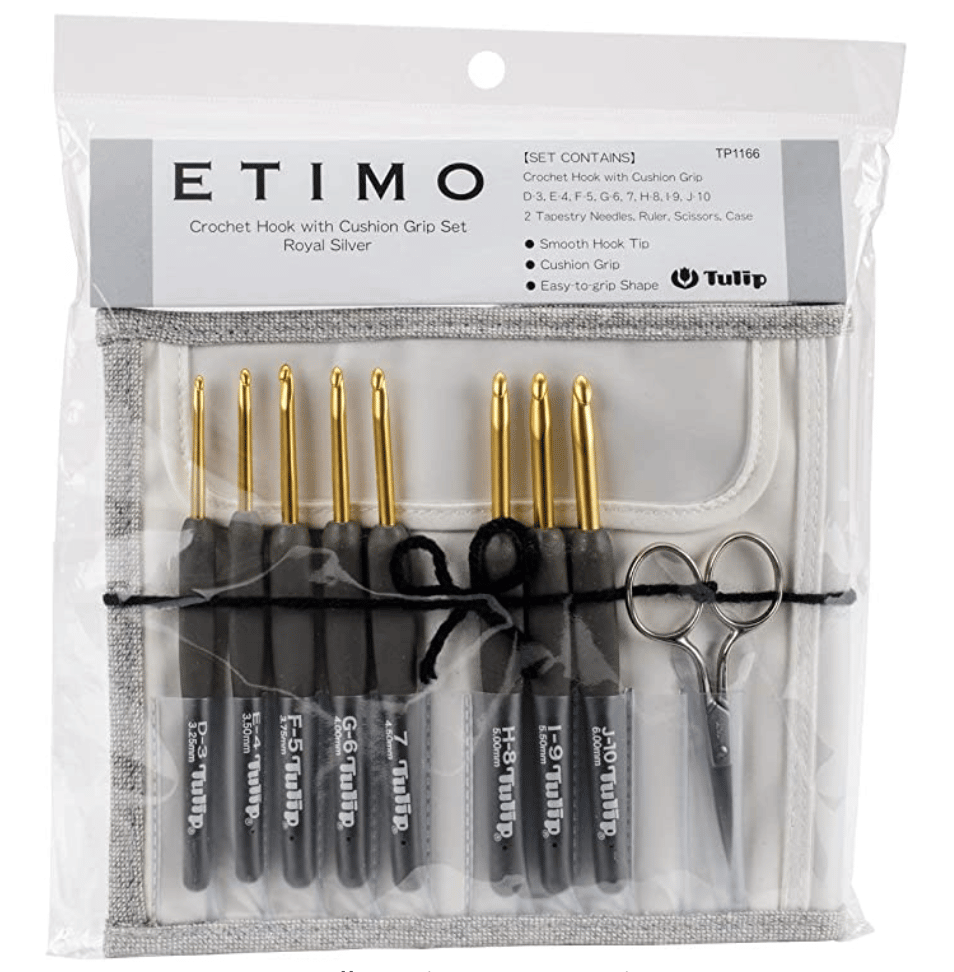 1. Tulip Etimo Crochet Hook Set
The best part of this tulip crochet hook set is the grip. You will love how comfortable these hooks are to crochet with and how your hand won't get tired.
The price on these can be high, but they are of superior quality and are the ergonomic hooks I recommend the most over any other crochet hook brand. As a bonus, this set comes with a hook carrying case, scissors and a sturdy ruler.
Price: $$$
---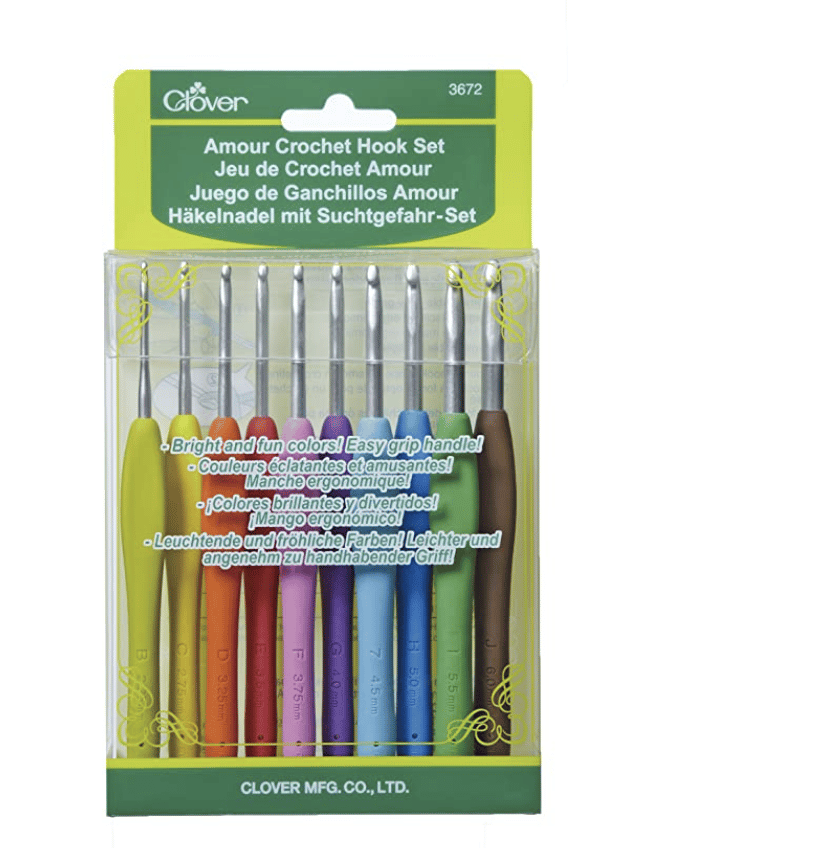 2. Clover Amour Crochet Hooks Set
An Armour Crochet Hook set is a great investment in your hands. They have comfortable grip handles and are easy to hold for long periods of time.
The price on these can also be high, like the Tulips, but they are of great quality and are my second favorite ergonomic hook set I recommend. I love them so much, I have two sets of these for on the go crocheting and at home crocheting.
Price: $$
---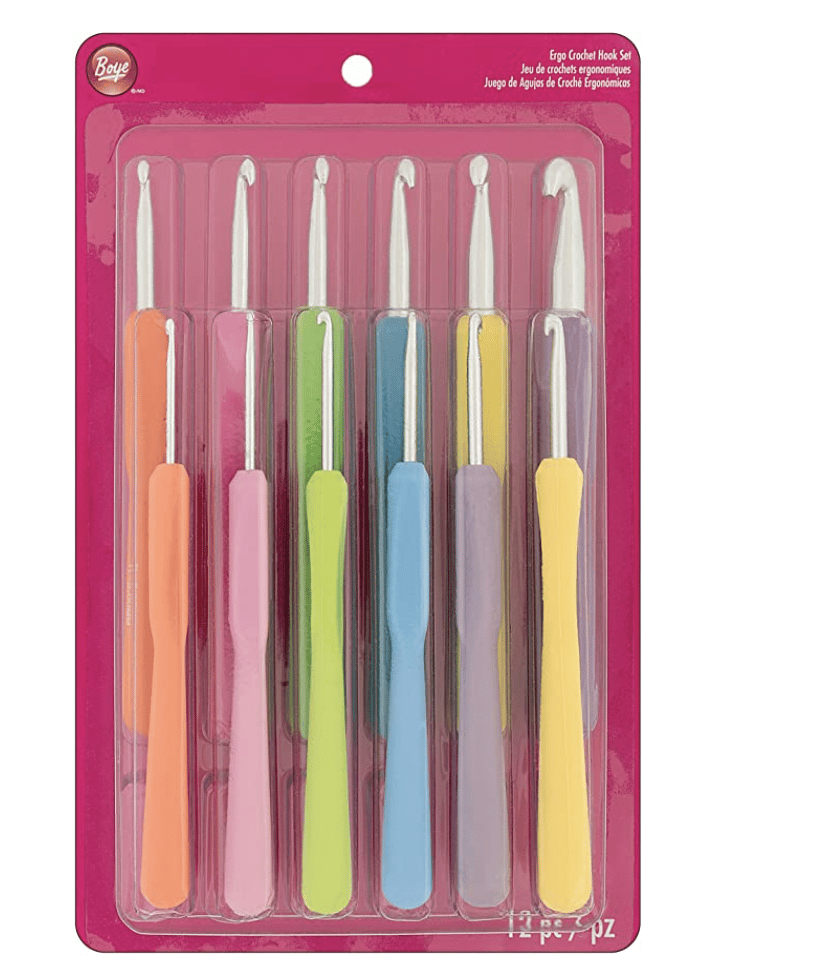 3. Boye Ergonomic Crochet Hooks
This crochet hook set includes twelve ergonomic crochet hooks with a soft rubber grip.
The price on these are lower than the other two sets above but still have a great quality to them. These are a good crochet hook set for beginners to try that want to have a comfortable hook for their hands.
Price: $
---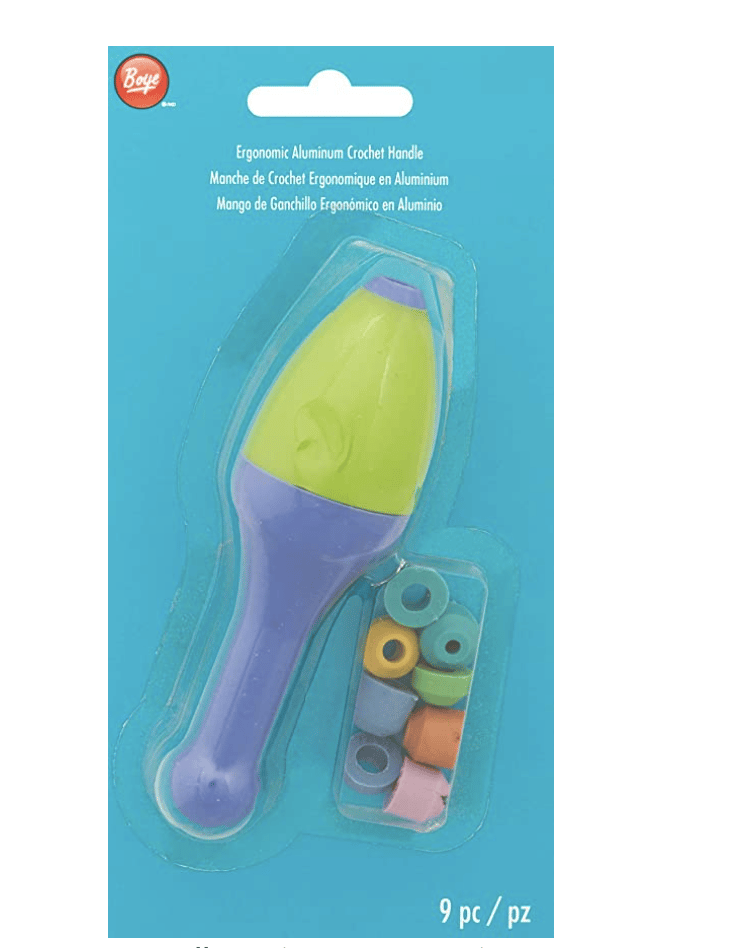 4. Ergonomic Crochet Handle
If you aren't in the market for a crochet hook set you can use a Boye Ergonomic Handle that can added to any crochet hook to make it have a more comfortable grip.
It fits all crochet hook sizes from B/2 mm to K/ 6.5 mm
Price: $
---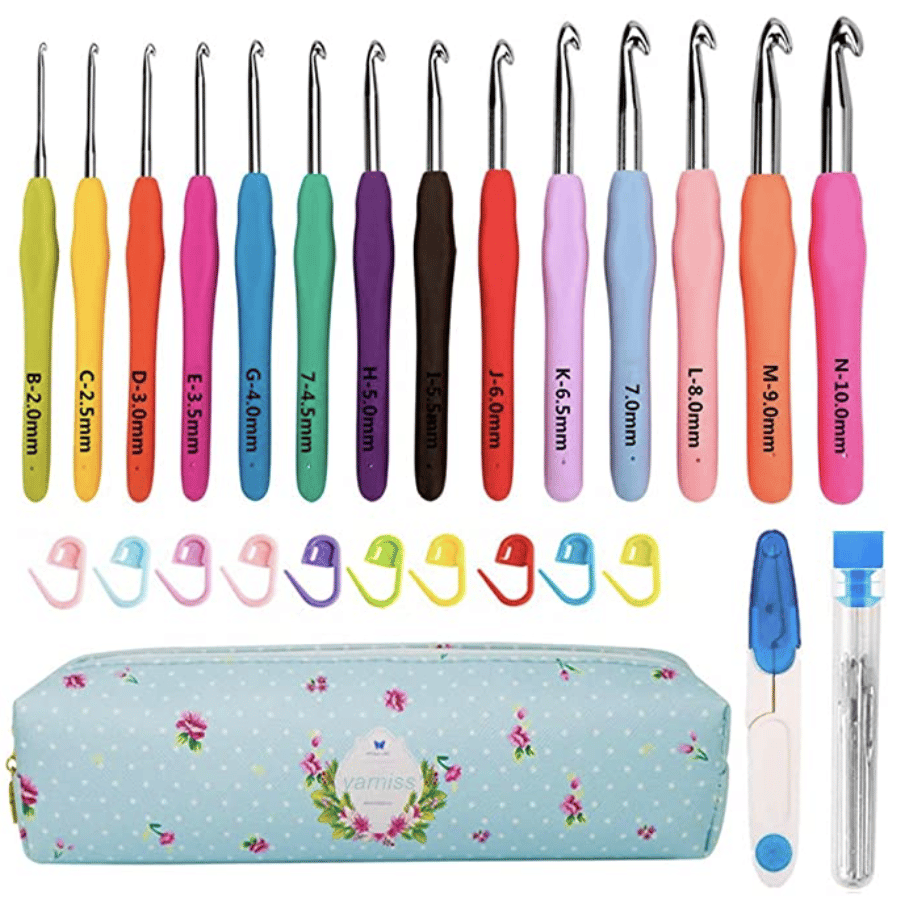 5. Yarniss Ergonomic Hook Set With Accessories
This set is a cheaper option of the soft grip crochet hooks to try if you aren't certain if ergonomic hooks are right for you.
This set comes with 14 different sizes of crochet hooks, stitch markers, yarn needles, scissors and a hook case for a low price. There are also a few different options to get smaller and larger crochet hook sets if you'd like to try those too.
Price: $
---
Other Ergonomic Crochet Hooks You Might Like
There are many options to pick from when choosing a comfortable crochet hook, and I hope these I listed helped you out a bit in your decision.
In your searching, you will find that there are many hooks listed as ergonomic that are wood and other materials, but I prefer crochet hooks with a rubber grip. If you find you a wood hook over the ones I named above, then go for it.
Like I noted, my hands thanked me when I switched to an ergonomic hooks set. I have less achy hands and fingers, and I can crochet for longer periods of times with better tension. I can now crochet blankets and other bigger projects without pain!
If you try a new hook set that you love and one that I didn't mention, please let me know in the comments. If you liked this post, be sure to sign up for our newsletter, so you can stay in the loop of all the yarn and crochet happenings that are going on.
Some Free Crochet Patterns You May Like