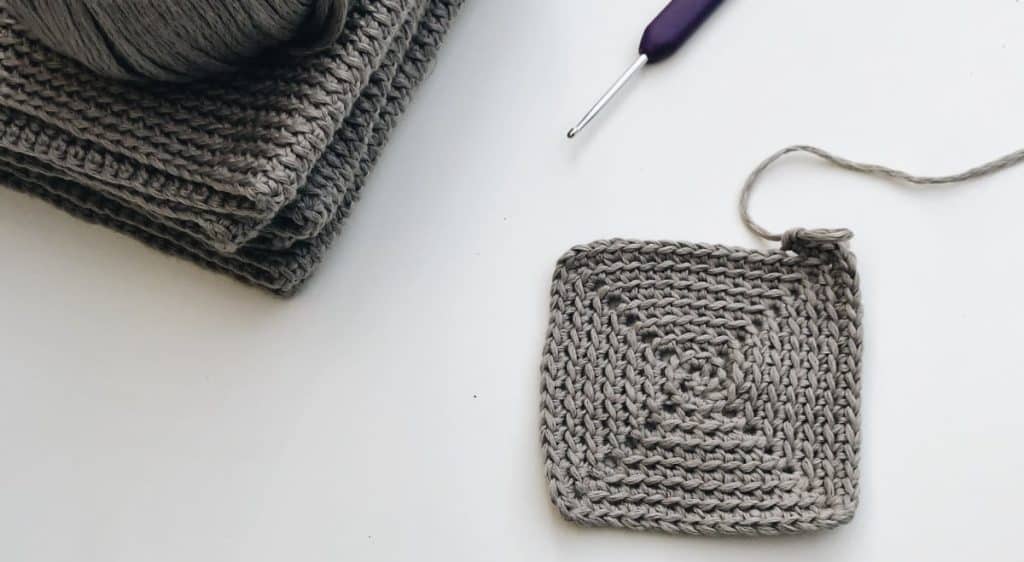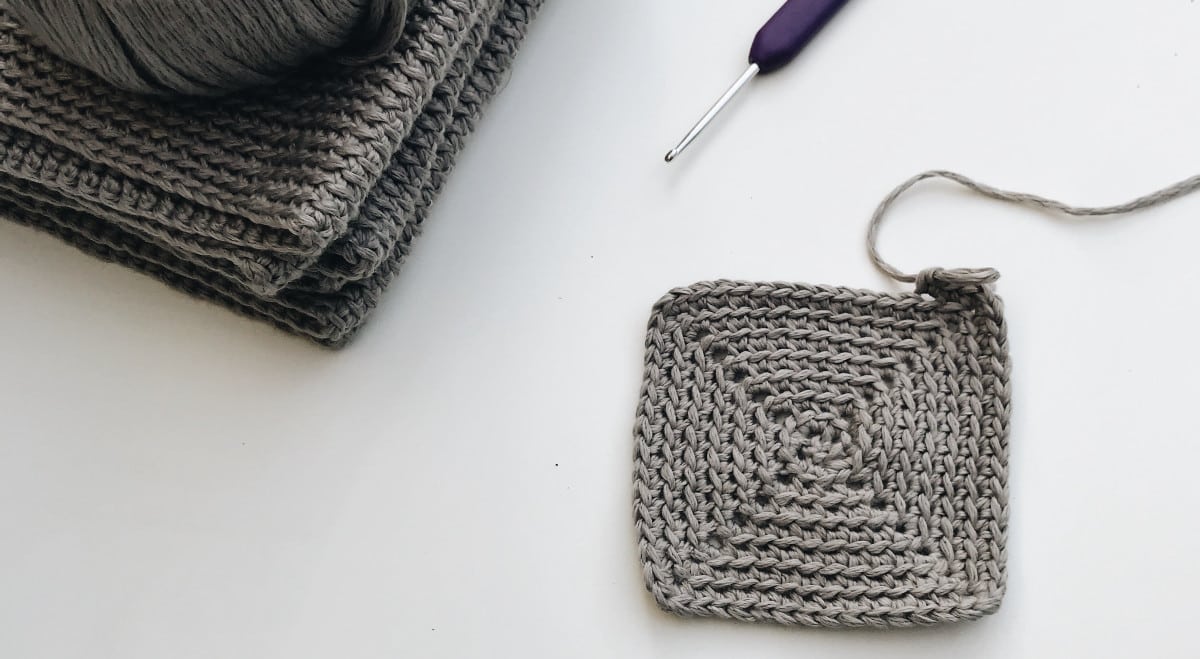 Crocheting a sweater can be a complex project, requiring a higher-than-normal skill level. Usually, only experienced crocheters can regularly take on projects like this. However, crocheting sweaters can also be a great learning experience for beginners to expand their crochet knowledge.
In this article we dive into the different styles of crochet sweaters, the best products to use and how to fine tune your crochet pattern to make the best fit.
Basic Crochet Sweater Designs
When crocheting a sweater, the first task is to determine the style of sweater you want to make. The most common sweater design styles are: dropped shoulder, fitted sleeve, raglan, top-down and round yoke.
Dropped Shoulder
Dropped Shoulder sweaters are the simplest to create due to its rectangular design. These rectangular sweaters can be made either in one piece, in two pieces (front and back), three (one piece with two sleeves), or four (front, back and 2 sleeves). Obviously, choosing a design with the least number of rectangles is best if you are starting your first-ever crochet sweater. Selecting a pattern with a simple construction technique such as this will greatly help beginners. The term "dropped shoulder" comes from the fact that there are no defined shoulders in this sweater. It simply "sits" on top of the shoulders.
Fitted Sleeve
A Fitted Sleeve sweater design is similar to the 3-piece dropped shoulder, but instead of rectangles, it uses sweeping curves to create a more tailored look. The upper part of the torso piece is modified to have an armhole for the arm piece to fit into.
Raglan
A Raglan sweater is another popular construction method. This style also features a hole for an arm piece, but goes beyond what the fitted sleeve does. The difference here is that the fitted sleeve arm piece only starts at the end of the shoulder, while the raglan style extends upward and covers the shoulder as well.
Top-Down
The Top-Down crochet sweater style works up exactly as it sounds. You start by making a hole big enough for your head, then work down from there, towards the shoulder and eventually ending at the bottom of the armhole. This style then creates the torso and two sleeves separately. This method is popular due to the fact that you can continually try on the sweater as you are creating it.
Round Yoke
The Round Yoke uses circular designs to create a unique style of crochet sweater. The neckline of this style is crocheted in a round yoke — hence the name — and is constructed similarly as a fitted sleeve sweater. From the armhole up on this design, the sweater is constructed as a circle by making gradual decreases.
Choosing the Best Yarn for Crochet Sweaters
Choosing the right yarn for your crocheted sweater is extremely important. In general, you should choose the best quality yarn for constructing your sweater. Given the amount of work that goes into making a sweater, you want to ensure that the garment will hold up to regular use and washes. Better yarn will fade less, keep its shape longer, and will simply look better.
Quality aside, there are other aspects of your yarn choice that also matter… including weight, fiber, and drape.
Preferred Yarn Weight
The best way to ensure a properly fitted and lasting garment is to choose finer threads. While medium/worsted weight yarn is great for other crochet projects like blankets and scarves, it is not the best choice for sweaters.
In general, choose Light/DK weight or finer for crochet sweaters. Fine/Sport weight is even better. While the finer yarns will make your project construction take significantly longer to work up, the result will be worth it.
As always, you should only use the crochet hook size that the yarn and/or pattern suggests. This is typically smaller sizes like 3.5-4.5 mm for Sport yarn, and 4.5-5.5 mm hooks for DK weight yarn.
Preferred Yarn Fiber
Animal fibers tend to work best in crochet sweaters, but any natural fiber is preferred. Yarn made from silk, merino wool, cashmere, mohair, and alpaca exhibit the qualities that are essential to crochet beautiful long-lasting sweaters. I also feel these natural fibers simply look better than their plastic-derived counterparts. Natural fiber yarn also has a luster and drape that is unmatched in the manufactured world. Another benefit is that this yarn also accentuates textures and stitches more than acrylic or cotton.
Blended yarns are also great for sweaters. Blended yarns allow you to take advantage of the different properties of different fibers. Cotton or nylon blends with animal fibers allow for easier care, while also keeping the qualities that the natural fibers create.
The obvious downside to using natural animal fibers is that they are more difficult to care for. While this is a concern, below we do get into the best ways to keep your sweater beautiful for a long time.
The Best Yarn Stitches
The best stitches to use when creating a crochet sweater are ones that work up quickly and stable, yet also have a desired drape and texture. The requirement to be a "good crochet stitch" for making a sweater is that it has to work great with fine yarns such as DK or Sport, and be able to withstand regular use. Basic stitches like the half-double crochet and the Tunisian simple stitch are probably going to be some of the easiest to master.
Drape is a highly desirable feature in crochet sweaters. The drape is how the garment flows – or drapes – over the body. Certain stitches will create a stiffness and rigid structure, which are not qualities of a great sweater. Oversized crochet sweaters need to have even more drape than form fitting ones would.
Taking Measurements for Crochet Sweaters
Getting good measurements is a crucially important part of designing a great crochet sweater pattern. A sweater that doesn't fit right will not look right, and will eventually be buried in a closet to never be worn again. Knowing how to correctly take and use measurements is key to a great sweater.
First, take these measurements while wearing a fitted shirt or something similar. Next, hold the tape measure snuggly to your body, but not tight. Write down each measurement down to it's closest quarter inch or centimeter.
Measuring Width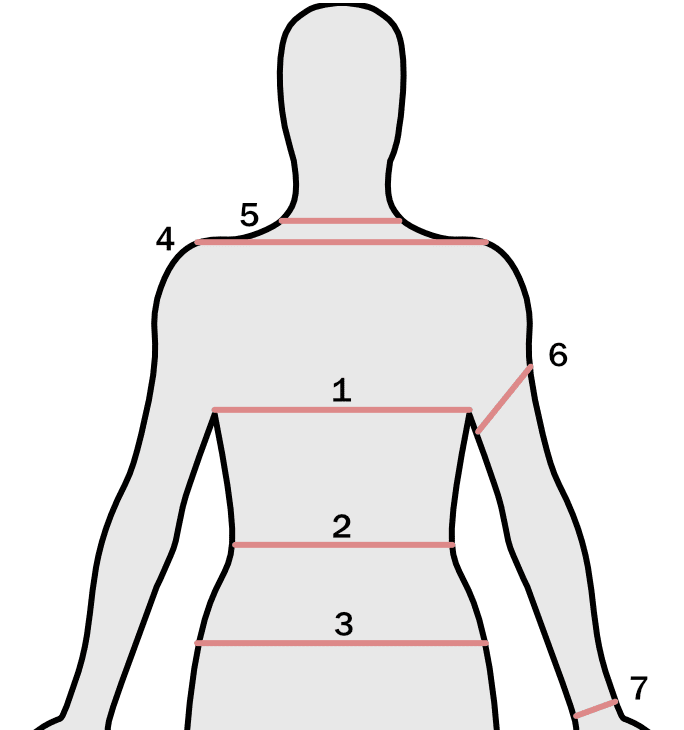 Take exact measurements of your bust (1), waist (2), and hip (3). These three widths will help create the correct fit around your torso. Your bust line will sit right under your armpit across your chest, and back around.
Next, the width around your shoulders (4) and neck (5) will help shape the top part of your sweater. The shoulder measurement should be from one end of your clavicle, to the end of the other, straight across.
Finally, arm/bicep (6) and wrist (7) widths will correctly fit the sleeves to your body.
Measuring Length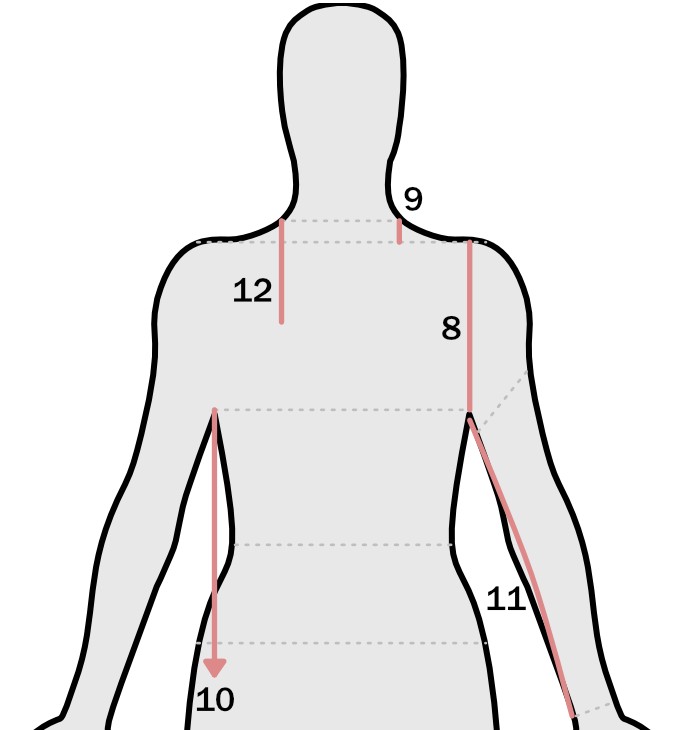 All length measurements should be taken straight down the body. The best way to make sure this is the case is to let the tape measure hang loosely from the top point of the measurement. If you hug the body's contour with the tape, it will distort the final measurements.
Armhole (8), shoulder slope (9), torso (10) and arm (11) lengths are all critical to getting a uniformly fitted sweater. The neckline depth (12) is one that becomes a personal preference, so its bottom point is to wherever you feel most comfortable. All of these dimensions are pretty straightforward, except the torso length.
Certain pattern designs may require lengths of different subsections of the torso. These measurements are usually from different points on the torso: top-of-armhole to waist, bottom-of-armhole to waist, etc. Another common length variation is where on the waist it is to be measured to. Usually, the waist is measured right at the hip. However, some crocheted sweater designs extend down to different parts of the thigh. Use your best judgement when measuring to those parts of the leg.
Crochet Sweater Alterations
A great tip to getting a crochet sweater fit perfectly is to measure existing sweaters or garments that you like the fit of. This can be a very useful way to learn how the measurements you took above should be altered to fit your body appropriately. It is best to use a hard ruler for this as opposed to your soft tape. Lay the garment on a hard surface, like the floor or a table, and stretch it out flat. Take the same measurements as you did above.
Once you've taken your exact measurements above, the next step is to alter them according to how you want your crochet sweater to fit. Either by trial-and-error or via measurements you took from other sweaters, the goal is to create a plan for all the dimensions your crochet pattern requires.
Shaping a Crochet Sweater
Another way to ensure the perfect fit of a crochet sweater is to either add or subtract crochet stitches or rows, depending on where you want to shape it. By using basic shaping techniques, it allows you to transform an ordinary sweater to a great one. These small details are essential for crocheted sweaters because of the nature of the looser crochet stitch (as opposed to a tighter knitting stitch).
As with any crochet pattern, gauge is also important. Before you even start on a pattern, make a swatch to test out your gauge compared to what the pattern needs. Even a slight deviation of height or width of your stitching will create a crochet sweater that is completely wrong.
Tips & Tricks for Crochet Sweaters
Crocheting a beautifully crafted sweater is a labor of love, and will take time if done right. There are some tips and tricks that can help save you from mistakes as well as ensure the longevity of your creation.
Tip #1: Focus on it Piece by Piece
Take measurements as you go, and never assume you are always on the right track. It is best to look at a sweater as each individual patterns for each piece. If you took your measurements correctly, and you measure as you work, then everything has a much better chance of working out in the end. Another benefit of working piece by piece is that it breaks up a much more complex project into much more manageable parts.
Tip #2: Label Your Pieces
As you finish each piece of your crochet sweater pattern, it is extremely helpful to label them. Left vs Right, Top vs Bottom, Front vs. Back. You will thank yourself later. When it comes time to assemble your sweater, these labels will prevent any guessing, which never ends up right. This can be easily accomplished with stitch markers.
Tip #3: Seam and Edge Detail Matters
Seams are usually best when hidden, and the mattress seam works best for that. This seam disappears into the crochet stitches, but is only optimal for armholes and sides, but not shoulders where it will be stressed.
The shoulder seam needs to have increased strength to withstand the stress it will have to endure. Using a slip (sl st) or single crochet (sc) stitch to join the two seams tends to be the least obtrusive technique while still providing the necessary strength. Learn how to perform these two seaming techniques.
The edge of a crochet pattern tends to be wider than the rest of the project due to the few extra stitches to finish off rows. One way to tighten up an edge is to add a row of slip stitches to firm it up. This is especially important at the neckline and less crucial at the waist.
Tip #4: Block Your Sweaters
After your crochet sweater is complete, blocking is essential to getting the correct fit if you have any edges that are curling up. If your newly crocheted sweater does not have this issue, then you may not have to block. There are many different blocking techniques, but we found that wet blocking works best for crochet sweaters.
Tip #5: Care for Your Sweaters Correctly
Never hang a crochet sweater. It will stretch out of shape, and never be able to get back to its original dimensions. As with any sweater – crocheted or not – fold and store them flat in a drawer.
As for cleaning them, it's always best to hand-wash sweaters with a mild detergent like Woolite. Use a damp towel to remove any residual soap, a dry towel to remove any extra water, then lay it flat to dry.
Crochet Sweater Patterns
We have a handful of beautiful, free crochet sweater patterns in our archives. They range from ponchos, to warmer weather shawls, to warm, thick sweaters that will certainly keep you warm anytime.