9 Cute Crochet Chicken Patterns
If you are looking for some easy crochet chicken patterns, then this is the post for you! Below, I found a collection of the best free crochet chicken patterns you can make!
These chicken patterns are a mix of amigurumi and classic crochet designs, plus most are simple to make too. There is more than likely a chicken pattern below for every skill level, so you can rest assure that you will find something to crochet here!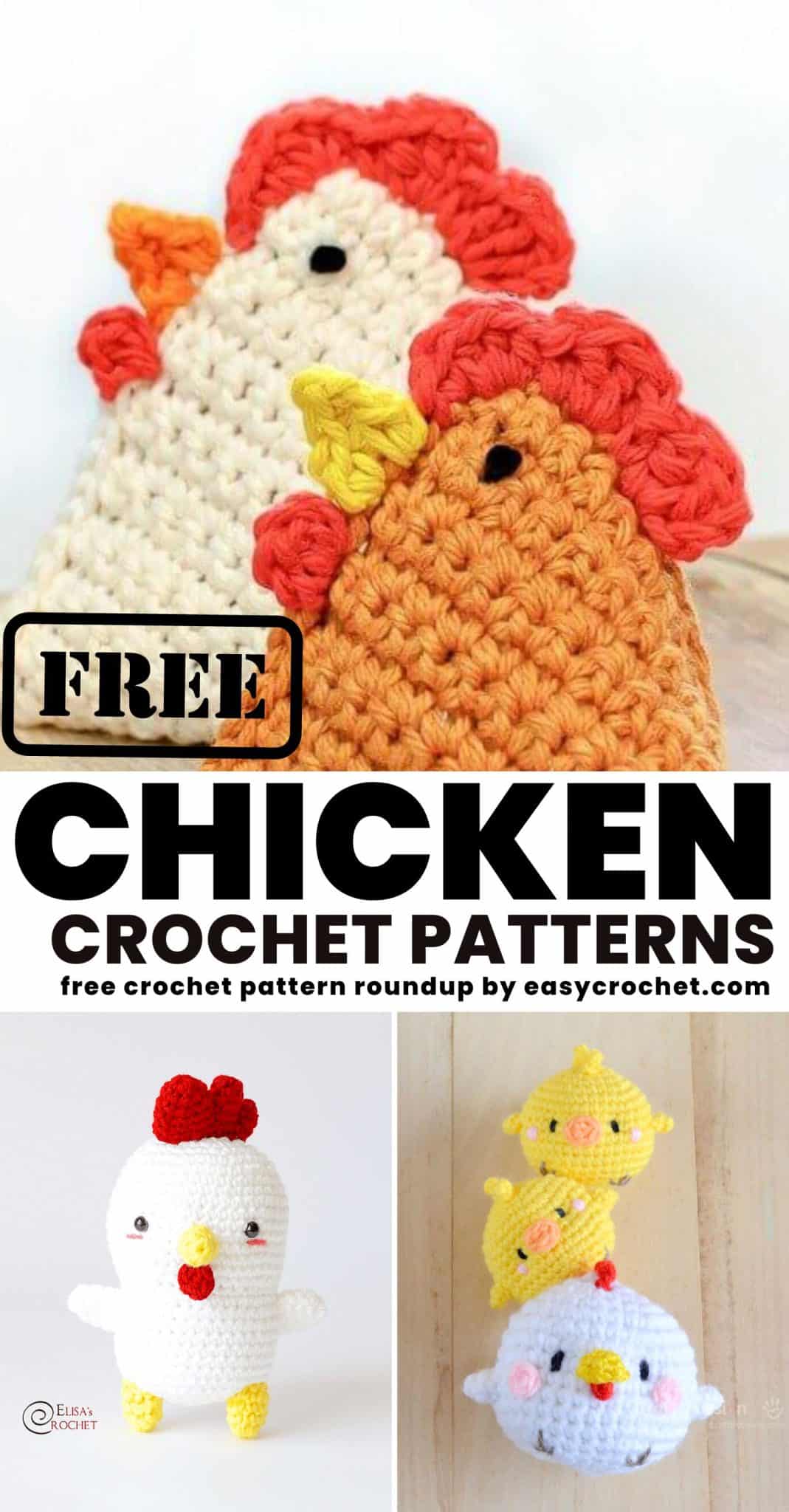 Common Crochet Stitches & Techniques Used in Chicken Patterns
You will find out quickly that certain types of crochet stitches work best when creating these small crochet chickens. Here are five of the best stitches we've come across for crocheting a chicken that makes them durable, and long-lasting, so they can be loved on for years.
Note: Keep in mind that you may need to know all or only some of these stitches to make these chickens, but more than likely, the single crochet stitch will be used more often than not.
Materials for Making Crochet Chickens
While you would need many of these materials for any crochet project, crochet chicken patterns sometimes require specific sizes of yarn, hooks and more.
In this section, we'll discuss the weight of yarn, hook sizes and other things that work best for amigurumi chickens.
Note: You may need all the supplies mentioned above when making your crochet chicken, but make sure to double-check the pattern materials list before starting your chicken.
Tips and Tricks to Crocheting Chickens
Crocheting amigurumi chicken patterns can be fun and rewarding! Here are some tips to help you create adorable chickens.
Use the right yarn and hook: Choose a yarn that is appropriate for amigurumi, such as acrylic or cotton, as these fibers tend to hold their shape well. Use a hook size that creates a tight stitch, so the stuffing doesn't show through.
Read the pattern carefully: Before you start, thoroughly read the amigurumi pattern you're working on. Familiarize yourself with the stitches, techniques, and any special instructions. Make sure you understand the abbreviations and symbols (if a chart is used) in the pattern.
Make a Gauge swatch: Crochet a gauge swatch before starting your project. This will help ensure that your finished chicken will be the correct size and proportion. Adjust your hook size if necessary to match the recommended gauge in the pattern.
Use stitch markers: Amigurumi patterns often involve working in continuous rounds. Placing stitch markers at the beginning of each round can help you keep track of your stitches and prevent mistakes.
Count your stitches: Count your stitches at the end of each round or row to ensure you haven't accidentally skipped or added any stitches. This is especially important when creating amigurumi chickens, as mistakes can affect the overall shape and proportions.
Stuffing: Use a high-quality stuffing material, such as polyester fiberfill, to give your amigurumi chicken a soft and squishy feel. Stuff the chicken firmly, but not too tightly, to maintain a nice shape.
Embroidery and facial features: Take your time when embroidering the facial features of your amigurumi chicken. Use small stitches and secure them well. Experiment with different embroidery techniques to achieve different expressions and personalities for your chickens.
Carefully Joining pieces: When attaching limbs, wings, or other parts to the main body, make sure they are securely sewn in place. Use yarn and a blunt needle to stitch the parts together neatly and invisibly as possible.
Practice and have fun: Crocheting amigurumi chickens may take practice and patience. Don't get discouraged if your first attempts don't turn out perfectly. With each project, you'll strengthen your skills and get better!
Remember to enjoy creating these adorable chickens. Crocheting amigurumi can be a delightful and relaxing hobby. Happy crocheting!
Chicken Crochet Patterns
Discover a flock of adorable amigurumi chicken crochet patterns, all free for you to create and enjoy! From fluffy chicks to proud roosters, this collection offers a variety of charming designs to brighten up your crochet projects.
More Free Amigurumi Crochet Patterns You May Like