I recently made these decorative DIY mod podge glass stones for my daughter Elise who is a little knick knack collector. With all the mod podge ideas I was thinking of I knew this one would be perfect for her! Read on down to find the full tutorial!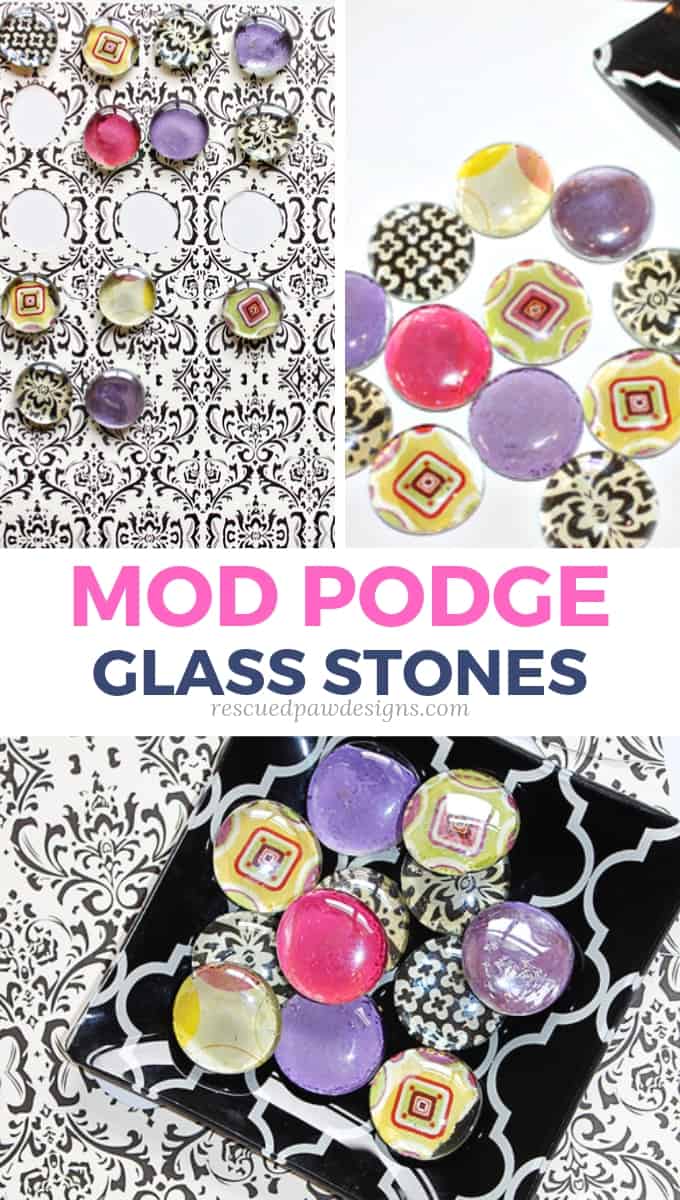 Mod Podge on Glass Stones / Rocks
If you have ever wondered how to mod podge on glass this idea is essentially the same! I decided to go with this little glass rocks / stones I found at the dollar store but you could decorate most anything using this same technique.
These Mod Podge stones have lots of uses!
These stones would always make great paper weights for an office desk, decorations for a center piece or perfect to add to a gift! If you can think of any more uses for these stones please feel free to share!
Ready to learn how to how to use mod podge on glass?
If you are ready to make this DIY project then read on down about all the materials you'll need for mod podging on glass! Most if not all of the materials are easy to find online or in any local craft store!
Happy Crafting!
DIY MOD PODGE STONES TUTORIAL
Shopping List
Scrapbook Paper
Decorative Clear Stones
Scissors
Pencil
Paint Brush
Mod Podge I used Antique Matte
These supplies should be pretty readily available. I found mine at the local dollar and craft store. 🙂
How to Modge Podge on Glass Stones
First pick out scrapbook paper and go grab your stones. Next trace them on the paper with your pencil and cut out the shapes with your scissors. (See picture for reference)
Now that you have all your shapes cut out, you can begin adhering them to the stones with the Mod Podge. Brush on a light coat of the Mod Podge onto cutout, smooth to place on the stone. FYI (you can use a brush or your fingers) I did it the messy way!! 🙂
Let them dry, Brush entire surface with Mod Podge. When they are dry and clear, REPEAT! You are now FINISHED!!
Remember, if you make a mistake, just use soap and water while the glue is still wet to remove it.
ALL DONE
I love how pretty these Mod Podge Stones turned out and the fact that they are so easy to customize for any occasion or holiday.
As a warning I would only give these to kids that no longer have a tendency to put things in their mouths.
Happy Crafting!
You may also like these DIY projects too!