The Essential Supplies and Tools for Beginners in Crochet
If you are a new crocheter and are wondering what basic crochet materials or tools you need to start crocheting with, then look no further! Below you will find a complete list of crochet tools for beginners that will help set you on the right track on your crochet journey.
We'll also share a few beginner crochet patterns as well that you can make once you gather all the supplies you need to begin crocheting. Let's Get Started!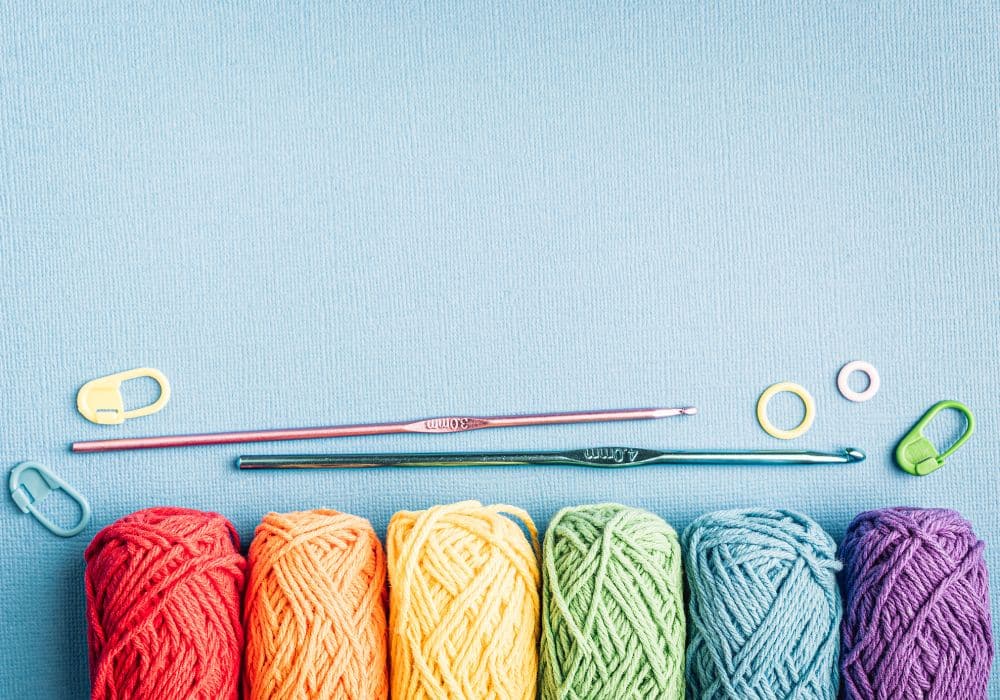 What Tools Are Needed for Beginner Crochet?
The two main tools, things, and supplies you must have to start crocheting are yarn and a crochet hook.
These two tools are the most often the first crocheting materials you'll need for crocheting when beginning your crochet journey.
Other Basic Crochet Supplies & Tools Needed
You will quickly find out that you will need more crochet accessories such as a yarn needle, hook organizer as well as a good pair of scissors. Luckily, the basic supplies for crochet are quite affordable, which makes this a cheap hobby to have.
Other Supplies: These are the other basic crochet supplies + accessories to get started with crocheting:
Yarn Needle (aka a Darning Needle or Tapestry Needle)
Hook Organizer
Scissors (a nice sharp pair is good!)
Stitch markers (to mark your place in a crochet project)
You will find that the more you search you'll come across some pretty unique crochet tools (like a Lucet Fork, but for now, we are going to stick to the basics when building a new crocheter's crochet toolkit.
Related: New to Crochet? Learn how to crochet with our beginner guide or our free four-week course.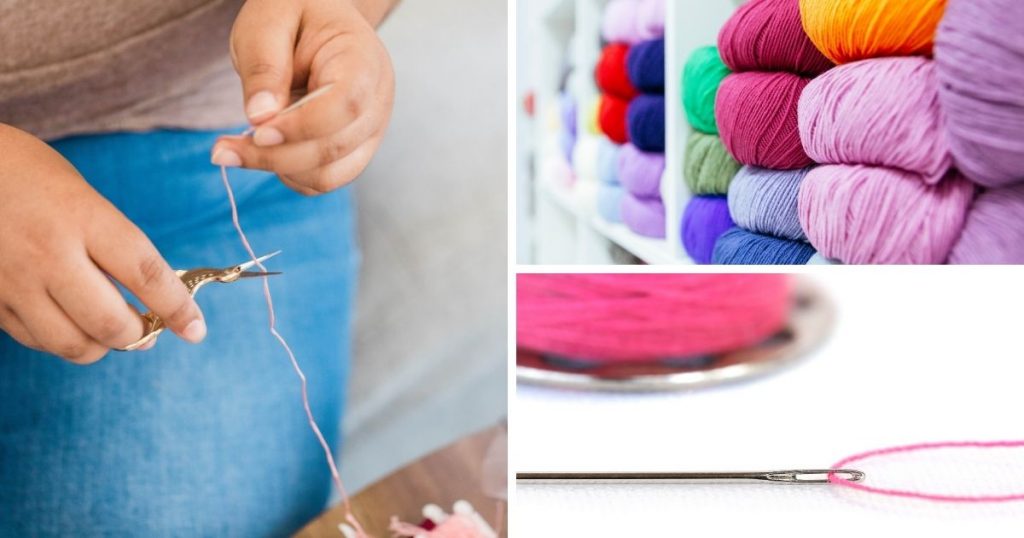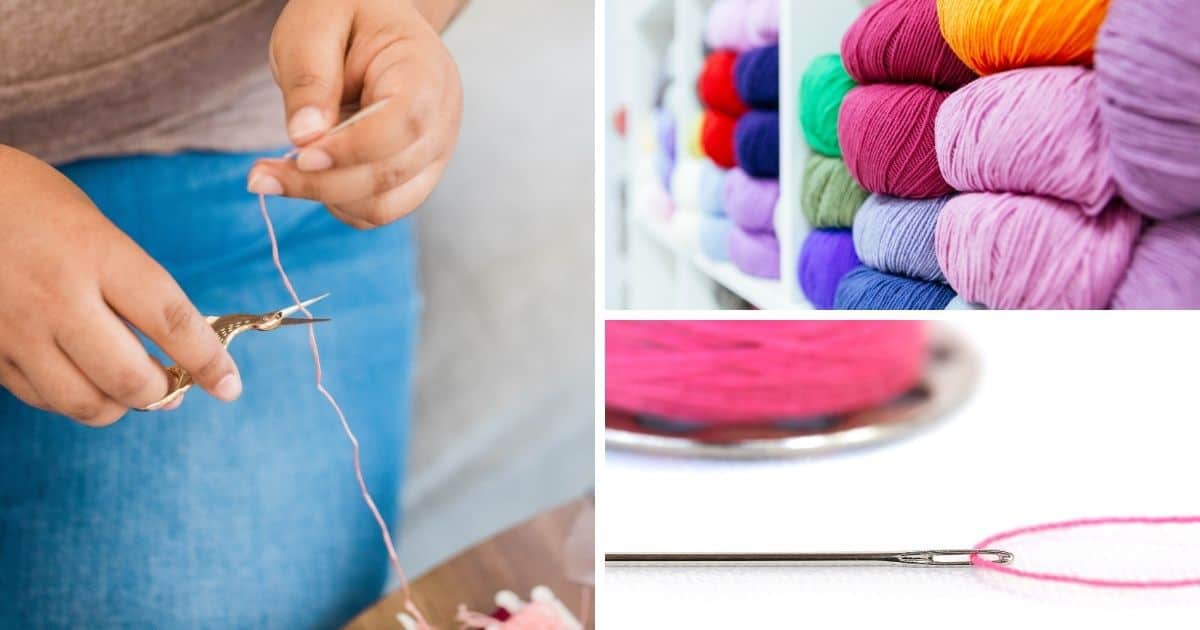 13 Best Crochet Tools + Supplies for Beginner Crocheters
Below, I'll explain a bit about each crochet tool and crochet supply you may want to get as a beginner, plus a few extra accessories that may be beneficial.
You will also be able to find a few of my favorite places to buy crochet supplies, as well as a few places to buy crochet yarn online at a good price. I hope you enjoy this beginner crochet supplies list and find it useful!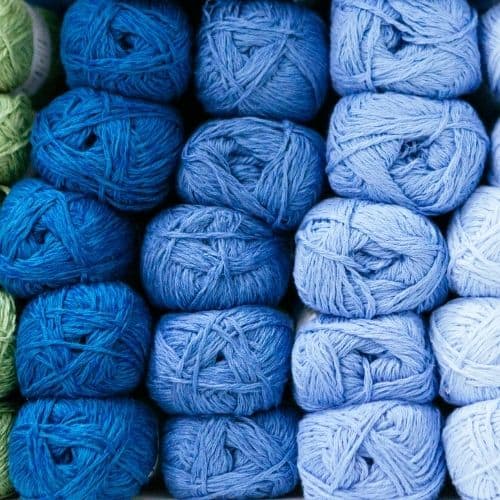 1. Yarn
Yarn is the most fun of all the crochet supplies you'll need because of all the colors, fibers, and weights in comes in. Make sure to read the yarn label to find out that information here.
Most new crocheters start with low cost acrylic yarns, such as Lion Brand Vanna's Choice or Brava Worsted. It is a good idea as a beginner to learn more about the different types of yarn available before you decide to purchase.
---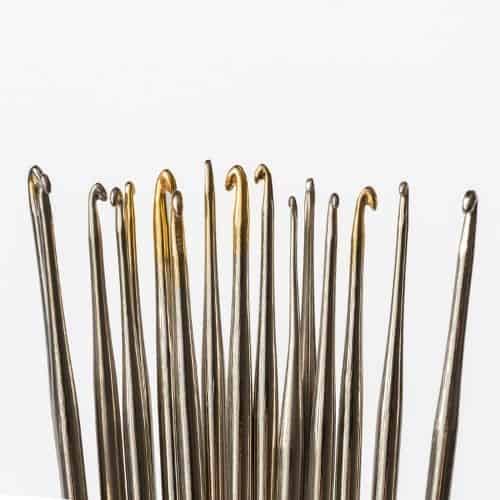 2. Crochet Hooks
A crochet hook is an essential tool for crocheting, since it is the main tool that is used to form crochet stitches. They come in different materials, such as wood and steel.
There are over thirty different sizes of crochet hooks, and crochet patterns will usually specify what size crochet hook works best with it. Crochet hooks are identified by either their US or Metric names. For example, a 5.5 mm metric size crochet hooks are also known as an I-9 size hook in the US. You will also find that there are different varieties of crochet hooks, such as metal hooks and plastic hooks, for example.
---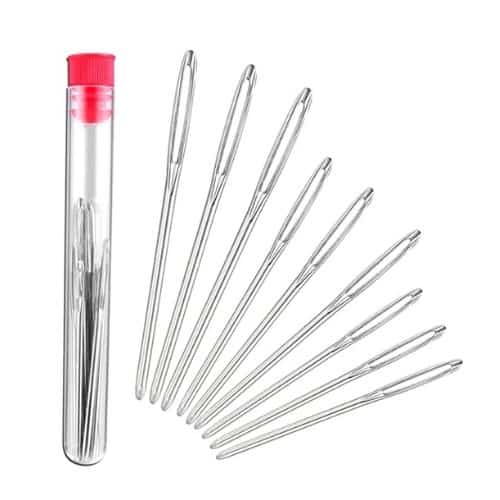 3. Yarn Needle
A yarn needle is a blunt tool that is used to weave in yarn ends in crochet projects that can either be metal or plastic. It has a big eye that makes it easy to insert yarn into and thread throughout patterns. You may also see them referred to as a darning needle or tapestry needles.
Yarn needles come in different sizes to be used with different weight yarns. They are also available as a bent yarn needle too, which makes it easier to thread under worked up patterns rather than the straight metal needles.
---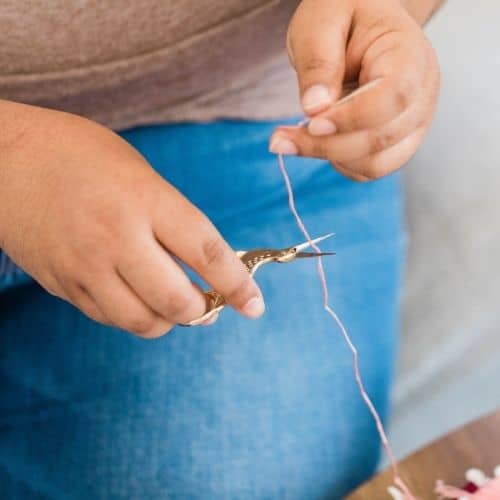 4. Scissors
A good pair of scissors is an essential crochet tool, and ranks up there as most important with yarn and a crochet hook.
Yarn scissors come in different sizes and shapes, such as stork scissors or snips. As long as they are sharp, they will get the yarn cutting job done!
---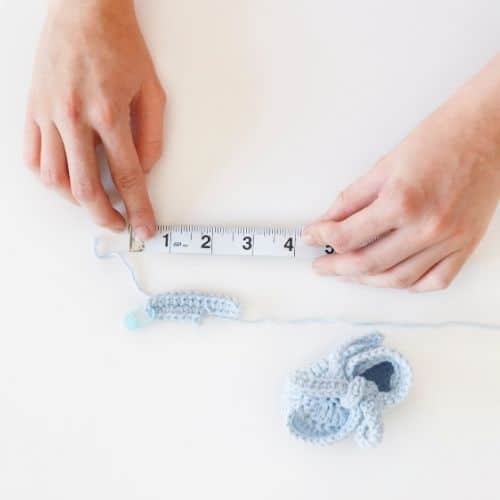 5. Measuring Tape
A tape measure is essential for crocheters to have. It helps make sure that when you are crocheting a pattern such as a hat, it will be the perfect size.
It is also useful for making sure the proper gauge is obtained in patterns. Craft tape measures are usually soft, so they can be manipulated when measuring and stored easily. Have a look at my favorite tape measure one below.
---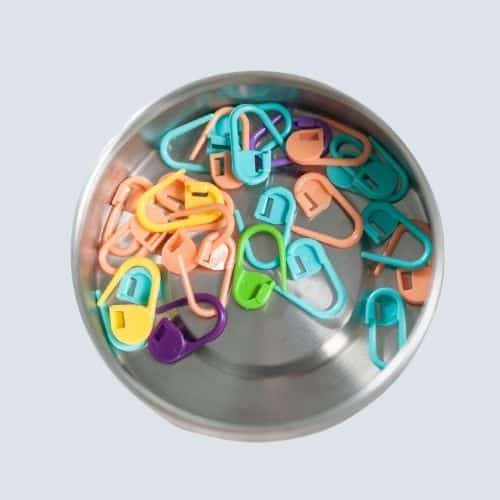 6. Stitch Markers
A stitch marker is a small tool that helps a crocheter keep their place in a project by marking a stitch. They can be used to mark stitches, buttons, rows and more!
For crocheting, you will want to use locking stitch markers. These stitch markers open and close, so they can be removed when you are done with them.
---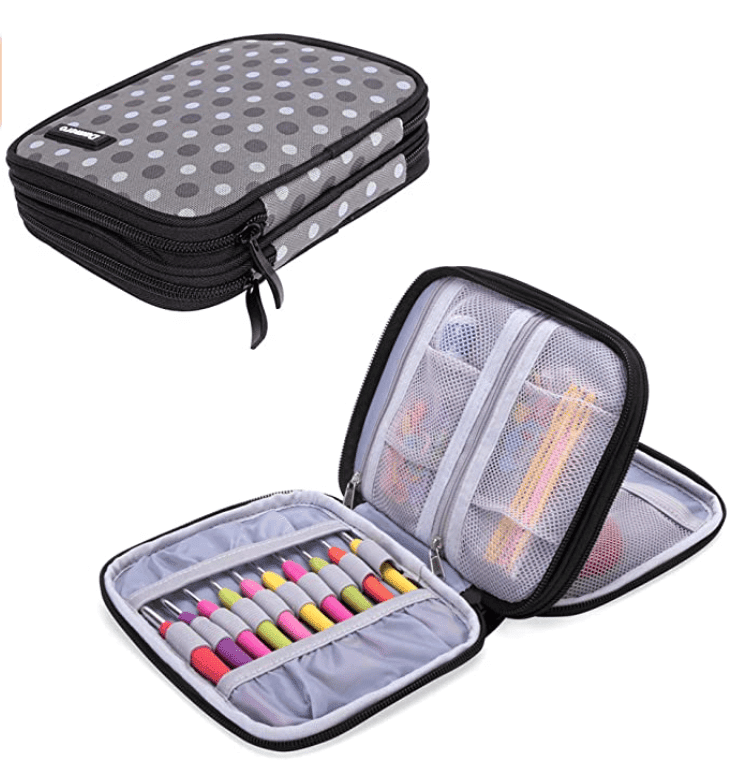 7. Crochet Hook Organizer
A hook organizer is a good way to keep your hooks, stitch markers and yarn needles organized in one spot.
You can purchase a hook organizer one at most local craft stores or online at places like Amazon. A pencil case is a great tool to use too if you can't find a case that is specially made for hooks and crochet supplies.
---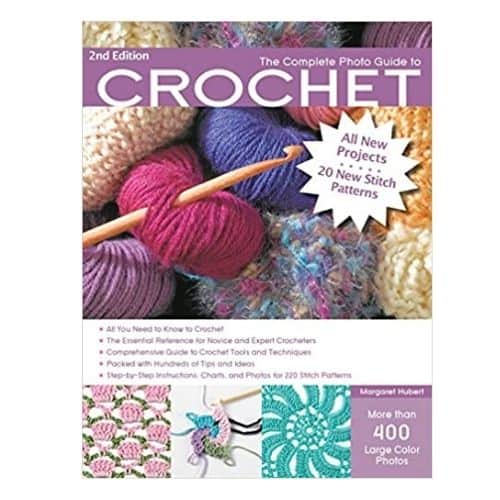 8. Crochet Stitch Book
A good stitch book is an essential tool when crocheting! It helps to expand your knowledge of crochet stitches, plus helps you remember the basics.
The best crochet stitch book is The Complete Photo Guide to Crochet, which has over 220 different stitch patterns to learn.
Not only is a good stitch book good to have, it is also a good idea to look into other areas of the fiber arts with books. Take a peak at the best list of crochet books to get an idea of what there is to learn.
---
9. Crochet Bag or Tote
A yarn tote bag like this or a bigger supply bag as shown below is great to keep your crochet projects in for easy storing and on the go crocheting.

10. Row Counter
Use a row counter to follow what row you are on in your pattern. It is a good tool to have when you are working on larger projects like blankets.

11. Blocking Mat
A blocking mat is useful after you are finished working on your pattern to block a project. It helps to shape your project to have cleaner edges and even stitches by pinning down to the project and blocking it. Learn more about blocking in crochet.

12. Yarn Bowl
A yarn bowl is a great way to keep your yarn in one spot when you are crocheting, free of tangles. You can find yarn bowls in many materials, like wooden, plastic and even ceramic like mine.
13. Swatch Ruler
A swatch ruler is a handy tool that will help you determine what your gauge is in a crochet project. Most of them also have a tool to help check the crochet hook size that was used as well. You can use the Easy Crochet hook size chart and comparison guide as a reference.

Beginner Crochet Kits
Once you learn about the tools you'll need for crocheting, you are ready to start learning how to crochet! Crochet kits are a great way to start because they usually come with all the supplies you need to start crocheting such as the yarn, crochet hook and pattern.
Take a look at this post about some of the best kits for beginner crocheters below.
Beginner-Friendly Crochet Patterns
I recommend reading about the basics of crochet in my free Crochet for Beginners guide, as well as taking a look at the Crochet Abbreviations for Beginners guide.
All Beginner Level Crochet Pattern on Easy Crochet
After you look at those resources, you are now ready to start crocheting beginner patterns!
Free Crochet Patterns & Guides for Beginners
Take a look at these free patterns and tools for beginners that will help you on your crochet journey.
Common Questions About Crochet Supplies & Tools
What is the best size hook to have as a beginner crocheter?
A 4 mm (G-6), 5 mm (H-8) or a 6 mm (J-10) crochet hook are good sizes to start with when you are new to crocheting. They are easy to hold, simple to find and work well with the most common yarn size which is a medium four weight yarn.
Where can I buy Crochet supplies for beginners?
You can find supplies for crocheting at most local stores like Walmart, Michaels and even Target. They are also easy to find online on Amazon and more. Learn more about some of my favorite places to buy tools like yarn in my guide.
---