Crochet Heart Dishcloth Pattern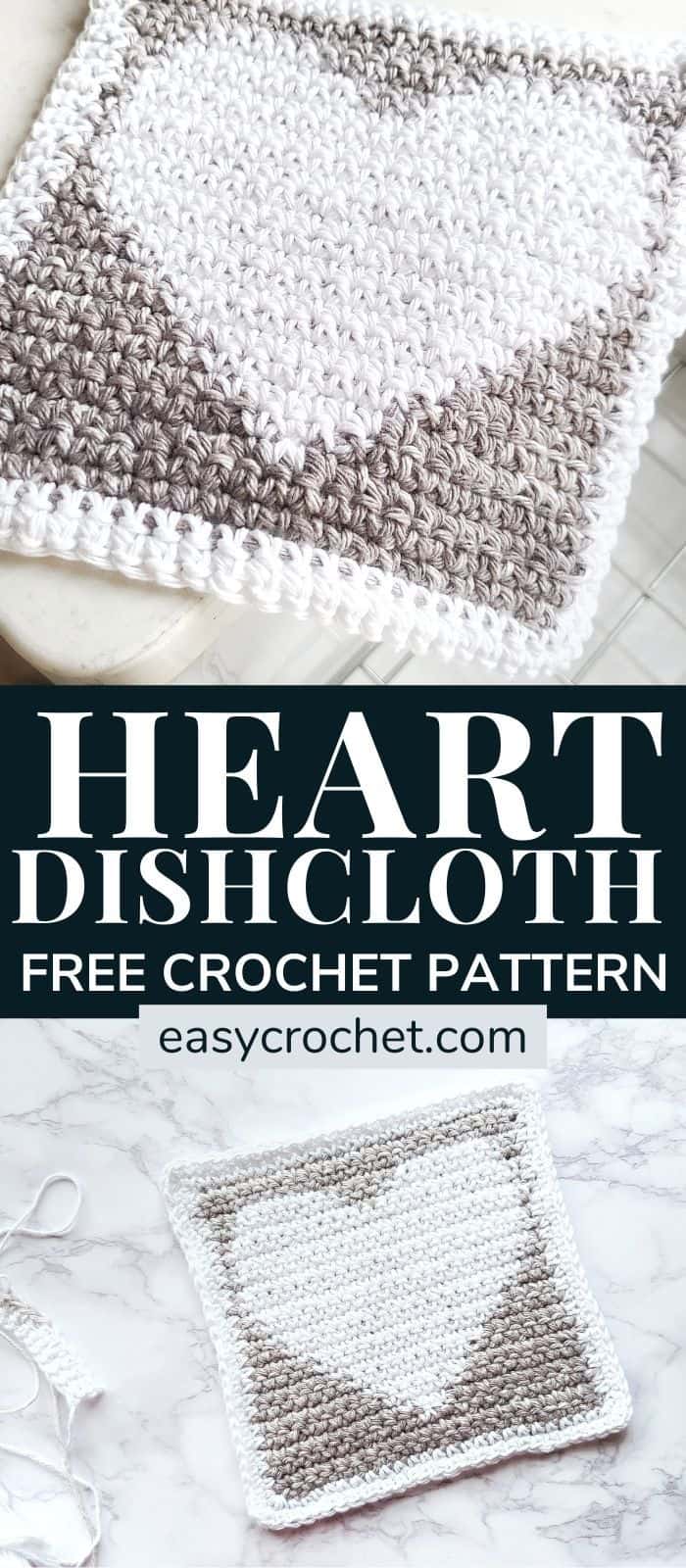 If you are looking for a unique crochet pattern, then this heart dishcloth is the one for you! It is made by working two different colors of yarn over one another and a graph to create an easy crochet heart dishcloth!
Scroll on down to find the free heart dishcloth tutorial, as well as a video tutorial on how to work with two yarn colors at once.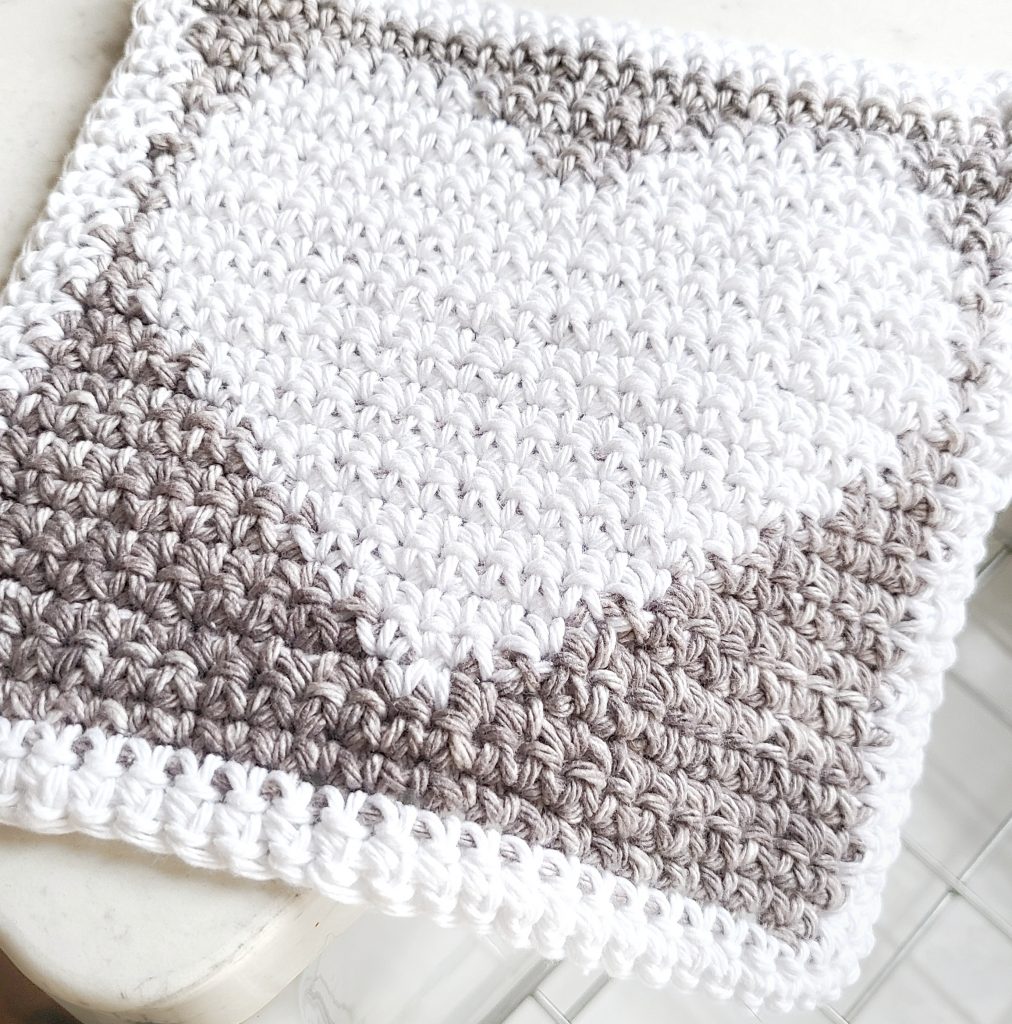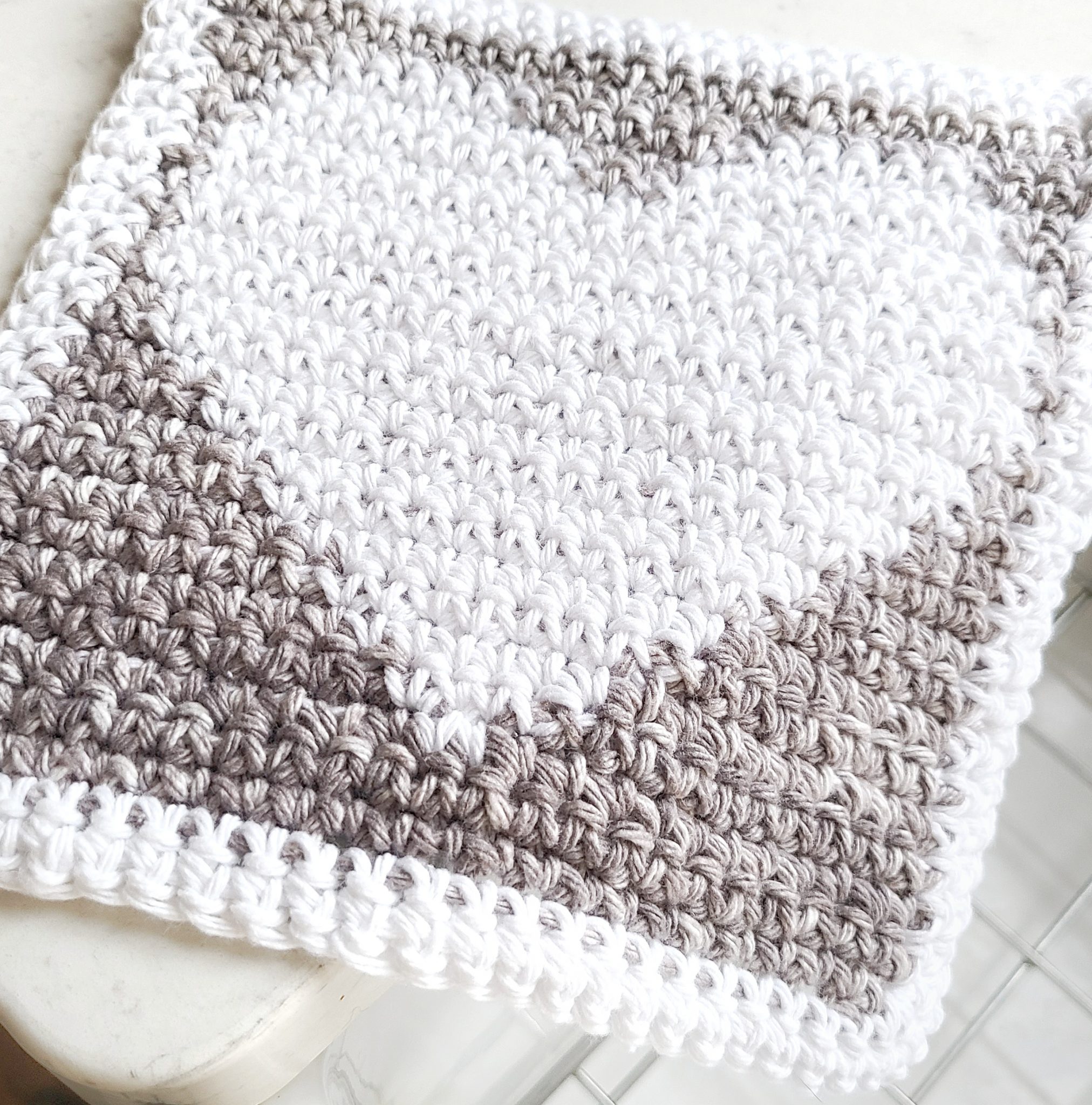 How to Crochet a Heart Dishcloth
To make a heart shaped dishcloth you will need two colors of yarn, a heart graph and a crochet hook. You will also need to know how to single crochet, which is a basic beginner-friendly stitch.
Easy Steps to Crochet A Washcloth
Crochet the starting chain with your first color
Follow along with the heart graph, placing a single crochet where it indicates on the graph with the corresponding color.
When changing yarn colors, work a single crochet until almost complete, but join in the new yarn and bring the current working yarn to the front. You then finish the stitch with the new color yarn.
Finish with a border of single crochets twice around.
Step 4 is optional, but a border on a dishcloth gives it a nice clean edge, so it is a step I do recommend attempting.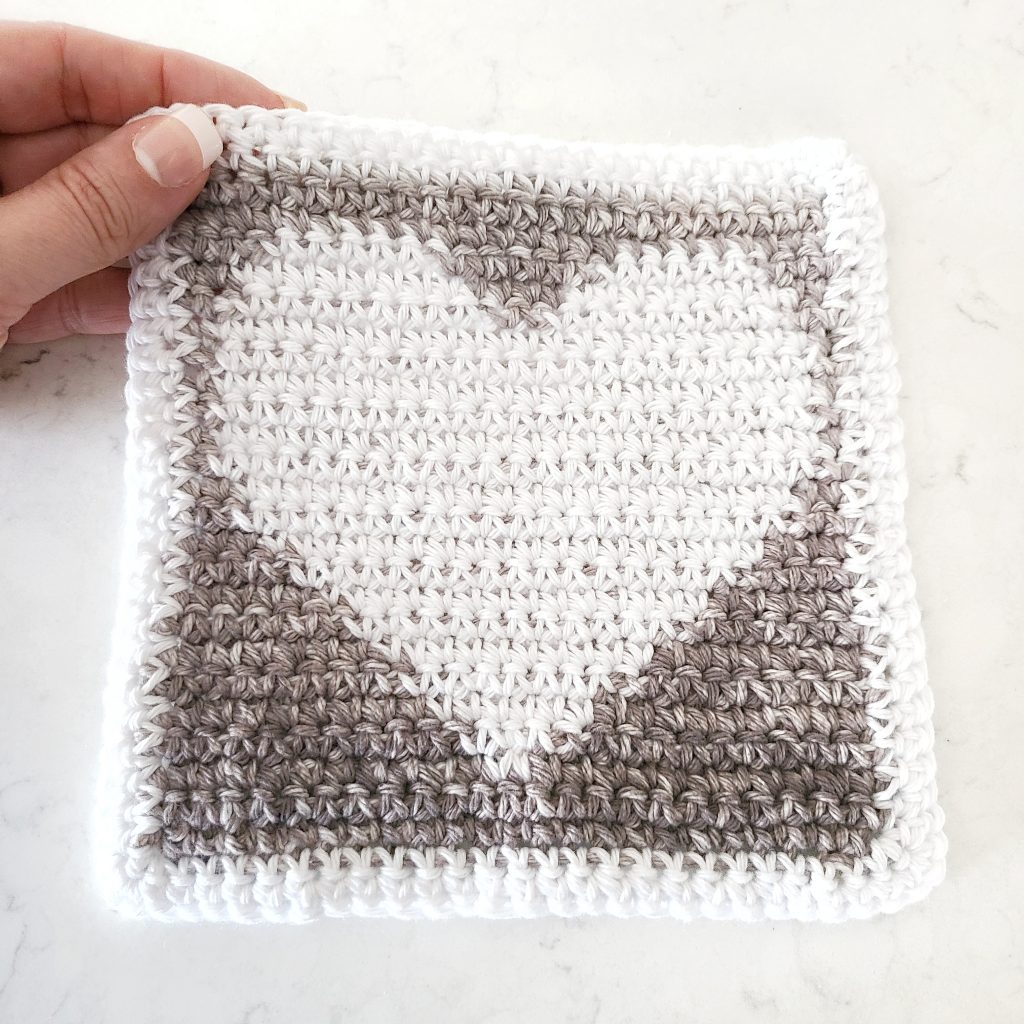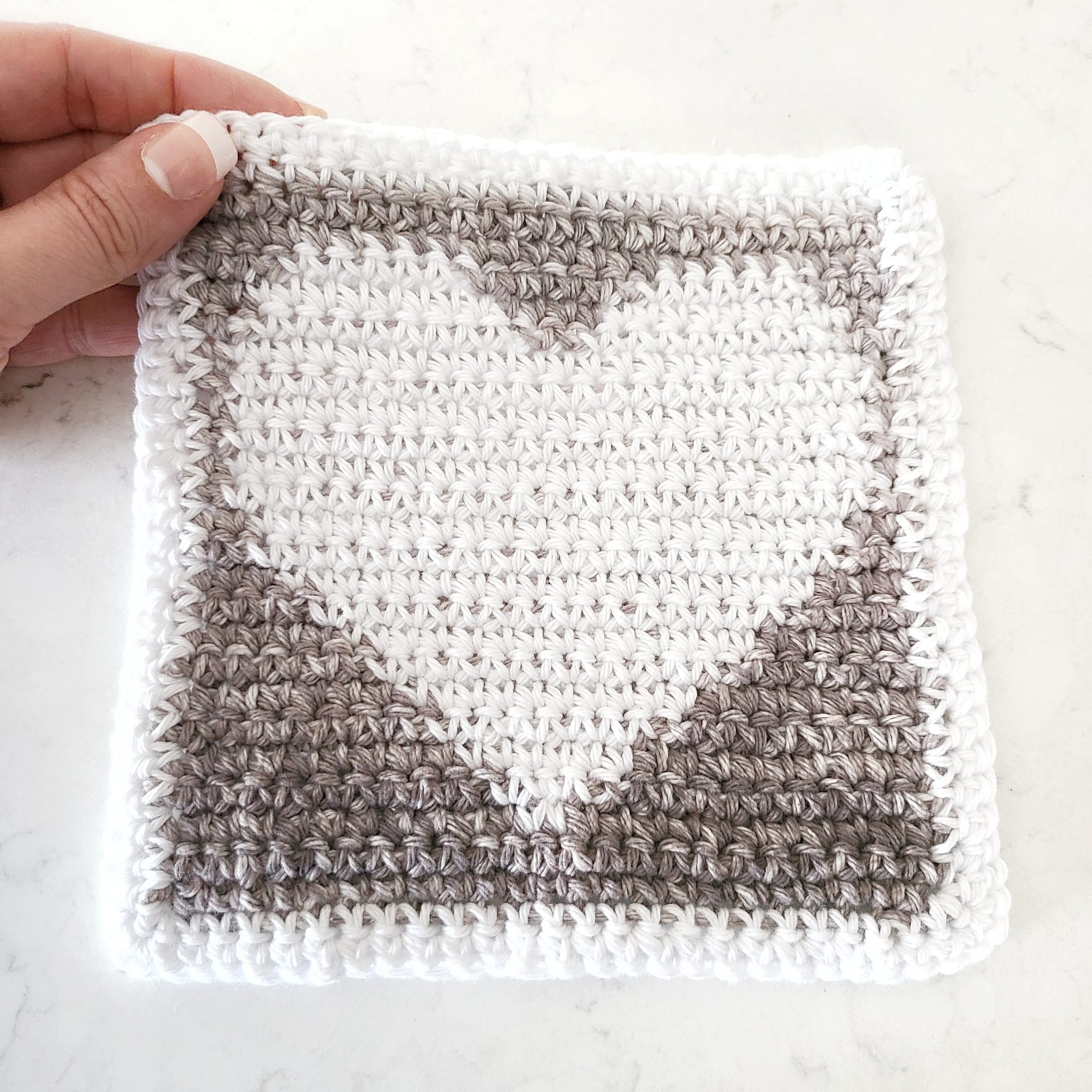 The Yarn For a Heart Dishcloth
Dishcloths should be made with a cotton or cotton mix yarn, so it holds it shape and is easy to wash.
This dishcloth uses two different colors of a cotton blend yarn called Premier Home. Premier home is an 85% recycled cotton and 15% polyester mix. It works up easily over the hook and is durable because of the cotton fibers used.
The two colors of Premier Home used in this dishcloth to form the heart are listed below.
White
Grey Splash
You can find this yarn at premieryarns.com, Joanns or Amazon.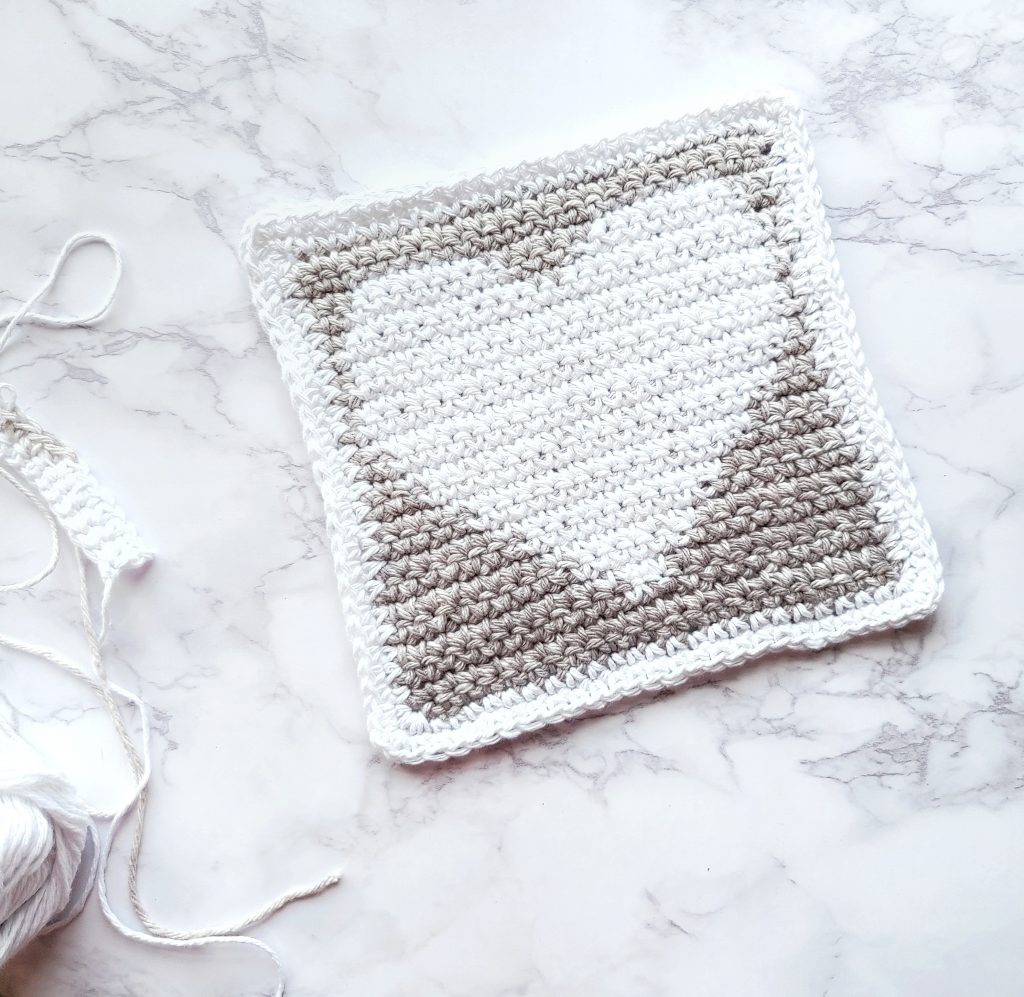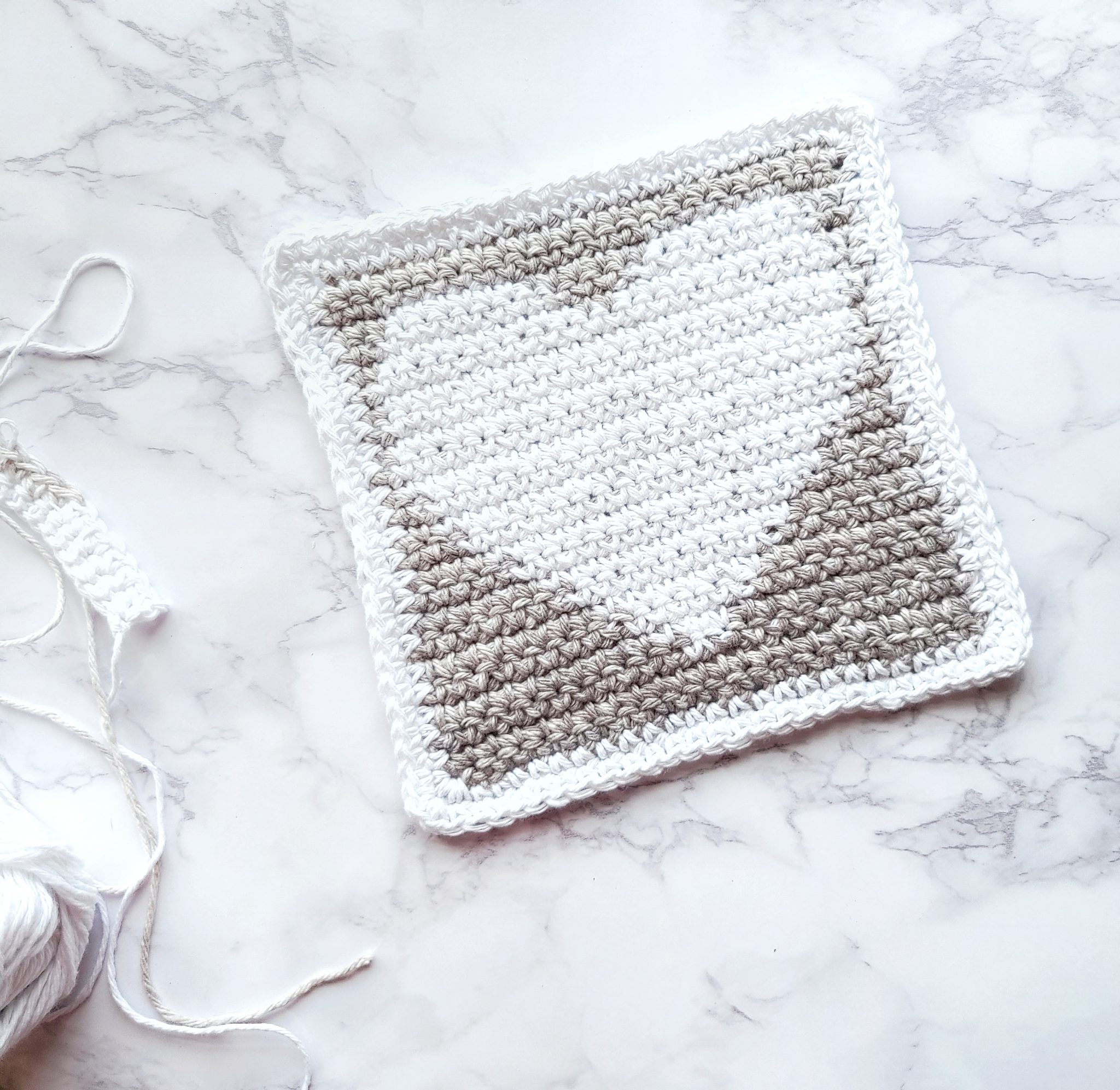 The Stitches for a Heart Shape Dishcloth
You will need to know how to single crochet to make this dishcloth! A single crochet stitch is one of the first stitches most crocheters learn because it is easy to pick up.
In this dishcloth pattern, we are using a single crochet because it hides the color changes well and makes a sturdy cloth.
Since you've learned how to crochet a dishcloth, all about the yarn and the stitches, you are now ready to get started on making your dishcloth. Scroll on down to find the heart dishcloth tutorial and free pattern!
Free Heart Crochet Dishcloth Pattern
Skill Level: Intermediate
Materials
Premier Home two colors or any four weight cotton yarn

Color A: Grey Splash
Color B: White

3.75 mm crochet hook
Yarn needle
Scissors
Finished Size
Crochet Abbreviations
sc: single crochet
ch: chain
sl st: slip stitch
Notes
Written in standard US terms
This dishcloth is worked with both skeins of yarn at the same time. If you are crocheting with the Color A you would crochet over Color B and vice versa starting with row 3.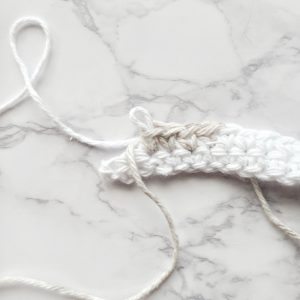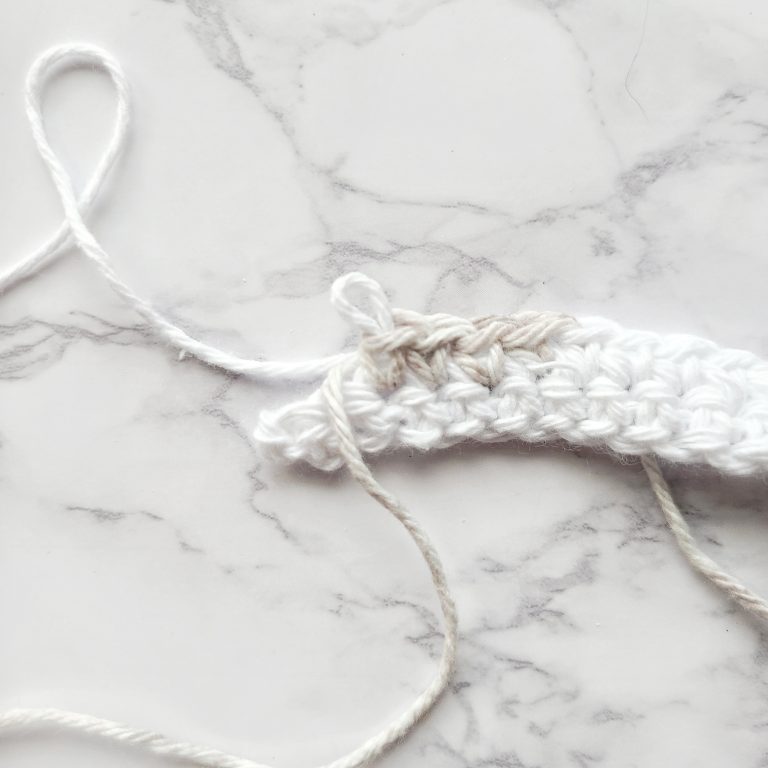 The Pattern
The graph below shows what rows and what stitches to change colors on.
Begin: Ch 25 with Color A
Row 1: In the second ch from the hook sc, sc into each st across, turn. (24)
Row 2: Ch 1, sc into each st across, turn. (24)
Row 3 – 24: continue sc by following along with the chart below changing yarn colors when it indicates.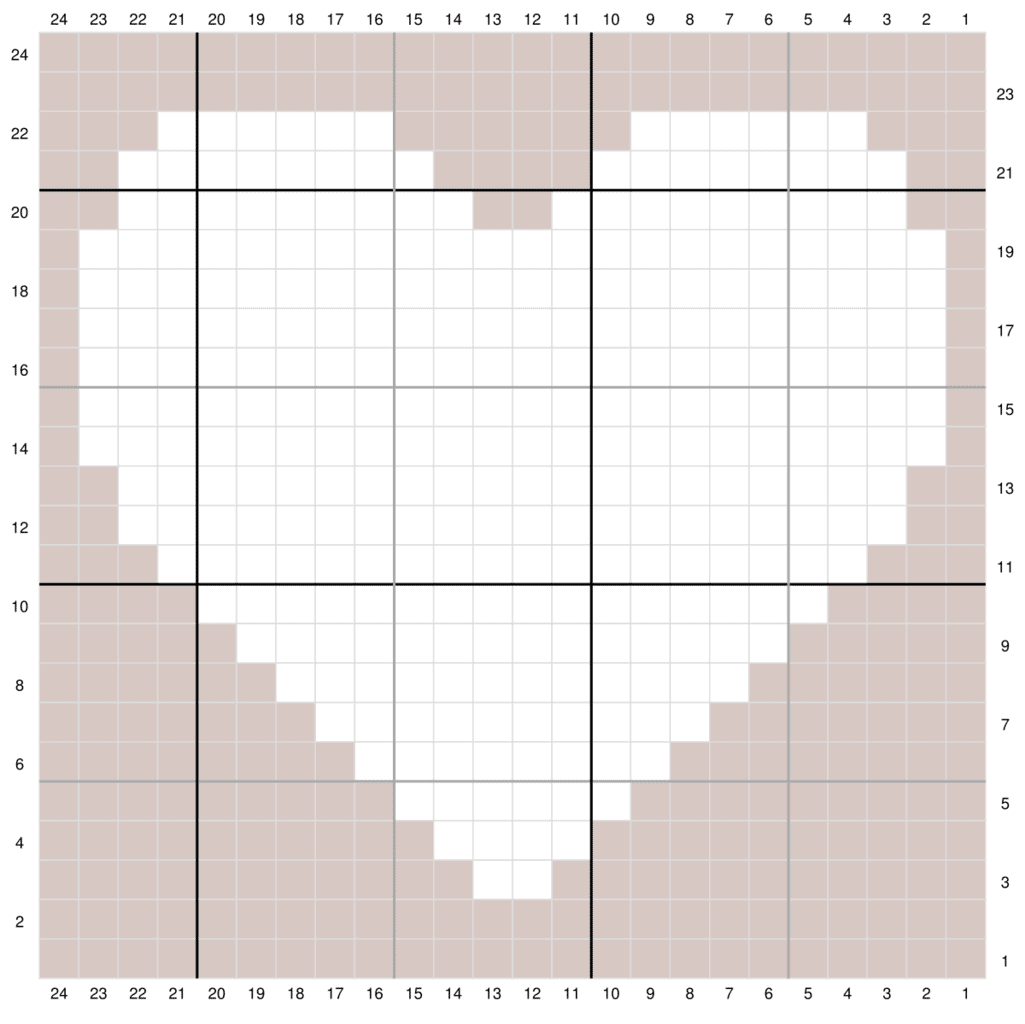 Video Tutorial
Learn how to work with two colors at once when crocheting a dishcloth with our video tutorial. *if you have an ad-blocker on you may not be able to see the video.
Border
Join in Color B (white) into last st worked. Sc evenly down the side for a total of 24 scs, 2 more sc's into the last sc space.
*Sc evenly 24 scs working 2 more sc into the last sc space. Repeat from * around until you reach the first sc of the border round.
You can fasten off here or continue for one more round of a single crochet border, following the same steps as highlighted above.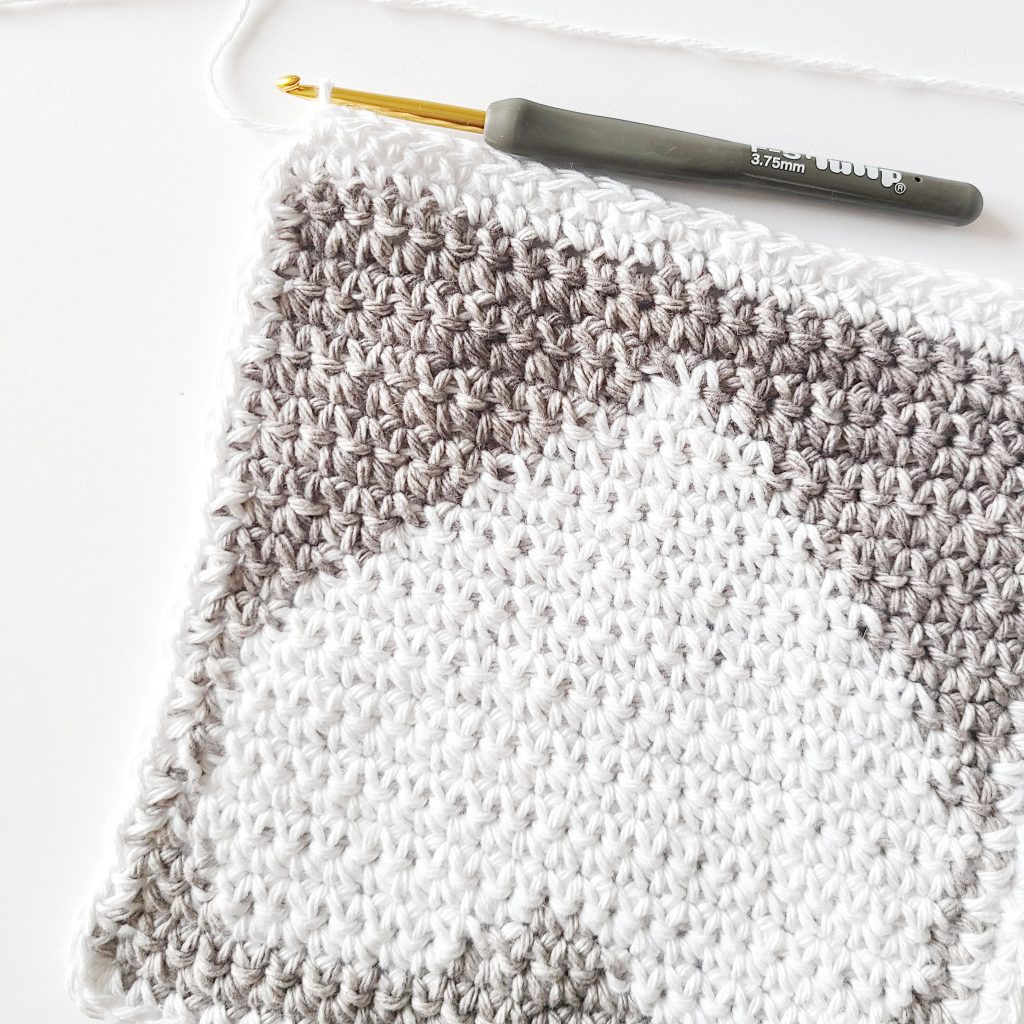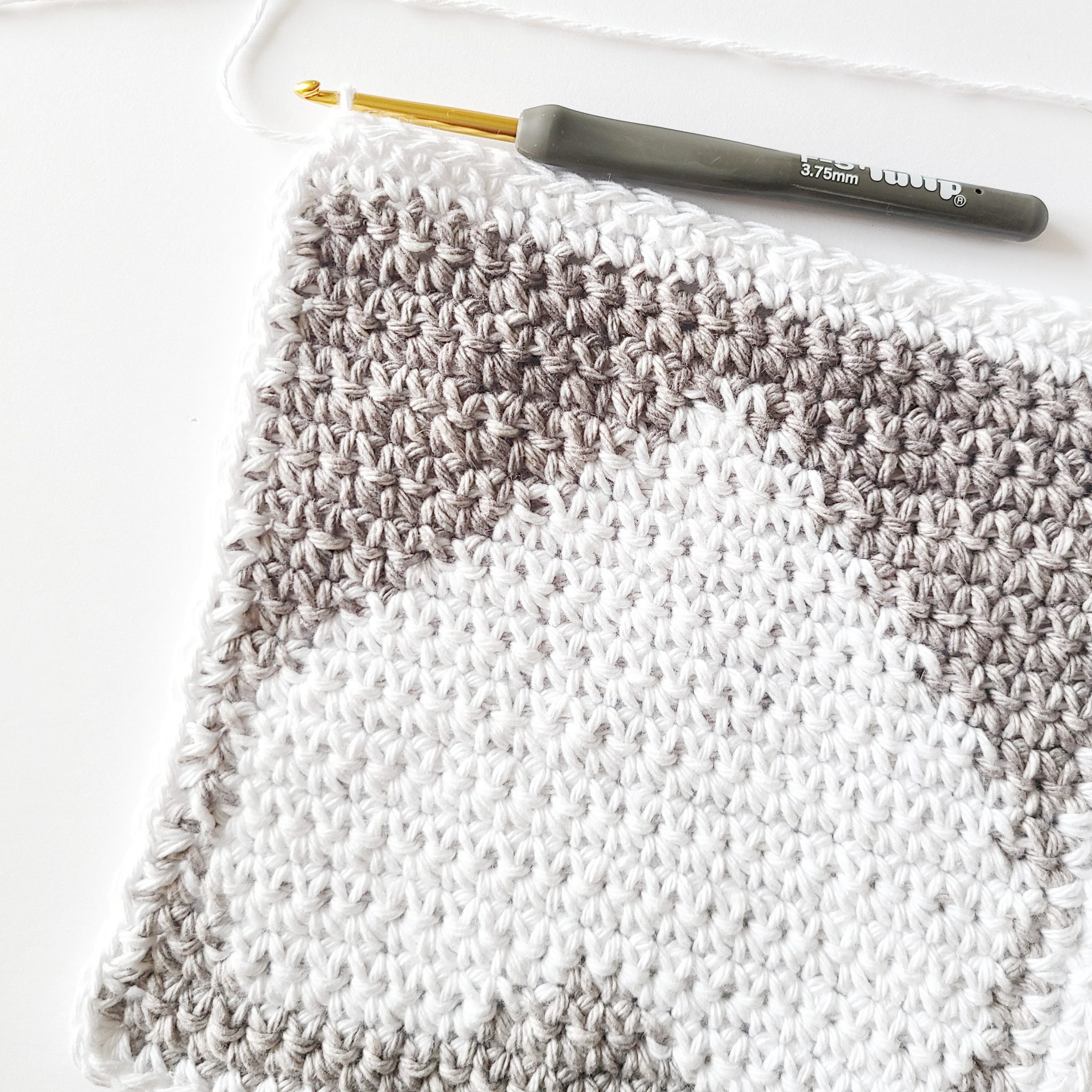 Finishing
Fasten off and weave in loose ends of the dishcloth with a yarn needle.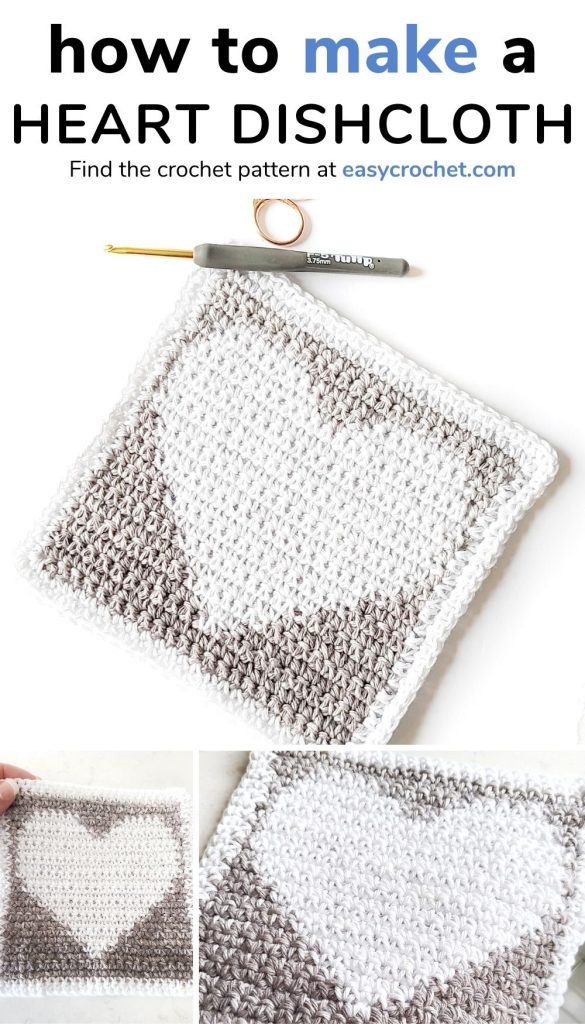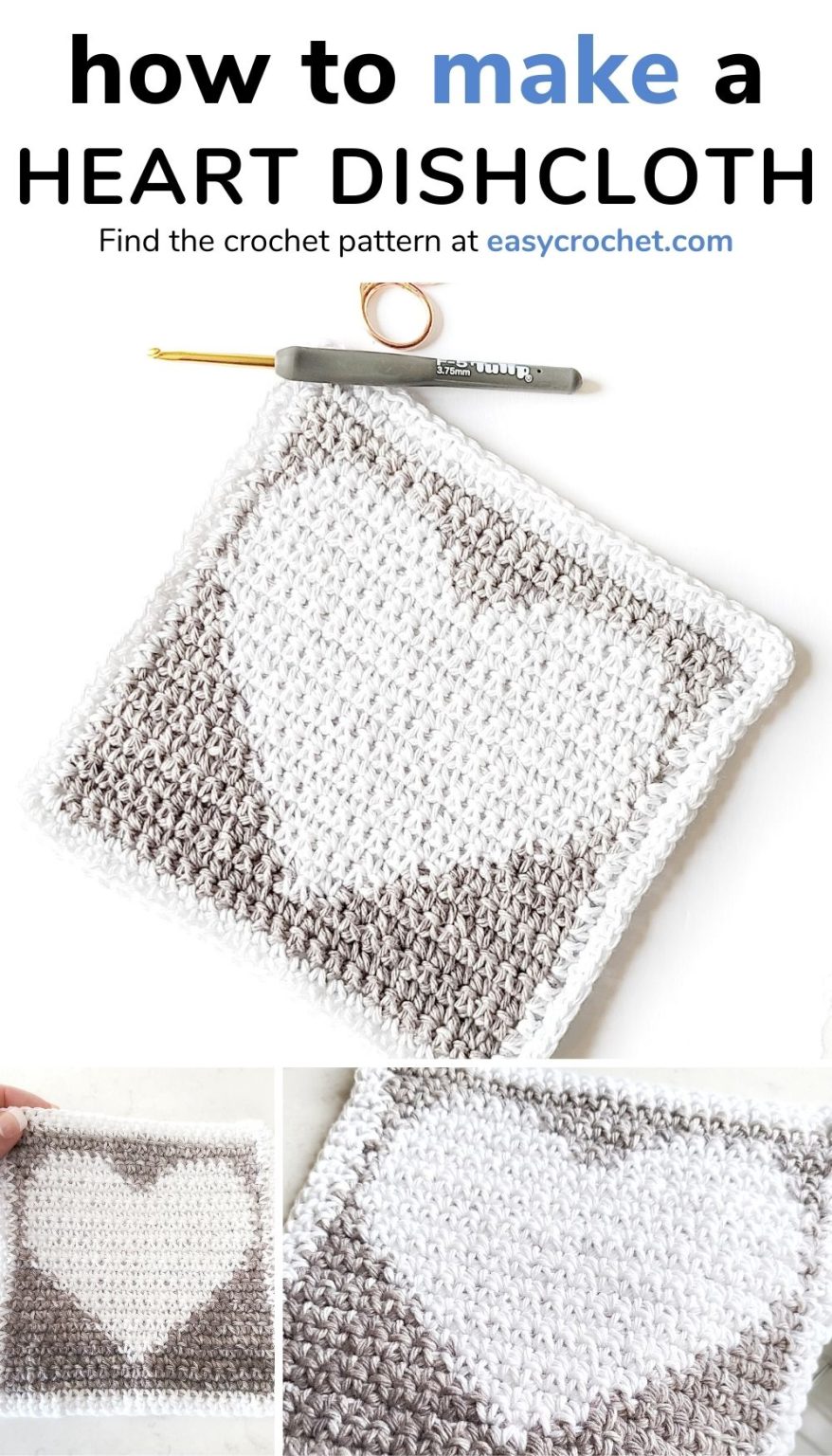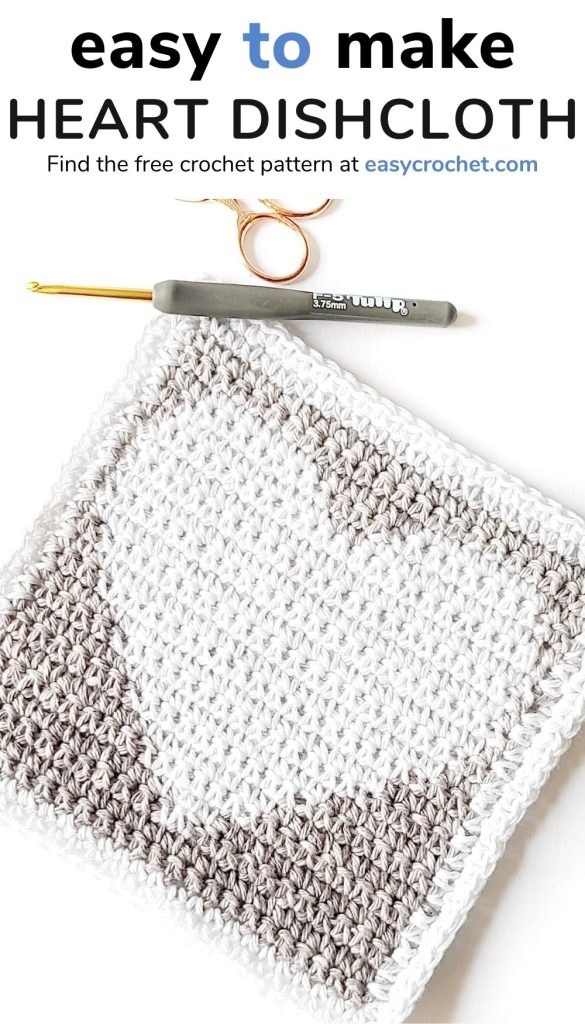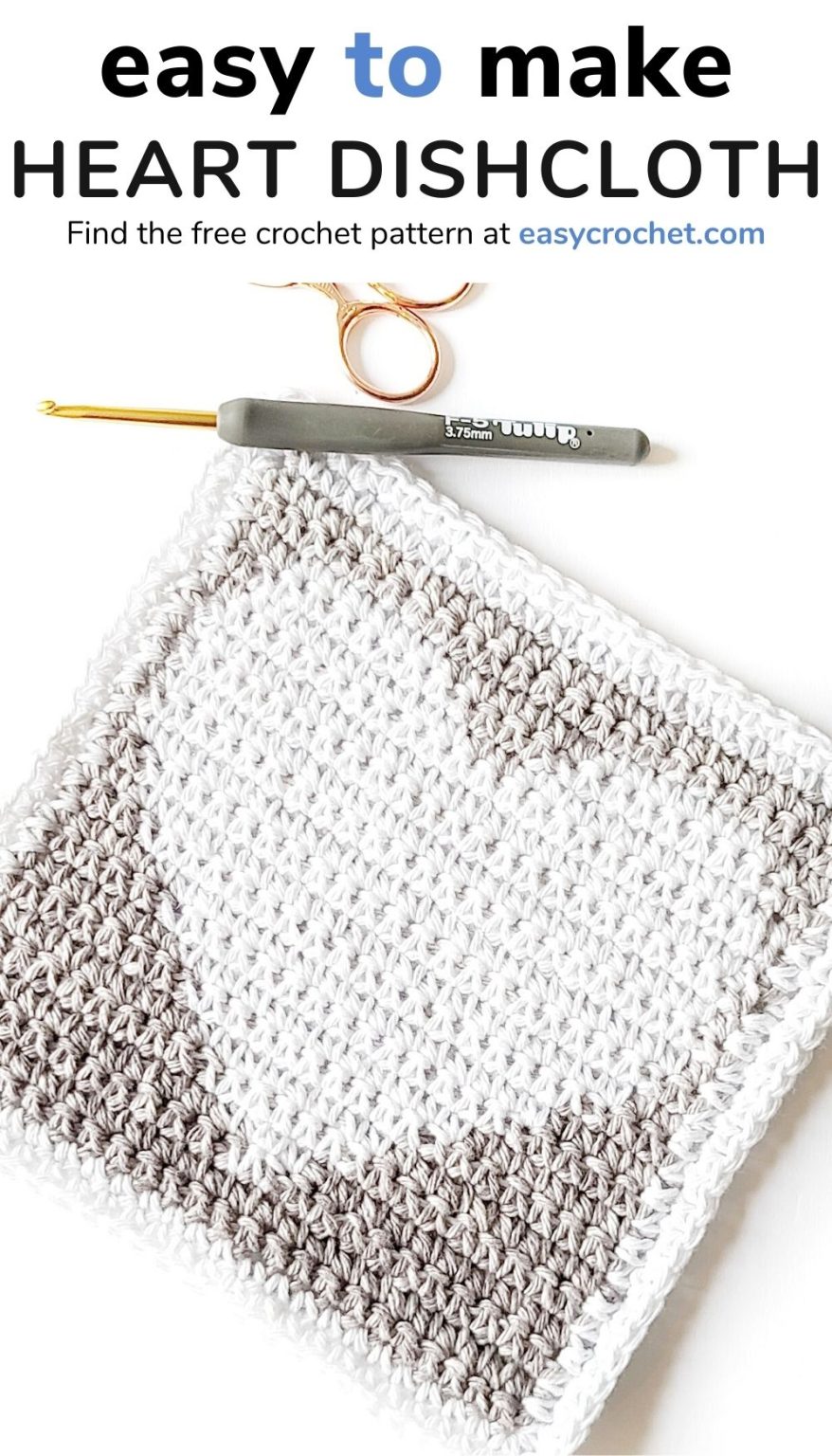 I hope you enjoyed this dishcloth crochet heart pattern and learned a new technique. You can make this as gifts for a wedding shower, a housewarming and even for Valentine's Day to add a crocheted touch to a home.
If you do make one of these, please share it in the Easy Crochet Facebook group, so I can see your creation.
More Free Crochet Patterns for the Home