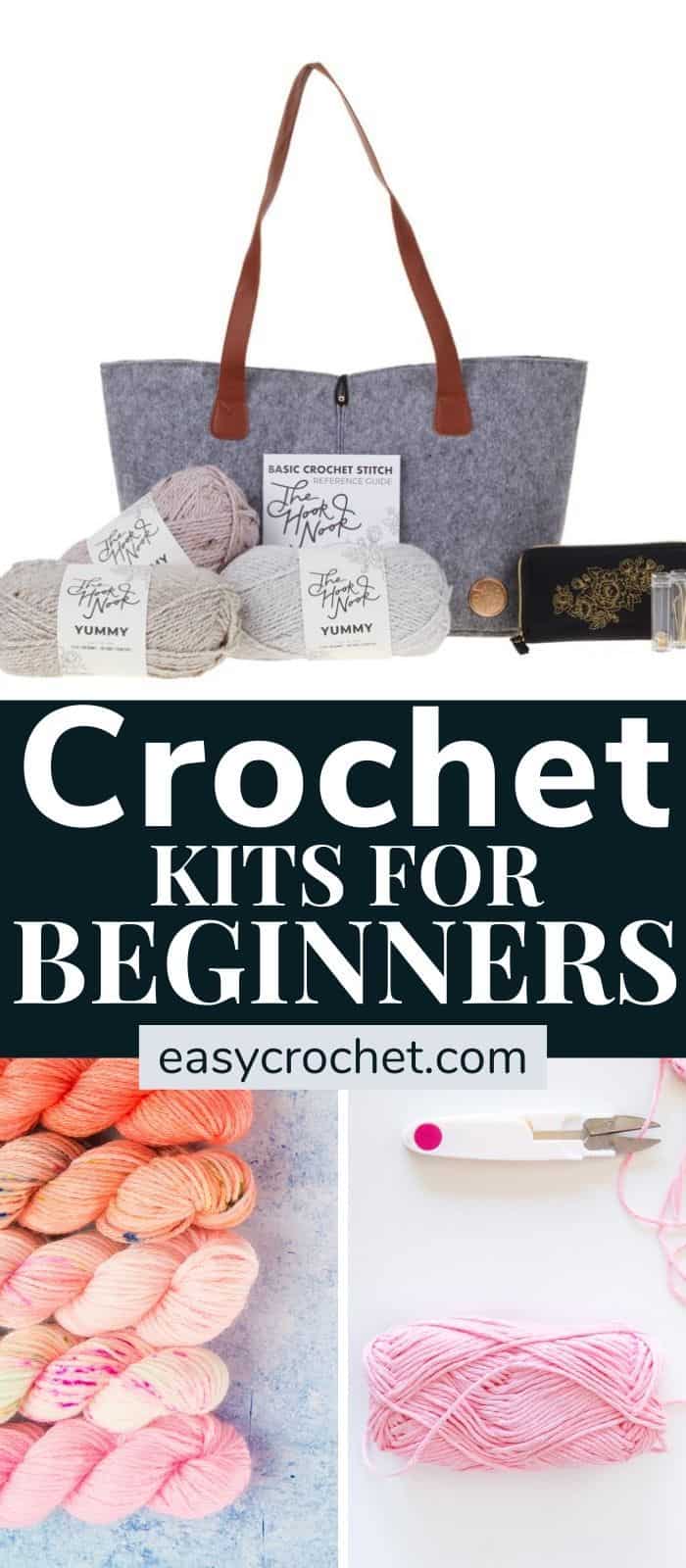 If you are a beginner to crochet and are wondering what you need to start crocheting with, then look no further! This complete list of the best crochet kits for beginners will help you get headed in the right direction of your crocheting journey.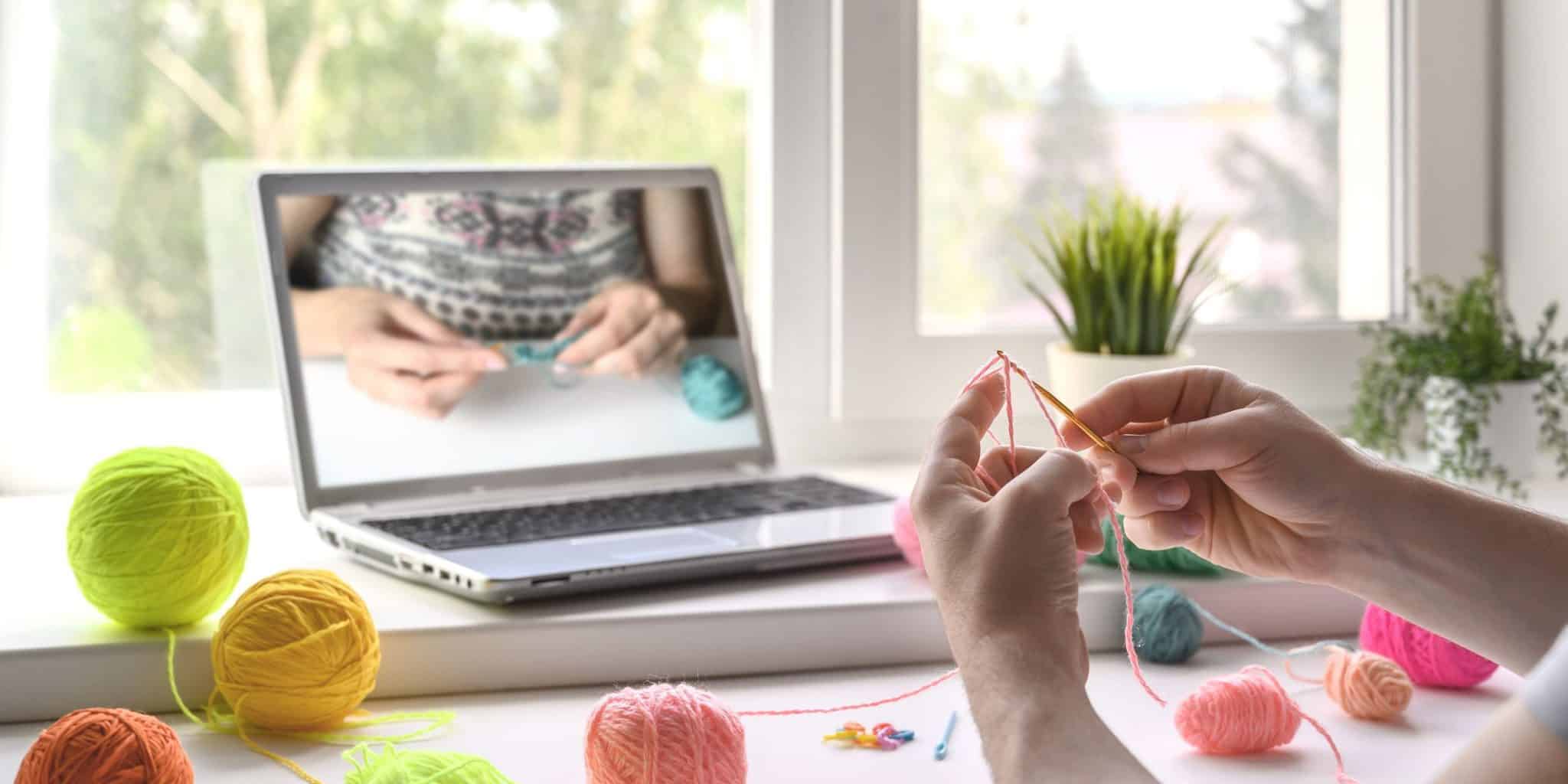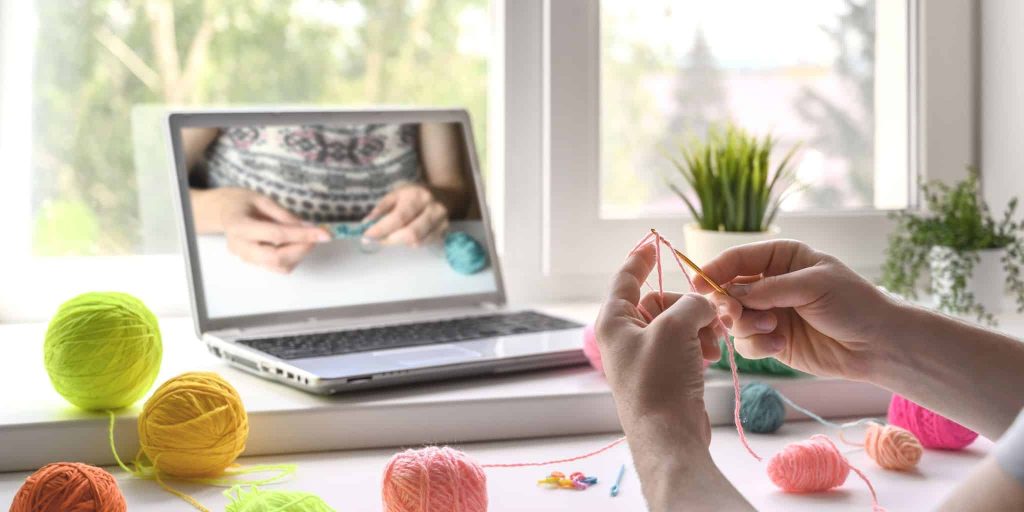 What Is A Crochet Kit?
A beginner crochet kit is a collection of crochet items together in a box or bag that will have everything you need to complete a project with crochet.
Kits will usually include yarn and a pattern to work with. This type of set is convenient and makes it possible for a beginner to start crocheting right away.
Sometimes kits will include other basic crochet supplies. These items are usually ones that you'll need to get started on your journey of how to start crocheting.
Learn more about what to look for in crochet kits below.
What Does a Crochet Kit Include?
Yarn
Crochet Hook(s)
Yarn Needle (aka a Darning Needle or Tapestry Needle)
Stitch Markers
Scissors
Digital Pattern or Printed Pattern
These supplies above may or may not be included in some beginner crochet kits. Some may also a tape measure or accessories like safety eyes or toy stuffing depending on what project you chose. Be sure to read all the information about the kit you will be purchasing, so you know exactly what you'll have on hand to start crocheting. The list above will help you, so you'll know exactly what to search for in a crochet kit and crochet projects.
Make a DIY Crochet Kit
After looking through the list above and learning what goes into a crochet set you could collect items for a kit yourself. You'll want to shop for a crochet hook or crochet hook set, yarn (learn about the different types of yarn) and a pattern. There are loads of free patterns here on Easy Crochet that are perfect for beginner crocheters.
Take a look at some tools and supplies you'll want to have to make your crochet kit below.
Crochet Hook: When shopping for crochet hooks it is best to start with one or two different brands to see which you prefer. There are a good deal of crochet hook sizes so if you already have a pattern in mind be sure to purchase the hook it calls for.
Yarn: Yarn is available in many fibers (wool, cotton) and weights (medium, bulky). Most craft stores and shops online have yarns that are easy to find and are great for beginners such as yarns from the Lion Brand Yarn Company.
Crochet Pattern: Most beginners will more than likely start with a smaller project such as a dishcloth, baby blanket or even a stitch tutorial for a small swatch. Once you find the pattern you would like to crochet read through it to find out what other materials or supplies you'll need.
Popular Crochet Kits
Below, I'll explain a bit about my favorite crochet kit and starter kits you may want to get as an absolute beginner. If you can think of any more easy beginner kits I may have missed, please let me know in the comments.
The Best Crochet Starter Kits for Beginner Crocheters
---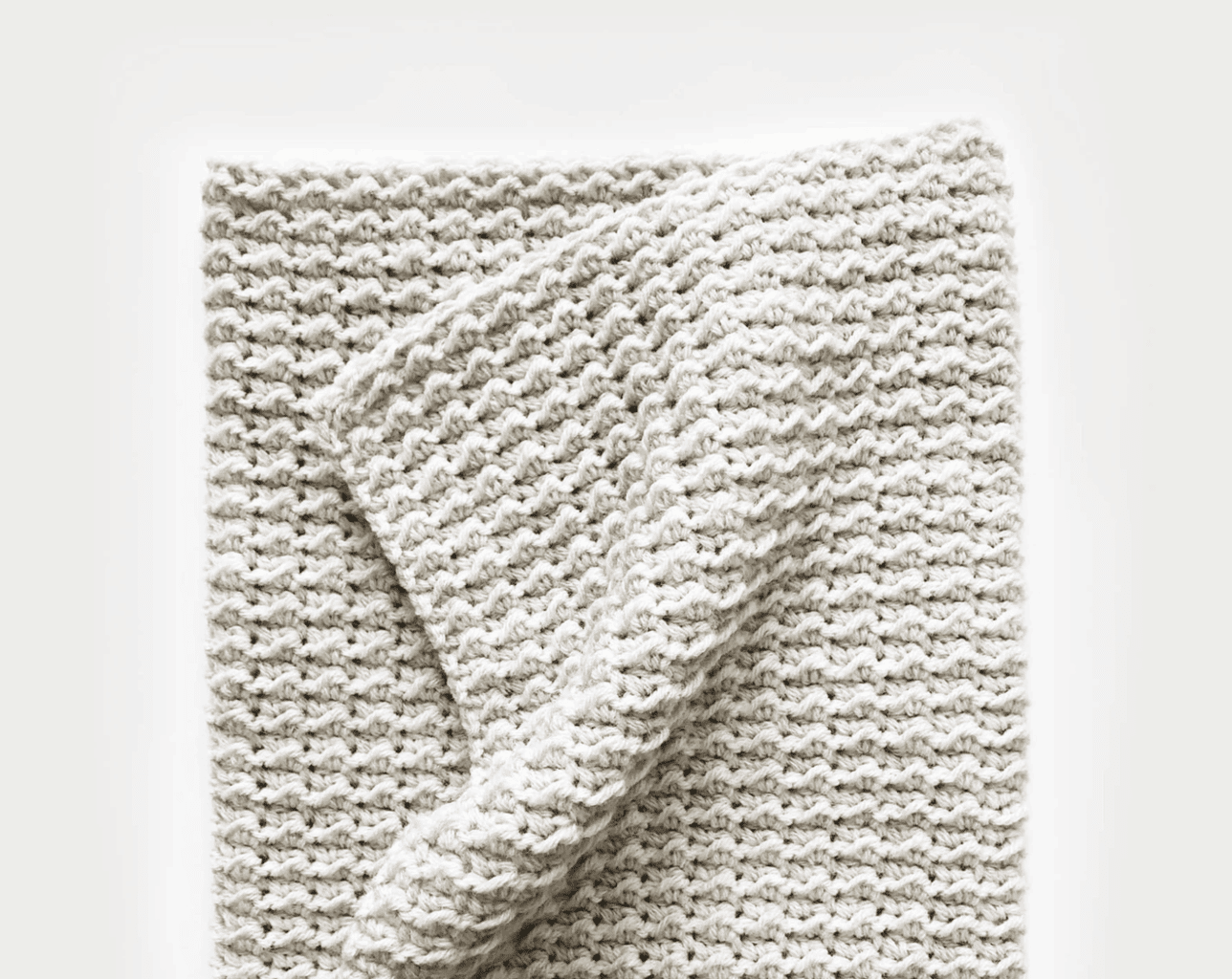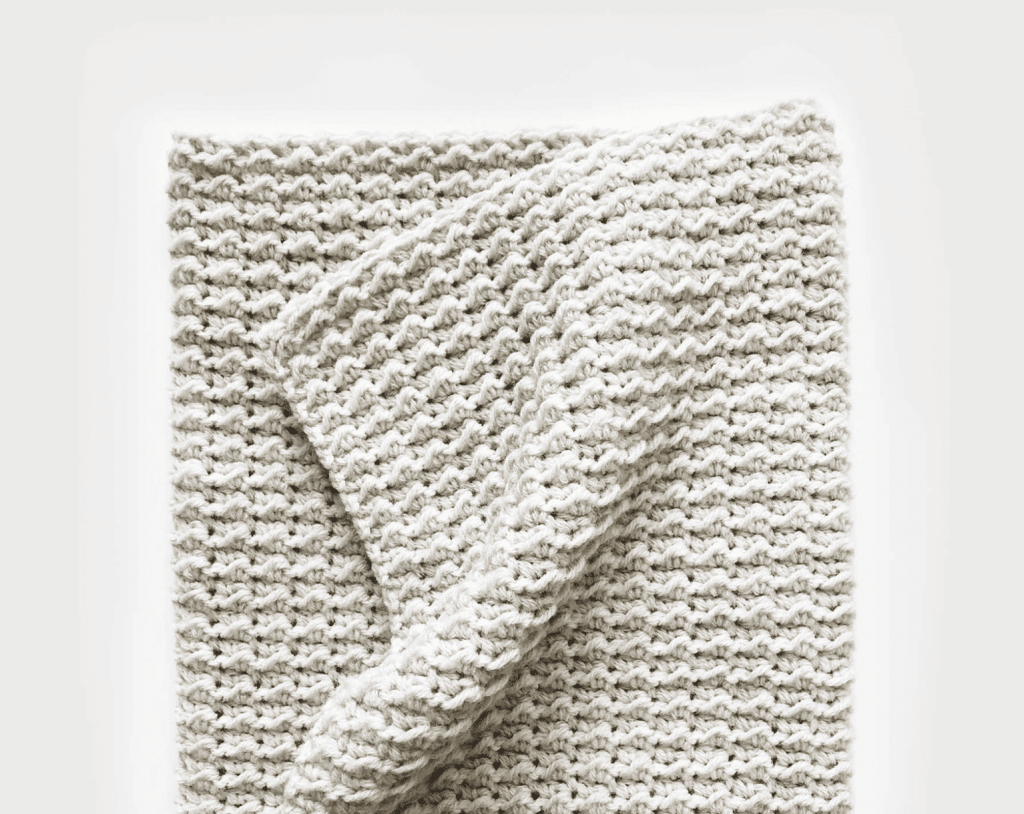 1. Glise Throw Blanket
You'll love this modern beginner blanket kit designed by Debrosse. It is a simple stitch crochet blanket kit that is available from Lion Brand and is a great kit to try if you love easy crochet designs.
Learn more about this beginner stitch blanket kit below. This kit includes everything you'll need such as the digital pattern and yarn to get started with options to add a hook, yarn needle and more.
---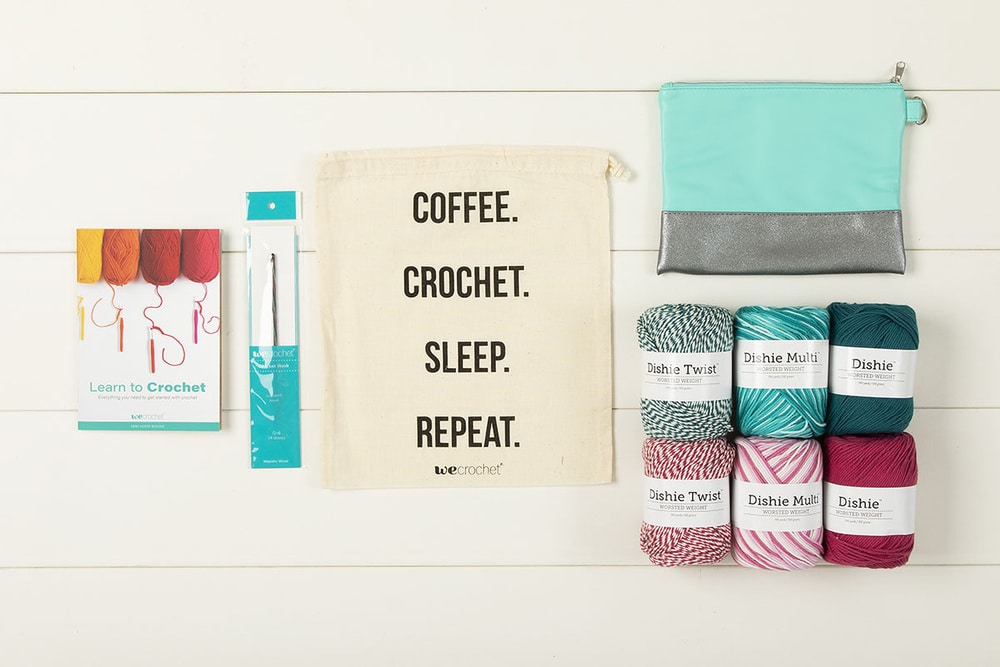 2. Dishcloth Crochet Kit
A beginner crochet dishcloth kit is perfect for any new crocheter! Kit includes:
Mini Hook Book: Learn to Crochet (printed version)
2 balls of Dishie (1 each of Begonia & Kenai)
2 balls of Dishie Twist (1 each of Begonia Twist & Kenai Twist)
2 balls of Dishie Multi (1 each of Dreamhouse & Aquarium)
Majestic Regular Crochet Hook G-6 (4.0mm)
WeCrochet Zippered Pouch – Aqua & Sparkle Silver
WeCrochet Coffee. Crochet. Sleep. Repeat.- Project Bag
This learn to crochet kit truly has everything you'll need to start crocheting a kitchen dishcloth and will guide you from start to finish.
---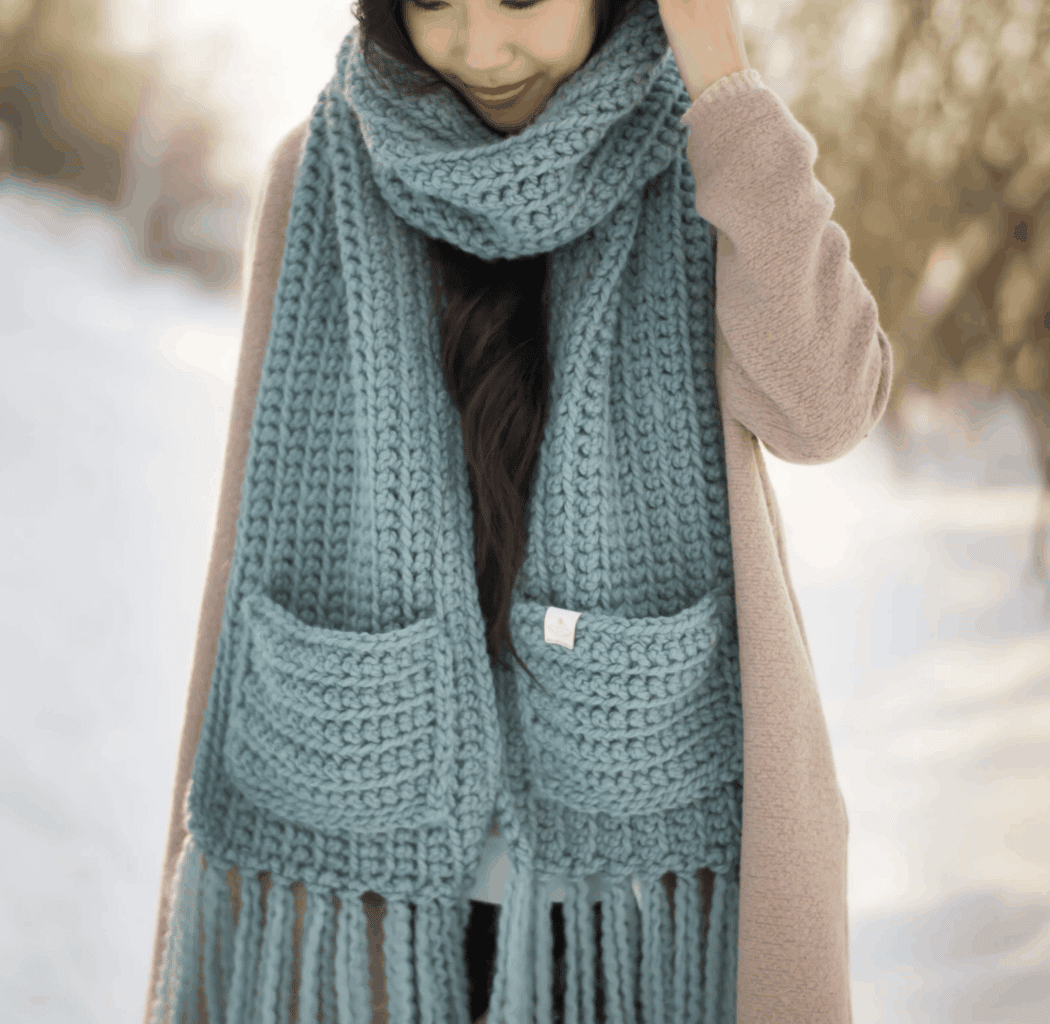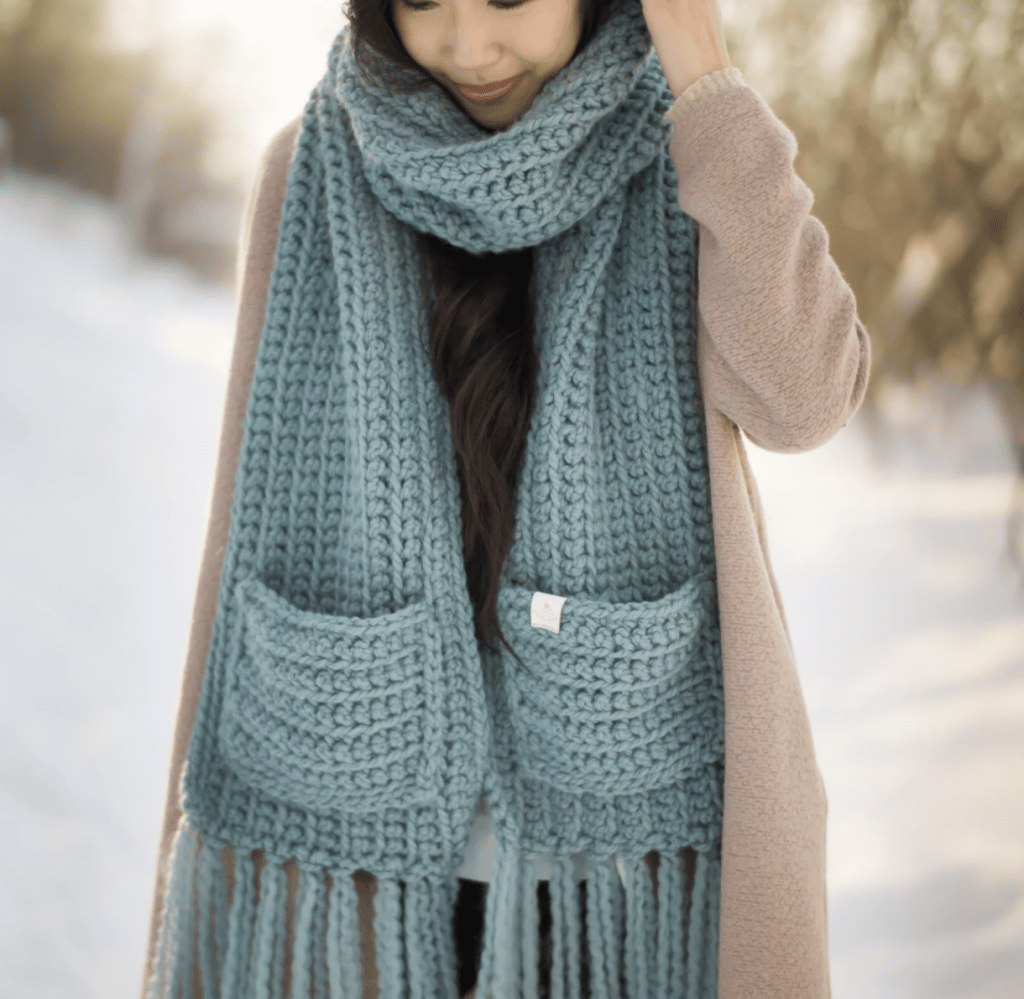 3. Crochet Scarf Kit for Beginners
A simple back and forth row design like a scarf is a great starter crochet kit for a beginner to begin their crocheting journey with.
This kit designed by All about Ami includes all the yarn and a free pattern that is easy for beginners to start with. Take a peek at this simple scarf project kit at Lionbrand.com below.
---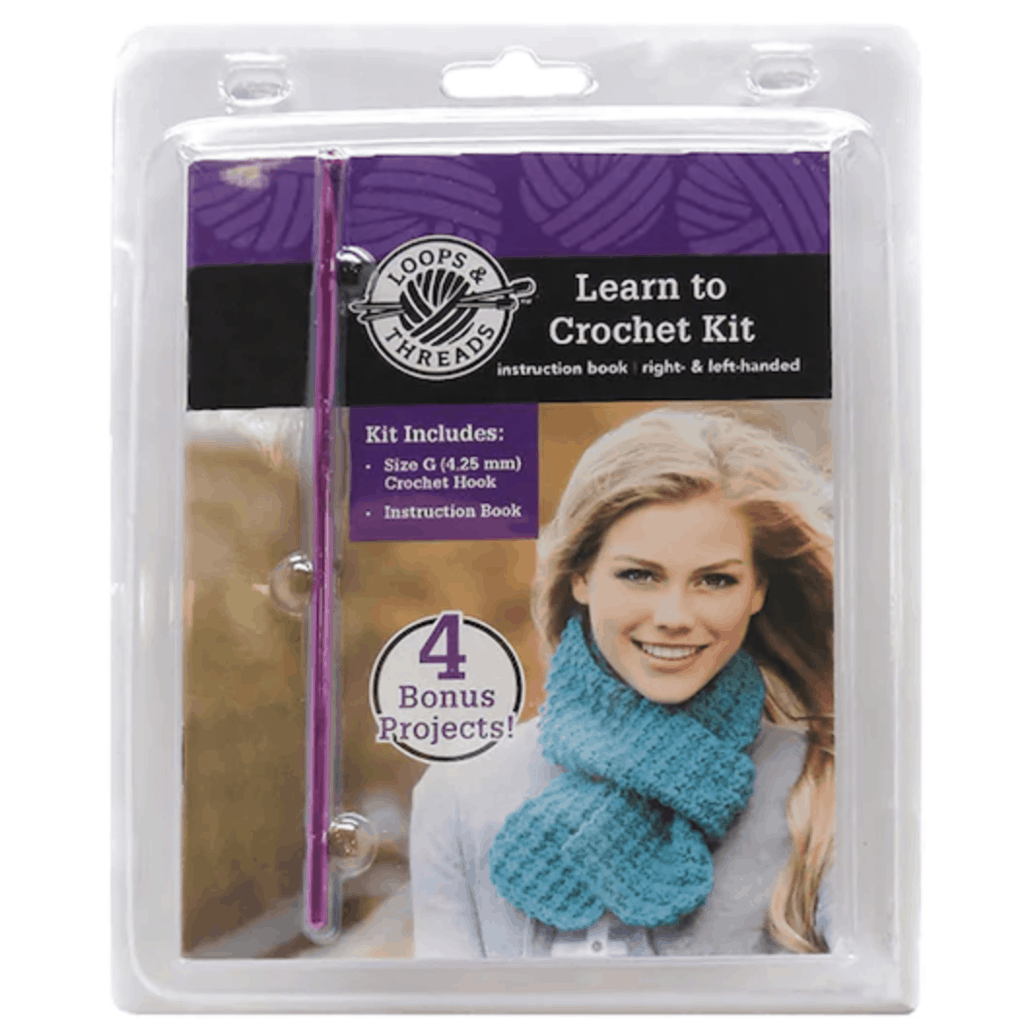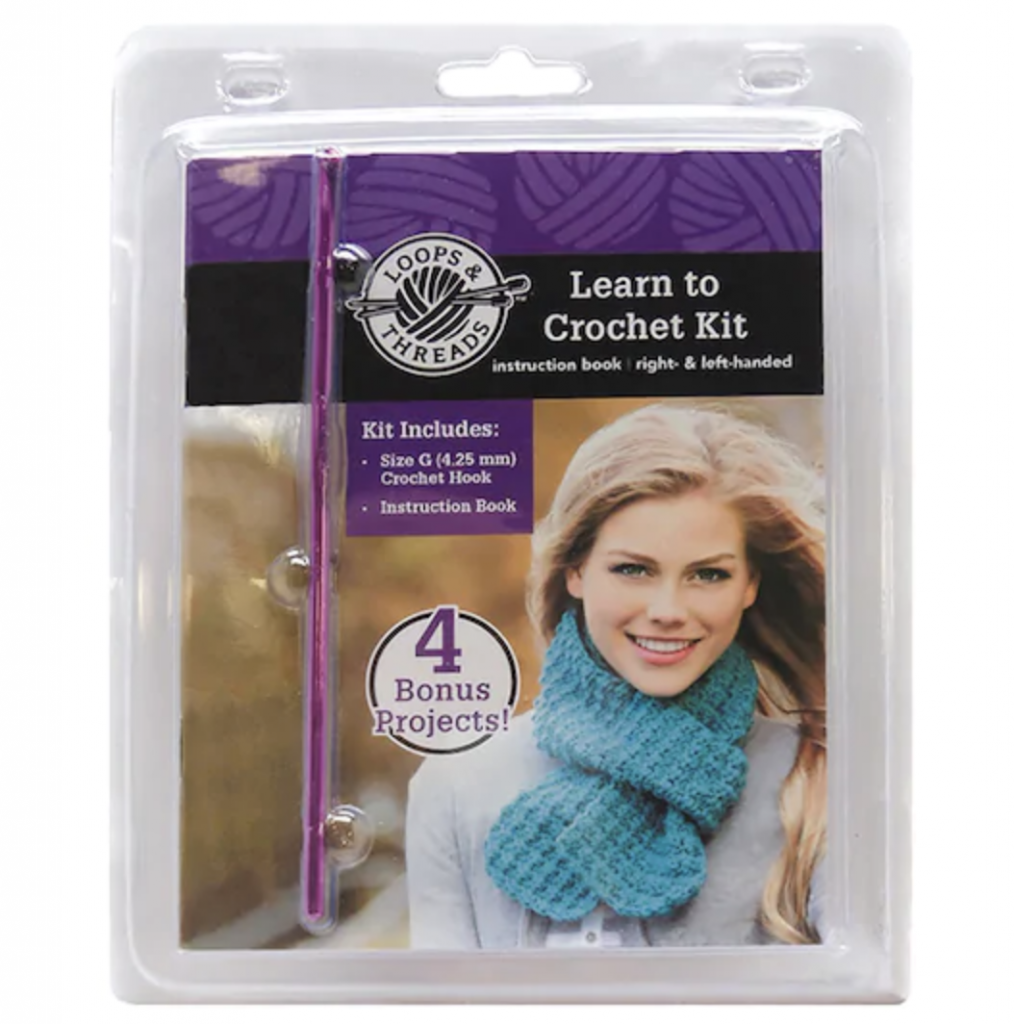 4. Learn to Crochet Kits from Michaels
If you shop at Michael's craft store, then you may have seen this kit or one's like it before from Loops & Threads & other companies. You'll love how this learn to crochet kit comes all packaged together.
This crochet kit from Michaels includes
Size G (4.25 mm) crochet hook
Instruction booklet for right- and left-handed users
4 patterns for a headband, hand mitts, cowl and scarf
This is one of many crochet kits for beginners at Michaels so be sure to explore what they have to offer.
---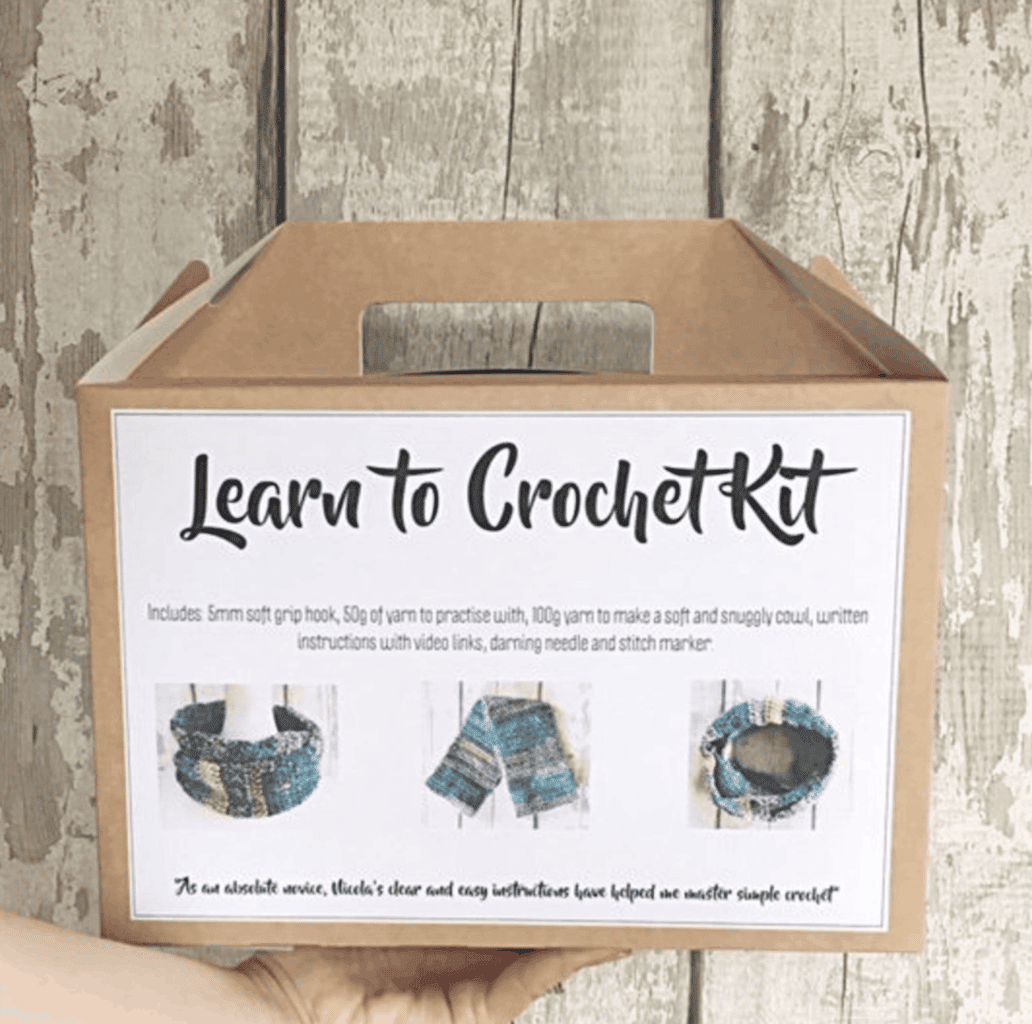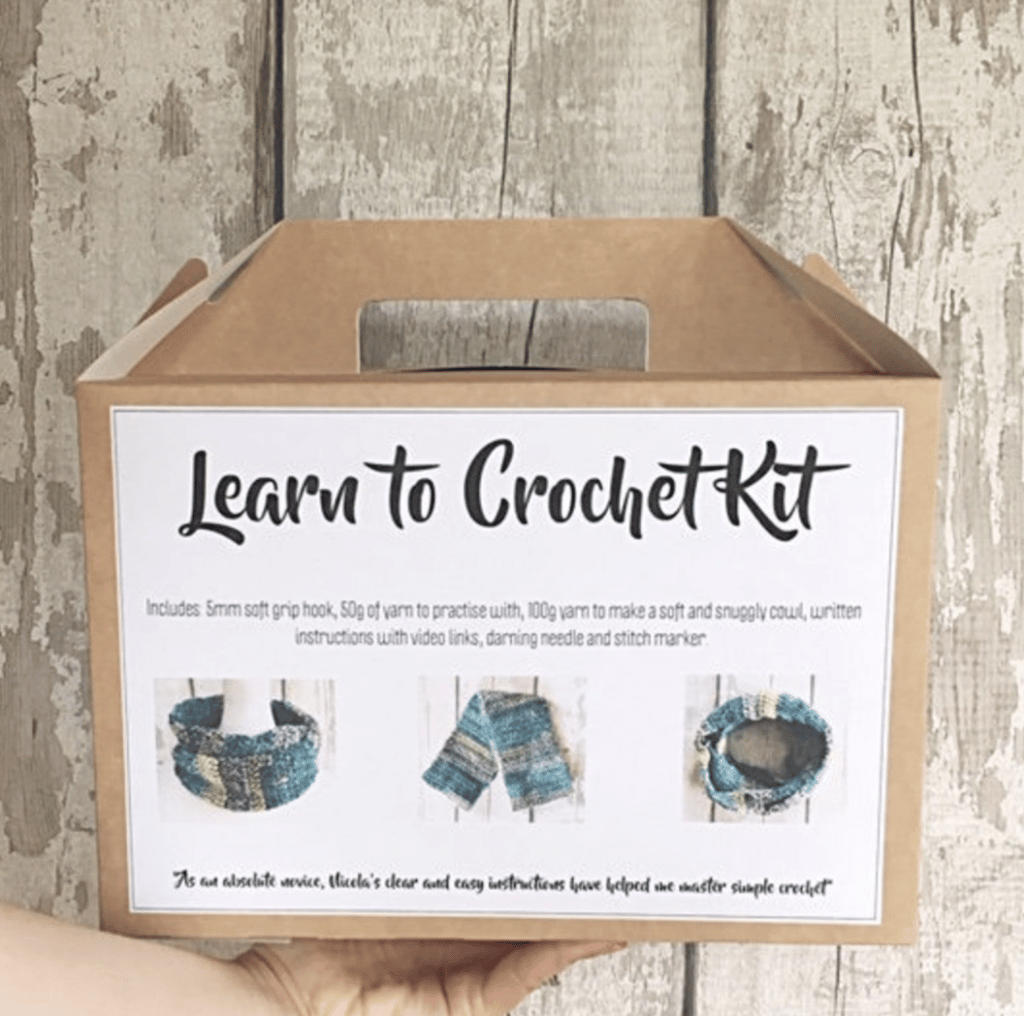 5. Crochet Cowl Kit
This learn to crochet set for beginners comes packaged in a box with everything you'll need to make a cowl including
5 mm soft grip crochet hook
50g of chunky yarn (100% acrylic)
100g of soft and chunky yarn (70% acrylic, 30% wool)
yarn needle
video tutorial links
Instruction booklet in UK terminology (which can be converted to US terms thanks to Google)
---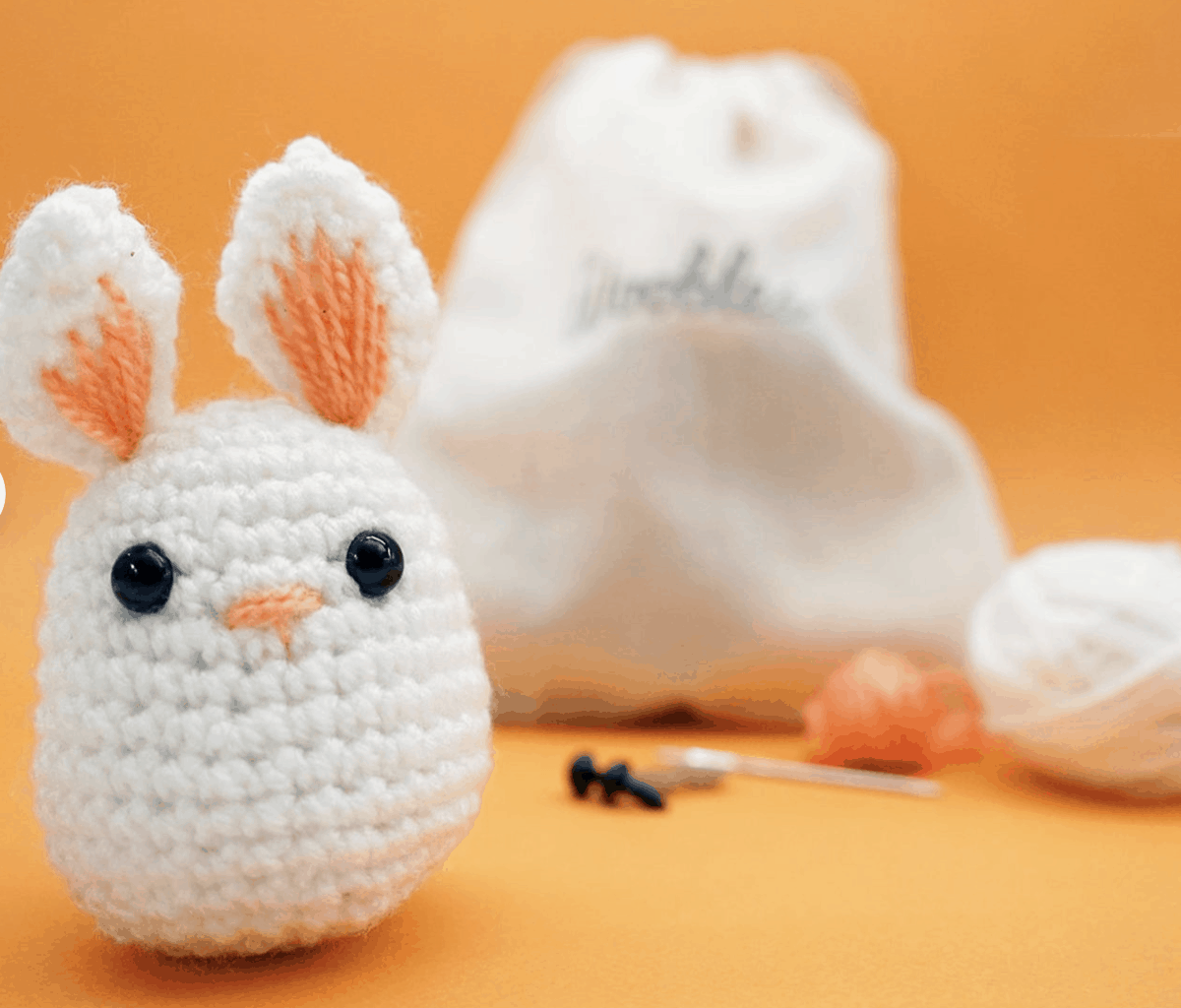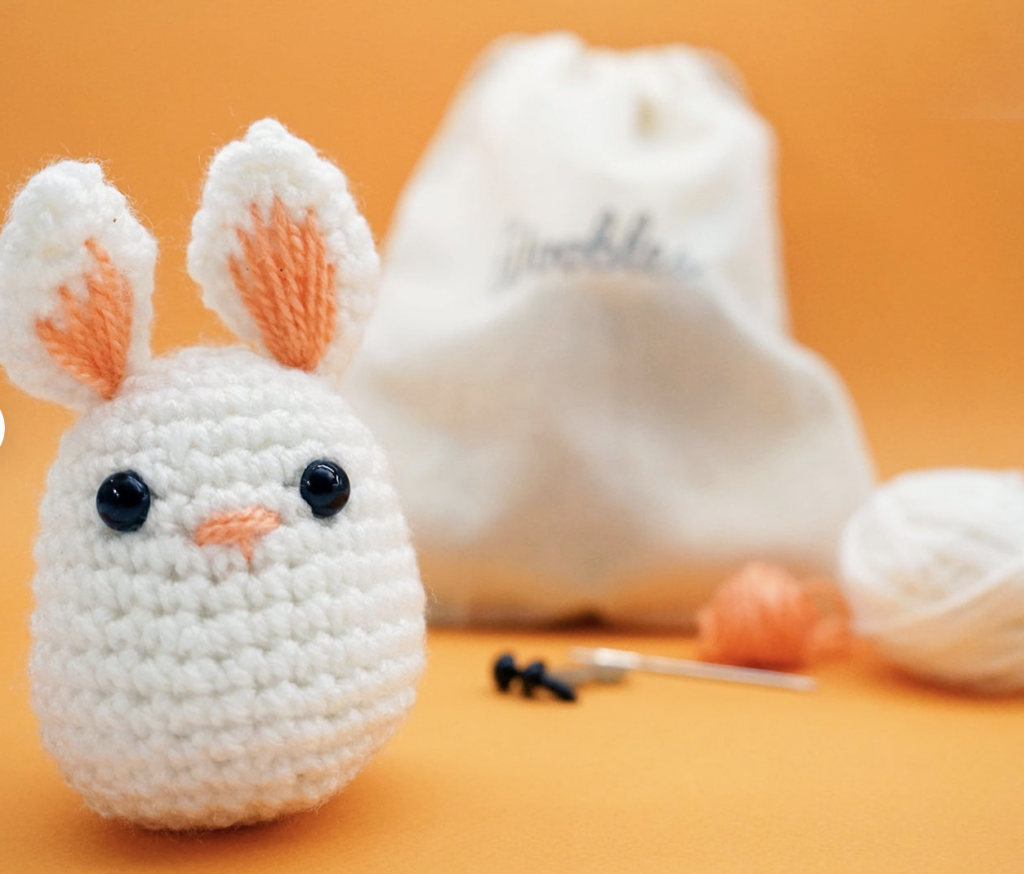 6. Little Bunny Amigurumi Kit
While amigurumi can appear difficult to a beginner crocheter it truly isn't with this set.
This bunny crochet animal kit uses simple stitches like the single crochets, full video tutorial help and is small enough for a new crocheter to make.
Includes:
Step-by-step video tutorials for righties AND lefties
Pattern as a PDF printable
Yarn, Plastic eyes & Stuffing
Tapestry needle & Stitch marker
Drawstring bag & 4 mm ergonomic crochet hook (for an additional charge)
---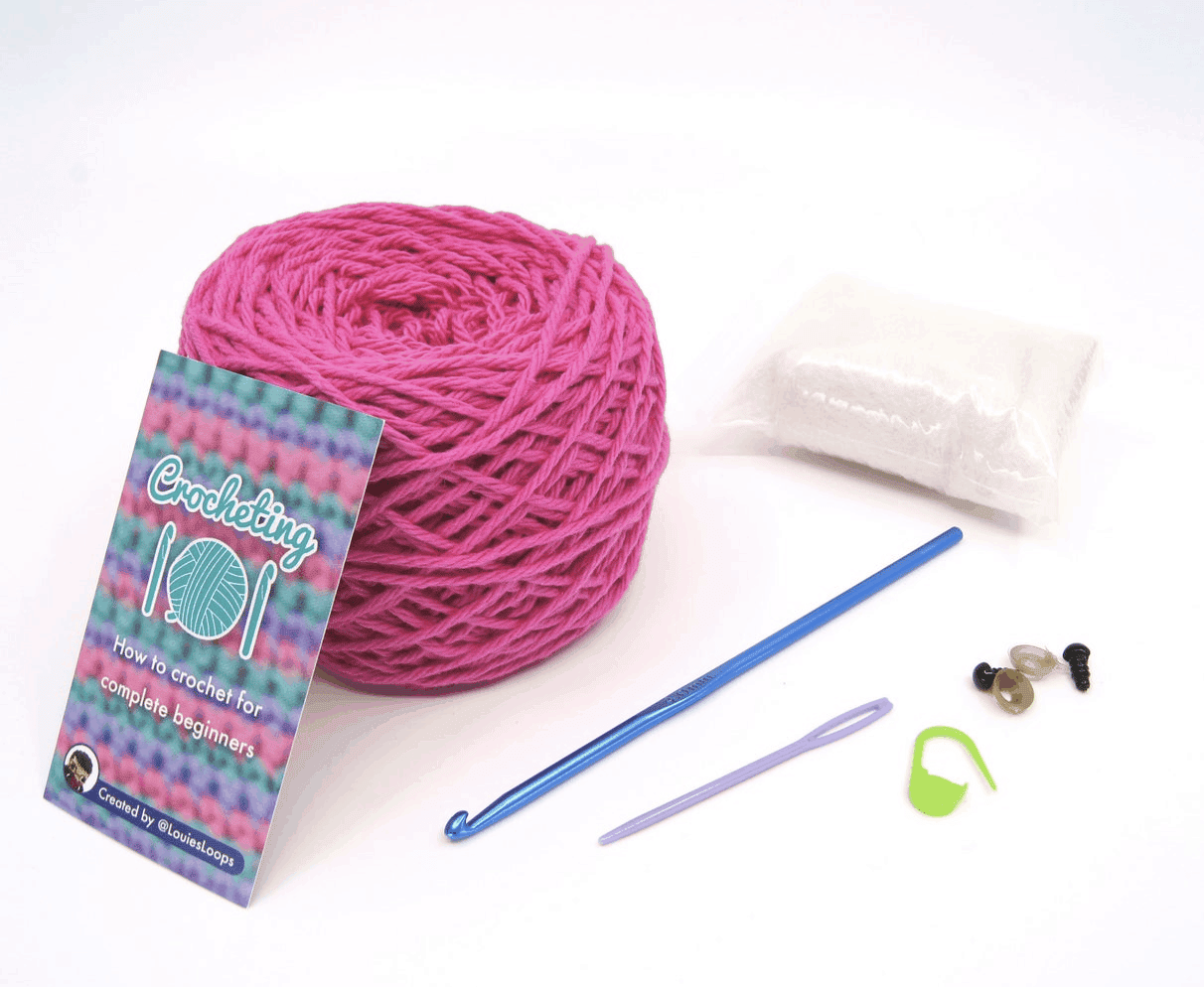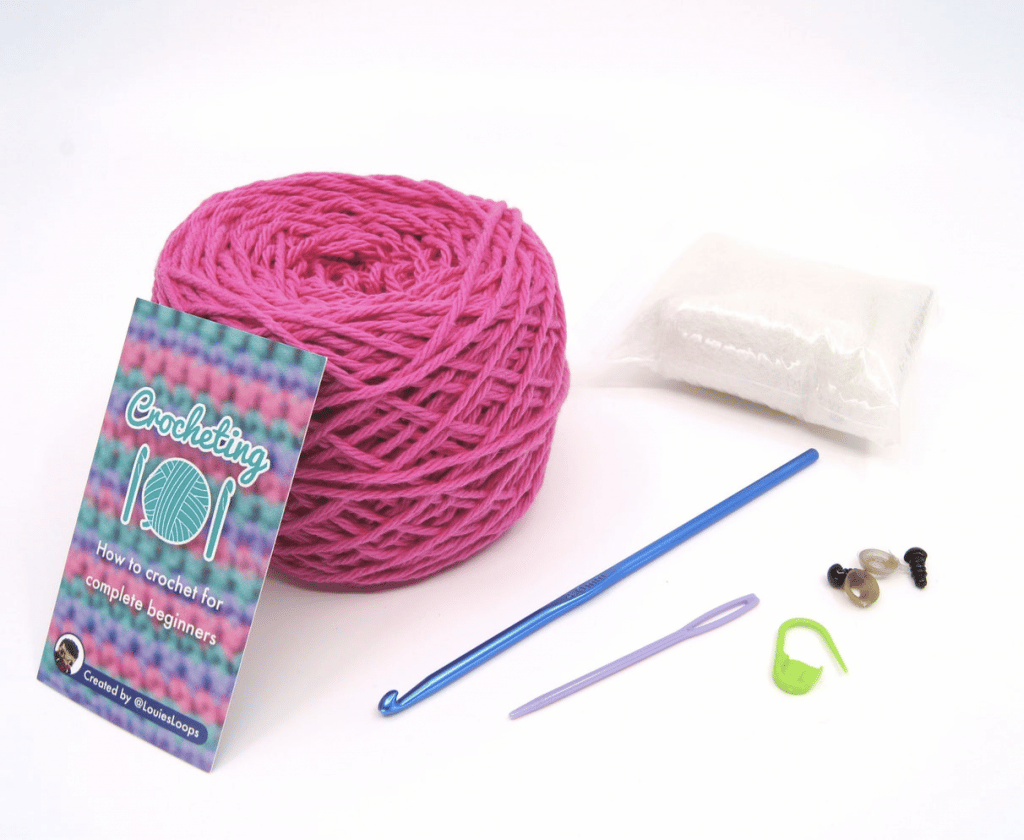 7. Crochet 101 Kit for Beginners
This easy first kit for crocheters is the perfect set for complete beginners. You can make six different beginner projects with this kit.
The kit includes:
Worsted Weight Cotton
Aluminum Size G6/4.00 mm Crochet Hook
Stuffing
Darning Needles (1)
Stitch Markers (1)
Sticker
Crocheting 101: How to Crochet for Complete Beginners (Digital Copy)
---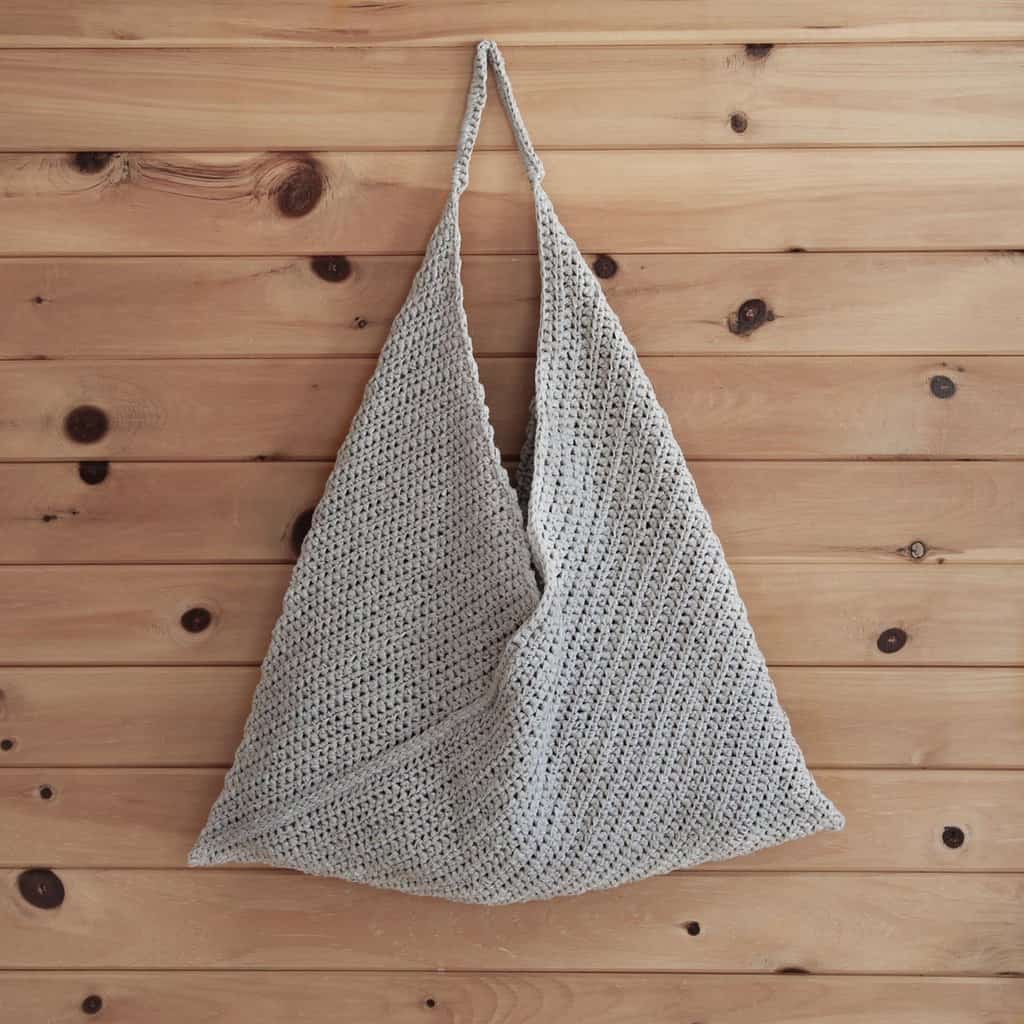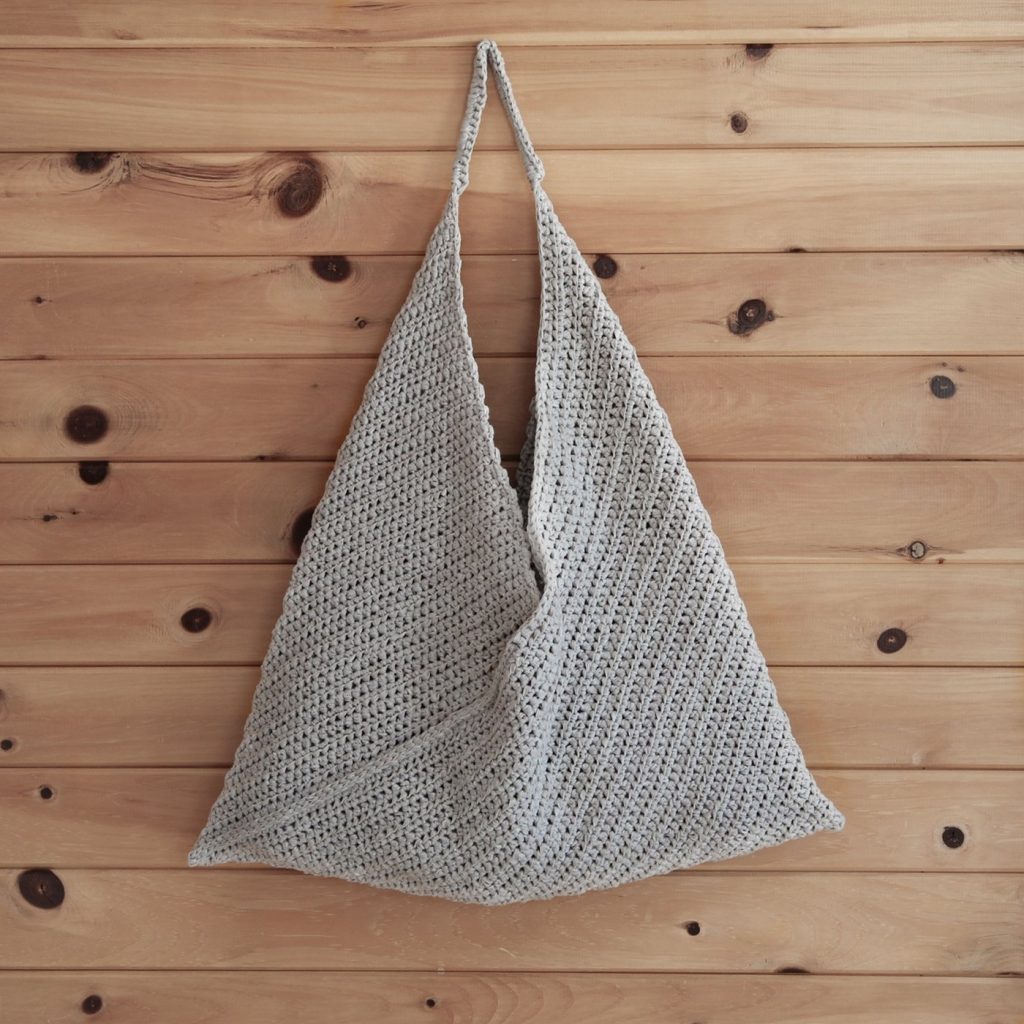 8. Crochet Bag Kit
The Miller bag is a great tote bag for the beach, market and more.
This easy to make bag kit is a beginner-friendly design and great for those who are new to crochet as a quick and simple project.
Includes:
---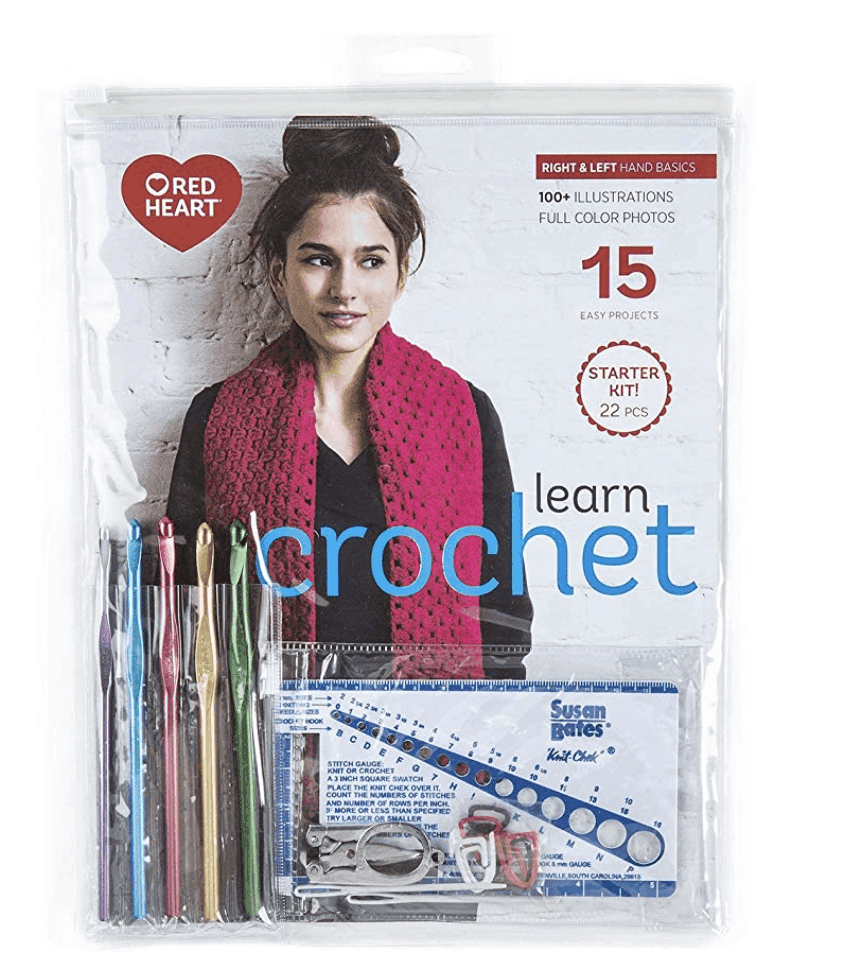 9. Crochet Starter Set from Red Heart
This crochet starter set has all the essentials you need to get you started crocheting. While this particular set doesn't include yarn it has multiple hooks and other useful tools.
Includes:
It contains five Susan Bates crochet hooks (us sizes G, H, I, J & K) one afghan hook, two yarn needles and a knit check
An instruction book with simple instructions and clear diagrams make learning easy
The book contains more than thirty projects to make and includes left-hand instructions
---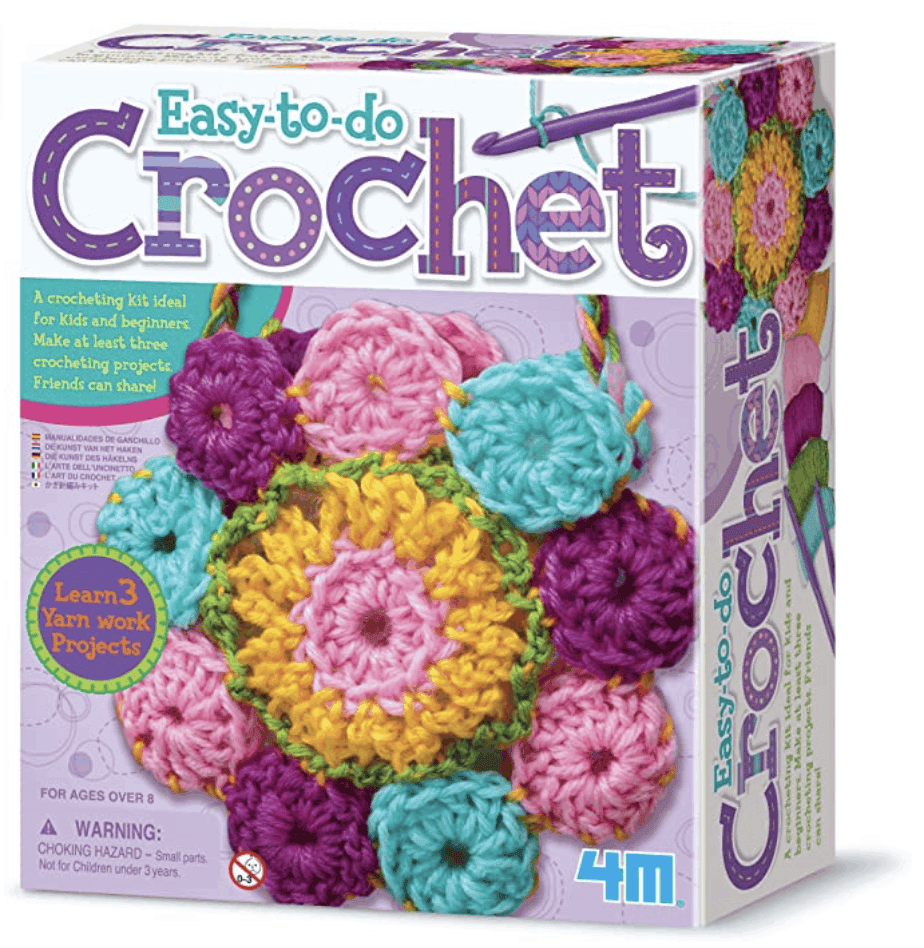 10. Crochet Beginner Kit for Kids
This easy crochet kit for children makes crochet easy to do and teaches the fundamentals of crochet to young learners. Adults would benefit from a kit like this one too!
Includes:
The kit includes two (2) crochet hooks, one (1) plastic needle and seven (7) colors of yarn.
This kit contains enough materials to create three of the following items: coaster, purse, place mat or belt.
Includes a 14-page instruction book.
Recommended for ages 8 years and up
---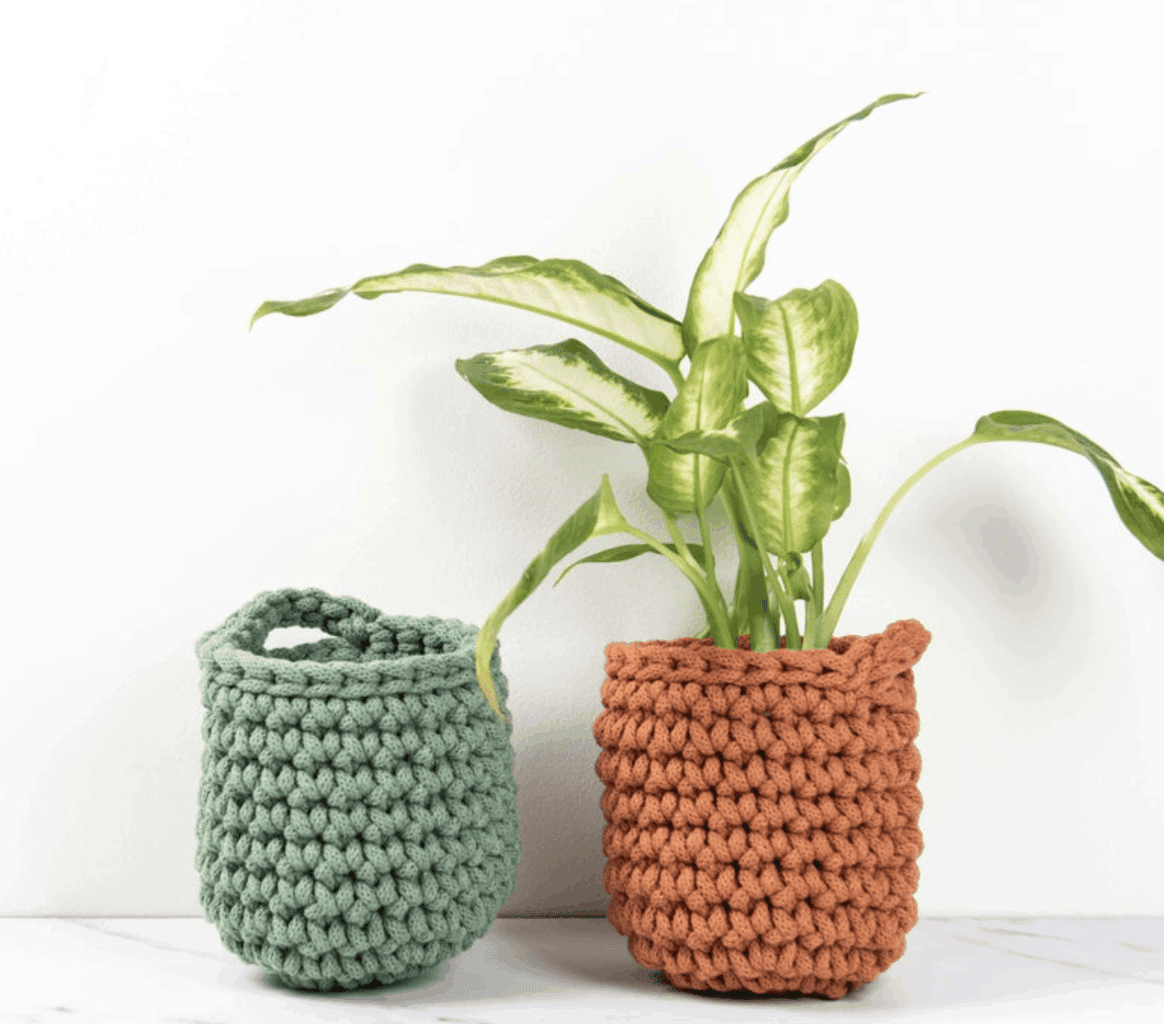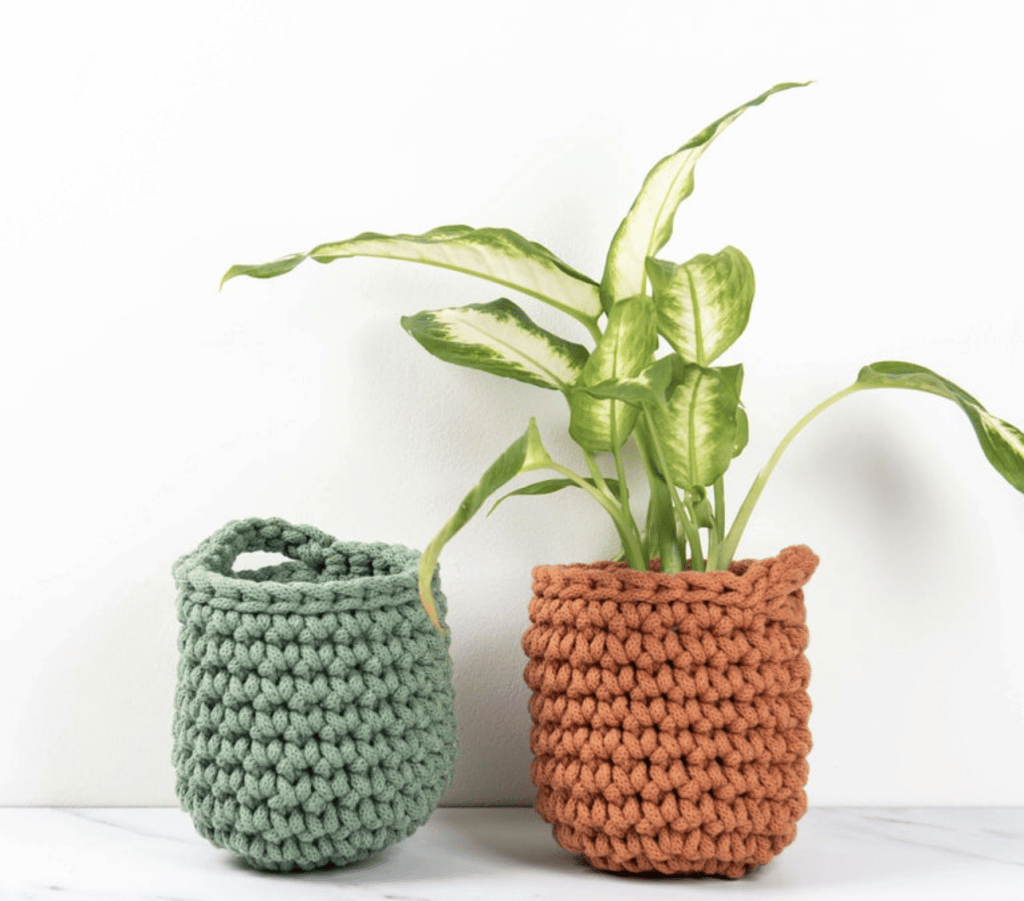 11. Crochet Basket Kit
Use this kit to crochet a basket for your plants or even use them as a catch-all container. The kit can be customized to the colors you want to make your baskets in, so they are unique to you.
Includes:
1 Bamboo Crochet Hook
2 Balls of Bobbiny 100% Recycled Cotton Cord
1 Crochet Pattern
1 How to crochet guide
1 Stitch Marker
---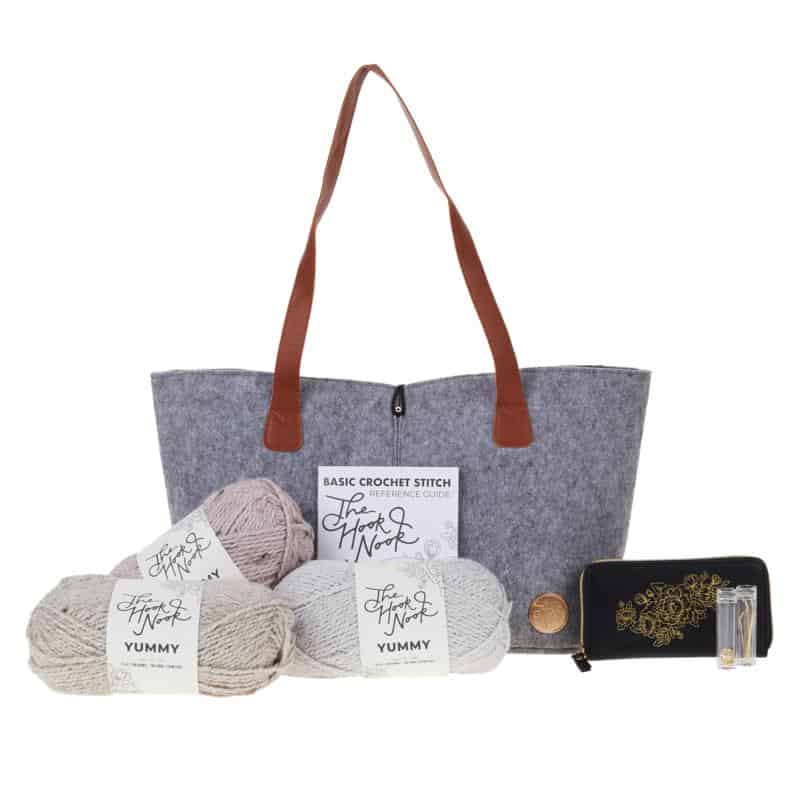 12. The Hook Nook Ultimate Crochet Starter Kit
Get started on your crochet journey will the ultimate beginner starter set! This kit includes all the basics you'll need to start crocheting.
Includes:
6-piece set of darning needles
19-piece set of stitch markers
9-piece set of crochet hooks in carrying case
3 Skeins of Yarn (100 grams 185 yards); 1 each: Dusty Rose, Latte Art and Silver Lining
Instruction booklet
Hook Nook felt storage bag with elastic closure and inside pocket; approx. 16″L x 6″W x 10″H
---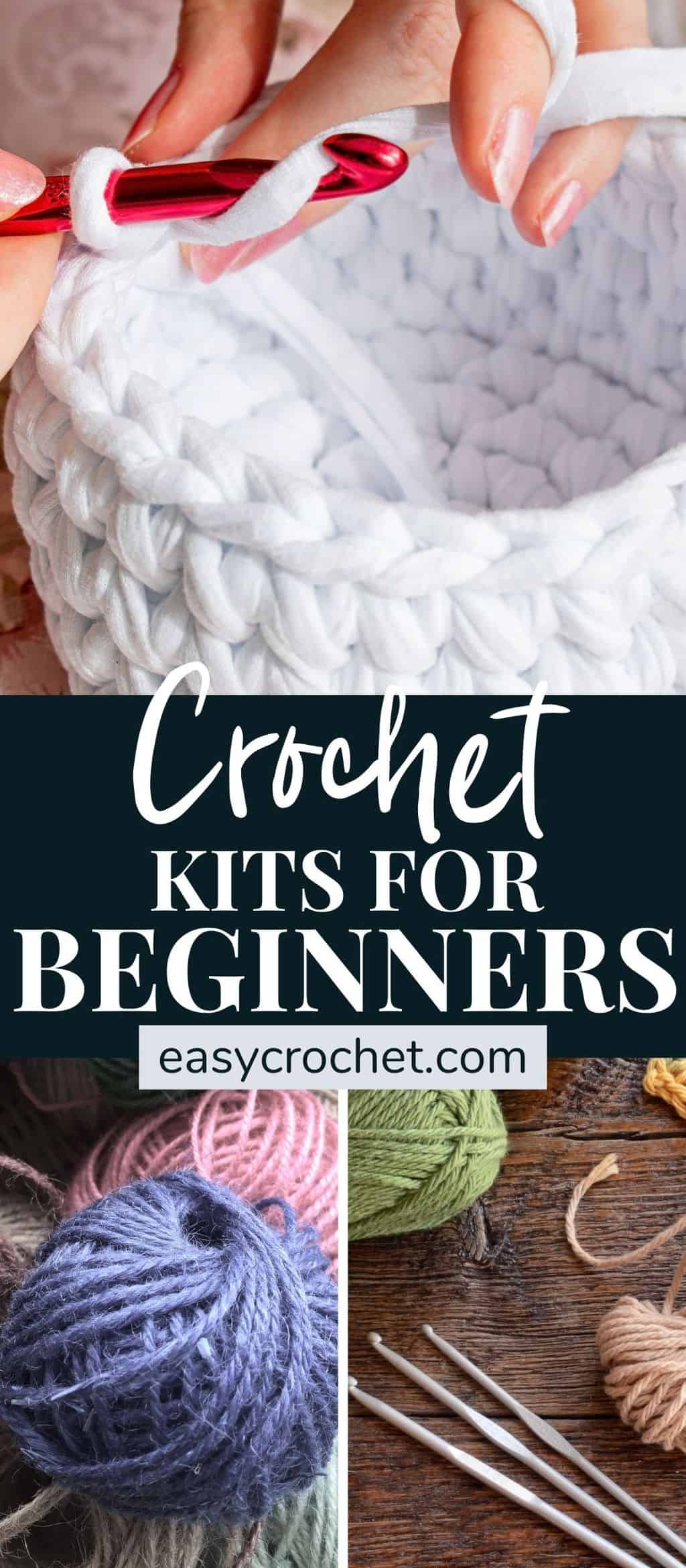 More Resources & Tutorials for Beginners
While crochet kits are wonderful for beginners I recommend reading about the basics of crochet in my free guide "Crochet for Beginners" as well as taking a look at the "Crochet Abbreviations for Beginners" guide too. After you look at those resources you'll have a better understanding of crochet, and you'll be ready to start crocheting beginner patterns.
1. Beginner-Friendly Crochet Patterns
2. Classes & Groups
Local libraries and yarn shops hold in person and virtual classes for new crocheters. These types of groups are great for beginners to learn from experienced crocheters and stitchers.
3. Crochet Pattern Books and Crochet Stitch Books
Crochet books are a great way to learn new how to crochet. There are many books for beginners with step-by-step photos as well as patterns that are all a beginner skill level. Some crochet books are even full of stitches to learn, so you can make a small swatch to practice with when you are first learning.
4. Crochet Videos
Videos are a great way to learn how to crochet for beginners since it is a visual tool. When you can see exactly how a crochet pattern or stitch is worked up in real time it can be very helpful. You can find crochet videos on Easy Crochet as well as many more on YouTube for patterns and stitches.