14 Free Crochet Snowflake Patterns
Crocheted snowflakes are a beautiful way to add a handmade touch to a home during Christmas and the Holidays.
Today, I'm going to share a curated collection of beautiful crochet snowflakes. They are the perfect way to add a touch of winter charm to your home. Whether you're looking to create a snowy wonderland indoors or just want to add a unique twist to your holiday decorations, crochet snowflakes are the way to go.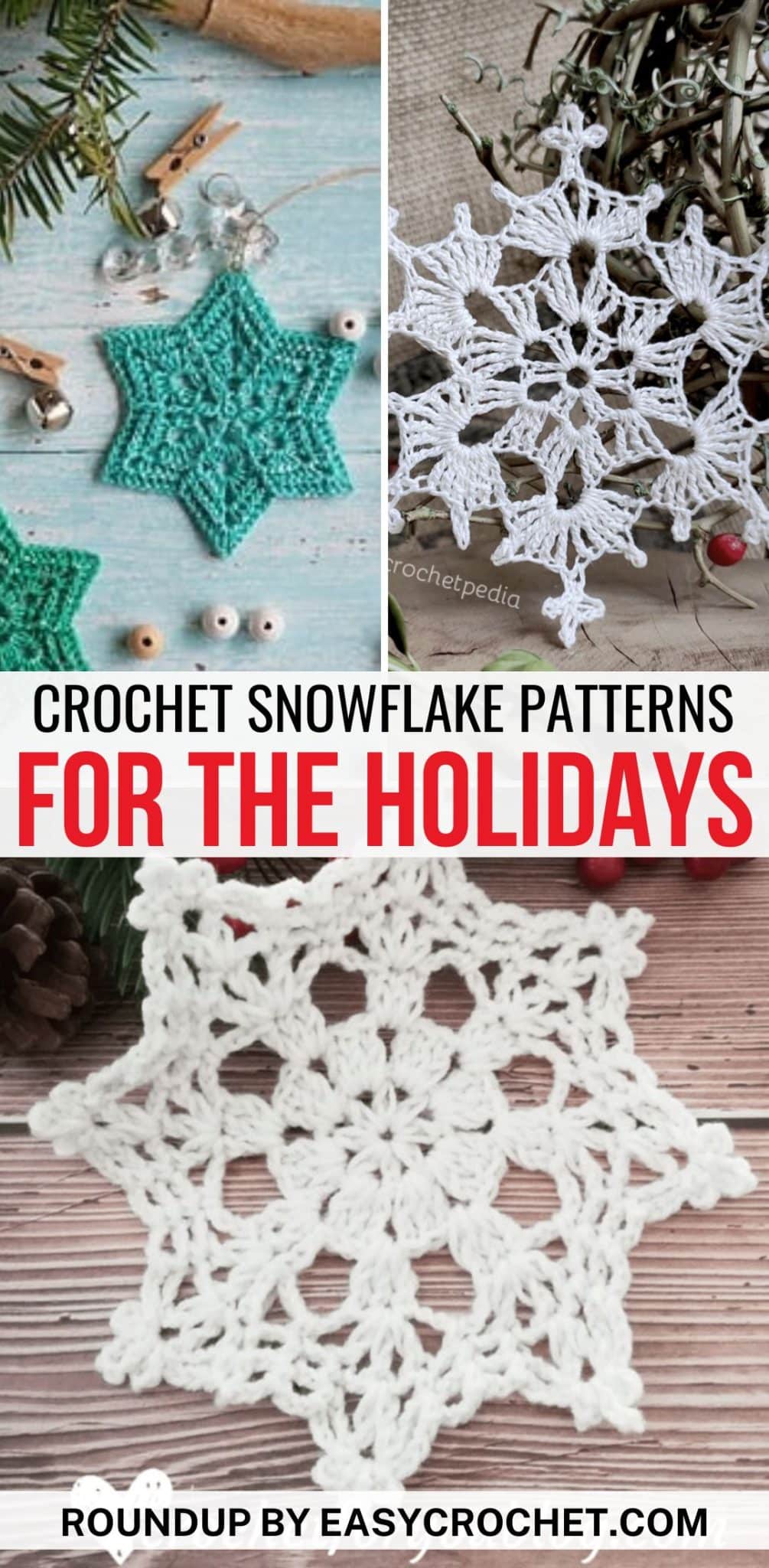 How to Make Crochet Snowflakes
Below, learn about the crochet stitches, yarn and how to make crochet snowflake stiff, so you'll be ready to make one of these snowflake designs.
The best part is that these fourteen snowflake crochet patterns are free patterns! Plus, you can use these to decorate and add a little winter fun to your home in quickly.
Stitches
You can use almost any crochet stitch to make a snowflake, but a few of the most common ones used in the patterns below are …
Single Crochet: If you'd like to make a tighter and smaller snowflake, in which you'd use something like a single crochet (sc) stitch.
Half Double Crochet: If you want a looser snowflake, you can move up to a half-double (hdc).
Double Crochet: For an even bigger crochet snowflake, try the double crochet (dc) stitch.
Keep in mind, you could use any stitch you'd choose, but all the free snowflakes patterns below specify the exact crochet stitch to use, so you can just follow along with their instructions.
Yarn
As for the best yarn to use in crochet snowflake patterns, it is almost always preferred to use a natural fiber like Cotton.
Cotton yarns are simple to find in most craft stores and easy to keep clean since cotton is machine washable, so you'll be able to keep your snowflakes looking brand new every Holiday season.
24/7 Cotton
This yarn is made by Lion Brand, and is a Weight 4 – Medium yarn.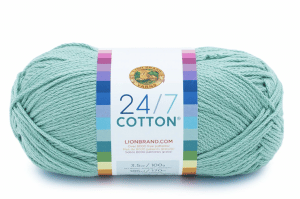 Buy Now
Patterns Using This Yarn →
Lily Sugar'n Cream
This yarn is made by Yarnspirations, and is a Weight 4 – Medium yarn.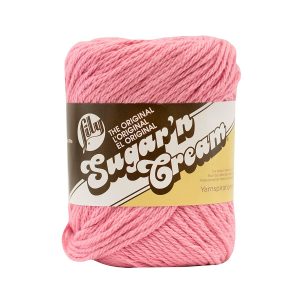 Buy Now
Patterns Using This Yarn →
A few of my favorites cotton yarns to make snowflakes with are Lily's Sugar'n Cream, 24/7 Cotton by Lion Brand and Aunt Lydia's Cotton Thread. These snowflakes are available in a wide variety of colors, so you can really customize them to your style.
In the list of the top crochet snowflake patterns below, the designers will also specify which yarns they used to make their designs, so you'll have a good guideline to go off when deciding what yarn to use.
How To Make Crochet Snowflakes Stiff
Once you make your crocheted snowflakes, and they are finished, you will want them to keep their shape and stay flat.
First, you will want to block your snowflakes, which usually includes a blocking board and pins. You can learn more about this technique in our blocking guide.
Secondly, you will want to make them keep their shape always. Below you will find a few techniques that may help with this step.
Sugar-water solution: Boil part sugar, part water equally. Once it cools, dip your crocheted snowflake into it. Do not twist the snowflake, only squeeze gently. Lay flat to dry.
Liquid Starch: This is a great method to make your crochet snowflakes stiff. Apply with a spray bottle (mix with water) or directly to the doily.
Glue & Water Mix: Combine equal parts of glue and water. Soak the crocheted snowflake in it and do not twist. Mod Podge thinned down would work great too! This is an irreversible method, so make sure you shape it the way you like before it dries.
Free & Easy Crochet Snowflake Patterns
I have not yet created a snowflake pattern, but I did put together an exceptional pattern collection of snowflake designs, some of which are big and small as well as more detailed ones for you to make for the Holidays.
These snowflakes would be great to use as ornaments, garland, and wall hangings. I hope you enjoy this list of easy to make and gorgeous snowflake patterns!
---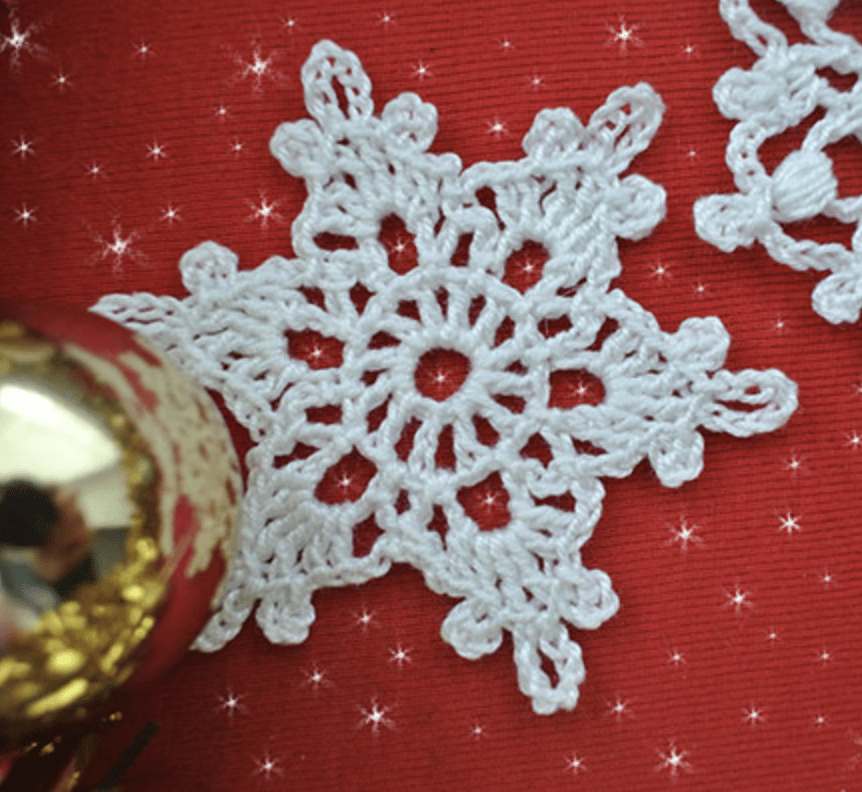 Lacy Snowflake
This easy free snowflake pattern is perfect to make if you only have a little time to crochet. It uses simple stitches and is a great beginner-friendly project.
Designer: Beautiful Crochet Stuff
Yarn: Crochet Thread (Aunt Lydia's)
Hook: 1.50 mm (steel crochet hook)
---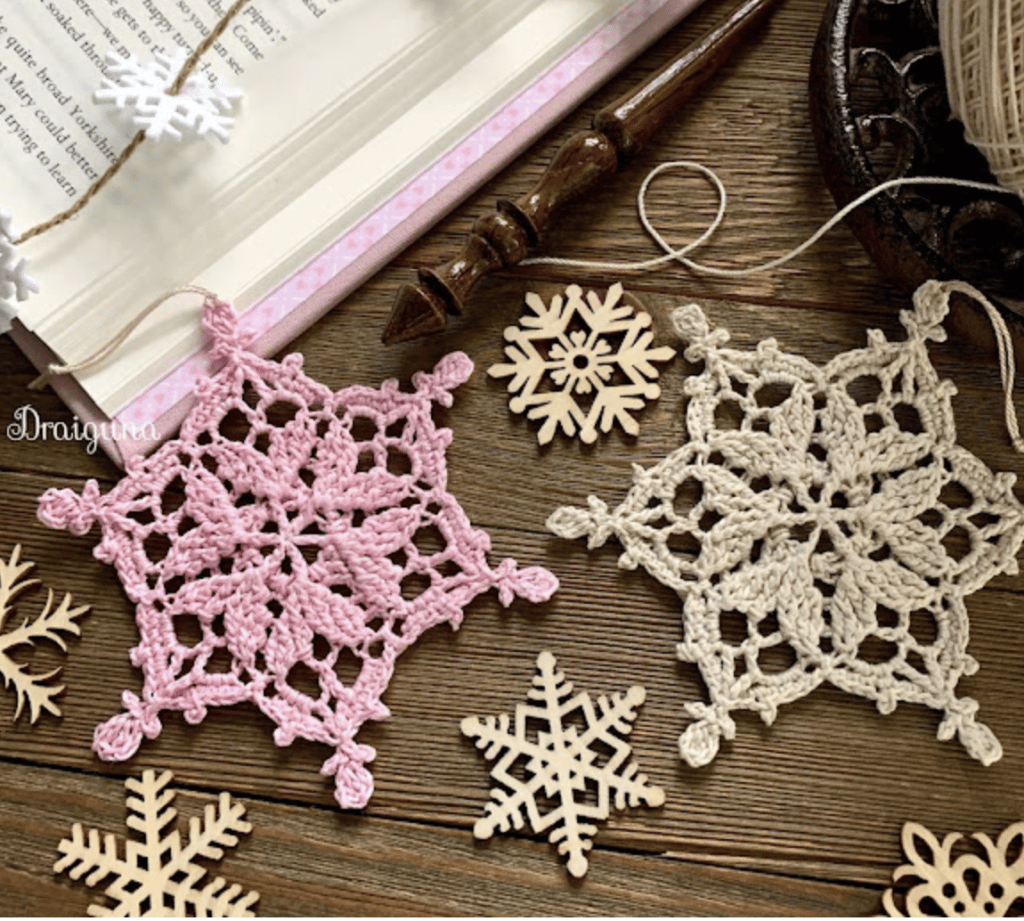 Textured Snowflake Pattern
This beautiful snowflake is a one of a kind because of its woven details. You'll have to know how to do post stitches to make this, but it's worth it when you do!
Designer: Draiguna
Yarn: Crochet Thread (Aunt Lydia)
Hook 1.75 mm (steel crochet hook)
---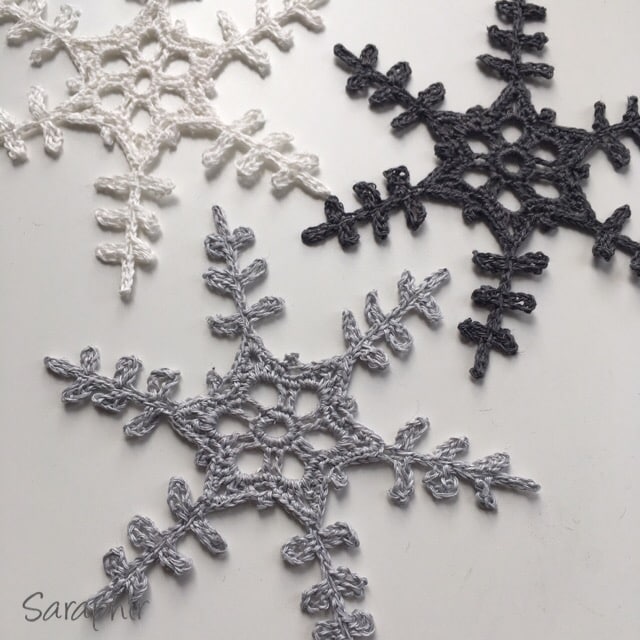 Feather Crochet Snowflake
This medium-sized snowflake has a feather-like design on the edges. These are a great to sell at local Christmas markets or attach to gifts.
Designer: Saraphir Designs
Yarn: Crochet Thread (Aunt Lydia's)
Hook: 2 mm
---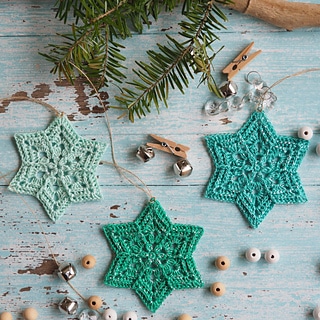 Flower Star Snowflake
This one-size-fits-most beret is worked in the round and as one seamless piece. You can add or omit the cross stitched heart at the end of the pattern.
Designer: Renata Saj
Yarn: Scheepjes Sweet Treat / Drops Glitter Silver
Hook: 1.75 mm or 2 mm
---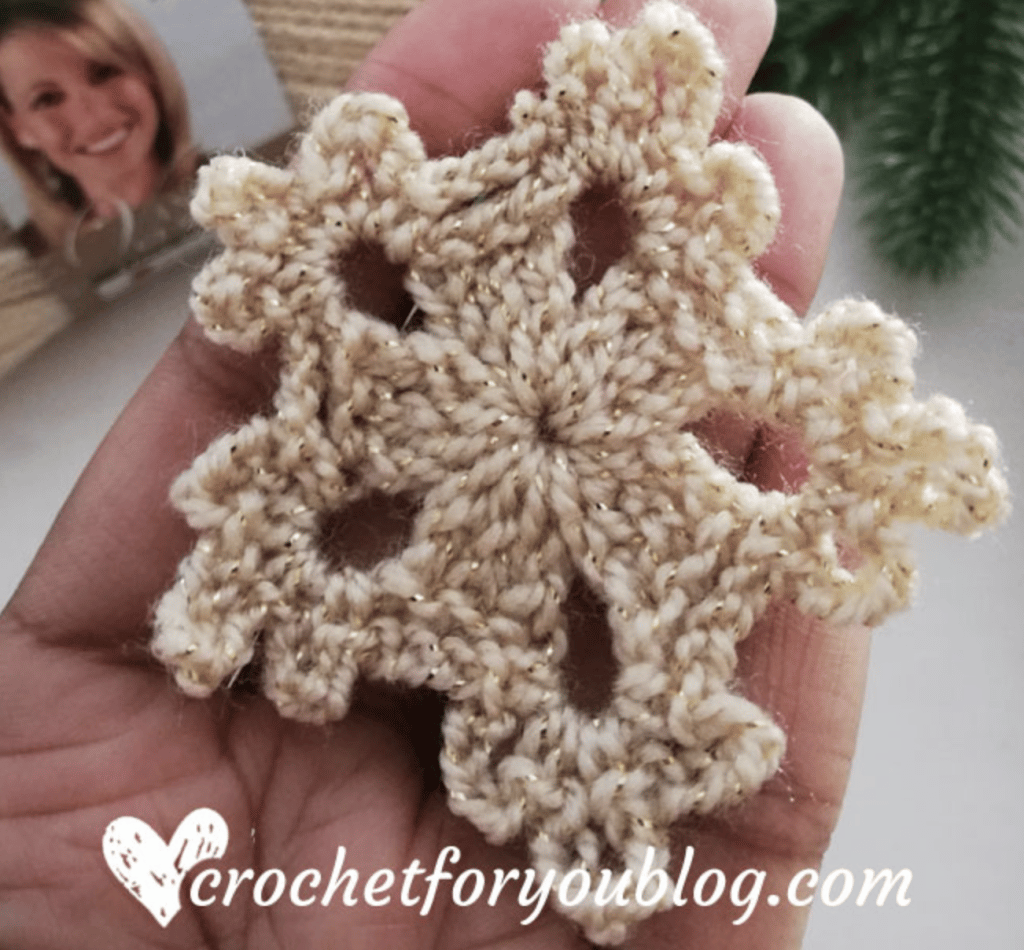 5-Minute Crochet Snowflake
This pattern is takes only five minutes to make from start to finish. It almost resembles the base of a granny square, so it is a great project for beginners. With this pattern, you'll be able to create a gorgeous crocheted snowflake in barely any time!
Designer: Crochet For You Blog
Yarn: Any worsted weight (#4 medium)
Hook: 4 mm (G)
---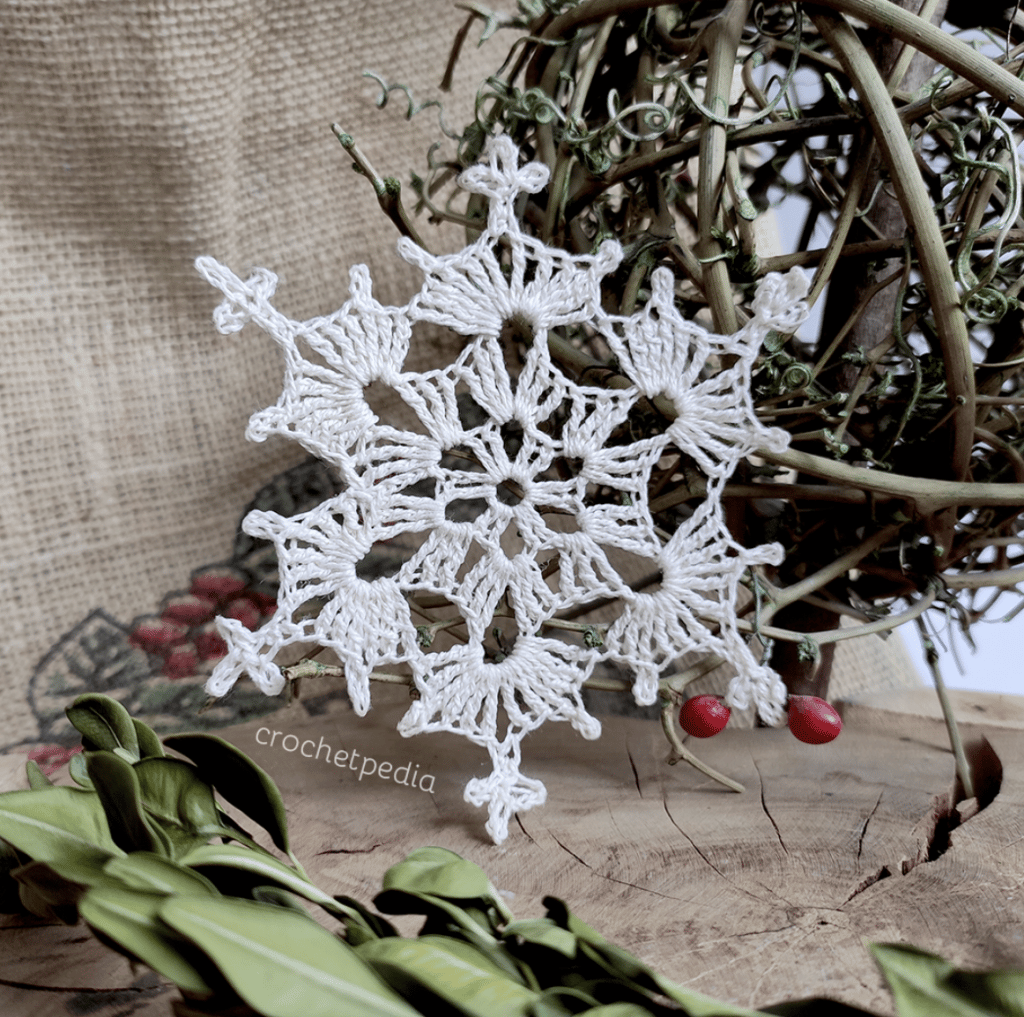 Easy Crochet Snowflake
This classic snowflake is made with crochet thread, blocked, then stiffened. This free pattern also had tips and tutorials, so you get a perfectly shaped snowflake.
Designer: Crochetpedia
Yarn: Crochet Cotton Thread
Hook: 1.5 mm
---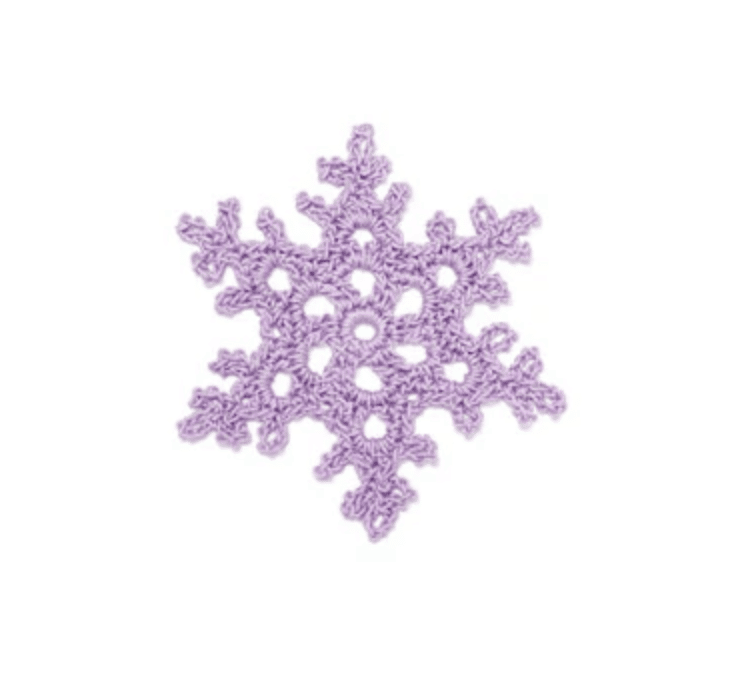 Crochet Snowflake
You'll love that this easy, beginners-level snowflake uses basic crochet stitches. It features a six point design and pretty lacy detail.
Designer: Lion Brand
Yarn: Bonbons Yarn
Hook: E-4 (3.50 mm)
---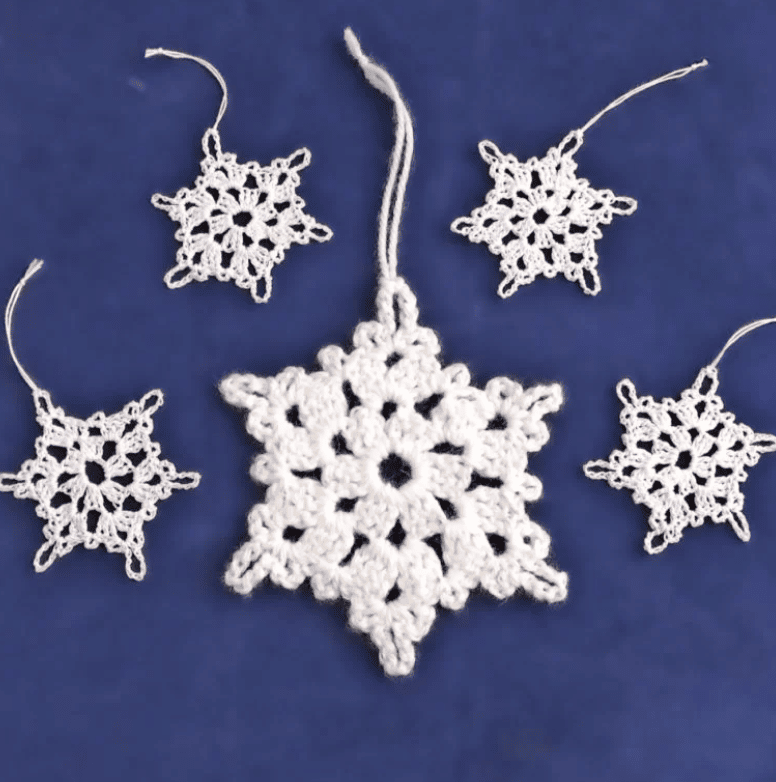 Simple Snowflake
This simple to make snowflake can be finished in only three rounds of work! The best part is that it can be made crocheted in any size yarn!
Designer: Stitches n Scraps
Yarn: Any yarn
Hook: Any hook
---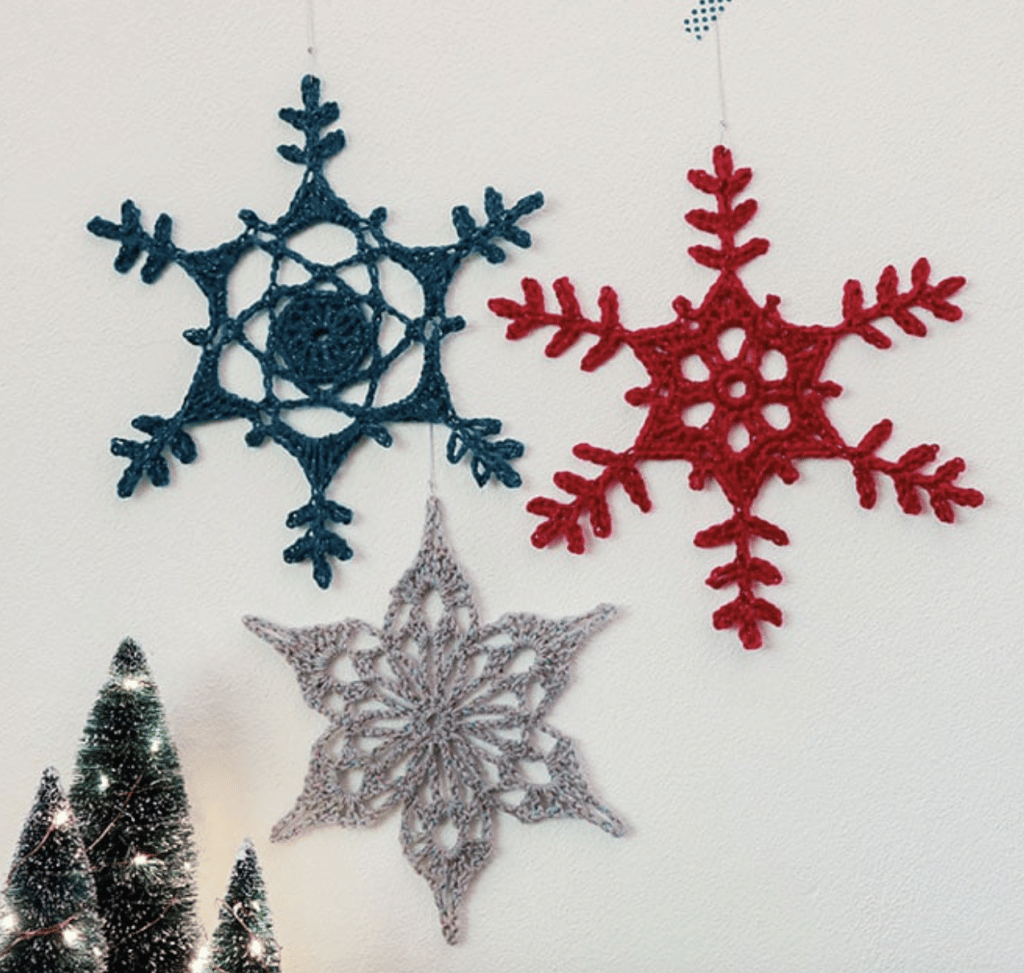 Giant Crochet Snowflake
These oversized crocheted snowflakes make the perfect wall-hanging for Winter, and they are great for decorating a Christmas tree as well! If you want a festive Christmas this year, then these are a must crochet snowflake!
Designer: My Poppet
Yarn: Caron Simply Soft
Hooks: 2.75 mm (C) & 3.25 mm (D)
---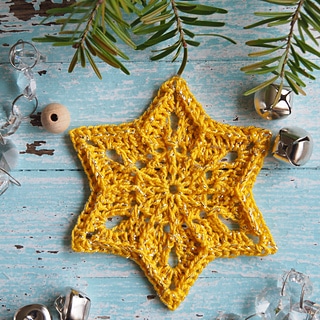 This beautiful snowflake is a free PDF download on Ravelry. It uses two yarns held together to make it a thicker snowflake with more texture.
Designer: Renata Saj
Yarn: Scheepjes Sweet Treat / Drops Glitter Silver
Hook: 1.75 mm or 2 mm
---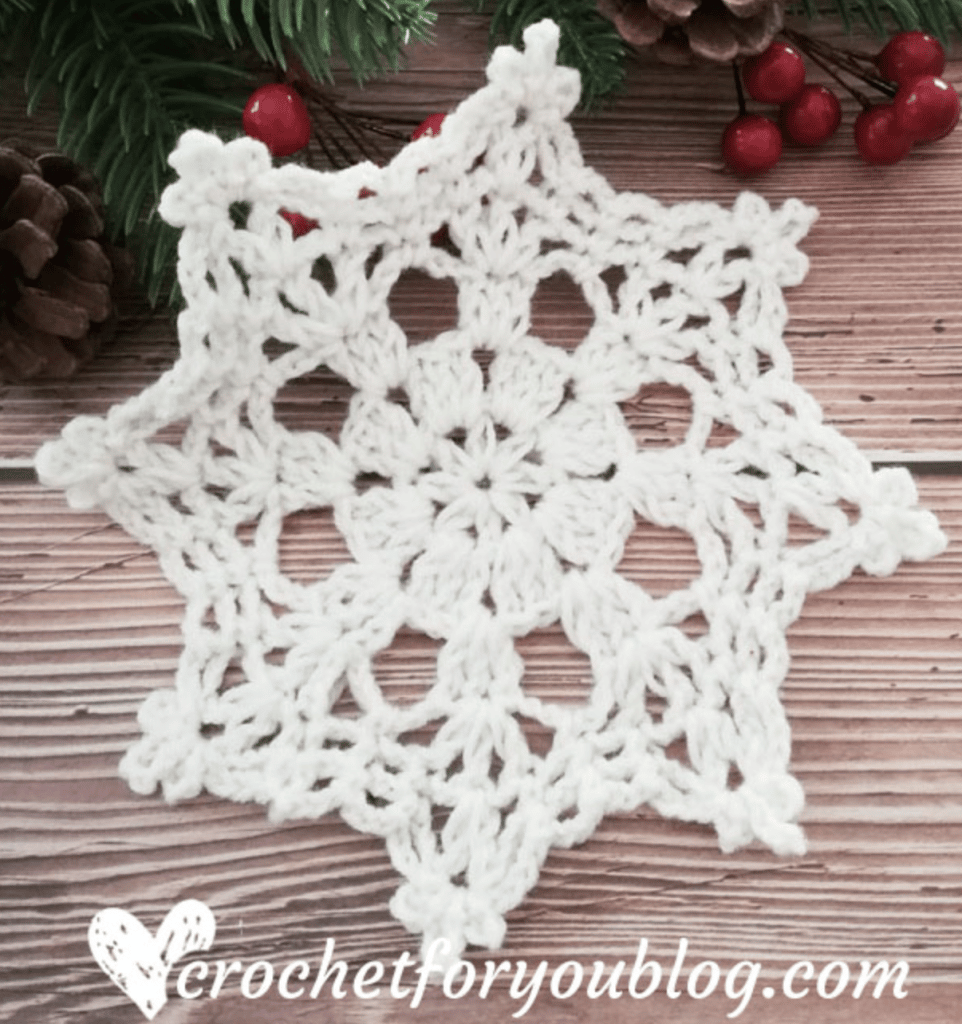 Eight Point Snowflakes
This easy crochet pattern is great for a new crocheter to make. To make a snowflake like this one, you'll need to know how to single crochet and double crochet!
Designer: Crochet for You Blog
Yarn: #2 – Fine / Sport weight yarn
Hooks: US G-6 (4 mm)
---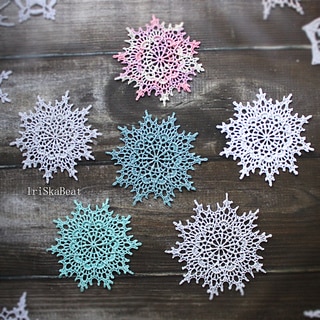 Ariel Snowflake
This snowflake pattern is a free PDF that is available in English as well as Russian. You'll love the details that this snowflake pattern shows, and it only takes eight rounds to finish.
Designer: Irina Maleeva
Yarn: Cotton Thread
Hook: 1.5 mm
---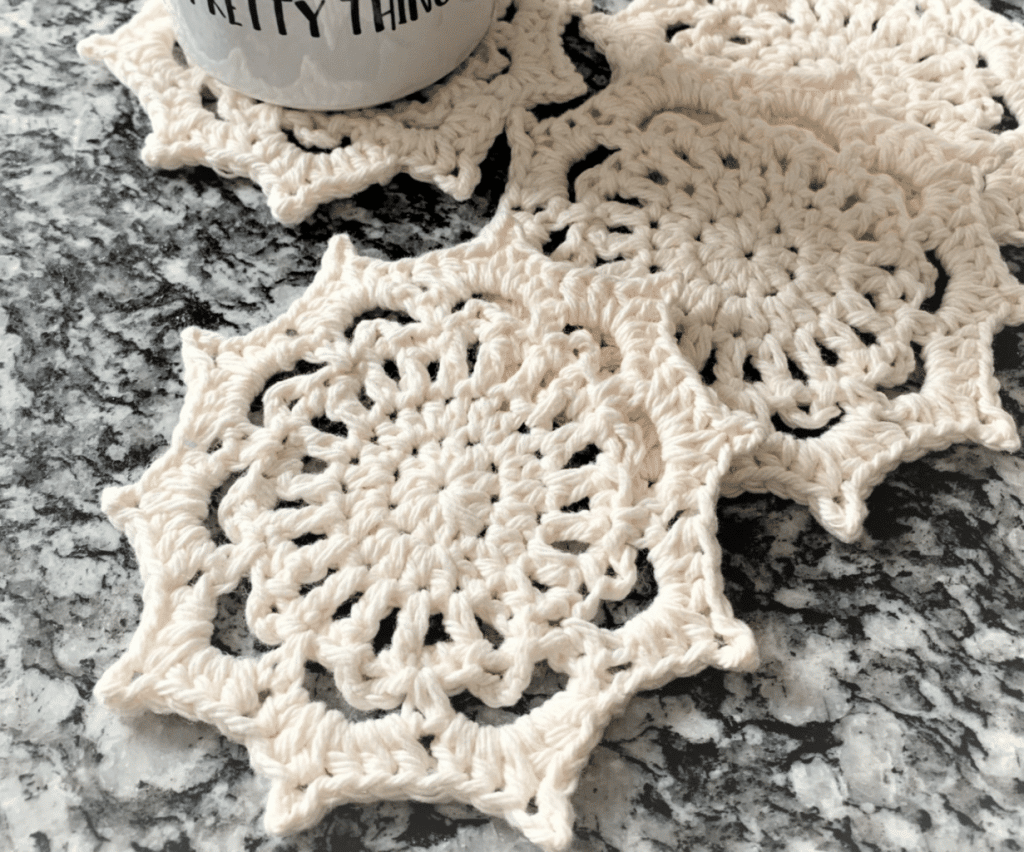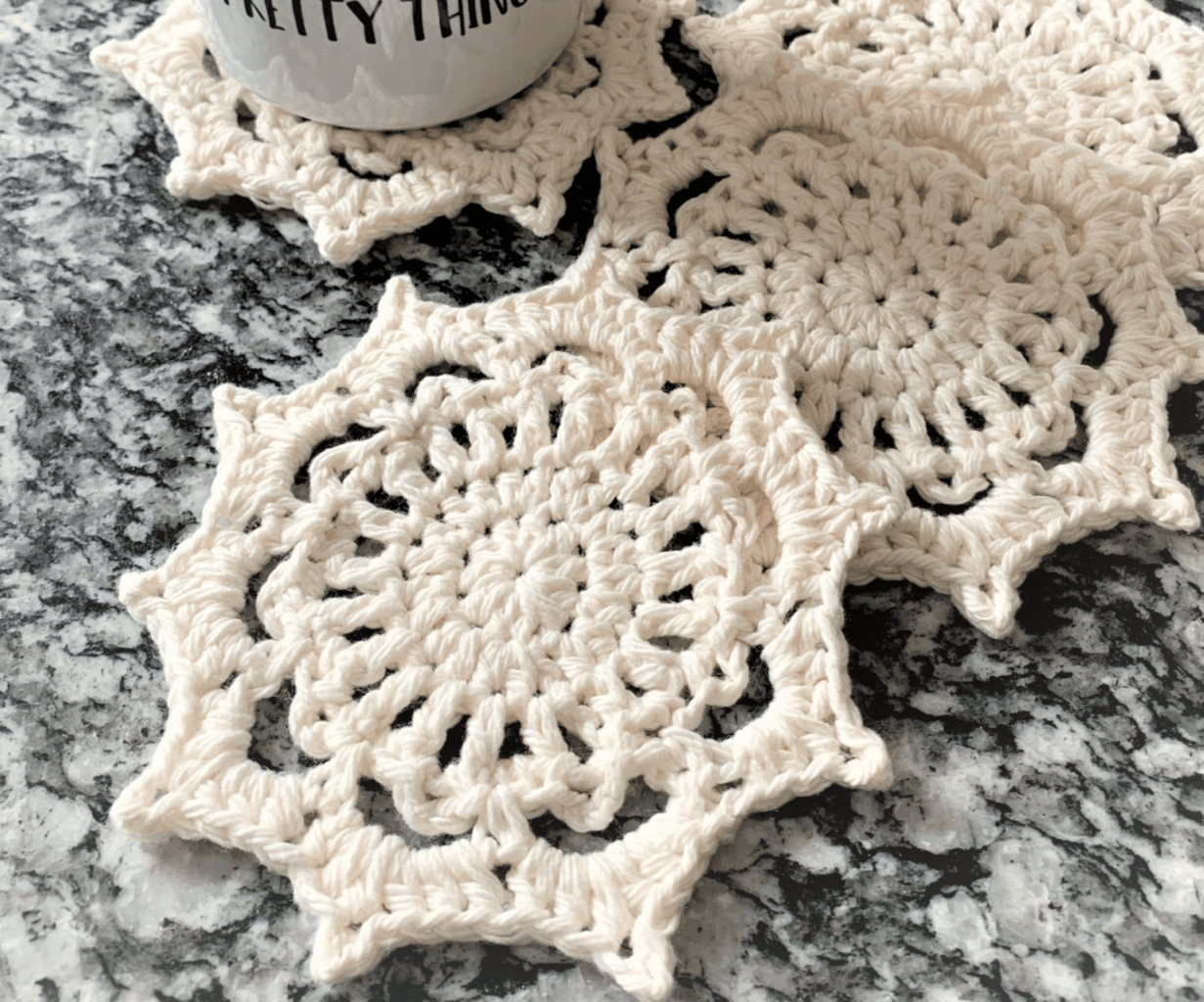 Zeta Snowflake Pattern
This snowflake starts with a magic circle and then works up in the round with easy crochet stitches.
Designer: Crochets by Trista
Yarn: Premier Cotton Fair
Hook: 2.5 mm
---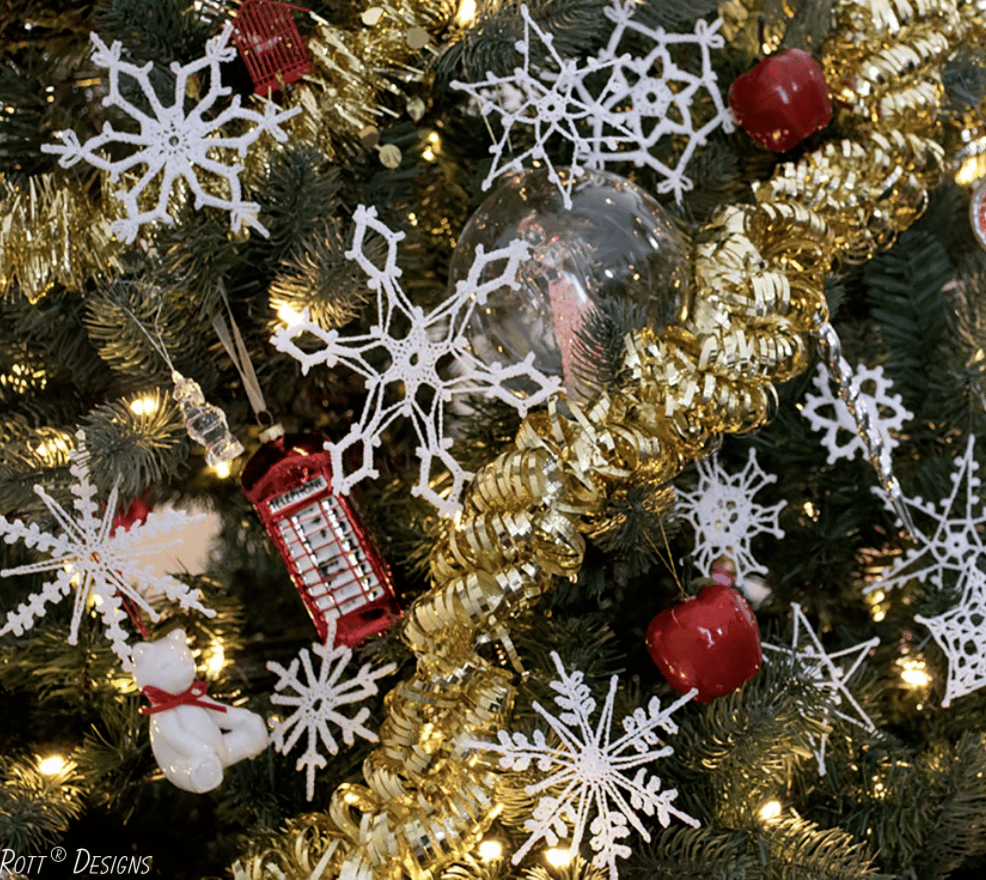 Christmas Crochet Snowflakes
This PDF downloads has twelve free snowflakes you can crochet. Make one or all twelve for everyone you know!
Designer: IraRott
Yarn: Crochet Cotton Thread
Hook: 1.5 mm
---
More Free Crochet Holiday Patterns
If you liked the crocheted snowflake patterns above, then you'll love these other holiday patterns as well!