27+ Easy & Free Crochet Shawl Patterns
Easy crochet shawl patterns are a quick to crochet and versatile, they are worn for all seasons.
You can wear crochet shawls on Summer evenings or wrap up in them on cold Autumn nights. It is possible to create shawls in many shapes and sizes for all seasons.
Below you'll find 27 of the best free crochet patterns for shawls as well as wraps, from a beginner-friendly design like the Isle Wave Wrap to the more advanced pattern designs like Lacey shawl.
But first, let's talk about what you'll need to have on hand before you start crocheting a shawl.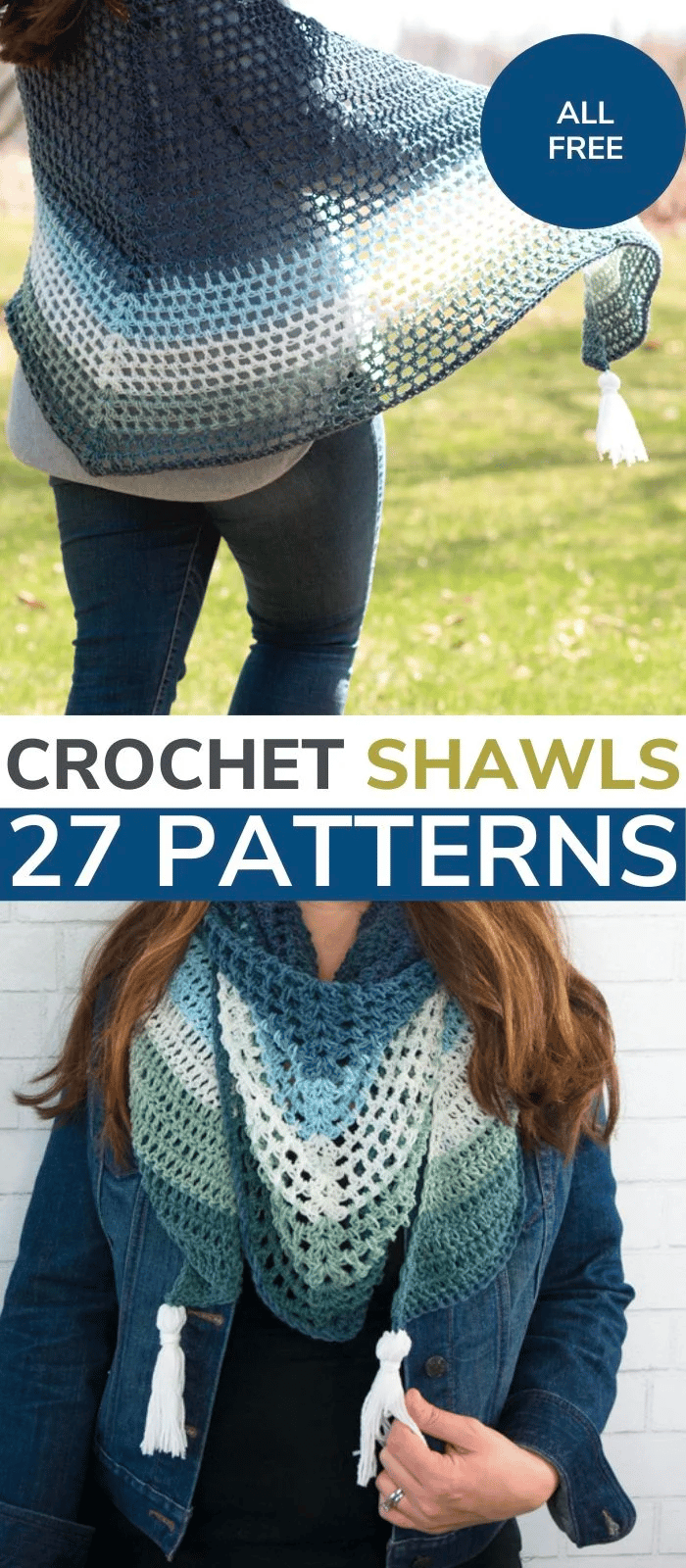 Supplies Needed to Make Crochet Shawls
Most shawl patterns will the basics like yarn, a crochet hook, and scissors. Yarn and hook sizes can greatly differ depending upon the pattern of the shawl or wrap, so be certain to read what yarn weight and crochet hook sizes you will need for your chosen pattern.
Below, I'll go into a bit more detail about each supply you'll need to make a shawl design.
Yarn
Shawls can be crocheted with a variety of different yarn weights and fibers. For example, if you are crocheting a summer shawl crochet pattern, you will want to use a lighter weight yarn such as a fingering weight yarn or three weight yarn so that it is not too warm to wear.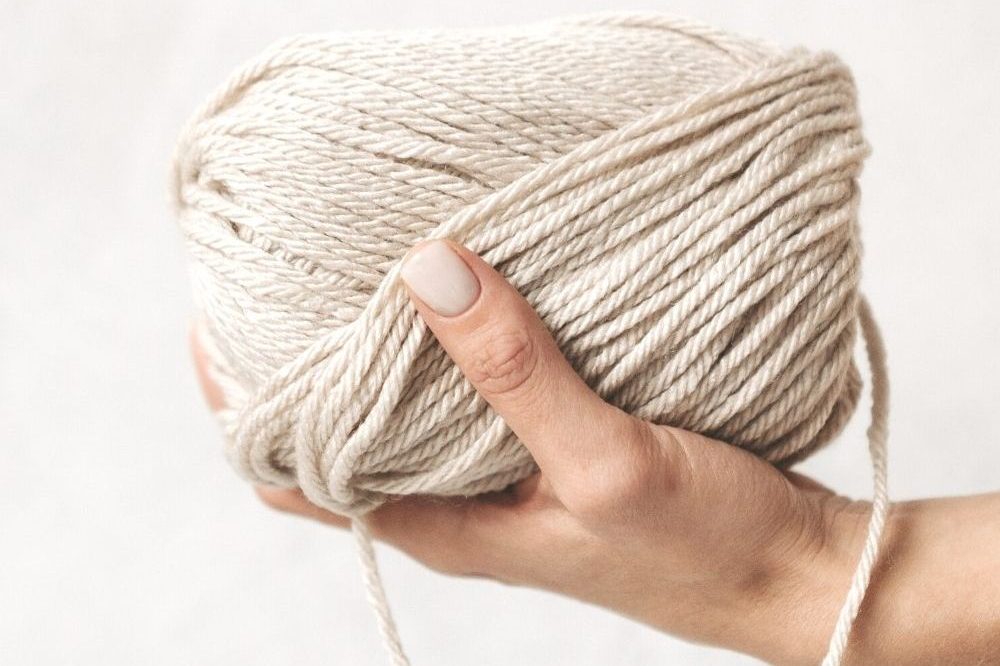 For your convenience, I have listed the suggested yarns in the patterns below, although you can substitute with another yarn of the same weight if you'd prefer.
Crochet Hooks
Crochet hooks come in a variety of sizes, shapes, and materials. I also suggest trying out a few different types of hooks to see which you prefer before buying a complete crochet hook set.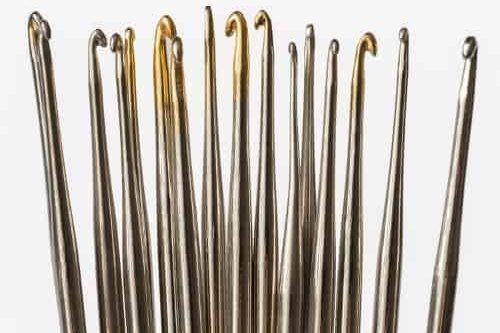 As for the shawl patterns below, they will all recommend a crochet hook size, so keep that in mind when selecting a hook for your shawl.
Scissors & Other Supplies
You will need a good pair of scissors to cut the yarn ends when you are done crocheting a shawl of your choosing. I prefer stork scissors when crocheting since they are small and easy to take along when crocheting projects.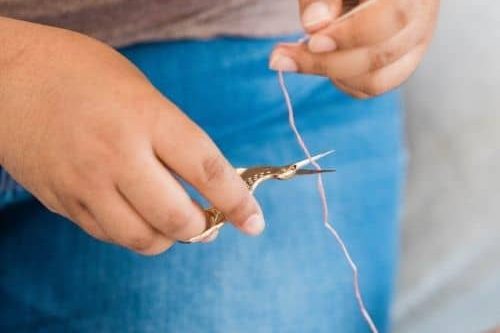 Crochet Tools
The shawl patterns below will also tell you if you'll need other crochet notions such as stitch markers, tape measure, or extra crochet sizes and needles.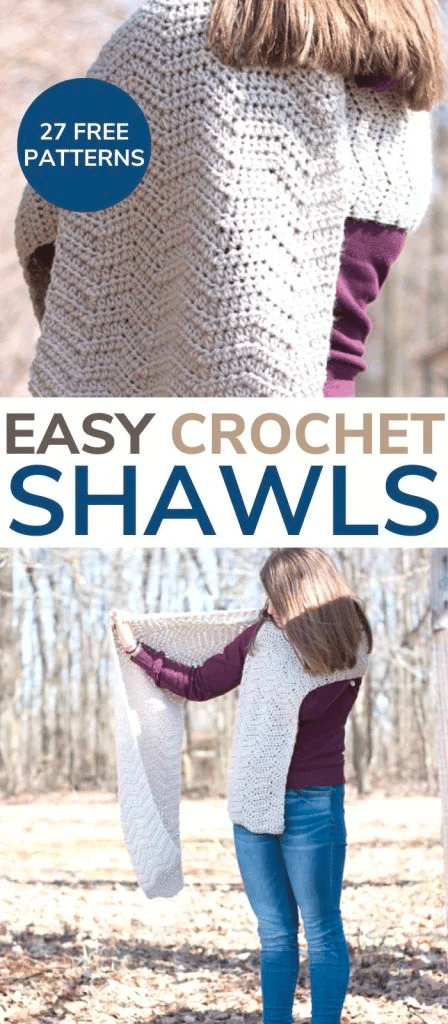 Different Shapes used in Crochet Shawl Patterns
Triangles are the most commonly used shapes for shawls. It is by far the more popular shape for shawls by crocheters of every level. But with that said, rectangular wraps or shawls are easiest to create because they do not require shaping.
Two most Common Crochet Shawl Shapes
Triangle Shawls

Rectangular Shawls and Wraps
Shaping by Blocking
Blocking is a way to shape crochet projects using water.
Occasionally, you'll find that some crochet patterns recommend that the shawl use blocking techniques to help form the shape of the shawl and get the correct finished size.

The crochet project then is pinned down to a blocking board to keep its shape until it is dry. For example, blocking can help if you'd like to flatten edges that may be curling or uneven on a crochet design.
Basic Crochet Stitches in Shawls
Most of the crochet shawl patterns below will use basic crochet stitches that are easy to learn. These simple crochet stitches are the ones that most beginners learn when they are first learning how to crochet.
Stitches
Explore the different crochet stitches as well as their abbreviations below to get a good understanding of what you may come across with the shawl pattern crochet designs below.
Single Crochet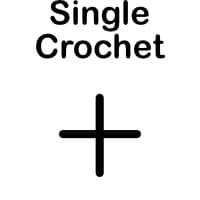 Patterns Using This Stitch →
Half Double Crochet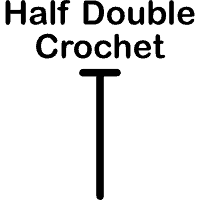 Patterns Using This Stitch →
Double Crochet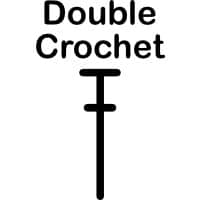 Patterns Using This Stitch →
If you do come across a stitch you aren't quite sure about in one of these shawl patterns, you can refer to our crochet stitches guide for extra help.
Free Crochet Shawl Patterns and Wrap Patterns
Most of these easy crochet shawl patterns show you how to crochet a shawl step by step with either detailed photos, explanations of the pattern steps or with a video tutorial.
Plus, they are all a free crochet pattern that you can use over and over again. I hope you enjoy these easy crochet patterns!
---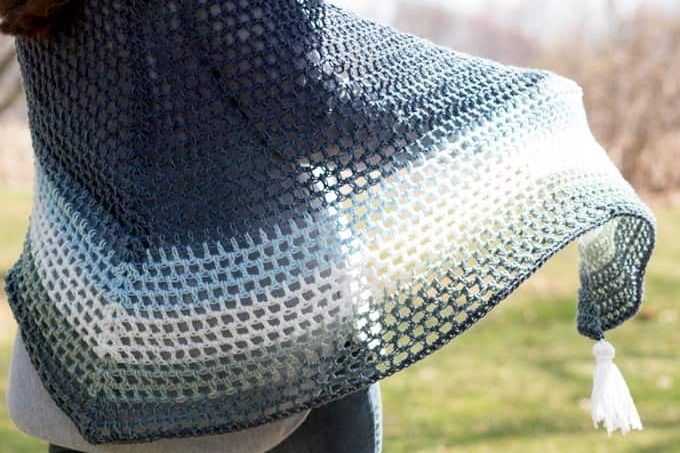 This free pattern is an easy crochet pattern that has a stitch chart as well as stitch explanations. This shawl uses Mandala yarn from Lion Brand.
---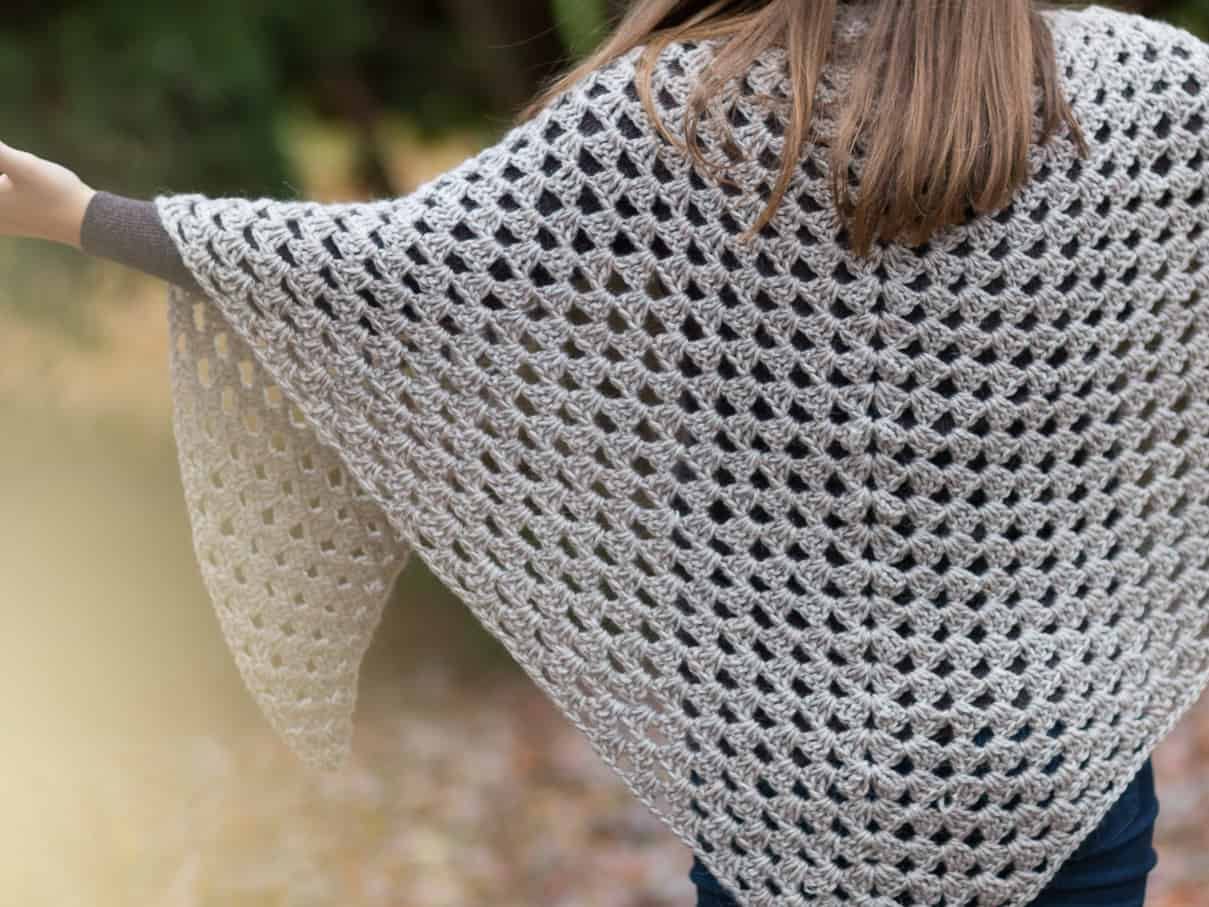 If you are looking to make your first triangle shawl, then this is a good pattern to start with since it uses basic stitches. The free crochet triangle shawl pattern for beginners shawl will use Touch of Alpaca yarn from Lion Brand
---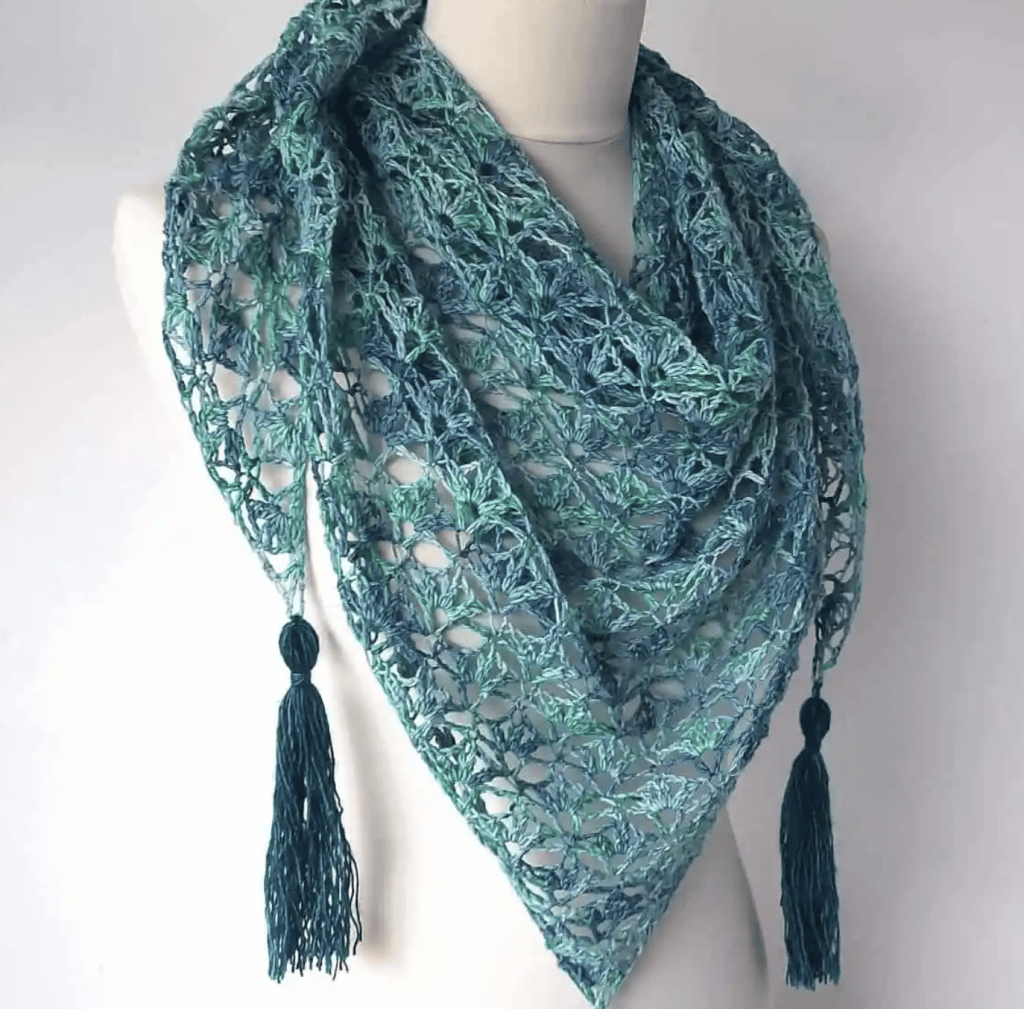 This free crochet shawl pattern (Winter Ice Shawl) is perfect to wear during warmer evenings of the Summer since it is extremely lightweight. This shawl is an open lace shawl crochet pattern and makes a perfect next project to try. The shawl uses fingering weight yarn or a 1 weight yarn.
---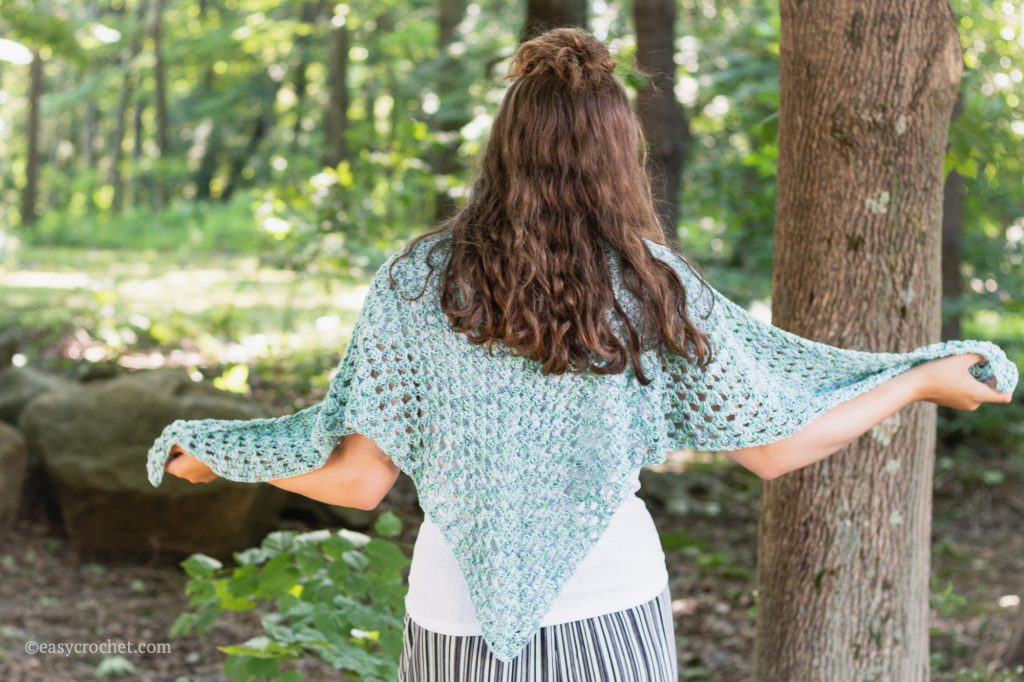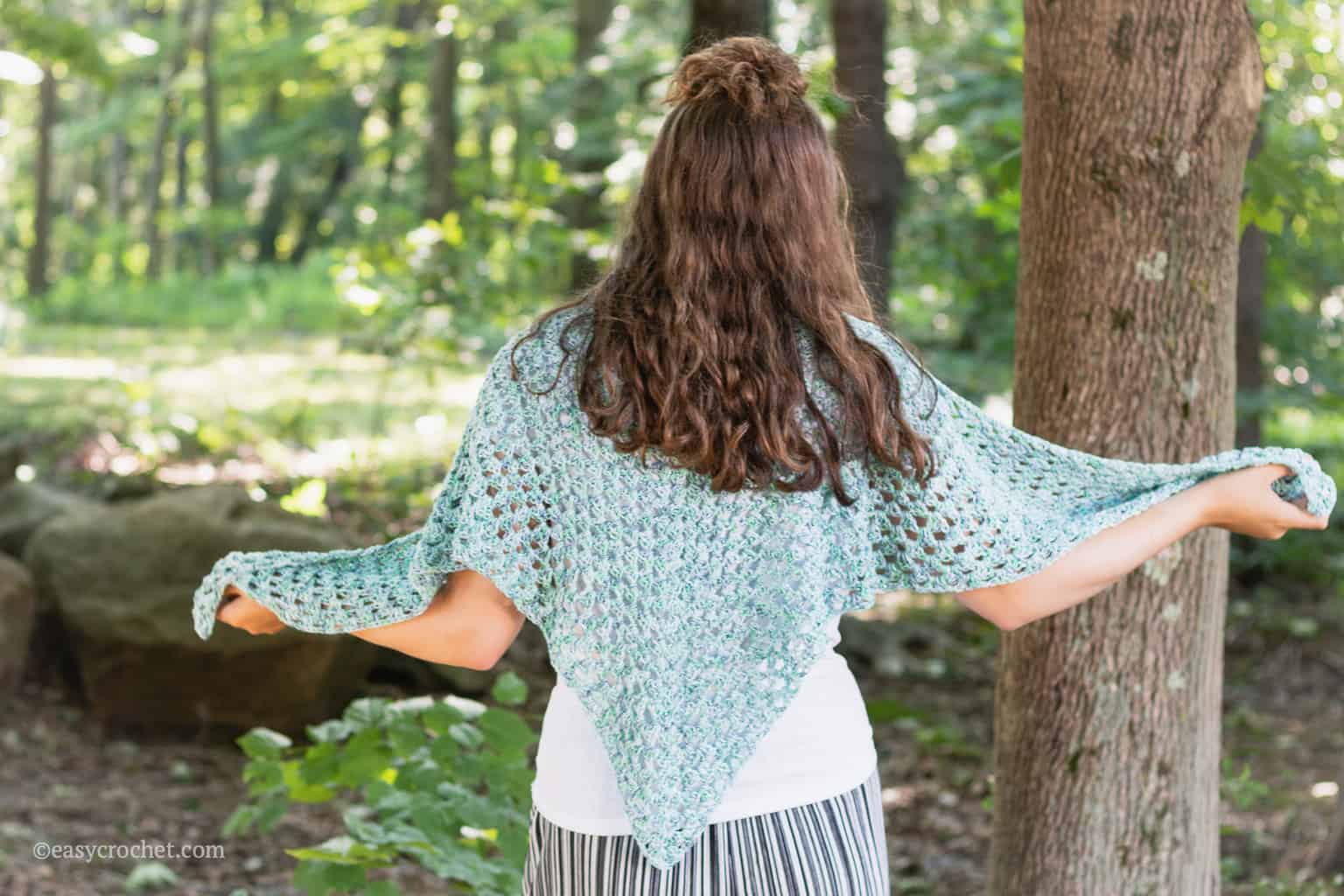 This is a great pattern to make to wear in the late Spring and Summer. It is made using a lightweight yarn and has beautiful details in the stitches. The shawl uses two skeins of fingering weight yarn held together.
---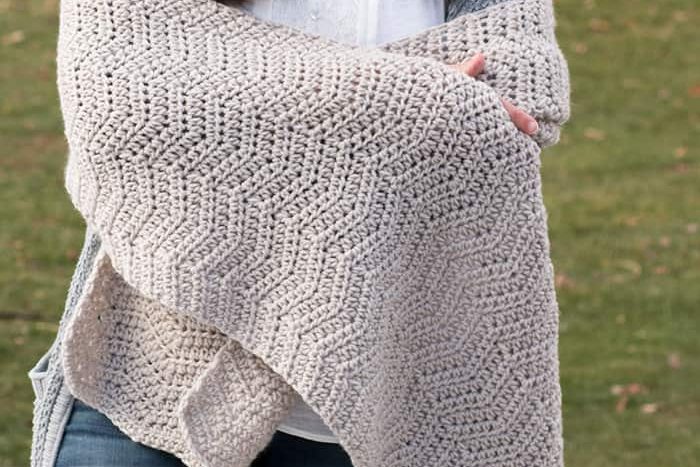 This wrap uses a ripple crochet design to create a long and oversized shawl. The shawl uses Vanna's Choice by Lion Brand.
---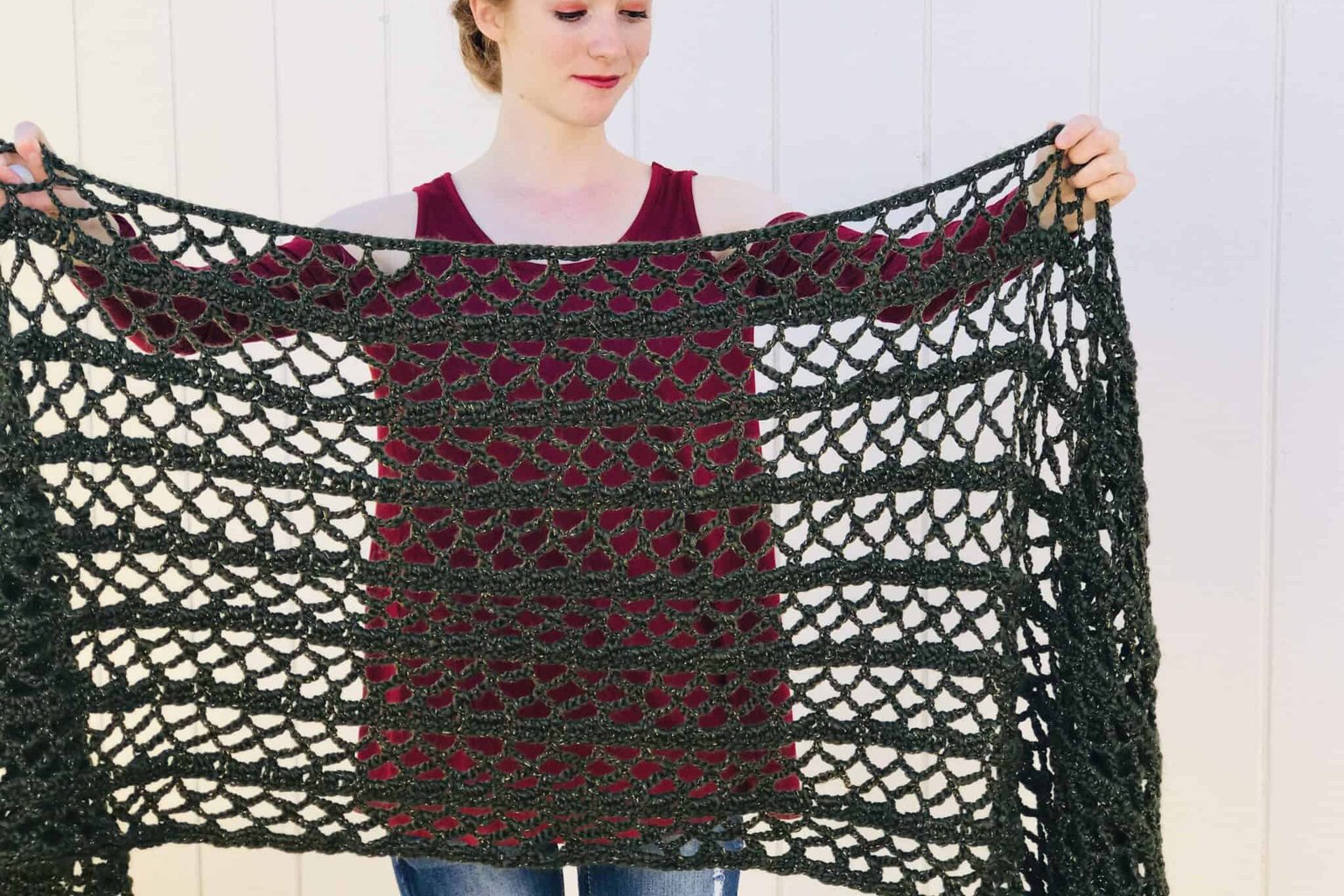 This lacy rectangle shawl uses basic stitches and is available in three different shawl sizes as well. The shawl uses a bulky five weight yarn.
---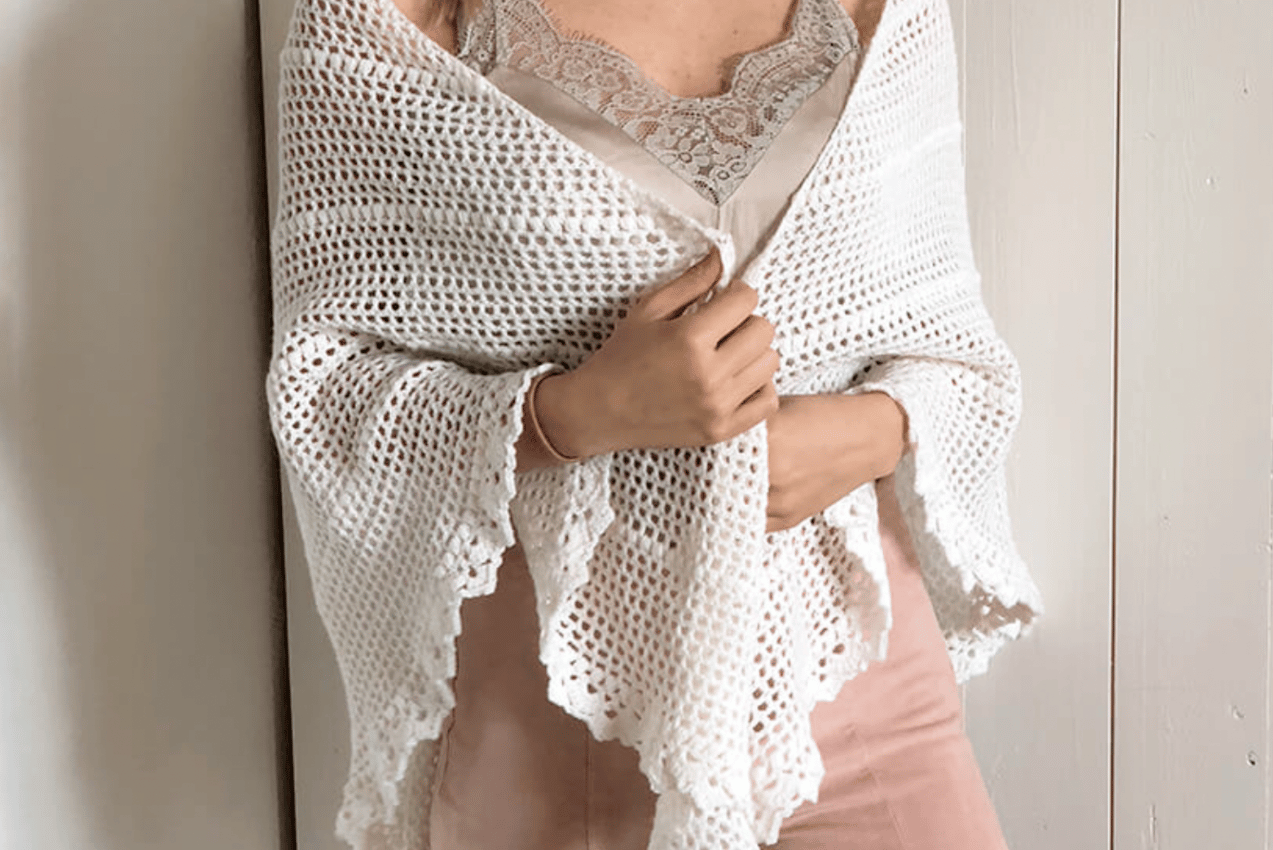 This shawl uses the puff stitch, single crochet and double crochet to create a gorgeous white wedding shawl design. The shawl uses Lion Brand Amazing Lace Yarn (discontinued) or any 1 superfine yarn.
---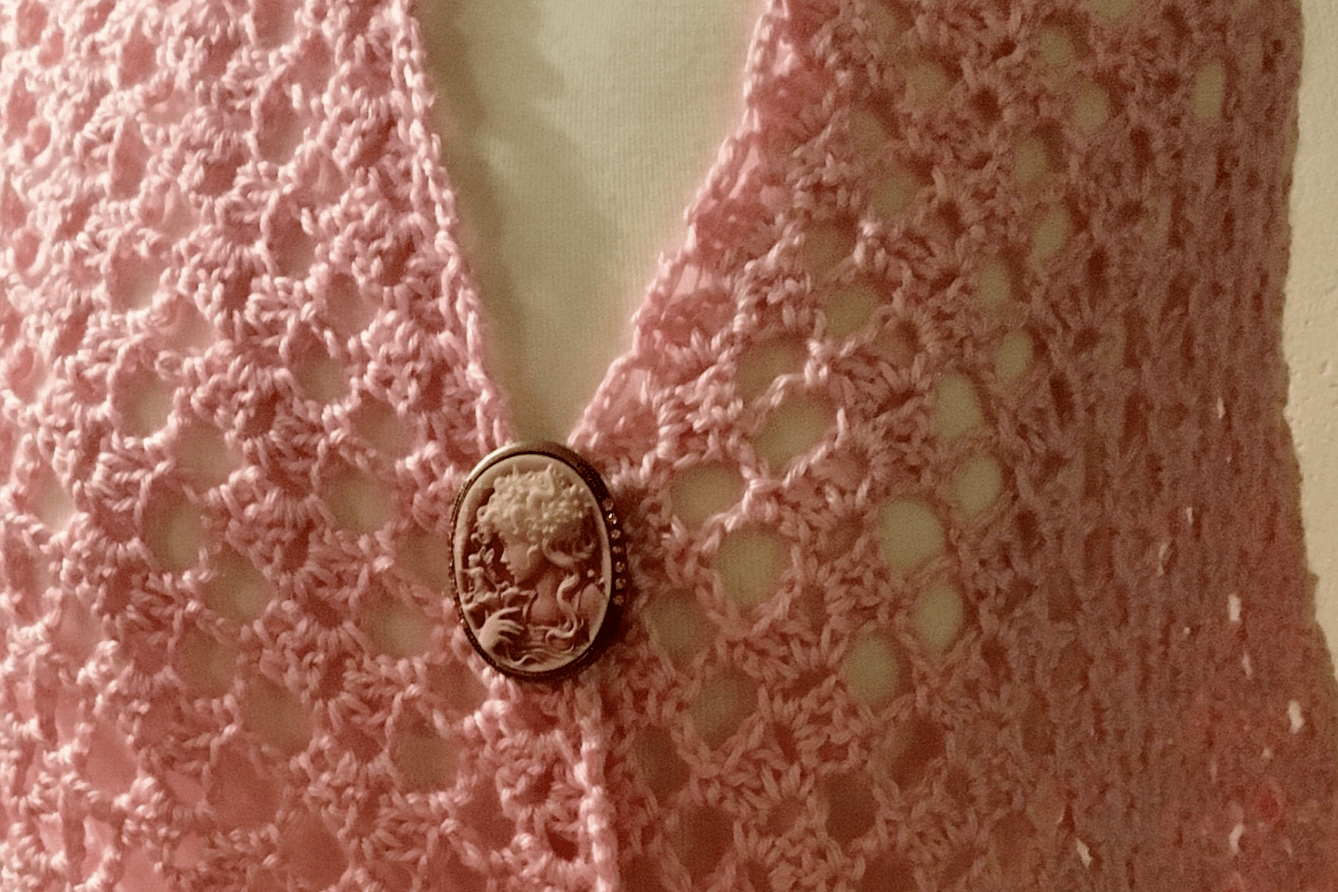 If you want to crochet a long lacy shawl, then this stunning design is just it! Add a brooch or pin to finish your creation. The shawl uses Caron Simply Soft yarn or any 4 worsted weight yarn.
---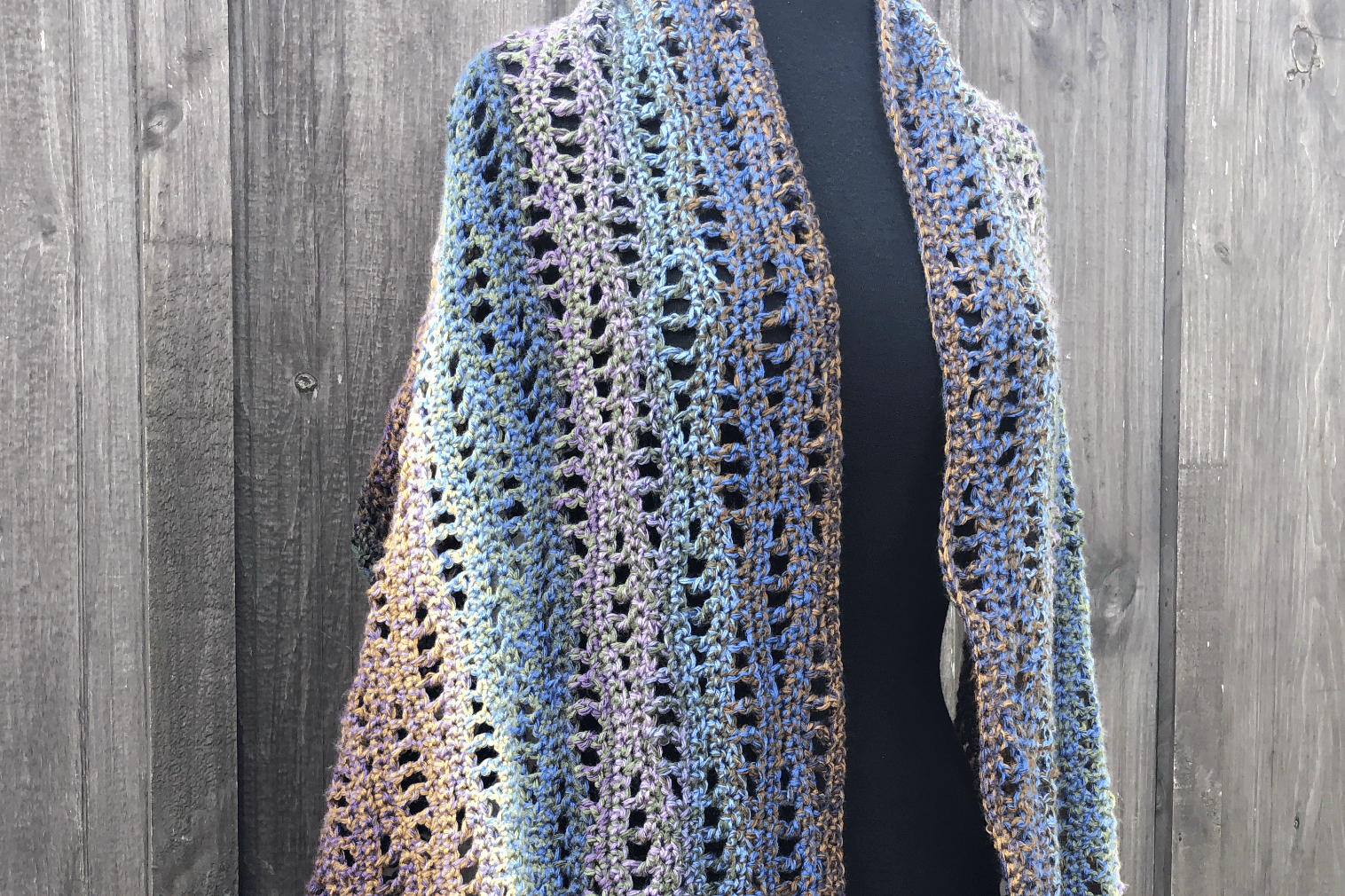 You'll love the waves and ripples this shawl creates, hence why it has its name. The beautiful shawl gets his colors from Lion Brand Mandala Tweed yarn, but any Mandala yarn can be used too.
---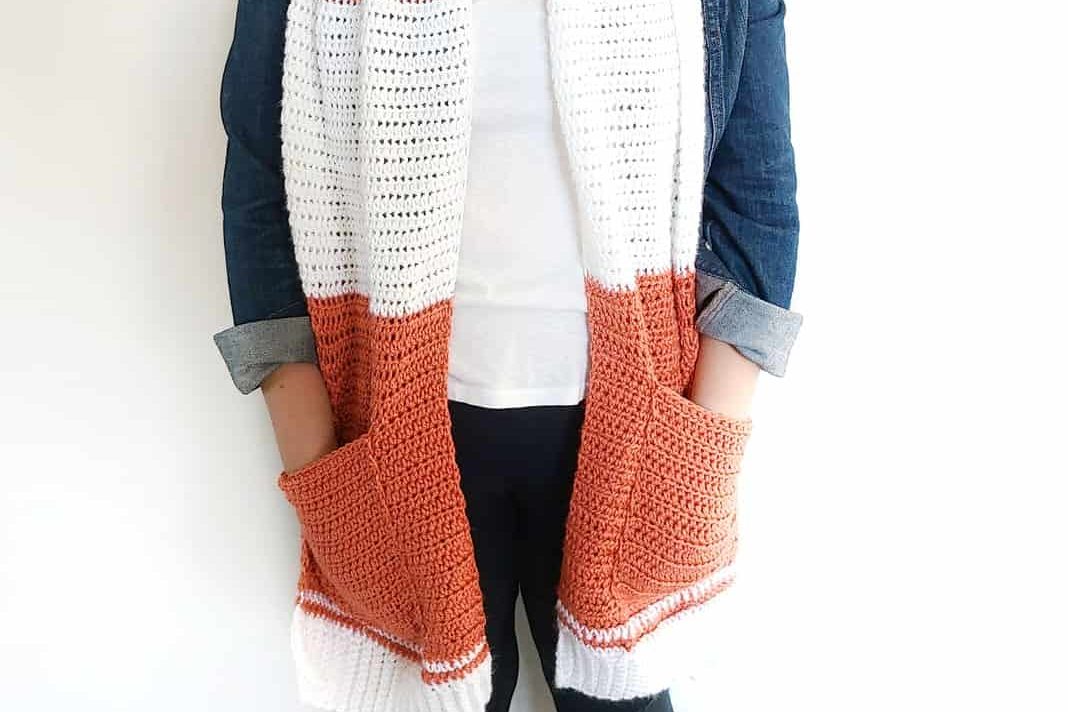 If you enjoy crocheting pocket shawls, then this easy crochet stitch shawl is for you! The pocket shawl pattern uses Caron Simply Soft, but any four weight yarn would work great too.
---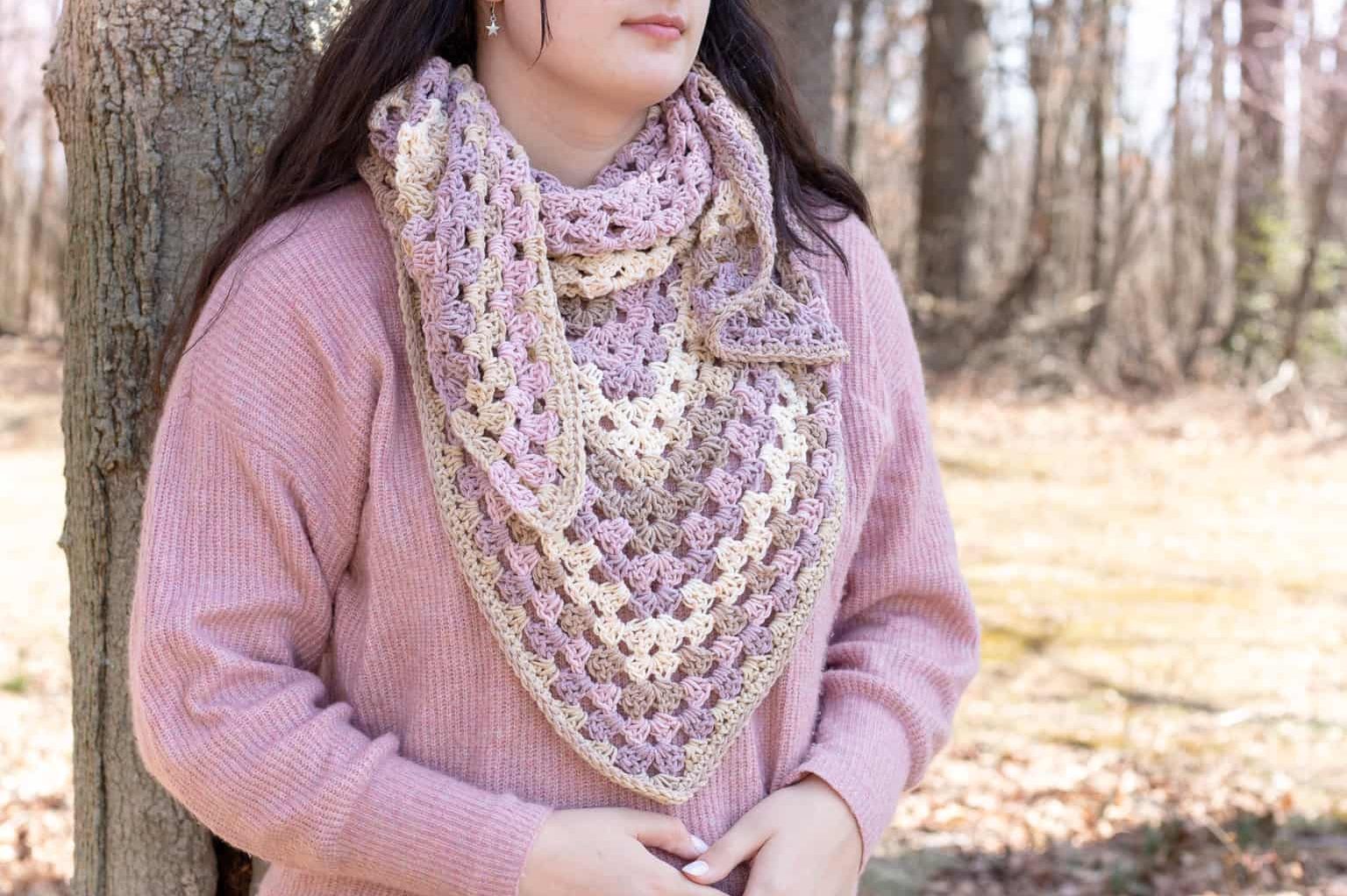 The soft colors of this yarn are a great match for Springtime shawl wearing. The gorgeous shawl pattern uses Caron Cotton Cakes yarn, but any four weight yarn would work as well.
---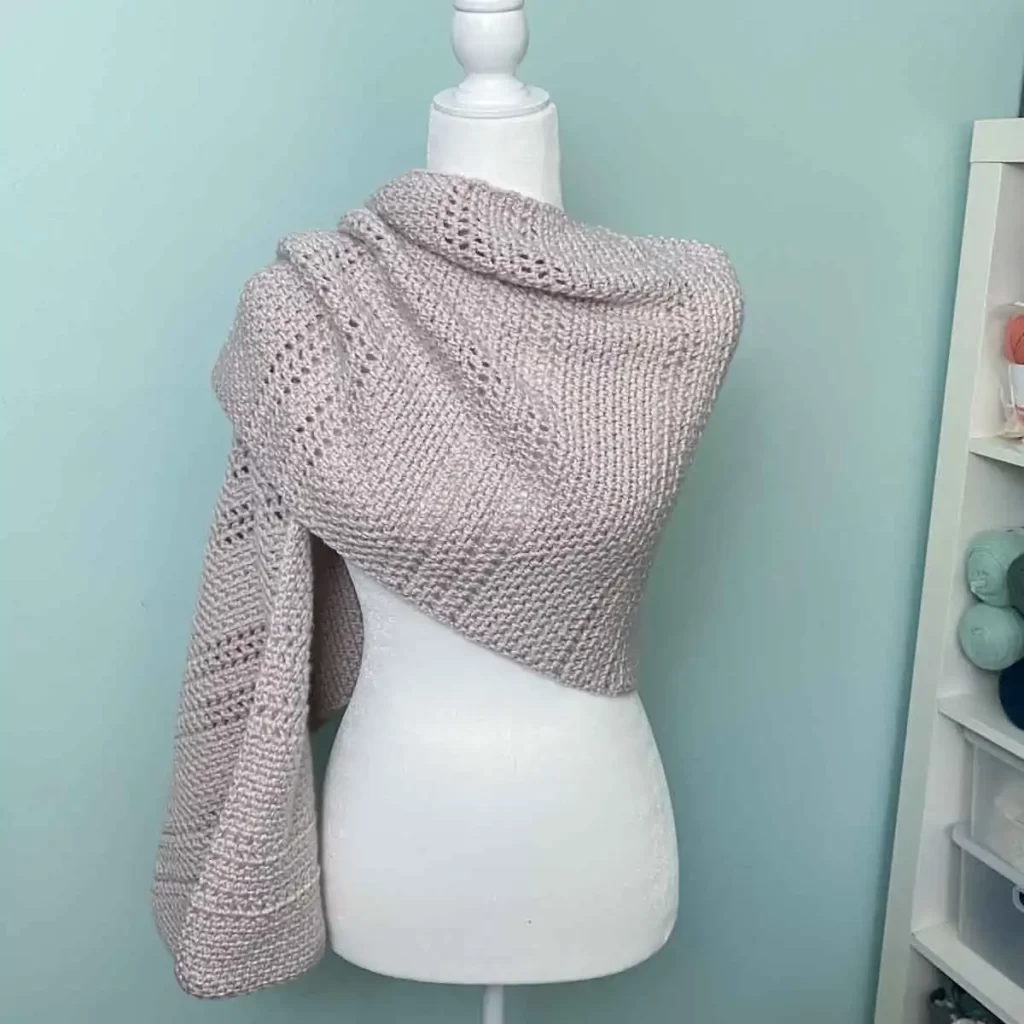 If you love easy shawl patterns, then this wrap is the one! It is worked up in a rectangle with basic stitches. The simple but stunning shawl pattern uses Premier Anti-Pilling Everyday Worsted yarn, but any four weight yarn will be good to use as well.
---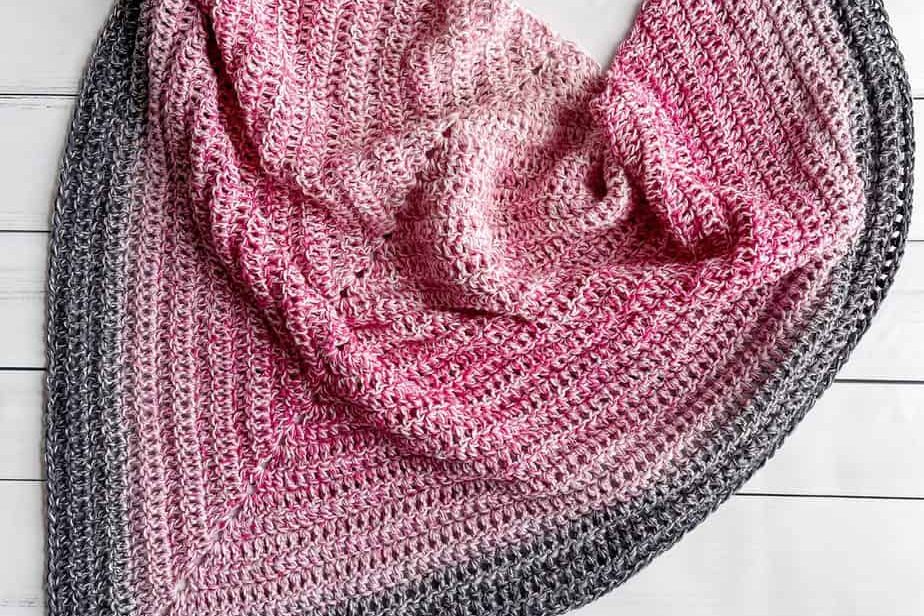 As a new crocheter, it is always fun to come across a pattern that can easily be crocheted like this beginner shawl. This easy to make shawl uses two cakes of Yarn Bee Rainbow Wrapsody yarn held together to create this one stitch shawl, but any 1 weight yarn would work too.
---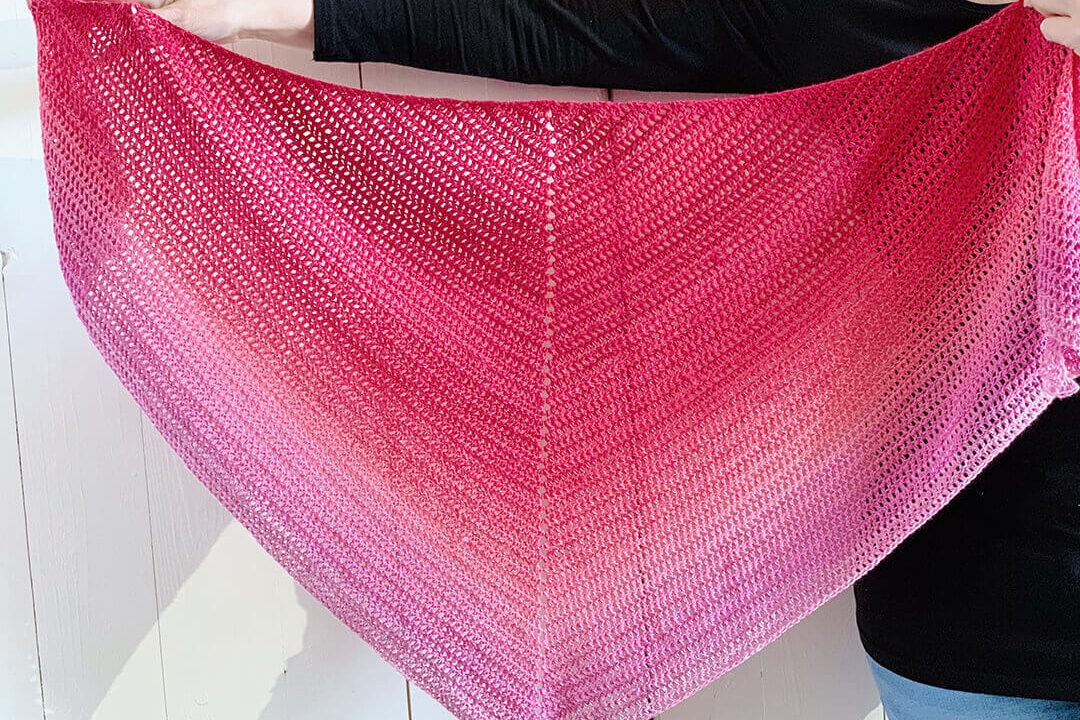 This easy crochet shawl for beginners uses only one stitch, which means it's simple to work up for new crocheters. If you can double crochet, then you can crochet a shawl like this easily! This beginner shawl uses Scheepjes Whirl yarn or any four weight worsted yarn.
---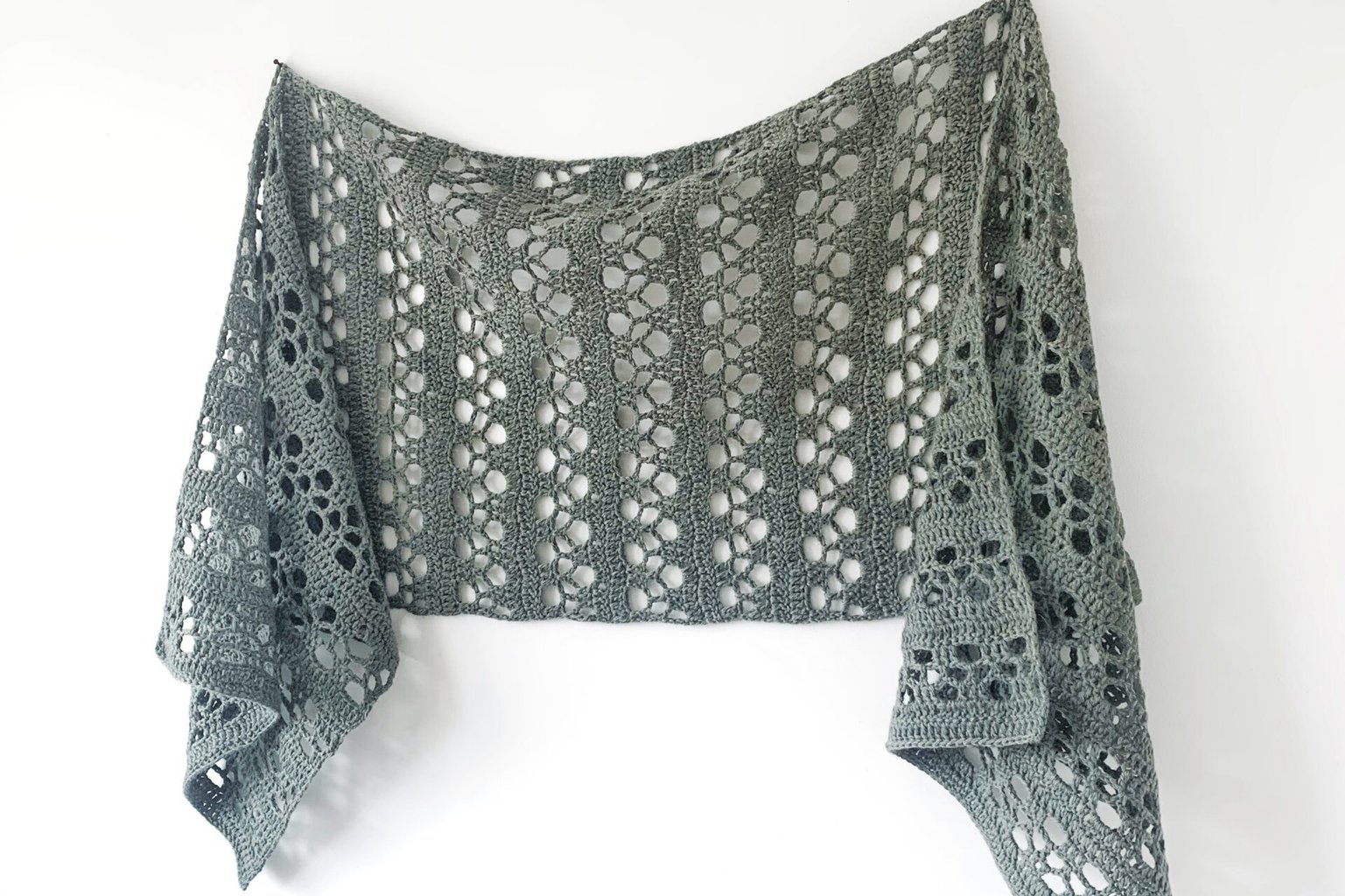 If you love a delicate but cozy shawl design, then this is the shawl pattern for you! This open stitch shawl uses Cascade 220 yarn.
---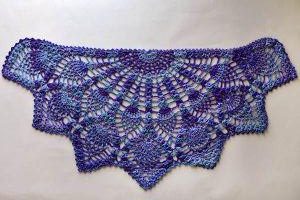 If you are looking for a bulky shawl pattern, this peacock shawl is the one! This gorgeous shawl uses Universal Yarn Major or any bulky yarn.
---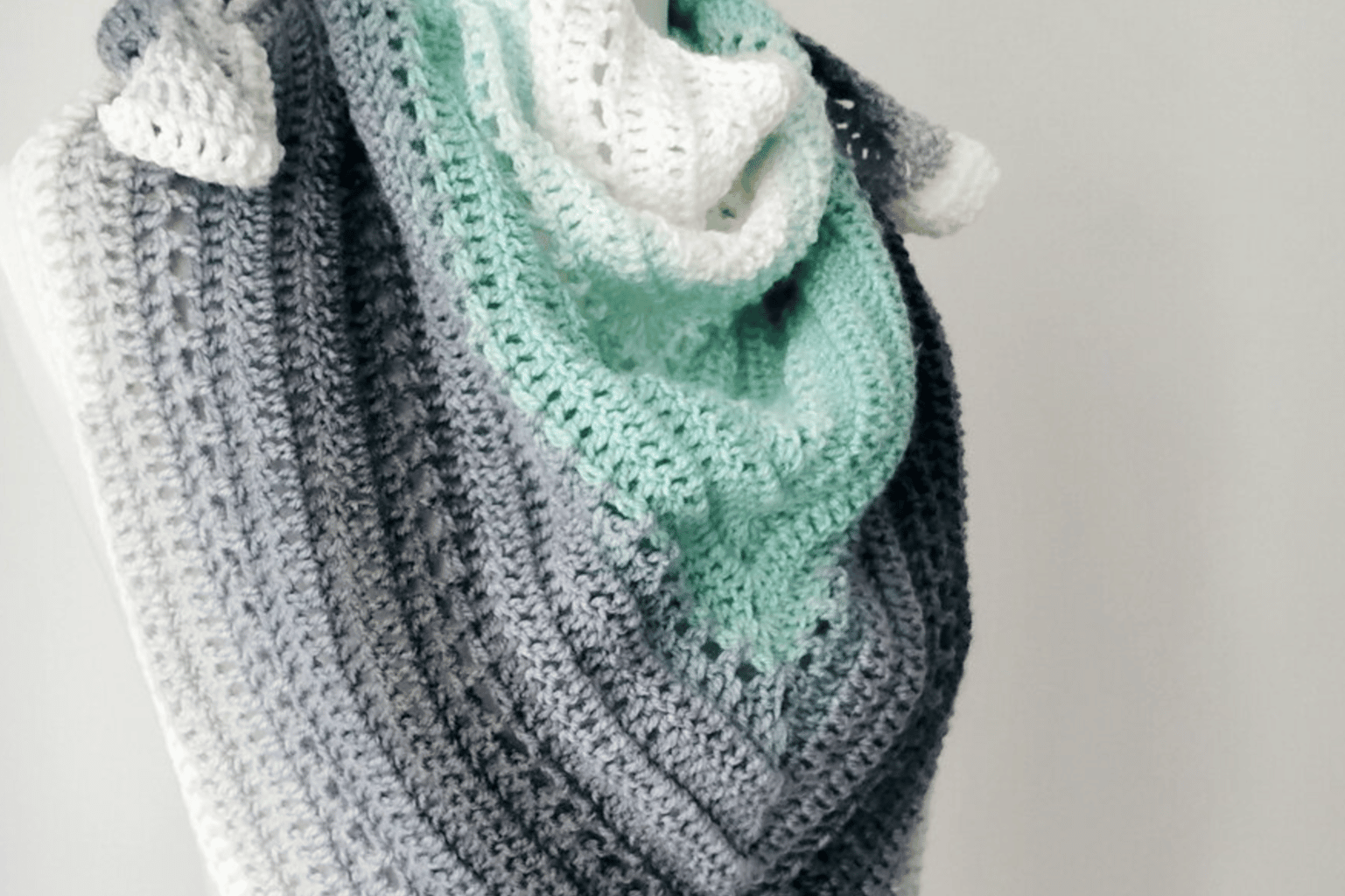 If you are looking for a warm shawl pattern (and no ends to weave in), this one skein shawl is the one! This incredibly easy to make shawl uses Mandala yarn from Lion Brand or any #4 medium weight yarn.
---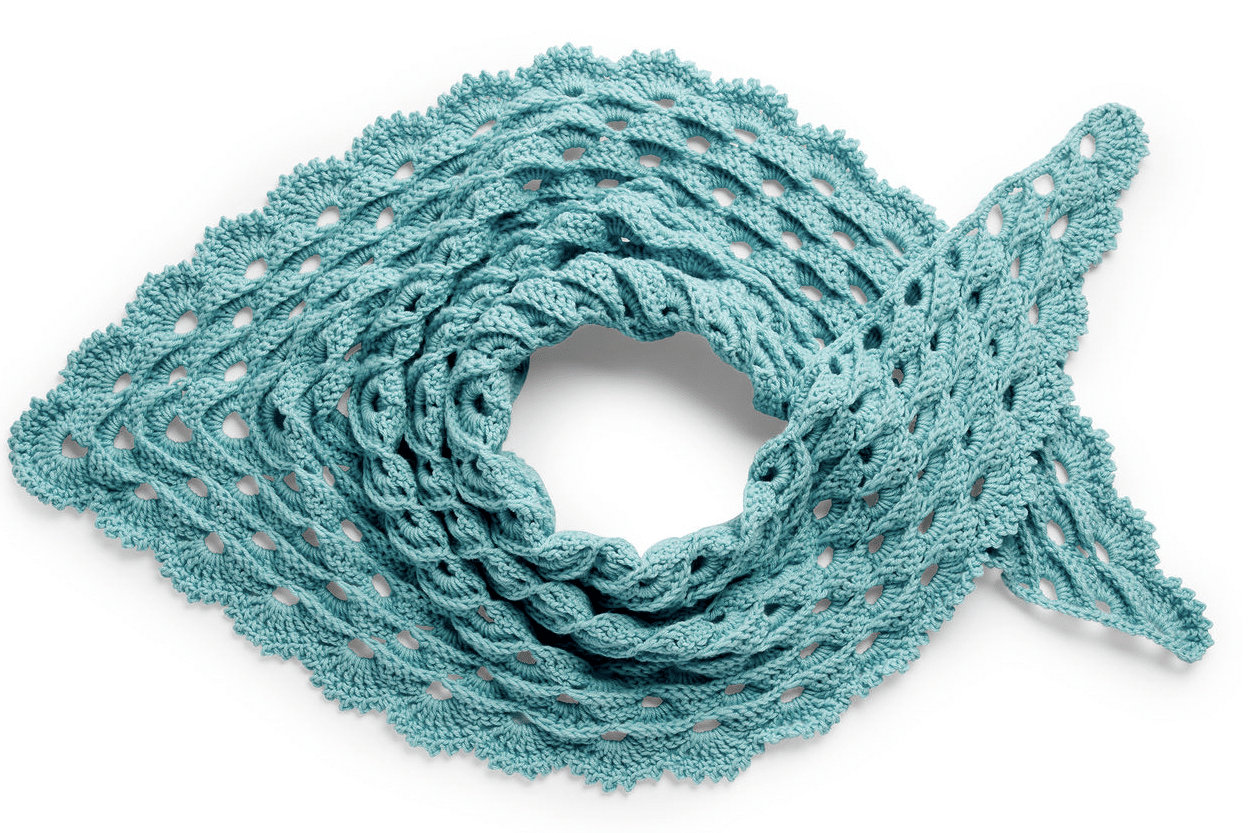 This one skein shawl is stunning and is considered an easy crochet shawl to make. Make this shawl using Caron One Pound from Yarnspirations or any #4 medium weight yarn.
---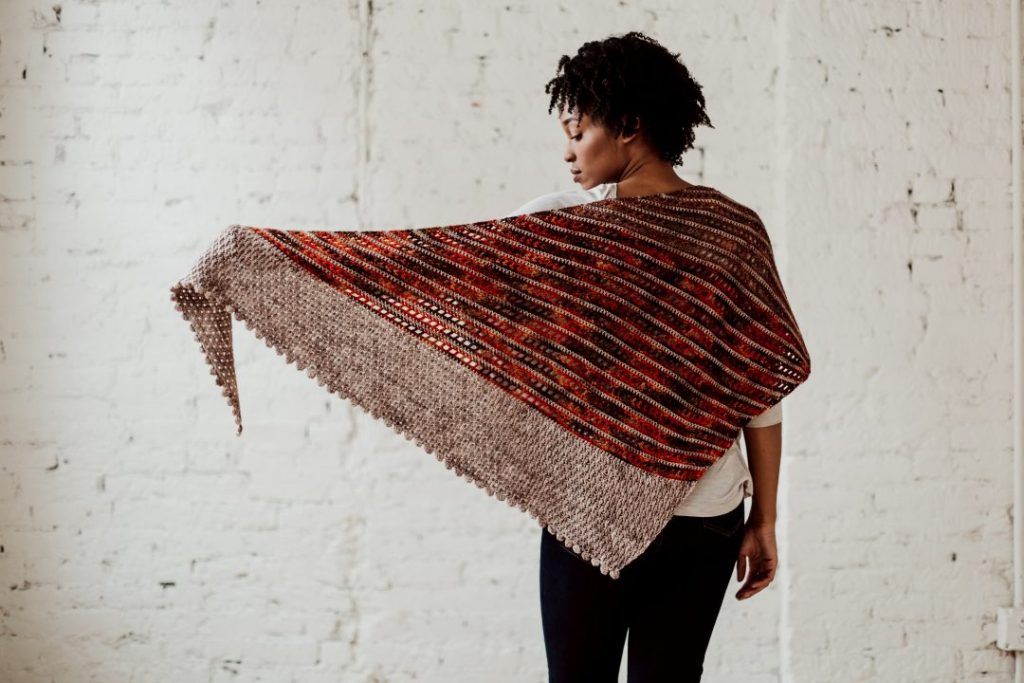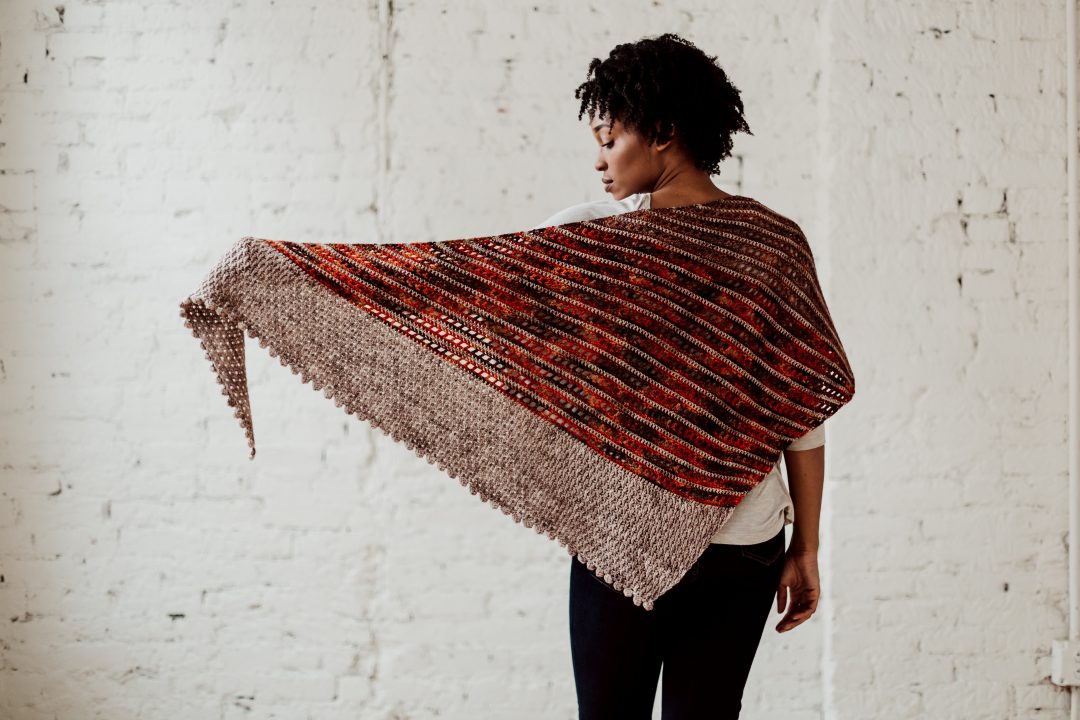 This shawl starts with just five crochet stitches, but then continues to increase to create a breathtaking wrap. Make this shawl using We are Knitters Baby Alpaca or any #4 medium weight yarn.
---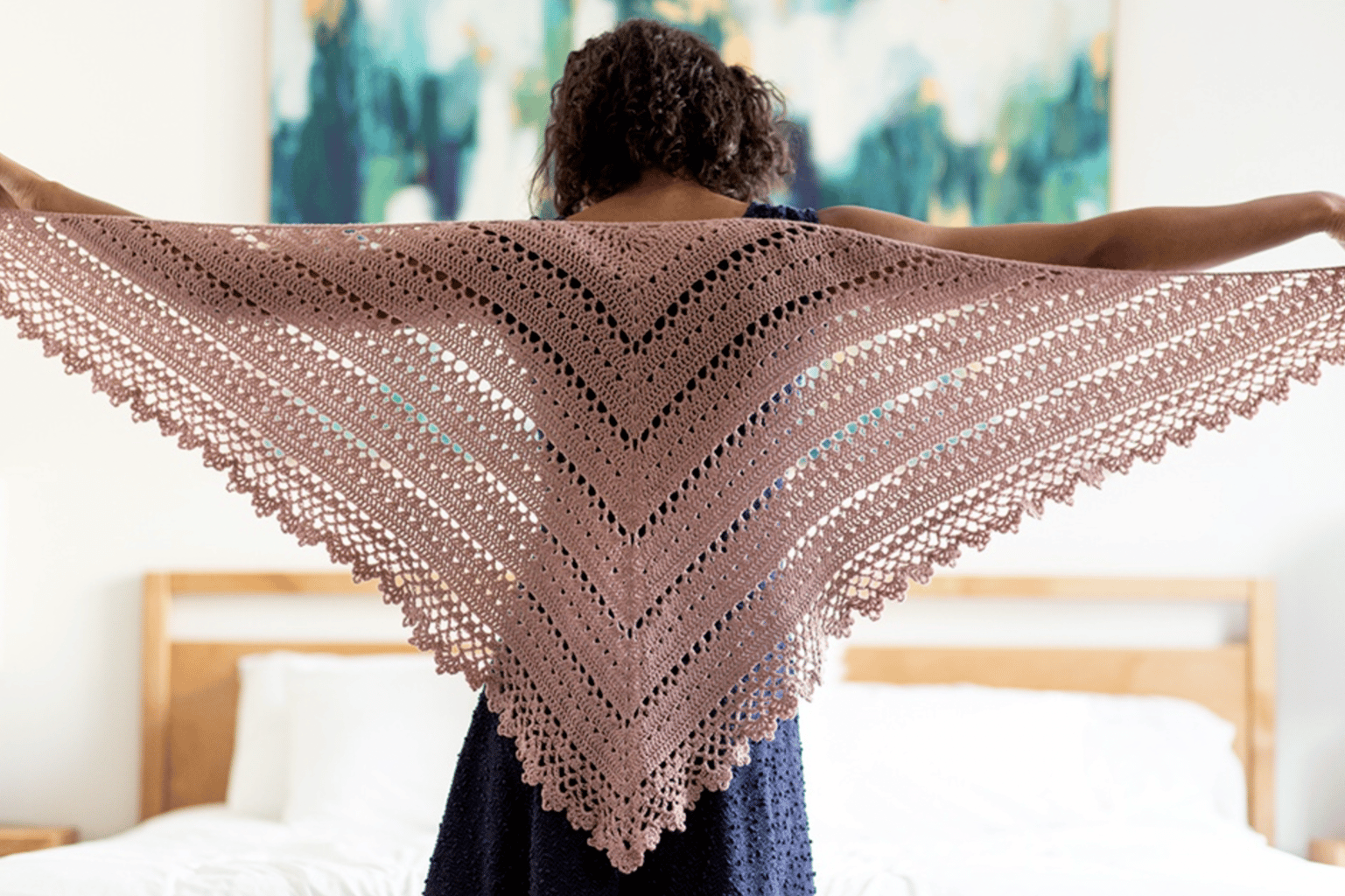 You'll love this free shawl PDF from crochet.com! It includes five different sizes of shawls, from small to Extra large. Make this delicate shawl using Knit Picks Palette yarn.
---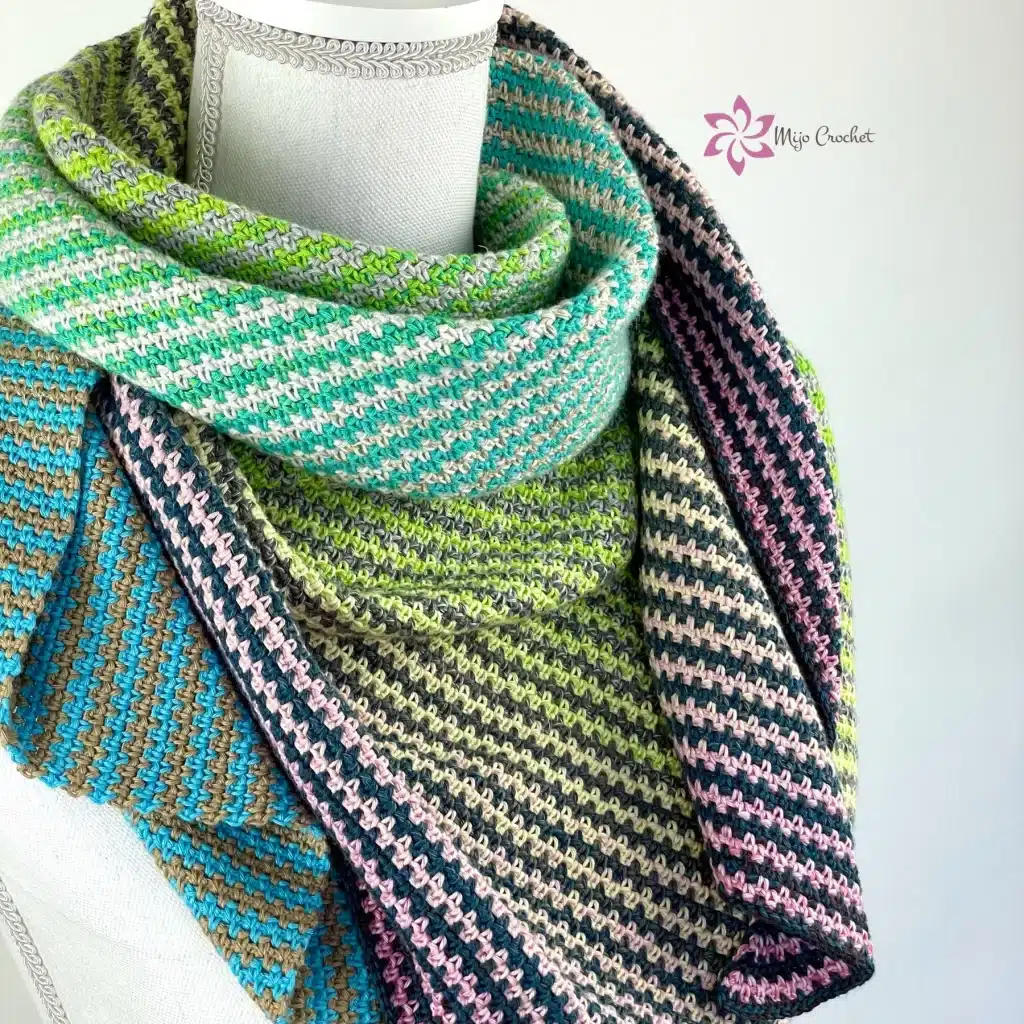 This absolutely stunning shawl is made using simple stitches and two different yarn colors. This colorful shawl was created using Scheepjes Whirl yarn.
---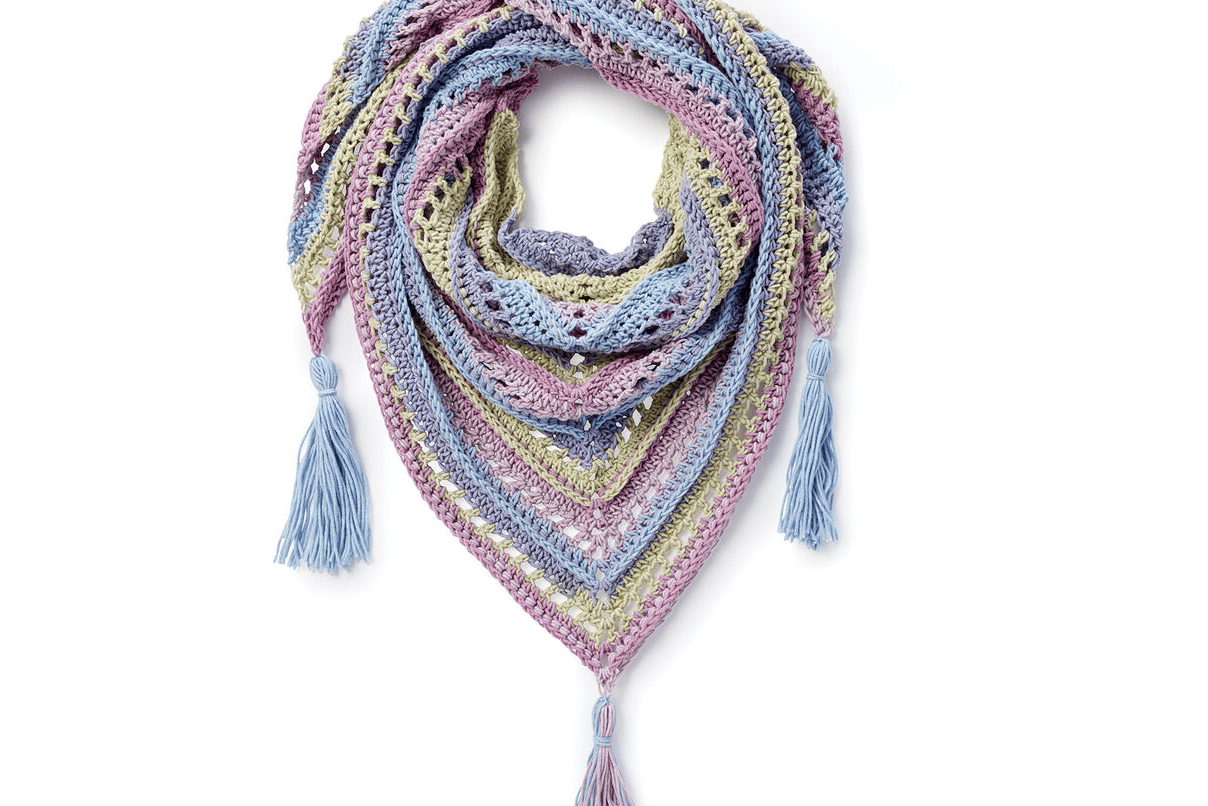 This pastel colored shawl is perfect for springtime and summer. It uses Caron Cakes yarn from Yarnspirations, which can be purchased exclusively at Michaels.
---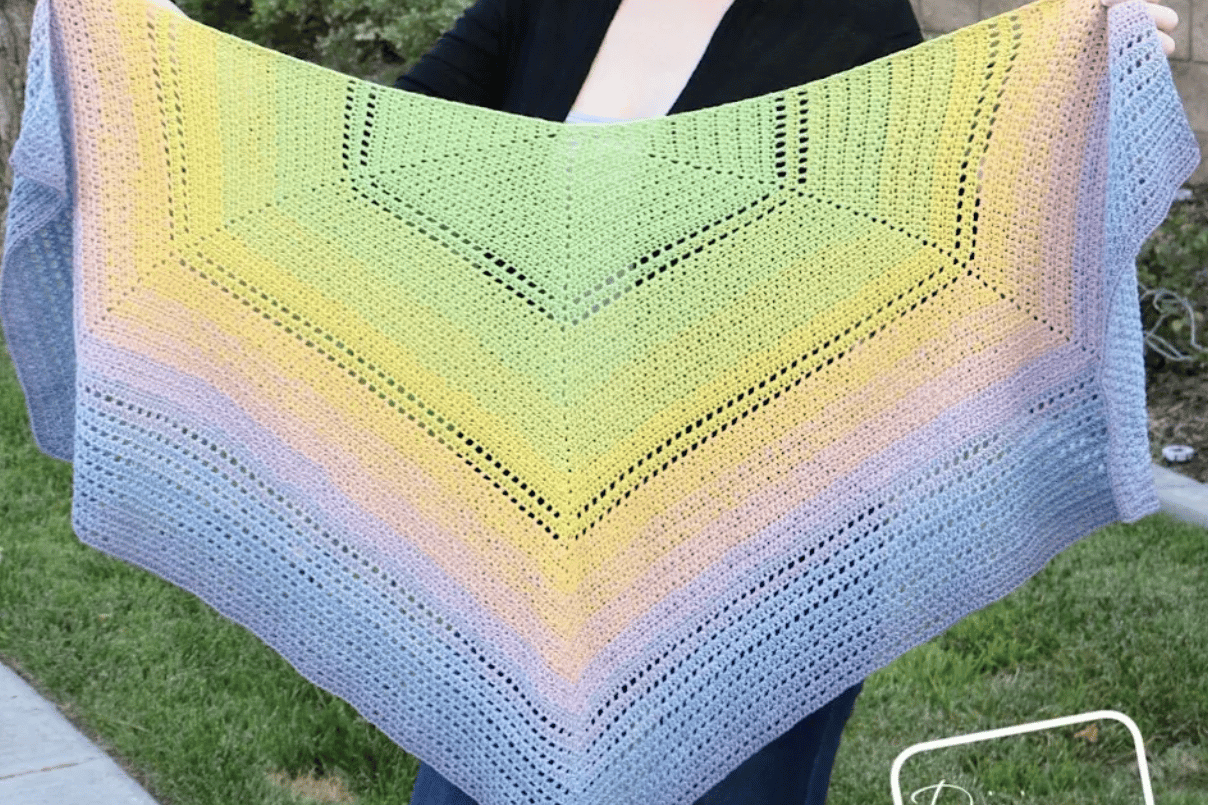 The self color changing yarn makes for a stunning shawl design with great texture. The shawl uses a size #2 fine or sport weight yarn.
---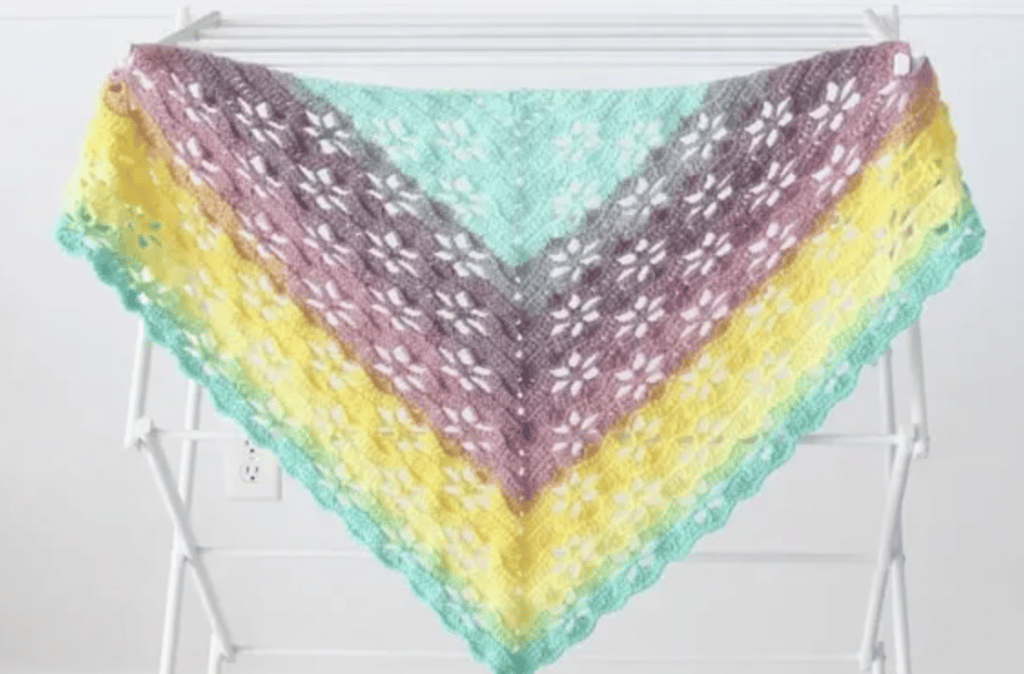 If you can single crochet and double crochet, you can make this awe-inspiring crocheted shawl. It uses Mandala Yarn from Lionbrand to get the color changing look.
---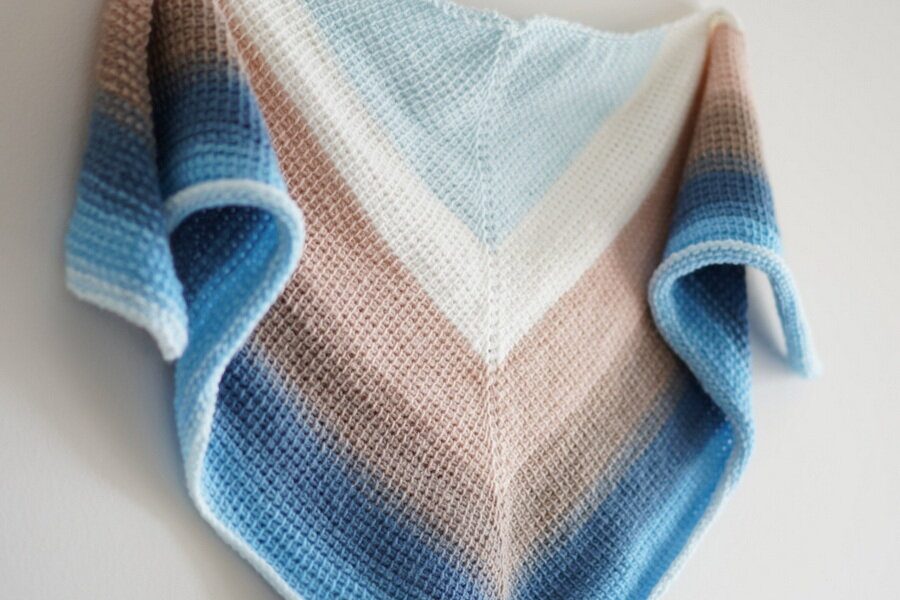 Use the simpleTunisian stitch technique to create this easy shawl pattern. This shawl uses Mandala Yarn from Lionbrand in the colorway xx to get the soft faded colors.
---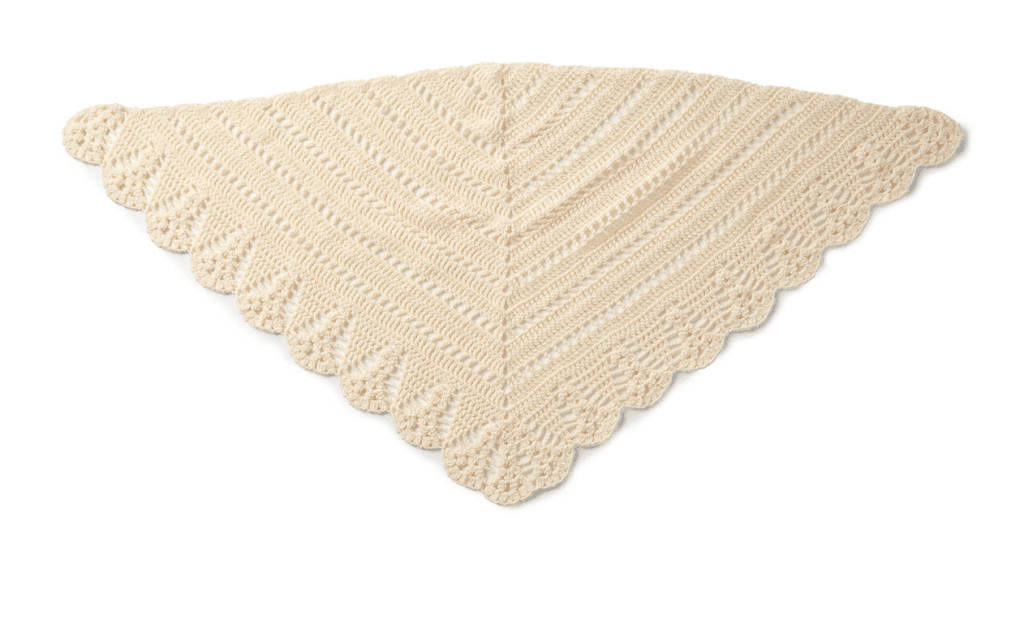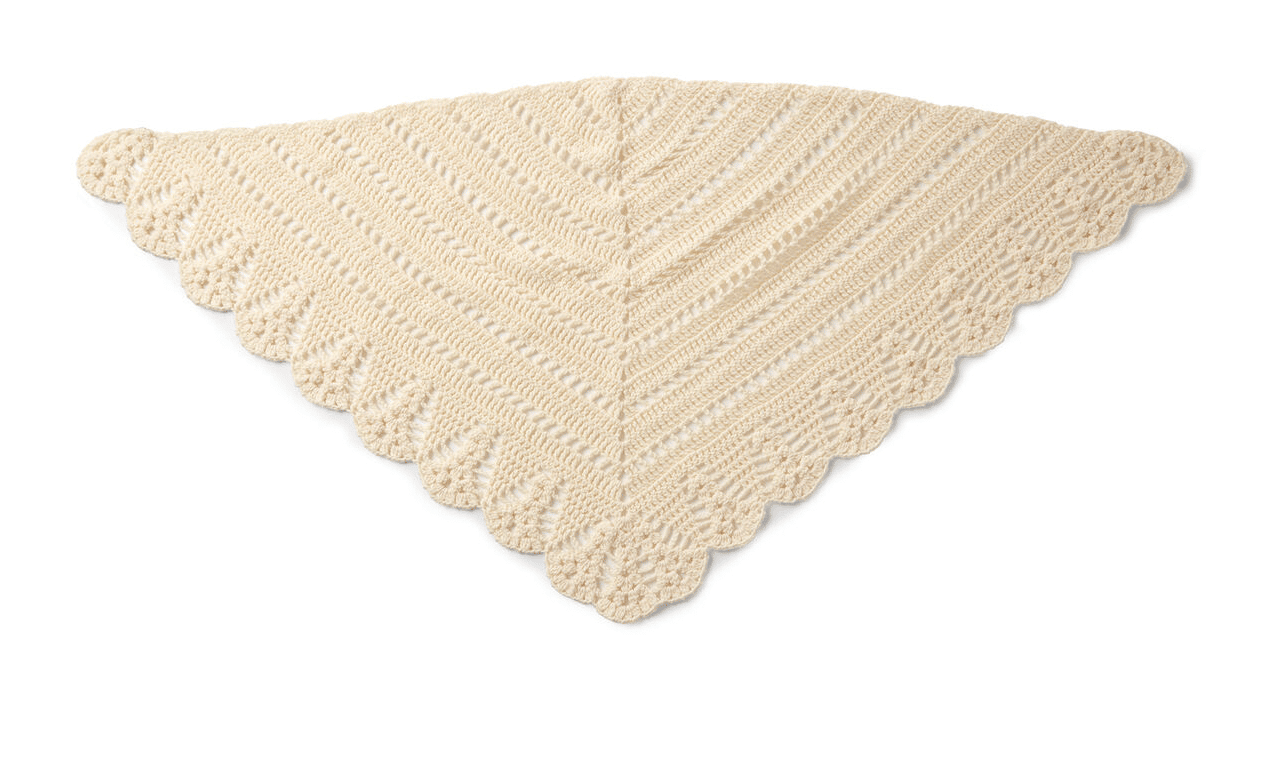 This easy crochet prayer shawl is a beautiful free shawl pattern to make to give to someone to help comfort them. The shawl is designed using Caron Simply Soft yarn.
---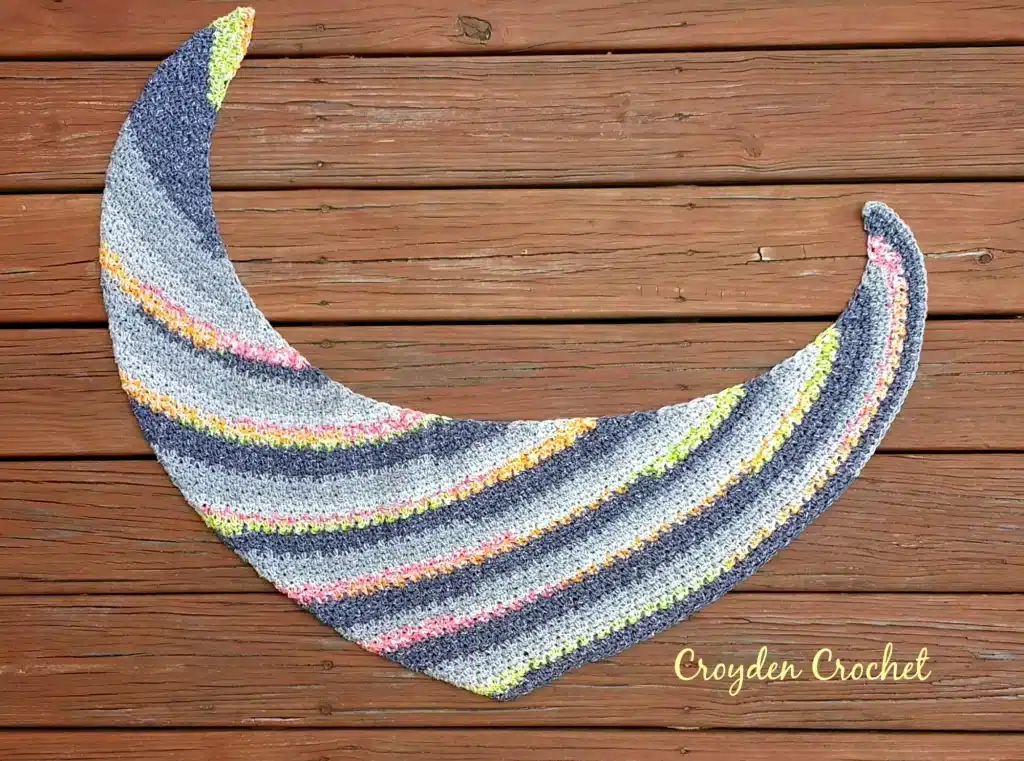 If you can single crochet and double crochet, you can make this boomerang crochet shawl. It uses Yarn Bee Urban Chic yarn or any lightweight 3 weight yarn.
---
Crochet Shawl With Sleeves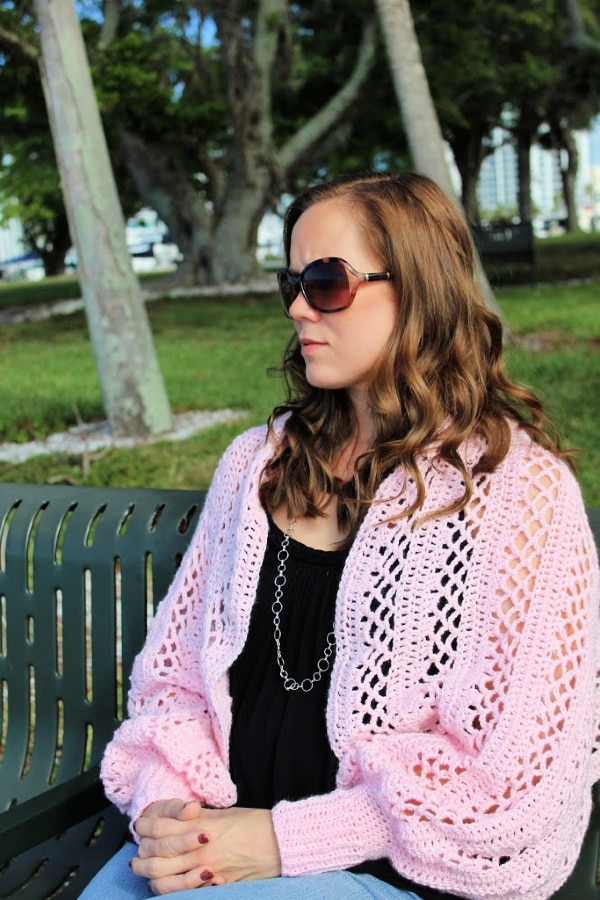 You'll love crocheting this shawl with sleeves! It uses easy stitches and works up fast, so you can be warm quickly!
---
Common Questions about Crochet Shawls
How do you crochet a warm shawl?
The best way to crochet a warm shawl is to use a bulky or super bulky yarn with a tight stitch, such as the single crochet or half double crochet. You can also use a warm yarn fiber like wool or alpaca.
Where can I get more shawl crochet patterns for free?
You can use our EasyCrochet free crochet pattern shawl and sweater archive. All the simple crochet designs are completely free and easy to find.
More Free Crochet Patterns
If you enjoyed all the cute crochet clothes above, then you'll want to check out these clothing patterns below, too!