21 Crochet Skirt Patterns
Crochet skirts are a great way to add some handmade charm to your wardrobe. They can be dressed up or down, and are perfect for warm weather days. Whether you're an experienced crocheter or just starting out, there are plenty of free crochet skirt patterns available online to pick from.
Below, we'll highlight some of the best free crochet skirt patterns that you can use to create your own stylish and unique skirt. Most are available online to use and some are even a free PDF too. Enjoy!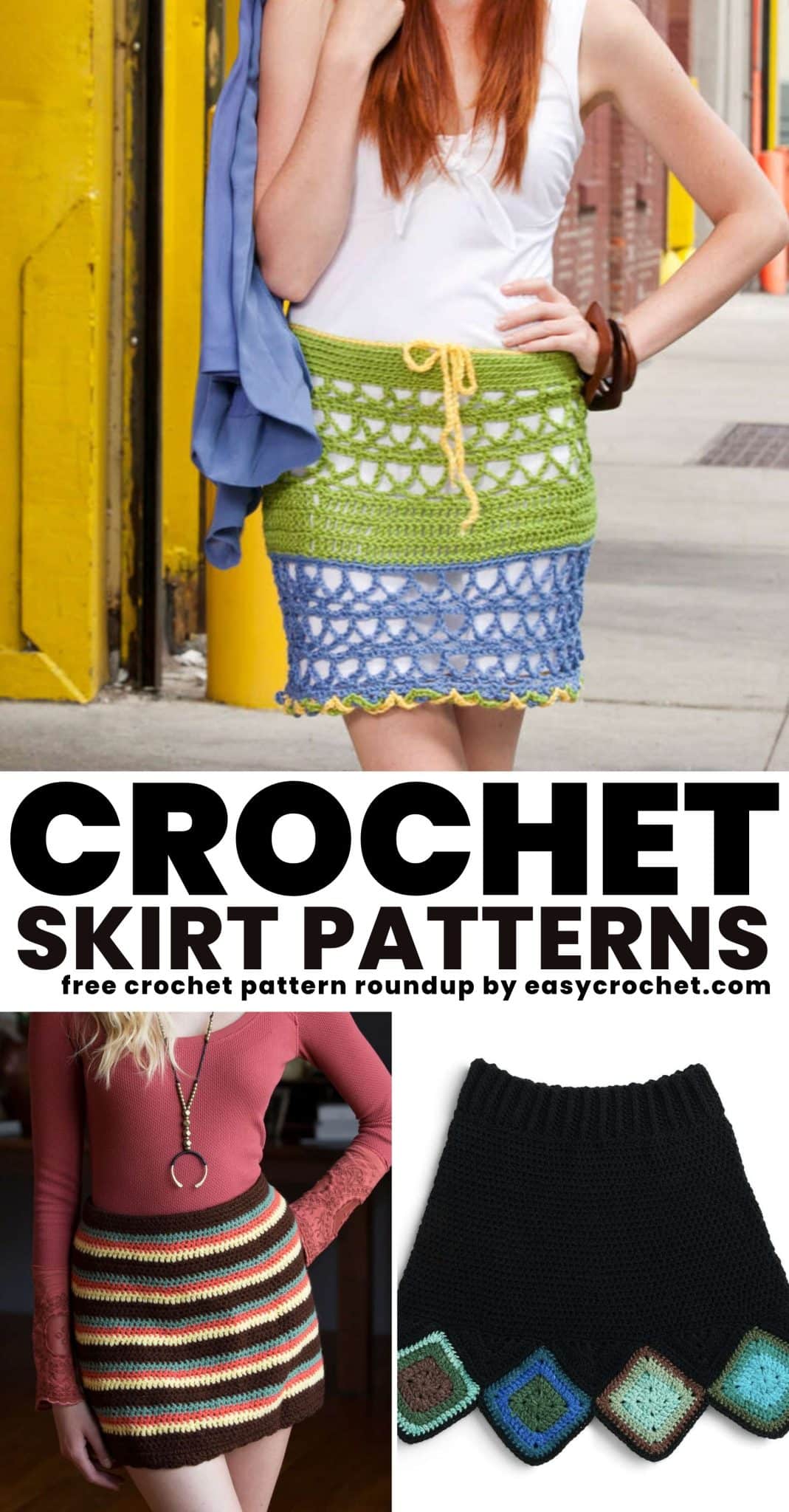 How to Crochet a Skirt
To be able to crochet a skirt, you will need some knowledge of basic crochet stitches to begin.
You will also need to have some crochet supplies on hand. The yarn brand and yarn weight will depend on the skirt pattern you pick below, so be sure to read it thoroughly. I will highlight some of my favorite yarns for skirts below for you to look through too!
Stitches
When it comes to crochet skirt patterns, several common stitches are often used to create beautiful designs. Some of the most frequently uses crochet stitches include:
You'll find that the stitches are used individually or in combination to achieve texture, and patterns in a lot of crochet skirt designs. The stitches that are shown above are in US terms.
Supplies
When making crochet skirts, you will typically need the following common supplies:
Crochet Hooks: Choose hooks in various sizes, depending on the yarn weight and desired stitch tension. Common sizes for crochet skirts range from 3.5 mm to 6.5 mm (US E/4 to K/10.5).
Yarn: Select yarn in the appropriate weight for your desired skirt. Worsted weight (medium/4) yarn is commonly used, but you can also experiment with other weights such as sport, DK, or bulky yarns. (look below to find some of my favorite yarns for crochet skirts!)
Scissors: Essential for cutting yarn and trimming loose ends.
Yarn Needle: Used for weaving in loose ends and seaming pieces together.
Measuring Tape: Helpful for ensuring accurate sizing and length.
Stitch Markers: Useful for marking specific stitches or sections in your pattern.
Blocking Tools: Depending on the yarn and design, you might need blocking mats, rustproof pins, and a spray bottle for blocking and shaping your finished skirt.
Optional: Embellishments such as buttons, ribbons, or tassels, if you wish to add extra details to your skirt.

Remember, the specific supplies needed can vary depending on the skirt pattern used. Always check the pattern instructions for any additional recommended supplies or specific requirements before starting your skirt.
Crochet Skirt Patterns
Take a look below at some of the most stylish crochet skirt patterns, from pencil skirts to my personal favorite, the granny skirt! Each of these designs are free crochet patterns and are perfect to make for most skill levels! Enjoy.
More Free Crochet Clothing Patterns
Take a look below at some of my favorite crochet tops, sweaters and more that you can make as well.